RIAS RADIO, TV, AND DIGITAL MEDIA AWARDS 2020
April 24, 2020
RIAS Media Prize winners for Digital Video talk about their award-winning report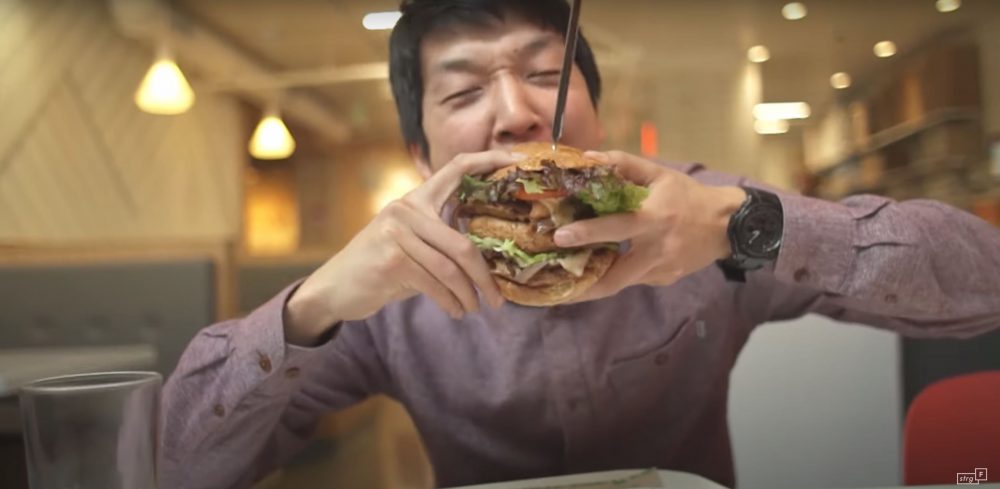 Here is a short interview with Han Park. Together with his colleague David Diwiak, they are the winners of the RIAS Digital Award 2020 for their report entitled "Veggie vs. Labor?"
Question: Where did you get the idea to do your story?
Park: Veggie products have become more and more popular in German grocery stores. Most people are not critical about the ingredients at all. As I am a journalist and have a passion for food, I was interested in researching meat alternatives and the announced "revolutions" on the market. My vegetarian colleague David was a perfect partner.
Question: When and exactly where did it air?
Park: It aired on STRG_F, our YouTube-channel by funk, NDR and Panorama. The publishing date was 4th June 2019.
Question: What's the bigger story you hoped to tell?
Park: We asked ourselves how and what we will eat in a few years. Can fake meat save the world? What are the ingredients? How much money do you need to save the world?
Question: Do you like veggie hamburgers?
Park: It really depends: I dislike seitan burgers. Veggie burgers can be good, when they don't imitate meat. But mostly I prefer butcher's burger meat. David is vegetarian.
Question: Did you like them more before or after the story?
Park: While making the story, I really fell in love with the taste of a vegetarian burger that "bleeds" and tastes like a meat burger. Driven by biotechnology, the evolution of meat alternatives has reached a new milestone. The future can taste good.
Question: How much money did you spend on all these hamburgers?
Park: A lot. Fake meat is way more expensive than real meat. Or animal-meat is too cheap compared to meat alternatives.
Question: How much was the most expensive one?
Park: We had a chicken nugget made of cell-based meat. The company told us that the nugget cost about $100.
Question: How much time did you spend on your story – talking with the protagonists and others?
Park: We spent almost half a year from the start of research till finishing the story.
Question: Was it difficult to find the protagonists in your story or did they fall into your lap?
Park: It was really, really, really, really hard to find the protagonists. Many companies have started to fundraise money. A few companies have started to research on cell-based meat, but the technique is top secret and not yet market-ready. We contacted almost all of the companies in the world, and fewer than five have produced more than a gram of cell-based meat. Only one company has gave us the opportunity to eat it.
Question: Do you think things in the United States serve as a prototype for Germany? Or vice versa? Or are the two countries just too different in too many ways?
Park: In terms of start-up entrepreneurships, the United States are a prototype. We started our research in San Francisco, it is the center of cell-based start-ups. The latest big businesses like Uber, twitter and Google have their headquarters in that dynamic area. The fastfood scene is awesome – maybe the best I have ever experienced.
Question: Do you think Germans are open enough to learning from the experiences of the United States?
Park: I can't say for Germans, but I hope everybody is open to learning from others. But it's always important to ask questions.
Question: Your story is incredibly neutral and non-partisan – anyone watching that story would probably never know if you preferred US or German veggie food. How difficult was that to do? How important is that for journalism?
Park: Nobody cares about politics when it comes to food. The most important thing is the taste. But most of all, we are journalists. We always look for a non-ideologic approach. It doesn't depend on countries.
Question: Anything else you'd like to add?
Park: We enjoyed the research. We are happy that we have tasted the future of meat. And we are keen to see if cell-based meat can save the world.
---
April 6, 2020
RIAS Media Prize winners talk about their award-winning reports
As part of a series looking more closely at the 2020 RIAS Berlin Commission Media Prize winners, here is an interview with Monica Quintero of KPEJ KMID TV in Odessa/Midlands, Texas and David Wagner of KLST/KSAN in San Angelo, Texas who worked on their story "Beyond Borders – A Trip Abroad" during their two-week RIAS Berlin Commission fellowship in September 2019. Their reporting aired on those stations in Texas in November 2019.
Question: Where did you get the idea to do your stories?
Monica Quintero: Before going to Europe, we read many of the books that RIAS
recommended and found out the countries there were dealing with many of the same heated issues that we deal with here in America. So, that's where we got the idea from for the stories and along the way, they developed into much more than we even anticipated.  We were given access to
some top leaders and that helped us give even better insight to many of the issues.
Question: When and exactly where did they air? Were they part of a nightly series at both of your stations? Or even more widely seen?
Monica Quintero: Air Dates: Nov. 24 – KMID, Nov. 26 – KPEJ (Midland/Odessa, Texas market), Dec. 22 & 29 – KLST (San Angelo, Texas market). On those dates, we aired the 30-minute documentary.  However, before those Dates, we aired shorter versions of the story to promote the documentary.  We also had promos that aired on our stations. In addition, we came up with an in-depth digital plan to allow anyone to have access to the documentary and each of the stories.
Question: What's the bigger story you hoped to tell?
Monica Quintero: It was a simple idea. Our hope is to expand the knowledge of our audience and open their minds to what's going on around the world, bringing them both sides of the story!
Question: How much time did you spend on your story? Talking with the protagonists and others?
Monica Quintero: I wish we could sum this up!  We spent countless hours on this project. For weeks, every spare moment was spent working on these stories.  We were living and breathing this project for a while.  Sometimes we wondered if we were actually going to be able to put it all together.  In the end, it was exciting to see.
Question: How did you manage to squeeze all the work into your RIAS fellowship? Did you sleep at all?
Monica Quintero: LOL!  Lets just say we didn't sleep much.  A couple of nights, we spent shooting all night along the Berlin wall and other locations there.  We both got sick.  Poor David was sneezing and coughing our last night of shooting.  He was a trooper and kept his composure while we shot. I got very sick as well and wondered if we were going to be able to accomplish our goal.  Somehow it all fell into place and looking at the finished product made it all worth it!
Question: Was it difficult to find the  protagonists in your story? Or did they fall into your lap?
Monica Quintero: Some fell in our lap, others took work.  I felt the key to our success was being ready.  We carried two cameras and two tripods everywhere, always being prepared. We're also both passionate about being journalists and wanted to hear from everyday people as well.  It was just about being persistent and asking people their thoughts… no matter where we were.
Question: Do you think things in Germany could serve as a prototype for the United States? Or are the two countries just too different in too many ways?
Monica Quintero: That question is one I wanted to leave up to the viewers.
Question: Do you think Americans are open  to learning from the experiences of other countries?
Monica Quintero: I do think Americans are open minded.  However, it was important for us to bring them unbiased information.  So many times we hear in the media that journalists are incorporating their political views.
Question: Your story on gun control is extraordinarily neutral – anyone watching that story would never know how you personally felt about gun control in Germany or Texas. How difficult was that and do you feel that is what journalism should be? 
Monica Quintero: YES, YES, YES!  True journalists present both sides of the story and you should never be able to guess their political views or stances on issues.  In fact, David and I are very traditional, old-school journalists. While we are friends and colleagues, we've never discussed our political views with one another.  Surprising… right?  It's easy for us because that's what we were taught made good journalists.
Question: Anything else you'd like to add?
Monica Quintero: We wanted to present these stories in a dynamic way of storytelling, stories that are important issues in our countries.  We felt we accomplished that and are just truly grateful for the experience!
---
March 20, 2020
RIAS Media Prize event cancelled due to coronavirus
The RIAS Berlin Commission regrets to announce that its Media Prize gala event will not take place in 2020 due to the coronavirus crisis. The annual event celebrating outstanding broadcast journalism covering transatlantic issues was scheduled for May 7 in Berlin, where the five winning entries of the Media Prize competition from the United States and Germany were to be honored. A grand RIAS alumni party scheduled for May 8 in Berlin has also been indefinitely postponed.
The RIAS Berlin Commission will pay tribute to the 2020 winners at the next Media Prize ceremony in 2021. The RIAS Berlin Commission annually presents awards for excellence in reporting on German-American issues. The awards are given for radio, TV and internet productions which made special contributions to the mutual understanding between the people of Germany and of the United States of America.
There will also be fuller reports on each of the winning stories on the www.riasberlin.org website in coming weeks. In the meantime, here are the findings from the independent panel of journalists from the United States and Germany who met at the historic RIAS building in Berlin-Schoeneberg on March 7 to pick the five winners from among nearly 100 submissions.
RIAS TV Award:
Bill Whitaker: "60 Minutes – The Rock"
"The Rock" opens with a reference to a previous 60 Minutes report — recognized by RIAS — comparing the German and American incarceration systems and raising the question: Could a German-style focus on rehabilitation work in a United States prison?
In the piece, Bill Whitaker introduces us to a prisoner-turned-college hoops star, wardens who dare to show weakness around inmates and prison lifers who find redemption in counseling young inmates to seize the opportunity of a second chance. Through their voices and experiences viewers are introduced to a program in one of the toughest U.S. prisons, inspired by what officials saw in Germany and challenged to reconsider the role of imprisonment in modern society.
While the jury deliberated long and hard over whether to award a prize to a journalist recognized in 2017, "The Rock"' stood out, not only as an example of highest quality reporting, but as a testament to the RIAS mission: promoting mutual understanding between German and American society through a free exchange of information and ideas.

RIAS Radio Award:
Wiebke Keuneke: "Jenseits des American Dream – deutsche Sozialarbeiter unterwegs in den USA"    Listen here
In Wiebke Keuneke's impressive radio report she accompanied twelve Berlin social workers on their journey to Chicago and Detroit. She recorded the critical, often skeptical and sometimes shocked impressions that the encounter with the reality of American social work led to.
The differences between Europe and the USA are clearly worked out and classified in the journalistic protocol of these encounters, yet it is always clear how universal the underlying questions are: It is about exclusion and lack of opportunities on the fringes of society, which can lead to violence and crime – and about fighting against them.
The report is brimming with a curiosity about another world. At the same time, it is about respect for the people who are trying to change something there. It is an outstanding example of how productive it can be in transatlantic relations to develop a mutual interest in the problems of everyday life, while remaining open and willing to learn instead of turning away from one another. Curiosity about one another helps everyone. Wiebke Keuneke has succeeded in curiously accompanying and exciting this learning process through journalism.
RIAS Digital Video Award:
David Diwiak, Han Park: "Veggie vs. Labor?"
From its very first moments, the video report Fleischersatz: Veggie vs. Labor? captivated the jury with its energy and attitude. David Diwiak and Han Park of youth-oriented NDR online-channel STRG_F explore the growing market for and appeal of meat replacements, both natural and man-made. Eating their way through many mouthfuls in the process, the team manages to shed light on the science, business, and ethics of cultured meat, as well as the differing views in Germany and the US when it comes to genetically modified foods. What starts as a humorous taste test quickly evolves into a well-thought out exploration of the current meat alternative offerings, and those soon to come via technological innovations. Interviews, animation, a deep dive into the California fake meat start-up scene, and other research are all used to excellent effect, leaving the jury hungry for more from this clever duo of young journalists.


RIAS Fellow Award TV:
Monica Quintero, David Wagner: "Beyond Borders – A Trip Abroad"
A thoughtful and intelligent TV documentary that successfully expands viewers' knowledge of the 30th anniversary of the fall of the Berlin Wall. David Wagner and Monica Quintero bring the story into the present day by offering their West Texas audience a comparative look between the infamous symbol of the Cold War and today's Mexico-United States barrier or Border Wall. The documentary deftly delves into the historical circumstances behind the two barriers while providing compelling snapshots of current day issues, including immigration and gun control in each country. Viewers are enticed to decide for themselves whether or not history is repeating itself. Wagner and Quintero utilize a powerful mix of interview subjects and eyewitness testimony. The audience is given further pause at the description of the mixed emotions with which the then West- and East Germans greeted the fall of the Wall: from unbridled joy to confusion to sadness. "Beyond Borders: A Trip Abroad" surpasses the expectations of its title by bringing home to West Texas a pivotal epoch in German history within the context of today's headlines.
RIAS Fellow Award Radio:
Christopher Conover: "The Buzz: German Perspectives on Immigration"      Listen here
At a time of growing anxiety on both sides of the Atlantic over the short- and long-term implications of mass migration, RIAS fellow Christopher Conover of Southern Arizona public radio explored Germany's recent experience with the refugee influx of 2015 and what lessons America can take from it. In a series of in-depth interviews with people on the front lines – the architect of Europe's "refugee deal" with Turkey, a Syrian who nearly died trying to cross the Mediterranean on his way to Germany, and a German journalist who covered the crisis – Conover's dispatch offers a window into the complexities, challenges and contradictions of Europe's approach to migration. By letting those closest to the German crisis offer a nuanced picture of their views and experiences, the work exemplifies the RIAS Commission's founding principle to promote German-American understanding.
---
March 11, 2020
RIAS Berlin Commission Media Prize Award Winners Chosen
The RIAS Berlin Commission's 2020 Media Prize award winners were selected by an eight-member panel of international journalists for radio and television stories that recognize the best contributions of transatlantic broadcast journalism. The winners and their stories that touch on transatlantic issues will be honored at a gala ceremony in Berlin on May 7. Three of the winning entries were from the United States and two from Germany.
The independent jury reviewed the scores of entries at the RIAS building in Berlin and spent hours discussing and debating the submissions.
The jury members included: Helge Fuhst (ARD Tagesschau Deputy Editor-in-Chief), Matthew Karnitschnig (POLITICO Chief Europe Correspondent), Christian Wilp (N-TV Chief Correspondent), Dr. Richard Meng (Former Correspondent Frankfurter Rundschau), Susan Woosley (KCRW Berlin), Melissa Eddy (New York Times Correspondent), Susan Stone (freelance journalist, podcast producer/formerly NPR), Michael Gargiulo (WNBC News Anchor).
There will also be a RIAS alumni celebration in Berlin on May 8.
Here is a list of the winners selected by the jury:
RIAS TV Award:
Bill Whitaker: "60 Minutes – The Rock"

RIAS Radio Award:
Wiebke Keuneke "Jenseits des American Dream – deutsche Sozialarbeiter unterwegs in den USA"
Listen here
RIAS Bewegtbild Digital Award:
David Diwiak, Han Park: "Veggie vs. Labor?"

RIAS Fellow Award (Radio):
Christopher Conover: "The Buzz: German Perspectives on Immigration"
Listen here
RIAS Fellow Award (TV):
Monica Quintero, David Wagner: "Beyond Borders – A Trip Abroad"