USA Spring Program 2019: März 3-22, 2019
Application Deadline: October 31, 2018
USA Fall Program 2019: October 6–25, 2019
Application Deadline: März 31, 2019

USA STANDARD-PROGRAMM FÜR DEUTSCHE RUNDFUNKJOURNALISTEN
(wg. starker Nachfrage z.Z. Warteliste von mindestens 12 Monaten!)
USA-Herbstprogramm 2019
06.–25. Oktober 2019
Bewerbungsfrist: 31. März 2019

Programmablauf
Bis zu 14 Teilnehmer absolvieren als Gruppe die erste Woche in Washington, DC, mit Gesprächsrunden zu Politik, Wirtschaft, Medien und sozialen Themen.Die zweite Woche besteht aus einem einzeln zu absolvierenden Kurzpraktikum bei einem Radio- oder Fernseh-Sender. Alle Teilnehmer treffen sich wieder als Gruppe für die letzte Woche in New York, wobei in der Regel United Nations, Wall Street, New Yorker Medien, Kultur-und Politikkontakte auf dem Programm stehen.
Teilnehmer
Das Programm richtet sich an festangestellte sowie freiberufliche Radio- und Fernsehjournalisten (und Internet-Journalisten von Radio- und Fernsehstationen) von Mitte 20 bis Mitte 40 Jahren, die bereits mehrere Jahre Berufserfahrung vorweisen können, aber den Großteil ihrer journalistischen Karriere noch vor sich haben und ihre berufliche Zukunftsplanung auf den elektronischen Mediensektor ausgerichtet haben. Bevorzugt berücksichtigt werden Politikredakteure/-journalisten von Nachrichten- und Magazinsendungen, die häufig mit transatlantischen Themen konfrontiert werden, bei zu vielen Bewerbungen muss mit Wartelisten oder Plazierungsangeboten für spätere Programme gerechnet werden.
Bewerbungsunterlagen
Name, Sender, Privatadresse und Arbeitsadresse, Fax und Telefonnummer privat und dienstlich, E-Mail-Adresse;
Anschreiben mit kurzer Bewerbungsbegründung (insbesondere berufliche Relevanz) auf deutsch und englisch;
Lebenslauf mit journalistischem Werdegang und Beschreibung des augenblicklichen Arbeitsbereiches (deutsch und englisch);
mindestens ein Empfehlungsschreiben (Chefredakteur, Hauptabteilungsleiter);
Name, Telefon und E-Mail-Adresse mindestens einer weiteren beruflichen Referenzperson.
Unvollständige oder verspätete Bewerbungen werden nicht berücksichtigt.
---

Germany Summer Program for Students of Journalism and International Affairs: June 29 – July 20, 2019
Application Deadline: February 16, 2019
Application Form as PDF
---

Germany Spring Program 2019: June 2–15, 2019
Application Deadline: February 1, 2019
Germany Fall Program 2019: September 15–27, 2019
Application Deadline: April 1, 2019

Application Form as PDF
2-WEEK GERMANY PROGRAMS FOR AMERICAN ELECTRONIC JOURNALISTS
Germany Spring and Fall Programs 2019
June 2-14, 2019 – Application Deadline February 1, 2019
September 15–27, 2019 – Application Deadline: April 1, 2019

The RIAS journalist exchange offers a two-week program in Germany (with the option of an extension of up to one week for individual research projects and reports) to U.S. journalists, who work in radio, television or online.
The program starts in Berlin, where participants stay for one week for political, economic, cultural, and media appointments. In the second week the summer program moves to Erfurt and Cologne, the fall program to Dresden and Prague to see the changes that have transpired since German Unification in 1990. The programs always end with a three-day stop in Brussels, home to both NATO and the European Union, with meetings and appointments to discuss the latest developments of each organization. The participants fly home from Brussels or start their optional extension in Berlin or other German cities from there.
Program applicants must be full-time radio, TV, or online journalists, either staff or freelance hires. While knowledge and familiarity of German is preferred, it is not a requirement. We ask that applicants have a minimum of three years of continued professional journalism experience prior to applying for the program. The RIAS BERLIN COMMISSION encourages journalism school graduates with prior work experience to consider the program.
Program applicants may apply for an extension in Germany of up to one week to cover stories, pursue individual research projects, or intern in a division of a German radio or television station. This request must be made at the time of the initial application.
The RIAS BERLIN COMMISSION exchange is a comprehensive fellowship, providing participants with r/t air travel from their home market to Germany, ground and air travel in and across Germany, and hotel accommodations during the program. Participants seeking extensions also receive travel and accommodation coverage.
Application Package
The following material should be included in your application package.
completed application forms
résumé / CV
nominating/recommendation letter from your supervisor
A one-page essay which addresses these three issues:
1) why are you interested in the program;
2) what do you hope to gain from participating; and
3) how will your inclusion in this program benefit you, your station or newsroom?
Send application materials  to:
RIAS BERLIN COMMISSION
Hans-Rosenthal-Platz
D-10825 Berlin
Germany
info@riasberlin.org
Since 1994, RTDNF has administered this media fellowship as part of its German/American Journalist Exchange Program with the RIAS. The next application deadline for the 2018 program in Europe is February 1, 2018. For information on the RTDNF Germany fellowship or the RIAS Awards program, visit rtdna.org or contact Mike Cavender at mikec@rtdna.org or Erik Kirschbaum at kirschbaum@riasberlin.org.
---
---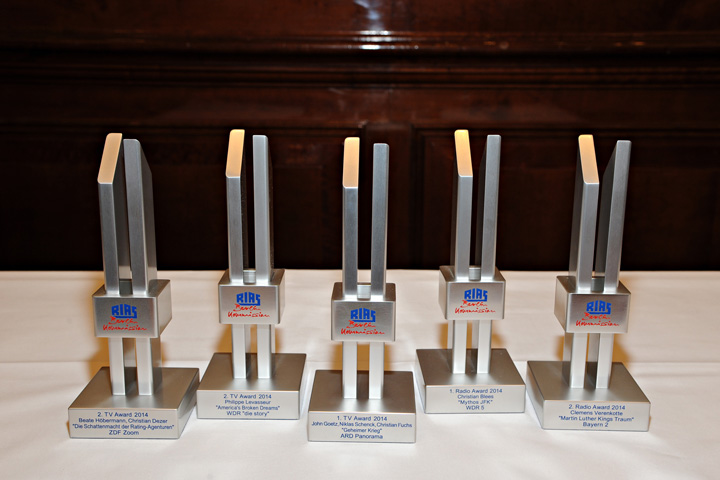 June 12, 2017
The RIAS Berlin Commission will celebrate its 25th anniversary at its annual awards ceremony on Monday, June 12, 2017 at 7 p.m. at the RIAS Funkhaus am Hans-Rosenthal-Platz in Berlin.