News & Events
January 30, 2023
RIAS Berlin Media Prize – Career Changing Recognition for Local Journalists
When Texas TV journalists David Wagner and Monica Quintero were invited to take part in the RIAS Berlin Commission's Program for American journalists in 2019, they made a deal in advance with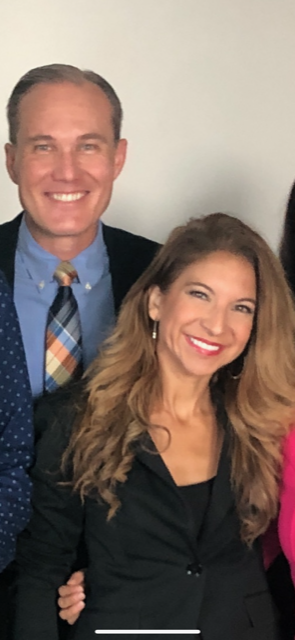 their respective stations in San Angelo and Midland-Odessa, Texas. The colleagues were able to take two weeks off of work to take part in the educational program in exchange for the promise to bring back some "content".
So they packed a DSLR camera, along with some lavalier microphones that could be plugged into their iPhones and they flew to Berlin.
In between the three to five meetings each day during the RIAS program's full schedule of daily meeting with German politicians, journalists and business leaders, Wagner and Quintero worked  together for their half hour special that took a look at some of the aspects of the program and their own observations. It was entitled "Beyond Borders: A Trip Abroad". Here is their award-winning film.
They sometimes worked late into the evening and night in their free time to work on their report. Wagner says his professional goal has always been 'to make a difference across the board", and they specially examined how German and Americans tackle a range of issues like gun control, immigration… and even walls. One of their segments compared the history of the Berlin Wall, with the debate over a wall at the southern US border.
With no crew, Wagner shot Quintero's interviews and she taped his, all with an iPhone and a DSLR. Once back home, they had to send scripts and voice tracks between KLST/KSAN in San Angelo, where Wagner was news director and Quintero's station, in KPEJ in Midland-Odessa.
"Beyond Borders: A Trip Abroad" aired on several stations in Texas and was submitted for the RIAS  Media Prizes in 2019. The next spring, the RIAS Media Prize jury chose it as  "Best Fellow Award" – one of five prestigious prizes awarded each year by the German-American exchange program. By winning the prize and the $1,000 award, Wagner also got another trip to Berlin to pick up the award (Quintero was busy preparing for her wedding and couldn't make it.).
"It was amazing to go back", says Wagner. "It's a feather in your cap that you won an international award."
It's a rare opportunity for local journalists working in markets across the United States, but one that's coming up again soon.
The RIAS Berlin Commission is welcoming submissions for its 2023 Media Prize for stories reported in 2022. A total of $10,000 in prize money is available for the slate of prizes. The deadline for submissions in Jan. 31, 2023. Please write to info@riasberlin.org for more information or take a look at the www.riasberlin.org website.
---
January 23, 2023
RIAS Berlin Media Prize Jury chair Gargiulo talks about competition as deadline nears
Michael Gargiulo, an anchor at WNBC TV in New York City, has been the co-chair of the RIAS Media Prize Jury since 2020 and a member of the independent German-American jury since 2018. There are three Americans journalists and three German journalists on the independent jury that has been awarding the prize annually since 1994. The other Americans on the jury are: Melissa Eddy, a correspondent for the The New York Times in Berlin; and Yami Virgin, a reporter at KAAB Fox in San Antonio, Texas. The German co-chair is Anja Heyde (a reporter/anchor at ZDF/MDR TV, Berlin/Magdeburg) and other members are: Helge Fuhst (editor-in-chief of Tagesthemen at ARD, Hamburg) and Christian Wilp (reporter at NTV, Berlin)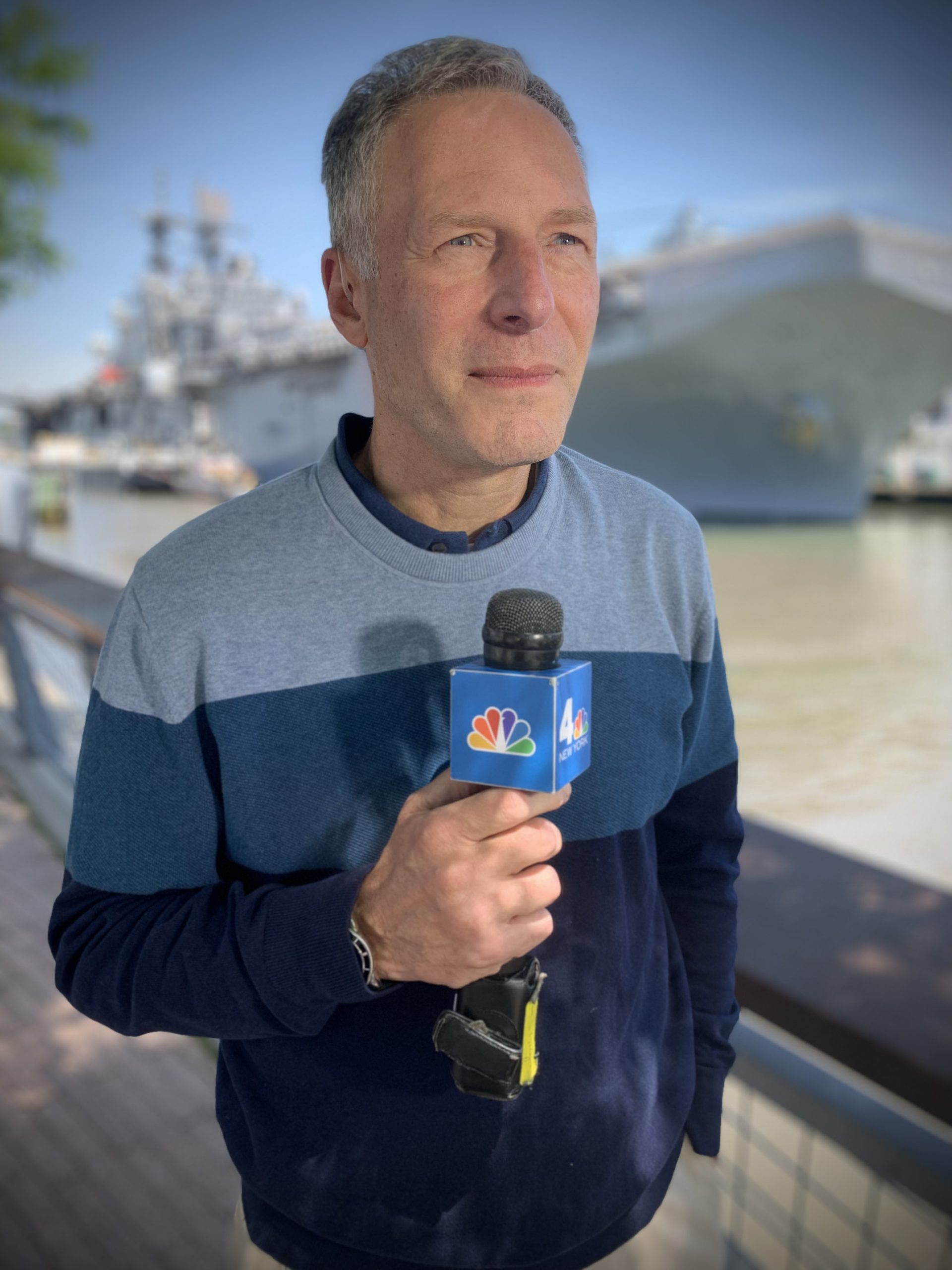 Question:
  Can you tell us, based on your many years' experience on the RIAS jury, what kind of story tends to grab the attention of the jury members? What kind of stories do jury members like to watch or listen to?
Michael Gargiulo: The stories that grab the judges's attention are the ones that are the most personal. I remember being so moved by Jan Philipp Burgard's story of a young German banker who died on 9/11. His father still drove his son's car and that video of him behind the wheel brought me to tears because it was his way of connecting with the child he will never see again.  We also are drawn to "I didn't know that " stories.  One of the best was when Bill Whitaker of "60 Minutes" visited a German prison housing its worst offenders and how their approach inspired change in Connecticut prisons. It went against everything we thought we knew about prison reform.
Question: Isn't it difficult, if not almost impossible, to judge American broadcast journalism stories and compare them in the same competition with German broadcast stories submitted? The media markets are so completely different with most of the submissions from the United States coming from commercial networks and are usually far shorter at just a few minutes to at most 12 or 15 minutes compared to many of the German submissions, which are often from public broadcasting networks and can run for 30 to 45 minutes or even longer?
Michael Gargiulo: Yes, absolutely!  I am a local broadcaster and have worked at six local
stations from Huntington West Virginia (WSAZ) to New York City (WNBC). No matter the market size, American journalists rarely have the time or resources our German colleagues have. I always try to look at what it took get get a story on the air. A good example is a Media Prize winning
entry by two Texas anchors… they shot a half hour special report while on their RIAS Program in Germany. No producers, no photogs, just their own effort on their own time . I appreciate that. At the same time, I have huge respect for the commitment our German colleagues make to try and understand what's happening  in America. Often, what's most impressive is the depth of their reporting, and not just the length or the size of the crew they had to work with. In the end, its the quality of the reporting that matters and that's ultimately what makes a winning entry .
Question: How do you and the jury bridge that transatlantic divide and yet still find outstanding submissions from both the United States and Germany each year?
Michael Gargiulo: It is a challenge because many German journalists came to the US in 2022 to do stories on the mid term elections, but we also want to encourage submissions from the American side of the transatlantic relationship. For that reason, I always ask my American colleagues to look at stories they did that may involve Germany …it could be about a German company operating in their area.. it could be a National Guard Unit on their way to train Ukrainian soldiers at the complex in Grafenwoehr. Many times, there are stories done about the Cold War, education …even wind power in Germany. US journalists are used to submitting for Emmys and AP
Awards and Murrows… we have to get the word out to include the RIAS Media Prize in their minds as well. Also, this is one of the hardest parts of the RIAS Media Prize jury but also one of the most satisfying things at the end of the day – we are able to find a half dozen outstanding stories that do bridge that transatlantic divide when it comes to broadcasting. We've discussed having separate. categories for American and German entries… but I honestly feel that is contrary to the spirit of RIAS because RIAS Berlin Commission is trying to build bridges and find common ground between the USA and Germany so that spirit has  to be on display with the winners of the RIAS Berlin Commission. The winners are simply outstanding pieces of journalism.
Question: Can you talk a little bit about that buzz in the jury room (or lately in the jury zoom talks) when the jury starts talking about a radio or tv or digital story that really seems to excite everyone or almost everyone in the room? Isn't that a powerful feeling when pretty much everyone in the jury thinks 'Oh my god, this story is really special'?"
Michael Gargiulo: It always happens!  Especially when we first get together and just start naming some of the submissions we like… there are always one or two stories that seem to some up spontaneously. I always think that's a good sign that we are going to agree right away on some of the categories.
Question: What happens, in general, when the jury seems divided or even hopelessly divided and unable to pick a winner in one category? What do you, as jury co-chair, do to help break the deadlock?
Michael Gargiulo: It's like building a coalition in the Bundestag….ok , maybe not that difficult. I find a lot of our differences are cultural. I remember one year, there were some entries that involved a lot of live reporting… the Americans were really impressed because live reporting is really valued at US TV stations. The Germans were more like 'Big deal.. they were just observing what was going on."  When we have a deadlock on a particular category, as a co-chair (along with my colleague Anja Heyde), I always ask everyone to take a step back and discuss with their fellow jury members what they liked and did not like about a story.  Then we try again to reach a compromise.
Question: You've been on juries that have picked some really  powerful TV film stories as the RIAS grand prize winners in recent years – such as the CBS News "60 Minutes" story you mentioned earlier from Bill Whitaker on how Connecticut has successfully adopted some of the rehabilitate-the-prisoner policies used in Germany instead of the lock-em-up-for-life policies in the USA, an ARD TV story from Ingo Zamperoni on how one journalists' family was so badly divided politically over President Donald Trump and that WeltTV story from Jan Philipp Burgard on how an elderly German couple successfully fought to have a memorial in Germany for the dozens of Germans who died in the 9/11 attacks in the USA. What do you think of those grand prize  winners and do you have any special favorites?
Michael Gargiulo: All those stories are among the very best winners we have chosen. Jan
Philipp's 9/11 story had special meaning for me as a New Yorker, because 25 graduates and family members from my high school died on September 11th. I could really relate to Ingo's story on his American family and their political divisions because it's something so many American families wrestle with. I love history and so many of the winning entries have been about the legacy of the Cold War or about the era of a divided Berlin.. it's fascinating to watch those stories come alive
again.
Question: When will the 2023 jury meet and pick its winners?
Michael Gargiulo: Our jury is ready to roll! We will start reviewing the entries right after the
submission deadline on January 31st… we are hoping to get together (virtually) at the end of February for our big meeting to talk about the finalists in each category and decide on the winners.
Question: Anything you'd like to add?
Michael Gargiulo: Yes.. two things . I love the fact that the Media Prize is for journalists and it's judged by a panel of working journalists. I think we appreciate what went into these stories and what truly makes a winning entry. Secondly, I would urge all my colleagues to go back through the work they did in 2022..maybe you didn't travel to the US or to Germany, but your stories involved the transatlantic relationship in some way ..if so please enter for this year's Media Prizes.
---
January 11, 2023
RIAS Alumni donations rise again in 2022
Private donations to the RIAS Berlin Commission climbed to a record total of 22,100 EUR in 2022 — with contributions coming from 96 alumni and friends of RIAS in Germany (54) and the United States (42). Ninety-six was the largest number of donors and largest total amount contributed in a single year to the RIAS Berlin Commission since its donation drive program was launched in 2016. The total in 2022 was more than twice as much as in the previous record year of 2019, which was right before the Covid-19 pandemic, when a total of 10,925 EUR was donated.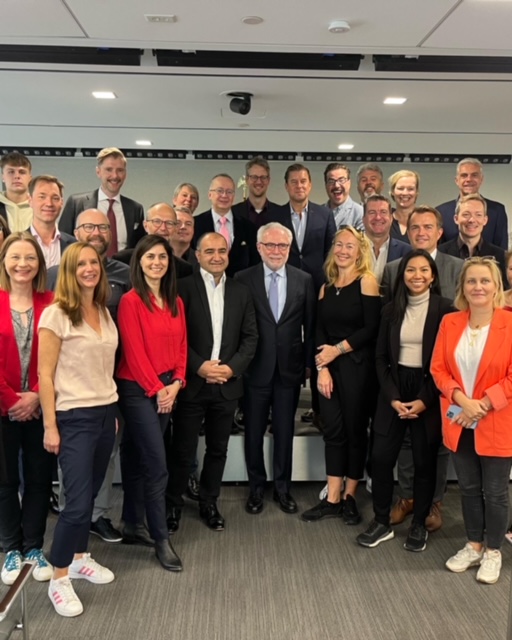 "It's really fantastic to see how many RIAS alumni and friends of RIAS made contributions in 2022," said RIAS Berlin Commission Executive Director Erik Kirschbaum. "It shows how much energy and enthusiasm there is out there from former participants to give something back for their life-changing experiences on RIAS programs and to want to stay connected to help keep the spirit of RIAS alive for future participants and future programs."
Even though alumni donations have a greater tradition in the United States than in Germany, RIAS Berlin Commission is committed to sharing German customs with Americans and American customs with Germans. That has been the magic transatlantic recipe in developing the donation culture among RIAS alumni in both countries, Kirschbaum said. He added that every euro or dollar of the donated funds would be put towards adding spots on the RIAS exchange programs – eight are planned in 2023 with a total of about 140 participants.
Those generous donations in 2023 will help make it possible to expand the exchange programs in 2023.  The tax-deductible donations in 2022 included 13,130 EUR from 54 alumni in Germany (up from 42 in 2021) and $8,975 from 42 alumni (up from 16 in 2021)  in the United States
There was a wide range from individual donors in 2022, from $50 to $750 in the United States and 30 euros and 1,000 euros in Germany. RIAS Berlin Commission says a big thanks to all donors!
Large donors (200 euros or more) included: Michael Gargiulo,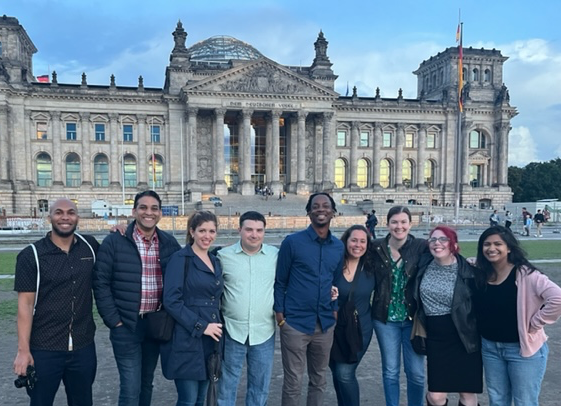 Erik Kirschbaum, Martin Richter, Nadja Kriewald, Isabelle Körner, Birgit Lamhammer, Dilek Üsük, Kristian Wiegand, Andre Schuenke, Susan Falkenstein, Daniel Pokraka, Christel Blanke, Anne Sieger, Helge Fuhst, Matthias Bähr, Gesinde Dornblueth, Zlatin Nikov, Michael Stang, Cornelia Gerhard, Janelle Dumalaon, Damla Hegimoglu, Annika Witzel, Okka Gundel, Sarah Williams, Mareike Makosch, Roseanne Gerin, Gregor Schmalzried, Colin Ward, Thomas Demane, Sabine Krebs, Brittany Silverstein, Suzie Herman, Erika Angulo, Bonnie North, Scott Neuman, Ingo Zamperoni, Nadine Bader, Theresa Greim, Andreas Büttner, Nazan Gökdemir, Christian von Rechenberg, Marc Krüger, Nadine Jantz, Najima Joussaoui, Heinz Neno Kampmann, and Julius van de Laar.
The RIAS Berlin alumni chapters set up in Hamburg, Berlin, Cologne, Rhine-Main, Brussels, New York, Washington and Los Angeles are helping spread the message on donations. The alumni chapters play the central role in selecting up to about 30 participants for the 2023 one-week alumni programs in Cologne/Munich in late September and Los Angeles in late October.  With more than 2,000 alumni over the 30 years, the RIAS Berlin Commission is hoping to double the amount of donations in coming years.
The RIAS Berlin Commission's annual Media Prize awards ceremony planned for June 1 in Berlin. There will also be a panel discussion and alumni get-together the following evening in Berlin on June 2. All alumni are cordially welcome to attend both events. In the United States, alumni get-togethers are planned for Washington DC on March 9 and in New York City on March 17. There will also be a series of alumni events at the RTDNA Excellence in Journalism convention.
---
December 6, 2022
Martin Richter is RIAS Alumnus of the Year 2022
Martin Richter, senior producer and reporter at Phoenix TV in Bonn, was honored by the RIAS Berlin Commission as Alumnus of the Year 2022 for his efforts to bring American and German journalists together. Richter participated in a RIAS program in the U.S. for the first time in 2018 and has put his heart and soul into co-leading the Cologne alumni chapter for the past four years.  He has helped organize two groups of 30 and 42 German RIAS alumni for a week-long program to New York in 2021 and Washington DC in October 2022.
He has also been a guest speaker for American journalism groups in Germany for many years, recruiting German journalists for RIAS programs and helping to increase the number of applications from Germany for the RIAS Media Prize.
How does it feel to be selected 2022 Alumnus of the Year?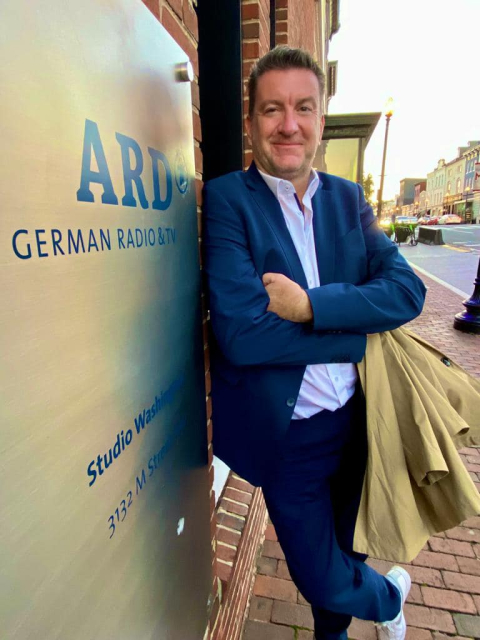 Being RIAS Alumnus of the Year 2022 is really a very great honor for me and makes me extremely happy. The award is a confirmation of my work and my commitment to RIAS, which I enjoy very much. Above all, I am pleased about the many positive feedbacks from RIAS alumni about my election – the feedback is very motivating for the future.
Why are you so interested in voluntarily being involved so extensively in the RIAS Alumni Network?
I really enjoy working for RIAS because I greatly appreciate the spirit behind RIAS and its network. The cohesion, the lived idea of the transatlantic bridge and the exchange with the American colleagues is a great enrichment – professionally and privately.
Doesn't all this take an awful lot of time?
No, above all, it gives me great pleasure to work for RIAS. I like to take the time for it. I always enjoy organizing/coordinating the Cologne chapter, and I see the time for that as a benefit. Meeting the alumni from Germany and America as well as the new participants of the programs is always an enrichment and a "reward" for the time invested.
Wasn't it difficult to organize the alumni programs in 2021 and 2022? How difficult was it to nominate the 10 candidates from the 150-strong Cologne alumni chapter?
The selection of participants for the alumni trips is never easy, as there are always more alumni applying than there are places available. What matters most to us is whether, how and in what form the applicants get involved in the chapter work and that they donate to RIAS. Diversity is also an important aspect for us, as well as a good mix of participants from private and public broadcasters. We will suggest possible participants and Erik Kirschbaum will make the final selection. Los Angeles 2023 will certainly be a special trip – we already have a lot of applicants.
Are you satisfied with the alumni programs have unfolded?
The experiences I had in New York in 2021 and Washington DC in 2022 thanks to RIAS were really great. The appointments on site, the meetings with journalists, politicians and experts in US politics are just fantastic in this diversity. To be so close to politics, to journalists reporting from the USA, is unique and valuable in this form. Whether professionally or privately: every RIAS trip is a view over the edge of one's nose and a broadening of one's personal horizon!
What could be done better?
I think we have to be careful that RIAS offers these and other trips within the possibilities of the participants. Especially young colleagues or single parents are not in such a good financial position that they can easily afford the program. This should not become an obstacle to applying. RIAS should keep this in mind. Also, the size of the group (e.g., the alumni group) should not exceed what is feasible. The effort of organizing and implementing the trips on site should not be underestimated.
What was the difference between your first trip in 2018 and the Alumni Program?
My first trip with RIAS to the US in 2018 was a super program with a really great group. To this day, I still keep in touch with most of that group and reuniting at the alumni trips is always a great pleasure. The experiences in the USA weld us together. In 2018, we were all still "new" to the different experiences in the US. On the alumni trips, there are many experienced participants who contribute even more with their knowledge and experience. This is always exciting to observe and experience. You can always feel the deep RIAS connection and it is one of the core characteristics of each group.
How can the RIAS Alumni network be strengthened?
I think we are already a very strong and large network! It's incredible what Erik Krschbaum has done in this regard! In the meantime, we also have RIAS chapters in Southern Germany and Hesse and the cohesion is really great.
How does all this work in Cologne?
Since I've been RIAS Chapter Leader Cologne, the number of members in our chapter has grown steadily. In 2022 we are at about 150 people on our mailing list- that's great! At our chapter meetings there are usually 20-30 members present, which is great and every time a very good exchange among each other. But the whole thing is expandable. The pandemic has slowed down our work for RIAS a lot, but I am in good spirits for 2023. Of course, I would like to see even more active members who contribute to the chapter work with ideas and suggestions. In this regard, the annual alumni program is a good approach – you can qualify yourself through dedicated cooperation.
Does the Alumni Network have any advantages for you personally?
100%. In 2018, I was in the USA as a live reporter for my channel phoenix on the occasion of the midterms. Shortly before, I had completed the RIAS program in New York, Washington DC and in Tulsa, Oklahoma. Through RIAS I got important contacts in the USA, which were valuable for my work and still are today. Some contacts even turned into friendships – what better way to talk about a network?
Why do you do so much for RIAS?
Because RIAS itself has enabled me to do so much and continues to do so today. I want many colleagues (young and old) to have the same experience and benefit from the great RIAS spirit. It is a transatlantic network that is second to none.
What do you like most about RIAS? What do you like least?
The cohesion, the spirit of RIAS and the exchange with German and American colleagues. as a network across the Atlantic and back is unique in this form. I would like to see even more alumni getting involved and contributing to further strengthen and expand the RIAS network. "Spread the news" is an important component of this – many Kolleg:inenn still know far too little about the opportunities RIAS offers. I would also like to see the participants of the programs see RIAS as more than just a stop on their resume and give something back to RIAS – not just a donation.
---
November 28, 2022
Enter the RIAS Berlin Media Prize competition, win a trip to Berlin
Journalists in the United States and Germany are invited and encouraged to submit entries for the $10,000 RIAS Media Prize competition. It's a truly transatlantic competition with American and German  radio, TV and digital journalists putting up their best work on issues that touch upon transatlantic issues broadcast in 2022 — anything from political campaigns in the USA from a German perspective, the impact of the climate crisis on both countries or how the United States reopened its borders for EU citizens at the end of the Corona pandemic.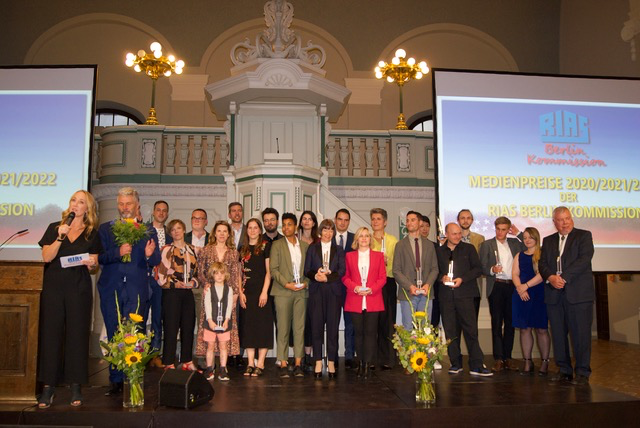 The 2023 winners in the radio, TV and digital categories are invited to take part in the gala awards ceremony in Berlin in June. RIAS alumni who worked on a story during their fellowships or shortly thereafter are also encouraged to submit their work for a special "fellow award" category. The independent jury will review all entries submitted by January 31, 2023 in February and the winners will be announced right afterwards. The winning entries will receive $1,000 in prize money while one grand prize winner selected by the jury will receive $5,000. Some of the recent winning entries have included Bill Whitaker from CBS News "60 Minutes", and Clare Toenskoetter from The New York Times' podcast The Daily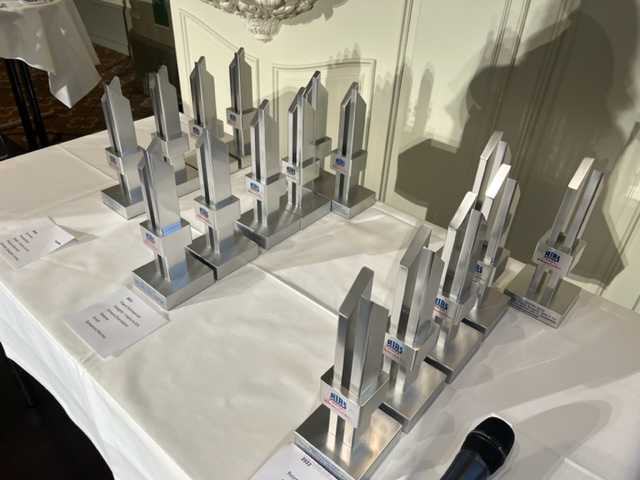 Here is a link with more information on how to submit your entries. Also, please encourage other journalists you may know to apply — or whose work you may have seen or heard.
Ideally entries submitted will:
  go beyond daily and routine reporting
  promote dialogue on similarities and differences between the two countries
  stand out thematically and/or in their execution
  take on new questions in a creative way
critically examine and make diversity of social reality clear
contain interesting ideas for transatlantic debate
encourage reflection on problems and solutions
question clichés about Germans or Americans
describe trends in everyday life of general interest
contribute to mutual curiosity and understanding
 strengthen democratic and societal values
Please write to info@riasberlin.org for further information.