News & Events
October 3, 2022
11 German journalists start three-week RIAS fall program fellowship to the USA
A group of 11 broadcast journalists from Germany started their three-week RIAS Berlin Commission fellowship to the United States on October 3 in Washington DC. After week in the capital city meeting American and German journalists, American politicians, analysts at leading think tanks and research institutes, the group will travel to New York City for another week of meetings there.
They will spend the third week on their own 10 different stations across the United States, looking over the shoulder of American RIAS alumni in Chicago, Detroit, Milwaukee, San Antonio, Atlanta, Salt Lake City, Boston, Bend OR, Sioux Falls SD and Tyler TX. The Germans will also meet with American alumni at mixers in Washington DC on October 7 as well as in New York on October 12 and October 14. Here is more information on the German participants:
Damla Hekimoglu, ARD Tagesschau 24, Hamburg
Damla Hekimoglu is an anchorwoman for Germany's leading news program Tagesschau and tagesschau24 at German public broadcaster ARD. With 22,000 employees, ARD is one of the world's largest broadcast organizations and Germany's market leader in news. She also working as an investigative reporter for the WDR network in Cologne. A native of the Rhineland, she has also worked for PHOENIX and BBC World News. She will be doing her station week at WGN TV in Chicago, Illinois.
Etienne Bell, NTV, Cologne

Etienne Bell has been an anchor and reporter for the all-news commercialNTV news network since 2014. A native Rhinelander, Bell also anchors NTV's "Startup Magazin". He has anchored a weekly business podcast "Brichta&Bell – Business Simple and Fast" since 2019. Bell also anchors for various multi-platform offers by NTV, such as the Alexa Skill for Amazon Echo. Bell studied "Media Communication and Journalism". He has been working in journalism since 2006 and also has experience working for commercial and public radio broadcasting.
Nadja Bobrova, ARD Morgenmagazin, Cologne

Nadja Bobrova is a senior editor for the German public broadcaster ARD. She works for the daily morning show, called "ARD MorgenMagazin". Bobrova has Russian roots as she was born in Moscow and speaks three languages fluently: Russian, German and English. She has been focusing especially on assisting ARD's coverage of the war in Ukraine and the situation in Russia. She has also worked in the past for German newspapers, such as the Westfälische Rundschau, as well as for commercial networks NTV and RTL. Bobrova also studied abroad in St. Petersburg, Russia in 2013/14. She will be doing her station week at WBUR radio in Boston, Massachusetts.
Janelle Dumalaon, Deutsche Welle, Berlin

Janelle Dumalaon is an anchor, producer and reporter for Deutsche Welle, Germany's international broadcasting company. She was born in Manila and came to Berlin in 2009. As the creator and lead producer of DW News' explainer series "Business Beyond", Dumalaon is especially interested in the events that shape the global economy. She can be found tweeting under @janelledumalaon on business, geopolitics, Germany, and the Philippines. She will be doing her station week at KFSY TV in Sioux Falls, South Dakota.
Najima El Moussaoui, freelance journalist, Cologne
Najima El Moussaoui is a TV journalist and a freelance anchor. She has also worked as an editor for the news at NTV commercial all-news network, Deutsche Welle (DW) and has been working most recently for the WDR network in Cologne. She was born in Morocco and came to West Germany as a child. She speaks German, English, Spanish, French and Berber. As an author and director, she worked on the documentary film "Islam goes to school" (WDR/ARD). She is a former board member of Germany's biggest association of media professionals with foreign roots. She will be doing her station week at KABB in San Antonio, Texas.
Tom Garus, RBB, Berlin

Tom Garus is a reporter for the German public broadcaster ARD. He also anchors a TV show (about consumer topics) on RBB, which is the Berlin-Brandenburg local station in the ARD network. Born in east Berlin, Garus is interested in social policy, digitalization and history. Garus will be doing his station week at KLTV in Tyler, Texas

Kristin Becker, ARD, Berlin
Kristin Becker covers political news for the ARD network's capital city offices in Berlin and reports reports for Germany's leading news program, Tagesschau. She is also the anchor of the award-winning Tagesschau- Zukunftspodcast "mal angenommen" ("just assuming") that discusses scenarios and consequences of political ideas in the future – like what happens if there were only electric cars on the road or if the EU had its own armed forces. In the past, she has worked abroad for the foreign and was a member of foreign desk and was a member of the fact-checking team at Tagesschau. She will be doing her station week at KSL in Salt Lake City, Utah.
Jutta Krug, WDR, Cologne

Krug started her journalism career as part of the founding team of the German-French Cultural Channel ARTE, based in Strasbourg. During her studies at Munich University and the German Journalism School, she was able to get an internship working on Capitol Hill in the offices of Congressman John Lewis. She works as a senior editor at WDR now and commissions documentary projects for the public broadcasting network. Some of the titles she has commissioned include "THE CLEANERS" on social media, "THE FORTH ESTATE" on Trump versus the NY Times and "WE ARE ALL DETROIT". She is looking forward to her station week at WXYZ TV in Detroit.

Mareike Makosch, Radio Regenbogen, Mannheim
Mareike Makosch is the head of news division at German commercial radio stations Radio Regenbogen and Regenbogen 2 in Mannheim. She is the morning show news anchor for Radio Regenbogen. Makosch, who tries to incorporate as much news about the United States as possible into her broadcasts, holds a master's degree in psychology and specializes in national and international politics. She will be doing her station week at KTVZ TV in Bend, Oregon.
Marcel Wagner, NTV, Cologne

Marcel Wagner is a news anchor at NTV, the all-news channel of RTL News, Germany's largest commercial network. He also works as a radio and TV anchor for ARD. As a helicopter pilot, Wagner is an expert in aviation, and also covers sports and business topics. He will be doing his station week at CNN in Atlanta, Georgia.

Annika Witzel, WDR, Deutschlandfunk radio, Cologne
Annika Witzel is a freelance radio reporter and editor based in Cologne. She mainly works for the German public broadcasting companies WDR and Deutschlandfunk. Annika works for several WDR radio stations, especially for daily news programs, including 1LIVE, a station focused on young audiences. She also works for the WDR science programs "Quarks", where she takes on scientific topics and breaks them down into easy-to- understand content. At Deutschlandfunk she is part of the team in charge of the prime time morning show. Annika is especially interested in international relations, pop culture and Social Media Trends and in breaking down all the information in snackable pieces for radio stations and online accounts. She will be doing her station week at PBS in Milwaukee, Wisconsin.
---
September 17, 2022
RIAS fall program to Europe concludes after 12 days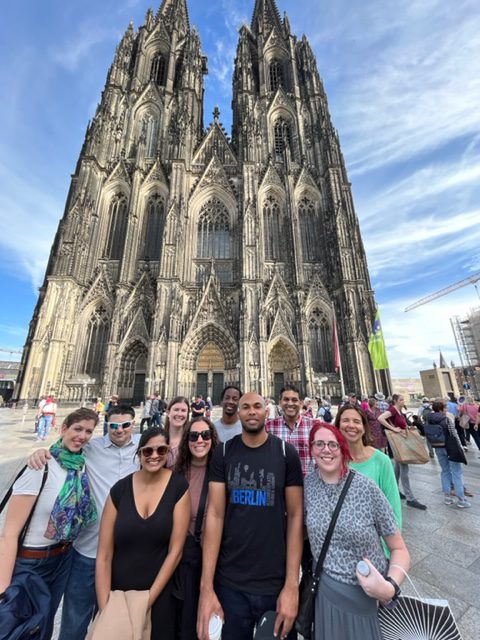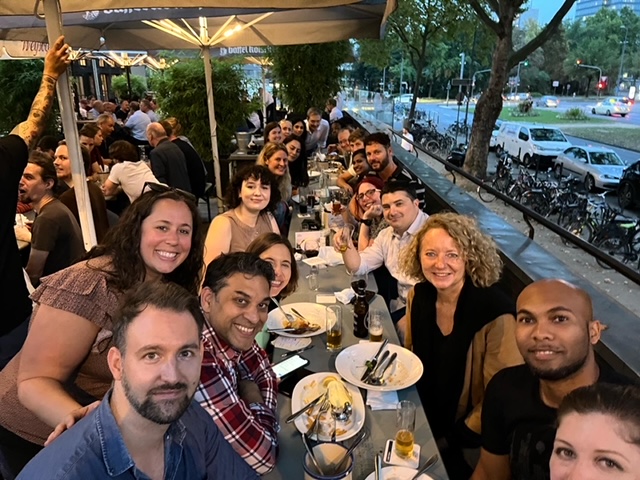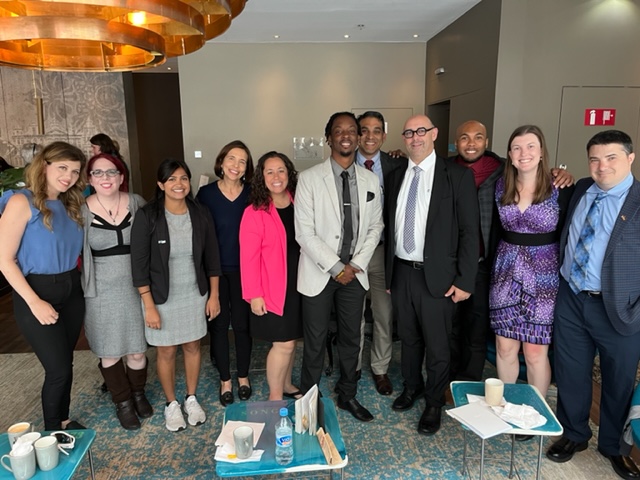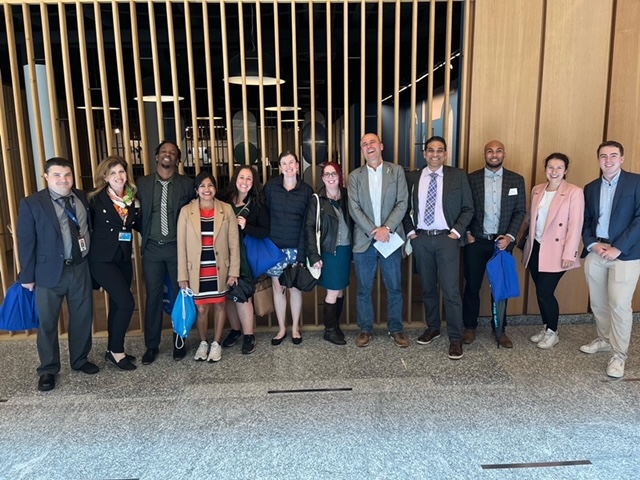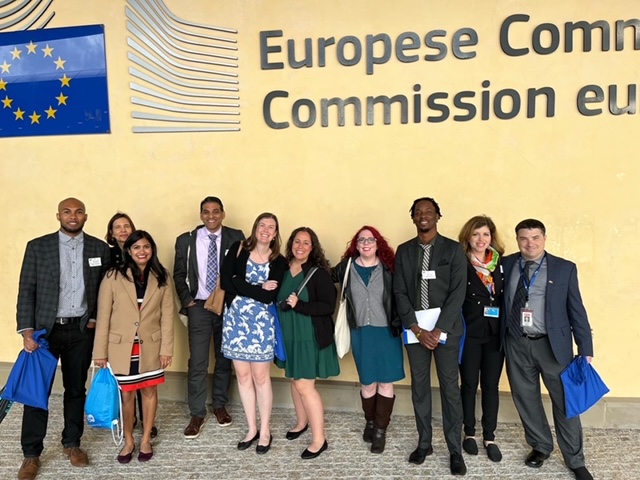 Ten American journalists completed a 12-day whirlwind trip of four cities in Germany and Brussels on September 17 with two days of meetings in Brussels. The journalists had a total of 41 meetings in Berlin, Hamburg, Cologne and Brussels, learning more about politics, media, culture and life in Germany and in the European capital. They had the chance to talk with German and American foreign correspondents working in Germany and Brussels as well as visit important news organizations such as Deutsche Welle, ARD television, WDR television, WeltTV, Deutschlandfunk radio, Deutschlandradio, NTV, RTL and Der Spiegel.
The Americans also had the chance to meet with American diplomats in Berlin, Hamburg and Brussels as well as talk to senior NATO and EU officials in Brussels. They also had the chance to get a taste of cultural aspects of Germany in meetings with artist Kani Alavi at the East Side Gallery in Berlin and band leader Andrej Hermlin and his American swing dance band.
For several members of the group on their first trip abroad, it was an especially eye-opening experience to learn more about Germany's history, its efforts to come to terms with its history, and its work as a force for good in Europe and beyond. The members of the group included: Ayan Mittra, The Texas Tribune, Austin, Texas; Anjuli Sastry Krbechek, NPR, Los Angeles; Brittany Silverstein, ABC7, Los Angeles; Deon Osborne, The Black Wall Street Times, Tulsa, Oklahoma; Thomas Demane, CNN International, Atlanta, Georgia; Suzie Herman, KSDK, St. Louis, Missouri; Erika Angulo, NBC News, New York; Ward Colin, Kennesaw State University, Kennesaw, Georgia; Katherine Watkins, Houston Public Media, Houston, Texas; Steph Whiteside, WSIU, Carbondale, Illinois.
---
September 16, 2022
RTDNA chair-elect Worsley visits RIAS stand at RTDNA convention 
Sheryl Worsley,  who is running as chair-elect of the RTNDA board, stopped by the RIAS Berlin Commission stand on Friday at the RTNDA convention in Indianapolis. Worsley (left), who is also a RIAS alumni from June 2022, met with RIAS board member Michael Gargiulo (right) and US coordinator Pam Ortega (center) at the convention to talk about the German-American exchange program and her election campaign.
Gargiulo and Ortega have been meeting broadcast journalists and journalism students attending the annual convention and talking about upcoming RIAS programs in 2023 and beyond. RIAS is tentatively planning eight programs in 2023 – four in Germany for American journalists and students and four in the United Stats for German journalists and students.
Please keep our 2023 Alumni Program in mind and on your calendar.  It will be in late September 2023 with 4 days in a Munich and 3 in Cologne. RIAS pays hotel costs and several lunches/dinners while up to 30 American alumni are welcome to attend and only need to pay for their own air travel costs.
---
September 14, 2022
RIAS alumni Worsley running for RTNDA Chair-Elect
Sheryl Worsley is running for the position of Chair-Elect of the Radio Television Digital News Association (RTDNA board), which calls itself the world's largest professional organization for broadcast and digital journalism. It is also RIAS's partner (www.rtdna.org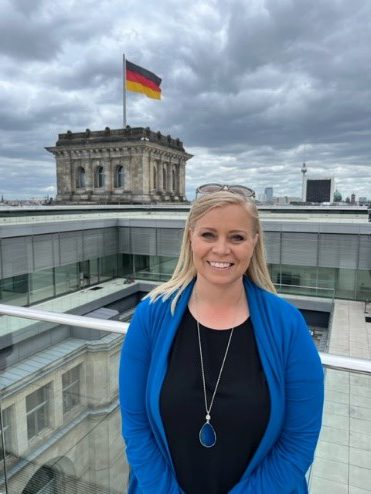 ) in the United States and has been an important avenue for American fellows to take part in RIAS programs to Europe over the years.
Worsley, Vice President of Podcasting at KSL in Utah, was the News Director at KSL Newsradio for 15 years before moving to an all digital role as Director of Audience development in 2018. She has been a board member of RTNDA for the last 12 years.
The  RTDNA elections run to September 16. Here is more information about the candidates.  The RIAS Berlin Commission caught up with Worsley to ask her about her candidacy and the role that RIAS plays in RTNDA:
Why do you want to become the RTDNA chair-elect?
RTDNA does so much for journalists and for the news reporting industry. An opportunity to serve as chair is one I will not pass up. I have served on the RTDNA board for 12 years, and the organization has come to my aid fighting open records battles and attacks on the First Amendment in my state and region many times. This is my opportunity to volunteer and give back.  
What does the RTDNA chair do?
The chair works in cooperation with the full board and RTDNA staff to ensure journalism is strong. The three pillars of what we do is to First, provide training- a great opportunity for learning and networking is happening this week at our convention, RTDNA22  in Indianapolis. Secondly, RTDNA recognizes, supports and honors excellence in responsible journalism. The National Edward R. Murrow awards are a meaningful and sought-after honor by journalists and take place next month in New York. Lastly, RTDNA  protects against erosion of the First Amendment and fights for open records and government transparency. This is done on the local and national levels.
 What are the challenges facing RTDNA?
Reporters and photojournalists face the crucial challenge of broadcasting and publishing truth in a growing sea of misinformation. We're doing it while politicians and a segment of our viewers, listeners and readers attack our credibility. Many reporters and staffers put their job first, even when the safety risks increase while covering protests, counter-protests or covering the economic ravages and physical devastation of war and a post-COVID reality. Our constitutionally protected duty to inform the public and documenting truth  in our communities has never mattered more. I'd like to be a part of keeping journalism strong.
What do you bring to the table? What do you think you could do better or to improve it?
I bring a willingness to innovate and look at challenges with a critical and problem-solving eye. RTDNA is a great organization and we respond quickly, but I think there are ways for the organization to be more nimble and change in ways that help newsrooms which have also changed with the audience and market demands of our time. One of the things I love about RTDNA is the networking and support I get from my association with news leaders and journalists all over the country. I'd like to see more of these opportunities.
You have been the Region 3 director on the RTDNA board for 12 years. Where exactly is Region 3? What have you learned from that experience?
Region 3 encompasses 5 states in the intermountain west in the U.S.- Arizona, Colorado, Wyoming, Utah and New Mexico. In the twelve years of serving this region I have learned that if we want journalism protected, we must we willing to invest personally in the fight. I worked with the Utah courts and the state media coalition to make sure cameras were allowed in courtrooms. I have testified personally multiple times before our state legislature in support of proposed laws friendly to open records and the first amendment and against those which are not. I have asked RTDNA to enter similar battles in other states in our region and RTDNA has answered the call every time.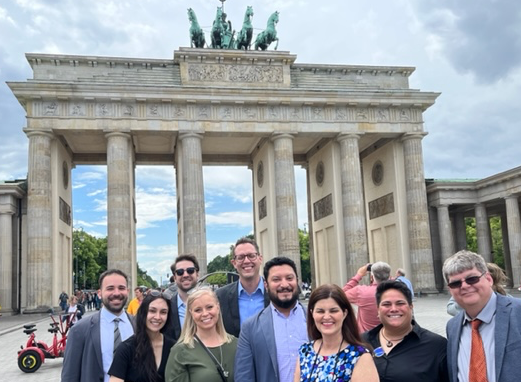 As someone (fourth from left) who has been on the RIAS program, how important is the RIAS fellowship for RTDNA?
The RIAS fellowship is a wonderful opportunity for journalists in both America and Germany to widen their horizons and learn. I personally enjoyed seeing the EU, NATO and learning more about the geo-political forces operating in Europe. These are things that you can learn by scholarship and study, but not in as concrete a way as seeing things first-hand. I am grateful RIAS operated in post WWII, allowing for the free-flow of information to a repressed population. In that spirit, journalists in both the U.S. and Germany are publishing to their audiences with the goal of access to good information for as wide an audience as possible.
I also enjoyed the association with German reporters and the U.S journalists on my trip will carry these wonderful new relationships the rest of my life.
Do you think International exchanges like this are beneficial to US journalists?
Absolutely. Fellowships like RIAS are a way for journalists to not only learn from the ideas of wonderful hosts like the German journalists, but it's a rare opportunity to self-reflect about their own work. A chance for the journalist to examine what they are doing and what they may be missing or could add. The exchange of ideas and possibilities is invaluable.
You have been working as a journalist for about 20 years. Has that experience helped prepare you for the chair-elect?
I was a news director for 15+ years in a radio newsroom. The leadership opportunities and lessons learned while doing that work I believe have prepared me for this opportunity, should the membership elect me. I've also learned some incredible life-lessons and worked with some amazing people. It's a great thing to watch as people sacrifice their time, skill and talent in the service of informing their community.
---
September 10, 2022
RIAS fellows spend busy week in Berlin on fall exchange program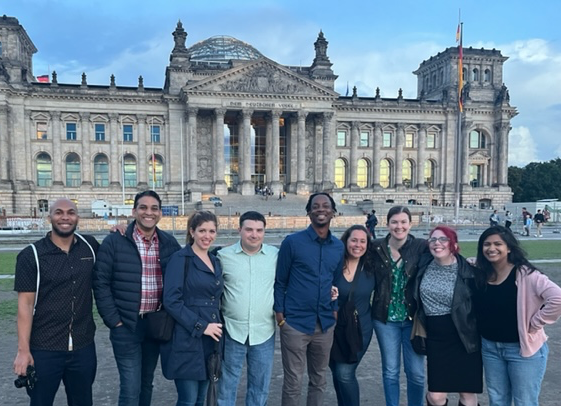 On an exchange program to learn more about Germany, the European Union and NATO, a group of 10 American journalists from across the United States spent a whirlwind week in Berlin during the first half of their two-week RIAS Berlin Commission fellowship. The journalists from TV and radio stations as well as academia from across the United States but especially from outlets in the Midwest and South had up to five meetings per day with German journalists, politicians, political analysts, artists, think tank experts, Ukrainian refugees and immigrants to Western Europe's largest country.
They had the chance to ride along the Berlin Wall bike trail through the heart of the city that was divided by the Cold War, talked to NPR Berlin correspondent Rob Schmitz and tour the Reichstag parliament building as well as watched its spectacular multimedia light show beamed on parliament buildings across the Spree River.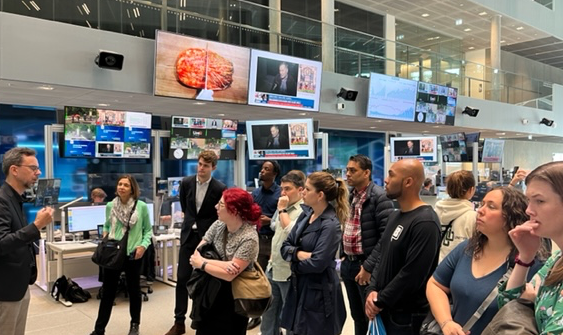 They also met German journalists Jan Philipp Burgard, Vladimir Balzer, Marcus Pindur, Erkan Arikan, Michael Kolz and Deutsche Welle Director General Peter Limbourg along with Canadian anchor Terry Martin. The Americans, many of whom were one their first trip outside the United States, also had the chance to visit the US Embassy near the Brandeburg Gate for illuminating high-level meetings and the Stasi memorial prison in east Berlin where political prisoners were kept during the dark days of the Cold War.
Also talking with the Americans were German-Iranian artist Kani Alavi, who talked about the history of the East Side Gallery open air art exhibit along a mile-long stretch of the Berlin Wall.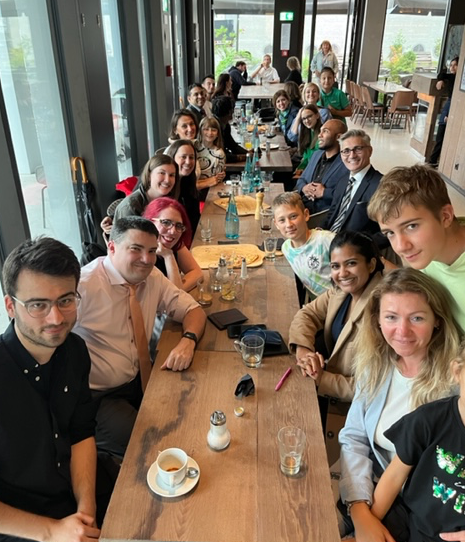 They also visited Potsdam in formerly Communist East Germany as well as the Sachsenhausen concentration camp before listening to a American Swing Dance band led by Andrej Hermlin. The group will be traveling to Hamburg on Sunday for more meetings with German journalists, to Cologne on Tuesday and finishing their journey with three days in Brussels and meetings with EU and NATO officials on Thursday and Friday.
---
August 24, 2022
10 American journalists headed to Europe for two-week RIAS fellowship
A group of 10 American journalists from across the United States will take part in the September 4-17 RIAS Berlin Commission fellowship. The mid-career American journalists will spend the two weeks in four cities — Berlin, Hamburg, Cologne and Brussels — and learn more about journalism, politics, security and cultural issues in Germany and the European Union during the fast-faced fellowship.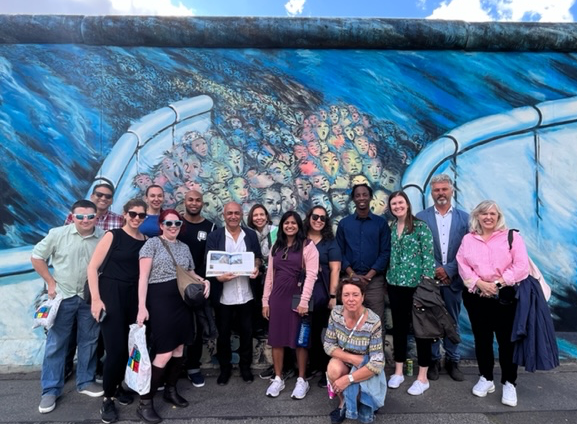 In Berlin they will meet leading German journalists, American correspondents working in Germany, news organization managers, diplomats, politicians, political activists, artists, musicians as well as refugees and immigrants from Ukraine and Palestine. In Hamburg, the Americans will meet diplomats, journalists and learn more about the city's famous harbor and Reeperbahn district where the Beatles got their start in the early 1960s. In Cologne, the Americans will meet German broadcast journalists in the country's most important TV capital city and in Brussels they will meet NATO officials, European Union officials as well as American correspondents working in the EU capital city.
The RIAS Berlin Commission was created in 1992 to keep alive the spirit of the legendary Cold War-era broadcasting company known as "Radio in American Sector" that beamed news, information and music into Communist East Germany as well as to listeners in West Berlin. From 1988 to 1992 RIAS was also a popular TV station. After RIAS went off the air in 1992, the United States and German governments created a binational organization called RIAS Berlin Commission to promote exchanges in broadcast journalism between the two countries.
Here is a list of the participants in the September fellowship:
Ayan Mittra, The Texas Tribune, Austin, Texas
Ayan Mittra is senior managing editor at The Texas Tribune, where he has worked for 10 years. He helps oversee the Tribune's enterprise coverage and many Tribune projects. He oversees the newsroom's expansion into various parts of the state. He is a leader in the newsroom's collaborations with business colleagues and media partners. Before joining the Tribune, Mittra worked more than 10 years at The Dallas Morning News.
Anjuli Sastry Krbechek, NPR, Los Angeles
Anjuli Sastry Krbechek is an award-winning podcast and radio producer. She is a senior producer at LAist Studios, the podcasting arm of NPR member station KPCC in Los Angeles, California. She is the creator, producer and host behind Where We Come From, an audio and video series telling stories by and for immigrant communities of color, which she created while on a Nieman Journalism Foundation Fellowship through Harvard University.
.
Brittany Silverstein, ABC7, Los Angeles
Brittany Silverstein is an Emmy award-winning journalist based in California. She works as a producer at ABC7 Los Angeles and has more than a decade of experience working in local TV newsrooms across the United States. Silverstein hopes to gain a broader perspective on Germany and Europe on the RIAS Berlin Commission program so she can bring that knowledge back to her newsroom.
Deon Osborne, The Black Wall Street Times, Tulsa, Oklahoma
Deon Osborne is managing editor of The Black Wall Street Times. He graduated with a Bachelor's degree in Strategic Media from the University of Oklahoma and previously wrote for the OU Daily and Red Dirt Report. Osborne enjoys covering diverse communities, with a particular interest in the intersection of race and criminal justice.
Thomas Demane, CNN International, Atlanta, Georgia
Thomas Demane is a newscast producer for CNN International, based at CNN World Headquarters
in Atlanta, Georgia. He manages and produces a number of international and domestic newscasts for CNN. Demane is a specialist in global news events, news producing, news gathering and oversees a team of news writers and editors.
Suzie Herman, KSDK, St. Louis, Missouri
Suzie Herman is a senior producer at KSDK in St. Louis, MO.
She oversees the late news. In her more than 20 years as a producer she has produced just about every newscast. Herman is a three-time Emmy award winner, including one for her work on a documentary following the mass shooting in Las Vegas.
Erika Angulo, NBC News, New York
Erika Angulo is a journalist and a coordinating producer for NBC News. She oversees logistics and editorial content in the field. She spent three months recently covering the war in Ukraine. She reported on survivors and the determination of soldiers fighting Russian troops across Ukraine. She has won national awards, including an Edward R. Murrow for breaking news coverage of the Ft. Lauderdale mass shooting in 2017 and two Emmys for her investigative
stories on cartel drug trafficking at the U.S.-Mexico border.
Ward Colin, Kennesaw State University, Kennesaw, Georgia
Ward Colin is an Adjunct Professor and Coordinator of Student Media at Kennesaw State University. He has a Bachelor's in Mass Communication from Dillard University and a Master's of Mass Communication from Louisiana State University. Previously he worked at radio and television stations in Louisiana. Colin enjoys mentoring journalism students and looks forward to helping diversify the journalism field.
Katherine Watkins, Houston Public Media, Houston, Texas
Katie Watkins is the environmental reporter for Houston Public Media, the NPR member station in
Houston, Texas. Her work on environmental and energy issues in Texas has appeared on NPR, Marketplace, & Here & Now. She also produced the award-winning podcast Fire Triangle, which looked at chemical disasters in the state. She has a decade of experience working in multimedia newsrooms in Chile, the US, and London.
Steph Whiteside, WSIU, Carbondale, Illinois
Steph Whiteside is a reporter with WSIU public radio and Side Effects Public Media. Previously, she worked for Al Jazeera. Her areas of interest include health, politics, and social issues.
---
July 13, 2022
Impressions of American Journalism Students on ERP Program
The RIAS Berlin Commission's ERP Transatlantic program was created thanks a grant from the German Economy Ministry. It connects American journalism students with their peers in Germany. The program is supported by the Transatlantic Program of the Federal Republic of German andfunded by the European Recovery Program (ERP) of the Federal Economy and Energy (BMWi) Ministry. The American students came from universities across the Midwest, South and Southwest — Oklahoma, Arizona, New Mexico, Texas, Montana, Florida, Ohio, Wisconsin, Minnesota and Pennsylvania.
Here are some of the impressions from the 14 participants from the program.
Jesse Christopher Smith, University of Oklahoma (The Oklahoman): Spending three immersive weeks in Germany was a life-changing experience for which I will always be grateful. For someone like me who has never been able to afford to travel internationally, RIAS provided a once-in-a-lifetime opportunity to visit a unique place that will forever ripple with the aftershocks of history. Walking through spots along remnants of the Berlin Wall, the Hohenschönhausen Stasi prison and the Sachsenhausen concentration camp — morbid symbols and spaces of cruelty I'd only read about beforehand — suddenly made the harsh realities very real to me. Such painful history can be difficult to reckon with and move beyond, but Germany is trying to come to terms with the past. I noticed this tension between the past and present perhaps most acutely while listening to the personal stories of Syrian, Palestinian and Ukrainian refugees, whose lives have been upended by modern-day war but who have found in Germany a new place to call home. This is not the stereotypical Germany so many outsiders might only be familiar with through decades-old newsreels — it is a living, breathing, multi-faceted nation with vibrant cultures and proud peoples, not unlike the U.S. There is still progress to be made, but the effort is there, and it actually gives me hope that a similar effort for truth and reconciliation in America is still possible. I would like to play a part in that, in whatever ways I can as a journalist, and I would have RIAS and Berlin to thank for instilling this renewed confidence. Danke schön!
Mikaela Deleon, University of Oklahoma: Attending the RIAS Berlin Commission summer ERP program proved to be a once-in-a-lifetime opportunity. The program allowed me to submerge myself in the fractured yet robust history of the city of Berlin and Germany itself. Seeing the Berlin Wall, the Stasi prison in Berlin-Hohenschönhausen, and the Tempelhof Airport were borderline surreal experiences after reading and studying about these historical places for so long. Visiting these locations in person while hearing from contemporary witnesses created such a rich and educational environment and allowed me to feel genuinely connected to the past. RIAS helped me to ground myself in history with an experience that can likely never be replicated by myself.   Learning about German media has also affected me deeply. The importance of our role as journalists has been reaffirmed for me yet again as I learned about RIAS' role during the Cold War. Furthermore, seeing the difference between our media systems was also incredibly poignant for me. The part that public broadcasting plays in Germany was eye-opening, and something that I believe could be incredibly beneficial for the United States. One of my biggest hopes, when I embarked on this program, was that I would get to see beyond the American silo and that I would develop a deeper understanding of another culture. I think that hope was fully realized as we engaged with leaders in German politics, journalism, culture and arts. Peering at America from the outside and getting to understand the image of the United States from a different perspective was a necessary experience and one that I am deeply appreciative of. It has been a privilege to participate in this transatlantic exchange, and I hope to use my new cultural understanding to benefit myself and others as I continue to write as a journalist.
Oreoluwa Ojewuyi, University of Southern Illinois: As a recent graduate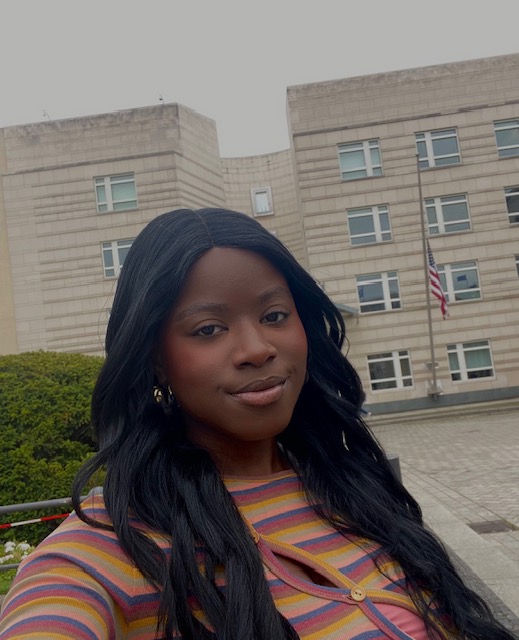 from Southern Illinois University with a bachelors degree in political science and journalism, the RIAS program was perfectly curated to my professional interests. I jumped at the opportunity to have a cultural professional exchange that would build my repertoire as a journalist and diversify my worldview. The past two weeks in Germany forced me to contest with my own preconceived notions. The two weeks I spent in the RIAS program taught me the importance of globalization, historical recognition, empathy, and uplifted journalism as a key pillar of democracy. It was so interesting to see the key role RIAS played in German history from a German perspective. RIAS' combination of history, politics media literacy challenged us to engage with viewpoints we were unfamiliar with. We were highly educated on American and German relations throughout history and the roles they played in the individual growth of both countries. Germany embraces all parts of its past regardless of how fraught it might be in order to work towards a better tomorrow. We spent time with people who lived through the Cold War, spoke with politicians who talked about the racism that still exists within German society, and met with Ukrainian refugees who shared their personal stories as they watch their country rage with war. Germany confronts its past head on. Its people uplift the stories of the past to work towards a better tomorrow. This kind of objectivity and acceptance of the truth is at the core of journalistic storytelling. Storytelling is a key component to connecting people around the world. Through every meeting with journalists, politicians and Ukrainian refugees we connected not only on a professional level but on a human level.  No subject was off limits. RIAS has opened me up to an endless network and through this program I was able to leave Germany with a wealth of knowledge I did not previously arrive with. 
Jason Stahl, University of Montana: The 2022 Student RIAS experience immersed me in the history and ambiance of Germany's Cold War era and subsequent reunification. Among the books I read to prepare myself was Andrei Cherny's "The Candy Bombers: The Untold Story of the Berlin Airlift and
America's Finest Hour". I had a visceral reaction seeing this history come alive on the very first day of our program with the tour of Tempelhof Airport. I had a similar response when touching remnants of the Berlin Wall and standing where Peter Fechter was shot and left to bleed to death. Discovering how Bruce Springsteen fed the East German yearning for freedom was yet another resonant moment for me; I too know what it is like to be a youth in a closed society desiring freedom of movement and expression.  After the RIAS experience, I am not the same person who came to Berlin three weeks ago. I have been informed by different perspectives of how to approach journalism, own our history, and democracy. What I cherish the most about this time in Germany is the opportunity to see America through the eyes of Germans, particularly at a time when I sorely needed to be reminded that America can be a force for good and stability. I will carry these new stories with me in my heart and future work.
Marien Lopez-Medina, University of Oklahoma: Participating in the RIAS student exchange program was an eye-opening experience in my professional and personal life. I joined the program as an international student at the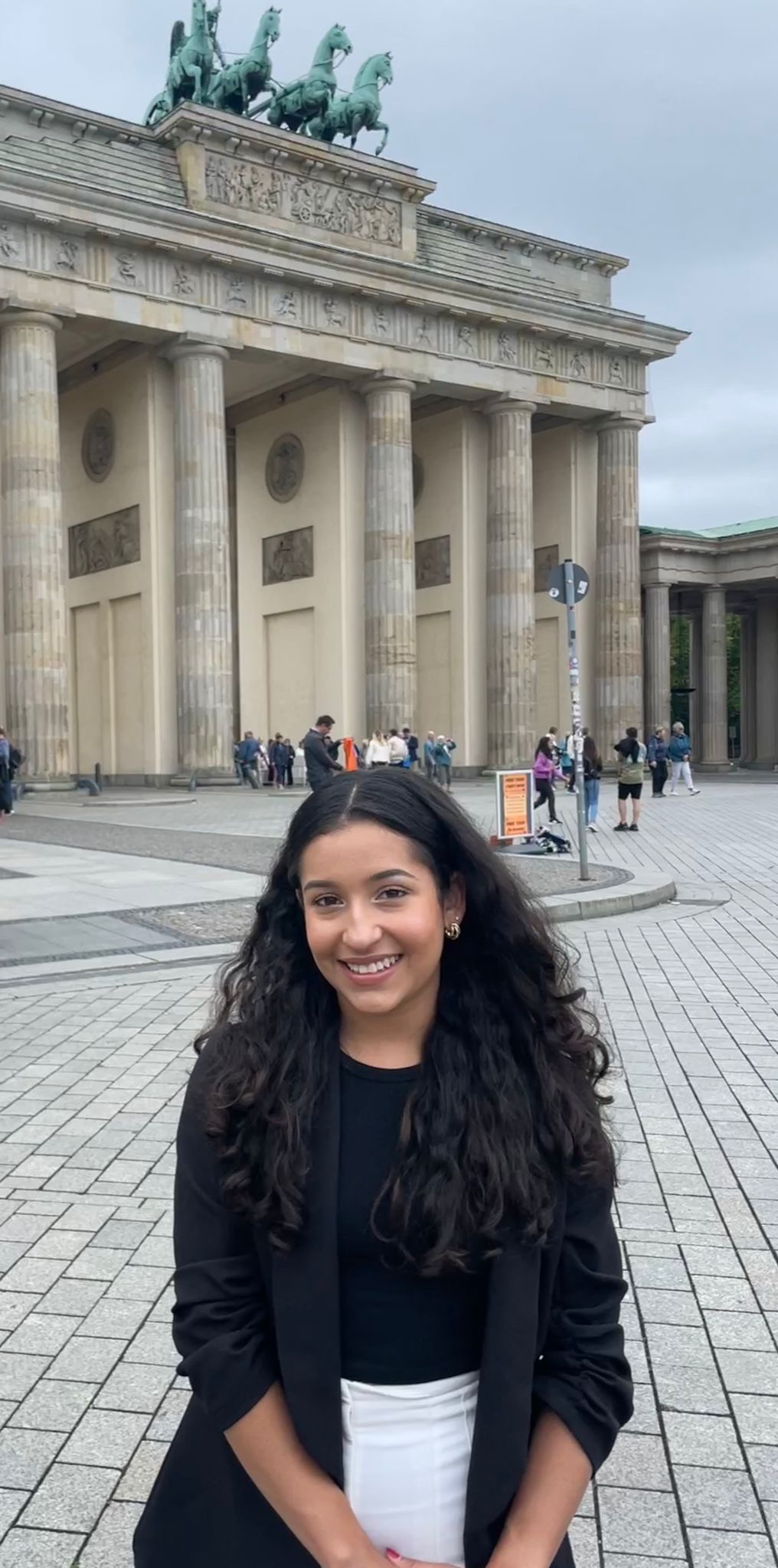 University of Oklahoma bringing a foreign mindset to the table and a thirst for knowledge about the other side of the world. Once in Germany, learning about the causes and consequences of the Cold War expanded my perspective on the effects of political ideologies on the people, the relationship between journalism from the United States and Germany and the power of the media back then and now. Beyond politics, my favorite way to learn about the Cold War was through the experiences of people who were categorized as East or West Germans and those who became allies on both sides. While reviewing the past, we also took a view to the present: the Russian invasion of Ukraine and how it is impacting European countries. As someone who comes from a conflict zone, listening to the history of Germany gave me hope — hope that I was starting to lose. RIAS has inspired me to use my career in journalism to continue building bridges around the world.
Jenna Calderón, Miami University: Before coming to Berlin, I really had no
expectations for what our three weeks would look like and could have never guessed the impact the program would have on me. Not only have I gained general life experience from navigating public transportation on my own, picking up a bit of German and taking a walk through the country's history, I've also received invaluable insight into the field of journalism through a whole new perspective. Whether through formal meetings with political figures or chats over coffee with professional journalists, I always left our events feeling inspired. Thank you RIAS for the opportunity of a lifetime!
Noah Mack, University of Oklahoma: I have learned so much during my journey in Germany, and it is hard to condense it all down to a few sentences. In short, I have learned that human connection penetrates cultural and linguistic
boundaries, and spreading those connections to others is at the heart of my job. I met so many remarkable people on this program, all with their own story; all stories on the broader timeline of Germany's history. I knew the history before, but after these 3 weeks, I vicariously lived it through these people. East Side Gallery artist Kani Alavi did not speak English, but his smile and enthusiasm for art spoke to me more than anything he could have said. Emotions are what connect people, and storytelling is a mechanism to spread those emotions around the world. Meeting with the Ukrainian refugees on our last day was the most meaningful experience of the trip. Not only did I get to listen to their harrowing stories, but I got to have lunch with them, laugh with them, and become friends with them. Before I left the lunch, a wonderful woman named Nadin told me when I get back to the United States, to "talk about this war" and tell their story. I have never been more sure about my career than in that moment.
Sasha Hartzell, University of Arizona: The innumerable experiences I had in Germany through RIAS' student program are still sinking in. Learning Germany's history through the lens of media and journalism, and how that history has
shaped the country's present, was not only fascinating but incredibly relevant for the U.S. Every day was packed with appointments, and each meeting consistently exceeded expectations. We learned from journalists, producers, anchors, politicians, historians, activists, and artists, and always from each other. The three weeks flew by; the knowledge, perspective, and inspiration gained will last a lifetime.
Dayana Villanueva, New Mexico State University: The ERP program was an opportunity to immerse myself entirely in Germany's history, media, cultural and political aspects. The adventure started from getting lost in the Berlin metro system to running from one meeting to another like ordinary Berliners, to having
the opportunity to talk — without filters — to amazing people like refugees, politicians, experts, and reporters from Germany. One of the most remarkable and privileged moments for me was visiting the Bundespressekonferenz, a forum created by journalists who report exclusively about the government for German and foreign media. I was inspired by the reporters' aim to invite federal government representatives to press conferences three times each week and interview them. Going there represented a change in my perspective on how journalism can be respected and valued in my home country. The most joyful and insightful conversations happened while walking around cultural and historic neighborhoods, such as diving into the Neukölln neighborhood with Firas Zahri, a Syrian refugee. With a map in hand, Firas narrated his journey to get into Germany in 2015 by land, air, and water. He led us at the end of the tour to the best chicken shawarma in town, Aldimashqi restaurant, which was created by Syrian refugees. It was enriching to have deep conversations about important topics such as refugees and enjoy their culture. The biggest takeaway from this program can be summarized by what Director-General Deutsche Welle Peter Limbourg said in the last meeting "Look for new solutions coming here and imitate others that make you feel yourself." I look forward to returning to the United States and implementing learnings from these experiences.
Brandon Leis, University of Wisconsin – Madison: I really don't know where to begin. The program was certainly ambitious, yet worth every minute. Even though I studied English literature and not journalism, I was very excited and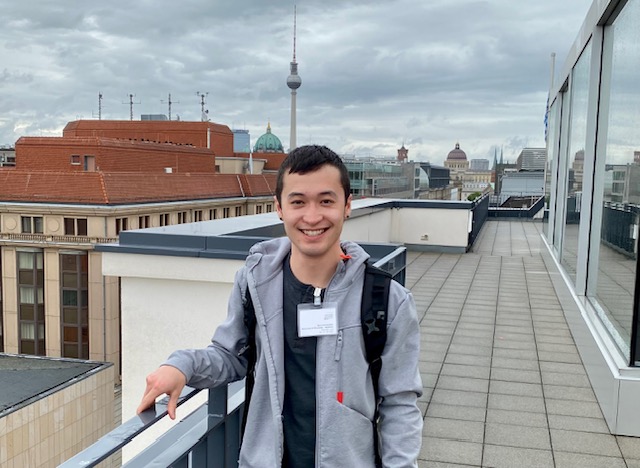 grateful to have the opportunity to learn more about journalism as well as German-American relations. Between meeting Fabrizio Micallizzi, Germany's Chief of Staff to the Coordinator of Transatlantic Cooperation, to better understand Germany's involvement in the European Union. Or having the opportunity to visit the headquarters of Der Spiegel in Hamburg and learning first hand the rigorous process of fact checking. As well as having the chance to better understand America's role in helping reunify East and West Germany into one nation by visiting various museums. These are just a few of the things that made the program a once and a lifetime opportunity. Someone once told me that being able to travel outside your home country is not only a great source of pleasure but is also an education in itself. After the last 3 weeks I can confirm that this sentiment is true. I came in with the goal to learn more about the profession of journalism as well as what life is like in Germany and I walked away with just that. But not only did I have a chance to learn more about journalism and Germany, I was also given a renewed appreciation for my home country. A showcase of American leadership; becoming a part of the 'Radio In the American Sector' legacy has made me proud of where I am from while also motivating me to continue to stand up for any and all necessary change in the U.S. I will carry these things with me for a very long time, as my participation in this program truly was an eye opening.
Madison Rae Karas, Temple University: After having our original RIAS fellowship postponed due to the COVID-19 pandemic in 2020 and 2021, this year's program was well worth the two-year wait. During the action-packed
schedule in Berlin, Leipzig, Hamburg, and Cologne, I gained a more complex understanding of transatlantic relations and German and American identities than I had previously. Learning how our two countries supported and depended on each other in the past, and how they are uniquely dealing with their dichotomies and polarization in the present, gave me a more nuanced outlook on current issues. Our program's blend of activities and speakers in news, media, history, and politics also allowed us to question pertinent topics, like energy and inflation, from various perspectives. In addition, it was an invaluable experience to meet and hear the stories of people who experienced some of Europe's most historic events in many of our meetings and tours. I look forward to bringing my knowledge back to the U.S., visiting Germany again soon, and becoming a part of the RIAS Alumni Network.
Marlowe Starling, University of Florida: Berlin, a city bursting with energy, was the perfect place to witness how history and modernity have together laid the foundation for a fascinating and vital free press here in Germany. As we hurried between appointments with the biggest names in broadcast at ARD, RTL and WeltTV, some of my favorite moments were ordering ice cream in rudimentary German and discovering the magic of Berlin's duality. "There's still the wall in our minds," one tour guide told us on the border of the old east and west. Someone else said there was a wall in her heart. Hearing these words, I realized it's not just in Berlin that people hold on to the remains of a vicious divide; it exists in the US, too, where the wall in the mind is perhaps even stronger despite never having a wall in the first place. This experience with RIAS has brought not only great knowledge and opportunities to explore the "true Berlin," but also the chance to reflect on our own "American identity" — an identity equally in crisis, and one with no single definition.  As an environmental reporter, I also had the great opportunity to learn about Germany as a leader in renewable energy—even amid the impending energy crisis from the cut-off of Russian oil supply. As an aspiring international journalist, this program has given me a taste of what it means to report abroad and the value of bringing an outside perspective to reporting in another country. I am hopeful that the United States can, like Germany, learn to acknowledge its history for a better-informed future.
Carlee Pascual, University of Oklahoma: RIAS provided me an experience I will never get the opportunity to relive. I loved the sights, but nothing will ever compare to the people I had the privilege of encountering. My program mates will be my friends for years to come. They each added something new to my l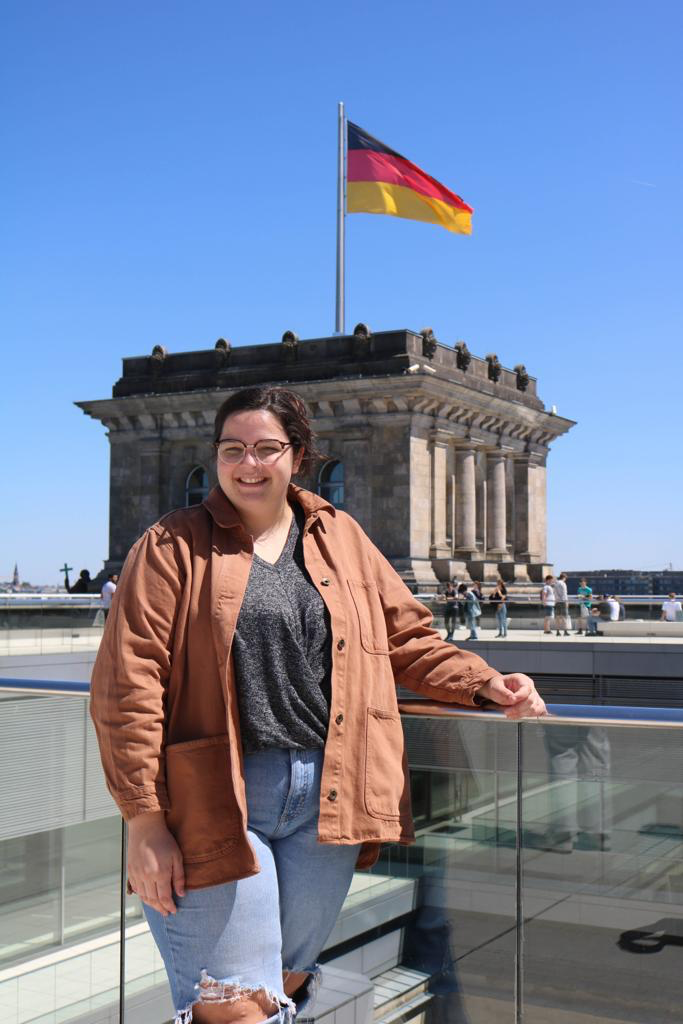 ife. The German people I met on my trip have helped me see things from a completely new lens. I look forward to taking their perspectives into the next years of my life. More than anything, I have a renewed faith in the power of universal human rights and kindness. The United States can change and I look forward to helping it happen. I look forward to seeing RIAS become more than it is today. I look forward to seeing the RIAS network grow. I am honored to join its ranks. Thank you RIAS! Thank you Germany!
Evette Giron, University of Central Oklahoma: The RIAS student program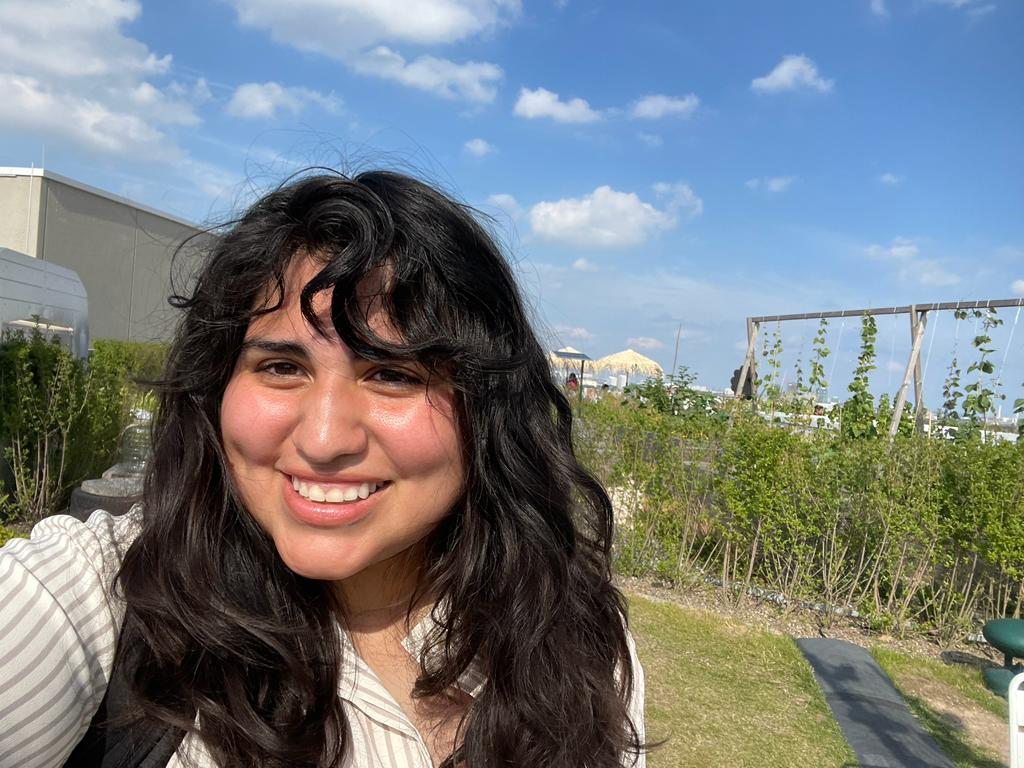 was a life changing experience for me. I honestly did not know what to expect from our three weeks. I appreciate the Germany government investing in students like me. I learned so much about Germans politics and German media, topics I otherwise would not have studied in the U.S. I really enjoyed meeting with local politicians who are committed to making a difference in their country is a once in a lifetime opportunity. My favorite experience during the program was meeting Ukrainian mothers who fled the war. It was truly emotional and I have heard similar stories from Afghan refugees in the U.S. This experience solidified my desire to work on protecting human rights. I do hope that RIAS keeps helping and inspiring young journalists like me to continue our pursuit.
Erik Kirschbaum, Executive Director RIAS Berlin Commission: It has been a tremendously rewarding experience to spend three weeks zipping around Berlin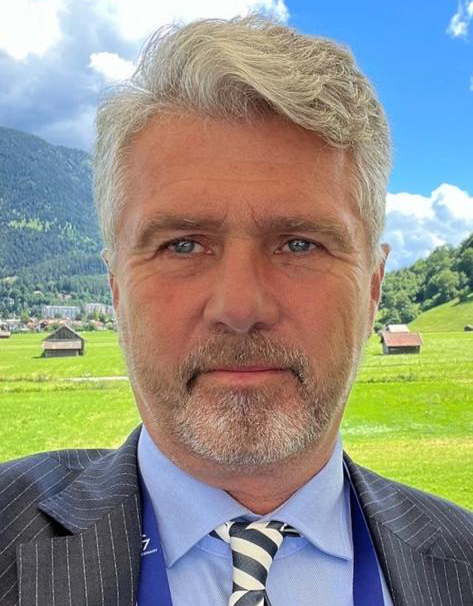 and across Germany to meet journalists and newsmakers in Leipzig, Hamburg, Cologne and Berlin with a delightful group of 14 smart, savvy, young American journalists and journalism students — many traveling outside the Midwest, South or Southwest for the first time. Their hunger to learn more about Germany, their insatiable curiosity, their great questions and their impressive pre-program preparations for this fast-paced adventure with as many as five meetings a day knocked my socks off. As one experienced German journalist later told me after being inundated with their questions told me: "After meeting your group, I'm no longer worried about the future of journalism." I couldn't have said it better myself.
---
July 9, 2022
RIAS ERP Transatlantic student program connects Germany, USA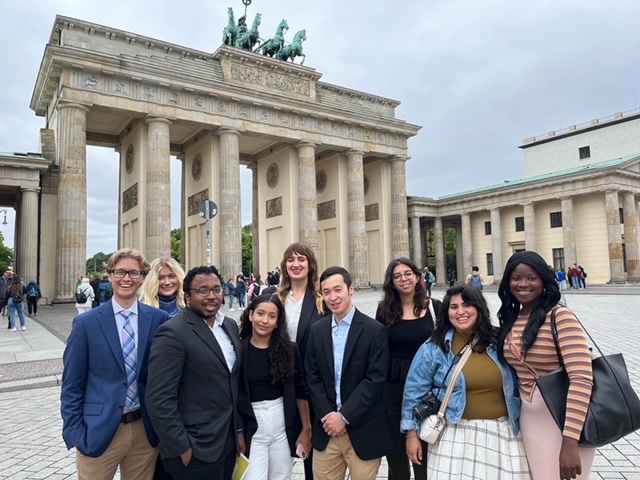 A group of young American journalists and journalism students spent three riveting weeks learning more about the role of broadcasting media during the Cold War and in the process a lot more than they had expected about the history of the United States and Germany.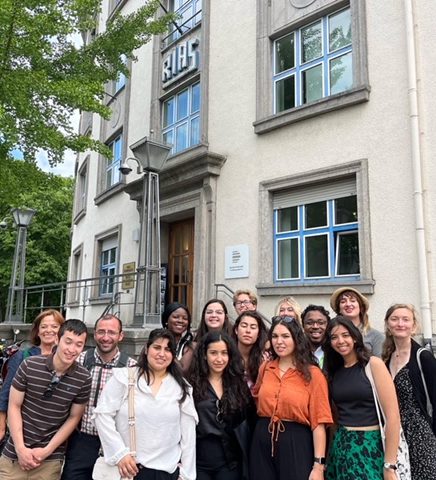 In the process of meeting with journalists, historians, activists, political leaders, refugees, artists, musicians and ordinary Germans during a busy 21-day program, the Americans discovered what an important and historical role their country played in defending freedom in West Germany and Western Europe throughout the post-war Cold War era.
Although they came to Germany to learn more about broadcasting journalism past and present, many of the young Americans seemed surprised to learn about what a force for good the United States had been in supporting West Berlin and West Germany during the Soviet blockade, the Airlift and after the Berlin Wall was built. They also learned about how the United States is still looked upon as a beacon of democracy and values despite the domestic political divisions that have roiled the country in recent decades.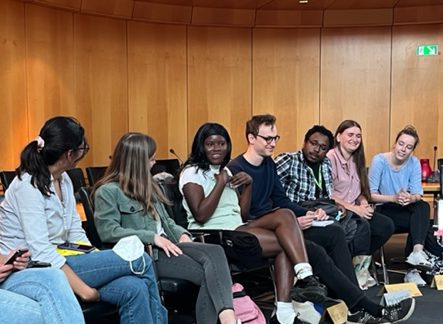 After visits to Leipzig and Hamburg in the first two weeks, their third and final week began in Berlin with a visit to the legendary RIAS building in Berlin's Schöneberg district for a tour that included one of the historic RIAS broadcasting studios that has been preserved in its original form for posterity. Deutschlandradio talk show host Vladimir Balzer gave the American journalists a riveting talk about his career and work at the national public broadcaster.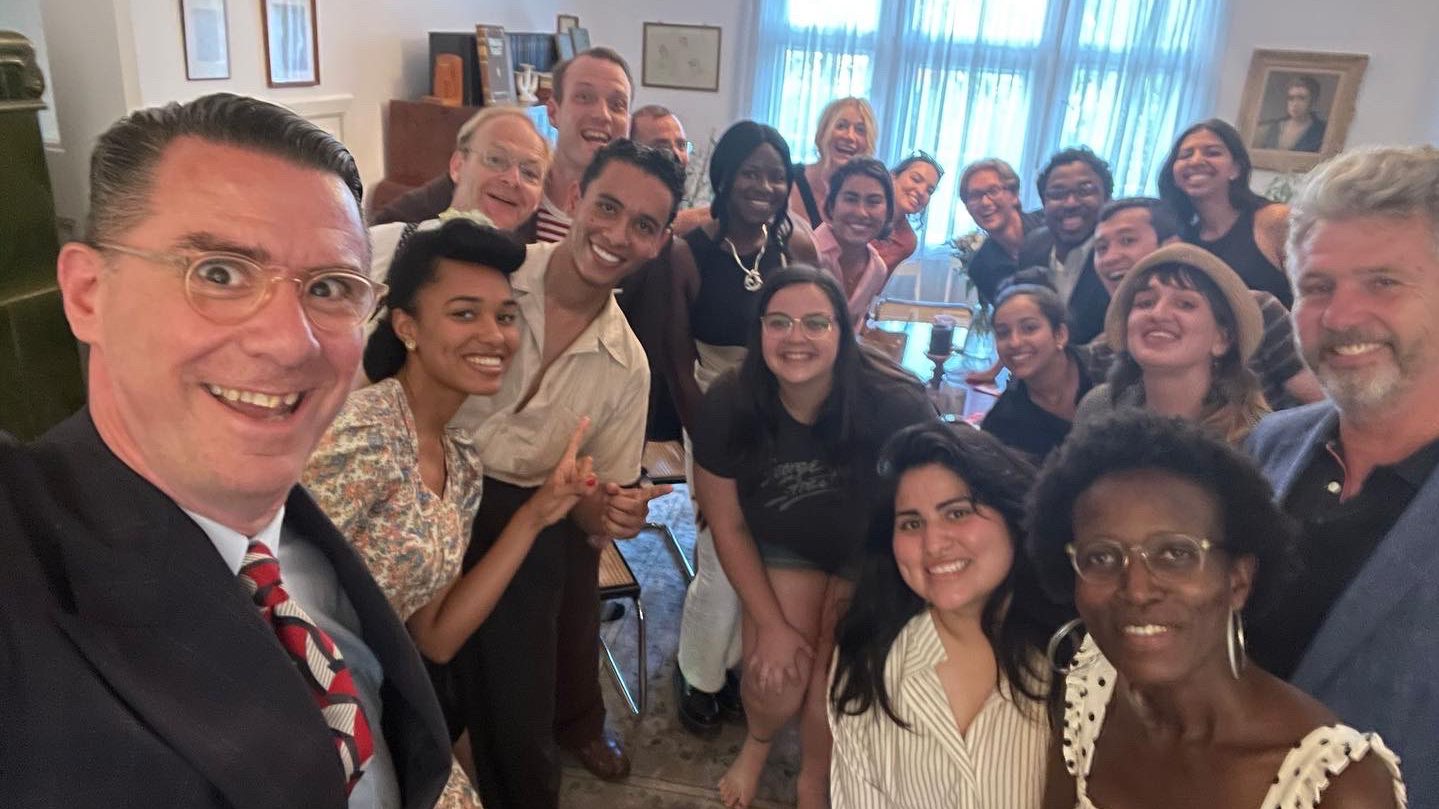 The goal of the ERP program, which was created with support from a grant from the Economy Ministry, is to expand horizons, help connect young American journalism students with their peers in Germany and help aspiring journalists in both countries learn more about journalism training in each others' countries. The ERP program is supported by the Transatlantic Program of the Federal Republic of Germany. It is funded by the European Recovery Program (ERP) of the Federal Economy and Energy (BMWi) Ministry.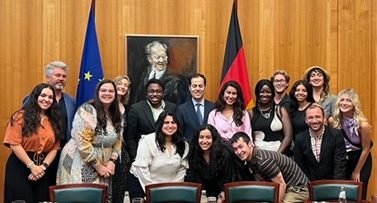 They also went into the Foreign Ministry to meet Fabrizio Micalizzi, chief of staff for Transatlantic Coordinator Michael Link for an engaging discussion about Germany's relations with the United States, and visited Andrej Hermlin for a talk about culture in Germany and watch his Swingin' Hermlins performance their on their regular broadcast from his living room.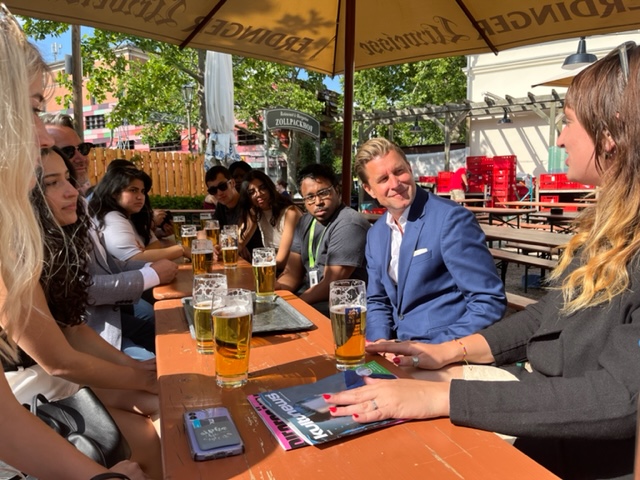 They also met former anchor and Warner executive Michael Kolz at a Berlin beer garden and watched a spectacular multi-media light show about the history of the Reichstag and democracy in Germany that was beamed after sunset onto the walls of parliamentary office buildings.
Two busy days in Cologne including fascinating talks with young journalists from the youth-orientated RTL2 news program and its executive producer Mira Klose as well as a meeting with WDR's head of TV Ellen Ehni, who offered candid insights into the challenges facing women and executives.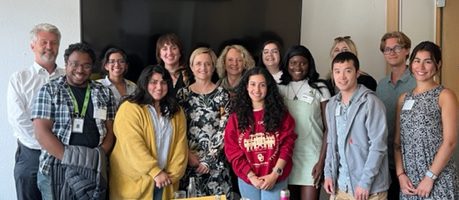 The Americans also had the chance to meet a group of a dozen WDR apprentices to learn more about the differences in Germany about on-the-job-training opportunities for young Germans starting out in the business before meeting a dozen RIAS alumni at a chapter meeting at a Cologne beer garden.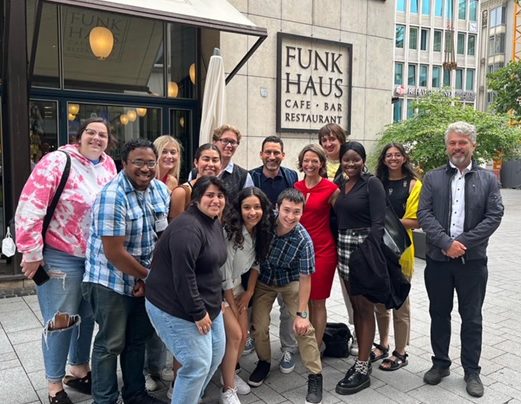 ARD Morgenmagazin anchors Anna Planken and Til Nassif spent more than an hour and a half candidly answering questions from the young Americans about their careers, waking up in the very early morning hours every day for work, and the challenges of morning news programs. The Americans also got insights into the world of the all-news NTV network with a talk from veteran correspondent Carsten Lueb before exploring the center of Cologne, including its famous Cathedral.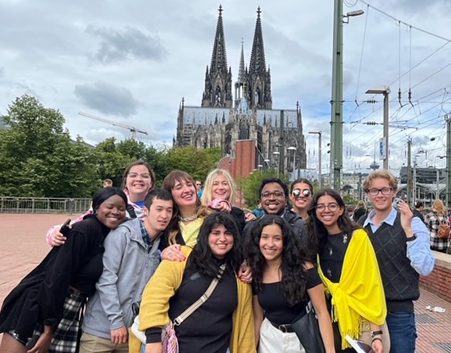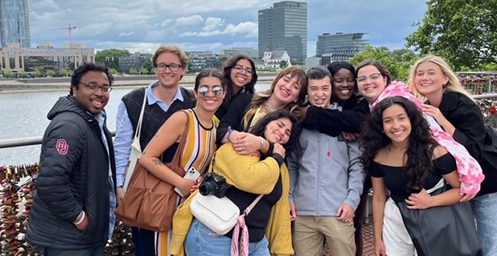 The Americans also had the chance to visit the US Embassy in the heart of Berlin for illuminating talks about the role of the United States in Germany and they had an at-times emotional, at-times joyful meeting with several Ukrainian women and their children who have been sheltering in Berlin since the Russian invasion of Ukraine in February. The women and their children told about the generosity of the Germans in providing them with shelter and support but also of the harrows of the war in Ukraine and the difficult phone calls they have daily with their family and loved ones back at home in Ukraine. Some of the Americans called the meeting with the Ukrainians one of the most moving and powerful of the whole three-week program.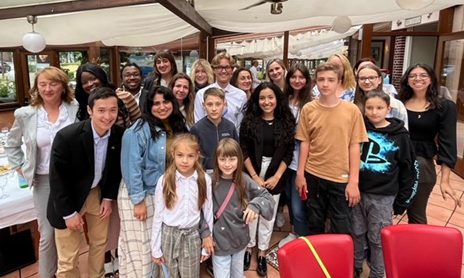 ---
July 3, 2022
American journalism students on 3-week fellowship to Germany
The third annual RIAS Berlin ERP fellowship for American students in Germany got off to a busy start with dozens of meetings with German journalists, editors, directors, politicians, community leaders, experts and political analysts. The Americans will spend a total of three weeks in Germany, learning more about the role that broadcast journalism, including from the legendary Radio in American Sector Radio and TV broadcaster (RIAS), played in the peaceful conclusion to the Cold War.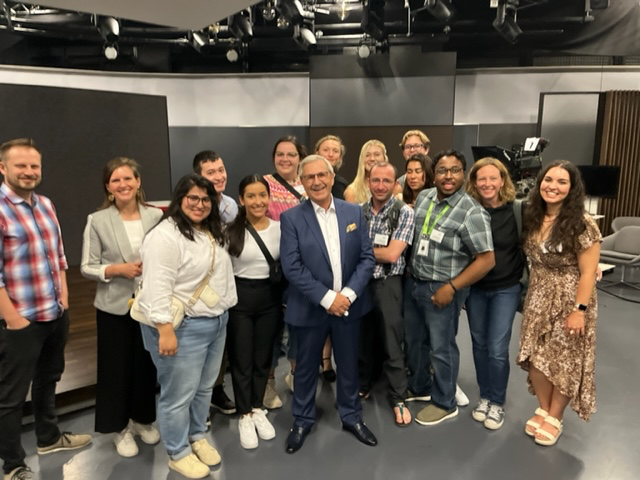 The students came to Germany on June 19 from universities across the Midwest, South and Southwest — such as Oklahoma, Arizona, New Mexico, Texas, Montana, Florida, Ohio, Wisconsin, Minnesota and Pennsylvania. For many of the American students it was their first trip outside the United States and for some the first journey outside their home region.
German government deputy spokesman Wolfgang Büchner also met the group.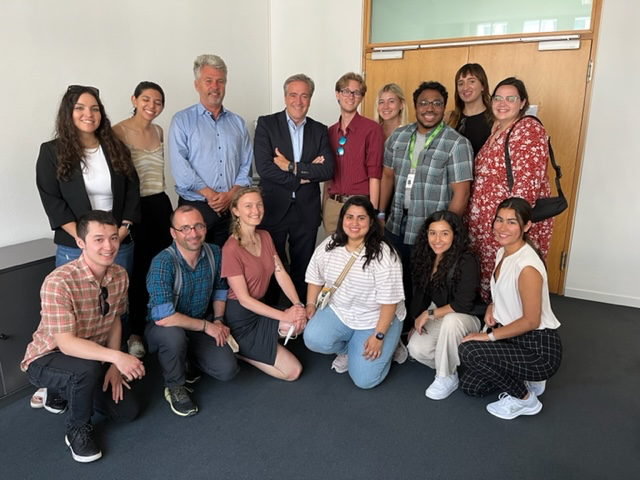 The goal of the ERP program, which was created with support from a grant from the Economy Ministry, is to expand horizons, help connect young American journalism students with their peers in Germany and help aspiring journalists in both countries learn more about journalism training in each others' countries.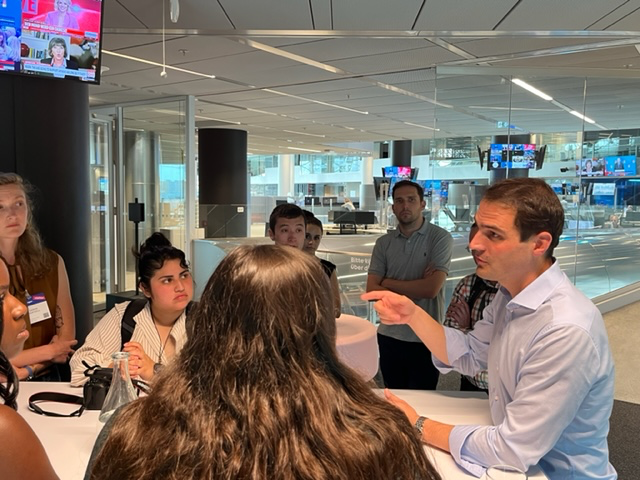 The ERP program is supported by the Transatlantic Program of the Federal Republic of Germany. It is funded by the European Recovery Program (ERP) of the Federal Economy and Energy (BMWi) Ministry.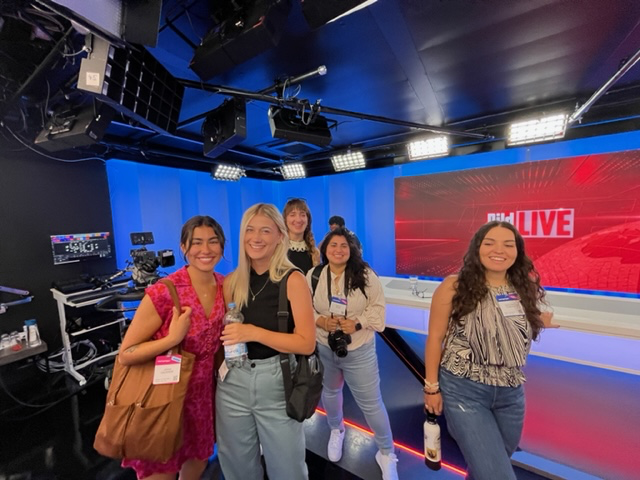 Although most of the three-week program takes place in Berlin, the students have also made excursions to Leipzig and Hamburg. They will also be spending two days in Cologne in their third and final week before flying home to the United  States on July 9.
In Berlin, some of the highlights included watching NTV's early morning "Frühstart" news interview program with SPD party chair Lars Klingbeil being interviewed by RIAS alumni Daniel Heyd. Klingbeil also answered questions from the young Americans and admitted he and his family enjoy taking their vacations in Kentucky. He also explained a big difference between the United States, where the party leaders are not as important or powerful, and Germany or other European countries, where party leaders are often the leader of the government as well.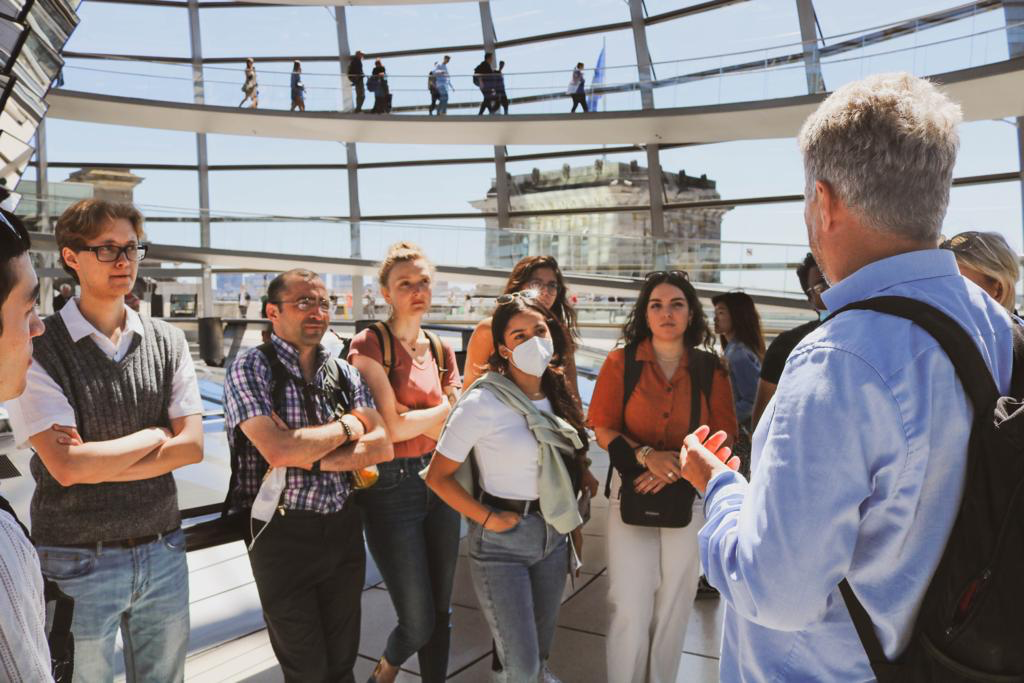 After quickly mastering Berlin's public transportation network and especially the ubiquitous U-Bahn (subway) network, the Americans had a tour of the Reichstag building, a bike tour along a 25-km segment of the Berlin Wall Bike Path, Tempelhof Airport where the Airlift was centered, met NTV journalists Christian Wilp, Nina Lamers and anchor Jan Hofer. They also learned more about public radio in Germany from Deutschlandfunk correspondents Katharina Hamberger and Marcus Pindur — who was duly impressed that the students knew the history of Sudentendeutschland regions of Czechoslovakia that was annexed by Nazi Germany shorted before World War II started.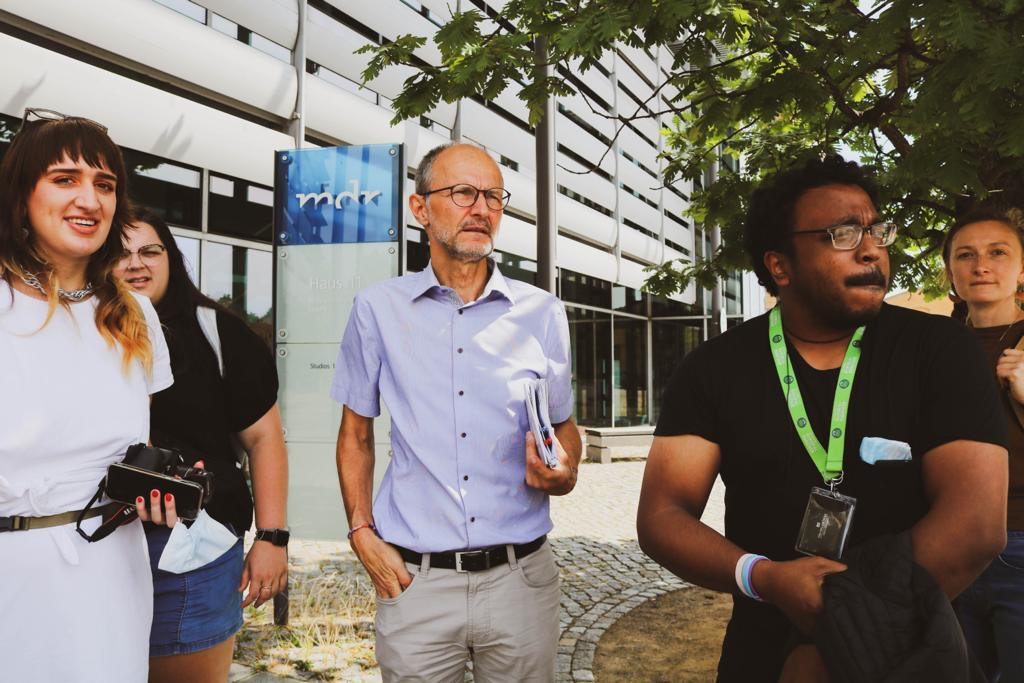 In Leizpig student alumni Sarah-Maria Köpf gave the students a walking tour of the center of the historic city, pointing to the square where the famous Montagsdemos took place, before Andreas Franz of MDR TV gave a detailed tour of the MDR studios in Leipzig and Lars Beger gave a fascinating talk at student radio Radio Mephisto — a student-run station that he explained was created and based on American student-operated radio stations. Bastian Wierzioch, a journalist who covers far-right extremists, warned of the perils expecially in eastern German from the far-right.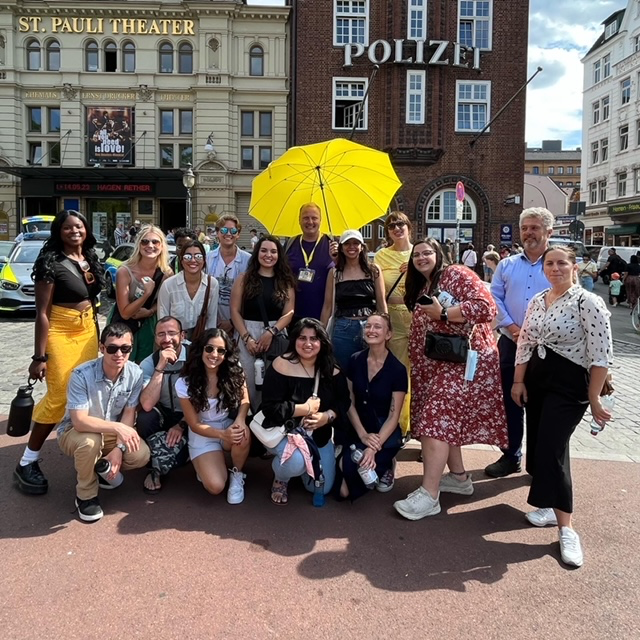 Back in Berlin, the students took a boat cruise of the government quarter together with Reuters White House correspondent Jeff Mason and also visited the Stasi prison in Hohenschönhausen. They also had the chance to spend several hours at the Bernauerstrasse Berlin Wall memorial sight with tour guide Peter Keup. The students spent two days in Hamburg, meeting top journalists at Der Spiegel and at ARD TV such as Helge Fuhst, Damla Hekimoglu and Michail Paweletz as well as US consul general Darion Akins. They also took a walking tour of the famous Reeperbahn red-light district and learned more about the two years that the Beatles spent learning their trade with a punishing performance schedule.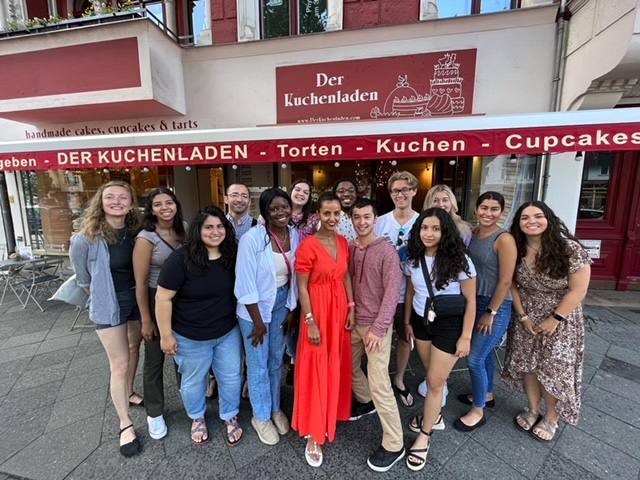 In Berlin the Americans learned more about how young German journalists learn their trade on a visit to the Freetech Academy at the Axel Springer publishing company from Kristin Schulze, head of academic affairs. They also visited WeltTV's studios and had a talk with editor-in-chief Jan Philipp Burgard as well as fellow alumni Nadine Jantz, Andreas Büttner and Leonie von Randow. The Americans met a group of German alumni for a talk about China from RIAS alumni and RBB radio correspondent in Beijing Benjamin Eyssel.
They also visited the Allied museum, had a talk with leading SPD politician Sawsan Cheblin and had walking tours of the Kreuzberg ethnic neighbor with Greens politician Özcan Mutlu and the Neukoelln neighborhood for Arabic-speaking immigrants with a Syrian refugee Firas Zahri — that ended with diner in the famous Aldimashqi restaurant that was created by Syrian refugees in 2015.
During their third and final week, the students will visit Cologne, the Foreign Ministry and the USA embassy.
---
June 30, 2022
American journalism students on 3-week fellowship to Germany
A total of 14 American students of journalism and related fields are spending three weeks in Germany to learn more about the role of broadcasting media during the Cold War, in particular the impact that Radio in American Sector (RIAS) had in overcoming the decades-long post-war tensions in Europe.
The student exchange project was created in 2018 with support from the Transatlantic Program of the Federal Republic of Germany, funded by the European Recovery Program (ERP) of the Federal Ministry of Economics and Energy (BMWi).
The 14 American journalism students come primarily from universities in the Midwest, South and Southwest. The program started on June 20 and concludes on July 8. It includes trips to meet other RIAS alumni and German journalists in Leipzig, Hamburg, Cologne and Potsdam.
Here is a list of the participating students:
Marlowe Starling, University of Florida
Marlowe Starling is an early career environmental journalist from Miami, Florida. She graduated from the University of Florida with a bachelor's degree in journalism. In fall 2022, she will begin pursuing her master's degree at New York University for the Science, Health and Environmental Reporting Program. She has reported from the mountains of northern Tanzania for Earth Island Journal and has bylines in Mongabay and the Associated Press. Starling looks forward to taking her reporting abroad as an international reporter.
Jason Stahl, University of Montana
Jason Stahl completes his bachelor's degree in May 2022 from the University of Montana. His undergraduate studies in history and journalism prepared him to
seek out narrative voices and prevent historical erasure, which he will continue to explore in graduate school. Stahl was born and lived most of his life in a Hutterite colony before coming to university. He is a lifelong Montanan, voracious reader, forever student, journalist, and food enthusiast. Stahl has a special interest in bringing history alive and preserving cultural knowledge through publicity and pilgrimage.
Sasha Hartzell, University of Arizona
Sasha Hartzell is a graduate student at the University of Arizona studying