News & Events
April 20, 2018
New RIAS alumni chapter formed in Mainz-Frankfurt, Cologne alumni meet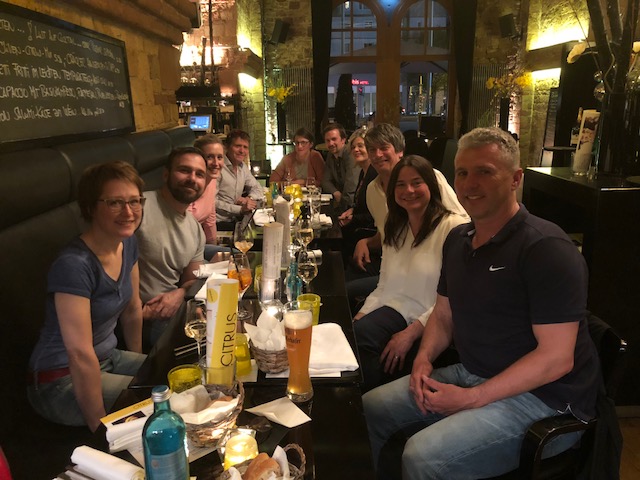 A new RIAS Berlin Commission alumni chapter was inaugurated in Mainz-Frankfurt on April 19 — adding to the list of alumni chapters already up and running in Cologne, Berlin, Hamburg, Washington DC and New York City. The Cologne chapter also had its second meeting the evening before on April 18.
About 10 alumni from past trips and more recent trips gathered in Mainz in a pub near the Rhine River. Reminiscing about their RIAS trips and brainstorming about ways to connect more RIAS alumni across Germany and also in the U.S, the journalists from the tri-state area and networks such as ZDF, HR, and SR expressed hopes and optimism of keeping the RIAS spirit alive even a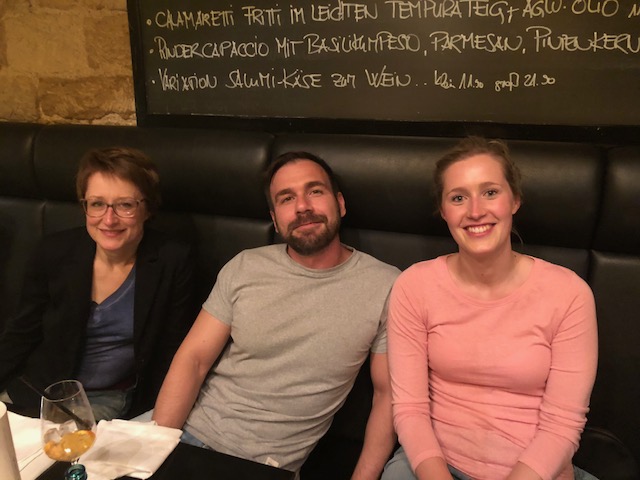 decade decade or more after their trip to the U.S.  There is a RIAS alumni community section on the www.riasberlin.org website as well as RIAS Berlin Kommission and RTDNA RIAS Facebook pages where alumni can share information.
In Cologne, the first alumni chapter created in November met for a second time at a pub — also near the Rhine River on a warm and sunny spring evening. The journalists from Germany's fourth largest city came from many commercial networks such as RTL and NTV as well as from public broadcasting giants WDR, Phoenix and Deutschlandfunk radio as well as Deutsche Welle radio in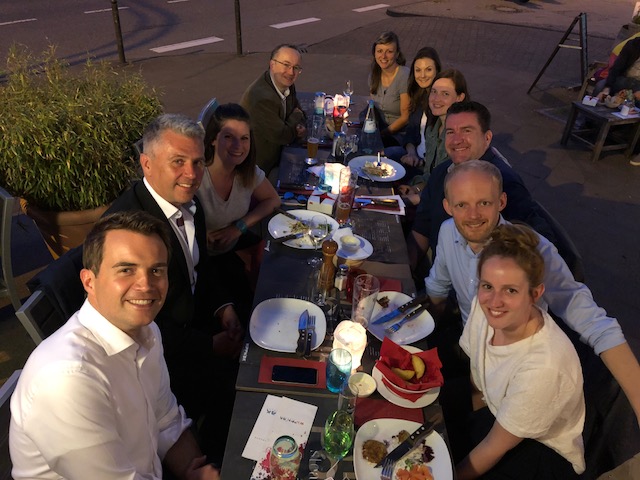 Bonn. Even though the Cologne and Bonn RIAS alumni work and live in the same city and region, many had never met each other before and were connecting for the first time thanks to the RIAS alumni chapter meeting.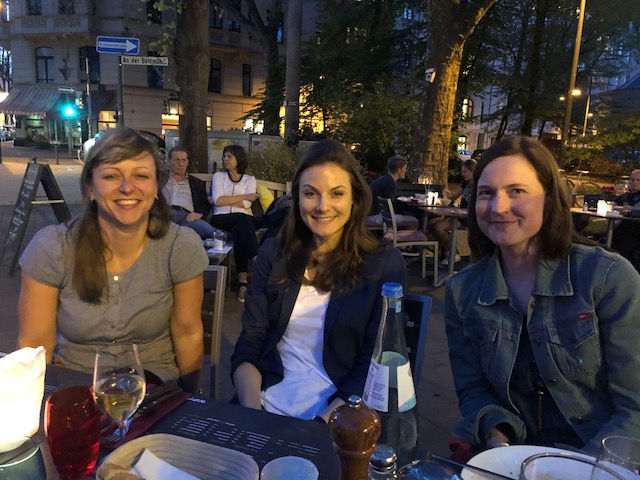 There are several big alumni events coming up in Berlin. On May 17, the RIAS Berlin Commission will award the annual media prize awards to six award-winning TV and radio productions. After the awards ceremony, all alumni and friends of RIAS are invited to attend the annual reception in the RIAS Funkhaus building in Berlin.
On Friday May 18, the prize winners based in the United States will take part in a panel discussion on their experiences working as foreign correspondents in the United States in recent years. After the panel discussion, RIAS Berlin Commission alumni are invited to take part in an alumni get-together as well.
---
April 8, 2018
German journalists learn more about inside workings of U.S. TV, radio stations
RIAS Berlin Commission journalists made the most of their three-week fellowships in the United States. The 14 German journalists spent a week in Washington DC, a week in New York and then spread out across the country to "look over the shoulder" of American journalists working at large and small stations from Texas to South Dakota, and between California to South Carolina.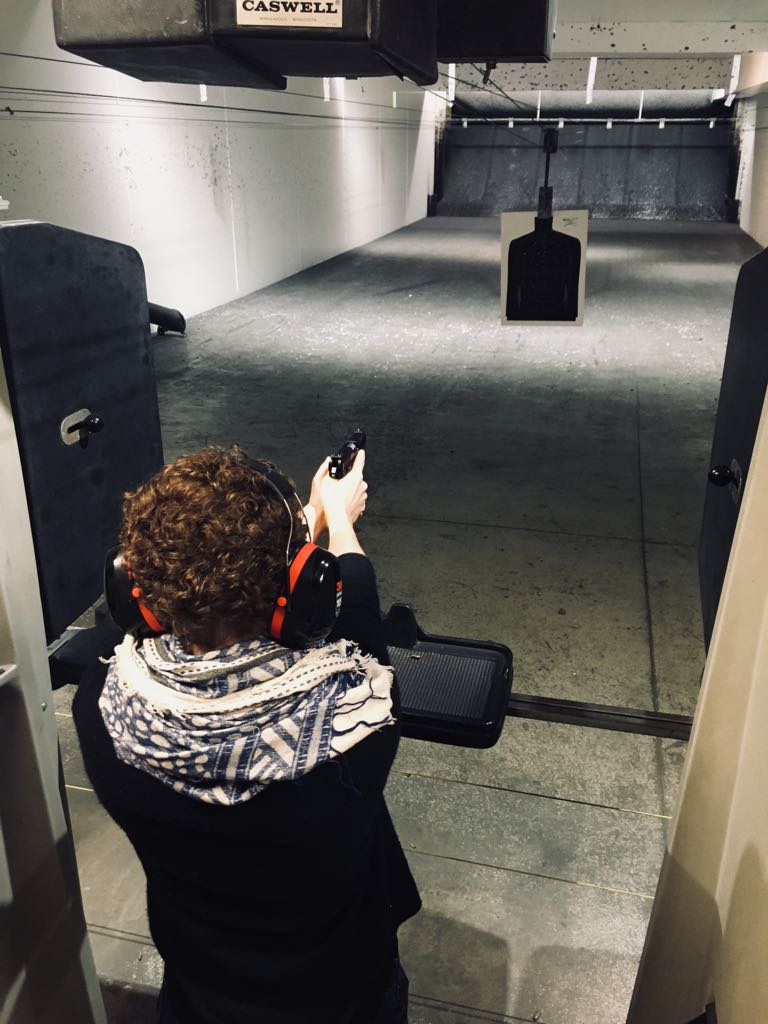 Viktoria Kleber, a reporter for RBB TV in Berlin, spent an enlightening week in Sioux Falls, South
Dakota hosted by American RIAS fellow Jay Trobec,  where she not only learned about working in the high plaines but also how to shoot a pistol. She proudly displayed her results during a talk-show appearance in KELO-TV. "It was my first time
shooting a pistol. I'm really talented," Kleber (pictured on the left) said with a smile. "I nailed it. We're not allowed to do that in Germany. We have a different gun culture in Germany."
In a good-spirited interview on KELO-TV, Kleber admitted she was surprised how quickly U.S. TV reporters get their news on air and also how much work U.S. reporters do on their own. "I was really surprised," she said. "You're technically very advanced. If look at a reporter and compare it to Germany…Here a reporter goes out pretty much by himself. He carries everything, the camera by himself, shoots by himself, edits everything and does everything on his own. In Germany, we have big teams. We have a reporter, a cameraman, sound guy and sometimes even a driver, and then someone who cuts with you and someone who is a sound engineer. Here just one person is doing all those different jobs!"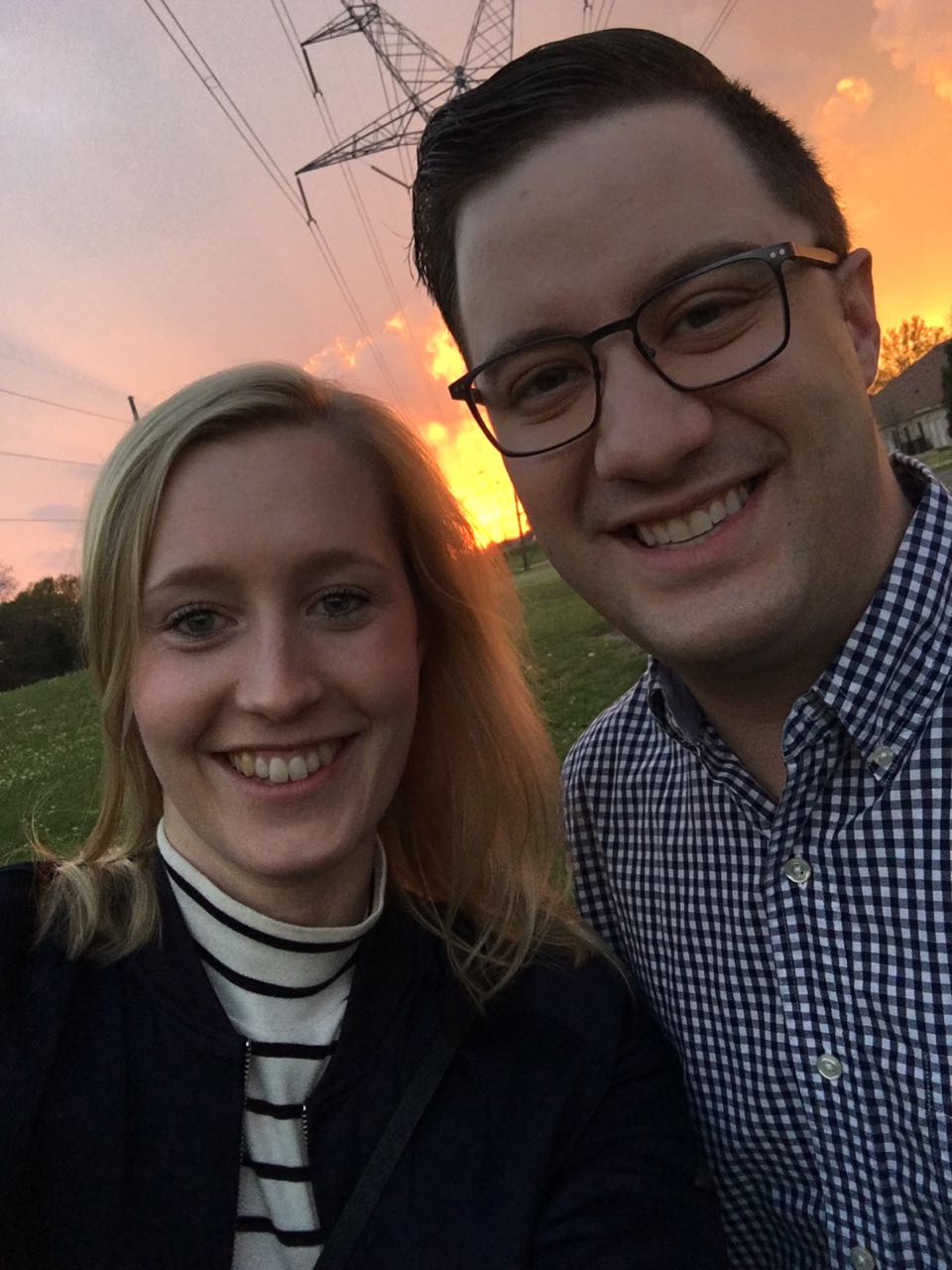 In Tyler, Texas, ZDF journalist Anna-Maria Schuck spent a week working with and looking over the shoulder of US RIAS alumni Lane Luckie (both pictured at right) at KLTV in East Texas — also learning a lot about life in a
rural part of the United States and how to shoot a gun. Schuck was also pressed into duty on-camera, spending two hours on the East Texas Now live TV streaming broadcast set up in the middle of the KLTV newsroom. East Texas Now host Jeremy Butler and Luckie joined Schuck for an illuminating discussion about the differences between Germany and the United States.
Sarah Schmidt from RTL in Berlin spent a week in Los Angeles, first working with RIAS fellow Frank Mottek, who is the voice of business news in LA as the senior money anchor at CBS's all-news station KNX 1070,  and then with CNN national correspondent Miguel Marquez, also a RIAS alumni. Schmidt also produced this story for NTV online following the RIAS fellows' meeting with Pennsylvania Congressman Mike Doyle (Democrat).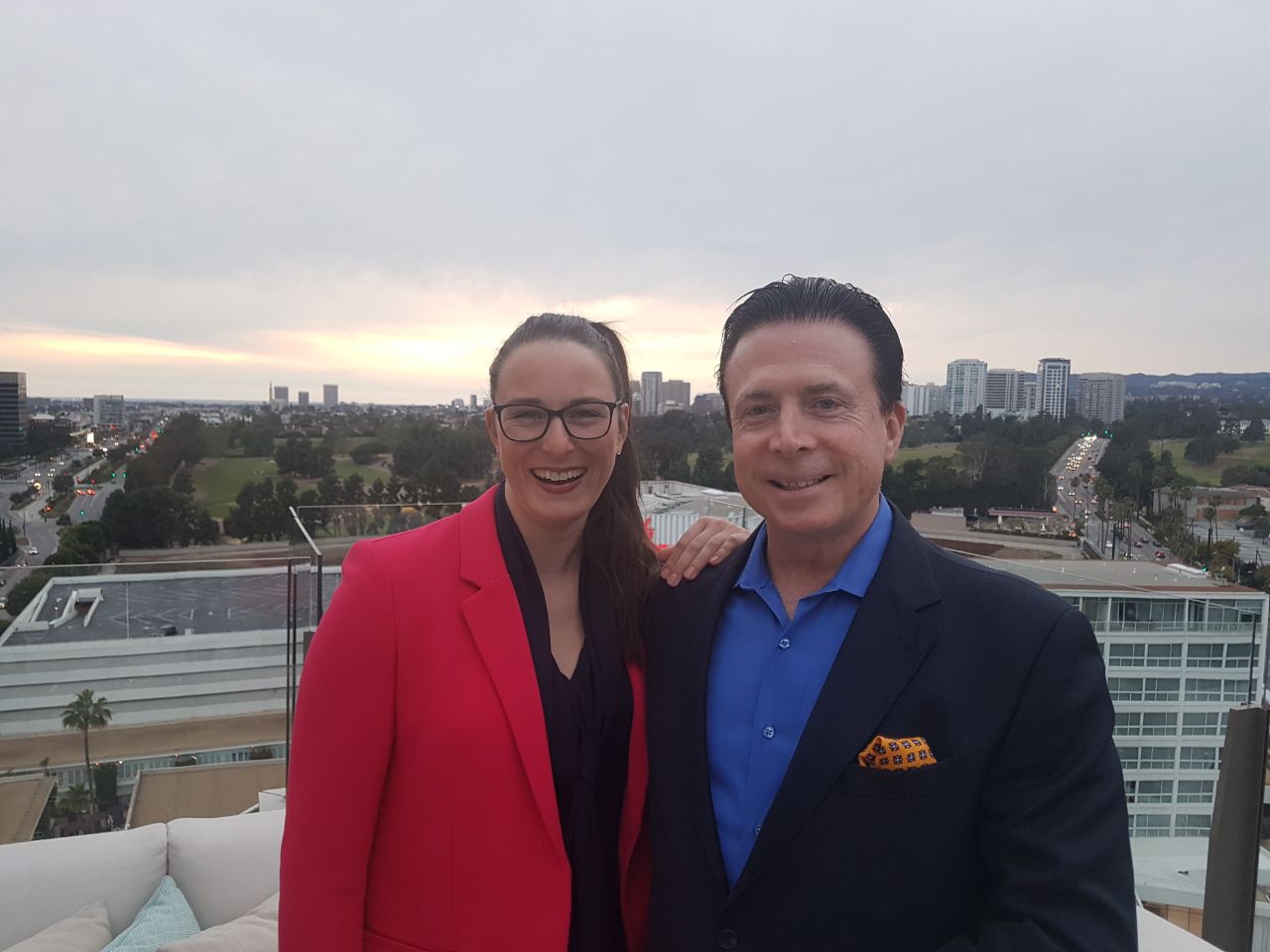 Other German journalists spend their station week in the United States learning more about guns and gun control — and how to shoot. Louisa Maria Gersberg from MDR TV station in Schwerin, northern Germany spent her station week in South Carolina with Thomas Colones of WSPA-TV, a US fellow from 1997, in Spartanburg.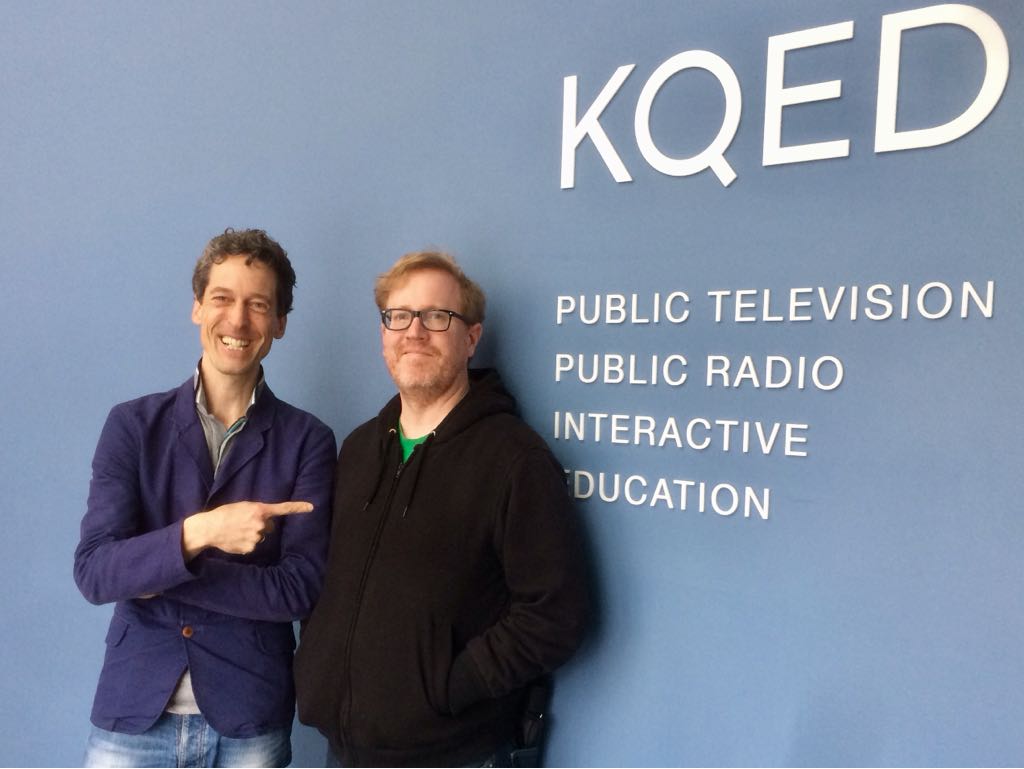 Eberhard Schade from Deutschlandfunk radio spent a week in San Francisco at KQED radio with US fellow Don Clyde (above) learning more about podcasts while Bianca Leitner from ARD's Tagesschau national news broadcast got a glimpse of Las Cruces, New Mexico and parts of the great southwest with Hugo Perez (below right), a US RIAS fellow and journalism professor from New Mexico State University.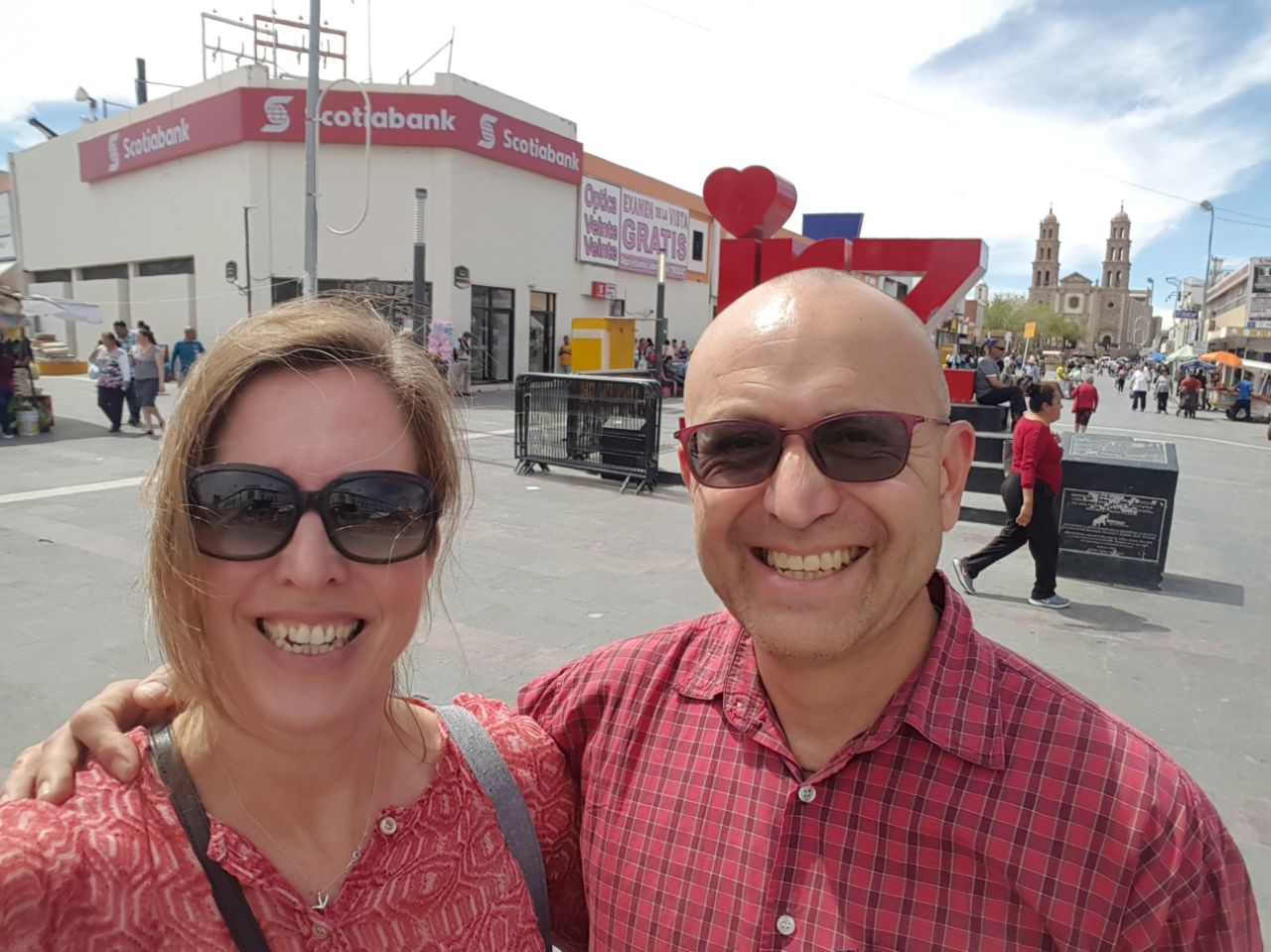 Marcel Grzyb, an executive producer at Germany's all-news NTV station (below), spent a week at CNN in Atlanta observing how things work at the U.S. TV media giant — and connecting with many of the dozens of U.S. CNN alumni who have been on the RIAS programs in Germany.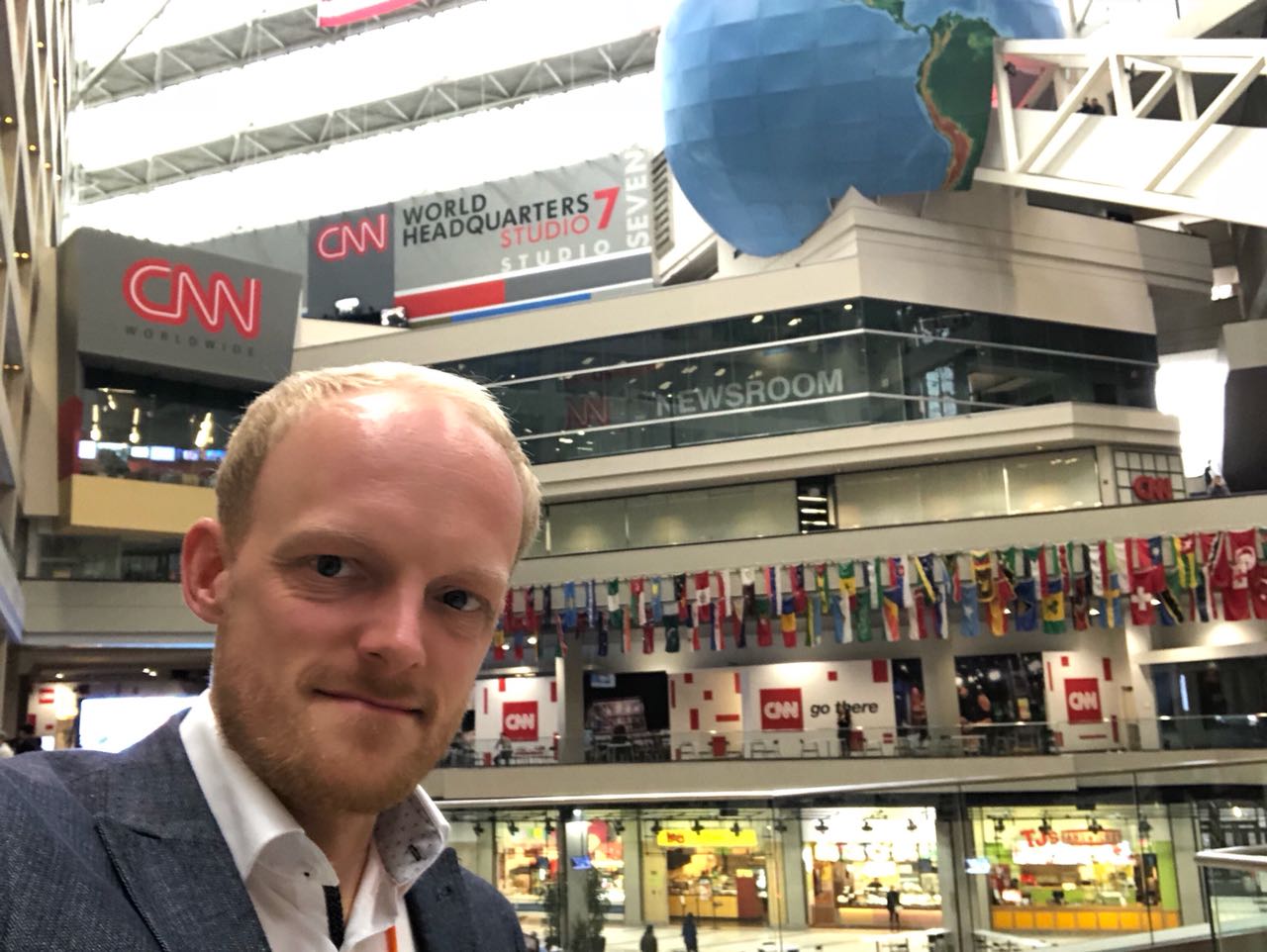 Many RIAS fellows from Germany spent their week in Texas. Anne Demmer from RBB radio in Berlin had an eventful week in Houston, Texas with Houston Public Media reporter and RIAS alumni Andrew Schneider (below) before she drove south to the U.S-Mexico border at the Rio Grande to work on a story for her station back in Berlin.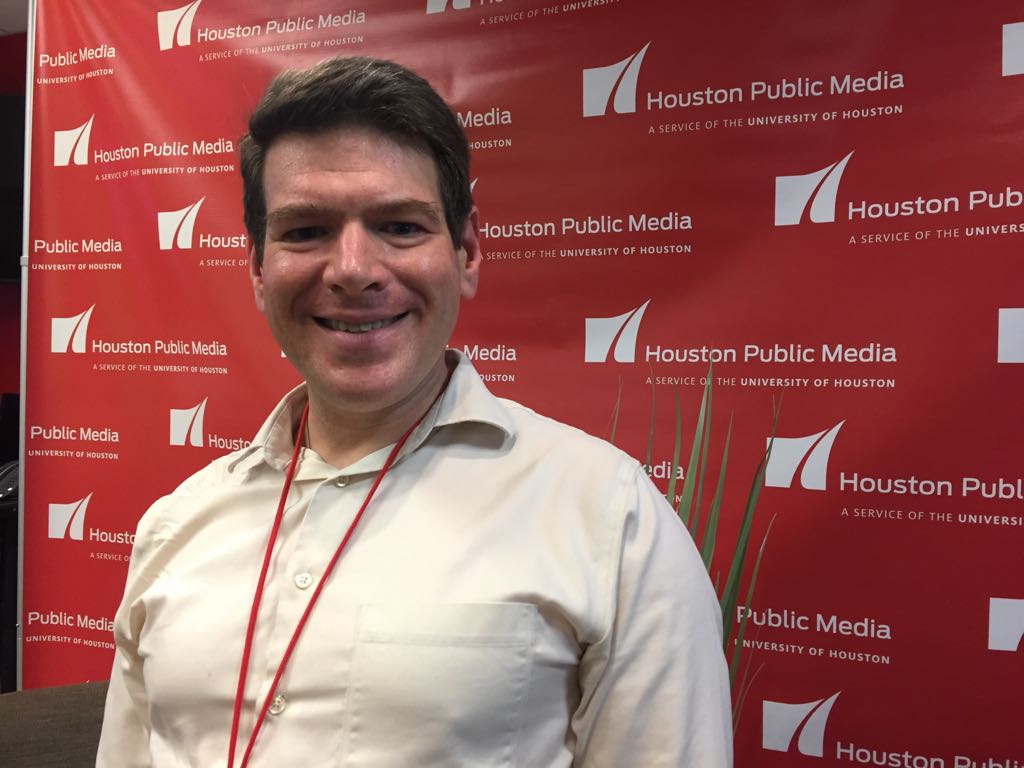 And Laura Fritsch (below right) of all-news network Welt TV made the most of her station week in Denver, Colorado as well as a return visit to New York City to re-connect with US fellow Clare Toenniskoetter of the New York Times (pictured below left), a RIAS alumni and the New York area chapter coordinator.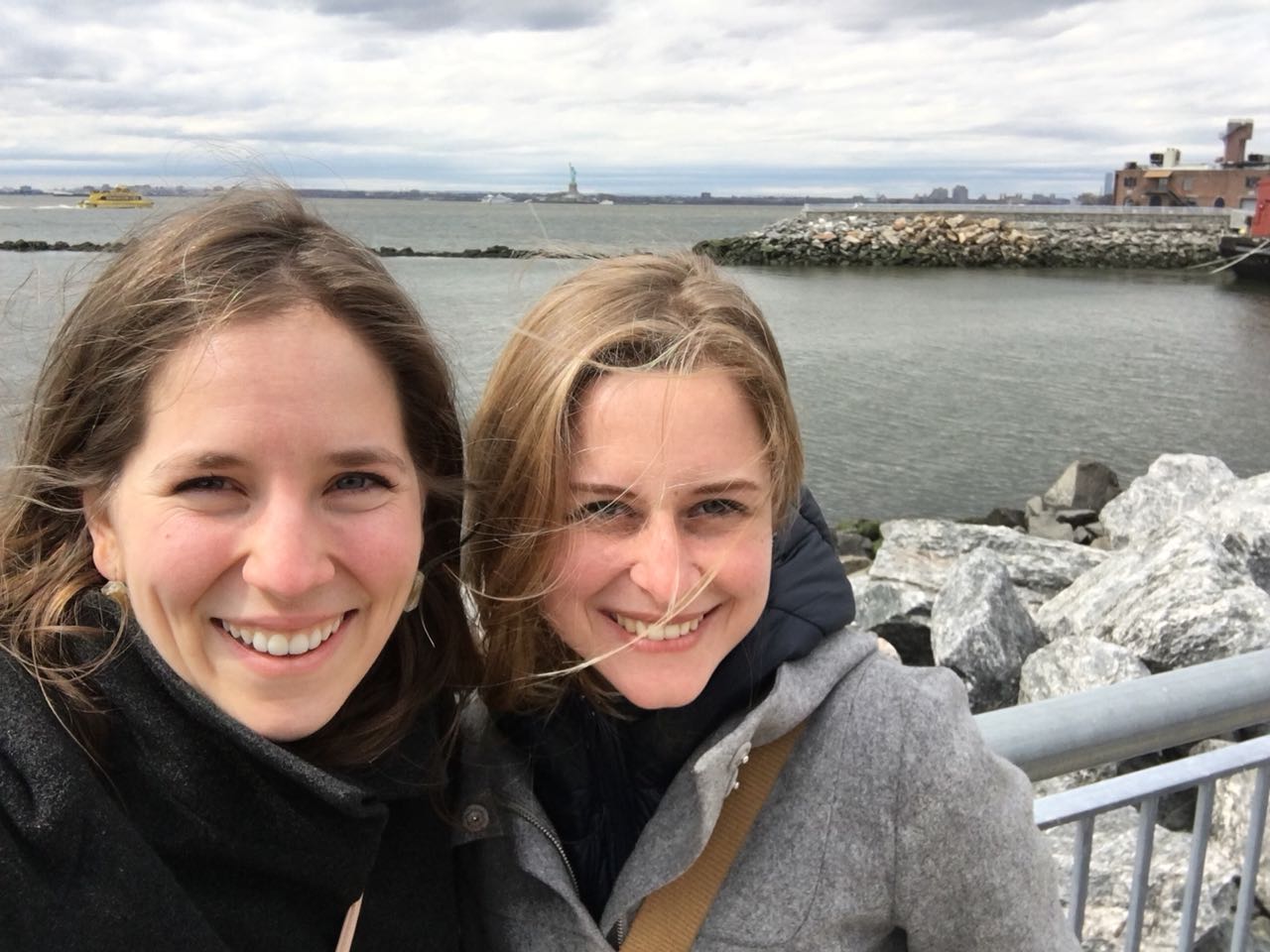 ---
March 13, 2018
New Jersey Gov Phil Murphy talks US politics to RIAS group

New Jersey Governor Phil Murphy gave a group of 14 German radio and TV journalists an interesting talk on the political landscape in his state and in the United States at the moment. Murphy, who was the former RIAS Berlin Commission honorary chairman during his term as US ambassador to Germany, was delighted to meet the German journalists at his office in Trenton, NJ, and talk openly and eloquently about the situation in the US as well as in Germany. He said he thought transatlantic institutions and ties remained strong.

"I'm honored that you would come to visit us in Trenton — Trenton makes and the world takes," Murphy said with a big smile, quoting an old slogan from 1911 during the town's industrial heyday that used to hang on a suspension bridge over the Delaware River.  Murphy, a Democrat, talked in depth about tariffs and trade as well as environmental and immigration policies — candidly expressing his opposition to Republican President Donald Trump's polices in those and other areas.

He said governors and local leaders in the U.S. were becoming more important as a counter balance to some federal government policies and predicted his Democratic party would defeat Republicans in upcoming elections.

"I think governors have never mattered more because of what's going on at the federal level," said Murphy. "Governors and local leaders will have never mattered more in our country's history." He also said he thinks President Trump may even face a challenge in 2020 from within his own Republican party during the primaries.

He said he was optimistic about the chances for the Democrats, noting that there are about 30 Democrats who have expressed interest in running in 2020 and calling that "a good thing" that there are so many in the field. "There are gobs of people on the horizon — and I'm not one of them," he said, when asked if he would consider running. "We have our hands full here in New Jersey."

Murphy, who just took office in January, expressed confidence that German-American relations as well as transatlantic institutions are in good shape but he also spoke out against tariffs and trade wars. "We need more enlightened trade policies," he said.  "We need to anticipate more the dislocation of our workers" and focus more on retraining workers in fading industries. Murphy said he was opposed to a plan recently floated by the Trump administration to give teachers guns as a way to counter mass shootings in schools.  "That's not a good idea," he said.
The RIAS group also spent the afternoon visiting CNN in New York, meeting Richard Quest as well as Anderson Cooper.

---
March 9, 2018
14 German journalists on riveting tour to expand horizons in USA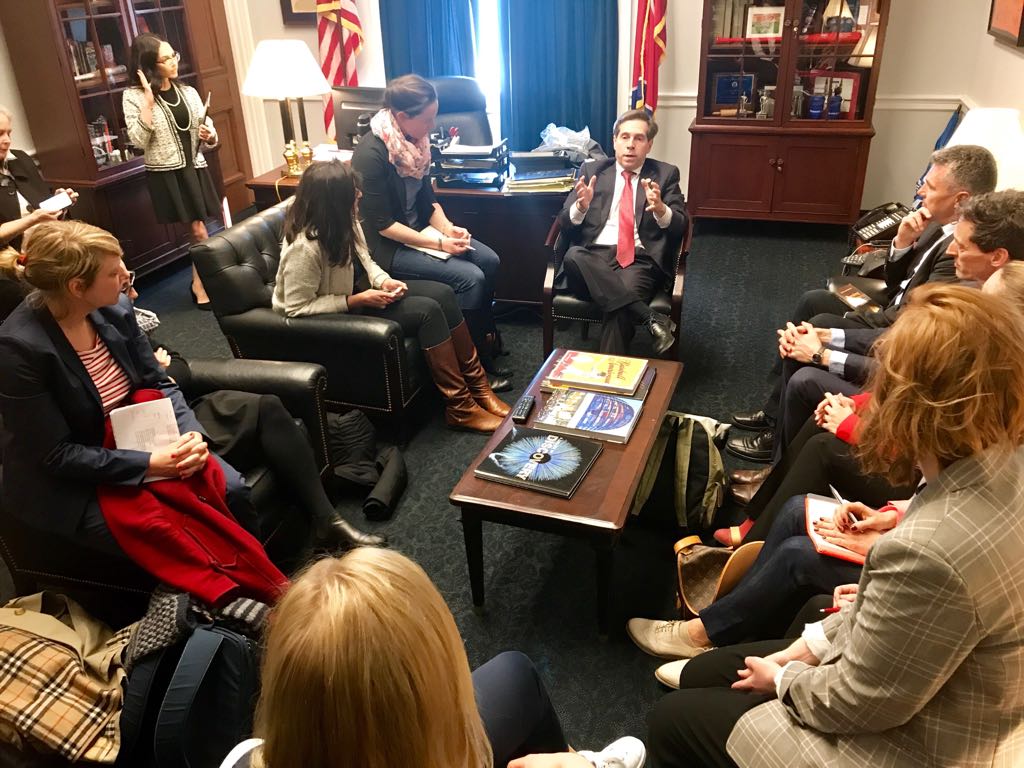 Fourteen radio and TV journalists from Germany are spending three weeks in the United States learning about politics and media as part of the latest RIAS Berlin Commission exchange program. The first of two groups of German reporters this year to visit the United States, the 14 fellows have had a dozen fascinating meetings and interviews this week with Congressmen such as Mike Doyle (D-Penn) and Chuck Fleischmann (R-Tenn) at their offices in Washington as well as meeting American and German journalists at their newsroom. They have also picked the brains of experts at think tanks, and learned more about how Washington works from off-duty journalists and lobbyists at watering holes around town.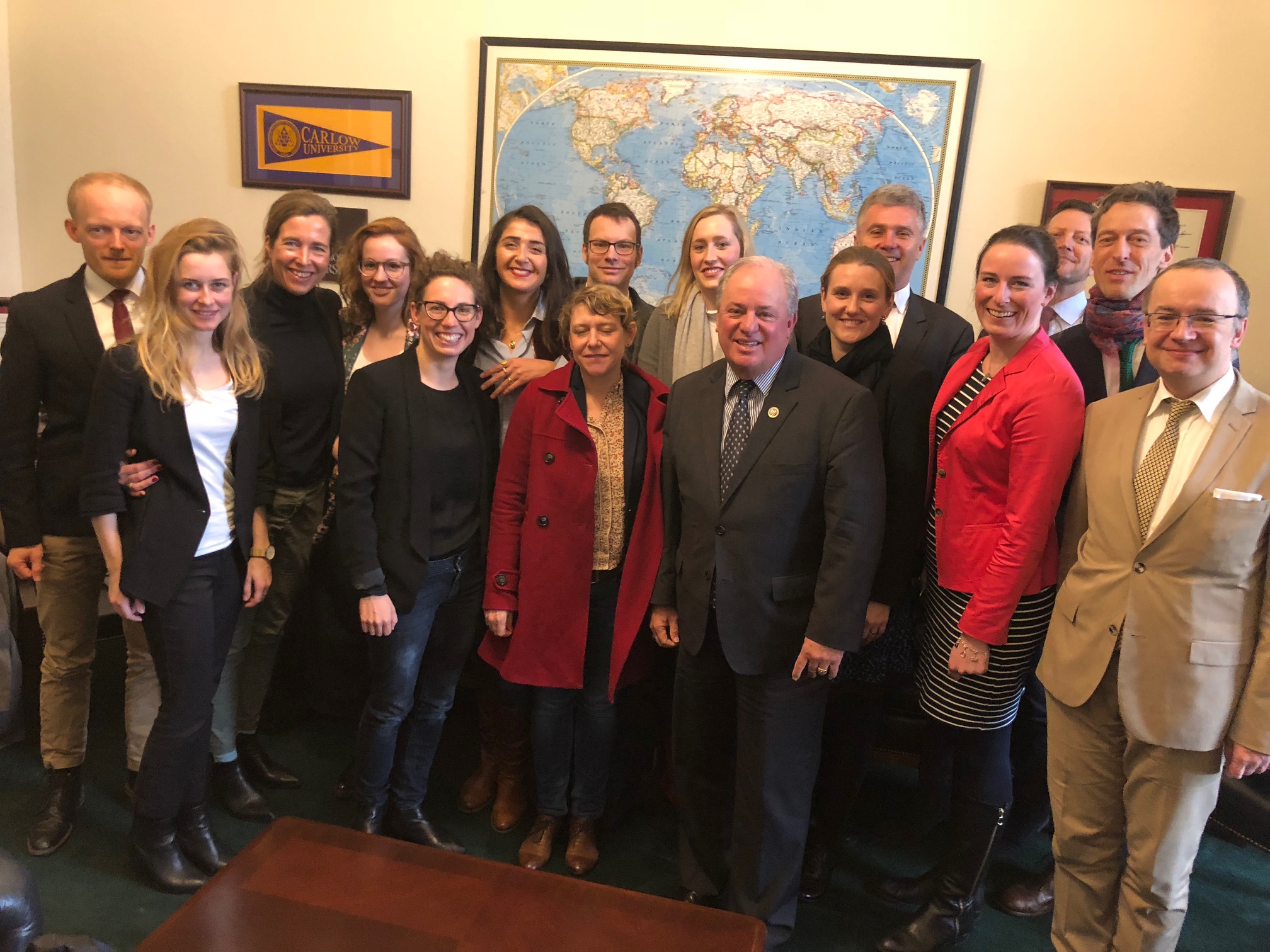 Doyle surprised the Germans with candid remarks that his wife had done a much better job predicting the Democrats would not win the 2016 presidential election while Fleischmann told them he was a good friend of President Trump and supports his positions on most issues. Fleischmann also spoke at length and in detail about his admiration of the German apprenticeship system that was being introduced in his Tennessee district more and more thanks in part to a major Volkswagen factory built there.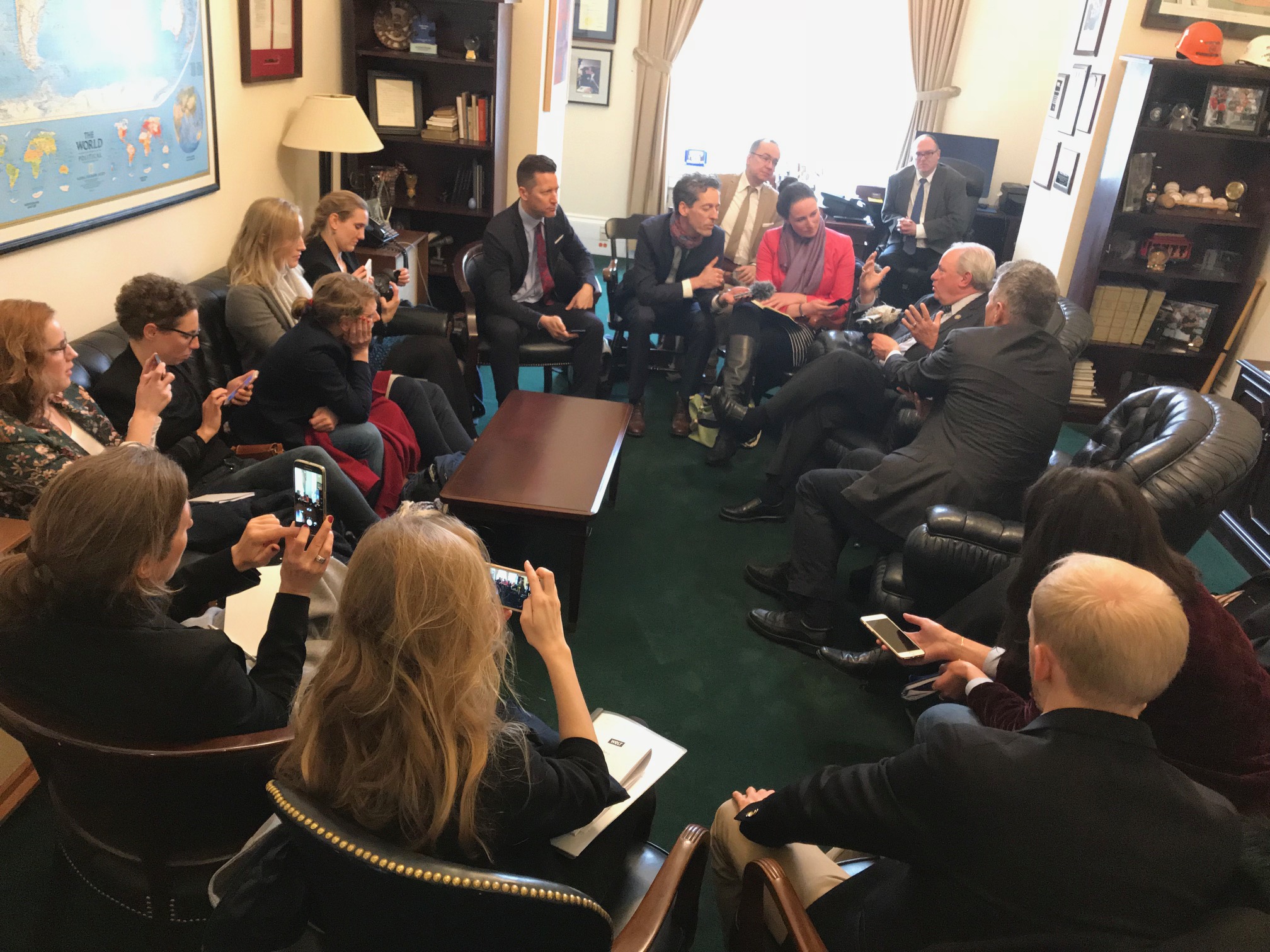 Other stops in Washington DC included a visit to the Capitol (below) Voice of America (below), NPR, German network ZDF, the Brookings Institute, PEW Institute and the German Embassy, where Ambassador Peter Wittig offered the fellows an insightful and detailed analysis of German-American relations.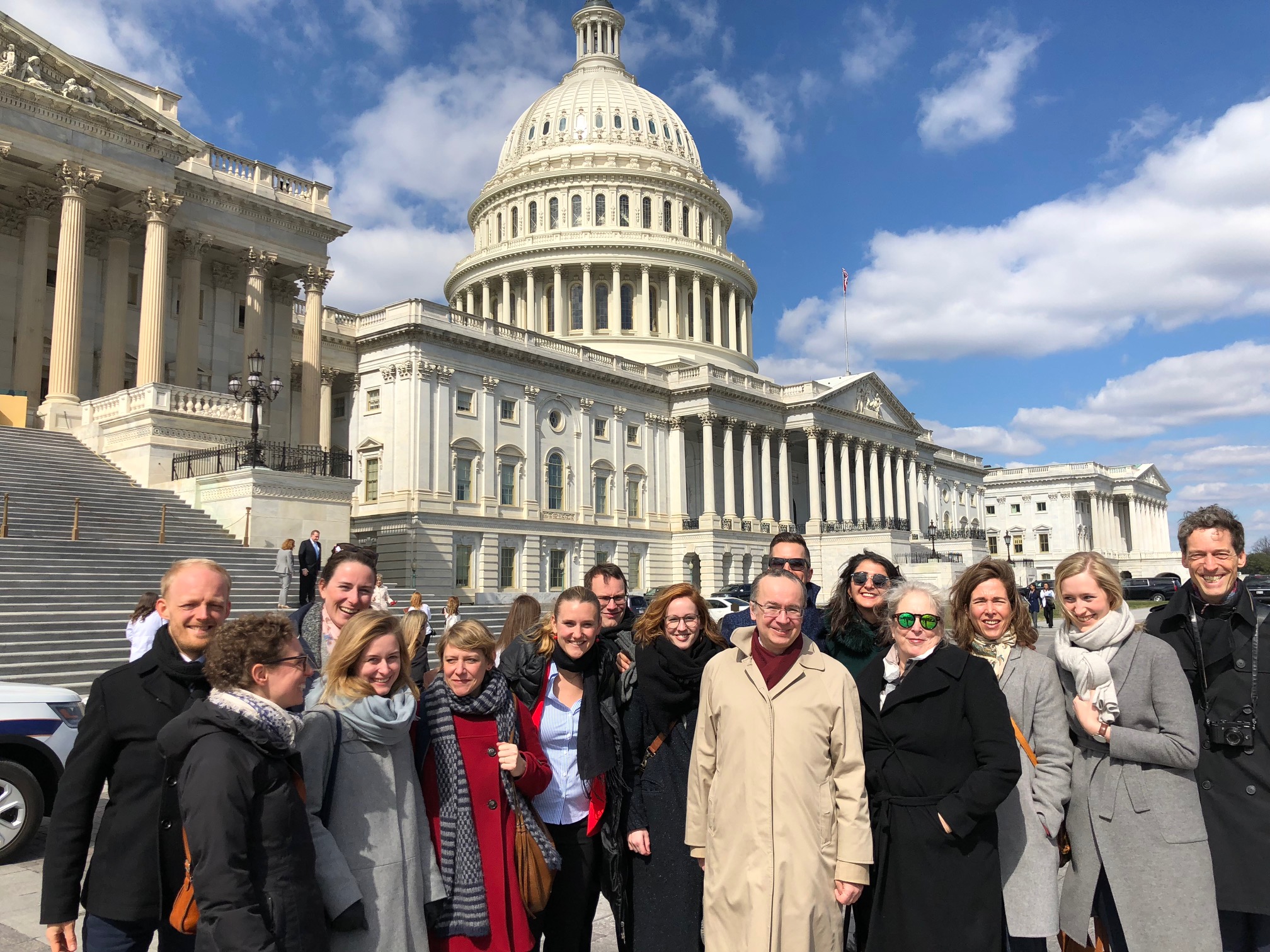 Here is a list of the Germany-based fellows and their networks:
Bianca Leitner ARD Hamburg
Bartosz Dudek Radio DW Bonn
Laura Fritsch, N24 Berlin
Marcel Grzyb, n-tv Köln
Hanna Klouth,RTL Köln
Anne Demmer, Radio+online,  RBB, D-Radio, Berlin
Anna-Maria Schuck, TV+Social Media ZDF Mainz
Eberhard Schade, Radio DRadio Berlin
Friedel Taube, TV+Online DW Berlin
Louisa Maria Giersberg, NDR Schwerin
Sarah Schmidt RTL, n-tv Berlin
Ben FajzullinTV DW Wirtschaft Berlin
Işil Nergiz TV Social Media DW Berlin
Viktoria Kleber RBB, DW, ARD Berlin
---
RIAS Media Prize Jury picks 5 winners for annual media prize awards
March 2, 2018
The RIAS BERLIN COMMISSION is proud to announce the winners of this year's RIAS Media Awards. The annual awards ceremony celebrating 26 years of the German-American exchange program and the best in transatlantic broadcast journalism will take place on Thursday, May 17, 2018 at 7 p.m. at the RIAS Funkhaus am Hans-Rosenthal-Platz in Berlin, and all RIAS fellows and past winners are cordially invited to attend the ceremony in the historic building.

The jury made up of nine distinguished journalists from the United States and Germany met in Berlin to pick the winners in TV, Radio and Digital Media categories. The jury members engaged in lively discussions and were duly impressed with the high quality of entries in this year's competition. It was an interesting year for journalism in both the United States and Germany with the first year of a new U.S. administration and the German federal elections.

The jury was made up of: Melissa Eddy (The New York Times), Anja Heyde (ZDF), Helge Fuhst (Phoenix), Michael Gargiulo (WNBC in New York), Susan Stone (NPR), Melinda Crane (Deutsche Welle), Claus Detjen (German newspaper publisher), Richard Meng (ZDF TV Council), and Christian Wilp (NTV, RTL).

There will also be a panel discussion examining the changing position and role of foreign correspondents in the United States in the lasgt year,  and a RIAS fellows alumni meeting in Berlin on May 18.
This year's prize winners are:
Jan Philipp Burgard: Alaska im Klimawandel. Wo Eis und Hoffnung schmelzen, 5.11.2017, PHOENIX, 43 Minuten
In his documentary "Alaska and Climate Change", Jan Philipp Burgard uses awe-powerful images in Alaska of both vast glaciers that are melting away and the slowing disappearing island of Shishmaref to illustrate his gripping story. The film examines the impact of the new environmental policies in the United States resulting from the shift from the Obama to Trump administrations. Burgard takes viewers on a journey visit indigenous Alaskans who are fighting for their homes and includes protagonists on sides of the issue – the environmental activists as well as the business interests and Republicans who support the deregulation policies of the Trump administration. But he also takes a clear position in support of the enironment and the fascinating habitat that is Alaska.
Best TV (short)
2 films from Lara Wiedeking
Lara Wiedeking:
1) Letzte Hoffnung Crowdfundung
11. Dez., 3Sat
https://www.3sat.de/page/?source=/nano/gesellschaft/195859/index.html
2) Public Shaming
24. Aug., ZDF (heute+)
https://www.zdf.de/nachrichten/heute-plus/videos/public-shaming-hep-100.html
Using an innovative approach, Lara Wiedeking's two entries cover complex aspects of life in the Internet Age, while at the same time shedding light on major societal and policy differences between Germany and the USA. Letzte Hoffnung Crowdfundung explores the growing use of crowdfunding to help address shortfalls of the American medical safety net. Public Shaming examines the online 'outing' of right-wing supporters following the violent white nationalist gathering in Charlottesville, Virginia. Wiedeking's fresh voice and energetic style contribute to the strong journalism delivered in two relatively short television features.
Radio winners
Arndt Peltner "Barbed wire and gated communities." Radio-Feature, 28 min.
Arndt Peltner's "Barbed Wire and Gated Communities" was picked by the RIAS Media Prize jury as the outstanding radio feature of the year. It explains how freedom is gradually disappearing, piece by piece, because of barbed wire – at least for some. Ultimately, barbed wire is not only dividing the country but also society. It divides people from one another. The effects of the imaginary border drawing influence both the country and people's consciousness. Arndt Peltner has put a bright spotlight on an important piece of cultural history.
Kerstin Zilm
"Vanlife – Hinter dem Hashtag"; "Kalifornien Speerspitze des Widerstands gegen Trump/Climate Policy: California Leads the Resistance against Trump";"Red, White and Blue am Spielfeldrand – Sport und Patriotismus in den USA" ; "Donald Trump und die Sioux – Proteste gegen Öl-Pipeline/Donald Trump and the Sioux – Protests against Oil Pipeline"
"Van Life – Behind the hastag," "California leads the resistance against trump", "Red, White and Blue on the Sidelines, Sports and Patriotism in the United States," "Donald Trump and the Sioux – Protests against Oil Pipeline"
The jury cited Kerstin Zilm for a series of outstanding radio features. She explains how camping vans have become a way of life for some yet a dream for others. She gives a voice to the resistance movement in California against Trump's climate policies. She reports on athletes who opt not to stand any longer for the playing of the national anthem but are still patriotic Americans. And she follows Sioux who are demonstrating against a new oil pipeline. All four features masterfully depict how the policies of the U.S. president are changing American society. Kerstin Zilm gets close to her protagonists and gives listeners a chance to learn more about the divisions in the United States.
https://www.nytimes.com/video/world/europe/100000005090433/libyan-migrant- bautzengermany.html
Ainara Tiefenthäler & Shane O'Neill: "Land of Good | Seeking Asylum in Germany, and Finding Hatred" 21. Sept., 14:09 min.
This year's digital media prize goes to Ainara Tiefenthäler & Shane O'Neill for their film "Land of Good | Seeking Asylum in Germany, and Finding Hatred", aired on the New York Times website as part of the series "Times Documentaries." The film follows a young man who fled violence in Libya only to become the flashpoint of conflict in the eastern German town of Bautzen. The authors tell a compelling story that explores with subtlety and humanity the complex challenges surrounding immigration, extremism, and social polarization.
---
February 2, 2018
Hamburg Chapter of RIAS Berlin Commission Alumni network created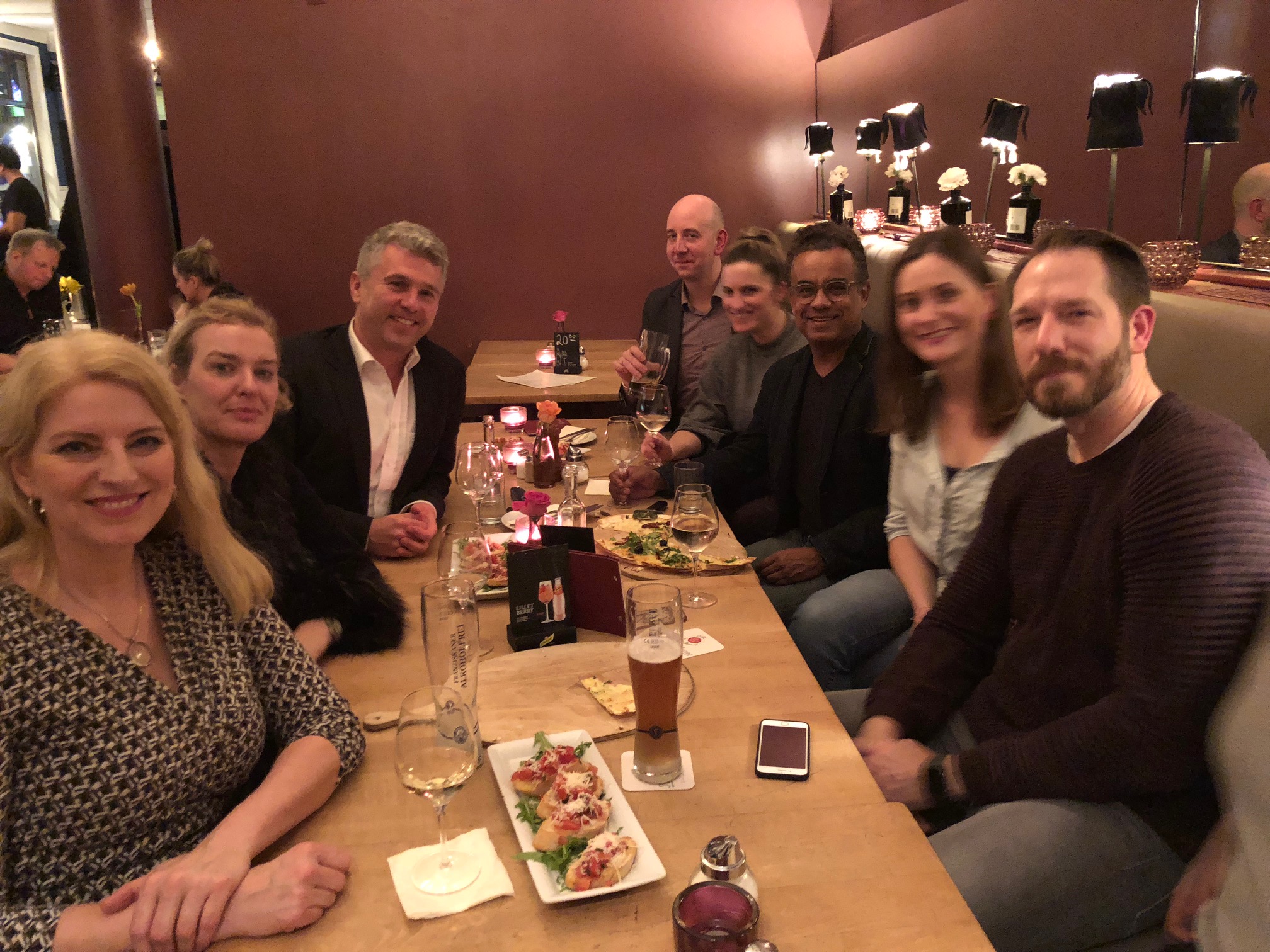 A dozen RIAS Berlin Commission Alumni gathered at a pub in Hamburg on Friday, February 2 to inaugurate the RIAS Hamburg Chapter — an informal "no-strings-attached" group that plans to meet as a sort of "Stammtisch" every few months. The Hamburg alumni chapter is the third regional chapter created following the starts of regional chapters in Cologne and Berlin were organized in recent months.
"It was a great inspirational evening," said Michail Paweletz, a news presenter for ARD's Tagesschau who organized the Hamburg Chapter's first meeting together with Nadine Gries of NDR. The alumni talked not only reminisced about their "life-changing" experiences as RIAS Berlin Commission fellows on their trips to learn more about media, politics and culture in the United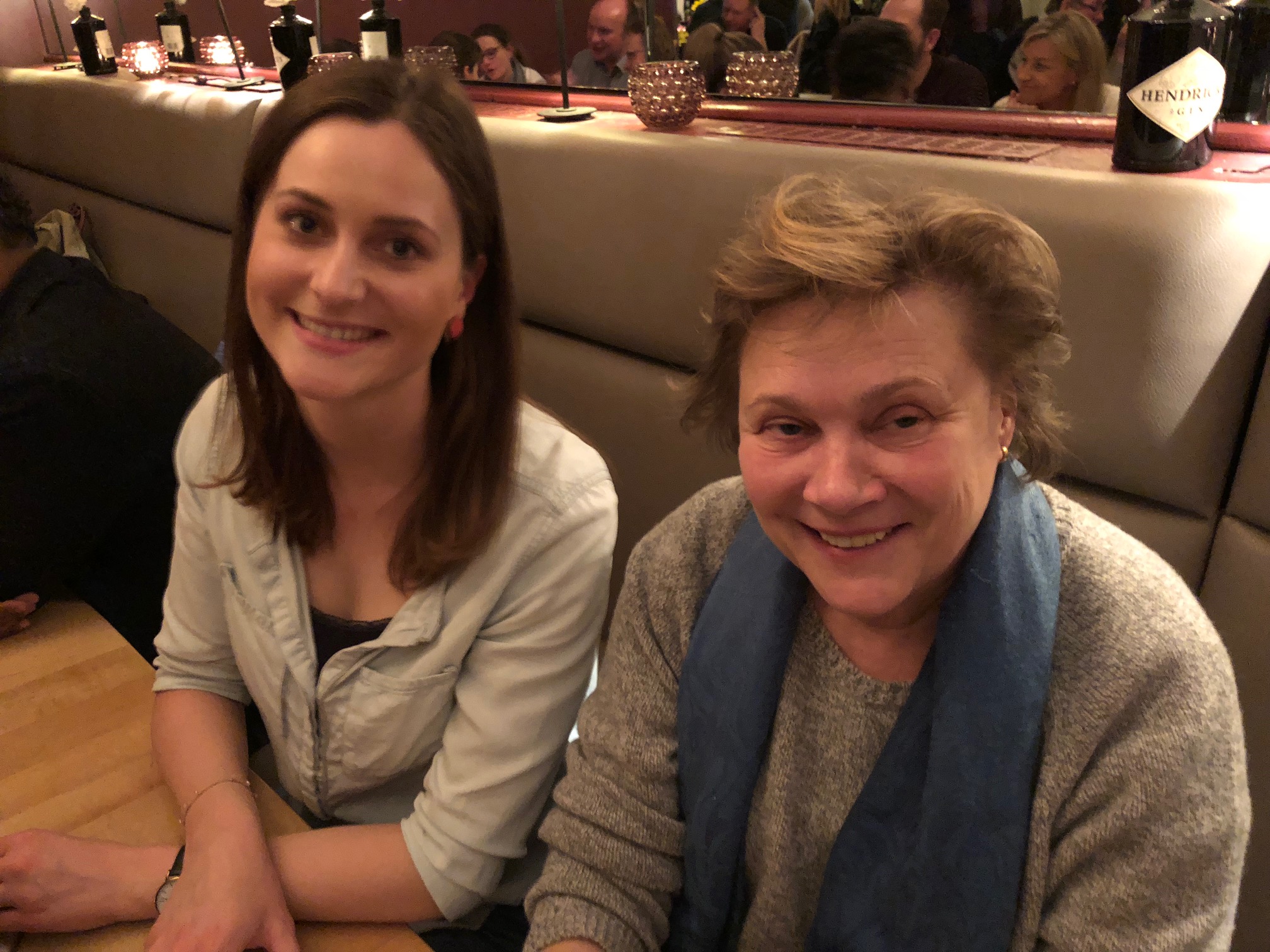 States over the last 15 years. They also talked about how they could keep the spirit of RIAS alive with regular meetings in Hamburg or with other chapters in Berlin, Cologne and possibly in the United States when chapters are formed there hopefully soon. The alumni were also encouraged to work take up the RIAS Berlin Commission offer for support for individual story-research reporting trips to the United States.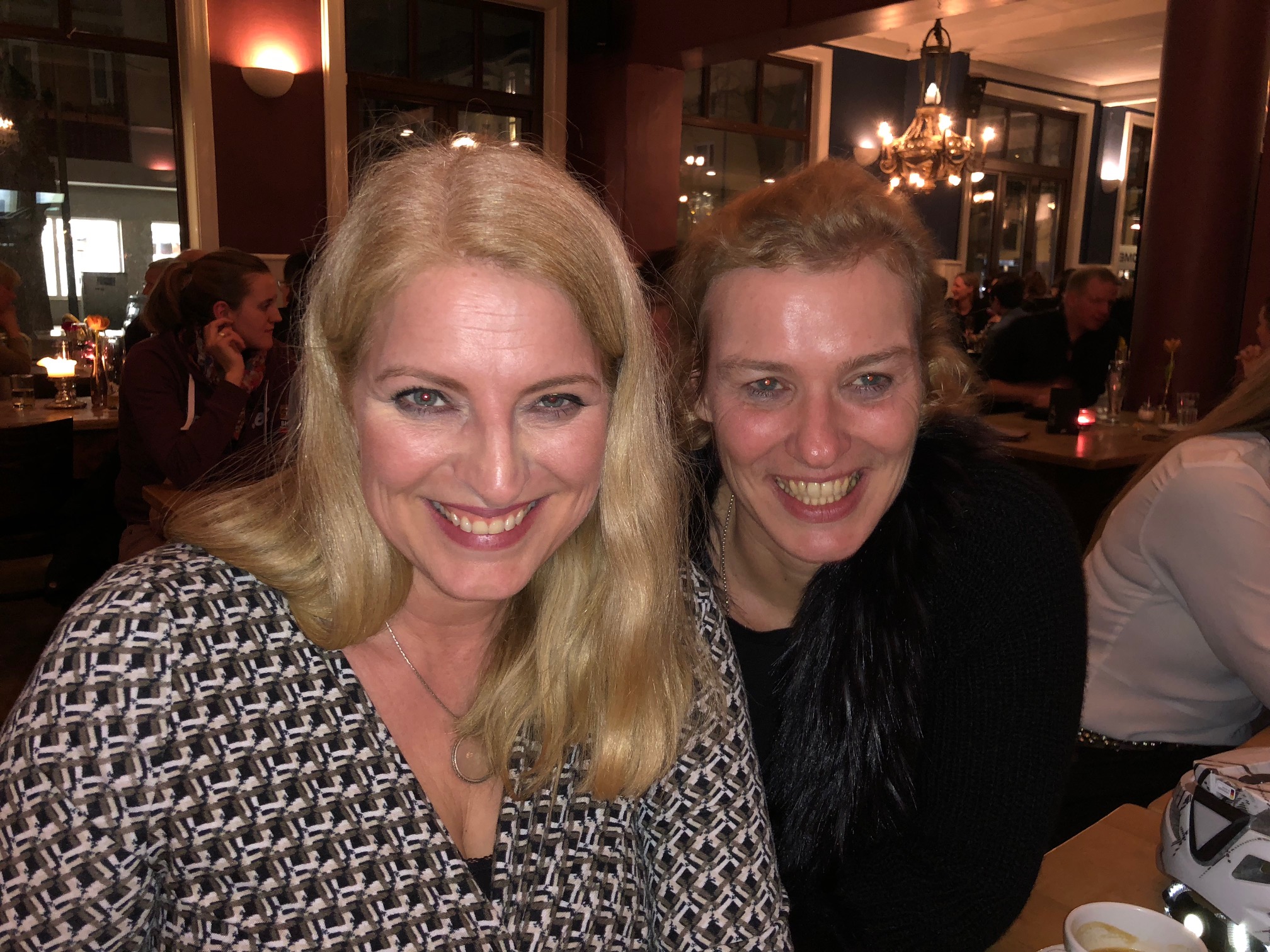 The RIAS Berlin Commission offers alumni with compelling story ideas 1,000 euro stipends to help cover some of the travel costs associated with researching stories in the United States. The offer of $1,000 stipends to help U.S. fellows cover some of the travel costs associated with researching stories in Germany.
RIAS Berlin Commission Executive Director Erik Kirschbaum said he hoped the new Hamburg chapter would be able to build networks with the Berlin and Cologne chapters as well as build bridges to U.S. alumni and chapters in the United States as well.  "With more than 1,500 alumni in the U.S.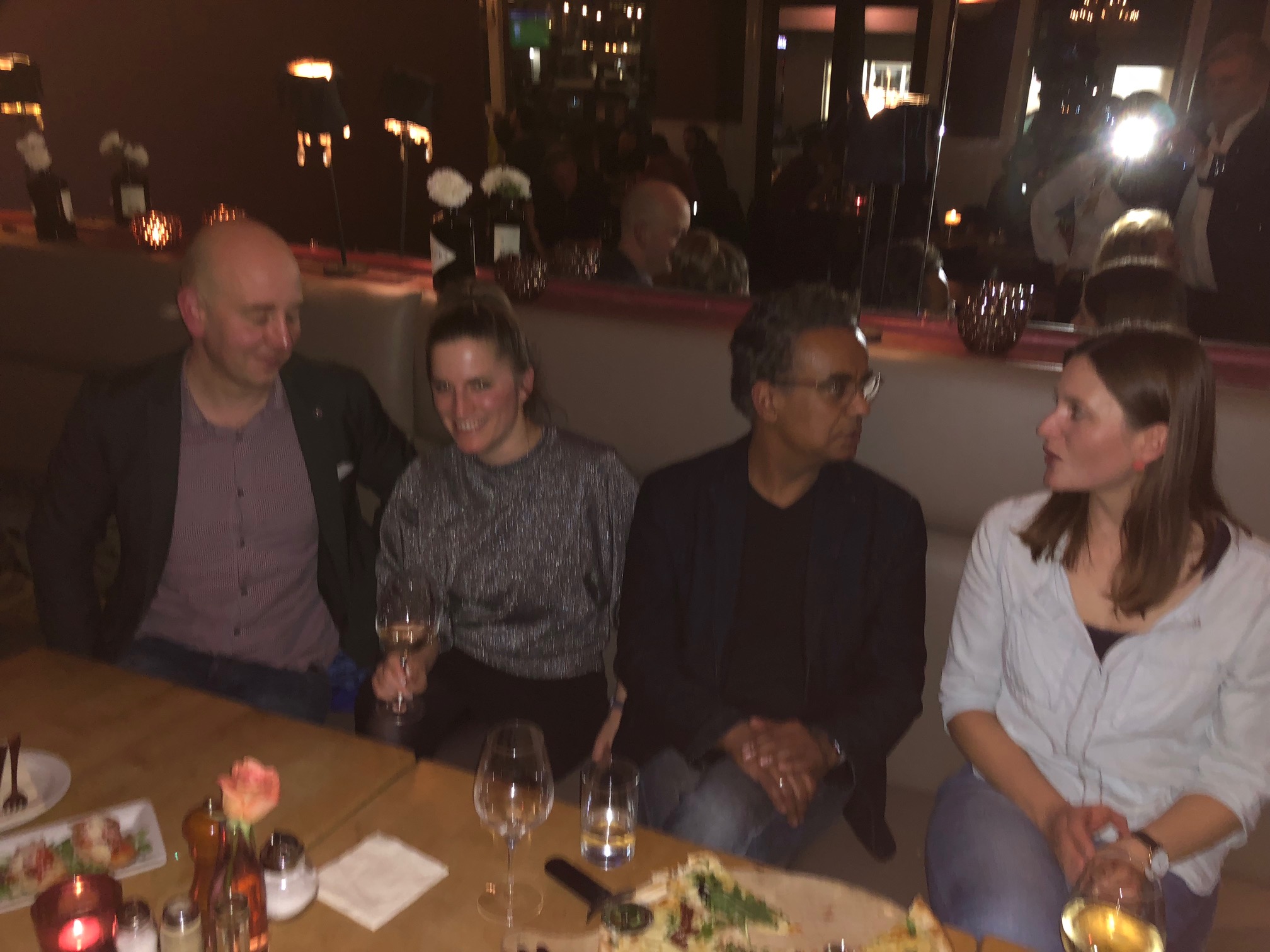 and Germany from the RIAS  programs over the last 25 years, there is so much potential for networks, transatlantic cooperation on stories and friendships," he said.
All RIAS Berlin Commission alumni are invited to attend the RIAS Medienpreis awards ceremony on May 17 at the RIAS Funkhaus building in Berlin as well as a special alumni reunion meeting in Berlin on May 18.
Among those who attended the Hamburg alumni meeting were Michail Paweletz (ARD), Nadine Gries (NDR), Regine Münder (ARD), Birgit Hahn (Radio Hamburg), Charlotte Voss (NDR), Stefan Keilmann (ARD), Patrick Döcke (ARD), Sonja Keilmann (ARD) and Jennifer Lange (NDR).
---
January 17, 2018
New summer exchange program for U.S. university students
U.S. university students are invited to apply for a three-week intensive study program on journalism in Germany. Funded largely by a grant from the German government and organized by the RIAS Berlin Commission, up to 14 outstanding journalism or international studies students will be invited to take part in the three-week program in Germany to learn more about journalism in Germany, the role that broadcasters like the Berlin-based RIAS played during the Cold War and the current political landscape of Germany.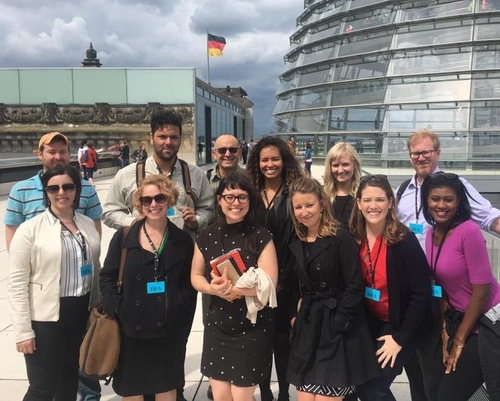 Beginning in 2018, the RIAS Berlin Commission will be offering exceptional students of journalism, international affairs and related disciplines the opportunity to participate in this three-week educational program in Berlin. Funded by the Transatlantic Program of the Government of the Federal Republic of Germany, the program will give 14 participants valuable insights into transatlantic, German and European affairs. Students from across the US are encouraged to apply.
Over a three week period in Berlin, with excursions to other Germany cities, participants will meet with leading political analysts, journalists, think tank representatives and other experts. They will visit German government institutions, historical sites, and universities, enabling them to and deepen their knowledge of central issues in transatlantic affairs and gain a more personal understanding of German politics, media and history.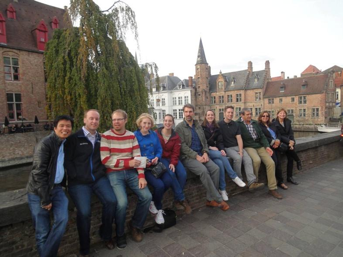 Program applicants must be undergraduate or graduate students of journalism, international affairs, political science, history, German or closely related disciplines at universities and colleges in the United States. They should be starting at least the third year of their undergraduate studies at the time of the program and preferably have some experience in journalism – for example at a campus radio or TV station or newspaper. An interest in and knowledge of German or European affairs is desirable; knowledge of German is preferred but not required. Students who have already gained some professional or volunteer experience in their field are strongly encouraged to apply.

Attached is the application form as PDF with further information.
---
January 11, 2018
Berlin Alumni Chapter's inaugural meeting
Twenty RIAS Berlin Commission alumni came together on January 11 for the inaugural meeting of a Berlin alumni chapter at a restaurant in Berlin. Organized by 2017 fellows Anja Goerz and Benedikt Wenck, the Berlin-based RIAS fellows have taken part in the exchange programs since 2000. Not only did the Berlin alumni reminisce about their experiences in the U.S., they also made plans for regular Berlin alumni chapter meetings every other month. Vladimir Balzar and Anja Heyde volunteered to organize the next Berlin alumni meeting in late March.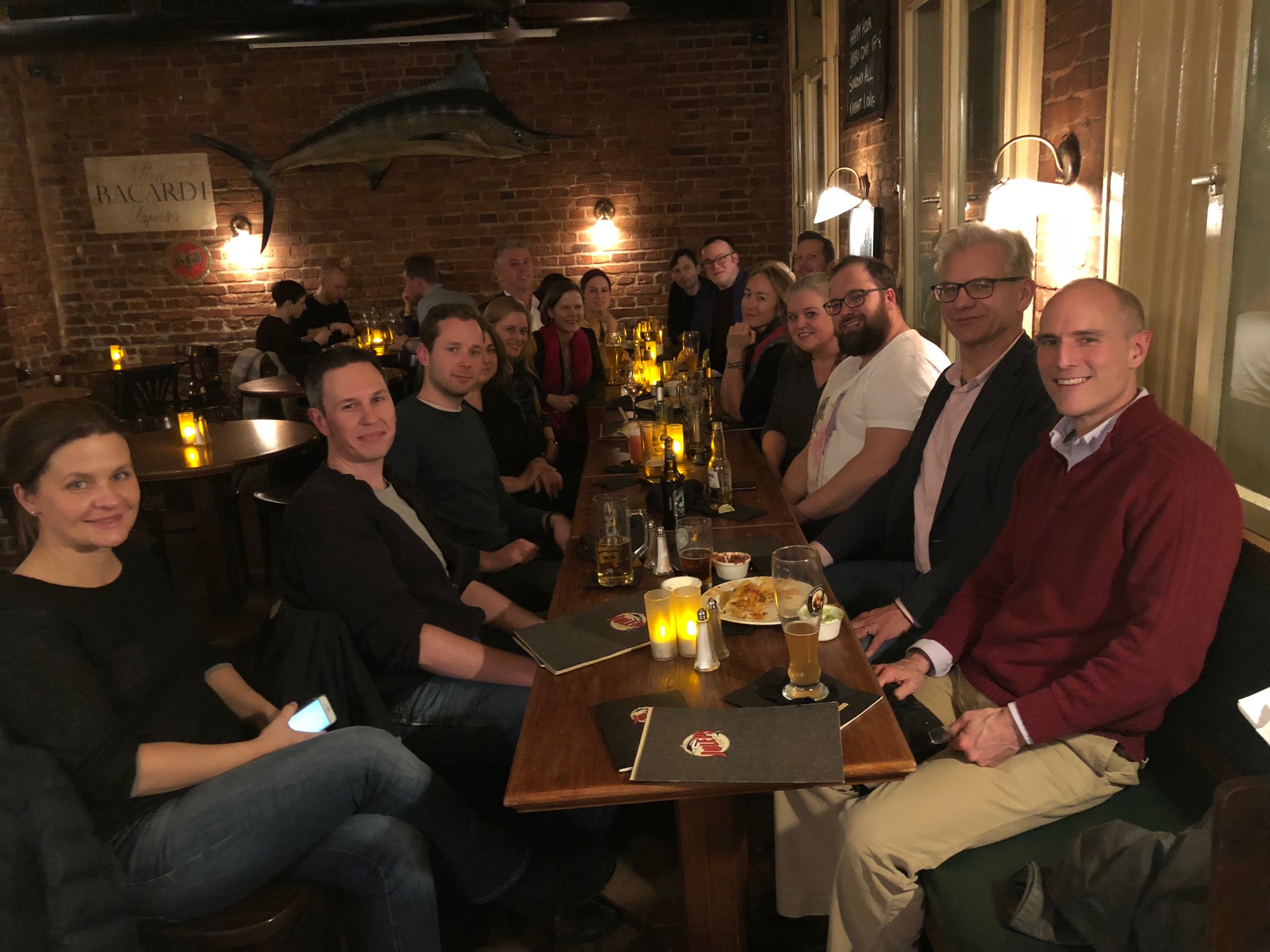 The Berlin alumni chapter was the second informal alumni group created after RIAS alumni in Cologne set up the first chapter in November. Other chapters are being set up or in planning in Hamburg, New York and Washington. The Berlin and Cologne chapters are hoping to occasionally invite guest speakers to their meetings.
"The main goals of these alumni chapters are, besides having a good time, to create networks of former RIAS participants in both the U.S. and Germany — and hopefully the various chapters will be able to interact with each other down the road in setting up individual exchanges," said RIAS Berlin Commission Executive Director Erik Kirschbaum. "They're for the alumni and by the alumni. These chapters and individual exchanges are whatever those taking part make out of them."
All 1,500 RIAS Berlin Commission alumni are cordially invited to join or create local chapters — and register themselves into the RIAS Berlin Community on the www.riasberlin.org website, where messages, ideas, suggestions and hosting requests can be exchanged.
Others at the inaugural Berlin alumni chapter meeting included: Dorte Störmann, Marc Krueger, Philipp Eins, Martina Gross, Laura Fritsch, Gabriele von Moltke, Petra Gute, Karl Hinterleitner, Erik Kirschbaum, James Griffin, Ben Fajzullin, Sven Ole Schubert, Giusi Valentini, and Anne Demmer.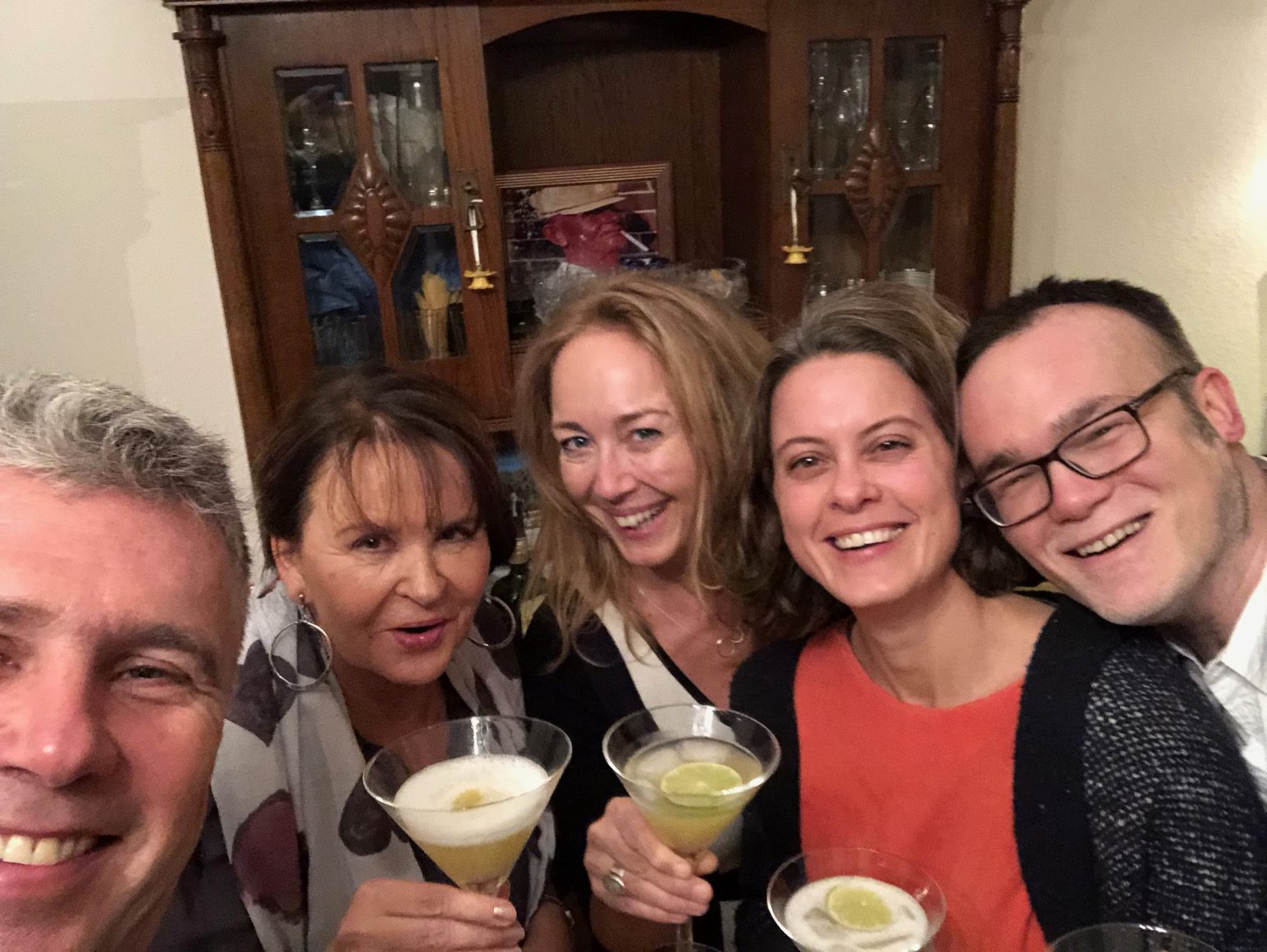 Two other RIAS alumni groups have also gathered in recent weeks as well. Five of the nine
participants on a senior editors program to Texas in 2017 were able to revive the spirit of their
weeklong crash course on immigration and border security with an evening of margaritas and spicy jalepeno burgers in Berlin: Vladimir Blazer, Anja Heyde, Petra Gute, Hildegard Boucsein and Erik Kirschbaum.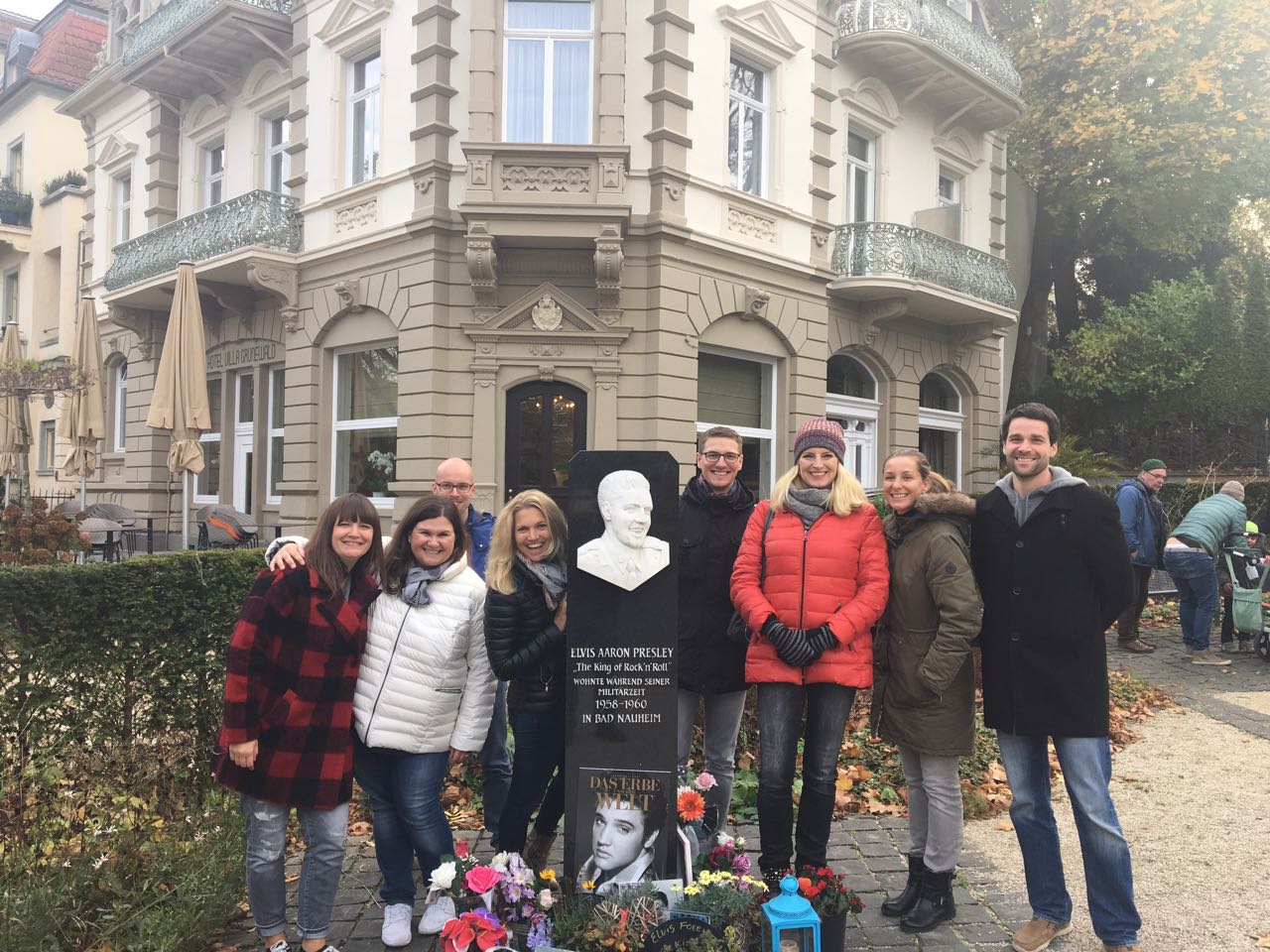 And seven of the 10 fellows from the March 2017 program to the U.S. met for a weekend reunion in Bad Nauheim north of Frankfurt and visited the house where Elvis Presley lived when he was stationed in Germany. "We just wanted to see each other again because we had such a good time together in the U.S.," said Kevin Arnold, who organized the alumni meeting. Others attending include Birgit Hahn, Selina Koc, Sarah Zerback, Anja Fröhlich, Arne Orgassa, and Tobias Jobke
---
January 4, 2018
Call for entries for RIAS Media Prize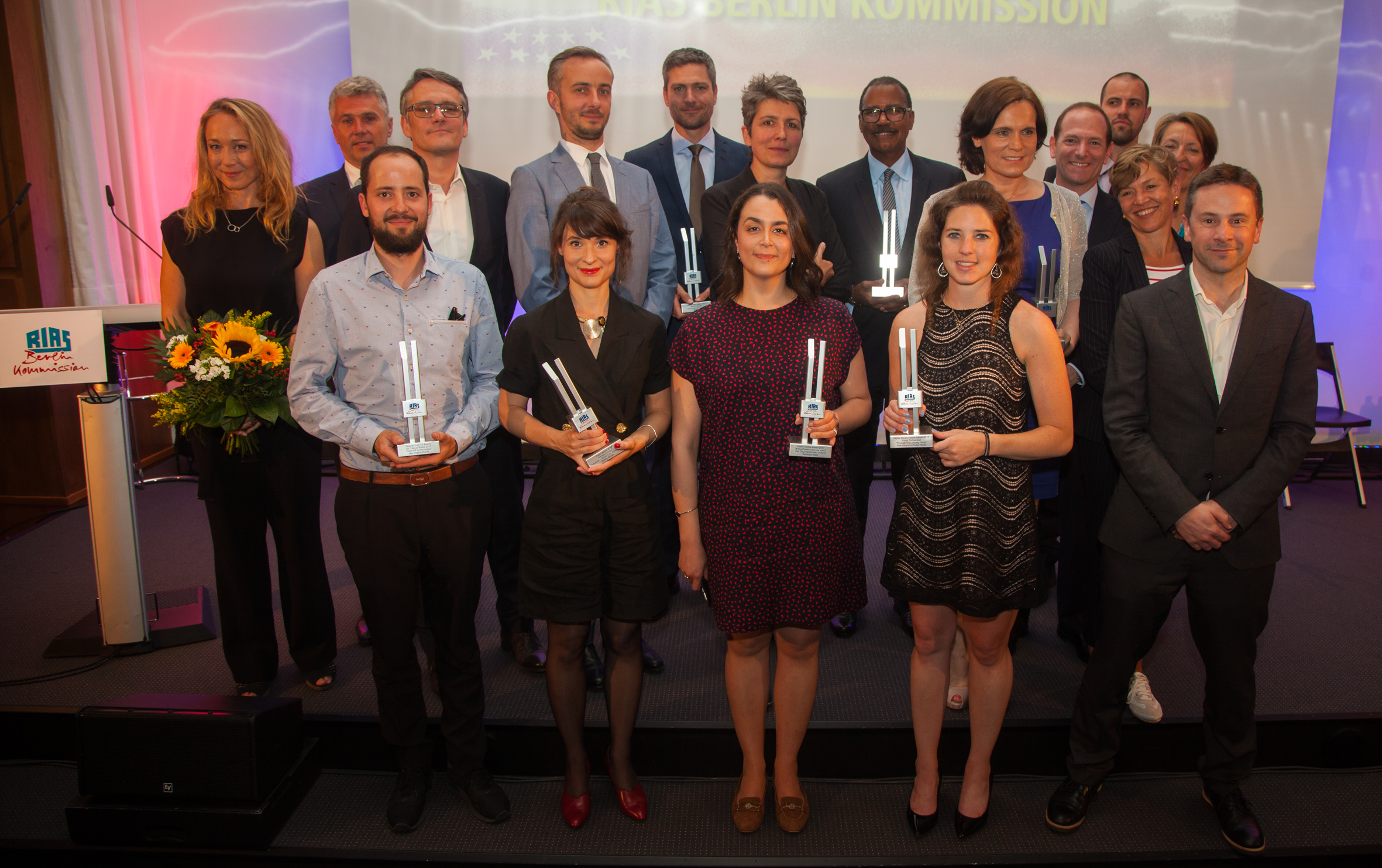 The deadline is nearing for the RIAS Berlin Commission Media Prize awards for 2017. The awards are for the best reporting to highlight issues of interest to the U.S. and Germany. Stories of bi-national interest that aired or were published at any time in the calendar year of 2017 are eligible.
Awards are presented for radio, television and online reporting. There is no fee for submitting a story for a RIAS Award. Recent American winners include Bill Whitaker from CBS's "60 Minutes" for a story comparing prisons in Germany and the United States, Paige Sutherland of New Hampshire Public Radio about Germany's handling of drug addiction; also Erik Olsen and Melissa Eddy in 2016, for a pair of stories on nytimes.com: Germany's Coal Addiction and Germany's Energiewende: Off-shore Wind Push, Tonya Papanikolas in 2013 for her online reports from Germany and Susan Valot in 2012 for her radio work on LA artists living and working in Berlin.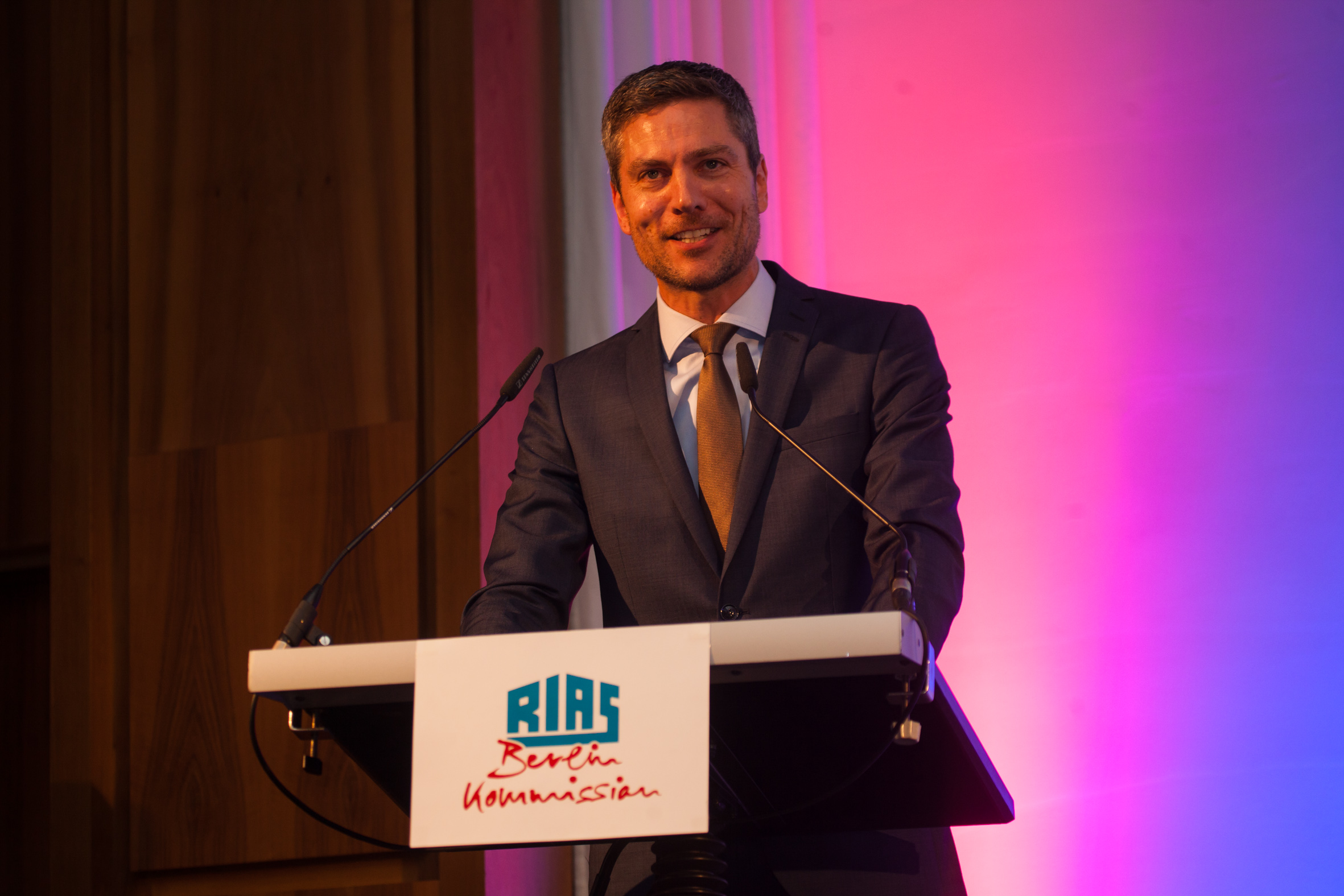 The entry deadline is January 31, 2018. To submit, simply send a link to your story to info@riasberlin.org and kirschbaum@riasberlin.org. Scripts and support materials are optional. The RIAS jury will meet in February and winners will be invited to the awards ceremony in Berlin to be held in the spring.
Please review the call for entries on the RIAS Awards page for specific rules and details and visit our German/American exchange program page for more information.
Solicitation 2018 (Call for Entrys) as PDF (EN)
---
December 4, 2017
"Ask not, what RIAS can do for you – ask what you can do for RIAS"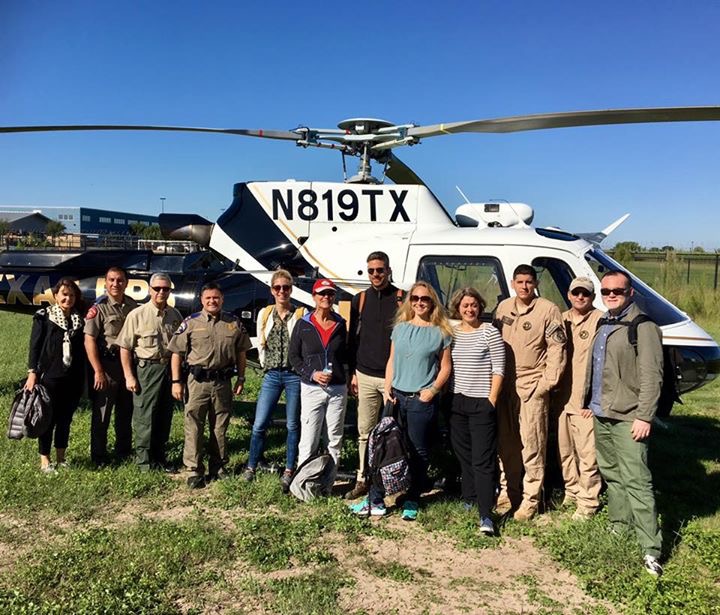 Dear Friends and Fellows of the RIAS Berlin Commission: To borrow the words of John F. Kennedy at his inauguration, "Ask not what your country can do for you – ask what you can do for your country," I would like to appeal to all of you in the RIAS alumni network to "ask not what RIAS can do for you – ask what you can do for RIAS."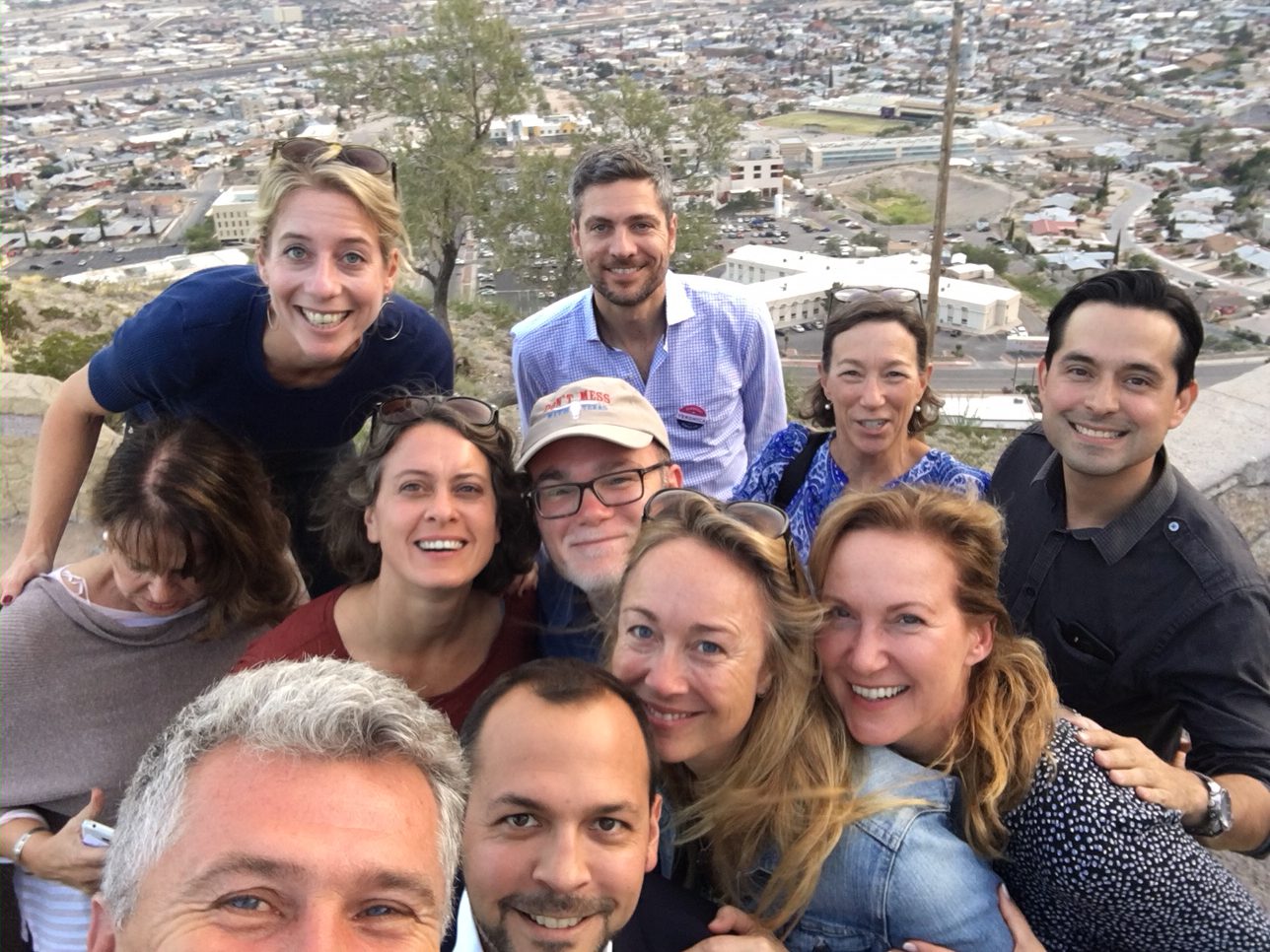 In our 25th year, the RIAS Berlin Commission has done everything possible to keep the exchange programs between Germany and the United States up and running while trimming administration costs and keeping an unchanged budget in balance. It has not been easy but thanks in part to those of you who made generous donations to RIAS in 2016 we are in solid fiscal shape. As many of you know, perennial low interest rates have taken a heavy toll on our foundation's investment income in recent years but we are still doing everything we can to put together the best-possible exchange programs in Germany and the United States with limited means.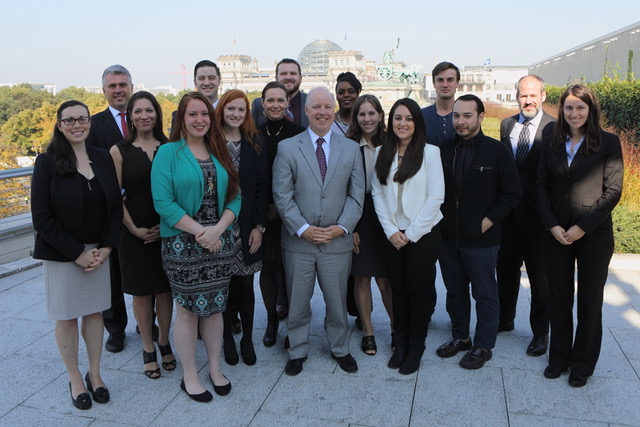 If you had a good and possibly life-changing experience on an RIAS exchange program, we hope that you might be able to give something back to RIAS and make even a modest tax deductible donation to RIAS Berlin Commission. Last year we received a total of more than 1,000 euros off the bat in year one in tax deductible donations in Germany and $1,000 in the United States from alumni making contributions ranging from $50 or $100 to 300 euros. In this second year of fundraising to expand the exchange programs, my personal hope is that there will be donations from alumni totaling at least 10,000 euros – that amount alone wo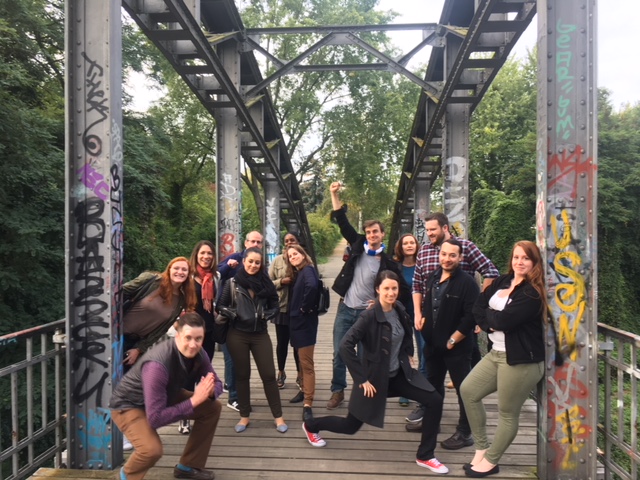 uld be enough to add two more spots on the exchange programs in 2018. Because I've seen how important the RIAS program can be and what a positive impact it can have on young broadcast journalists, I am planning to donate 1,000 euros this year myself towards that goal of 10,000 euros so hopefully there will be at least 9,000 euros more donated by the end of the 2017 and hope as many of you as possible will join me.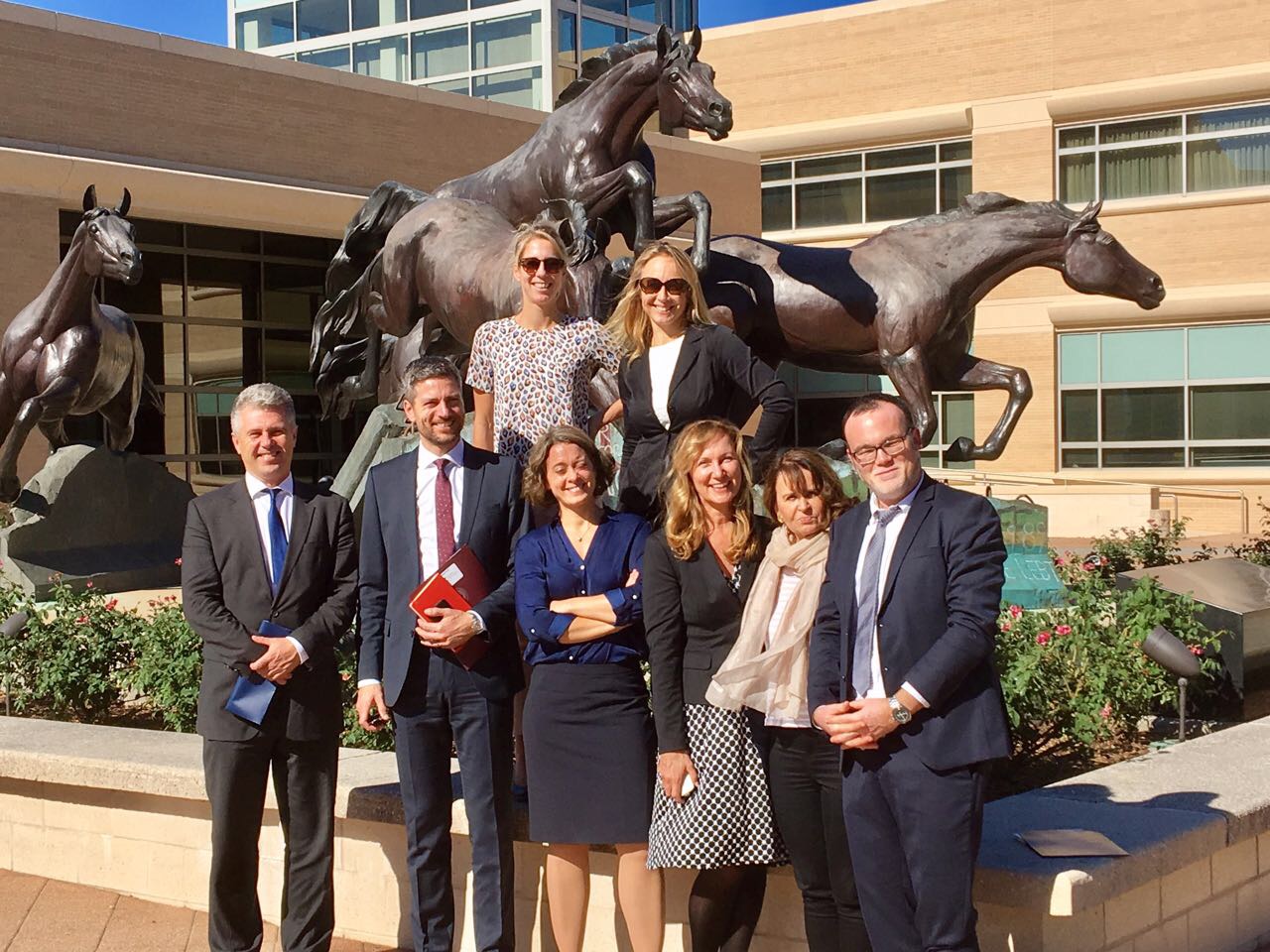 In 2017 we were able to reduce admin costs and used those savings right away to add an extra day to the Washington DC program, starting on Monday instead of Tuesday. Thanks to further savings and donations, we were able to raise the number of participants on many of the trips this past year from just 10 or so in 2016 to 12 to 14 in 2017. A total of 30 Germans spent one to three weeks on fellowships in the United States in 2017 while 26 Americans spent two to three weeks in Germany. With enough donations from you, we will aim to take at least 14 on most of the exchange trips in 2018. A new added feature this year was the introduction of an optional "station week" in Germany for some of the American fellows.
As many of you know, we have also been trying to encourage the creation of Alumni Chapters in both Germany and the United States. The Cologne chapter was created in early November an
d a Berlin chapter is going to be created on January 11. The goal of these alumni chapters is to tap into the enormous potential of our great alumni network of more than 1,500 alumni from the last 25 years and ide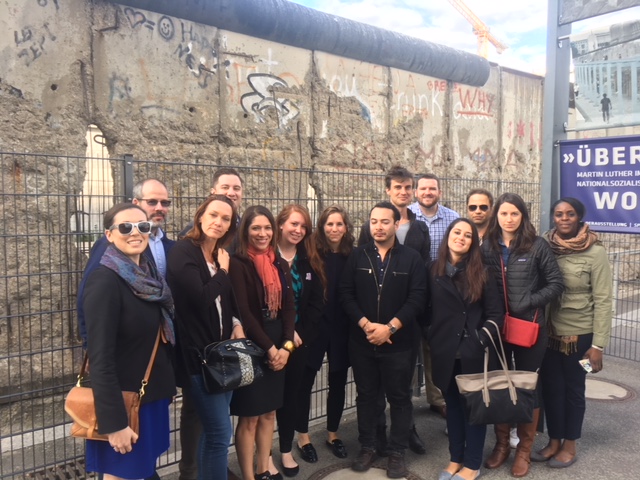 ally foster private and individual exchanges between both German and American fellows. Please do register yourself on our revamped www.riasberlin.org website in the community section http://riasberlin.org/community/ The cost-cutting measures
are helping considerably. But we also need to diversify our funding base to cushion RIAS from the impact of such low interest income. We would greatly appreciate your tax-deductible charitable donation. It will help RIAS Berlin Commission continue to reinforce transatlantic understanding.
Here is the RIAS Berlin Commission account for tax-deductible donations in Germany:
RIAS Berlin Commission,
IBAN: DE72 1005 0000 1160 0155 50,
Kennwort: "Spende"
Or you can donate via paypal on www.riasberlin.org
Here is the link for tax-deductible donations in the United States: https://www.rtdna.org/content/rias_german_american_exchange_program
Thanks for your support and please stay actively involved with the RIAS Berlin Commission.
Sincerely
Erik Kirschbaum
Executive Director
---
November 10, 2017
Cologne alumni chapter created to network and keep RIAS spirit alive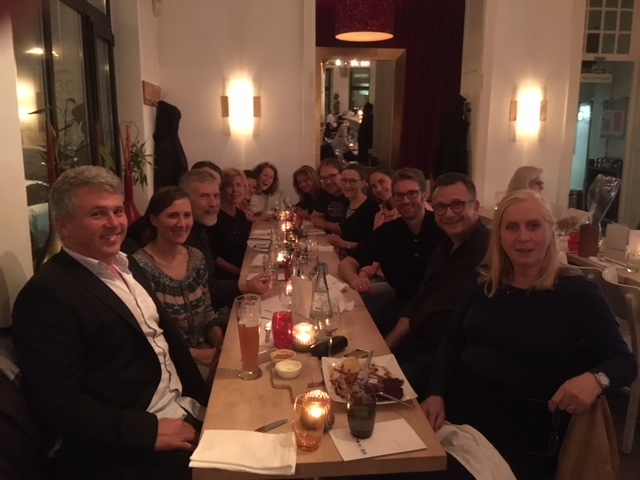 A dozen RIAS alumni from Cologne and Bonn created the first-ever RIAS alumni chapter on Wednesday, November 8. The alumni group hopes to hold occasional meetings to network and talk about transatlantic issues with riveting guest speakers. The alumni chapter in Cologne, Germany's fourth largest city and one of its most important broadcast media capitals as the home to RTL, NTV, and the WDR networks as well as Deutschlandfunk, is also hoping to connect for possible exchanges. with new chapters to be set up in other hotspots in Germany and the United States.
As RIAS executive director Erik Kirschbaum told the first alumni chapter, RIAS is eager to promote the exchange of alumni across the Atlantic in the hopes of helping to produce stories in both countries. Some financial support for transatlantic travel is available for alumni working on projects for their broadcasters.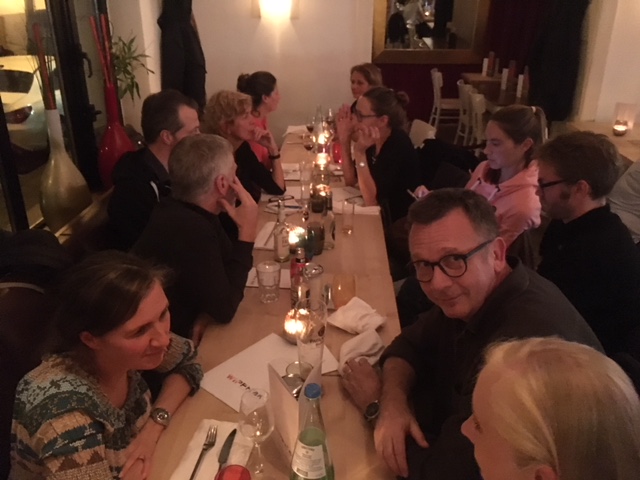 "I think it's a great idea because I've always wondered why we can't better use this network," said Andrea Lueg, who organised the inaugural Cologne chapter meeting. "All it took was a quick email to all the RIAS alumni in the Cologne area and the resonance was tremendous. Twelve alumni came to our first meeting and many others wrote that they couldn't make it but thought it was a great idea and want to take part in the future."
Lueg said that all RIAS alumni in the Cologne area and northwestern Germany are welcome to join the chapter and that they are hoping to connect with RIAS fellows and chapters in the United States.
Vivienne Radermacher , Michael Stang, Torsten Beermann, Stefan Römermann, Carsten Schröder, Monika Dittrich, Yvonne Müther, Arnd Riekmann, Anna Schubert, Andrea Tönnißen, Marika Dresselhaus, and Andrea Lueg