News & Events
RIAS Alumni Donations Bounce Back in 2021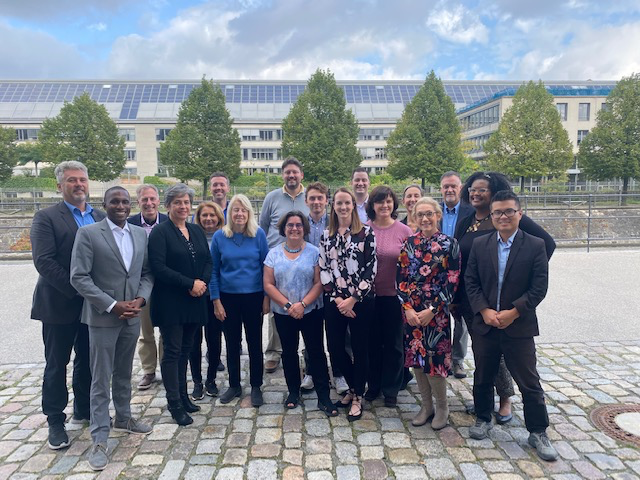 Private donations to the RIAS Berlin Commission bounced back strongly in 2021 to a total of more than 8,600 Euros, with contributions coming from more than 60 alumni and friends of RIAS in Germany and the United States. The rise in donations coincided with the resumption of RIAS exchange programs, with three programs in September/October 2021 in which 56 journalists from both countries took part. There were no programs in 2020 due to the Covid-19 pandemic.
Those generous donations in 2021 will help make it possible to expand the exchange programs in 2022. All donations raised from alumni and friends of RIAS are being used directly and entirely for additional spots on the exchange programs for journalists between the United States and Germany. There are seven programs planned for 2022: two three-week standard programs for German journalists to the USA in March and October; two two-week standard programs for American journalists in Germany/Brussels in June and September; one three-week program for German students in the USA in March/April; one three-week program for American students to Germany in June/July; and one one-week alumni program for 30 German alumni in Washington/Pennsylvania in October.
The donations in 2021 included 6,650 Euros from 42 alumni and friends of RIAS in Germany and $2,270 from 16 alumni and friends of RIAS in the United States. There was a wide range from individual donors in 2021, from $50 to $750 in the United States and 30 Euros to 800 Euros in Germany. RIAS Berlin Commission says a big thank you to all donors! Large donors ( of 200 Euros or more): Kristian Wiegand, Mitri Sirin, Erik Kirschbaum, Dilek Üsük, Helge Fuhst, Ingo Zamperoni, Anja Heyde, Martin Richter, Anne Sieger, Daniel Prokraka, Andre Schünke, Vivienne Radermacher and Björn Heckmann. And thanks to all those who made substantial donations (of 100 Euros or more): Susann Kalmbach Falkenstein, Iris Ollech, Maren Hellwege-Beck, Michail Paweletz, Kerstin Ruskowski, Gesine Dornbluth, Frauke Holzmeier, Ben Fajzullin, Andreas Mitzkus, Peter Twiehaus, Christian Walther, Vladimir Balzer, Steffi Clodius, Petra Gute, Michael Kolz, Andreas and Lydia Dimmling. Thanks also to the larger donations (of $200 or more) in the USA from: Michael Gargiulo, Karin Caifa, Sarah Williams. Also thanks to those who also made substantial donations: Lane Luckie, Buzz Conover, Bonnie North, Bryan Weakland, Heather Dolce, Miranda Reed, Tracy Terry, Amy Lotz, Cain Butler and Stephanie Wolf.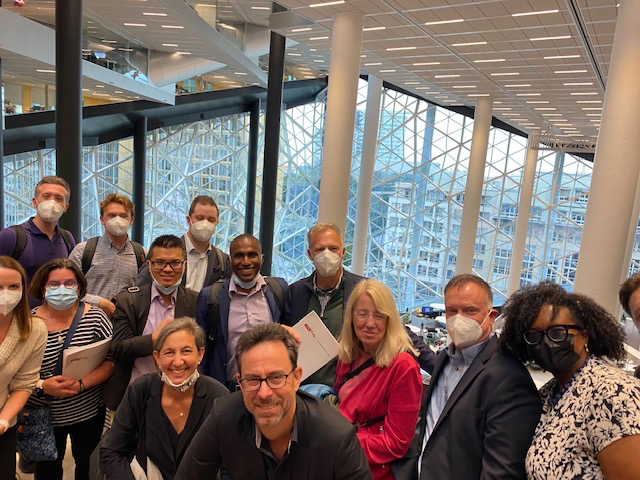 The alumni chapters set up in Hamburg, Berlin, Cologne, Rhine-Main, Brussels, New York, Washington and Los Angeles are helping spread the message on donations. With more than 1,900 alumni over the last quarter century, the RIAS Berlin Commission is hoping to double the amount of donations.
The RIAS Berlin Commission's annual Media Prize awards ceremony is tentatively planned for June 2, 2022, in Berlin.  There will also be a panel discussion and alumni get-together the following evening in Berlin on June 3, 2022. All alumni are cordially welcome to attend both events. In the United States, alumni get-togethers are planned for Washington, DC on March 11 and in New York City on March 18. There will also be a series of alumni events at the RTDNA Excellence in Journalism convention.
---
December 16, 2021
Meet Washington DC's new alumni chapter leader — Larry Miller
Larry Miller is an award-winning morning and midday anchor at WUSA9 in Washington DC — and a proud RIAS Berlin Commission alumnus. Miller has been an enthusiastic support of the alumni network for the last three years and recently agreed to the honorary position as Washington DC Chapter Leader.
It's a difficult and sometimes thankless task bringing together RIAS participants from a variety of programs over the last 30 years in a busy city filled with so many other distractions but the indefatigable Miller is enthusiastic about developing the DC alumni network into the best in the world. Before moving to highly competitive Washington DC TV market, Miller worked as an anchor and reporter in Medford, Oregon and Birmingham, Alabama.  We recently had the chance to talk to Miller about his hopes and plans for the Washington DC alumni chapter — which will also be hosting a big alumni gathering in late October 2022 for about 30 German alumni.
You're the new chapter leader of the Washington DC RIAS alumni chapter. Is that an honor or a burden? 
Larry Miller: I am thrilled to help lead the Washington DC RIAS Alumni Chapter.  I have a lot of ideas for our chapter but it's important to me that all of our alumni feel connected to RIAS and to the chapter.  So, over the next few weeks, we'll be spending time reaching out and engaging our alumni to get a better sense of what they want and how RIAS can help.  Given the professionals within our chapter, it's critical that RIAS expand and innovate to help journalists in various stages of their career while maintaining the foundation by which RIAS is built upon.  I'm looking forward to the future and what we'll do together.  
Why did you agree to take on this assignment?
Larry Miller: I agreed to take on this assignment because I honestly feel RIAS has enriched my life and reginited by enthusiasm about journalism. When I applied to RIAS, I was looking for an experience that would get me thinking more globally, introduce me to new people, and provide an experience that would test me both emotionally and physically.  I found all of those things in RIAS, it's staff, and the fellows with whom I would spend two weeks touring Germany and other European countries with. I felt compelled to accept the role as leader of the Washington RIAS Alumni Chapter because I feel a sense of responsibility to make sure this organization and the alumni chapter is well functioning and supportive in the way it was and has been for me. 
You've organized some incredible visits to your WUSA9 station for visiting RIAS journalists – putting in a lot of effort to line up several editors/journalists/anchors as guest speakers – and even getting a catered lunch for them. Why do you put so much heart and soul into RIAS?
Larry Miller: I want people, especially RIAS fellows, to feel special when they visit WUSA 9 or DC in general.  I remember how organized and welcoming people were to my fellowship group when we visited. I feel a standard has been set and it's my responsibility to extend that same level of courteousness to the next group. Kindness and hospitality should always be passed on! 
How do you see the future of the RIAS alumni chapter in Washington DC? 
Larry Miller: My hope for the Washington Alumni Chapter is to create and organize effective programming that serves our alumni interests and enriches their professional lives. We need to be in the business of doing substantive programming where people feel they are walking away smarter and better connected to the organization. When people feel like their membership provides unique benefits and opportunities that can't be replicated anywhere else, I believe they'll view chapter events not as a chore but as something they simply cannot miss out on. 
Do you have any events planned?
Larry Miller: Right now, we are in the process of assessing the needs of our membership.  We recently sent an email asking for feedback and suggestions on programming.  Once that information is compiled, it will dictate how we move forward.  I believe we have to be mission driven and focused in our programming.  Give the alumni what they both want and need.  
How do you see the future of the RIAS chapter in Washington? What could be better?
Larry Miller: I envision the Washington RIAS Alumni chapter being one to rival. I see us coordinating events that are smart, fun, and well-attended. Achieving that goal, however, will take direction and most importantly clarity on our part. Everything we do has to be purposeful.  People know when you're putting bullshit together just for the sake of it. So, once we're clear on the intention, I believe everything else will fall into place appropriately. 
What's your favorite part about RIAS? 
Larry Miller: The people. Hands down.  Everyone has an interesting story to tell and when we're all together it's like we've been friends for a lifetime.  
What's your least favorite part?
Larry Miller: 
Worst Part about RIAS? I wish we had more time together and more time to explore together as a group.  
December 5, 2021
RIAS Media Prize 2022 – Call for Entries 
The RIAS Berlin Commission will hold its annual media prize again in 2022 and urges all journalists in the United States and Germany to submit entries for the prestigious competition.  There will be a total of up to $12,000 (10,000 EUR) in prize money awarded for exceptional radio, television and digital stories that includes a $6,000 (5,000 EUR) grand prize for the single most outstanding entry that was broadcast in either the United States or Germany during 2021.
The winners in 2021 for the year 2020 included Ingo Zamperoni and Birgit Wärnke of ARD Television for their story about Donald Trump's reelection campaign, the sharp political divisions in the United States, and his American wife's family, as well as Ryan Delaney of St. Louis Public radio, who won for a series of stories about how Germany kept its schools open during the first stages of the Covid-19 pandemic.
The winners of several different categories including best TV production, best radio production and best fellow production will be invited to attend a gala awards ceremony in Berlin in May or June 2022.
The RIAS Media Prize is intended to help strengthen the diversity of transatlantic dialogue and to deepen interest in German-American relations. Germany and the USA are each facing new directions in many respects, both internally and externally. Committed, independent journalism can contribute a great deal to mutual understanding of and between countries as well as to an open social discourse about values and goals. The contributions submitted should go beyond daily and routine reporting, should process information and describe social reality in a remarkable way, and promote dialogue on similarities and differences in transatlantic relations.
Ideally, contributions worth consideration should: stand out thematically and/or in their execution; take on new questions in a creative way; critically examine and make the diversity of social reality clear; contain interesting suggestions for transatlantic debate; encourage reflection on problems and solutions; question clichés about Germans and/or Americans; describe trends in everyday life that are of general interest; contribute in a special way to mutual curiosity and understanding; be suitable to strengthen democratic and societal values.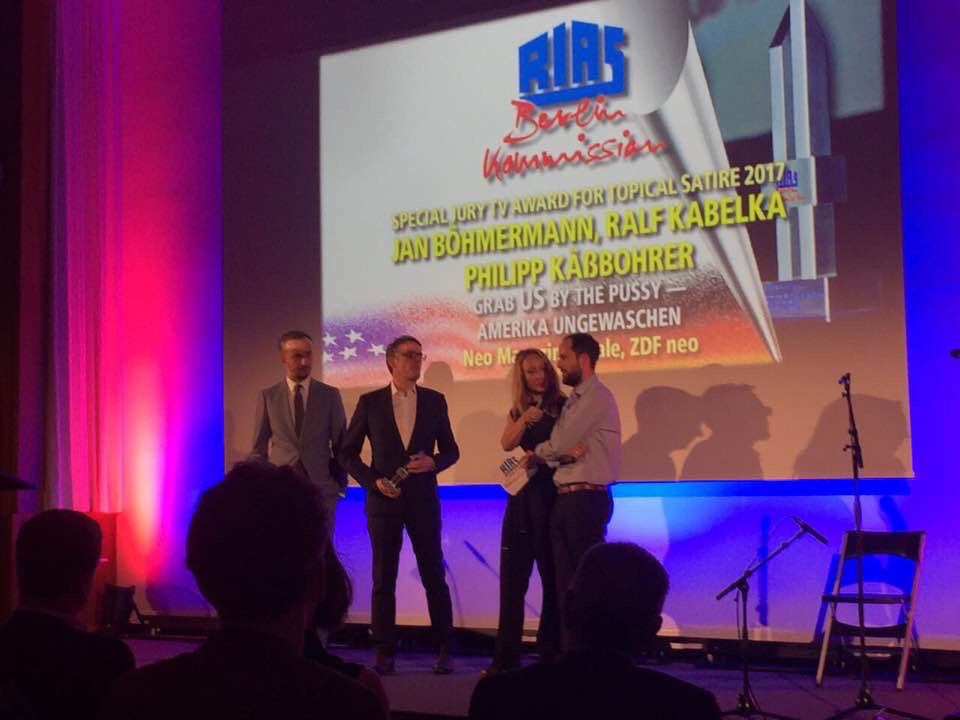 Entries must be received by the RIAS Berlin Commission via Email no later than January 31st, 2022. All work submitted must be the primary effort of the person or persons making the entry. RIAS Berlin Commission reserves the right to create additional categories such as a "Jury Prize" for awards or decline to make an award in a category where only a few entries or those of poor quality are received.
DEADLINE FOR ENTRIES: JANUARY 31, 2022
Entries must include:
– full name, title, business address, phone, e-mail,
– posting date(s) of the story, story running length, word count, – story title and brief description
– a brief description of your role
in the production of the story
Clearly indicate the category for your entry:
Categories are: 1) Television 2) Radio 3) Digital (includes podcasts and online) 4) "RIAS Fellow Prize" (best TV, radioor digital entry by a current RIAS participant or RIAS fellow alumni)
A maximum of two entries per person is allowed. An entry is considered to be one single entry when several shorter pieces relate in form or content to a specific category.
All entries must be submitted electronically via Email:
– with a valid URL that is active until at least March 2022 and can be accessed without proprietary information (password) by the RIAS jury.
ALL ENTRIES SHOULD BE SENT TO:
Email: info@riasberlin.org
The RIAS Berlin Commission is a binational organization for the promotion of German-American understanding in the field of broadcasting.
---
November 22, 2021
Gargiulo named RIAS Berlin Commission Alumnus of Year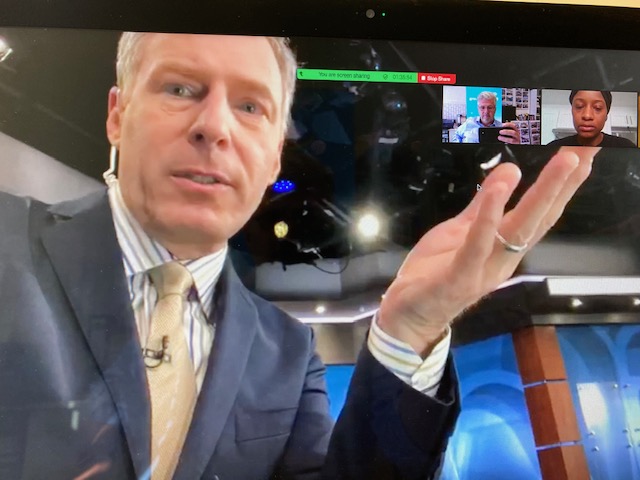 The RIAS Berlin Commission has awarded Michael Gargiulo, a morning anchor at WNBC TV in New York, with its new Alumnus of the Year title for his indefatigable efforts to bring together American and German journalists. Gargiulo, who first took part in a RIAS program to Germany in 2002, has led the New York City alumni chapter for the last four years and helped organize a group of 17 American RIAS alumni for a week-long program to Berlin in September. The veteran journalist has also been a featured guest speaker at WNBC in New York for visiting groups of German journalists for many years, has recruited American journalists for RIAS programs, helped increase the numbers of entries from the United States for the RIAS Media Prize and has also served on the RIAS jury. But beyond all that Gargiulo has helped connect German journalists with contacts and tips for their stories in the United States and also helped connect American journalists with German contacts.
We had the chance to talk to Gargiulo about being named as the first RIAS Alumnus of the Year:
Gargiulo: I'm both honored and humbled, because so many German and American journalists do so much for RIAS. They invite us into their newsrooms and studios, or set up meetings on a porch in Washington DC in the midst of COVID lockdowns. They host German journalists and allow them to experience what it's  like to be a "one man band" covering an event in West Texas. They even bring us to the roof of RBB's building in Berlin to discuss how German broadcasters worked through the pandemic.  My own association with RIAS has meant so much to me in terms of new German and American friends,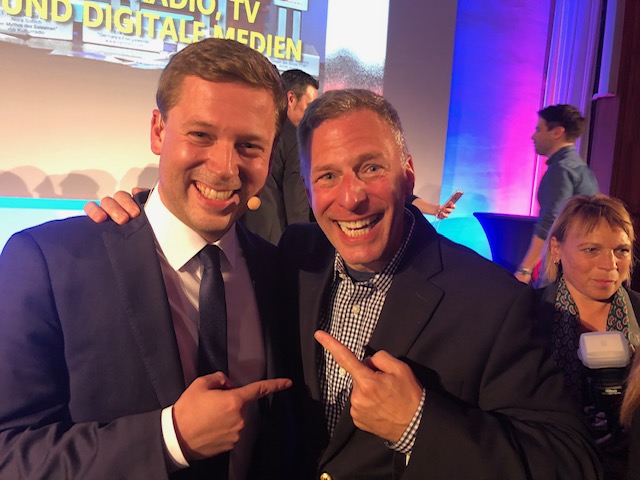 professional growth and the chance to learn the German language and understand more about the country I've been fascinated with since childhood. 
Why are you so interested in involving the Alumni Network?
Gargiulo:The Alumni Network is the 'secret sauce' of RIAS. It's the biggest benefit of becoming a Fellow.  This week, a Fellow e mailed me about job openings at their network. This summer, I gave two fellows advice on selecting an agent and avoiding bad contract deals. American Fellows helped a German journalist line up interviews on the German astronaut headed up to the International Space Station. I also love getting together with my German Fellows, who are now great friends, whether it's in New York or Berlin. It's  a professional connection that works in so many ways.
Isn't it all time consuming? You've got a full-time job as well?
Gargiulo: Well, when you arrive at NBC Studios, as I do, every morning at 3 AM, it's actually a perfect time to connect with my German colleagues who are 6 hours ahead!  As journalists, we learn to make time count and to get a lot done on deadline so I set aside some time for my RIAS work and it fits fine."
Wasn't it difficult to organize 17 American Alumni for the Berlin Program?Gargiulo: It was really a challenge. The RIAS alumni and fellows programs had been canceled for over a year at that point. We were in uncharted waters. Most of the journalists I contacted weren't even back in their newsrooms, and we were asking them to fly overseas. We got a great response and people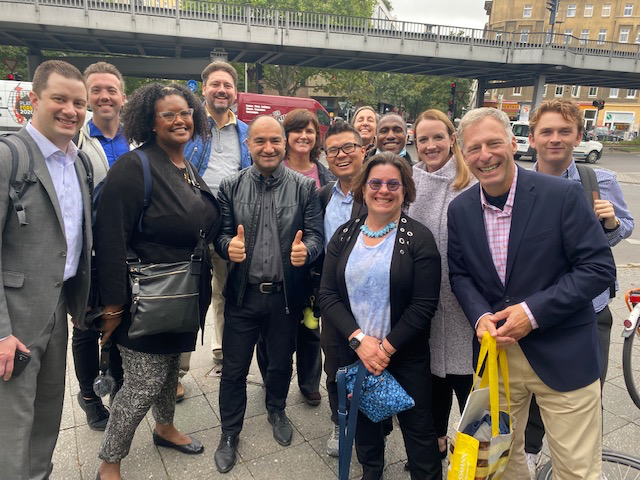 really wanted to go. Then Germany put the US back on the High Risk list. We were unsure if we would even be allowed into the country, or if we would be able to get into newsrooms and studios but the Fellows still wanted to go. We had about 23 folks committed, but just before we left, 5 dropped out.  Two couldn't get passports they had applied for months before. Others cited COVID concerns or were dealing with family health issues. We wondered "Should we just cancel?" We decided though that we should go ahead if the Fellows were still willing … they were and it was an amazing experience.
Were you happy with the outcome of the Berlin Alumni Program ?
Gargiulo: It succeeded beyond my best hopes. I think we understood if this didn't work it was likely RIAS would cancel other programs for this year.  So we were determined to show RIAS was back. Everyone was enthusiastic and cooperative .. We followed the COVID rules and embraced the changes, like only 4 to an elevator. Most of all, we were so happy to rediscover what we loved about RIAS, meeting fascinating people , having great discussions, and feeling like Berlin is a "second city " for many of us .
What was the difference between your first RIAS trip in 2002 and the Alumni program?
Gargiulo: My first RIAS trip was a great experience, but in some ways it was more passive … we had a group of around 20 and we traveled in a chartered bus much of the time.  My college German was limited and I didn't know Berlin at all.  In 2021, our group used buses and subways and one memorable Uber ride to get around. That forces you to learn the city. I used my B1/2-level German every day and all of us seemed  to know of a favorite place in Berlin to eat, or hang out, or get a good deal on a remote phone charger.  It was almost the difference between a high school trip and a university semester abroad.
How can the RIAS Alumni network be further strengthened?
Gargiulo: One word: "engagement". We can't only reach out to Alumni when we need something from them: like hosting a German or American journalist in their newsroom. RIAS has to be something they can enjoy: a special event they are invited to in their city, like a private tour of the 9/11 museum or lunch at the German Consulate. Most of all, I think there should be more Alumni programs like this year's trips to Berlin, Washington and New York. They don't have to be long , a week at most , but it's what RIAS members love most about the organization and it will keep people involved. 
Do you enjoy seeing your NY chapter grow or is it frustrating so few take part in your get-togethers?
Gargiulo: The answer is "both".  Our NY chapter has an E mail list of 75 and these are Alumni who asked to be on the list. The challenges for us as a chapter are enormous.  The New York Chapter is a media market of almost 20 million people in three states.  While many news organizations are headquartered in midtown Manhattan, it's not always convenient for people who live in Brooklyn or New Jersey to go there for a RIAS NY get together. Everyone works different schedules. What we try to do is to keep everyone engaged through e mails… and offer up events, as we did recently at 1014.NYC, a building co-operated by the German Government as an art and cultural space. If we can get groups of 10-12 people out at a time, I think that's pretty good.  The goal is to keep coming up with fun and educational events to keep our chapter members interested in RIAS. 
Does the RIAS Alumni Network benefit you at all?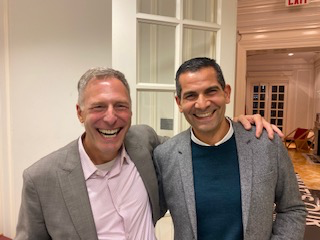 Gargiulo: When I first started my involvement with RIAS, I noticed that the German journalists would hang out together at an event and the Americans would gather in their own group… and after my first RIAS trip, my contacts were only with the American journalists I had traveled with.  That's totally changed. During and after 2021's exchange programs, Americans and Germans went out to dinner together on their own… arranged outings together and sent  group messages back and forth across the Atlantic on Slack.  Personally, German journalists went from being someone we met during a tour  at ARD or RBB… to friends.  Martin Richter,  Petra Gute, Mitri Sirin, Vladimir Balzer,  Bartosz Dudek… I love the fact that they are my community in Germany … and that professionally I can call on them to help me go the right way on a story…but most of all, I treasure our friendships and look forward to when we can get together in Berlin or New York .
You not only help recruit Americans for programs and media, but you also help Germans in the USA with media and military contacts. Why do you do all that?
Gargiulo: I've worked at 7 television stations in 5 states and the District of Columbia in my career. Everytime you are in a new place, it can be tough to figure out who to call to get an interview, to get information or to set up a story…and the procedures for that in Germany may be very different than in  Minnesota. That's why I try to help my German colleagues navigate our American journalistic practices. I  remember my first days at WLKY in Louisville or WTTG in Washington DC and being totally lost trying to get information on a story. I like to do what I can to ease that transition for our RIAS members. 
What is your favorite part of RIAS?
Gargiulo: RIAS has quite literally opened a new world for me. For many  local TV reporters and anchors, our professional lives tend to be limited to local politics, crime and the stories that concern the city we're  working in at the time. Thanks to RIAS, I've been involved in discussions over what the new "Ampel coalition" will look like in Berlin. I've walked through Kreuzberg to see how it's changing and how it came to symbolize a more diverse Germany.   I've seen how Germans deal with redistricting political boundaries without resorting to the American practice of Gerrymandering. RIAS has made me a better journalist back here at home but also provided me with experiences I would never be able to have as a local TV reporter, covering the latest at City Hall.
What is your least favorite part of RIAS?
Gargiulo:   It is always a challenge to convince our own news organizations in the United States how valuable RIAS is. Unlike our German colleagues, we have to fight to take even a week off from work to participate in a program ..and getting two weeks, as I did back in 2002, often means giving up vacation time for the rest of the year.  Employers are often skeptical despite our arguments that it is a cost free way to give their employees an experience that will make them better journalists and more motivated in their careers.  I can't tell you how often I am trying to recruit a reporter in Boise or Chicago and I hear back…. I'd love to, but I can't get the time off. 
How would you make RIAS even better?
Gargiulo: I think we have to work on two tracks. One is to increase our efforts to recruit American journalists and to try and convince their employers that RIAS works for them too. I think we have to hold more Alumni events and invite more prospective participants to those events. Recruitment is going to be a one to one effort.  We have to keep appealing to our contacts who employ journalists to make the RIAS  program a reward for promising journalists. I always say if a TV station can give an employee something other than money to motivate them, it's a good deal! The second track is to expand the Alumni programs the costs of which are partially paid by the Alumni themselves. These trips really motivate the Alumni and encourage them to do more for RIAS. I think we should try and do an alumni trip to the US and to Germany every year. It only has to be a week…and it can be 2 meetings a day, not a full schedule, but it will give something for our Alumni to really look forward to. 
---
November 17, 2021
RIAS Media Prize Ceremony postponed, programs resume in March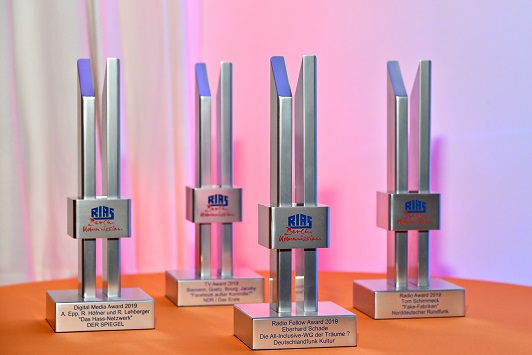 The RIAS Media Prize ceremony that was planned for December 1 has been postponed due to the Covid-19 pandemic. The ceremony is now planned for May 2022 and will honor RIAS Media Prize winners from the 2020 and 2021 competitions. The May 2022 media prize awards ceremony in Berlin will also pay tribute to the winners for productions aired in 2021 that will be selected by an independent RIAS Media Prize jury in early 2022.
RIAS exchange programs are also scheduled to continue again in March 2022, depending on the prevailing corona conditions. A standard program for German journalists is tentatively scheduled for March 7-25 with one week in Washington DC, one week in New York City and one individual "station week" working with an American journalist at a small station in the Midwest, West or South.
There will also be a student program from March 18 to April 8 with one week in New York and two weeks at an American university working with students on their campus radio and tv stations. A two-week program for American journalists to Germany and Brussels is scheduled for early June and a three-week student program for American students is scheduled for late June/early July. There area also plans for a second two-week program for Americans in September, a second three-week program for Germans in early October and a one-week program for German alumni in Washington DC in late October. Further information available at info@riasberlin.org
---
November 8, 2021
Observations from RIAS program in USA for alumni, senior editors
Thirty broadcast journalists from across Germany took part in a week-long RIAS Berlin Commission fellowship program in New York City in late October. After nearly 20 meetings with journalists, politicians, diplomats, actors, fashion experts, law enforcement, Africa-American leaders, Jewish leaders, NGOs, experts on the 9/11 trauma and experts from the world of fashion, here are some of their reflections:
Mitri Sirin, ZDF Berlin: It began by seeing Obama, and ended talking to the Crisis Communication Manager of Harvey Weinstein. What a program and what a truly fantastic week!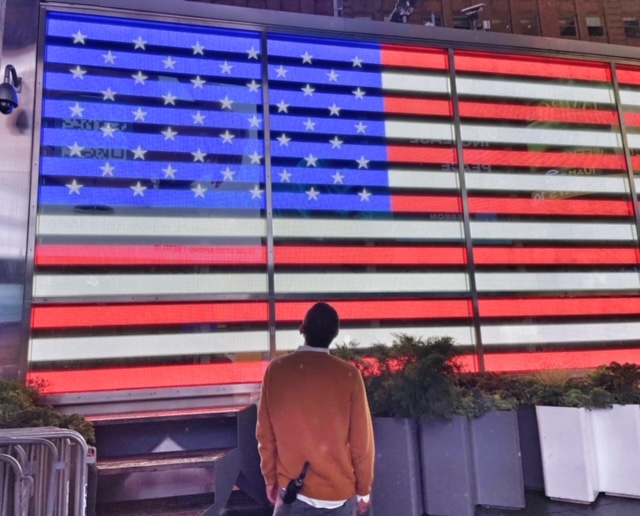 This RIAS Alumni Program in New York has exceeded my expectations by far. I'm on the plane to Berlin, but would actually prefer to continue my time in NYC. The energy of New York, the intensity of the new impressions, of the people and their interesting talks paired with the pace of the city demanded and encouraged me. I have to thank RIAS for this incomparably good program, which has broadened my horizons and will certainly inspire me in the long term.  I was also impressed with the energy of our group of veterans, if I may put it that way. Cool, nice, experienced and well-trained journalists, all of them incredibly curious and thirsty for knowledge, and their joy in the program could be felt every day and into the late night. To all of you: Thank you very much. My advice to all the other journalists who are reading this now and who are not yet part of the RIAS circle: Apply and get involved in this network. In short: RIAS inspires, informs and you surely benefit from being a part of it!  
Petra Gute; rbb Fernsehen Berlin/ARD: "New York's making a comeback – get on board" we read on a poster in the "Long Island Rail Road", which took us, fresh from Berlin at JFK airport, straight to an "early voting campaign rally" with Barack Obama and the governor of New Jersey (and former USA ambassador in Berlin) Phil Murphy through the city to Weequahic Park in New Jersey. What a spectacular start to an intense, jam-packed, unforgettable week of thr RIAS alumni program in New York!  We were among the first to get back in to New York, after a year and a half of the Covid19 pandemic that inflicted severe wounds on the "Big Apple." These wounds could still be felt everywhere, not only in the many closed stores in the city or the many American journalist colleagues who still work from their home offices. We learned more about the other great wound of New York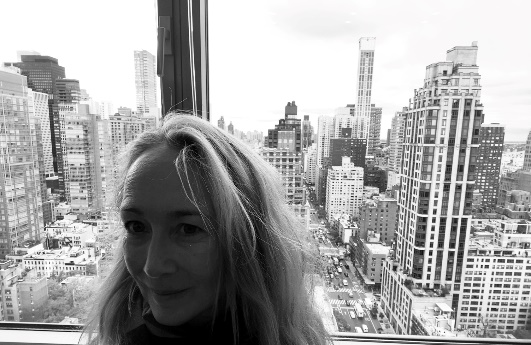 that still hurts so many: Gordon Huie,  surviver of 9/11 at the site itself, led us through the "9/11 Tribute Center" recalling how he had patched up many wounded people that day as a first-aid doctor, and how he learned on the evening of 9/11 that his sister Susan had died in the World Trade Center. He's still traumatized, and he's going to die soon himself, he says, struggling to breathe: the dust he breathed in lower Manhattan that day probably caused the cancer in his body. For me, 9/11 will now forever have two faces, the one of Gordon and the one of his sister Susan.  In general, all the people 
we met in New York, brought us closer to the city and offered us so many, different perspectives: first and foremost, Frieda Vizel, who took us on her very private tour through her old home, the Hasidic, Ultra-Orthodox Jewish Williamsburg. Or Alina Cho, who talked to fashion entrepreneur Tory Burch at the MET Museum, again showed us another side of the U.S. that involves a lot of money, and from Juda Engelmeyer, crisis PR consultant (to Harvey Weinstein, among others) we learned how dirty the movie business in Hollywood really is. Then there was our meeting with the young journalist Tiffany L. Zeno from NBCUniversal and the charismatic Reverend Dr. Calvin Butts at the "Red Rooster" in Harlem, where we learned so much more about everyday racism in the U.S. and the lives of African American residents. We also met with our many great American journalist colleagues like Adam Reiss (Thanks Adam for all your effort and your many great ideas!), Michael Gargiuolo, Clare Toeniskoetter and many more! We could never have managed and organized such an incredible program and the really great thing about this RIAS Berlin Commission Alumni Program in New York is that we got to experience all this together with so many wonderful, experienced journalist colleagues from all over Germany. In addition to the many connections in the U.S., the RIAS Berlin Commission program also creates a large, intra-German network of journalists. From my very first RIAS Berlin Commission program 21 years ago, lifelong friendships have developed, we have experienced together how our children were born and are now slowly growing up, we have followed each other's professional careers, and we have always shared memories of our time together in the U.S. in October 2000. This week in October 2021 will be just as unforgettable! I just can't get enough of this city. And of America.  Which I was able to get to know so much better through these programs. Thank you, RIAS Berlin Commission, for this great gift!  PS – Here is a story on NYC that Petra Gute did for RBB TV.
Nina Hansen, ARD Hamburg: A deep dive into the Hasidic world – definitely my highlight of the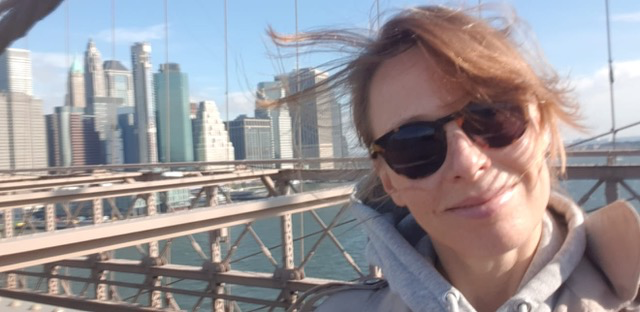 2021 alumni program. I loved that Frieda shared her story with us and answered all our questions so openly. As an outsider and a woman, it was – and to a certain extend still is – hard to grasp why so few women follow her example and leave the community, but at least I understand Hasidic life much better now than I did before. I am really glad I got to take the tour, it gave a unique insight. Thanks again Frieda – and thank you RIAS!
Iris Ollech, Phoenix Bonn: The program was like the Big Apple itself: exciting, diverse, colorful, stunning, fast-paced, unique, truly unforgettable. It was a journalist's dream come true. RIAS opened doors, allowed inspiring glimpses behind the scenes of the Big Apple and introduced us to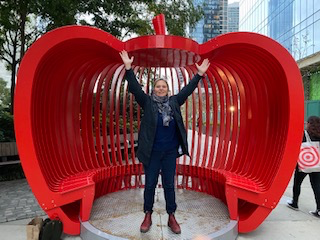 many fascinating personalities. All of them were inspiring, each had unique stories to tell and interesting views to share. I was glad that they gave me an idea of how New York ticks. Now it is time to reflect. And wondering what I will remember looking back in ten, twenty years, there will be one encounter I will never forget: Gordon Huie who was affected by 9/11 in three ways: he is a survivor, rescuer and he lost his sister Susan in the attack. I was touched by his strength, positive attitude and gentleness. He asked us to share his story as one example of thousands to keep the memories alive – and I will, do along with many more special moments from this exciting trip! Thank you, RIAS! 
Micha Wagenbach, ZDF Berlin: New York is always special. But coming to this city now, 20 years after 9/11 and at a time when it is just slowly recovering from the pandemic it suffered so much from, was very special. And through our great interlocutors, we were able to witness this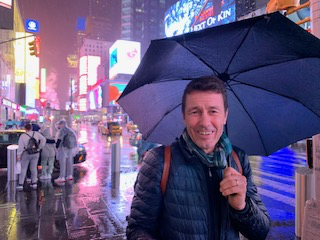 process of recovery live. Many issues were familiar to us, but it was through the people we were able to speak with that they really took shape. The conversations with the Reverend of the Black community in Harlem, the drop-out from the ultra-orthodox Jewish community in Williamsburg, the relative of a victim of 9/11 or even the UN Ambassador will remain unforgotten to me, just like this amazing trip! Thanks to RIAS for the opportunity to experience it all like this
Maren Hellwege-Beck, BR Münich: What a fantastic opportunity this week in New York was! It is always so stimulating to meet these many different people, to be in direct contact with them and to learn from them about so many different topics. I would never otherwise have been able to get such deep insight into t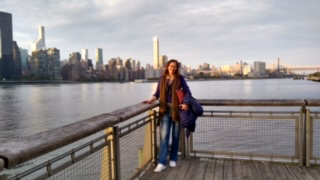 hese personal views and unfiltered, direct and highly relevant information. I always find it very inspiring to experience how people from other countries with another cultural background and socialization look at things in a way sometimes very different from what we are used to and know from our lives in Germany. And at the same time, to also see what Americans think about Germany. Thank you, RIAS for this amazing chance, for this highly valuable network and for all the memories and all the valuable information and insights I got during this alumni week in New York!
Michael Stang, Deutschlandfunk, WDR: New York is slowly waking up from its Covid19 hibernation and RIAS was there – a week before Europeans are allowed to travel to the US regularly again. Even though many appointments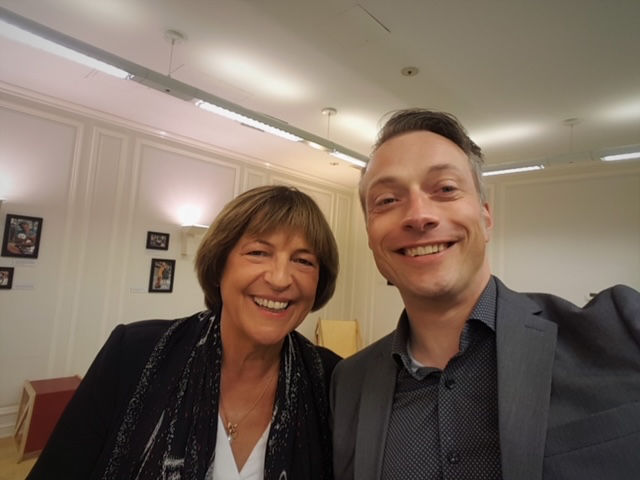 were difficult to organize due to the pandemic, we joined an exciting program. Especially the appointments at The Amsterdam News, the Anti-Defamation League and 1014, where we met Ulla Schmidt, member of the Board of Directors, I learned a lot. After a long time without international travel for all of us caused by corona, it became clear again how important the transatlantic exchange is for mutual understanding.
Martin Richter, Phoenix Bonn: A week with RIAS in New York- what a fantastic experience! Immersing myself in this metropolis of millions, which is struggling with the pandemic as dramatically as hardly any other in the USA.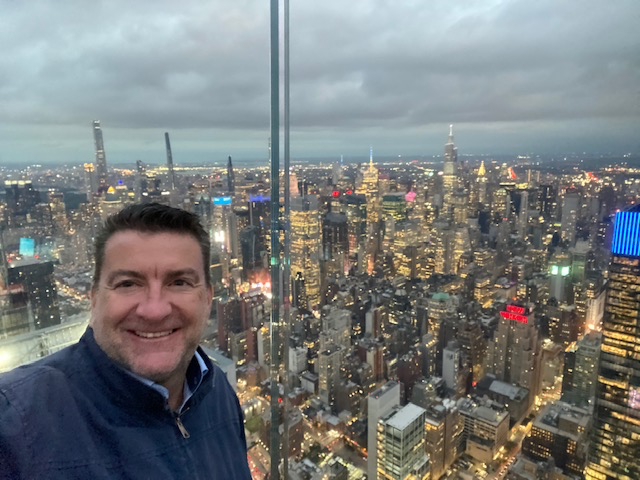 Together with 30 colleagues from German editorial offices, I had the opportunity to find out through many conversations how people in the Big Apple live with this situation, how they think, feel and cope with their everyday lives. Whether journalists, contemporary witnesses, politicians or artists – these encounters were an enrichment and a great experience for me. So many moments that remain in my memory and heart…Obama's campaign appearance, Frieda Vizel's tour of Williamsburg, Reverend Butts in Harlem, the touching tour with Gordon Huie at the 9/11 Tribute Museum… A thousand thanks to RIAS for such a great time! Once again RIAS has built a transatlantic bridge between American and German journalists.
Anja Heyde, ZDF/MDR: Each RIAS trip is intense. Each one is special. This one was very special. Coming to New York at a time when the city is just trying to get back to a state of normalcy – despite all the wounds caused by Covid – was incredibly enlightening. A Covid testing station on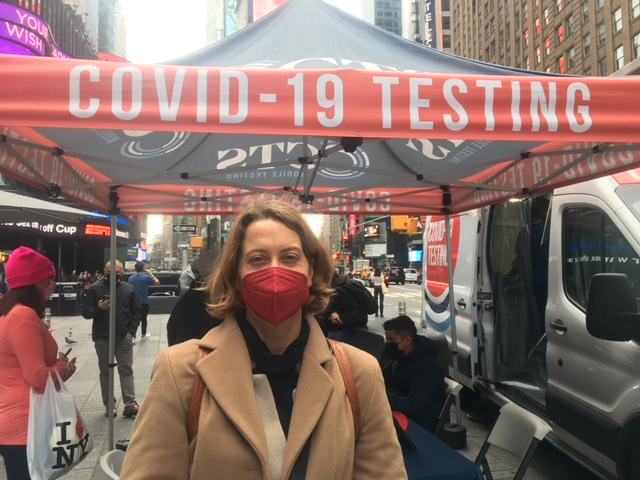 every corner and Broadway on the mend. But what is Covid, in light of 9/11? For me, one of the most touching meetings on this trip was the visit to the 9/11 Tribute Museum and the very personal conversation with Gordon Huie. An encounter that was as painful as it was beautiful, because of his authenticity. These personal meetings, in contrast to the political background-conversations, are pieces of a puzzle creating a picture of the city and the country that you don`t get from a distance. I`m grateful to be a part of the RIAS Alumni Community!

Boris Baumholt, WDR: What a great and inspiring week with such wise and moving people. I'm so glad to have had this experience. George W. Bush was still president when I was in the USA with RIAS for the first time 14 years ago.  Racism was a big issue back then.  Few seriously believed that a young black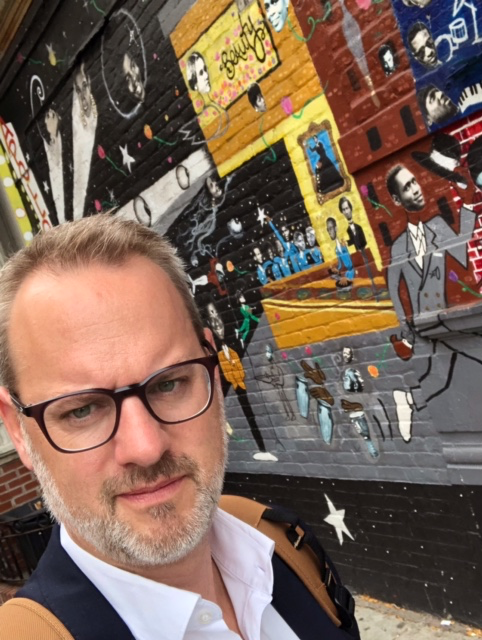 senator from Illinois would win the presidential election just a year later. A lot has happened since then. On this trip, we spoke with Reverend Calvin O. Butts and WNBC Producer Tiffany Zeno in Harlem about how the country has changed. It was an impressive conversation and, at the same time, a frustrating realization.  Racism is still the same big issue in the United States as it was back then, maybe even more so. In Harlem, Obama is not seen as heroic as so many Europeans consider him to be. He has disappointed many in the black community. Trump has polarized the country even more. Reverend Butts impressed me by how he continues to fight for radical change. Giving up is not an option. Thanks, RIAS, for this fascinating and exciting week.
André Schünke, NDR: This was REALLY a deep-dive into New York City! A city slowly recovering from Covid19. There are free testing-stations all over the city, most of the people wear face-masks both on the streets and trains – and in every restaurant our proof of vaccination was very accurately checked. Now used to these restrictions, they couldn't stop us from having a fabulous RIAS alumni week in this great, city, meeting so many different people – each of them fascinating in a different way. Starting out with "No. 44" –  Barack Obama – at an election campaign event in New Jersey, followed by Reverend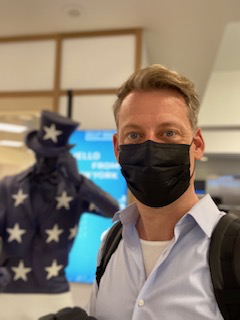 Calvin Butts, talking to us on the troubles, especially for the people of color living in Harlem every day. The "Grand Finale" was meeting with communications expert Juda Engelmayer on Friday: The only guy in the US (besides his attorneys), who is in contact with imprisoned Hollywood-mogul Harvey Weinstein nearly every week! Engelmayer tried to explain the "Weinstein Case" to us from his perspective. This made it clear to many of us that it's always worth it to at least try to change perspective, in particular, as a journalist! All in all, the most interesting part of this program for me was the tour of "Hasidic Williamsburg" with Frieda, who was married to an Hasidic Jew, but got divorced (which is nearly impossible in the Hasidic community), and left him and all her family together with her son, to lead a free life: Extremely fascinating, how people in this part of Brooklyn still live like they did a hundred years ago – just a few blocks away from other "Williamsburg Hipsters". New York still can be a place for everyone – as long as they can afford this costly place. The prices in New York were even higher than they were before Covid19. Special thanks to RIAS for all these great experiences – everything packed into just one week. Perfect!
Anja Martini, ARD Tagesschau: Great, interesting, impressive, powerful and exciting – these are the first words I think of after this week. We had the opportunity to meet a lot of exciting people: Reverent Calvin Butts talked to us about the situation in Harlem and the challenges of Covid to his community. We met Frieda – who walked with us through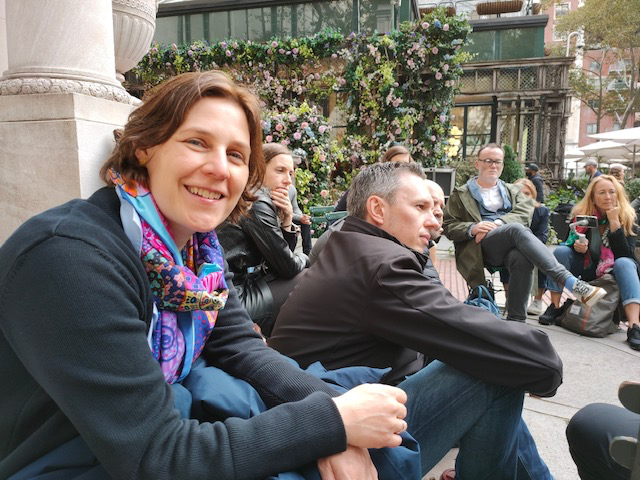 Hasidic Williamsburg. And we listened to Gordon Huie at the 9/11 Tribute Museum. He is a survivor and rescuer and told us his story in a very touching and personal way. Those were just three of the highlights of the week. RIAS opened the door for us to enable many conversations that allowed us to take a deeper, more differentiated look at American society. Although there are always opportunities to expand your horizons, the exchange between journalists is particularly valuable – not only among the German participants, but also between American and German journalists. All of this enriches my work and my life – thank you RIAS!!
Cornelia Gerhard, Phoenix Bonn: Sitting on a train back to Cologne, I feel so full – with impressions, feelings, news insights, thoughts. Each time you get to New York, the city offers you so much of all of those things. I thought I knew about racism, but then we talked to Tiffany Zeno and Reverend Butts and their experiences every day. I thought I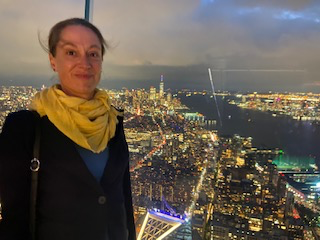 had heard so much about 9/11, but then we met Gordon Huie and listened to his story with tears in our eyes. And that is exactly what makes the difference: talking, meeting people, exchanging views, feeling the atmosphere. I have been to New York several times, but never walked 6th Avenue in the middle of the street, still having that gospel from the service we just attended in my ears. What an intense and rewarding week! Thank you for everything RIAS.
Vladimir Balzer, Deutschlandradio Berlin: RIAS has always been a great opportunity to get incredible insights into the complex US society. Bringing German journalists to all parts of the country provides them with so many occasions to talk, to contribute, to exchange and, by that, to hold up the transatlantic ties.  This trip was the first that brought German alumni back to the States since the start of the pandemic and it exceeded even the highest expectations. Not only did we see Barack Obama just two hours after landing, we also talked to Harvey Weinstein's (crisis-) communication manager,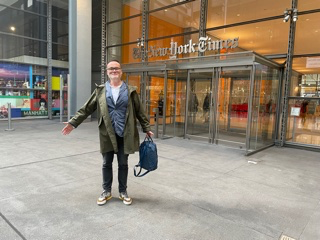 met famous Harlem Reverend Calvin Butts who talked on issues of racial justice and the challenges of Covid to his community, listen to the compelling stories of 9/11 survivor Gordon Huie (whose life turned upside down that day), stroll through the Chassidic neighborhood of Williamsburg led by Frieda Vizel, who left the community but kept ties. I could go on! In short: New York showed how much energy and strength it has, even though it's been the US city that suffered most from the pandemic. This place is just incredible, inspiring and full of stories. And RIAS Berlin Commission provided an inspiring program – as always. This time enriched by the spirit of the ever-growing alumni network of American and German journalists. Surrounded by all these great and talented colleagues, I felt in the perfect place. We all benefit from each other and bring progress to our common journalistic goal: telling real stories of real people – through actually meeting and listening to them and, by that, improving the understanding of each other. Here is a story that Vladimir Balzer did for Deutschlandfunk radio on New York.
Vivienne Radermacher, WDR: The variety of the several meetings was impressive; experiences were enormous. From the black community and the talk with Rev. Calvin Butts about ongoing discrimination to the closed Hasidic community in Williamsburg and t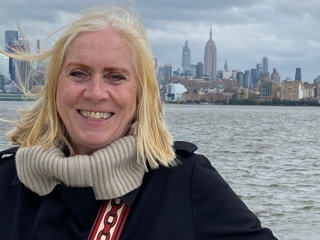 he guided tour there with Frida Vizel. From the emotional testimony of the triple 9/11 victim Gordon Haie to the crisis manager and friend of Harvey Weinstein, Juda Engelmeyer. From the German UN ambassador Sautter (deputy permanent representative at the UN) with his open judgement to the former FBI agent Peter Donald and the citizen App. It will take time to digest it all. This intense week shows once again how important the RIAS Program is. Even in these pandemic times, it was possible to have this exciting program, even before the US officially reopens. New York is waking up again and we were able to witness it.
Steffi Clodius, ARD Hamburg: And all that JAZZ!!! So, now the one-week trip to New York City is coming to an end. I am sitting at Newark International Airport, waiting for the flight back home to Frankfurt. Slightly exhausted after an outstanding week, a bit gloomy with having had to say goodbye, yet looking forward to being back home soon – and, finally, full of impressions. I am asking myself, "What comes first?", and find it hard to say; so many interesting people, places, encounters, discussions. My personal favorite was probably Gordon Huie. His story of 9/11, his heart-breaking grief losing his beloved sister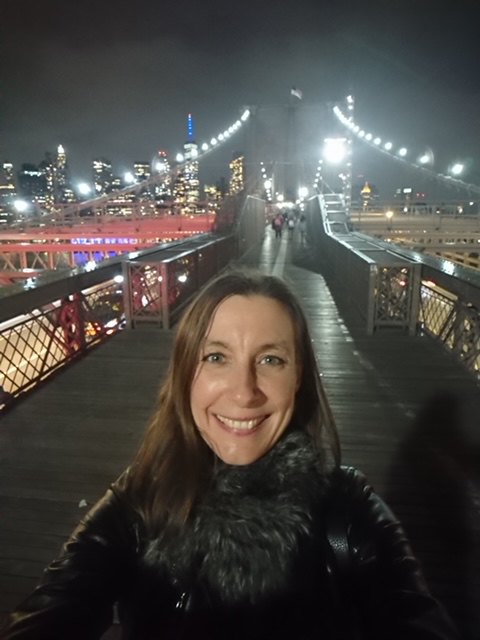 Sue, and finally his own health suffering from the dust of the collapsing towers: I can say for sure that I am never going to forget that decent, calm and friendly man. I was comparably impressed with Frieda Vizel's extraordinary biography, combined with being confronted with the utterly exotic life in ultra-orthodox Williamsburg. This really was like catching a glimpse of a completely different world, perhaps even universe. So those are the heavy weights of my trip, but of course there are also lighter ones…The legendary Schweinebar reminded me a good deal of what life was like before the pandemic. Finding a jukebox featuring my all-time favourite band Manic Street Preachers (Welsh and thus in the US widely unknown) in Manhattan – of all places! – was positively verging on a world wonder. Last but not at all least, there is New York itself: This amazing city with its lights and glimmer gives me a kick whenever I visit it. I love simply strolling along taking pictures! As a tied-to-the-desk editor who rarely travels, I have to say that these opportunities which RIAS offers really broaden my mind – so thanks to all you folks for making this trip unforgettable! Wish I had a selfie with the whole bunch of us – now it has to be Brooklyn Bridge filling in for you!
Marc Krüger, Podcast Freelancer, Berlin: How many impressions fit into one week? New York always asks you this question – but in the midst of a pandemic, and after lockdowns, standstill and crisis, I realize that everything felt a bit more intense, outstanding and challenging in this city: 9/11 survivors, ex-Hesidians, ex-FBI,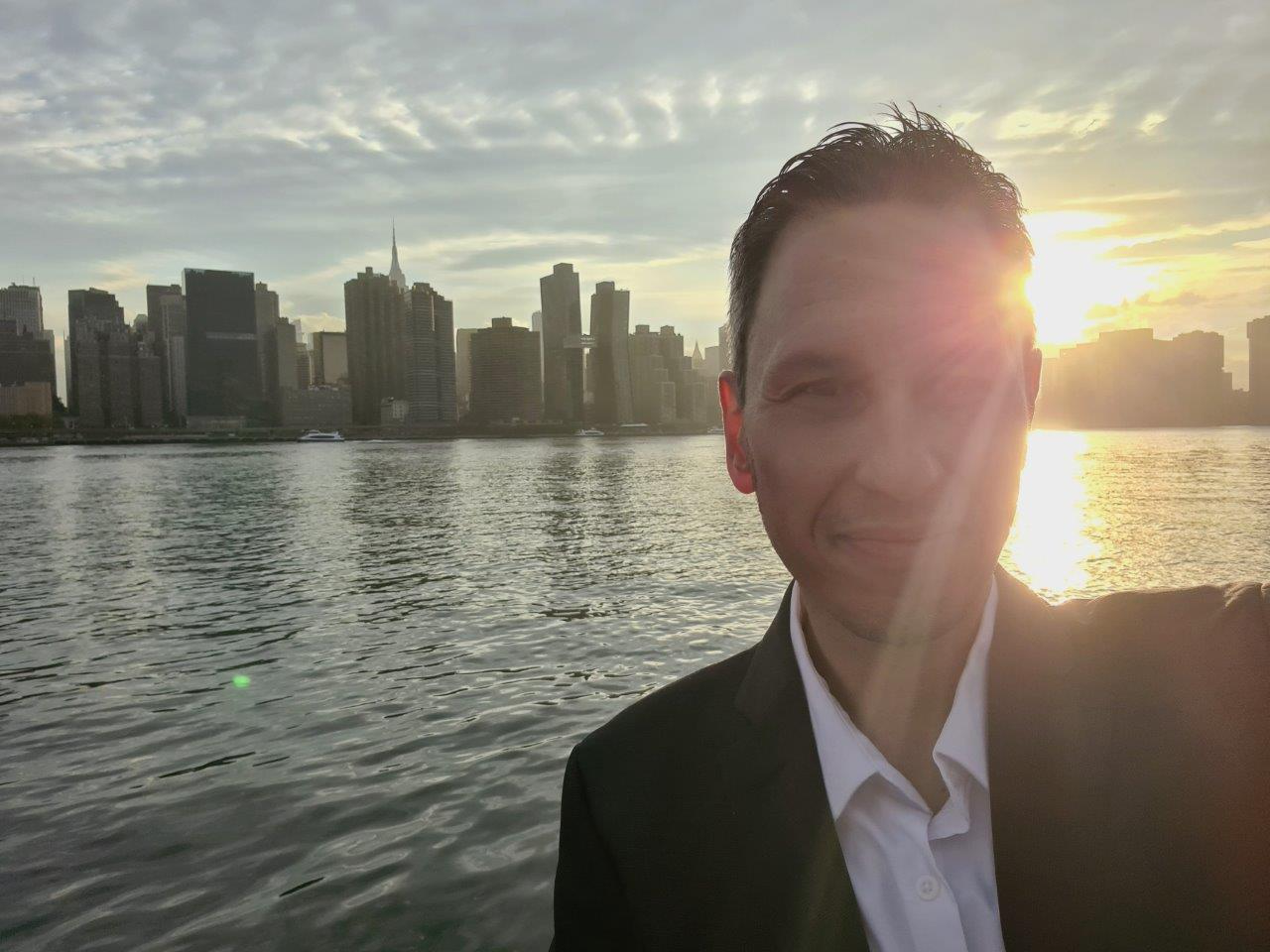 communications professionals, human rights activists, Goethe employees, pastors, journalists, designers, the people on the streets, in the stores, in the parks, bars and restaurants. All in just one week. Wow! Thank you RIAS for a special experience, a return to normality and the feeling of being back, somehow. And thanks to the great RIAS 2021 alumni group.
Mirja Fiedler, NDR, ARD and RBB: NBC, New York Times and Wall Street journalists, United Nations and German diplomats, a 9/11 survivor and a Hollywood mogul's PR manager, stakeholders in the African-American and Jewish communities – just some of the amazing encounters I experienced during the RIAS alumni program in New York City. It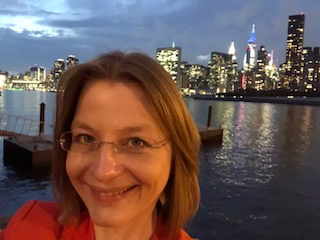 had been my dream to return to the United States for a long time. The German-American RIAS Berlin Commission made it come true. The program gave me unique insights into U.S. culture, politics and the transatlantic relationship which I'm going to benefit from at work. An inspiring week with a great group. These special moments will last for a lifetime.
Oliver Sallet, Deutsche Welle Washington DC: Having lived and worked in the US for 3 years now and having travelled to New York fairly frequently, I was particularly surprised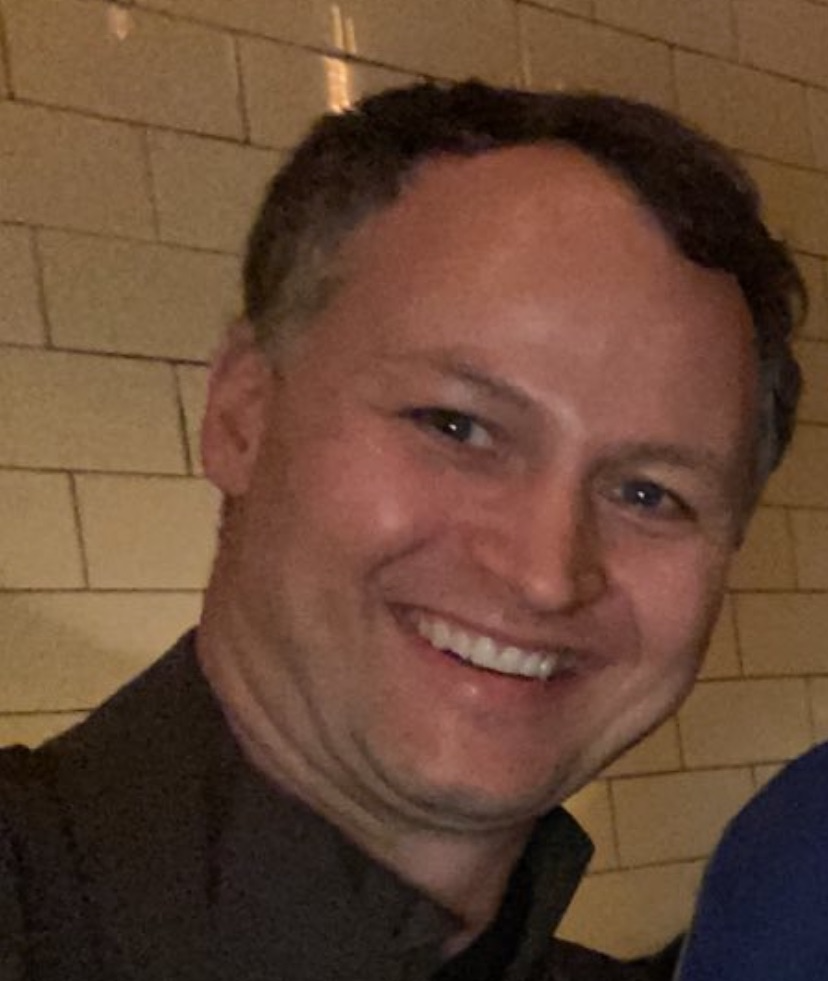 to see the city from a different angle and learn so many new details that I wouldn't have without RIAS. For me, the program has always been about getting to know a different side of America, and the Alumni week stood up to that expectation, be it in talks with Harvey Weinstein's communication advisor or meeting Hasidic Jews in Brooklyn. One of the best aspects of RIAS is the transatlantic Alumni network of truly enthusiastic German and American journalists, that has been ever-growing over years. What a unique chance to meet many of them in one city. I will take many new impressions, contacts and story ideas back home to Washington.
Anne Sieger, ARD Cologne: Coming to New York with RIAS this time felt like emerging
from a bubble of numbness. Still mostly working from home, it has been a long time since I was last around so many people and got so much input. Walking through Hasidic Williamsburg with Frieda, listening to Gordon at the 9/11 Tribute Museum or talking to Reverend Butts in Harlem were just three of many highlights. Apart from the official schedule, it was the little unplanned encounters that made this trip special: The ferryman telling me how he went back and forth all day on 9/11, saving people but also helping a man who desperately wanted to go to Manhattan to find his wife and child. Although the ferryman wasn't allowed to take anyone back to Manhattan, he finally agreed. Only minutes after that man got off the ferry in Manhattan, the second tower collapsed. The ferryman felt guilty, but after two awful weeks the family came to see him – they had all survived. We have all read about these things happening, but listening to someone in person still is very different. I'm grateful to RIAS for being able to experience this jam-packed, tiring but inspiring week.  So, although the Jaume Plensas sculpture on the Hudson river waterfront may suggest that Manhattan should stay quiet, I certainly enjoyed the noise.
Kerstin Ruskowski, Freelance Reporter/Deutschlandfunk Nova, WDR: What a week! Despite the ongoing pandemic, we had lots of interesting appointments – already making the first two days feel like an entire week: We met fellow journalists at NBC,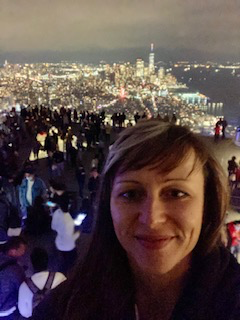 WNBC and from the New York Times Podcast 'The Daily', as well as in Harlem at the New York Amsterdam News. A 9/11 survivor shared his very personal story of how he had experienced the attacks and how they completely altered his life. Plus, we got to take a guided tour through the Hasidic neighborhood of Williamsburg, which was one-of-a-kind. The alumni week in New York was inspiring in many ways: full of input, interesting talks and new friendships. I am very thankful that I got the opportunity to take part and share in this wonderful experience. Thank you, RIAS! Keep up the good work of bringing together US and German journalists to broaden everyone's horizon.
Lydia Leipert, Bayerischer Rundfunk: A week in New York. To be honest, the RIAS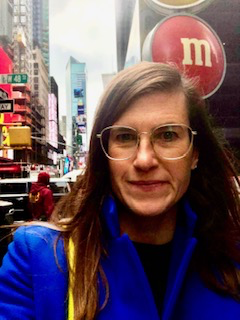 Alumni trip to NYC in the fall of 2021 felt so much longer; because of the great input we had the chance to get every day: from great insights into the culture of the Hasidic community in Williamsburg – a restricted life surrounded by the dazzling metropolis – meeting with the PR advisor of Harvey Weinstein, to the chance to find out more about the world of Broadway from a true Broadway performer and singer. I really appreciated the chance to experience the city for the first time since the pandemic began to see how it has recovered. Thanks so much for these exciting, inspiring and charming days in the "city that never sleeps". Thank you RIAS.
Björn Heckmann, RTL: It's the people that make a difference. The people we met in New York City told us their stories and gave us their perspectives on life in the United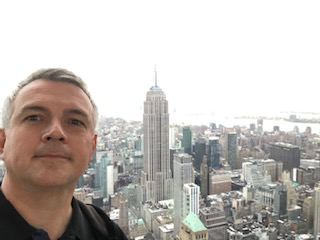 States. They helped us understand and hopefully also explain to others why things sometimes appear to be so different here from a European perspective. It's such a gift to meet all these special and hospitable people during this RIAS program. To get the opportunity to gain insight into so many exciting and surprising aspects of US society, media, business, politics, religion – you name it. One of the most impressive encounters for me was to talk to a 9/11 survivor and rescuer who explained very personally what he had experienced and what severe impact this has had on his life every single day since then. "I still see it, I hear it, I taste it.", he said, describing the moment when the first tower collapsed and the poisonous and destructive wave of dust and debris covered him and everything around him. The RIAS program enables a big step to be taken in the direction of mutual transatlantic understanding and makes the US much more personal, visible, understandable. Thank you, RIAS, for having me as an alumnus. I consider myself lucky to be a part of your community. It is a "win-win-win" for everyone!
Michail Paweletz, NDR Hamburg: This is me on "SUMMIT One Vanderbilt", feeling slightly dizzy at this height, which allows me a new perspective on a world I thought I knew. I made similar perspective-changing experiences on every single day at RIAS by listening to Reverend Dr. Calvin Butts, who gave a historical overview about the instruments of racism – housing and medical issues to dominate POC, methods, I have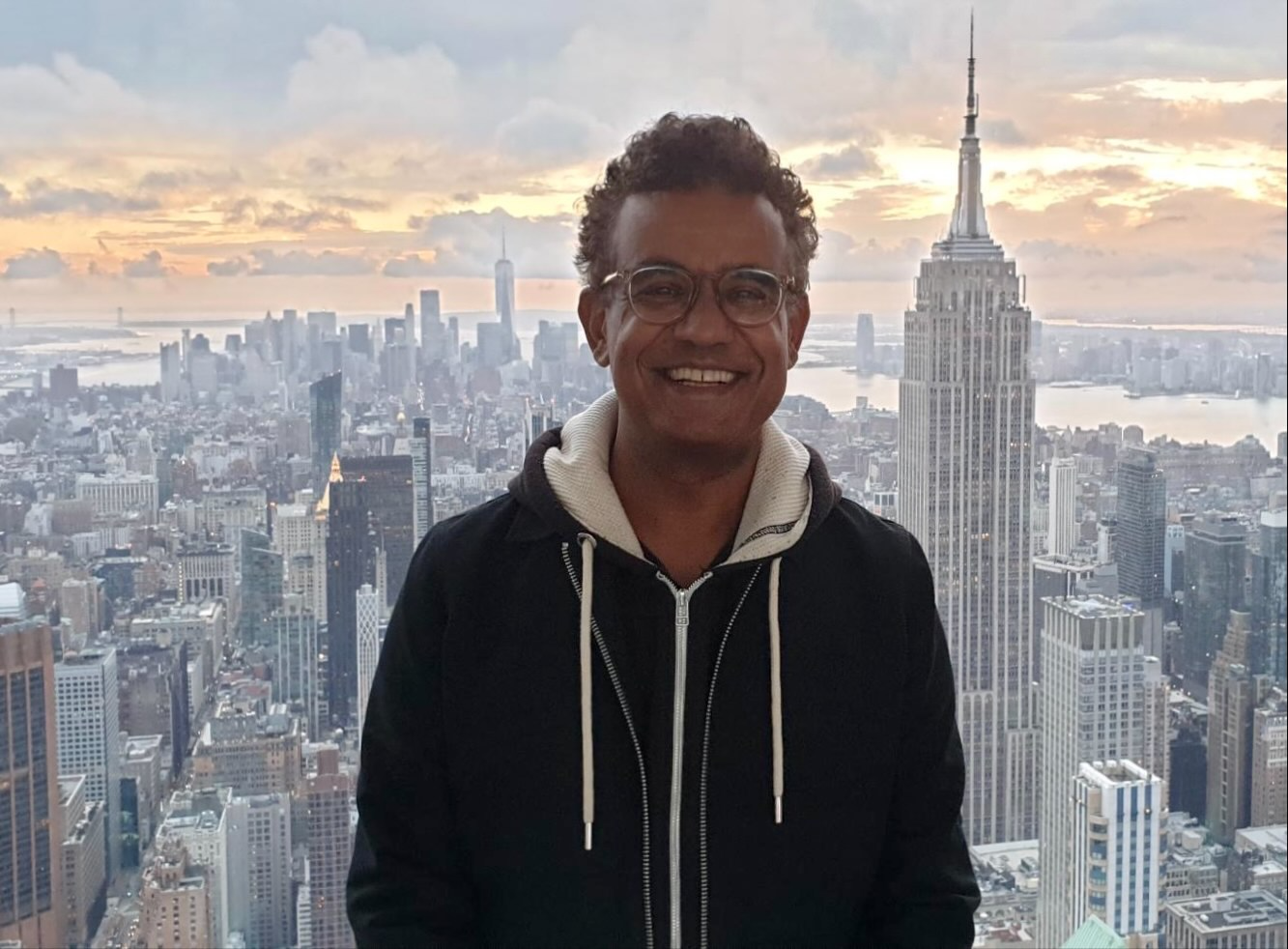 never heard about before. There was Tiffany Zeno, a brilliant Black colleague, describing the effect of racism on her work ethic. The credo "failure is not an option" made unambiguously clear how exhausting it is to be black. Then, there was the opposite, the Hassidim who refused to fulfill the expectations of western society. The tour that Frieda, a former member of the Satmar-Hassidim, was breathtaking. The impact of the Holocaust seemed visible, and it reminded me that there are two kinds of freedom. "Frei von etwas zu sein" or "frei sein, etwas zu tun". There were glimpses of hope for a change.  Supported by a mostly female team, Senior Producer Clare Toeniskoetter from New York Times created the world's most successful podcast "The Daily". It was such a fabulous moment when Clare explained how the project became so successful and what kind of mindset it took to get there.  There was the PR Manager Jude Engelmayer who calls himself a "truth doctor". His eloquence and method of looking for weak spots in journalists' work to control and change narratives of "bad guys" into stories of "vulnerable individuals" were impressive. It reminded me how conscientiously we should do our work as journalists. As journalists, we need insights from people like Jörg Schumacher from the Goethe Institut, Michael Fatica, Gordon Huie, Scott Richman ADL, Lou Charbonneau UN, Alina Cho to give us an idea of their work. Thank you all. But the biggest "Danke" goes to Adam Reiss from NBC who put this great program together and to Erik Kirschbaum, who did a great job in setting up moments in which we got the idea that things can work differently. Perspectives which sometimes cause a slight dizziness. 
Sabine Krebs, ARD Nairobi Kenya: What a week, what a fantastic time! Just back from vibrant Nairobi with a few days off inbetween I started directly to New York. I have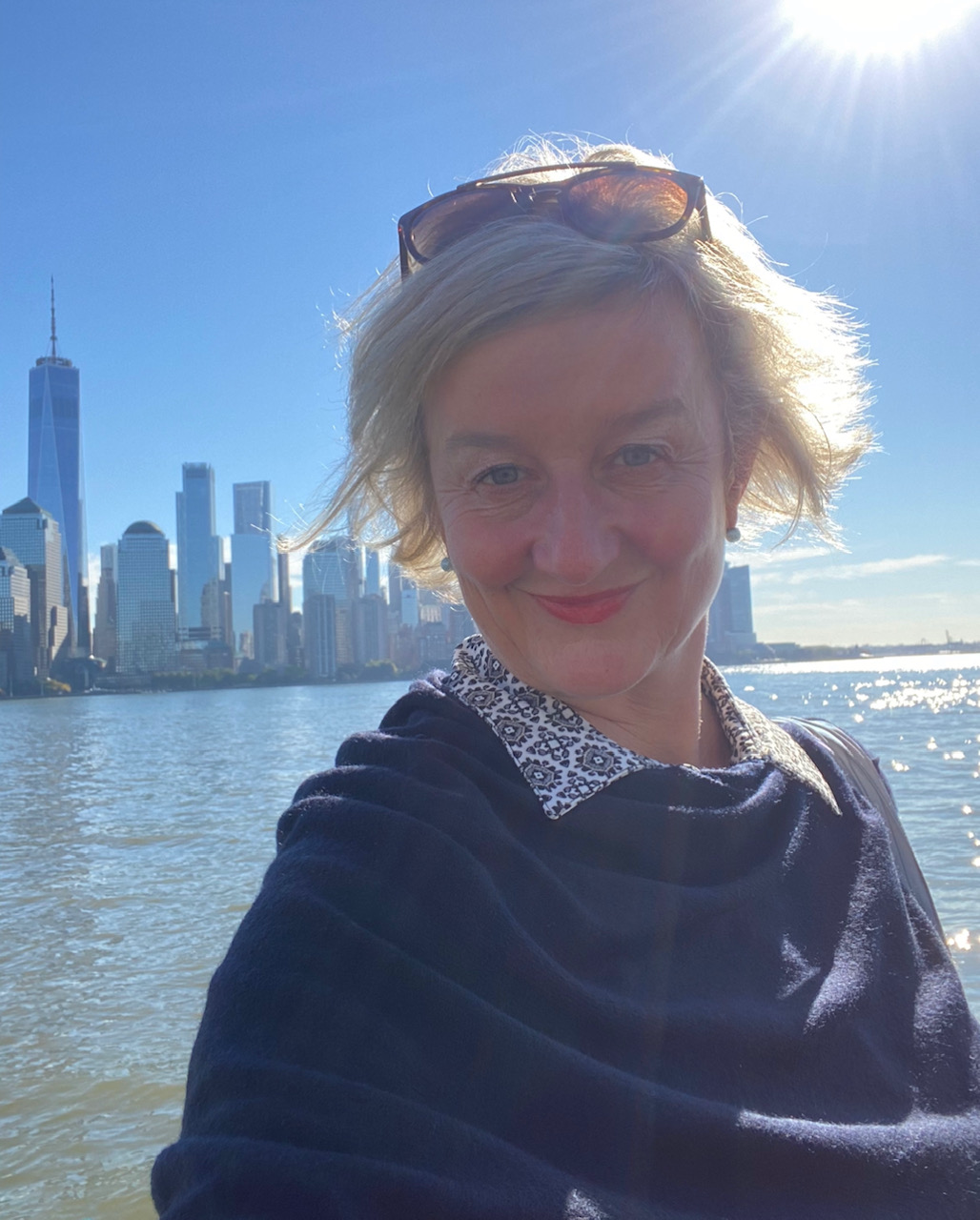 been there several times, but I'm always fascinated. It is so colorful, so progressive, so diverse … I could stay there for months. This single week was so fully packed – with such impressive people. First of all, I will never forget listening to Gordon at the 9/11 Tribute Museum: "I don't need a script, I livedthrough it" – he told us. And I felt it. He was terribly affected through the loss of his sister, Susan. But he survived when the first tower collapsed. Even the Williamsburg Tour with Frieda was impressive – It's such a different world.  I'm so grateful to RIAS for the chance to meet all these peopleand to connect with colleagues. I will go back with a lot of new ideas, impressions and contacts. I am grateful to be part of the RIAS Alumni community!
Guido Meyer, Deutschlandfunk Bonn: The view says it all. This is MY city now. On a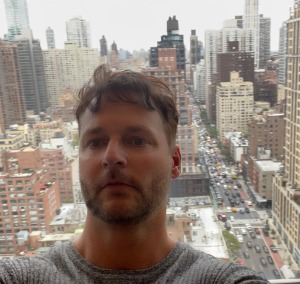 2nd thought – no, of course it's not. New York has so much more to offer. I hadn't been here in more than 20 years, and it was great to be back – to be together with a really interesting group of alumni and to meet people I would not have met without this RIAS program. Be it through cultural, political or social appointments or speakers – the program offered great insight into the city but also into the American "way of life, which you never can learn enough about. Cheers from Manhattan!
Marius Zekri, NDR Radio Hamburg: As journalists, we deal with news from the US every day. But during this week, that news became alive. This RIAS alumni trip was a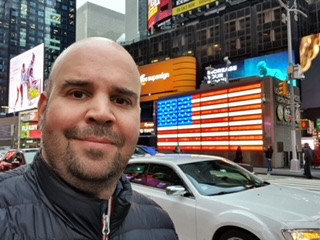 deep dive into American society. First and foremost, this was made possible by all the interesting people that we met. It is different hearing about racism in the US through a first hand account of someone who experiences it on a daily basis verses simply reading about it in the news. It is different seeing the images of 9/11 on TV verses talking to a person who was at Ground Zero on that day and who saw all the horror with his own eyes. Walking through the Hasidic neighborhood of Brooklyn with a former member of that community or getting insights from an actor into life on Broadway after Corona. RIAS made things like this possible and brought people together to create opportunities to meet and exchange real-life experiences. What do I take home from this trip? A lot of information and inspiration that will last a long time.
 Philipp Eins, freelance radio/podcast Berlin: The US is always ahead of us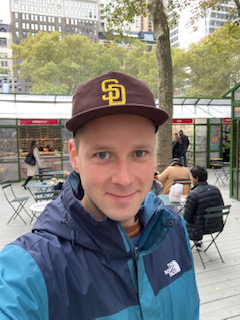 Europeans when it comes to digital media development. What can we learn from the New York Times podcast division? Which digital formats will prevail? Urgent questions for me as a freelance podcast producer. And exciting insights that the RIAS program offered. It's great to be part of this network!
Bartosz Dudek, Deutsche Welle
The new RIAS Alumni Program in New York has not only met, but entirely exceeded my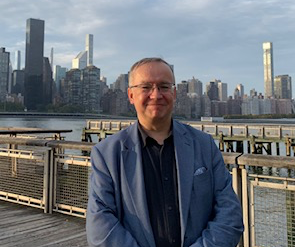 expectations. Meeting great speakers like Rev. Dr. Calvin Butts and David Harris, listening to the 9/11 survivor and helper Gordon Huie and taking part in a guided tour throughout the Hasidic borough of Williamsburg gave me in-depth insights on the current social and political issues of the US. All of this complemented by the networking both with American and German colleagues: what a great personal and professional enrichment!
Susan Kalmbach, BR Radio Munich
Soon, a small, red Isetta vintage car will be painting the streets of downtown Manhattan.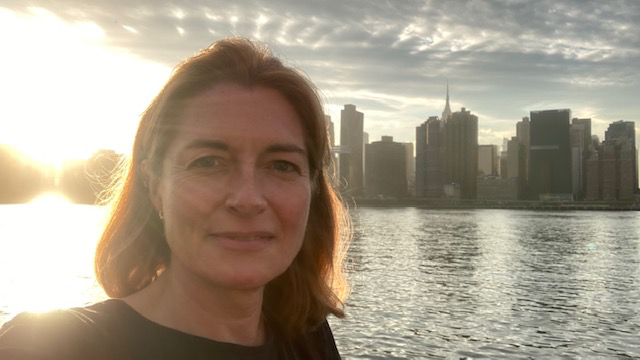 The owner is Markus Koch, who we visited in his Brooklyn office with RIAS last week. Markus is a German Wall Street Journalist, living and working for more than 20 years in New York City. He is hoping to snatch up some new interview partners, such as big financial players and company bosses, with his extraordinary car. The RIAS fellowship offered us the opportunity to learn more about Germany's role in the United Nations. Executive ambassador Sautter emphasized the necessary perseverance to keep diplomatic conversations alive. Further, we had an impressive encounter with the crisis communications expert Juda Engelmeyer, who currently works for disgraced Hollywood mogul Harvey Weinstein. Reflecting on my week with my RIAS fellows, the single week feels like ten weeks of experiences gained. We had enriching insights into the day-to-day routine of our American colleagues. And there was time left to enjoy the multifaceted city of New York. Thank you very much, RIAS, for this unique experience!
---
November 3, 2021
Obama, Murphy highlight of RIAS Berlin Commission alumni program in USA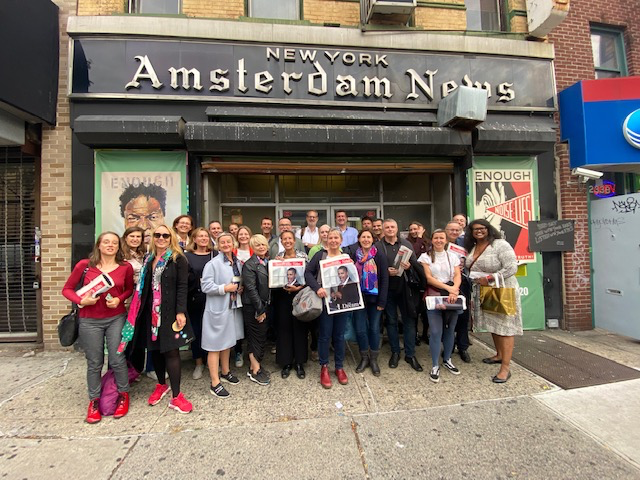 Thirty top journalists from across Germany took part in the first RIAS Berlin Commission program designed especially for RIAS alumni and senior editors from Germany. The aim of the week-long program in New York at the end of October was to learn more about how the country's largest city has emerged from a difficult 20-month period coping with the Covid-19 pandemic.
It featured nearly 20 meetings with a wide variety of journalists, politicians, diplomats, law enforcement experts, African-American community leaders, Jewish leaders, non-government organizations, experts on the trauma of 9/11, a Broadway actor and experts from the world of fashion.
Because many of the American newsrooms and offices were still closed to external visitors and in some cases to their own staff members, most of the RIAS guest speakers held their meetings either outdoors in parks, in front of or in the lobbies of iconic buildings like Rockefeller Center, on walking tours or in cafes or restaurants.
It was the third such program for RIAS alumni — some of the 1,900 journalists on both sides of the Atlantic who have taken part in standard two- to three-week or longer programs in the past 25 years. A first group of 30 American RIAS alumni took part in a similar week-long alumni program in November 2019 to observe and accompany events marking the 30th anniversary of the fall of the Berlin Wall.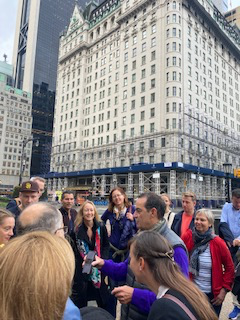 A second group of 17 American RIAS alumni took part in a week-long program in September 2021 to observe and accompany the German federal elections on September 27 — and many of them reported on the elections to their stations back home in the United States. The group of 30 Germans who visited New York were originally scheduled to visit Washington DC in October 2020 right before the U.S. presidential election but that program was postponed to 2021 due to the Covid-19 pandemic.
"The goal of these new alumni programs is to help keep alive the spirit of the Cold War-era radio and TV station RIAS as well as to strengthen the ties and networks between German and American journalists in both countries," said RIAS Berlin Commission Executive Director Erik Kirschbaum. "It's exciting to see how many German and American journalists have kept in contact with each other over the years and even more exciting to see how many new contacts are made among German and American journalists are made on each of our first three alumni programs."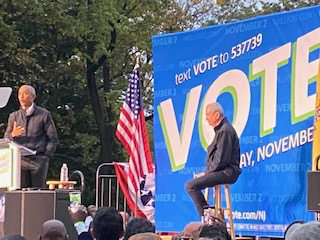 On their trip to New York: the German alumni watched with press passes as New Jersey Governor Phil Murphy campaigned for re-election at a rally in nearby Newark together with support from former President Barack Obama; learned more about NBC news from Adam Reiss, Bryan Weakland,  Jake Ward, Tiffany Zeno and Michael Gargiulo; learned more in Harlem about racism from the Reverend Calvin O. Butts from the Abyssinian Church and New York Amsterdam News publisher Elinor Tatum.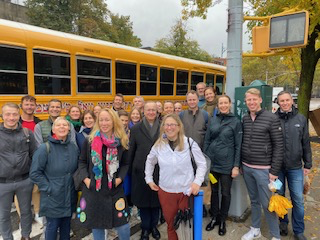 The Germans also had an eye-opening walking tour of the Williamsburg section of Brooklyn with Frida Vizel, who left the Hasidic Jewish community many years ago and expertly describes how the closely knit families there have managed for generations to stave off the usual assimilation processes in the United States. Vizel has been giving small-group tours of the fascinating section of Brooklyn that is just across the East River from Manhattan that many Americans know precious little about.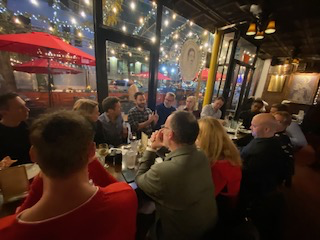 The German broadcast journalists from leading networks across the country also visited Jörg Schumacher, director of the Goethe Institute in New York, AJC Executive Director David Harris and had the chance to interview Broadway actor Michael Fatica before seeing the musical "Chicago".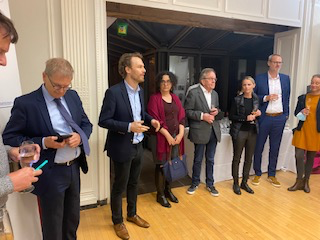 There was a visit to the 9/11 Tribute Museum and a moving talk with survivor Gordon Huie, a talk with Anti-Defamation League New York Director Scott Richman, Germany's U.N. deputy ambassador Günter Sautter, General Consul David Gill, DAAD North America director Benedikt Brisch, and a talk with New York Times "The Daily" senior producer Clare Toeniskoetter before a RIAS reunion meeting with New York-area American alumni and former German Health Minister Ulla Schmidt at "1014" Fifth Avenue — the former Goethe House in the heart of New York City designed to create a space to explore global challenges and opportunities that is quickly becoming an important home for German-American encounters.
NTV stock market guru and entrepreneur Markus Koch, former NYC police commissioner and security analyst Peter Donald, fashion mogul Tory Burch, crisis communication manager Jude Engelmayer, U.N. director Human Rights Watch Lou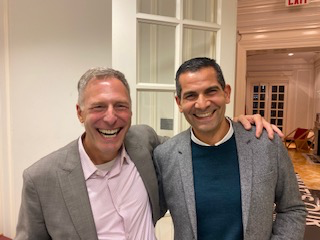 Charbonneau, ARD's New York offices, and Spiegel correspondent Marc Pitzke were also featured guest speakers. The next RIAS Berlin Commission alumni program is scheduled to take place in late October 2022 in Washington DC just ahead of the 2022 midterm elections in the United States. Anyone interested in that program should contact their alumni chapter leaders in Berlin, Cologne, Hamburg, Munich or Mainz or write info@riasberlin.org. The next alumni program for Americans will be in 2023. 
Here are the participants from the October 2021 RIAS alumni program to New York: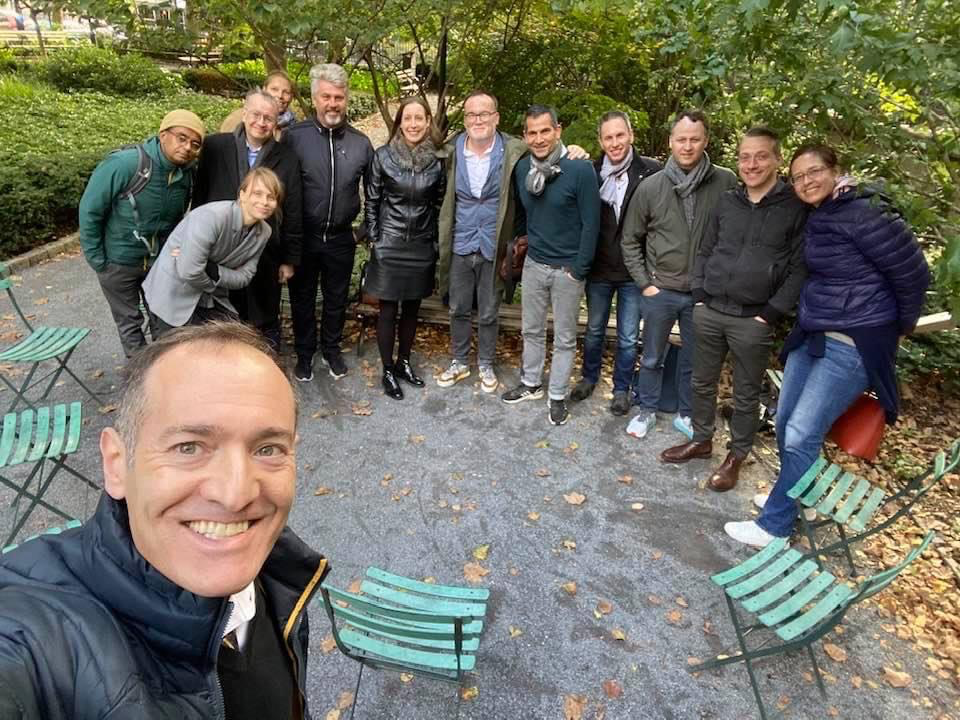 Martin Richter, Phoenix, Bonn, Michail Paweletz, NDR Hamburg, Vladimir Balzer, Deutschlandradio, Berlin, Mitri Sirin, ZDF, Berlin, Anja Heyde, ZDF, Berlin, Mirja Fiedler, NDR, Hamburg, Andre Schünke, NDR, Hamburg, Anja Martini, ARD, Hamburg, Anne Sieger, ARD, Cologne, Björn Heckmann, RTL, Cologne, Cornelia Gerhard, Phoenix, Bonn, Guido Meyer, Deutschlandfunk, Bonn, Iris Ollech, Phoenix, Bonn, Kerstin Ruskowski, Deutschlandfunk Nova/WDR, Cologne, Lydia Leipert, BR, Munich, Marc Krueger, podcast freelancer, Berlin, Maren Hellwege-Beck, BR, Munich, Nina Hansen, ARD, Hamburg, Petra Gute, RBB, Berlin, Philipp Eins, freelance radio/podcast, Berlin, Sabine Krebs, ARD, Nairobi, Kenya, Steffi Clodius, ARD, Hamburg, Susan Falkenstein, BR radio, Munich, Boris Baumholt, WDR, Duesseldorf, Bartosz Dudek, Deutsche Welle radio, Bonn, Marius Zekri, NDR radio, Hamburg, Micha Wagenbach, ZDF, Berlin, Oliver Sallet, Deutsche Welle, Washington DC, Vivienne Radermacher, WDR und Michael Stang, WDR Cologne
---
October 30, 2021
Observations from Fall 2021 RIAS Berlin Commission participants in USA
Brief observations from RIAS Berlin Commission participants in the October 2021 exchange program to the United States:
Frauke Holzmeier, RTL, ntv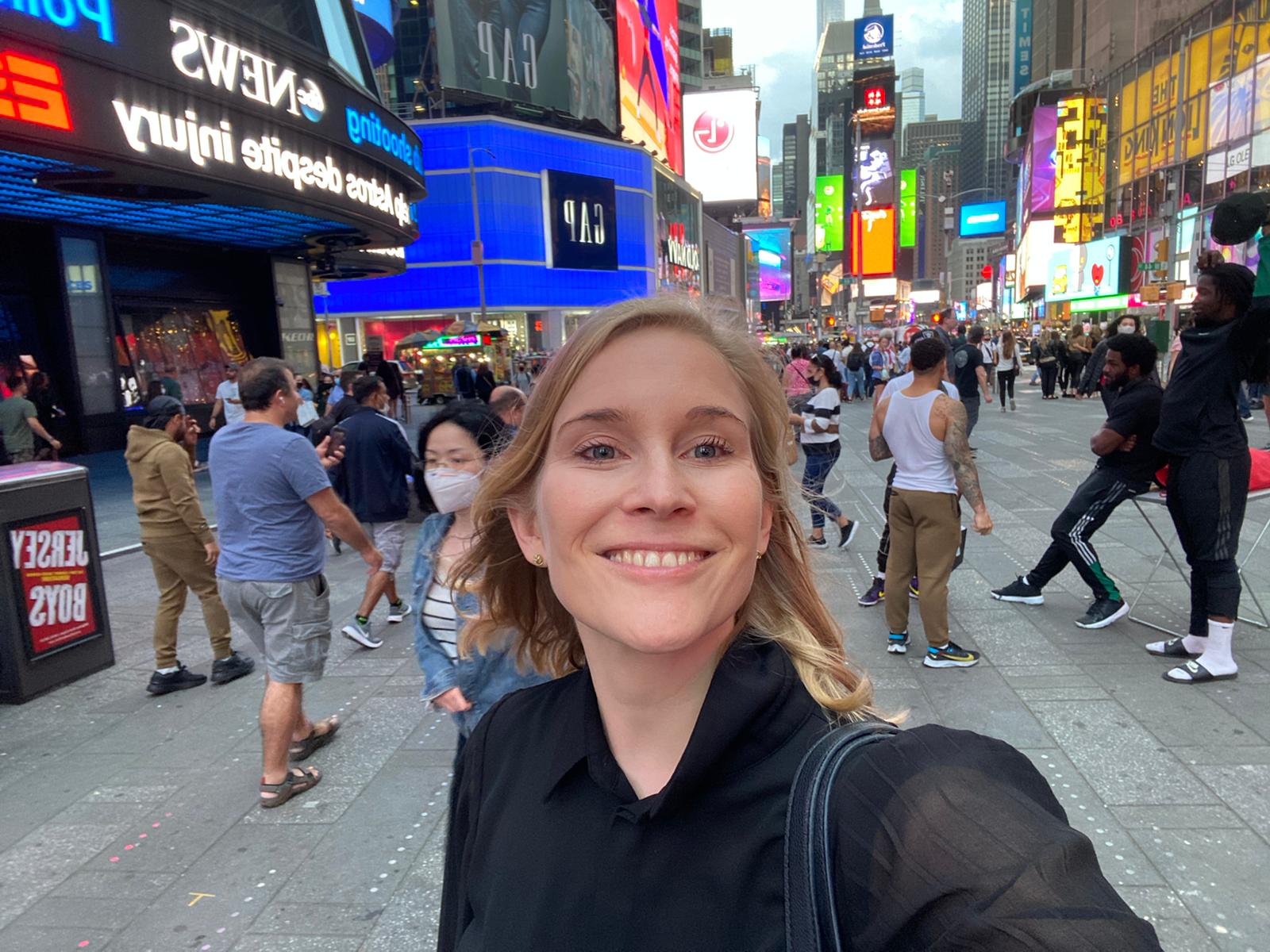 I'm really happy to be part of the RIAS community now. In two weeks in the US with stays in Washington and New York City, we met so many different and inspiring personalities. I will benefit from it for a long time to come. As a journalist and also for me as a person, I learned that the United States is a deeply divided country. Trump was and still is a symptom of this division. This should concern us all. But simultaneously there is so much hope and strength in this country. Thanks to the people who live here and their cordiality, warmth and hospitality. Thank you, RIAS for having me!
Jan Fritsche, ZDF  
What an incredible program this has been! Getting to know excellent journalists from both sides of the Atlantic, meeting high-ranking officials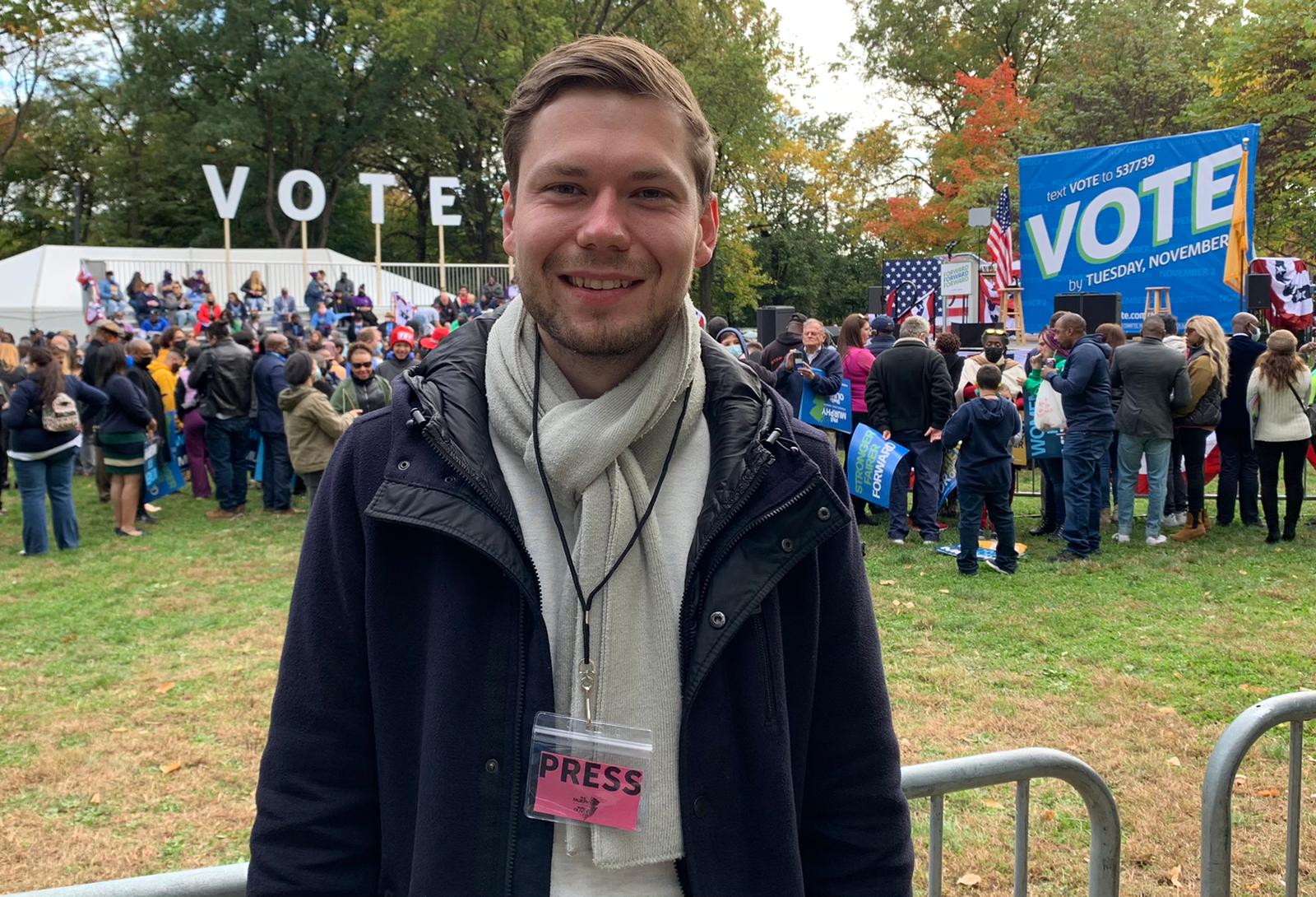 such as the German ambassador to the United States Emily Haber, gaining unique perspectives like the one of a 9/11 survivor – RIAS was all of this and so much more. Every day we learned about a divided society struggling with its own identity. But, also about a people full of optimism and generosity. This country has been fascinating me for many years. And RIAS has helped me understand it even better. Thank you so much for this amazing experience! I 'm happy and grateful to be part of the RIAS network now.                
Dilek Üsük, rbb
What an amazing and incredible time we had! In this short time, we had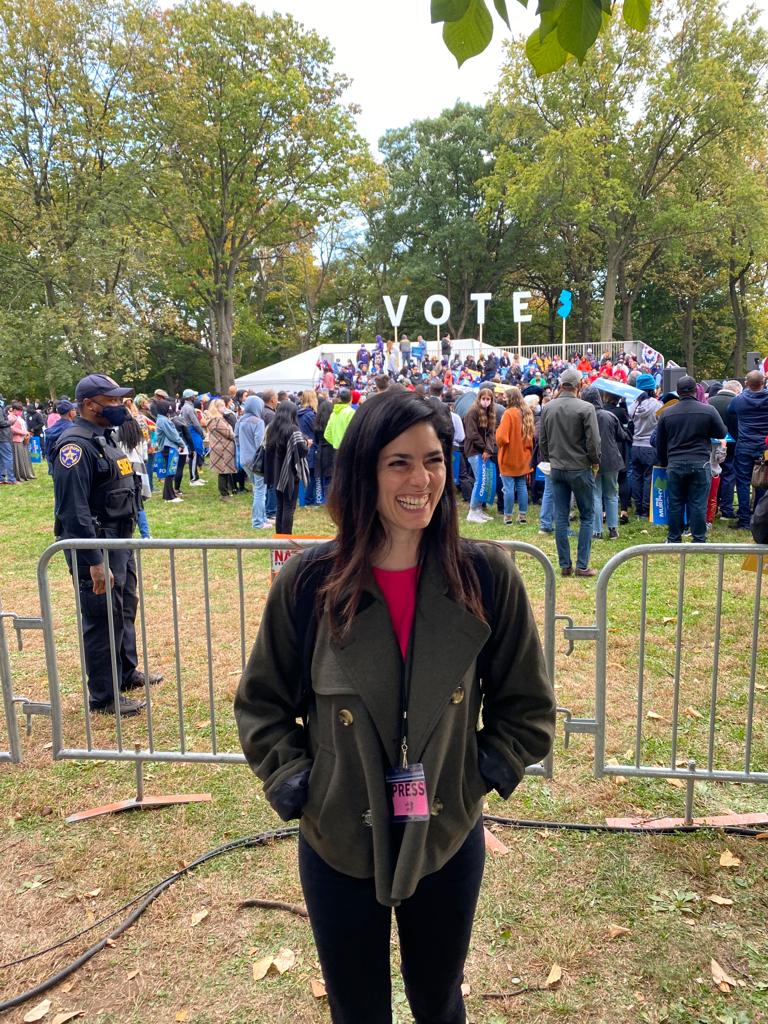 the opportunity to speak to people we wouldn't have met without this program. We spoke to journalists, to politicians, to a survivor of 9/11 and we had a walk through an ultra-orthodox community in New York. All these people, all these guest speakers gave us deep and real insights into the structure of politics and the society of the US with different perspectives and opinions, which made it all the more interesting. It helped me to understand the people in the US, their struggles, their challenges, their ideas, their way of life. And it reminded me to be open minded and that sometimes things are much more complicated and not as easy as they might seem. The RIAS program provides such a great and unique experience and it gives the opportunity to connect and network with so many people, which is so valuable. It was a privilege and an honor to be part of the first RIAS program after the pandemic began. I'm very grateful for these great weeks and I 'm amazed how quickly we bonded as a group. Thanks again for this wonderful and impactful experience!
Dania Maria Hohn
Being in the RIAS programme is not only a fellowship, but the experience of a lifetime. I felt welcome from the moment I stepped off the airplane, in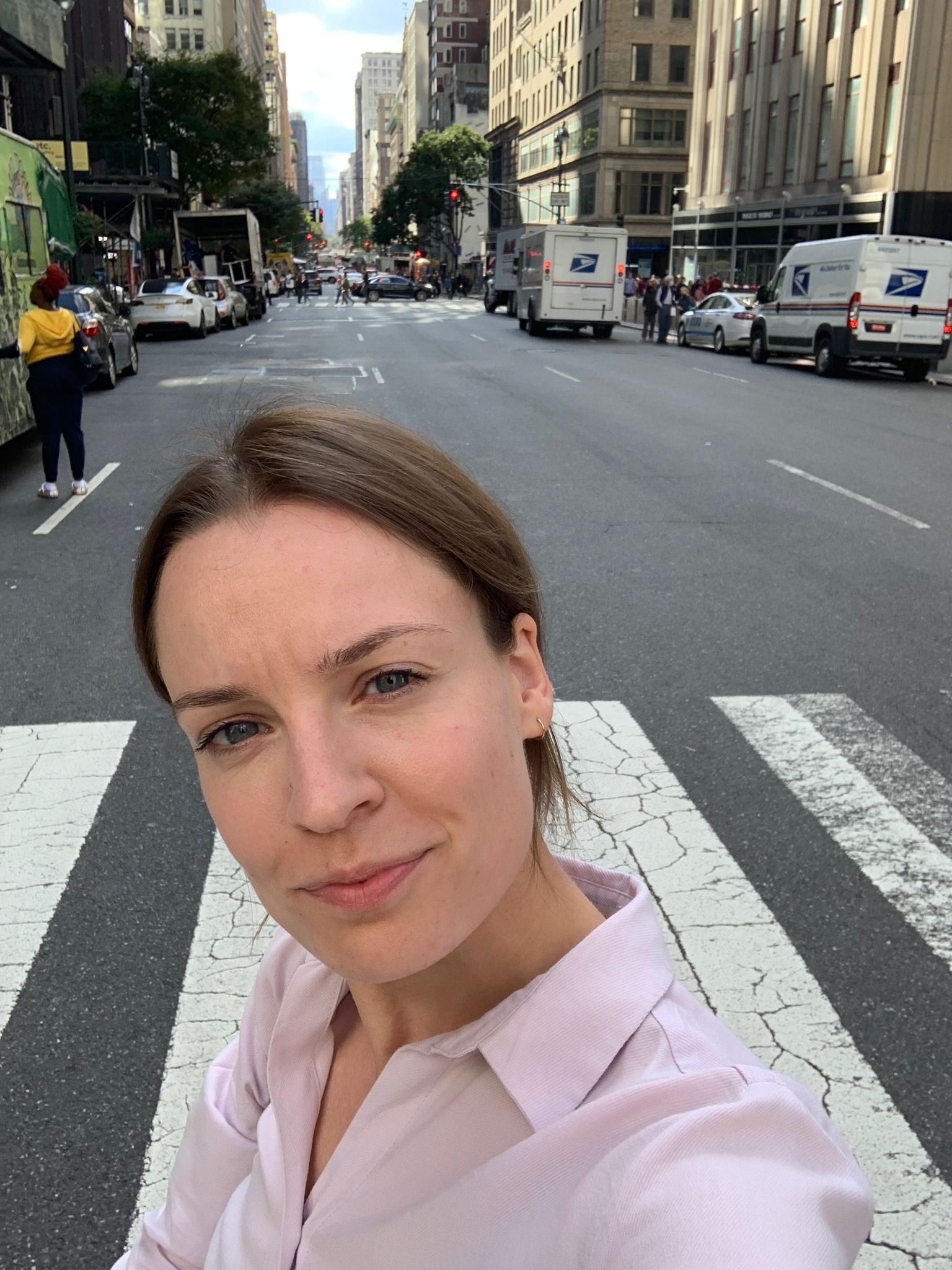 a country I only knew from books and movies. I have learned that the US is in a critical state and no one knows how things will go on or get better. But the people I've met taught me a lot about perseverance, loss and hope. It's the stories we tell as journalists that make a difference, and we should all feel empowered and aware at the same time. The pandemic didn't stop us from connecting – on rooftops with a view of the White House or the Empire State Building, in traditional restaurants or even on a journalists' private porch. I am incredibly grateful for this opportunity and thank everyone for their time and efforts, as I will take the memories with me wherever I go. 
Annette Yang, NDR
Such an adventurous trip from day one: Singled out at immigration at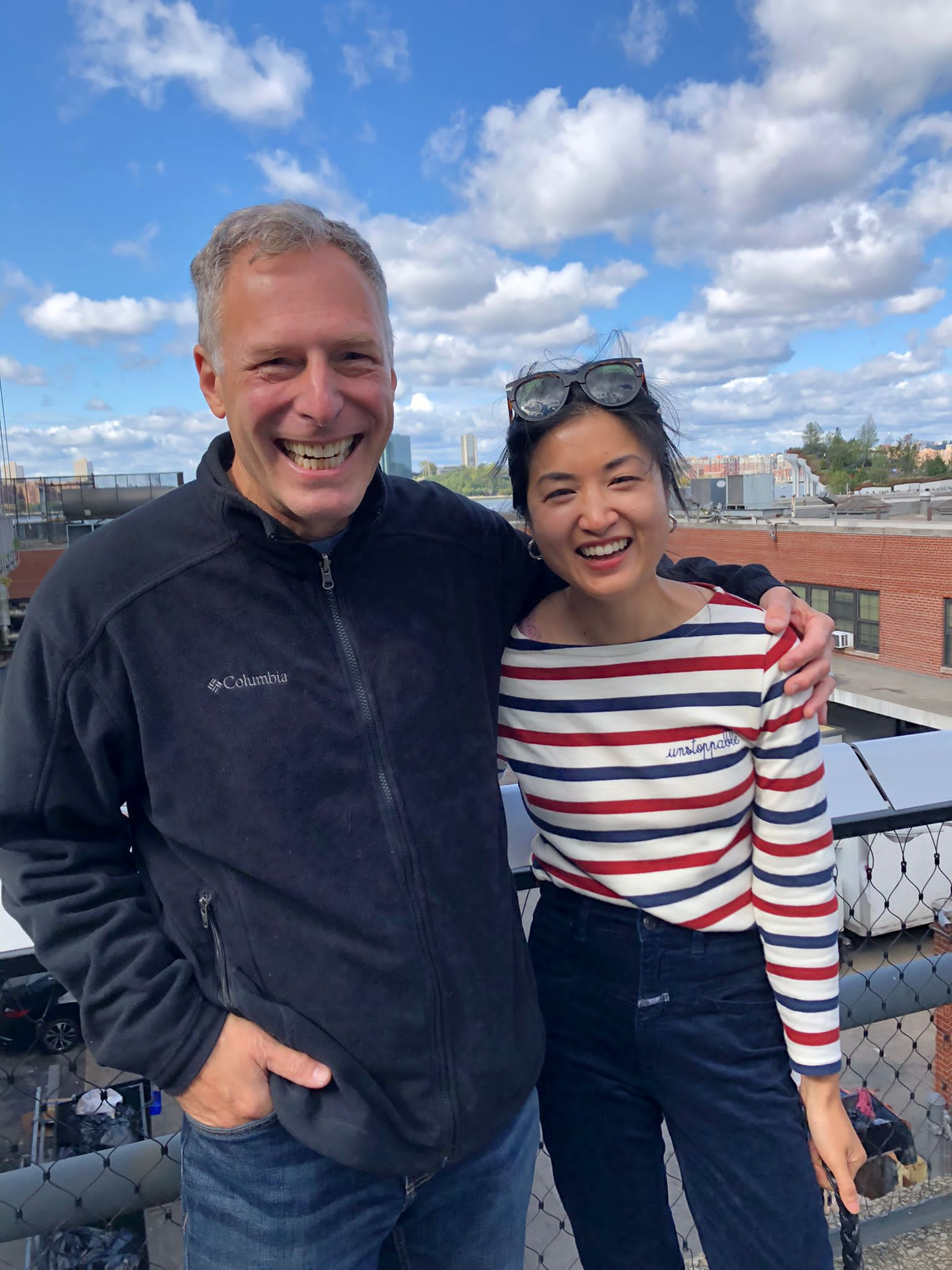 Washington airport, being asked why, as a European, I wished to enter. That's how it's like to travel during Covid I guess. But, I was cleared eventually. I also had a good reason: RIAS! Two weeks full of great encounters: In Washington we talked to the German Ambassador Emily Haber about transatlantic allies, new technologies and diplomatic sensitivity. White House Correspondent Jeff Mason described what flying in Air Force One feels like. What a treat! In New York, we discovered the city with insiders, like WNBC news anchor Michael Gargiulo, producer Adam Reiss, 9/11 survivor Gordon Huie and ex-Hassidic Jew Freida Vizel. They opened doors that would have otherwise remained closed to us. Thanks RIAS for creating memories that will accompany me for a lifetime! 
Lena Mosel, WELT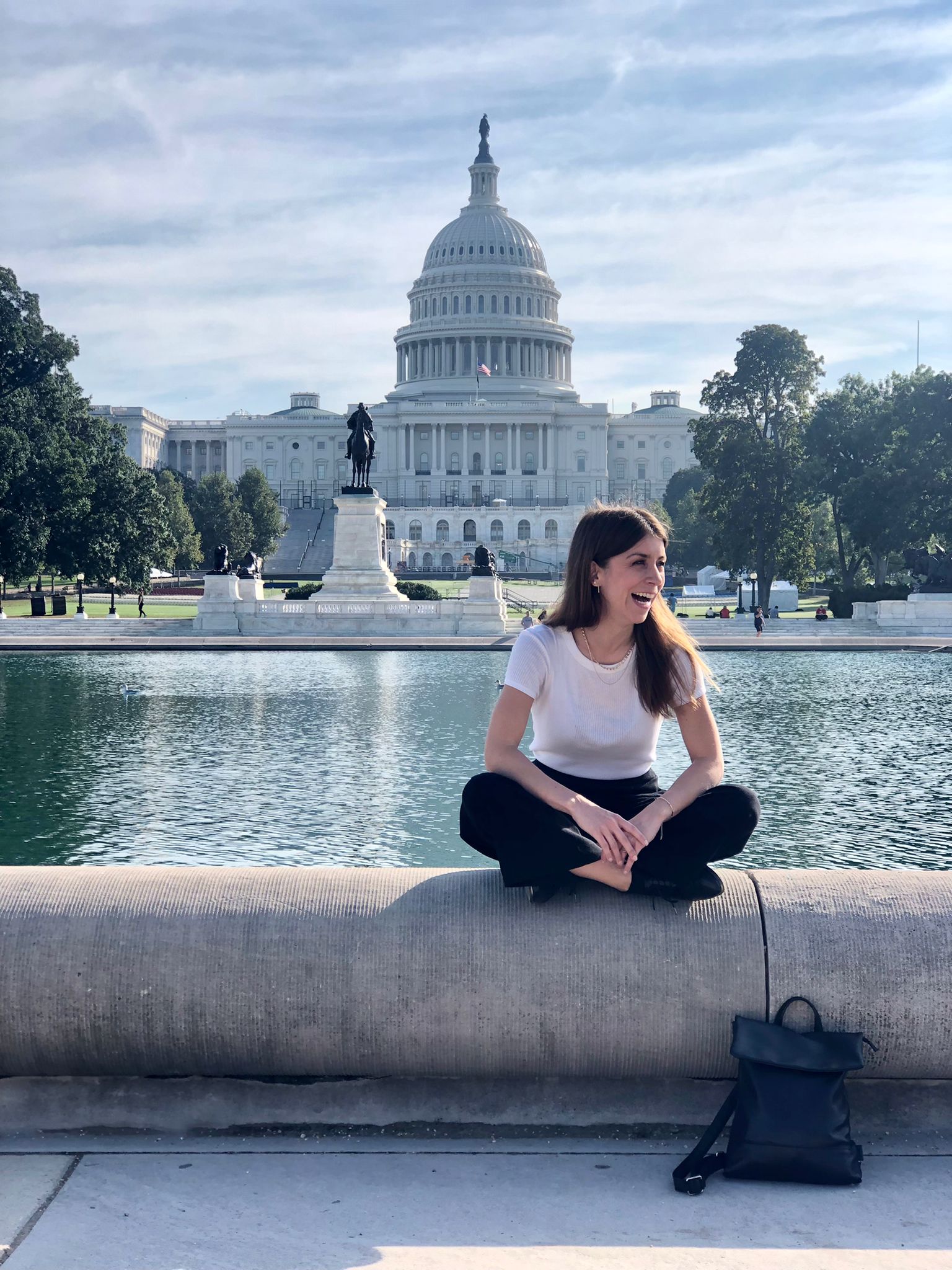 I couldn't believe that our program would even take place during the pandemic until we were actually here and I probably won't completely realize what we've seen, who we've spoken to and what we've experienced until I'm back in Germany: speaking to journalists from very different channels, politicians, experts from think tanks, seeing a show on Broadway, having lunch at the famous Katz's deli, standing in front of the Capitol and trying to understand what happened there on January 6th. We felt how divided this country is and I see it as a warning for us journalists in Germany, where the media increasingly leans toward one side or the other. I hope that the divided United States will find their way back together, because what we also saw, heard and felt is a beautiful country.
Kate Brady, Deutsche Welle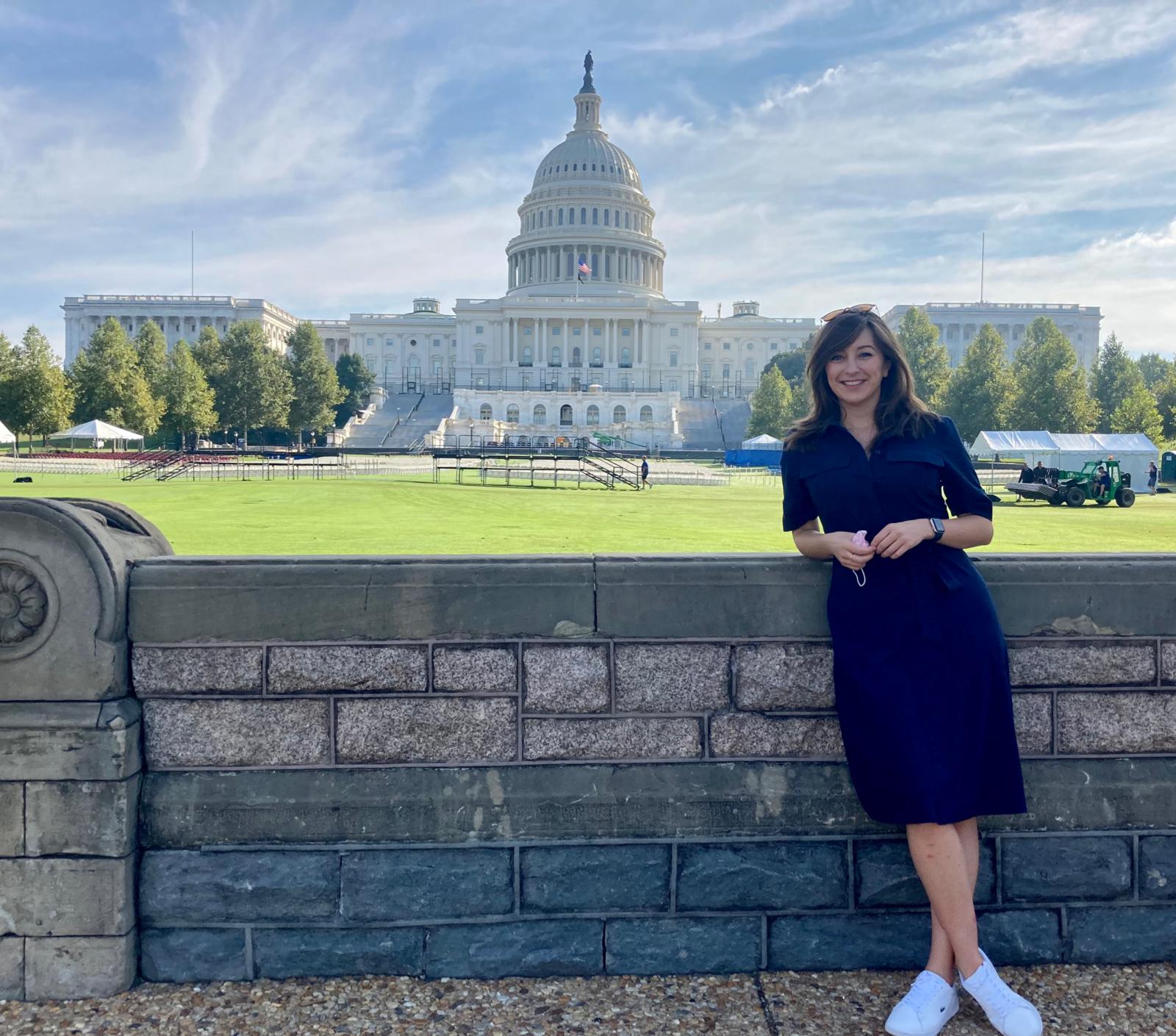 After so many months cooped up due to the pandemic, the 2021 RIAS program was always going to be particularly special. But nothing could have prepared me for the places we would see, the people we would meet, nor the knowledge and experience we would gain during our two weeks in D.C. and New York. At this time of polarization, the political insights we gained in D.C. are priceless for our understanding of the United States going forward and my reporting on transatlantic relations. Meeting with fellow journalists also gave us a deeper understanding of the challenges facing US media — many of which we share on both sides of the Atlantic. In turn, this has only reinforced my own motivation as a journalist and acts as a reminder of the importance and responsibility that comes with our work. It was an absolute pleasure to share this experience with everyone on the program. Through RIAS I've met some wonderful new colleagues and made friends for life. Here's to a successful station week and many years of keeping the spirit of the RIAS network alive.
Kristian Wiegand, phoenix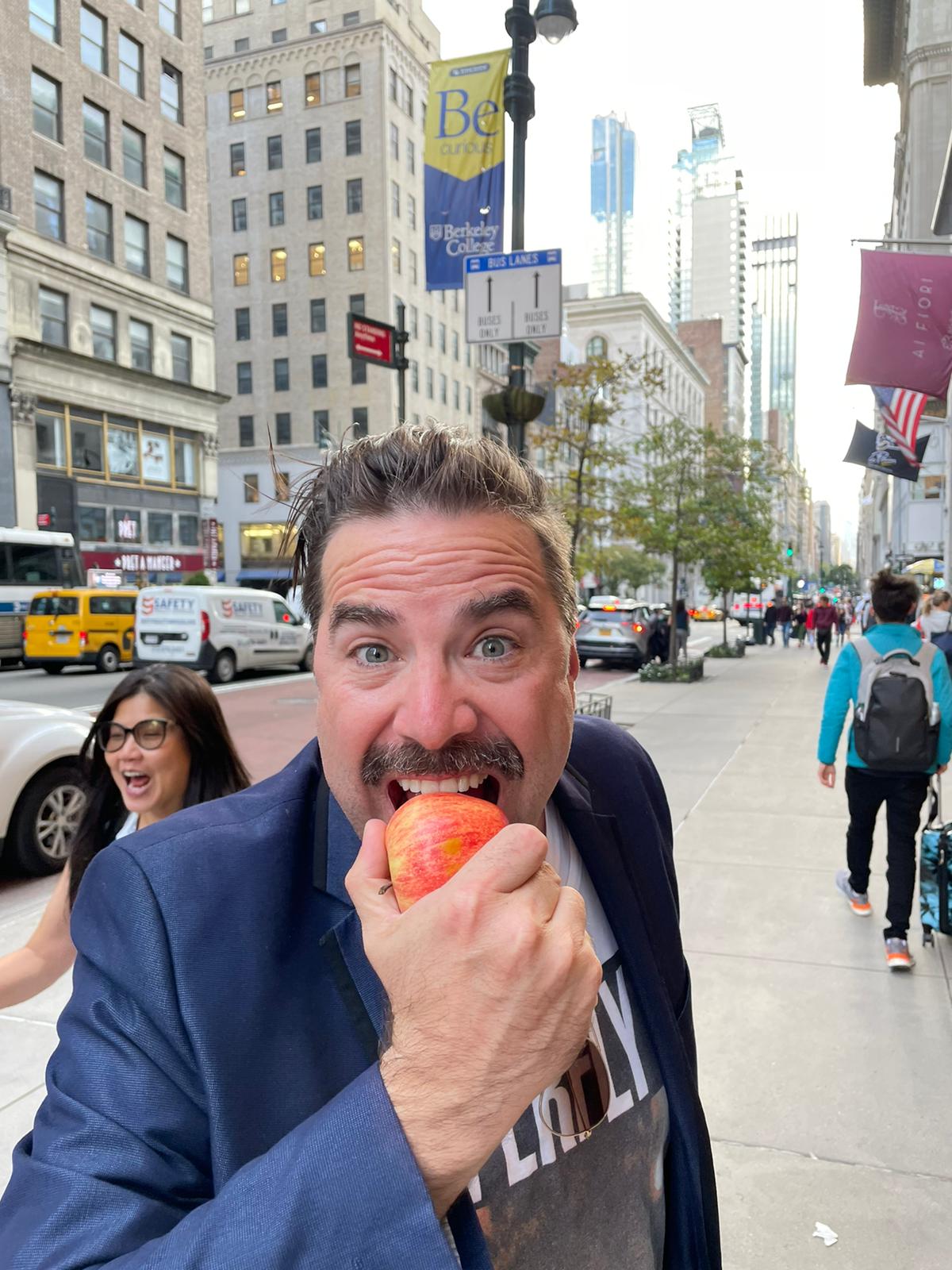 Experience, not just observe. Immerse, not just scratch the surface. Exchange, not just listen. With a super team of fellow travelers. That's what RIAS is all about. One impression in particular that stuck with me: The United States is more divided than it has been in a long time. And Trump hovers over everything like the sword of Damocles. But the country and the people also have an incredible determination not to give up. That's what I experienced with our guest speakers. Particularly the private insights into life and work gave me a deep insight into the soul and politics of the USA. For me, this exchange between people of different cultures is important. Especially the immersion into the world of Jewish life left a deep impression.
Julia Grünwald, MDR
Having never been to the U.S. before, I didn't know exactly what to expect. Everything is louder, bigger and more extraordinary here, I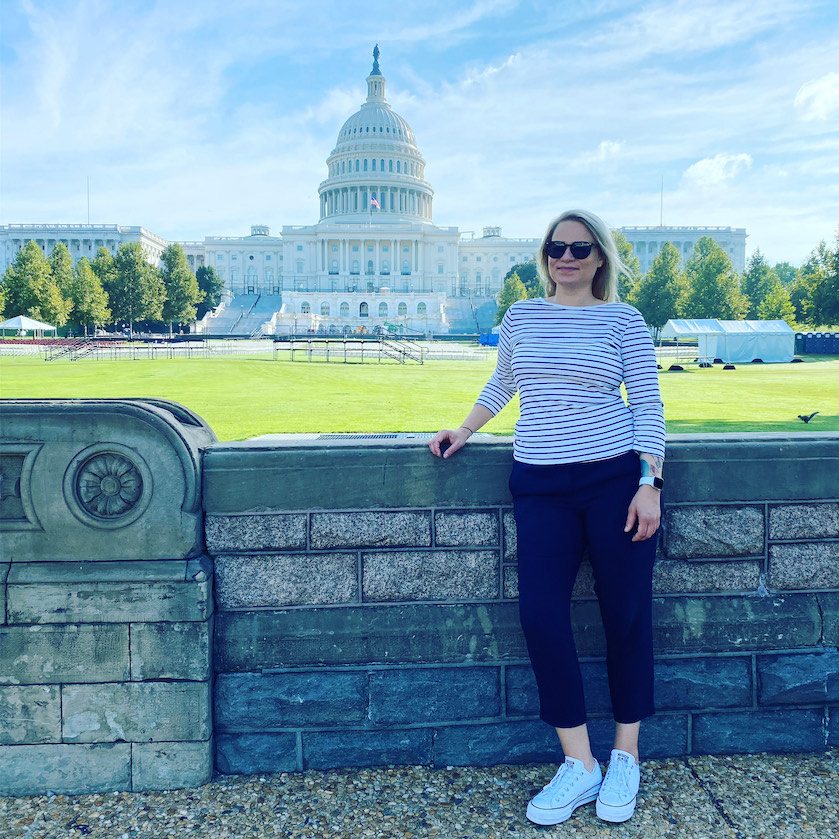 thought. In many ways, that's true. But two weeks of Rias gave me a special insight, that I would never have gotten as a tourist. The conversations with journalists, politicians, experts from think tanks and artists gave me the opportunity to understand this country better. As the first group after Corona, we found a way to meet with admirable people. Whether in the park with Clare Toeniskoetter from The Daily in NYC or on Roland Nelles' porch in D.C. We talked a lot about Trump and his influence on media and I have learned, that all is far from reconciled under Biden.
Thank you for these incredible insights and great acquaintances in the Rias network. I am proud to be part of it now and look forward to many reunions.
---