U.S. Meeting of RIAS Fellows 2004
Las Vegas, April 17 / 18, 2004
The transatlantic relations against the background of the Iraq War were among the most discussed topics at the 2004 meeting of RIAS U.S. Fellows in Las Vegas. As before the Rias fellow meeting was held in conjunction with the annual RTNDA convention. Almost 100 alumni, station hosts and representatives of U.S. partner universities attended the reception on April 17 and the breakfast meeting on April 18 with guest speaker Tom Buhrow, ARD-TV bureau chief in Washington. D.C
---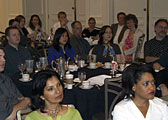 ---

Tom Buhrow
Chief US Correspondent, German TV ARD:
Iraq could be the turning point in international politics, but how? As an overreaction to 9/11-conclusions it could set a negative precedent that nomore UN approval for future military actions is considered necessary. As a positive outcome it could turn out as a grand design for reshaping the whole Middle East into a more democratic area. But most likely we will only know that in a generation's time from now.
---

The RIAS BERLIN COMMISSION also provided information about German American exchange programs in the exhibition hall during the 2004 RTNDA convention.