Deutsches RIAS-Fellows-Treffen 2008
Berlin, 8. Juni 2008
RIAS Fellow-Frühstück im Park Inn, Berlin-Alexanderplatz.
---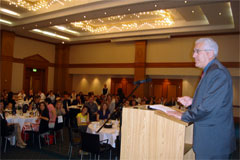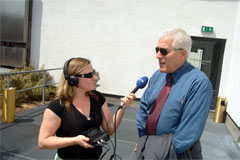 ---
Ralph Begleiter, former RIAS Commissioner and jury member and former CNN World Affairs Correspondent, offered RIAS Fellows some analysis of the US presidential election campaign to date. He focused on the increasingly significant influence of non-mainstream media on the campaign, noting especially that internet-based so-called "citizen" or "participatory" journalism is completely unfettered by rules of engagement or ethics in the campaign. He cited several examples of recent instances in which untrained "citizen journalists" powerfully influenced the primary election campaign, especially the contest between Hillary Clinton and Barack Obama.
He called the attention of the RIAS Fellows to the role of internet-based multimedia (digital video, audio, photos and advertising), which in the United States is not subject to any regulation or rules of fairness, length, financing or attribution. Even within the mainstream, or traditional media, Begleiter observed the increasingly blurred line between original reporting and commentary in broadcast media.
Finally, Begleiter reminded the Fellows of a longstanding current of racism which has simmered below the surface of American elections, and warned that the historic selection of Obama to be the official Democratic Party nominee could revive the spectre of this undercurrent. if that proveswrong, if racism proves insignificant, the 2008 election could turn out to be important beyond even Obama's candidacy, reflecting a significant development in the history of U.S. elections.