U.S. Meeting of RIAS Fellows 2000
Minneapolis, September 14 / 15, 2000
More than 50 American Fellows and 13 German broadcast editors from the US Editor Program 2000 attended the American Fellow Meeting of the RIAS BERLIN COMMISSION, coinciding with the RTNDA Annual Convention 2000. The Radio and Television News Directors Foundation (RTDNF), with its headquarters in Washington DC, is the American partner organization of the RIAS BERLIN COMMISSION.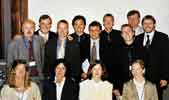 Keynote speakers were Dr. Claus Kleber, ARD First German TV bureau chief Washington DC and Harvey Nagler, vice president, CBS Radio News.
---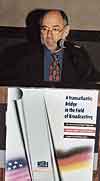 Harvey Nagler
U.S. election campaign and the role of the electronic media
We journalists have to be careful not just to report the prefabricated stories given to us by the campaign spokesmen. But it is harder and harder today to come up with our own background or in-depth story, because not only we and the campaign move so fast from city to city and state to state, but it is more difficult to have access to the candidates. The campaign managers are excellent communicators and spin doctors, dishing out enough storoes every day to report on. But all in all American radio is doing a very good job. The high ratings show that the listeners like the radio news programs presented to them.
---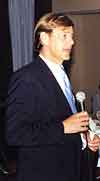 Dr. Claus Kleber
A U.S. election campaign from the viewpoint of a German TV correspondent
The foreign correspondents are on the verge of extinction in US journalism. Foreign news doesn't play an important role on US television. We German correspondents in the United States had a hard time getting interviews with the candidates of this year's presidential campaign. They are just not interested in foreign coverage, because it doesn't translate in votes. We finally succeeded to get an interview with George W. Bush jr. on his plane on Independence Day, because most US journalists spent that day at home with their families for an extended weekend. However we German journalists of the ARD TV bureau in Washington DC are trying very hard to stem the trend: Our ARD Washington DC bureau alone has produced 3600 minutes of US TV coverage last year. This was twice as much as the average reporting on foreign affairs by a US network.