News & Events
December 7, 2018
Observations from U.S. journalists on program studying migration, border security in Europe
Lee Anderson, KTVZ, Bend, OR
Thank you RIAS Berlin Kommission for a wonderful eye opening week in Germany and Croatia.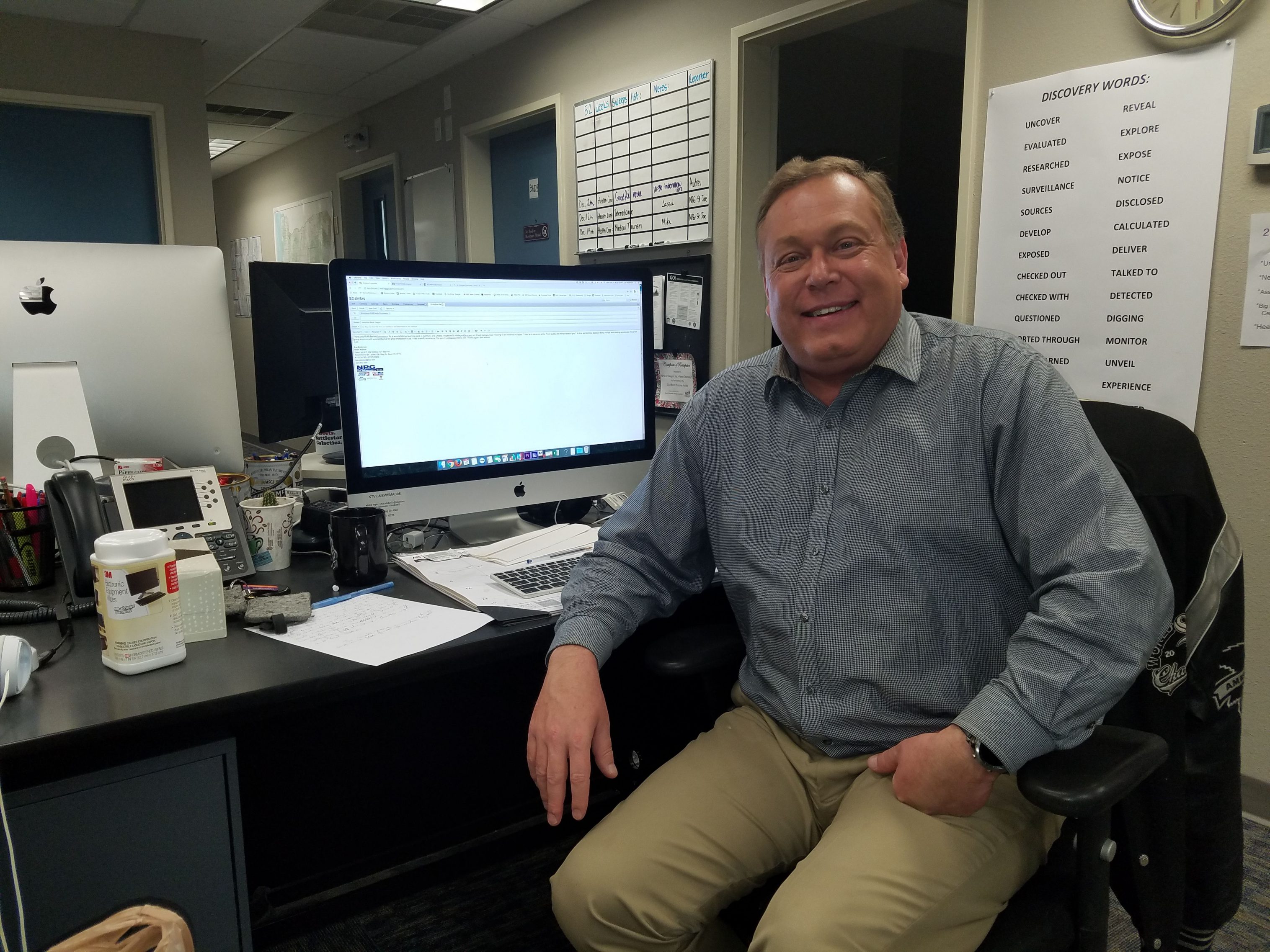 I suppose Dr. Hildegard Boucsein put it best during our last "meeting" in the hotel bar in Zagreb, "There is no black and white. There is gray, and many shades of gray". So true, and definitely displayed during the high level meetings we attended. The small group environment was conducive for great interaction by all. I had a terrific experience. I'm sure my colleagues did as well.
Major General Robert Bodisch, Commander Texas State Guard, Austin, TX
I may be the first law enforcement and homeland security expert to accompany U. S. journalists
participating in the RIAS program. I must "confess" (law enforcement term) that I found the program to be without equal and the knowledge and experience gained from this trip; and having the opportunity to visit with very senior government officials for their perspective on migration and border security issues, was most rewarding and educational. Hildegard and Erik assembled a superior team of U. S. journalists who proved to be consummate professionals. The RIAS program provided tremendous educational value and it was an honor to participate in the program. Hats off to Hildegard and Erik, who were not only great hosts but extremely knowledgeable about the many issues briefed and discussed and were able to provide insightful background and clarifying detail on many of these issues that I had scant knowledge of.
John Burnett, NPR, Austin, TX
We effectively live on an island in the United States. Americans are obsessed with their own concerns and, as journalists, we serve this domestic appetite for news. It is essential, as global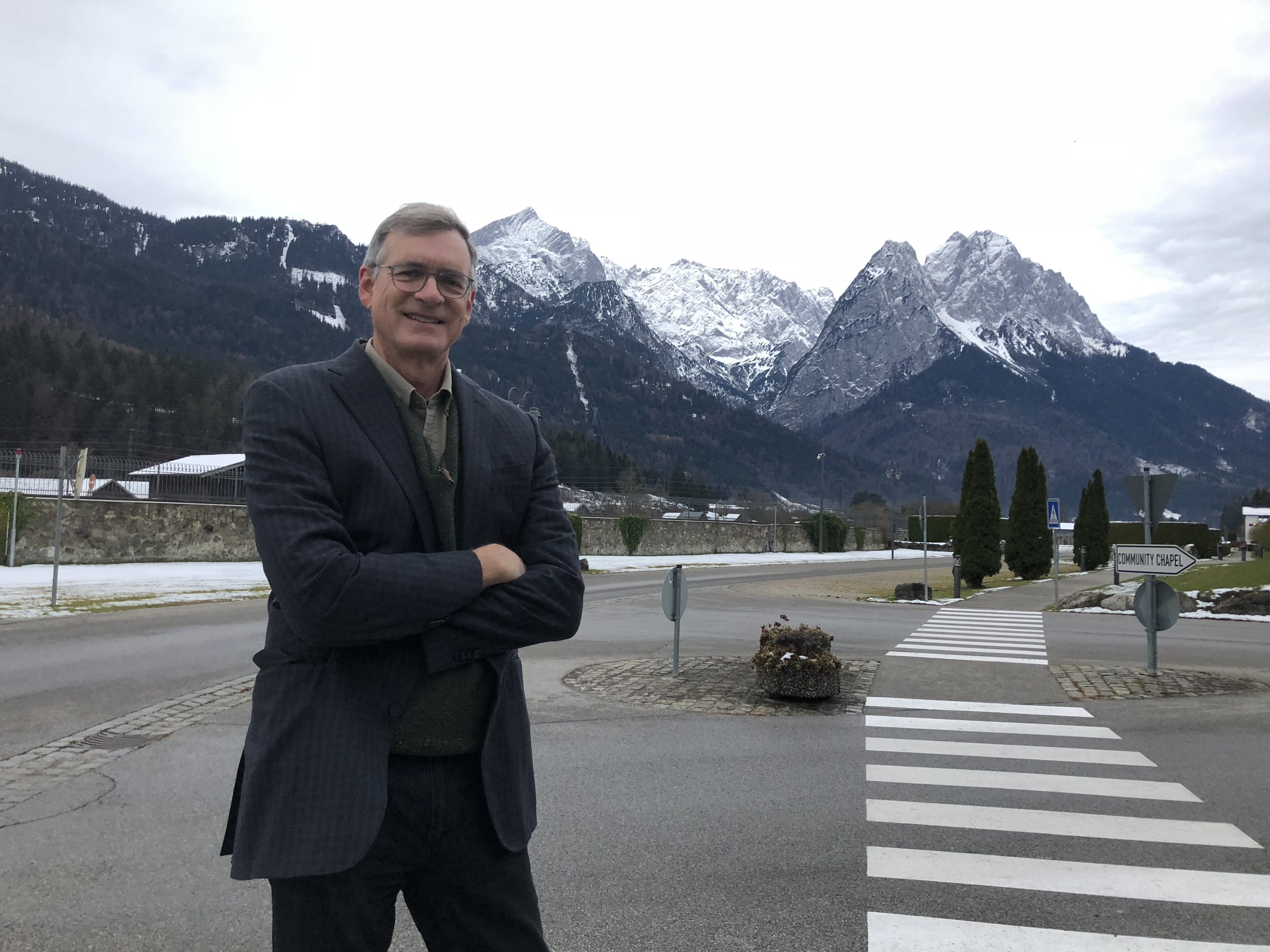 citizens, to break out and see other hemispheres and hear about their problems, to help reframe our own. Spending a week with the RIAS roadshow in Berlin, Bavaria and Croatia forced us to acknowledge immigrant and border problems more serious than our own. Moreover, the European backdrop of world wars, genocide, and the Balkan conflicts adds a level of complexity to the whole picture. Thank you, Erik and Hildegard, for extracting us from our journalistic comfort zone, and for swelling our stomachs with some remarkably delicious food and drink!
Tom Hawley, KSNV-TV/Channel-3, Las Vegas, NV
RIAS Senior Editor Tour on Immigration was eye-opening would be an understatement.
Over eight days we were given an in-depth look at the challenges faced by Europe in general and Germany in particular as, almost two million people from the Middle East and Africa have arrived either to flee danger or to seek a better way of life.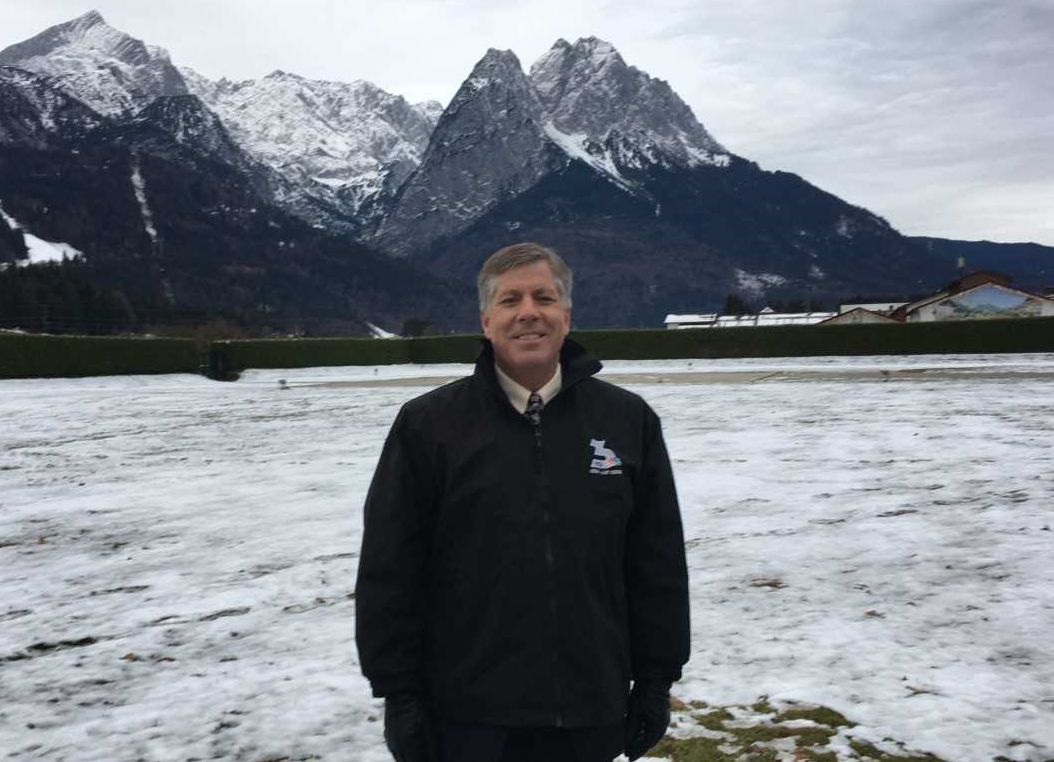 We were given incredible access to all sides of the issues. From a political party dedicated to stopping the flow of immigrants, to a governmental agency charged with processing them. From a Moroccan immigrant discovering a new life as a Berlin municipal worker, to a refugee Kurd from Iran stuck in a camp on the Serbian border with Croatia. It will take some time to process all of the information we were exposed to. I will never look at immigration issues–either in Europe or the United States–in the same way.
Hugo Perez, NMSU News 22, Noticias 22, Las Cruces, NM
The RIAS Berlin Commission has once again proven to be one of the best international journalism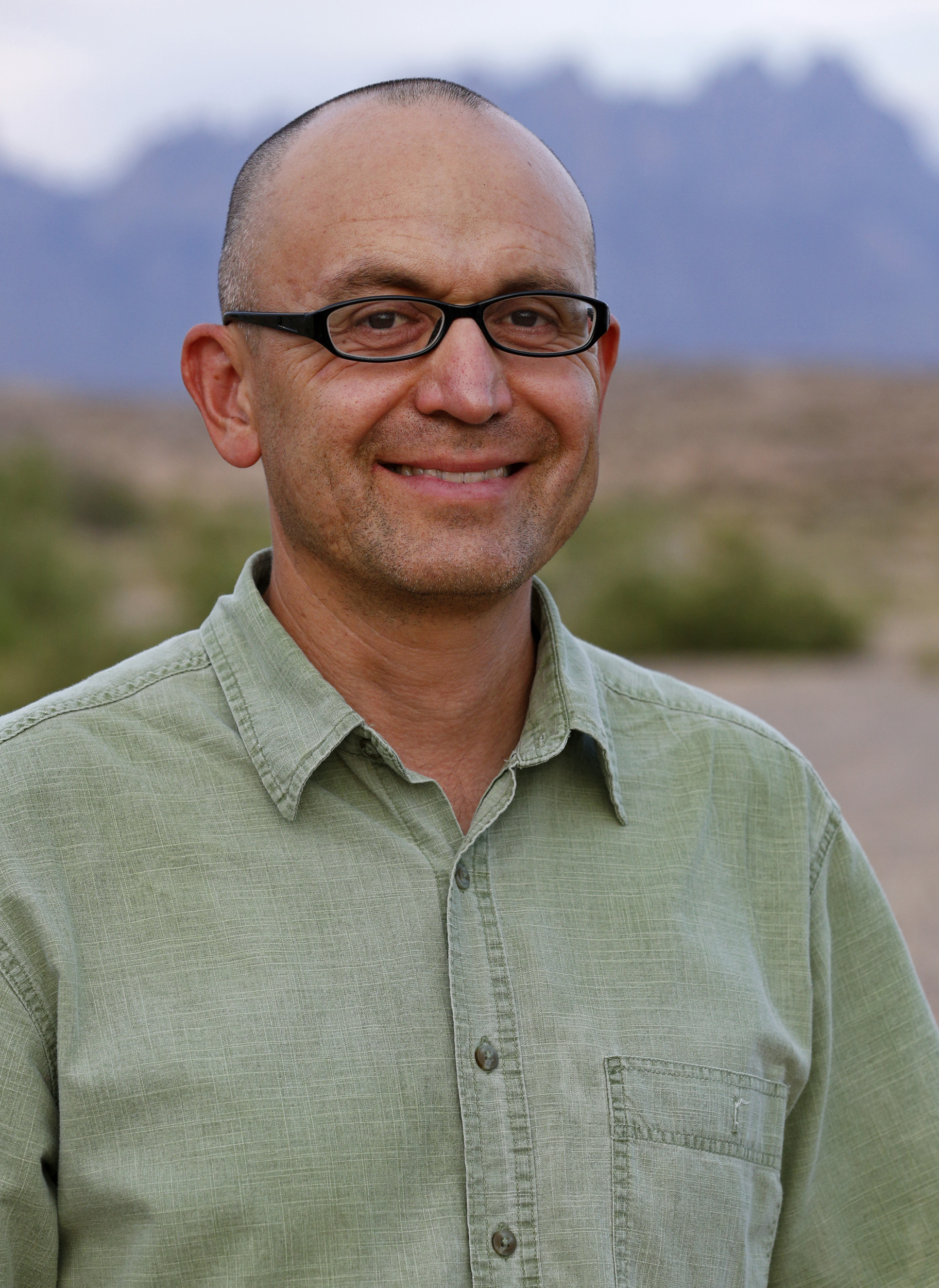 exchange programs. This one-week program took us to briefings with nongovernmental organizations, politicians, police and experts in the fields of immigration and border security in Germany and Croatia. It was great to hear about the various immigration perspectives in Germany, Hungary, Croatia and other parts of Europe. Immigration is the hot topic in the United States, I live forty-five miles from the U.S. and Mexico border in southern New Mexico, for me the topic of immigration and border security in this program was super informative. It was great to meet fellow journalists chosen for this exchange program from many regions of the United States. Congratulations to everyone at the RIAS Berlin Commission for a very well coordinated program.
Adam Reiss, NBC, New York, NY
Thank you so much for an amazing unforgettable trip. From Berlin and Munich to the borders of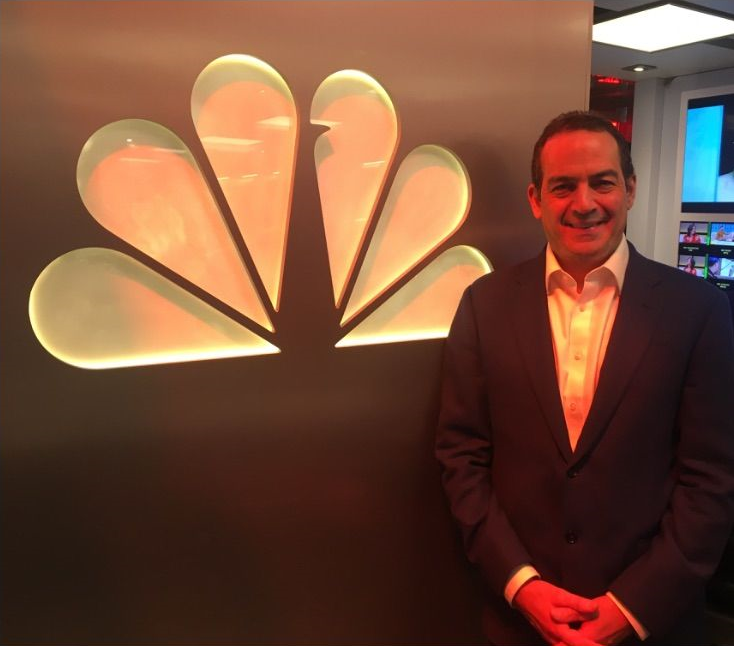 Austria and Serbia. Wow! I am so grateful to have the opportunity to be a part of RIAS and to see the places and meet the fascinating people others will never have the opportunity to see. I have learned so much that will add to my knowledge and better inform my reporting. It was a pleasure spending the week with some of America's best and brightest journalists. I cannot overstate how much I enjoyed the trip and how it will stay with me for many years to come. I will certainly stay in touch and hope to see everyone soon.
Sara Wittmeyer, WFIU/WTIU, Bloomington, IN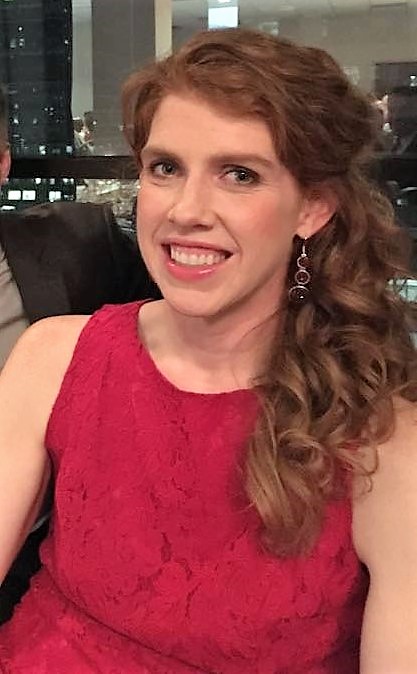 I've been involved in the RIAS program for nearly a decade. My newsroom hosts German journalists every year, but it had been a one-way street. November's trip to learn about borders and migration was my first visit to Europe. Erik's reading materials provided good background on what the trip would entail, however the experience was so much more than I could have imagined. Our hosts organized an incredible program; no one could argue that even one minute was wasted! During our one-week trip we visited dignitaries from Germany, Macedonia and Croatia. We got access to important think tanks and people working on the front lines trying to make border policy and enforce it. People were forthcoming during our meetings and I developed a new perspective on migration – it's not just an issue in the U.S. or in the EU, it is a global issue and it's complex. I appreciated that we had the opportunity to meet with people from all sides of the issue, ranging from the Soros Foundation to the co-leader of the AfD party.
---
December 4, 2018
RIAS Berlin Commission fellows from USA study border security, migration in Europe
A group of eight American journalists and law enforcement experts recently completed a busy seven-day RIAS Berlin Commission fellowship to learn more about border security and migration in Germany and the European Union. The "senior editor's" group that included experts on the subjects and RIAS alumni spent the week in Berlin, Munich, Garmisch-Partenkirchen, Zagreb and at border crossings between Croatia and Serbia.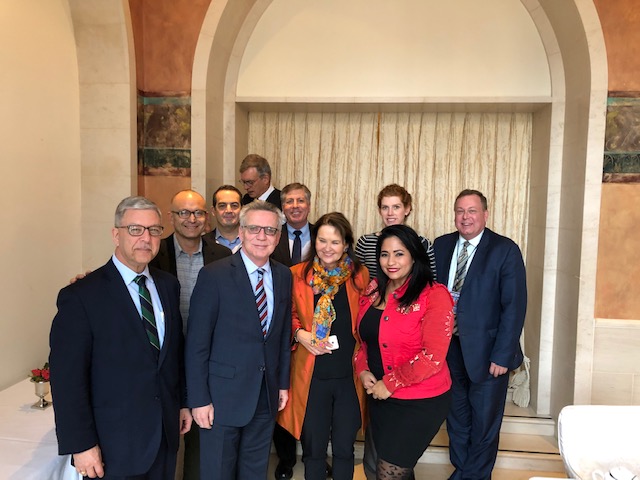 Meeting with former Interior Minister Thomas de Maiziere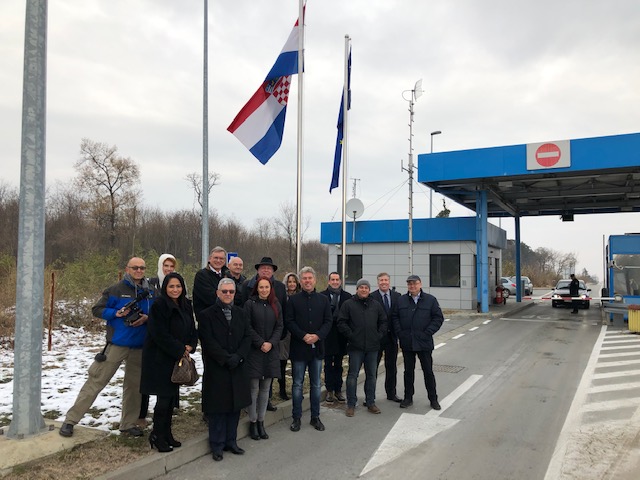 Meeting with Croatian border guards and refugees at Serbian border at the outer edge of the European Union border
As border security and migration is a pressing issue in both the United States and Germany, the American journalists spent the week talking to high-ranking experts from all sides of the subject in
Germany and Croatia to learn more about the situation in Europe.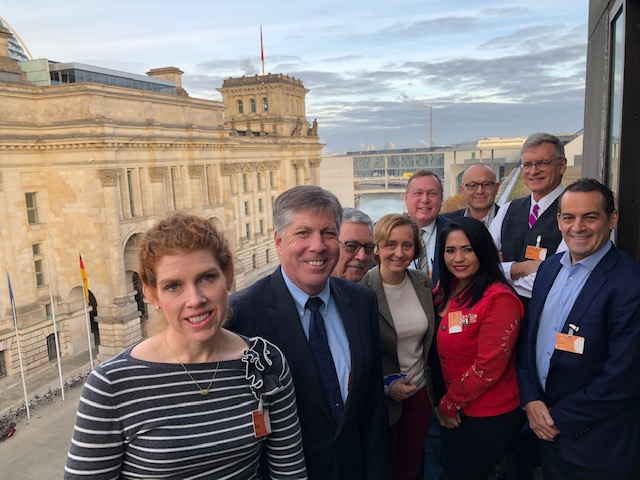 Meeting Beatrix von Storch from the AfD next in a German parliament building office next to the Reichstag
Guest speakers included former German Interior Minister Dr. Thomas de Maiziere, Federal Academy for Security Policy President Dr. Karl-Heinz Kamp, European Stability Initiative (ESI) think tank founding chairman Gerald Knaus, AfD deputy parliamentary floor leader Beatrix von Storch, Hungary's ambassador to Germany Peter Gyökös, leading Bavarian Interior Ministry officials, and Deputy Director of the George C. Marshall Center General Johann Berger. The Americans also had talks with Macedonia's deputy minister of defence Dr. Bekim Maksuti and Croatia's deputy interior minister Terezija Gras and Croatia's head of the border police directorate Vlatko Cvrtila.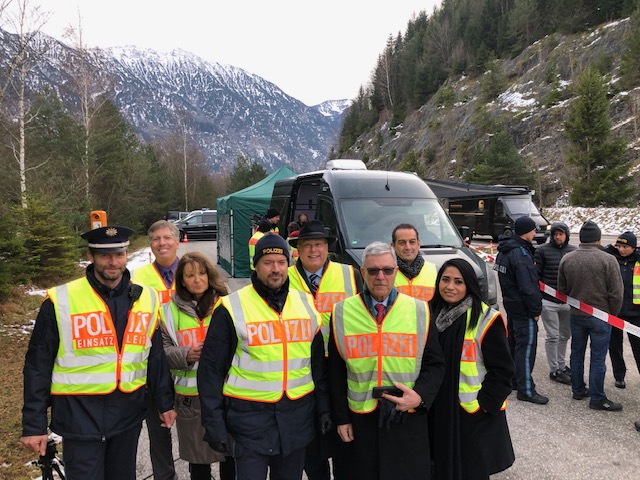 Meeting German border guards making random inspections of vehicles entering across the Austrian border in southern Bavaria
The journalists on the fellowship, which was organised with the help of RIAS Berlin Commissioner Dr. Hildegard Boucsein, also spent time with Syrian refugees in Berlin who have started a thriving restaurant in the Neukoelln section of Berlin called "Aldimashqi"as well as visiting migrants from Morocco, Syria and Pakistan who are on a three-year job training program at the Berlin Water Works. One year ago, a group of eight German journalists spent a week in Texas on a similar program learning about border security and migration on the Texas-Mexico border. Other stations visited included the new Berlin offices of the Open Society Foundations and the Konrad Adenauer Foundation think tank in Berlin.
Many of the Americans on the trip to Germany and Croatia this year were working on stories for
their TV and radio stations back home in the United States, such as this report from NPR journalist John Burnett that aired on "All Things Considered" on November 30.
The fellows in the group included:
Lee Anderson, KTVZ, Bend, Oregon
John Burnett, NPR Southwest, Austin, Texas
Tom Hawley, KSNV-TV, Las Vegas, Nevada
Hugo Perez, New Mexico State University Journalism department and Noticias 22
Adam Reiss, NBC TV, New York
Yami Virgin, KABB/WOAI, San Antonio, Texas
Sara Wittmeyer, WFIU/WTIU, Bloomington, Indiana
Major General Robert Bodisch, Commander Texas State Guard
---
December 1, 2018
RIAS BERLIN KOMMISSION trauert um Gründungsmitglied Bush
Der ehemalige US-Präsident George H.W. Bush, der vor 26 Jahren zusammen mit dem bereits 2017 verstorbenen deutschen Bundeskanzler Helmut Kohl die RIAS BERLIN KOMMISSION gründete, ist im Alter von 94 Jahren verstorben.
Die beiden Staatsführer, die gemeinsam den Kalten Krieg beendeten und 1990 den Weg für die Wiedervereinigung Deutschlands bereiteten, waren gemeinsam an der Gründung des deutsch-amerikanischen Austauschprogramms für Rundfunkjournalisten im Jahr 1992 beteiligt, das im Schatten des berüchtigten "kalten Krieges" die Verbindung im amerikanischen Sektor (RIAS) aufrechterhalten hat. Der RIAS diente den Hörern in Berlin als Informations- und Musikprogramm und übertrug bis 1992 auch Nachrichten und Musik über die Grenze in die DDR.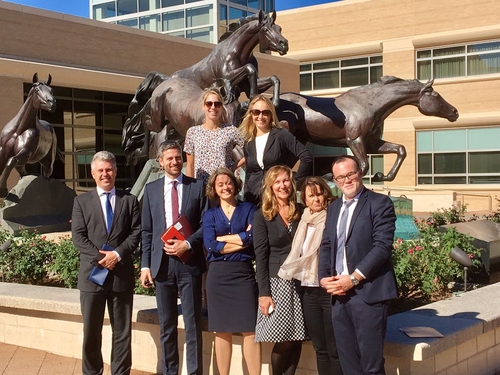 Mehr als 1.600 Rundfunkjournalisten…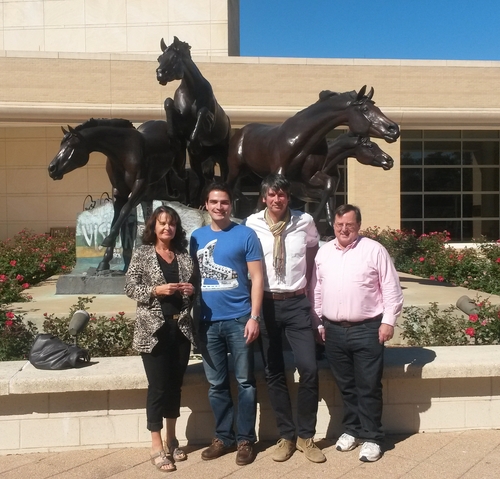 …haben im Laufe der Jahre an den RIAS-Austausch-Programmen teilgenommen.
"George Bush und Helmut Kohl hatten eine unglaubliche Weitsicht, als sie vor 26 Jahren das Austauschprogramm RIAS BERLIN KOMMISSION aufgesetzt haben", sagte der Geschäftsführer des Programms, Erik Kirschbaum, in einer Erklärung, die Bushs Tod am Freitag beklagt. "Und sie waren beide weiterhin an der RIAS BERLIN KOMMISSION interessiert, die sie selbst viele Jahre nach ihrem Amtsantritt ins Leben gerufen hatten. Das Programm hat den Horizont von fast 2.000 Journalisten in Deutschland und den Vereinigten Staaten erweitert und es hat viele Leben berührt und verändert."
Bush hatte im Laufe der Jahre eine Reihe von deutschen Rundfunkjournalisten…
…über die Austauschprogramme der RIAS BERLIN KOMMISSION in den Vereinigten Staaten getroffen.
Helmut Kohl war letztes Jahr im Alter von 87 Jahren verstorben. Von 1982 bis 1990 war er Kanzler der Bundesrepublik Deutschland und dann bis 1998 Kanzler des wiedervereinigten Deutschlands. Bush hatte Kohl, der oft als Architekt der deutschen Einheit bezeichnet wird, für die Stärkung von Institutionen der Demokratie in Deutschland und darüber hinaus in einer Erklärung gelobt. "Helmut war während all unserer Bemühungen ein Fels in der Brandung – sowohl stabil als auch stark. Wir trauern heute um seinen Verlust, auch wenn wir wissen, dass sein bemerkenswertes Leben zukünftige Generationen von Führungskräften dazu bringen wird, sehr viel zu erreichen."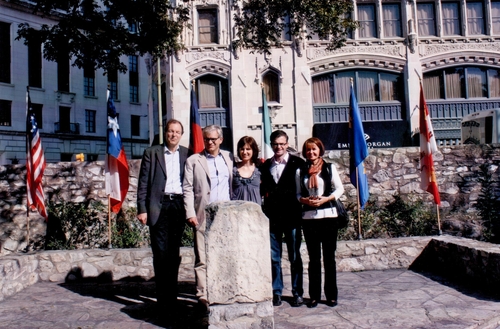 Mehr als 1.600 amerikanische und deutsche Rundfunkjournalisten hatten in den letzten 26 Jahren die Gelegenheit, sich über Politik, Gesellschaft und Journalismus des jeweils anderen Landes in den transatlantischen Austauschprogrammen der RIAS BERLIN KOMMISSION zu informieren, dank der von den Regierungen Deutschlands und der USA eingerichteten Stiftung von Kohl und Bush im Jahr 1992.
Kohl und Bush hatten beide vor sechs Jahren anlässlich ihres 20-jährigen Bestehens Glückwunschschreiben an die RIAS BERLIN-KOMMISSION geschickt.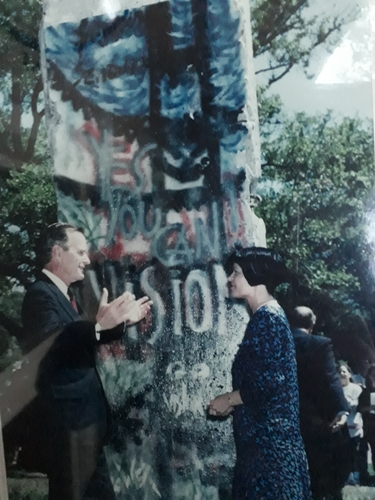 Bush schrieb über die RIAS BERLIN KOMMISSION im Jahr 2012: "Wir sind stolz darauf, dass bereits mehr als eintausend amerikanische und deutsche Journalisten aus Hunderten von Radio- und Fernsehsendern an diesem Programm teilgenommen haben. Wir wünschen weiterhin viel Erfolg in den kommenden Jahren. Macht weiter so."
Kohl schrieb über die RIAS Berlin Kommission im Jahr 2012: "Ich möchte mich bei allen bedanken, die dazu beigetragen haben, dass die BERLIN RIAS KOMMISSION das erfolgreiche Projekt ist, das es werden sollte".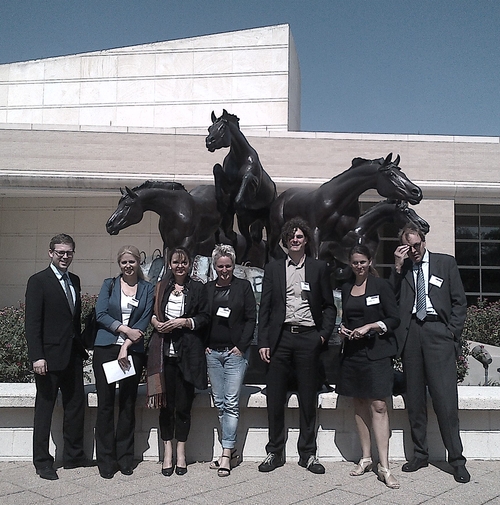 Kohl stellte fest, dass bis zu 1.000 Journalisten aus beiden Ländern an diesem Austausch teilgenommen hatten. "Als Multiplikatoren haben Sie in Ihrer täglichen Arbeit eine besondere Verantwortung, indem Sie aktiv dazu beitragen, ein besseres Verständnis für das jeweils andere Land zu schaffen.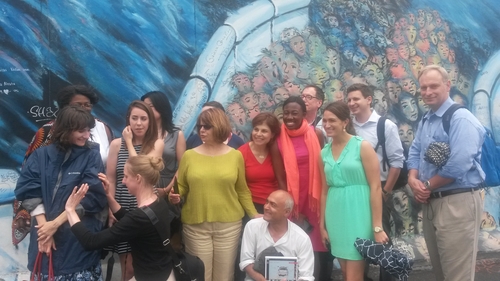 Das war die Hoffnung, die George Bush und ich hatten, als wir vor 20 Jahren die RIAS BERLIN KOMMISSION gründeten. Unsere Hoffnungen sind heute genauso wichtig wie vor 20 Jahren."
---
Ausschreibung
Radio-, TV- und Neue-Medien-Preise 2019
Download PDF | Read more…
---
14 Journalisten aus Deutschland auf Tauchfahrt vor den Zwischenwahlen in den USA

Vierzehn Radio- und Fernsehjournalisten aus Deutschland haben ihre dreiwöchige RIAS Berlin-Kommissions-Mitgliedschaft in den USA mit einem vollen Programm in Washington DC auf Hochtouren gebracht.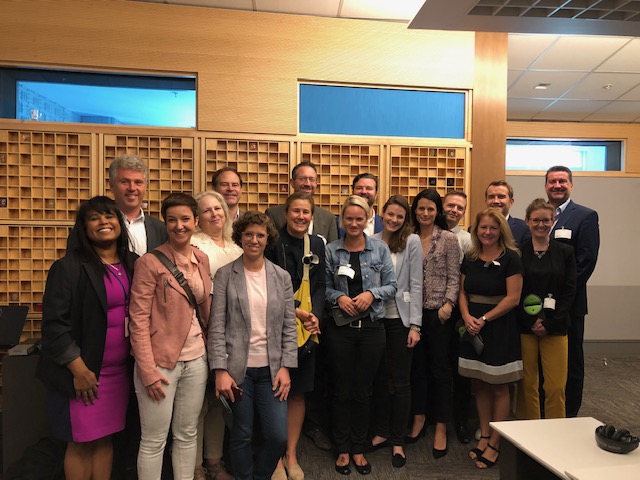 Die Reporter und Produzenten aus ganz Deutschland hatten die Gelegenheit, Charlie Dent, einen republikanischen Kongressabgeordneten aus Pennsylvania, zu fragen, warum er vor kurzem die Politik nach jahrelangem Ringen mit Präsident Trump verlassen und so mehr über Machtpolitik, negative Wahlkampagnen alle zwei Jahre und transatlantische Beziehungen erfahren hat.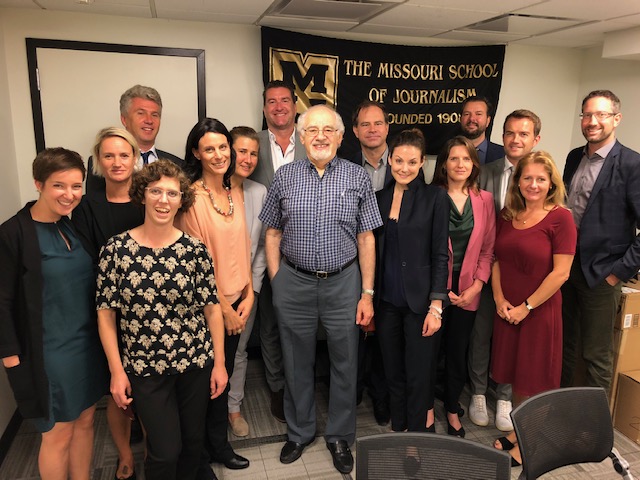 Die in Deutschland lebenden Journalisten erfuhren auch, dass ein Prozessanwalt der ACLU für verfassungsmäßige Rechte und freie Meinungsäußerung für alle kämpfen wird – auch für den KKK. Es gab auch packende Briefings am PEW-Institut, die zeigten, dass zwischen der deutschen und der amerikanischen Öffentlichkeit in vielen Fragen eine große Trennung besteht.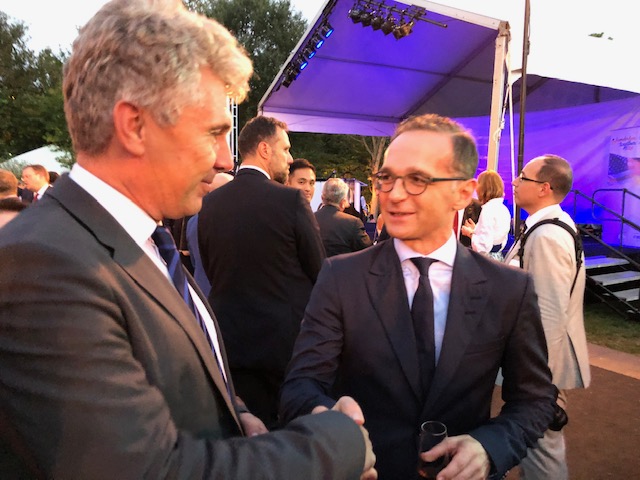 RIAS Alumni Stacey Samuel von NPR gab den Fellows mehrere augenöffnende Briefings bei NPR über die politischen Stimmungs- und Rassismusprobleme in den Vereinigten Staaten.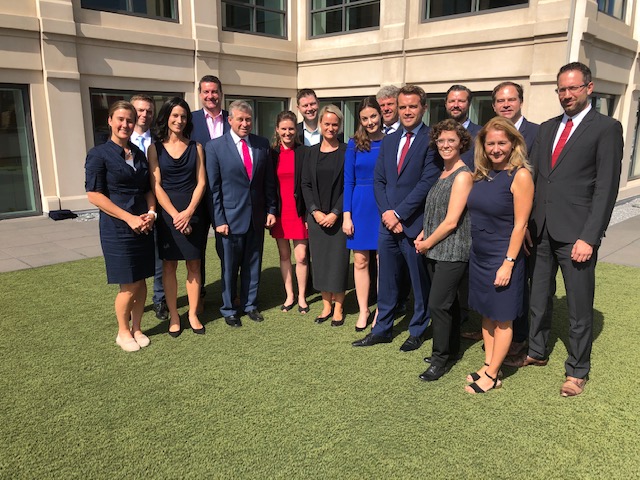 Der Vorsitzende der Demokratischen Partei in Maryland gab Einblicke in den harten Zwischenwahlkampf an ihrem Basisstützpunkt in Maryland, während Ralph Dannheisser später der Gruppe erzählte, warum er seine deutsche Staatsbürgerschaft fast 80 Jahre nach seiner Flucht aus Nazi-Deutschland zurückerobert hatte. Die Stipendiaten lernten auch mehr über den "Americans with Disabilities Act" (ADA).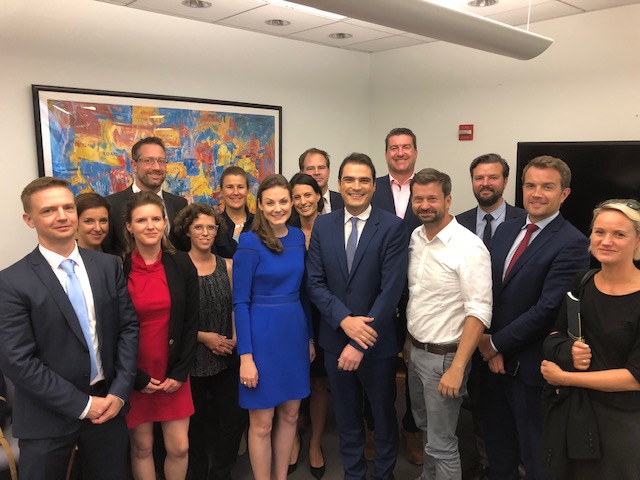 Die Woche in Washington wurde bei einem Treffen mit 30 amerikanischen Alumni hervorgehoben und, wie es oft bei Rundfunkjournalisten der Fall ist, haben sie sich schnell gut unterhalten, als ob sie sich schon ewig kennen.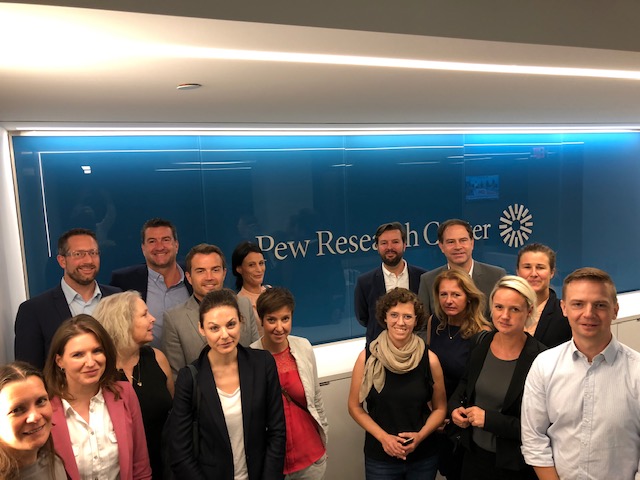 Am Samstagabend ging die Gruppe zu einer Wahlkampfveranstaltung an der Universität von Maryland, um zu sehen, wie der demokratische Herausforderer Ben Jealous im November das Gouverneursamt für sich gewinnen könnte.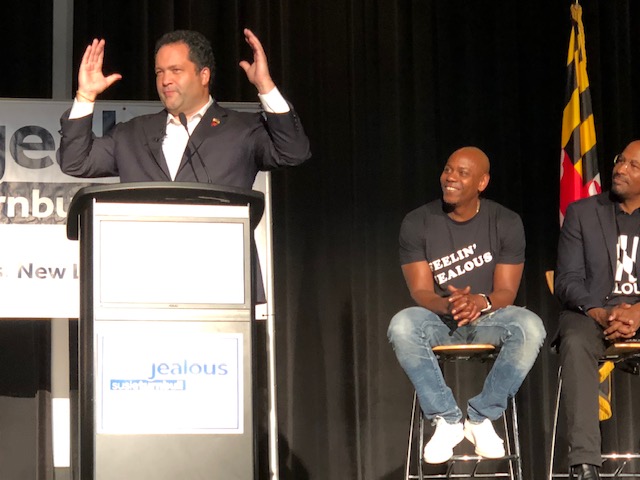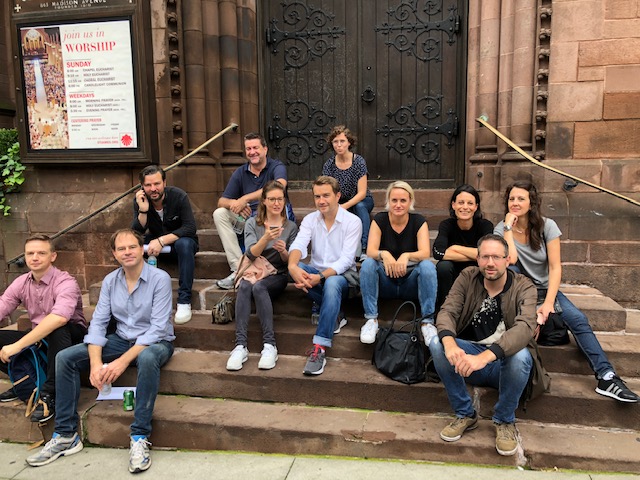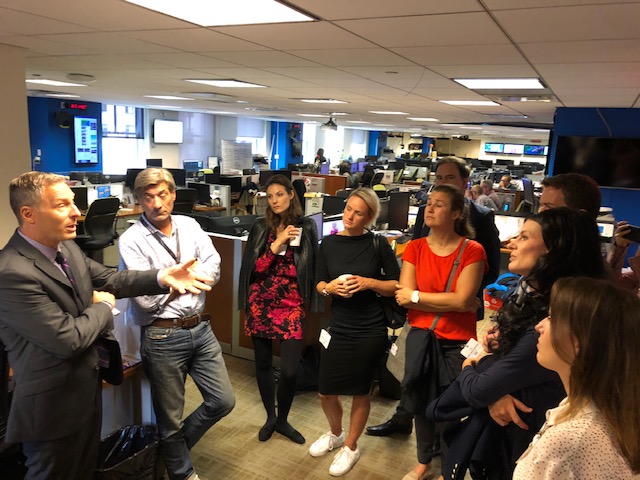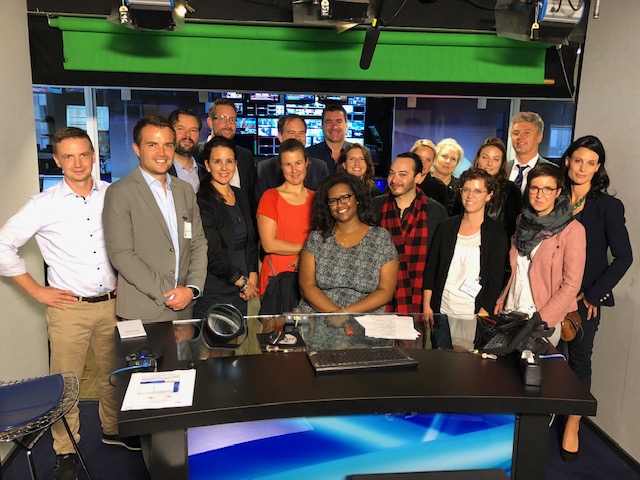 Hier die Liste der Journalisten aus Deutschland:
Christopher Wittich, NTV
Matthias Bähr, Reuters
Nina Lammers, RTL
Patrizia Adenauer-Berg, RTL
Catherine Martens, Deutsche Welle
Martin Richter, Phoenix
Daniel Pokraka, BR
Peter Schubert, MDR
Christine Langer, SWR
Frank Hoffmann, Deutsche Welle
Nina Behlendorf, ZDF
Miriam Steimer, ZDF
Steffi Orbach, WDR/Deutschlandfunk
Meggin Leigh Doody, Deutsche Welle
---
RIAS Berlin Herbstprogramm in Deutschland wurde nach 2 Wochen in 4 Städten beendet
Mehr über Medien und Politik in Deutschland und Europa erfahren! 13 amerikanische Journalisten aus 10 verschiedenen Staaten haben in 12 Tagen eine rasante RIAS-Berlin-Kommissionstour durch vier Städte absolviert. Die Amerikaner lebten, lernten und reisten – legten dabei, wie ihre europäischen Pendants – zehn bis 15 Kilometer am Tag zu Fuß zurück, als sie, mit nur kleinem Handgepäck in Zügen, auf ihrer Reise durch die Städte unterwegs waren.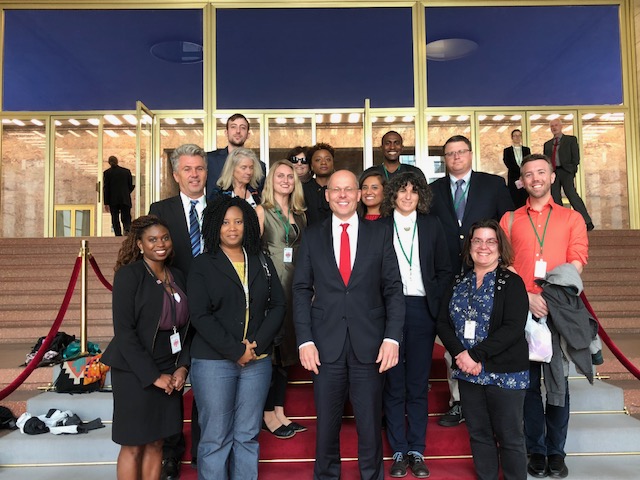 Neben einem Treffen im neuen NATO-Hauptquartier in Brüssel, wo sie mehr über Cyber-Sicherheit und andere Herausforderungen der Allianz für aufschlussreiche Besuche in großen Fernseh- und Radiosendern erfuhren, trafen sich die amerikanischen Fellows auch mit deutschen Spitzenpolitikern im Reichstag und im Außenministerium.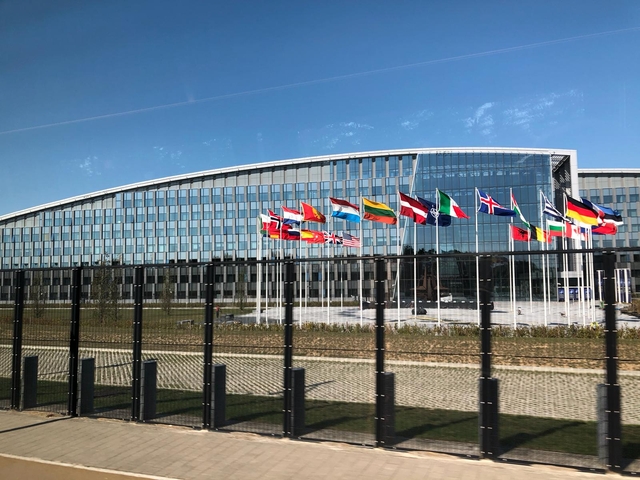 Während viele Redner auf der Tour ihre Besorgnis über die rechtsextreme Alternative für Deutschland zum Ausdruck brachten, hatten die Amerikaner die Möglichkeit, Fragen direkt an einen der 93 AfD-Abgeordneten, sowie Armin Paulus Hampel – einem ehemaligen ARD-Fernsehjournalisten und ehemaligen Studenten der Northwestern-Universität zu richten. Auch der transatlantische Koordinator von Bundeskanzlerin Angela Merkel, Peter Beyer, Vorstandsmitglied der RIAS Berlin Kommission, traf die Gruppe und gab Einblicke in die Herausforderungen seines Berufs. Die RIAS-Vorstandsmitglieder Richard Meng, Melissa Eddy und Christina Higgins trafen sich ebenfalls bei verschiedenen Terminen.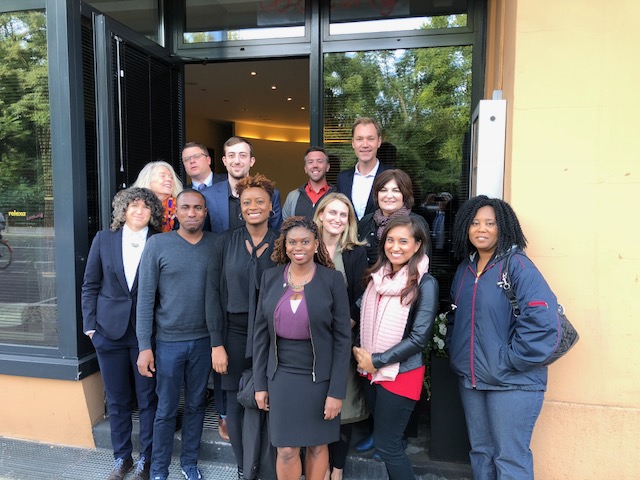 Deirdre Berger, der Direktor des AJC in Deutschland und ehemaliger NPR-Korrespondent, hielt einen informativen und inspirierenden Vortrag für die Journalisten, ebenso wie der politische Berater Julius van der Laar. Weitere Stationen und Gespräche waren: Deutsche Welle, RTL, NTW, WDR, ZDF, New York Times, Economist, ein syrischer Flüchtling im neuarabischen Teil von Berlin und die Sektion Kreuzberg mit dem ehemaligen Grünen-Abgeordneten Özcan Mutlu.
Deutsche RIAS-Alumni in Köln, Mainz und Berlin rollten zudem mit den RIAS-Journalisten den Willkommensteppich für genussvolle Abende in der Stadt aus – Geschichten und Erfahrungsberichte zu Beruf und Karriere im jeweiligen Land.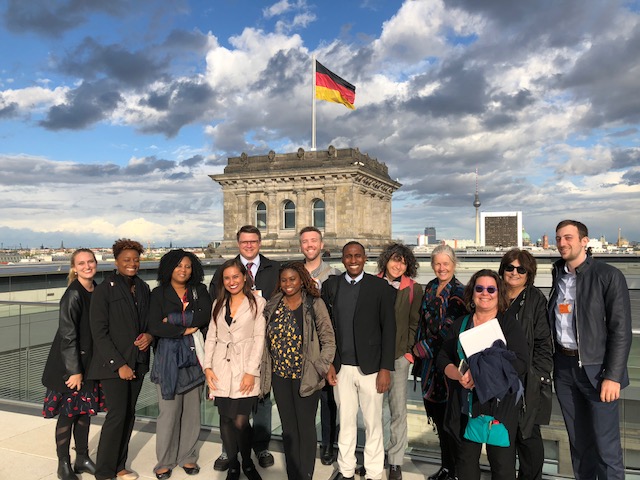 Viele der Amerikaner beschrieben, wie sehr sie die größeren Zunahmen ihrer täglichen Geh-Entfernungen genossen und sich ganz auf öffentliche Verkehrsmittel bewegten. Wie ein Journalist bemerkte: "Ich bin froh, dass ich auf dem Laufband gearbeitet habe, bevor ich hierher kam. Es hat wirklich geholfen."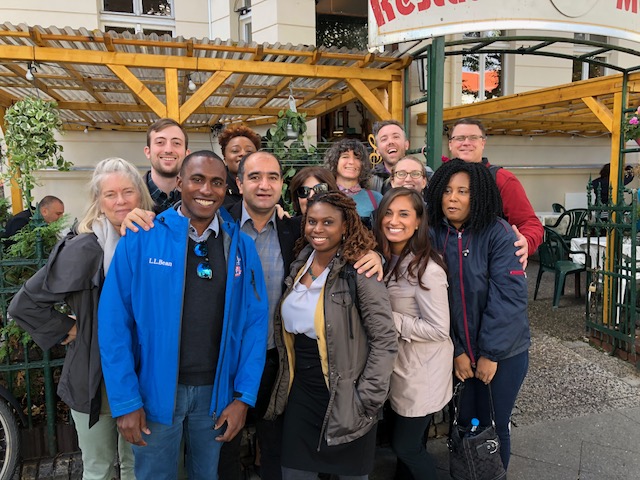 Die US-amerikanischen Rundfunkjournalisten kommen aus 10 verschiedenen Staaten – Reporter, Produzenten, Sprecher und digitale Spezialisten aus Oklahoma, Louisiana, Wisconsin, Oregon, Colorado, Michigan, Illinois, Florida, New York und Washington DC. Sie sind Teil eines wachsenden Netzwerks von mehr als 1.600 deutschen und US-amerikanischen Journalisten, die an den RIAS Berlin Commission Fellowship-Programmen teilgenommen haben, die 1992 nach dem Kalten Krieg in West-Berlin begannen, als das "Radio im Amerikanischen Sektor" (RIAS) ausgeschaltet wurde.
Hier die Liste der US-Fellows des Herbst 2018 RIAS Berlin Commission Exchange Programms:
Justin Campbell, WVLA TV, Baton Rouge, Louisiana
Letese Clark, WTOP News Radio, Washington D.C.
Kane Farabaugh, Voice of America Midwest Correspondent
Andrew Lapin, Freelance NPR, Michigan
Carol McKinley, Freelance ABC, CBS, Littleton, Colorado
Bonnie North, WUWM Radio, Milwaukee, Wisconsin
Jessica Prater, CNN, New York
Gitzel Puente, KJRH, Tulsa, Oklahoma
Judth Snyderman, Washington DC
Sage Van Wing, Oregon Public Radio, Portland
Jordan Vesey, Union Docs Center for Documentary Arts, Brookyln, New York
Kenya Woodard, CTTV, Tampa, FL
---
Juli 6, 2018
Neues RIAS-Sommeraustauschprogramm für US-amerikanische Studenten
Fünfzehn US-amerikanische College-Studenten und jüngere Absolventen des Rundfunk-Journalismus verbrachten die erste Woche ihres dreiwöchigen Sommeraustauschprogramms auf einer Wirbelwind-Tour durch Medien, politische und kulturelle Stationen in der vergangenen Woche.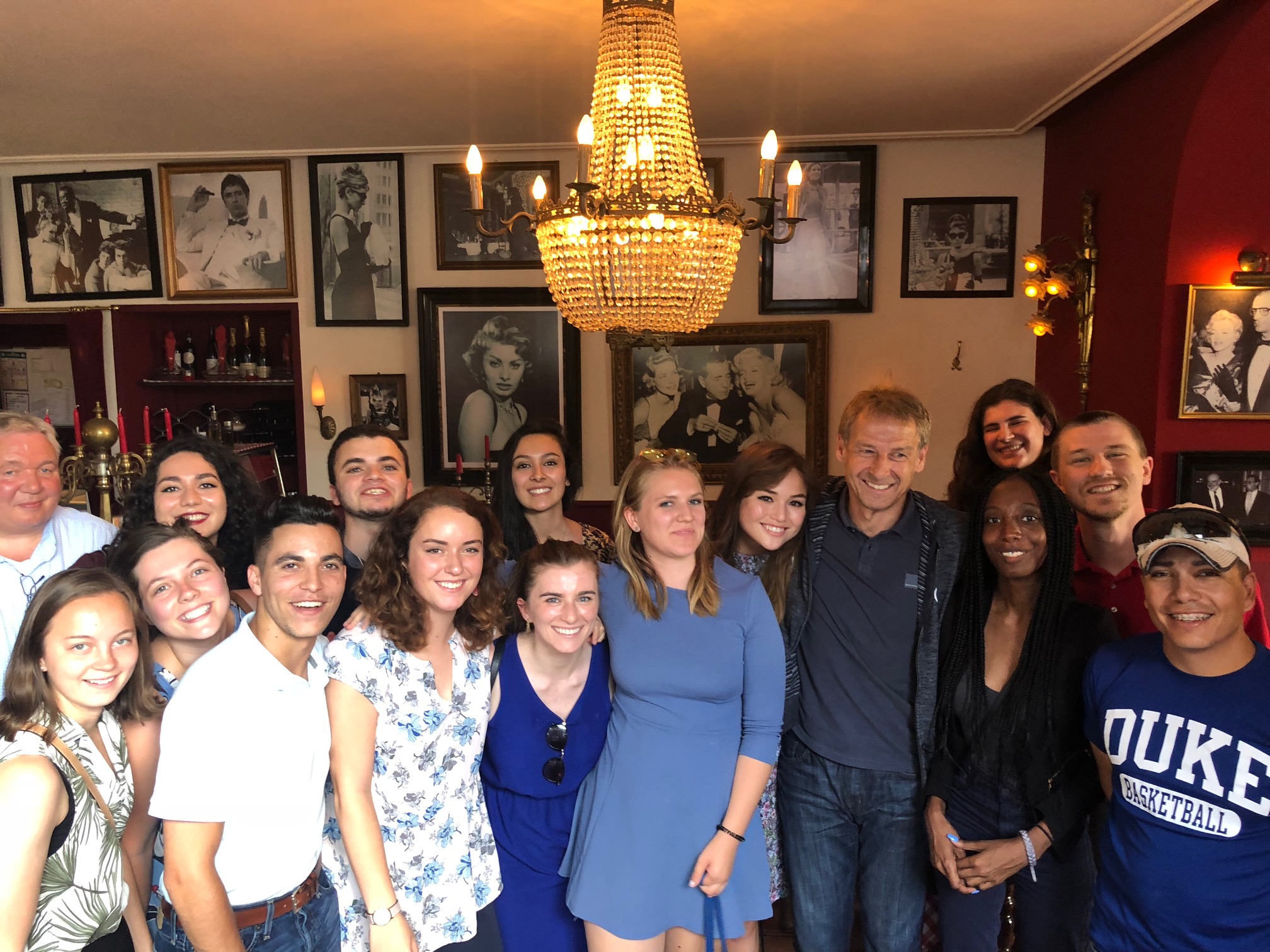 Das Programm soll Horizonte erweitern, die Rolle des RIAS (Radio im Amerikanischen Sektor) während des Kalten Krieges beleuchten und den jungen amerikanischen Journalisten die Möglichkeit geben, deutsche Journalisten zu treffen und mehr über den Journalismus in Deutschland zu erfahren.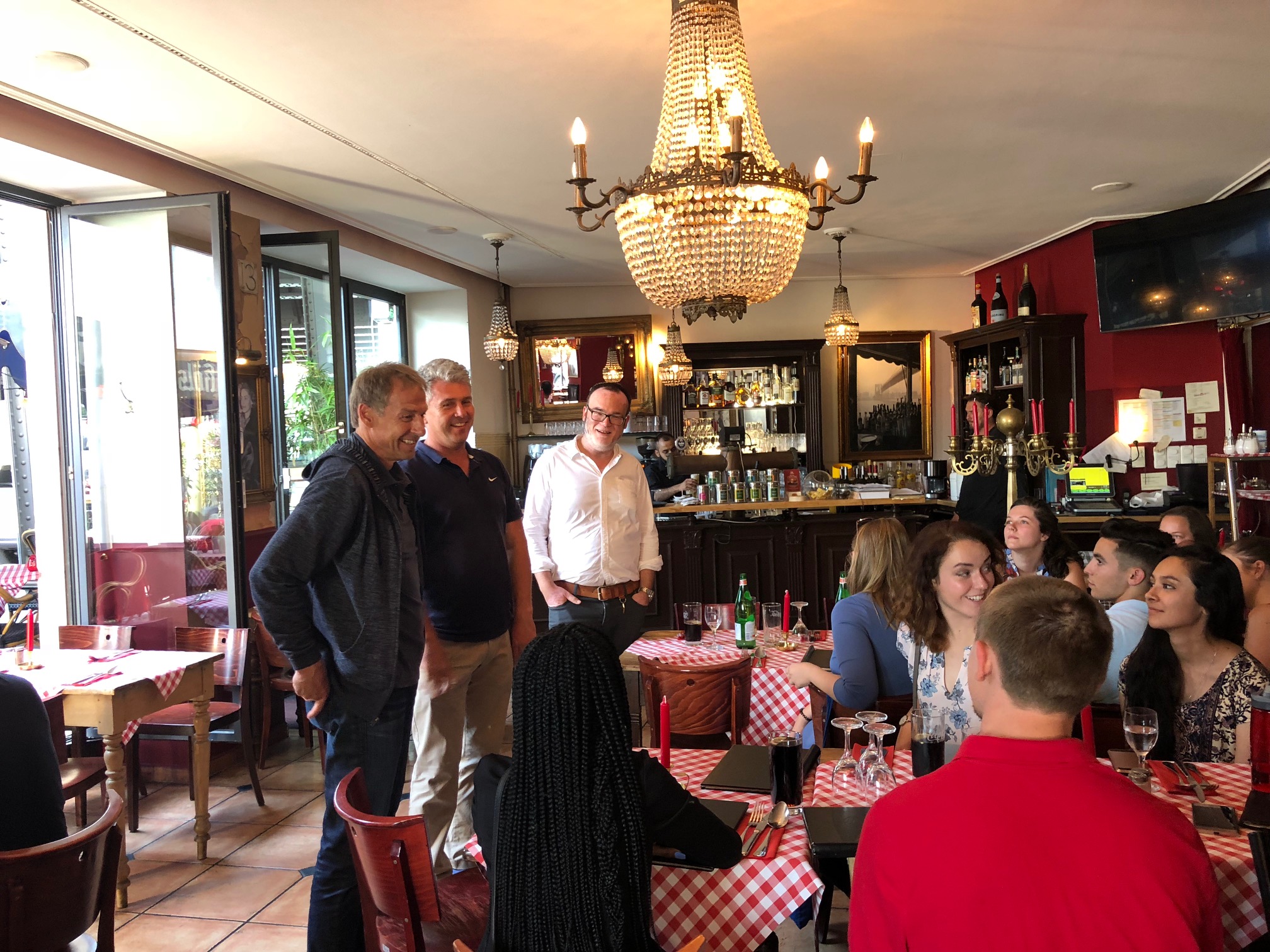 Die Studenten von 14 verschiedenen Universitäten und 11 Staaten, von Florida bis Washington und von Texas und Oklahoma bis Montana, North Carolina und Kentucky hatten Gelegenheit, mit dem ehemaligen deutschen und amerikanischen Fußballtrainer Jürgen Klinsmann, dem deutschen transatlantischen Koordinator Peter Beyer, dem iranische Künstler Kani Alavi, dem ehemalige Westberliner Bürgermeister Walter Momper und der frühere RIAS-Generaldirektor Helmut Drück unter anderem während ihrer ersten arbeitsreichen Woche in der deutschen Hauptstadt zu sprechen. Sie hatten auch die Chance, ein Museum in der Stasi-Zentrale, im Stasi-Gefängnis, an der Gedenkstätte Berliner Mauer in der Bernauer Straße, im Tränenpalast in der Friedrichstraße, im Deutschlandradio in Berlin zu besuchen und mit dem DLR-Journalisten Vladimir Balzer zu sprechen.
Klinsmann, der 1990 auch den westdeutschen WM-Titel holte und in seinen drei Turnieren 1990, 1994 und 1998 elf Tore erzielte und damit zum sechsten Weltcup-Torschützen aller Zeiten wurde, sprach offen und enthusiastisch über den Wert solcher Austausch-Programme.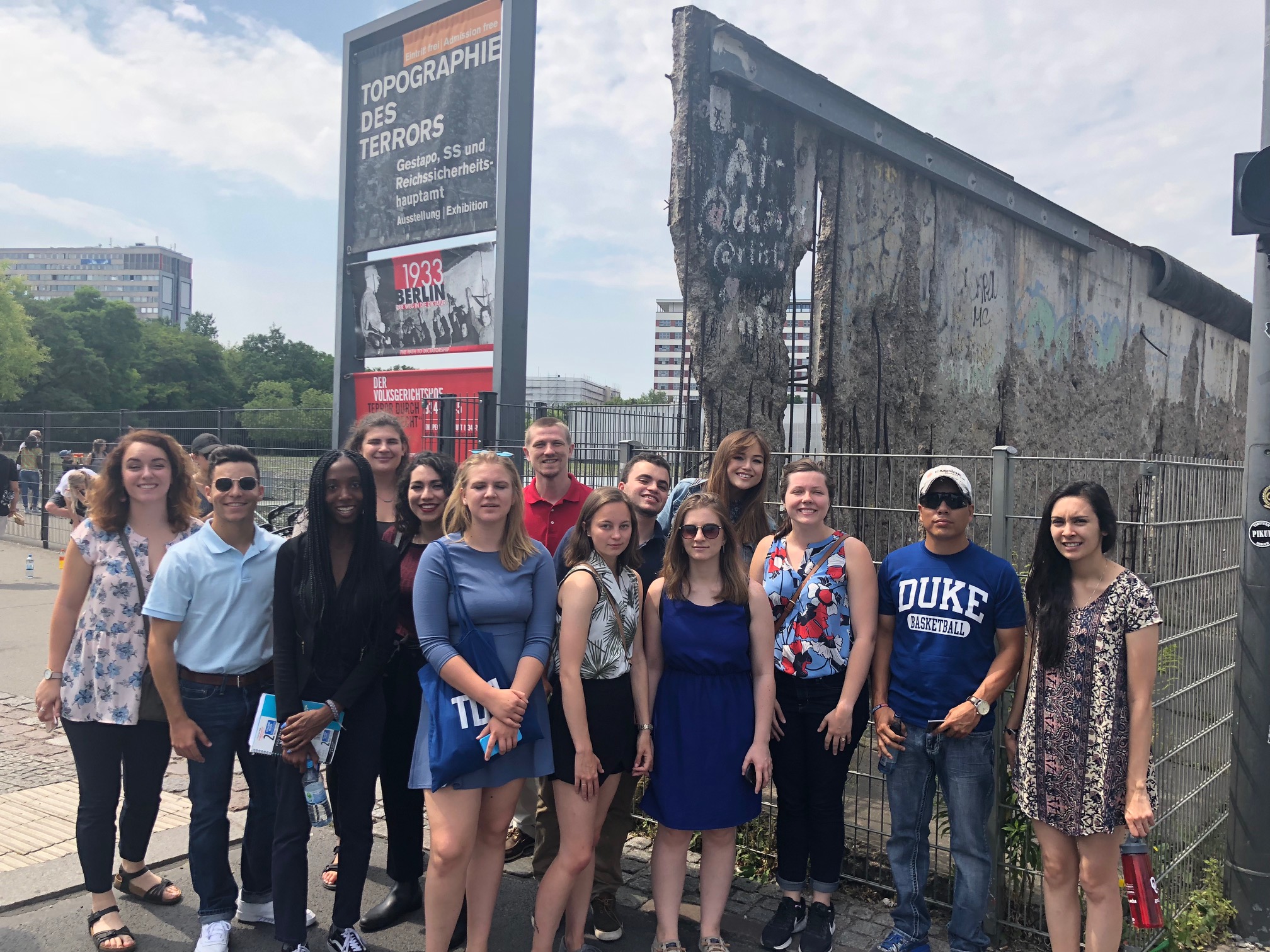 Er wies darauf hin, dass seine erste Reise in die Vereinigten Staaten als junger Fußballer im Alter von 19 Jahren seine Augen für die Welt außerhalb seiner kleinen Heimatstadt in Südwestdeutschland öffnete und sein Leben veränderte. Er erzählte von seiner Spielerlaufbahn, die ihn später in italienischen Fußballklubs spielen ließ, wo er Italienisch lernte, dann Monaco, wo er Französisch lernte, und nach England, wo er sein Englisch verbesserte, bevor er nach Deutschland zurückkehrte und für den FC Bayern München spielte.
Die amerikanischen Studenten hatten auch die Möglichkeit, Peter Beyer im Auswärtigen Amt zu besuchen, wo er über die Herausforderungen der deutsch-amerikanischen Beziehungen sprach.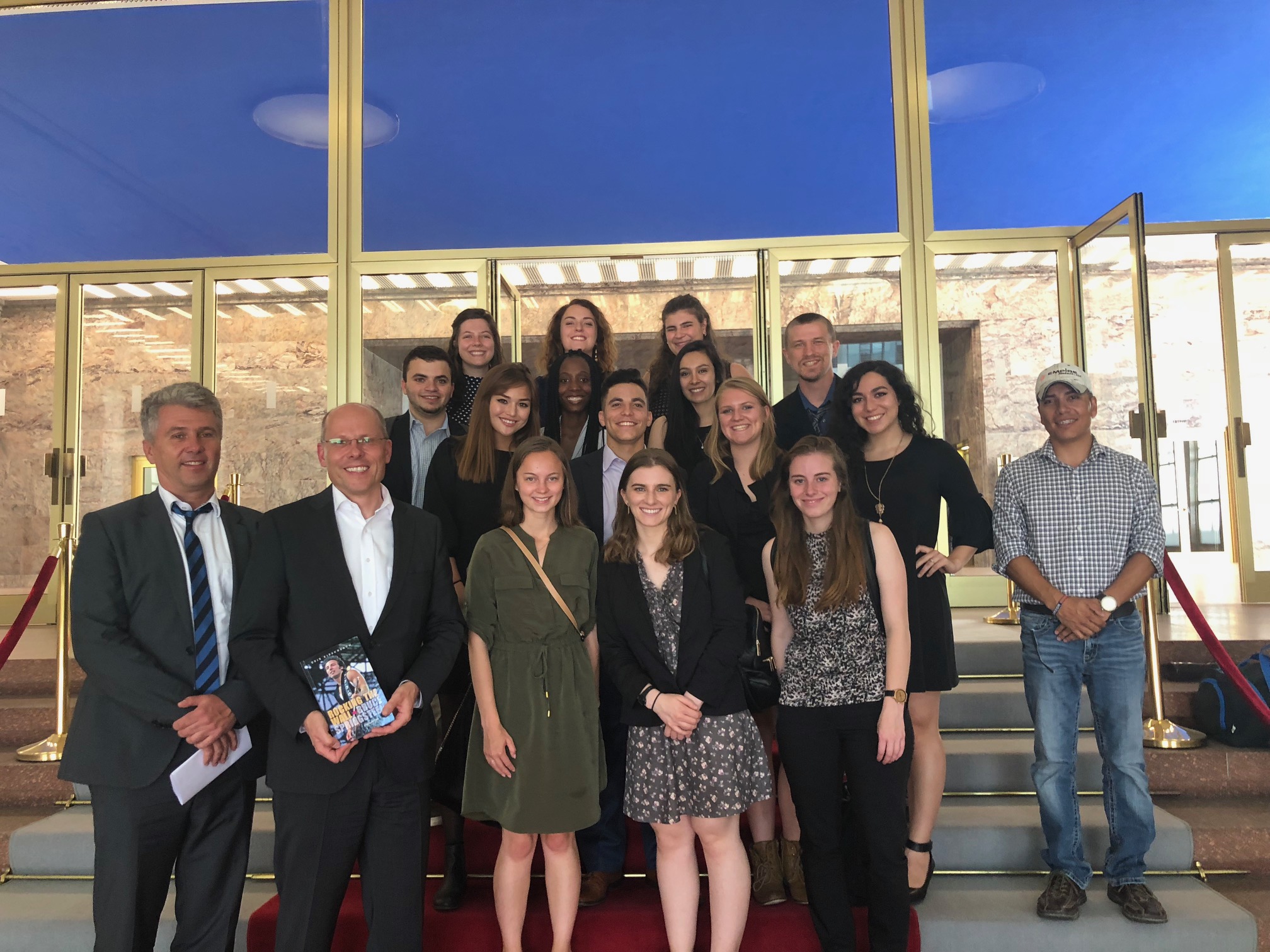 Beyer, der auch Mitglied der RIAS Berlin Kommission ist, sprach über seinen Wunsch, mehr über das Kernland in den Vereinigten Staaten zu erfahren. Bemühungen, die hoffentlich durch das einjährige Programm "Deutschlandjahr in den USA" ab Oktober erweitert werden.
Mit dem bahnbrechenden neuen Programm, das jeden Sommer 15 amerikanische Studenten nach Deutschland holen soll, um mehr über das Land zu erfahren und ihren Horizont zu erweitern, hatten die Studenten auch die Möglichkeit, den Künstler Kani Alavi zu treffen, der eine treibende Kraft bei der Entstehung der East Side Gallery war, eine Kunstgalerie, die auf der Ostseite der Berliner Mauer in den chaotischen Tagen direkt nach der Berliner Mauer am 9. November 1989 entstand.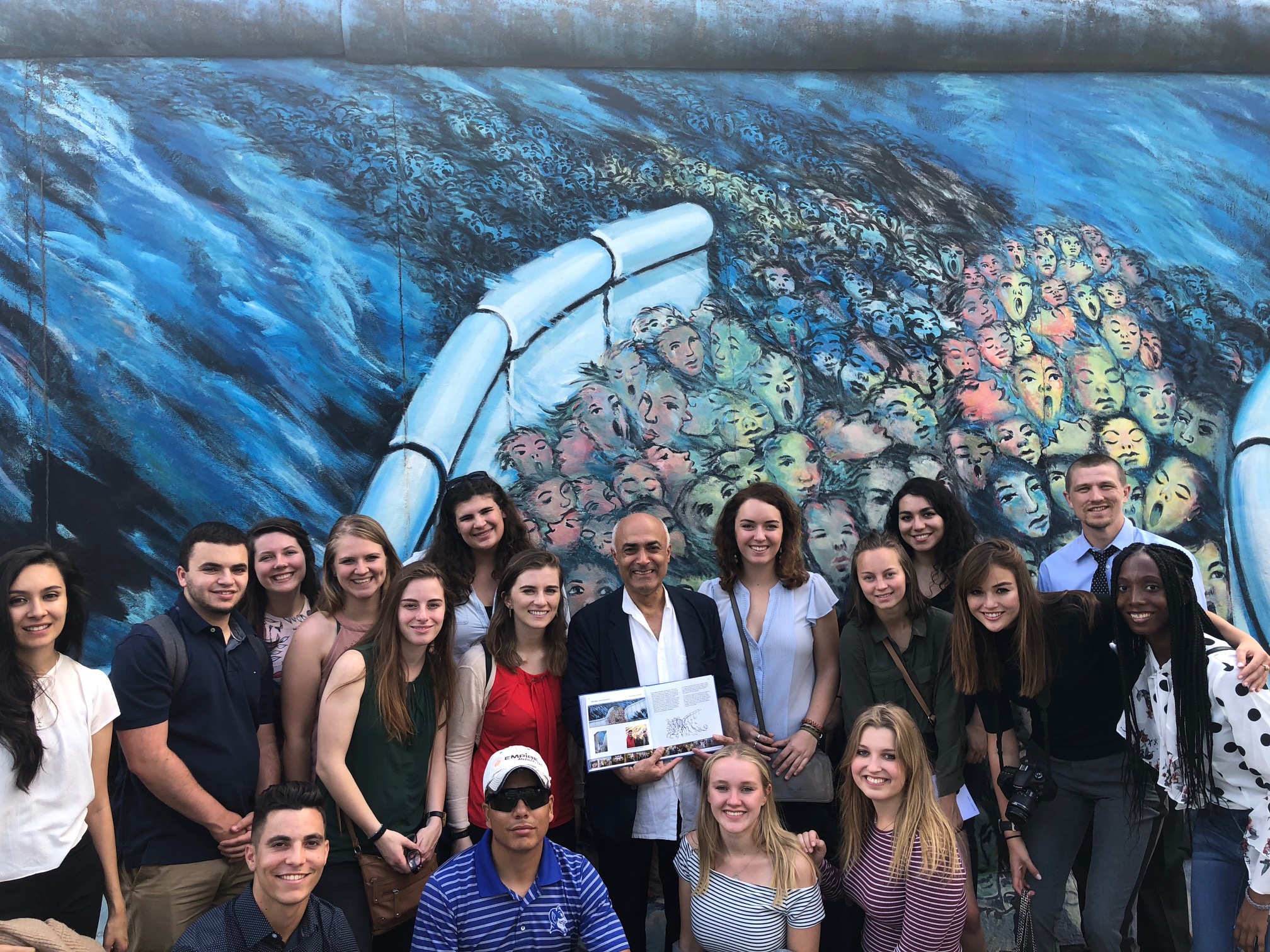 Stolz erzählte er den Studenten von seiner Idee für sein eigenes Gemälde in der East Side Gallery, die Tausende von begeisterten Ostdeutschen zeigt, die an diesem unvergesslichen Abend durch die Öffnung der Grenze strömen.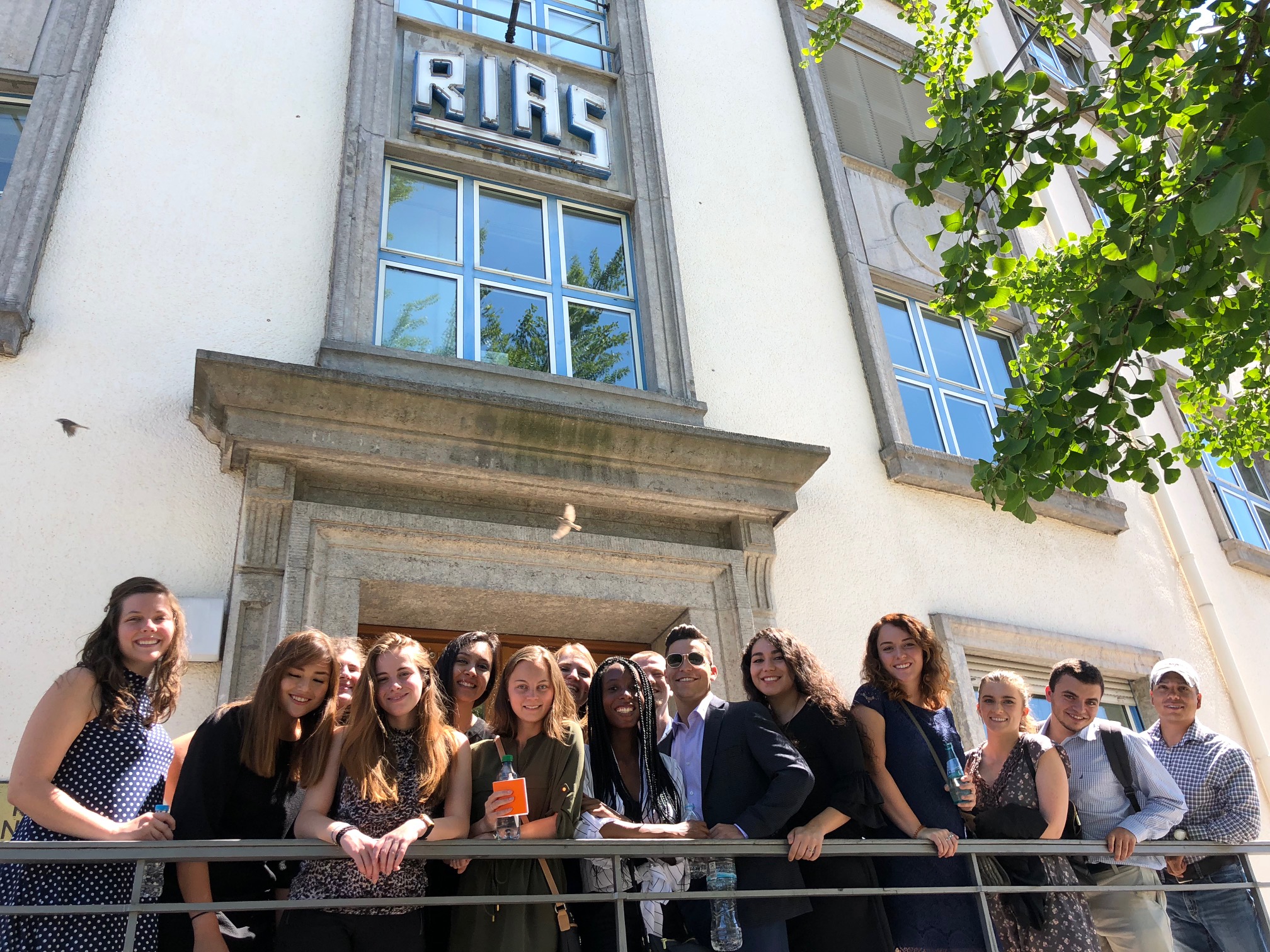 Die Studenten des Programms lasen mehrere Bücher und sahen sich viele Filme über Berlin, Deutschland und den Kalten Krieg an, um sich auf das dreiwöchige Programm vorzubereiten. Ihre umfangreiche Vorbereitung verhalf ihnen zu einem besseren Verständnis der Stationen des Stasi-Museums, des Stasi-Gefängnisses, des RIAS-Gebäudes, des Auswärtigen Amtes und des Journalismus-Departments der Freien Universität Berlin, wo sie im Rahmen eines von Dr. Alexander Görke und die Springer Akademie, eine Abschlussschule für junge Journalisten in einem der führenden Verlage des Landes, wo sie junge Journalisten unter der Leitung von Vizedirektor Rudolf Porsch trafen.
Reisen zur Glienicker Brücke, wo Spionagewechslungen im Kalten Krieg stattfanden, ein neues Berliner Spionagemuseum, das Hauptquartier der Deutschen Welle TV, der englischsprachige KCRW-Radiosender in Berlin und die Rundfunkmedien-Hauptstadt Deutschlands in Köln sind für die zweite Woche geplant.
Die Studenten hatten auch die Chance, die neu renovierte Staatsoper unter den Linden zu besuchen und eine Oper zu sehen. Sie gingen auch am Wohnhaus vorbei, in dem Bundeskanzlerin Angela Merkel lebte, bevor sie 2005 ihr Amt antrat. Sie hat hier während ihrer 13-jährigen Regierungszeit gelebt und wird es höchstwahrscheinlich noch lange nach ihrem Amtsaustritt tun. Sie hatten auch die Chance, einen spannenden Multimedia-Dokumentarfilm über die Geschichte des Reichstagsgebäudes, das hinter dem Reichstag über die Spree strahlte, auf einem Gebäude zu sehen, das als Büro für Abgeordnete diente.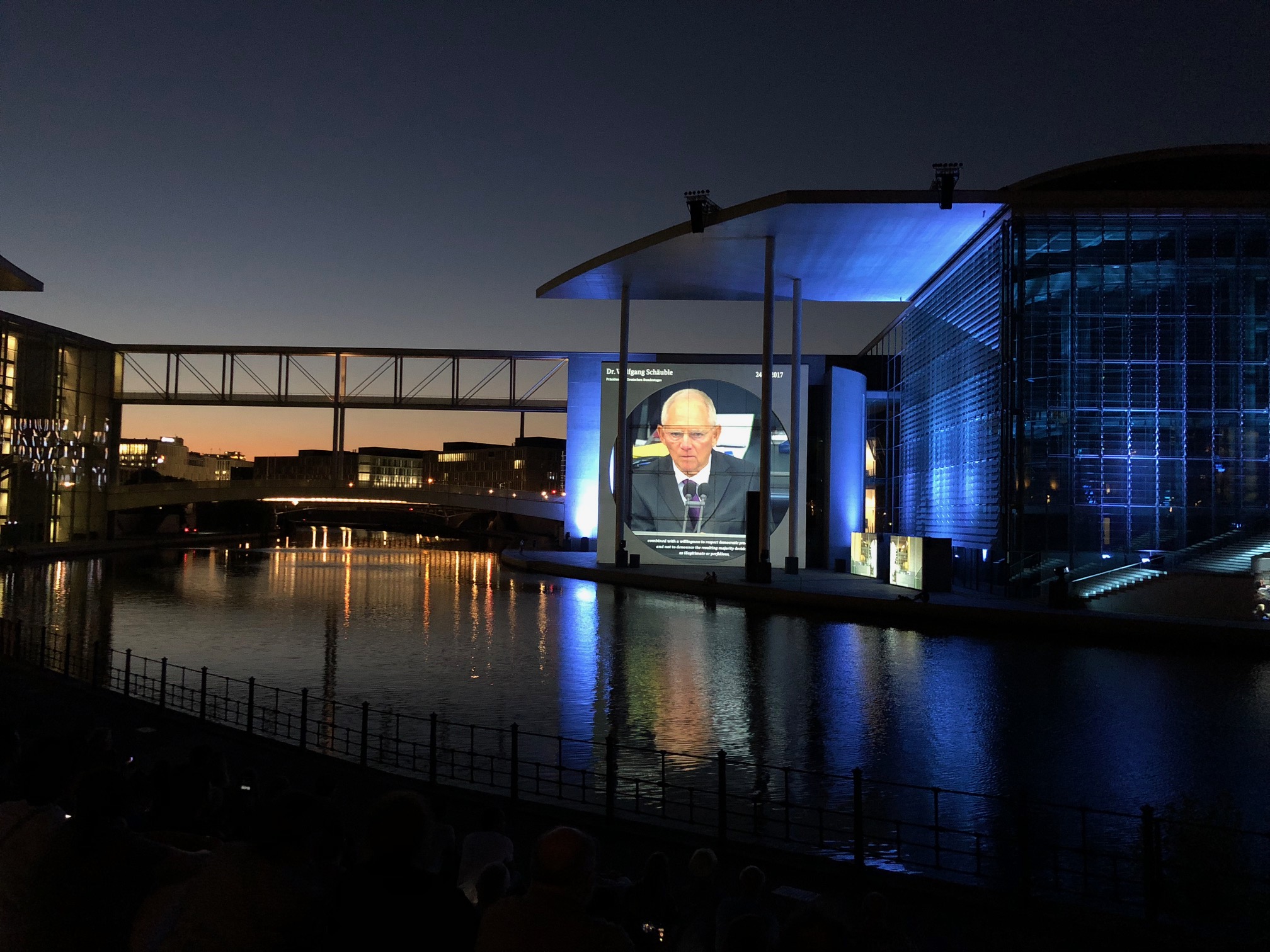 Hier ist eine Liste der US-Studenten, die am Pionierprogramm teilnehmen:
Nicole Browning, Northern Kentucky University
Gabrielle Calise, University of Florida
Rose Carr, Western Washington University
Emily Damm, Texas A&M
Nick Derberbian, State University of New York at Oswego
Leighty Hanrahan, University of Wisconsin
Samarie Hill, Hillsborough Community College
Dolores Hinckley, University of Florida
Hannah Lee, University of Florida
Mollie Lemm, University of Montana
Sam Lichtenstein, Elon University, Elon, North Carolina
Adrian Molinar, New Mexico State University
Pamela Ortega, University of Oklahoma
Sophia Saliby, Indiana University
Dylan Srocki, Miami University
---
Juni 29, 2018
Alumni-Chapter News – Treffen in Köln, weitere Treffen in Berlin geplant
Ein Dutzend Alumni-Mitglieder der RIAS Berlin Commission trafen sich kürzlich in Köln zu einem weiteren Chapter Meeting in der Stadt, in der Ende letzten Jahres das erste Alumni-Chapter gegründet wurde. Organisiert von den Kölner Gruppenleitern Martin Richter und Andrea Lueg trafen sich die Alumni im Brauhaus Päffgen in Köln, um über Austauschprogramme, Journalismus in Köln und den Zustand der transatlantischen Beziehungen zu sprechen.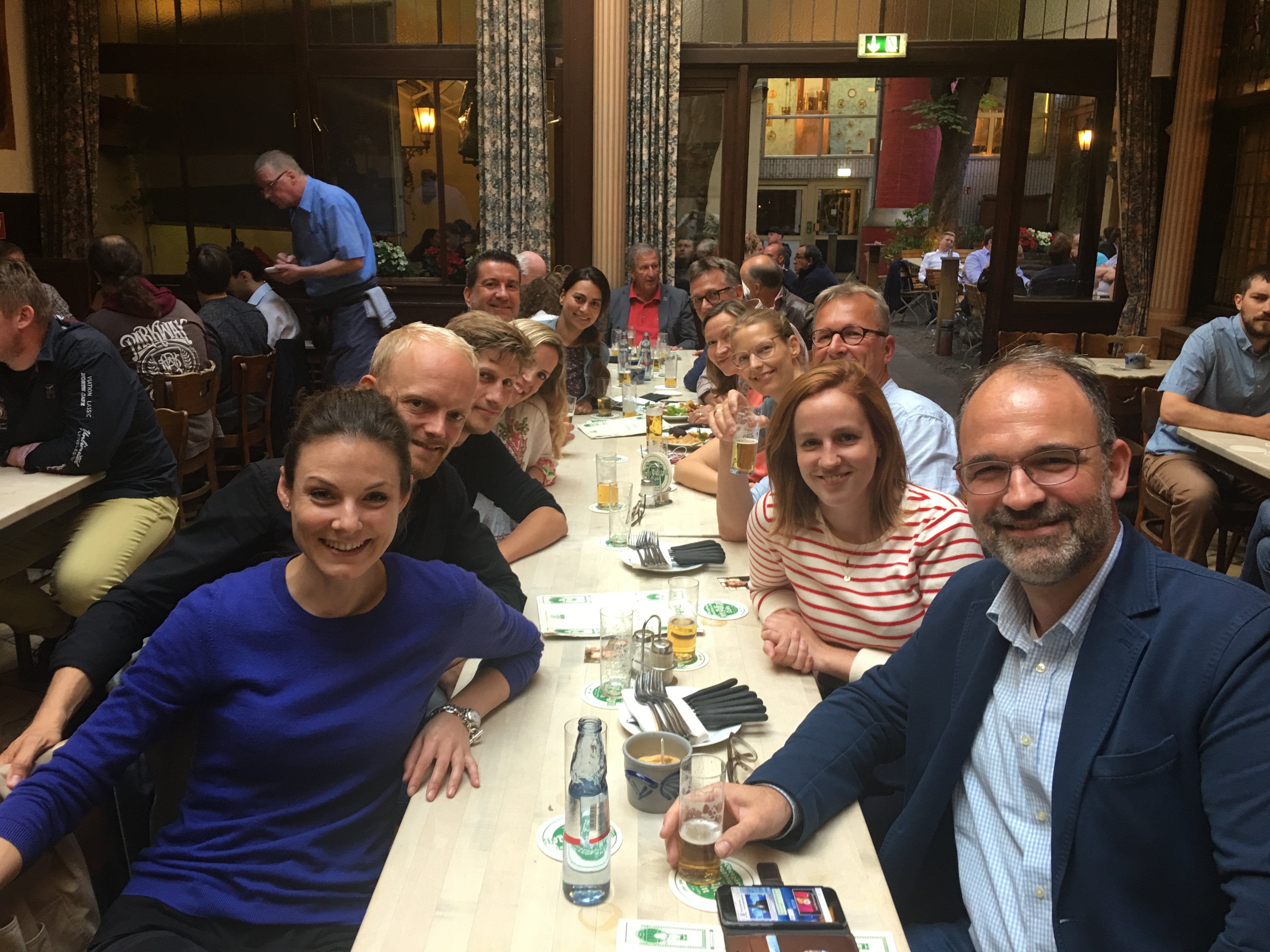 Alumni aus den letzten 15 Jahren nahmen teil, berichtet Martin Richter von Phoenix TV, der im Oktober ein dreiwöchiges RIAS-Programm in die USA bringt. "Wir hatten eine wirklich gute Zeit und jeder sprach darüber, was für eine großartige Zeit und großartige Erfahrung er mit RIAS hatte", sagte Richter. "Alle sind immer noch so begeistert von ihren Erfahrungen und wir werden diese Treffen definitiv fortsetzen. Wir haben die Idee einer WhatsApp-Gruppe für das Kapitel entwickelt, um den Austausch von Informationen und die Organisation von Meetings zu erleichtern."
Das Kölner Chapter trifft sich am 11. Juli um 19 Uhr in Köln mit 15 amerikanischen Journalisten zum nächsten RIAS-Programm. Sie sind aus 14 Colleges im ganzen Land. Alle Alumni sind ebenfalls eingeladen. Bitte schreiben Sie an info@riasberlin.org für weitere Informationen.
Das Berliner Chapter wird am Abend des 6. Juli in Berlin die 15 amerikanischen Journalisten in Berlin treffen – alle Alumni sind auch zu diesem Alumni-Treffen eingeladen. Die 15 jungen amerikanischen Journalisten sind auf einer dreiwöchigen Reise nach Deutschland, um mehr über den Kalten Krieg, RIAS und den deutschen Journalismus zu erfahren. Sie studieren an 14 verschiedenen Colleges im ganzen Land, von Oklahoma nach Montana, Ohio, North Carolina, Florida, Texas und Kentucky. Wir hoffen auf einen weiteren schönen Abend dort zusammen.
---
Juni 27, 2018
Amerikaner verbrachten zwei Wochen in 5 europäischen Städten, um mehr über Journalismus, Politik und das Leben zu erfahren
Nehmen Sie 14 amerikanische Rundfunkjournalisten aus dem ganzen Land mit und schicken Sie sie auf einer 12-tägigen Reise in fünf europäische Städte und drei verschiedene Länder mit einem vollen Terminkalender mit Gesprächen mit Journalisten, Politikern und Analysten – und Sie haben ein Programm voller Erinnerungen. Das könnte ihr Leben verändern. Das haben 14 Amerikaner im Juni bei einem Austauschprogramm der RIAS Berlin Commission erlebt. Sie waren in Berlin, Dresden, Prag, Brüssel und Brügge zu einer unvergesslichen Mission gekommen, um ihren Horizont zu erweitern und mehr über Deutschland und die Europäische Union zu erfahren.
Das Programm startete am 11. Juni in Berlin mit Treffen mit US-Botschafter Richard Grenell.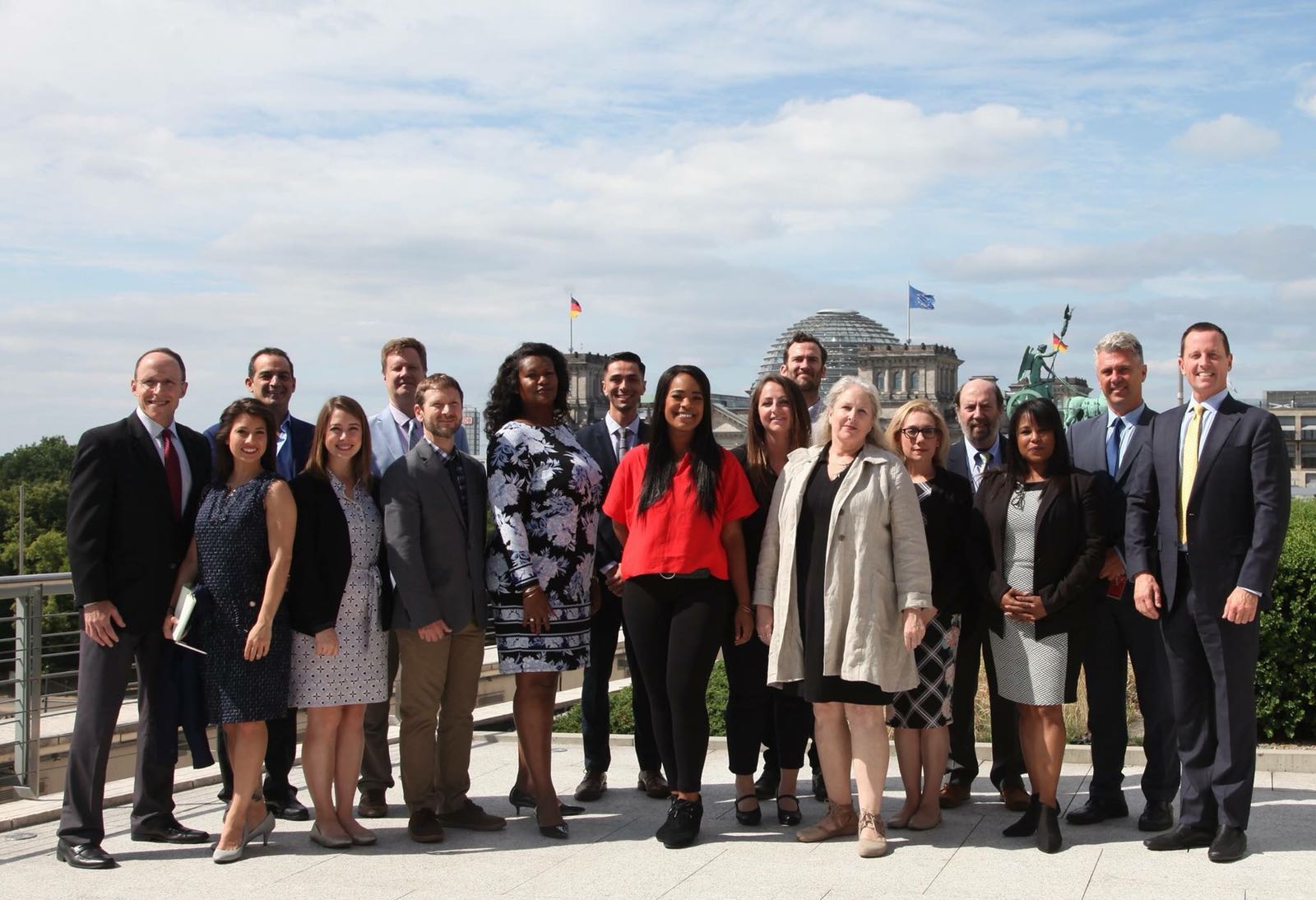 Nach einem einstündigen Gespräch zeigte Grenell den Amerikanern die Aussicht vom Dach der US-Botschaft aus, die auf das Brandenburger Tor und das Berliner Reichstagsgebäude blickt. Danach traf sich die Gruppe mit der deutschen Regierungssprecherin Ulrike Demmer, der brandenburgischen Landtagsabgeordneten Barbara Richstein, John Kornblum im KCRW-Radio in Berlin, RIAS-Vorstandsmitglied Richard Meng, dem ehemaligen Grünen Abgeordneten Özcan Mutlu sowie der Bild-Zeitung,
Deutsche Welle's Ben Fajzullin und Meggin Leigh Doody, ZDFs Mitri Sirin und Bernd Benthin, der Reichstag, der Berliner Geschichtenbunker, die Gedenkstätte Berliner Mauer in der Bernauerstraße, ein Rundgang mit einem syrischen Flüchtling, das Stasi-Gefängnis sowie ein Alumnitreffen bei Stone Brauen mit ca. 25 Berliner Alumni.
In Dresden besuchten die Stipendiaten zu Beginn der zweiten Woche ein VW-Werk für Elektroautos, den sächsischen Landtag für einen Vortrag über Ausländerfragen, MDR-Fernsehstudios; In Prag war der Höhepunkt ein Besuch bei Radio Free Europe. In Brüssel besuchte die Gruppe ARD-Korrespondenten Markus Preiss (auch RIAS-Alumni) und Deutsche-Welle-Journalisten zusammen mit der Europäischen Union mit den Sprechern der Handels- und Einwanderungskommissare vor dem Abschluss am 23. Juni. Vier blieben für eine dritte Woche zu nehmen Teil in "Station Week" Erfahrungen in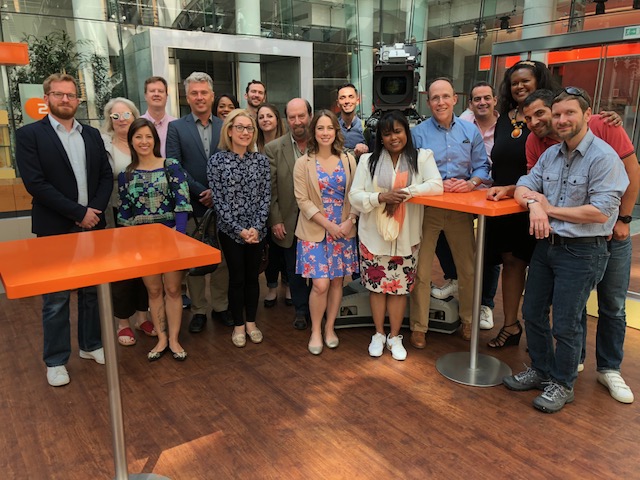 Berlin, Köln und Bonn bei Deutsche Welle, RTL, NTV, Deutschlandfunk und WDR. Eine blieb eine dritte Woche lang an einem "Verlängerungswochen" -Programm mit einem dreiteiligen Feature für ihre Station in Las Vegas zur Waffenkontrolle in Deutschland.
Es war eine herausragende Gruppe von Journalisten aus den Vereinigten Staaten, einschließlich Staaten wie Oklahoma, Ohio, Nevada, Oregon, Minnesota, Georgia zusammen mit Kalifornien, New York und Washington DC.
Bob Dickey, Nachrichtenleiter der OUTV University of Oklahoma in Norman, Oklahoma, schrieb über seine Erfahrung auf dem Programm: Das RIAS Fellowship ist ein Förderprogramm, von dem im Laufe der Jahre so viel gesprochen wurde. Ich glaube nicht, dass es den Erwartungen entsprechen würde. Aber, ich habe mich getäuscht.
Auf den ersten Blick ist die Möglichkeit, nach Deutschland, Tschechien und Belgien zu reisen und sich mit Journalisten und Regierungsvertretern zu treffen, eine einmalige Gelegenheit. Aber es ist mehr als das. Wie einer meiner Reisegefährten erwähnt, wird die Erfahrung durch eine große Anzahl kultureller und historischer Touren und Besichtigungen bereichert. Das sind wichtige Bestandteile der RIAS "Zeit". Und ich bin mir sicher, dass andere in der Vergangenheit das auch gesagt haben: Es ist eine wundersame Gruppengestalt, die im Erwachsenenalter nicht oft vorkommt. Es ist die Art von Bindung, die im Sommerlager oder in einem Wohnheim im ersten Jahr des College passiert. Für eine Gruppe von Journalisten mit unterschiedlichem Hintergrund und jahrelanger Erfahrung ist es eine großartige Gelegenheit, zusammenzukommen, Geschichten zu erzählen, eine Menge über Deutschland und das moderne Europa zu lernen und Verbindungen zu knüpfen und zu werden, die mit Sicherheit lebenslang Freunde sein werden . Danke RIAS. Danke danke danke.
Colby Hochmuth, eine Produzentin bei ABC7, Arlington, Virginia, beschrieb ihre Erfahrung folgendermaßen: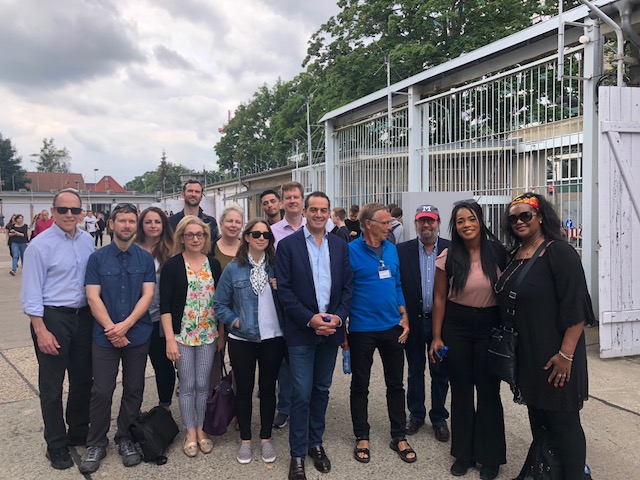 Als Mitglied des RIAS Berlin Fellowship Programms 2018 wurde ein Traum wahr. Von Berlin nach Brüssel war nie langweilig! Ich freue mich darauf, alles, was ich von den vielen Gastrednern, deutschen RIAS-Stipendiaten und meinen journalistischen Kollegen gelernt habe, wieder zu meiner Heimatstation zu bringen. Es war eine Inspiration, um so prinzipientreue und ehrgeizige Journalisten zu sein und erinnert daran, dass die Welt heute mehr denn je einen guten Journalismus braucht.
Stacey Samuel, eine leitende Redakteurin bei NPR in Washington DC, verbrachte eine dritte Stationswoche in Köln bei der Deutschen Welle, NTV, RTL und Deutschlandfunk – der deutschen Version von NPR. Sie beschrieb die Erfahrung in der RIAS Berlin Kommission so: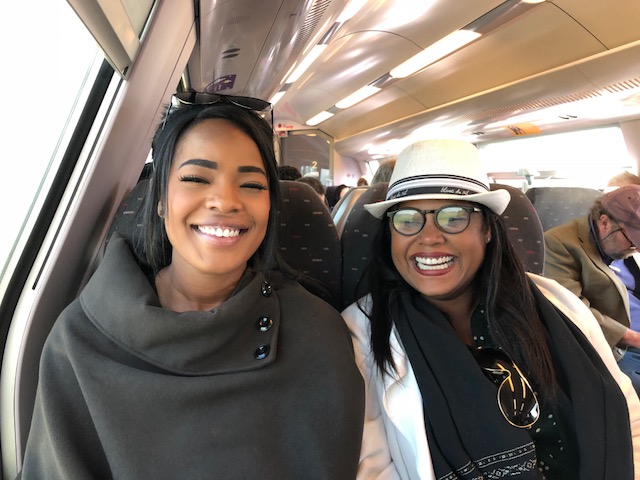 Diese RIAS-Reise mit Ihnen, hervorragenden Journalisten und schönen Menschen, wird für immer eines meiner schönsten und glücklichsten Lebenserfahrungen bleiben! Ich wünsche euch allen alles Gute und reise nach Hause – mit dem gleichen Gefühl von Erleuchtung und Inspiration, wie ich es von jedem von euch bekommen habe. Auf Wiedersehen.
David Marks, ein interaktiver Produzent bei KQED in San Francisco, sagte dazu:
Meine Erfahrung als RIAS Berlin-Fellow 2018 war außergewöhnlich. Die Chance, sich mit deutschen Journalisten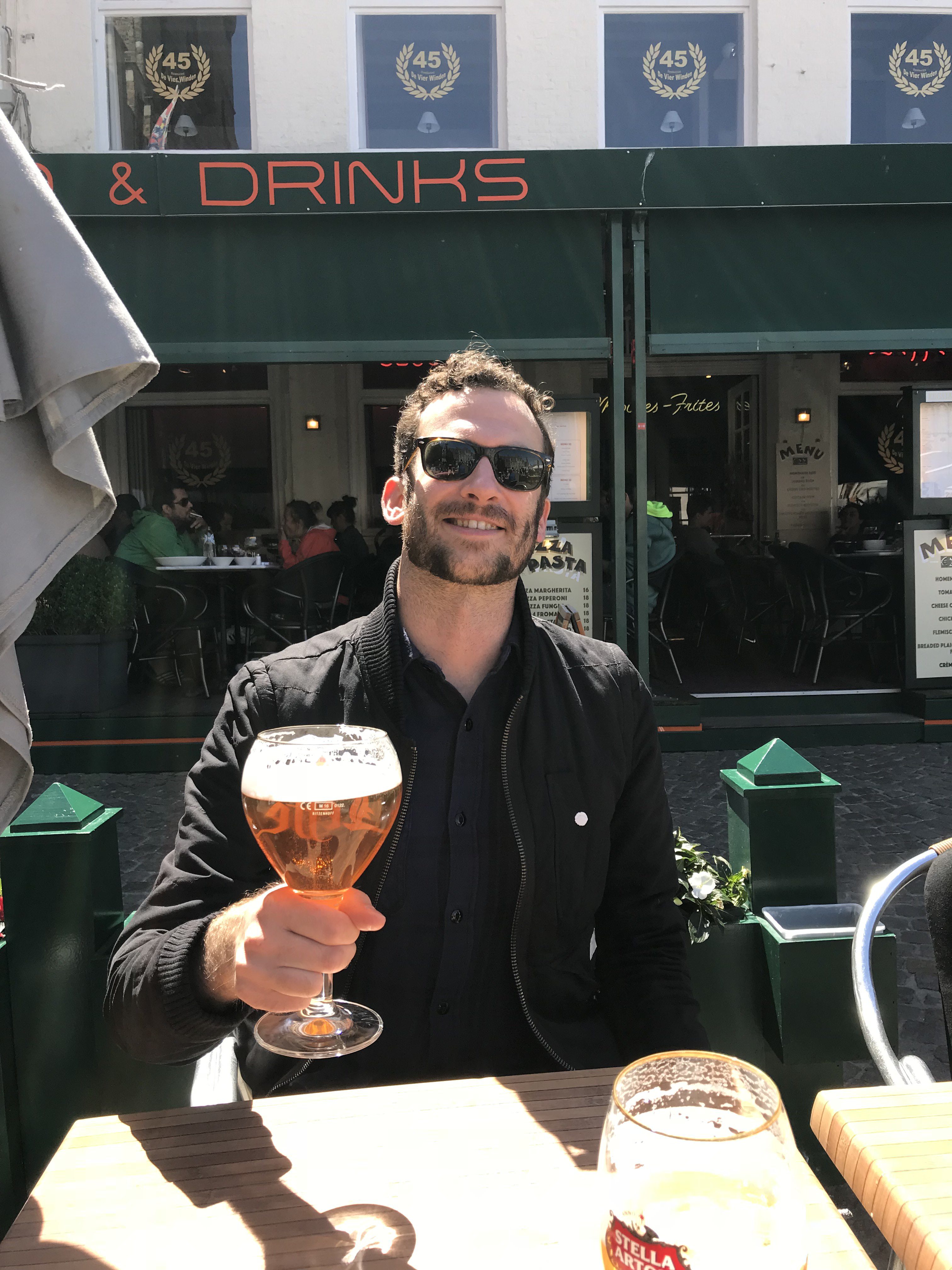 und politischen Führern aus Deutschland und der EU zu treffen, war eine Augenweide und verschaffte mir aus europäischer Sicht eine dringend benötigte globale Perspektive sowohl für die europäische Politik als auch für die amerikanische Politik. Von unserem Treffen mit der stellvertretenden Sprecherin der Bundesregierung bis zu unserem Treffen mit dem US-Botschafter, dem Blind Date des Journalisten und der Anhörung eines in Berlin lebenden syrischen Flüchtlings ist die Vielfalt der Perspektiven eine Erfahrung, die ich nicht so schnell vergessen werde Einer, auf den ich mich in meiner Arbeit freuen werde. Ich freue mich auch auf einen deutschen Journalisten in San Francisco! Vielen Dank!
---
Rias Medienpreise 2018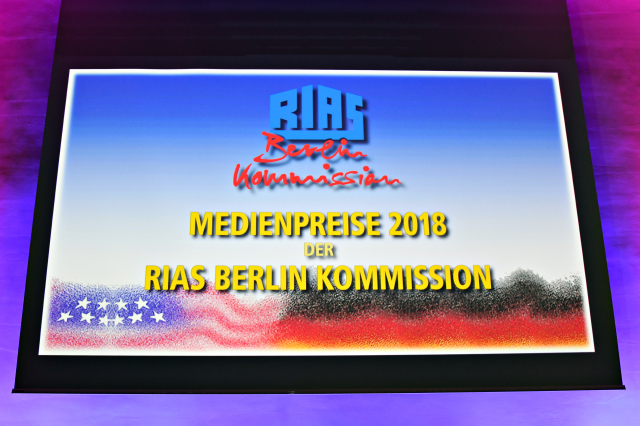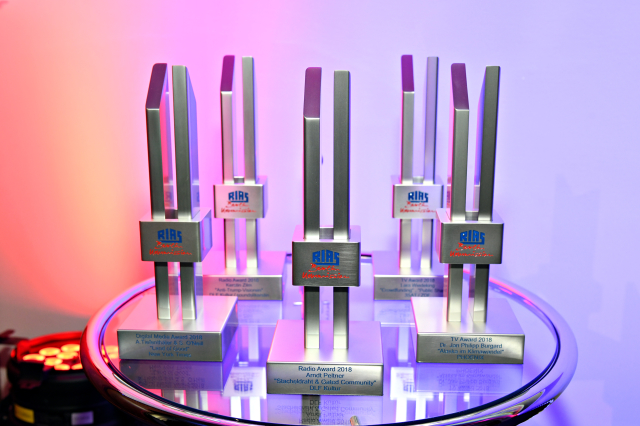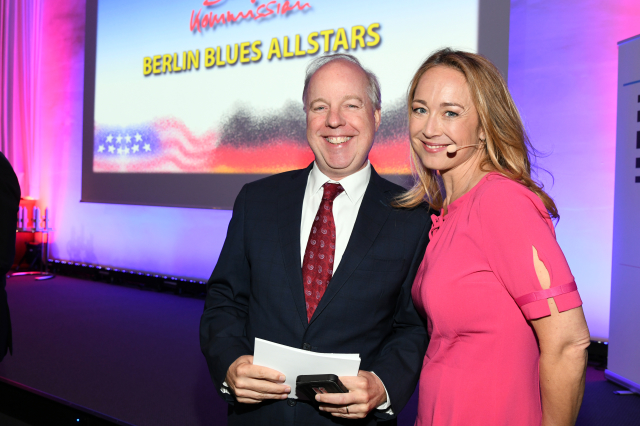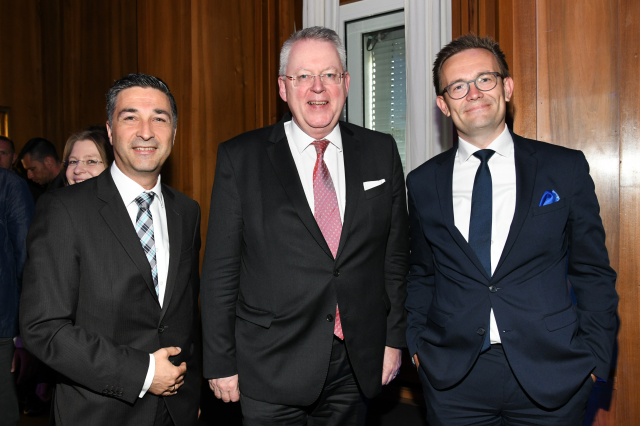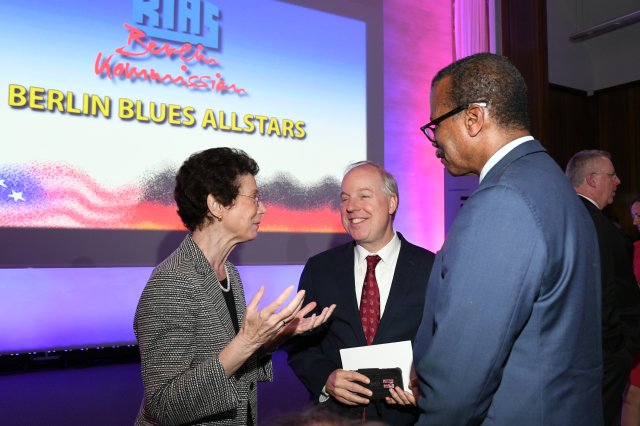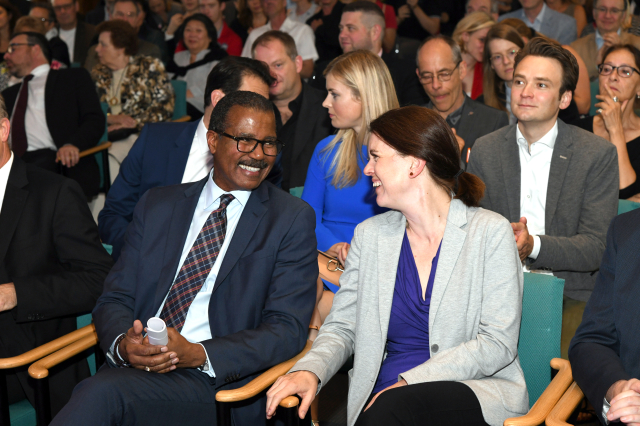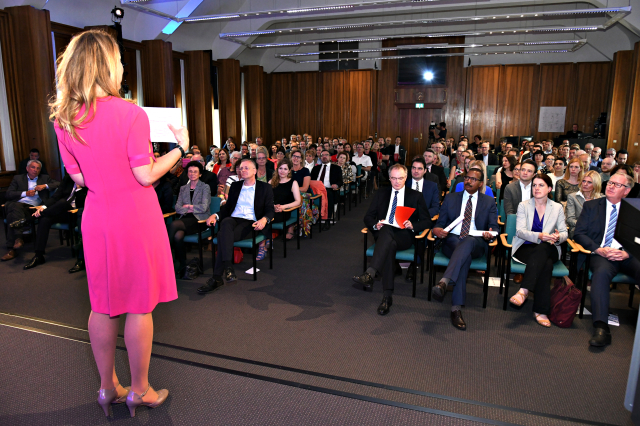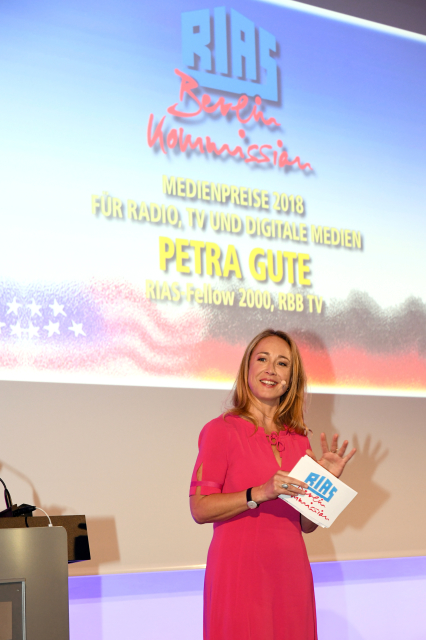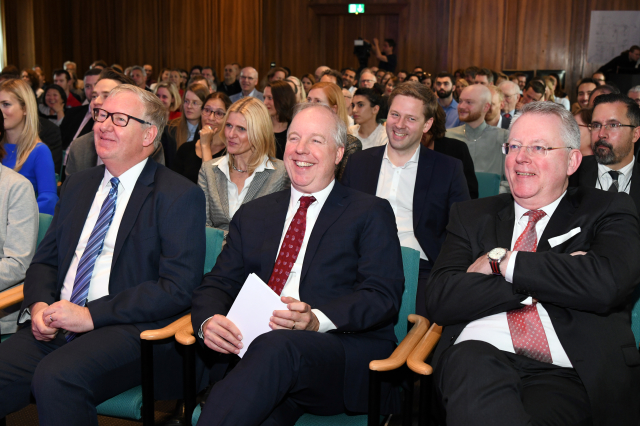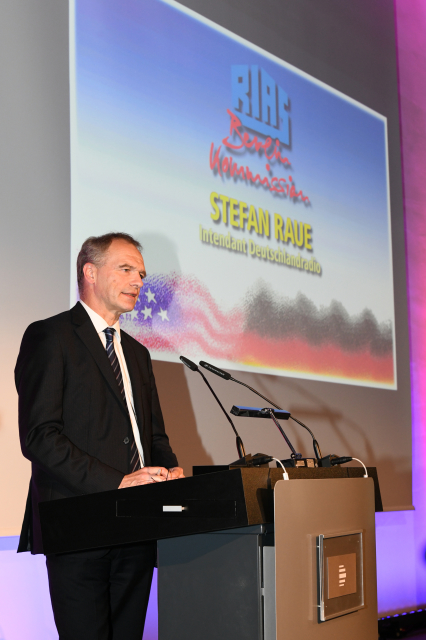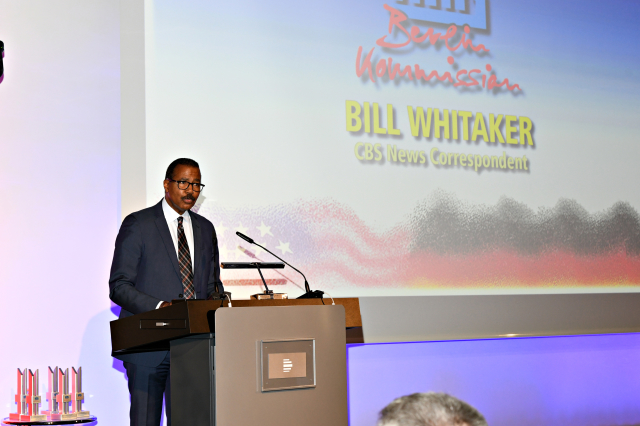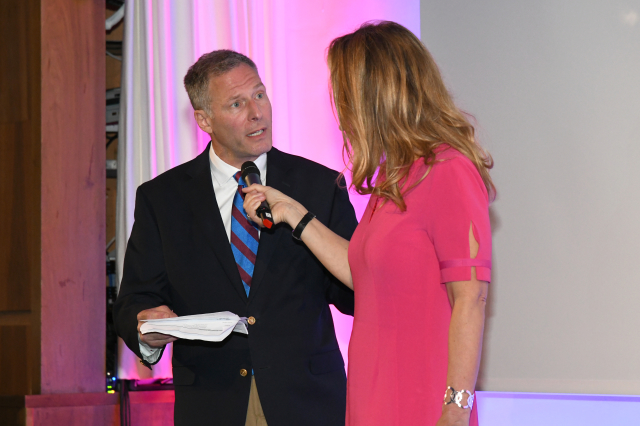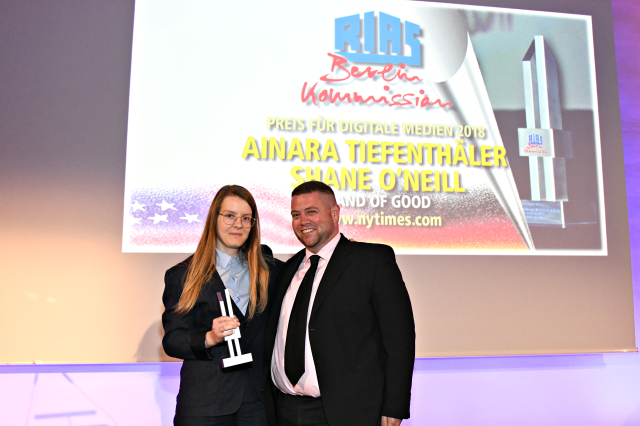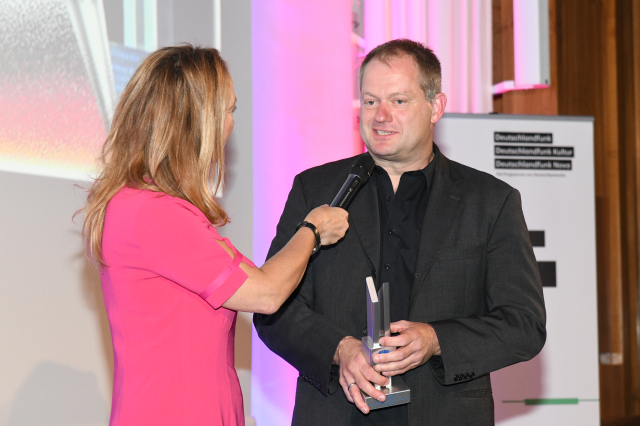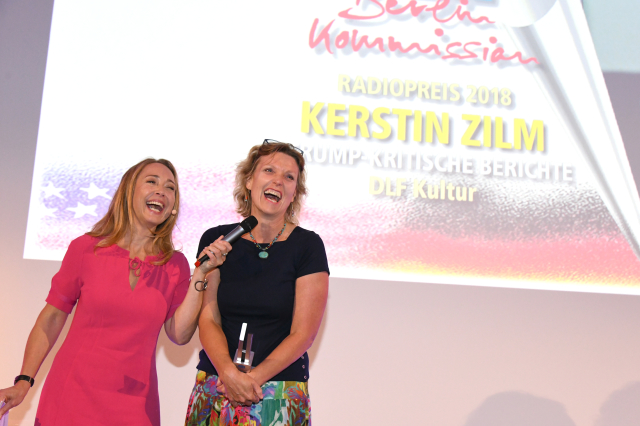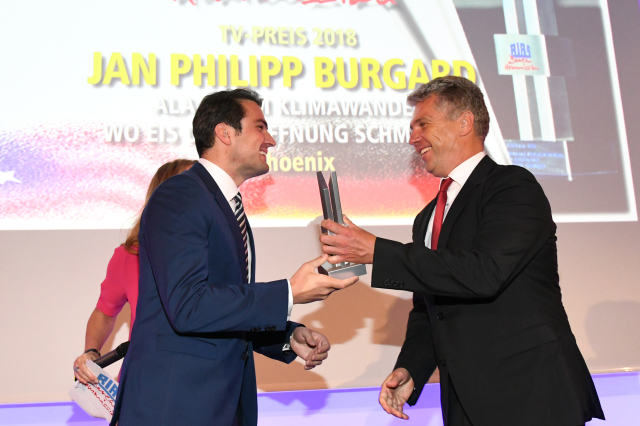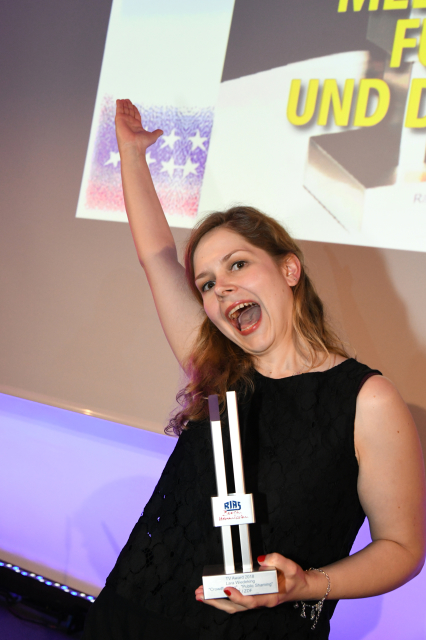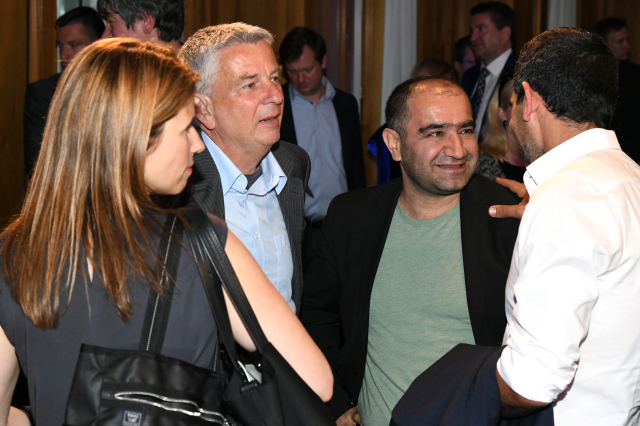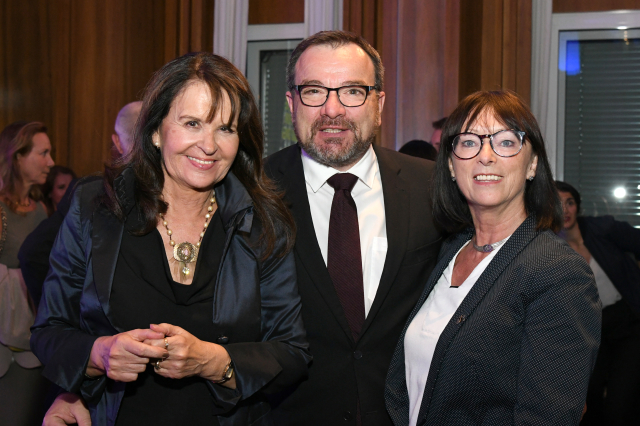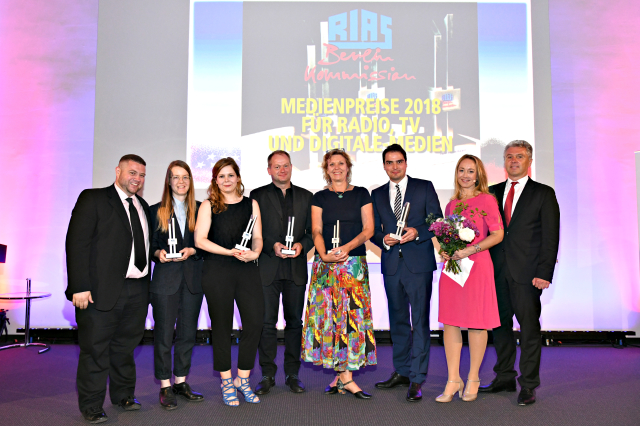 ---
Juni 5, 2018
14 US-Stipendiaten für RTDNF/RIAS Deutsch-Amerikanischen Austausch ausgewählt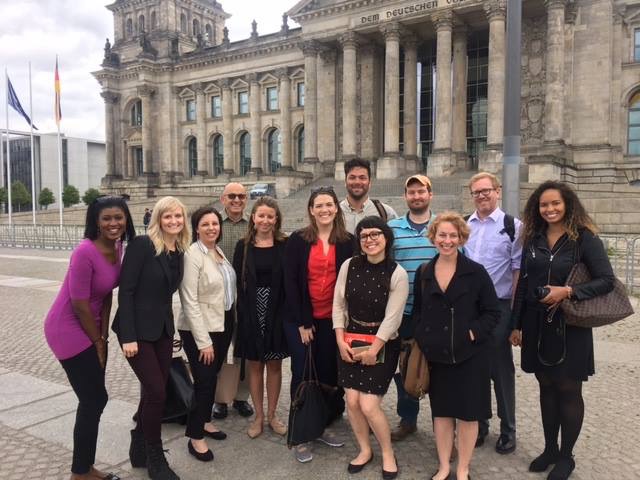 RTDNF und die RIAS Berlin-Kommission haben 14 Produzenten, Reporter, Redakteure und Wissenschaftler aus dem ganzen Land ausgewählt, um im Juni in 2 zweiwöchigen Austauschprogrammen die politische und mediale Landschaft in Deutschland und Europa zu studieren. Sie werden auch Teil eines wachsenden Netzwerks von fast 1.600 Alumni der RIAS Berlin Commission aus den Medien in den Vereinigten Staaten und Deutschland, um Teil der langjährigen Partnerschaft zwischen RTDNF und RIAS zu werden.
Dies ist das 25. Jahr der Partnerschaft zwischen RTDNF und RIAS, die im letzten Vierteljahrhundert fast 800 Fellows nach Deutschland geschickt hat. Das deutsch-amerikanische Journalistenaustauschprogramm im Frühjahr 2018 umfasst Stationen in Brüssel, Berlin, Prag und Dresden. Gesponsert von der RIAS Berlin-Kommission wird es Briefings mit hochrangigen deutschen Politikern und Medienvertretern, Treffen mit internationalen Journalisten und Beamten im Hauptquartier der Europäischen Union und im NATO-Hauptquartier sowie Treffen mit Journalisten und Redakteuren im Hauptquartier von Radio Free Europe in Prag geben. Außerdem treffen sie sich mit RIAS-Alumni aus Deutschland bei Treffen in Berlin und Brüssel..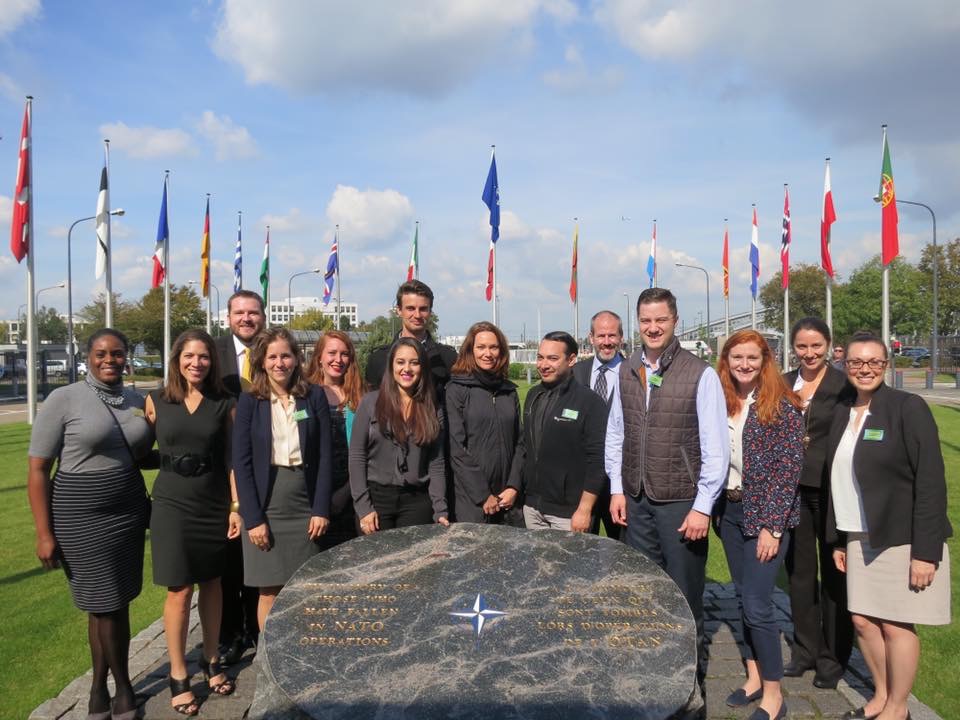 "Das RIAS Berlin Kommission Austauschprogramm ist eine große Chance für den US-basierte Broadcast-Journalisten,um einen Einblick, wie ihre Kollegen in Orten wie Berlin, Köln, Brüssel und Prag Arbeit zu bekommen", sagte RIAS Berlin Kommission Geschäftsführer Erik Kirschbaum. "Solche Austauschprogramme sind wohl wichtiger denn je. Es sind keine Bedingungen festgelegt. Das einzige Ziel ist, dass die Reise dazu beiträgt, den Horizont zu erweitern." RTDNF / RIAS-Koordinator KC Schillhahn wird auch die diesjährige Frühjahrsaustauschprogrammgruppe begleiten.
Dank Sparen und Spenden konnten die Programme in den letzten Jahren wieder ausgebaut werden. Einige der US-Stipendiaten nehmen in diesem Jahr an einer freiwilligen dritten "Senderwoche" teil, um deutsche Journalisten in ihren Netzwerken zu besuchen und zu beobachten, wie sie ihre Geschichten zusammenstellen und ausstrahlen. Viele Teilnehmer in Deutschland und den USA berichten später, wie das Programm "ihr Leben verändert" hat und viele engagieren sich nun aktiv in lokalen Alumni-Chaptern, die im letzten Jahr eingerichtet wurden: Köln, Berlin, Hamburg, Frankfurt-Mainz, Washington DC und New York City.
Die für das Juni-Programm ausgewählten Journalisten sind:
Karin Caifa, reporter, CNN Newssource, Washington DC
Adam Reiss, reporter, NBC News, New York, New York
Stacey Samuel, supervising editor, NPR, Washington DC
Lisa Weiner, managing editor, WTOP News Radio, Washington DC
Tiffany Zeno, news producer, WNBC/NBC, New York, New York
Bob Dickey, news director OUTV University of Oklahoma, Norman, Oklahoma
Andres Gonzalez, news writer CNN International, Atlanta, Georgia
Colby Hochmuth, producer, ABC7, Arlington, Virginia
Faith Jesse, reporter, KSNV-NBC, Las Vegas, Nevada
Steve Kaufmann, chief photographer, KTVZ-TV, Bend, Oregon
Scott Libin, RTDNA Chairman, University of Minnesota, Minneapolis, Minnesota
David Marks, interactive producer, KQED, San Francisco, California
Maylan Studart, multimedia journalist, Modern Wall Street, New York, New York
Joe Sampson, senior professor, Miami University, Oxford, OhioSince 1994,
Der RTDNF hat dieses Medienstipendium im Rahmen seines Deutsch-Amerikanischen Journalistenaustauschprogramms mit dem RIAS verwaltet. Die nächste Bewerbungsfrist für das Programm 2019 in Europa ist der 1. November 2018. Für Informationen über das RTDNF Deutschland-Stipendium oder das RIAS Awards-Programm besuchen Sie rtdna.org oder kontaktieren Sie Mike Cavender unter mikec@rtdna.org oder Erik Kirschbaum unter kirschbaum@riasberlin.org
Über RTDNF
RTDNF, eine 501 (c) 3 Bildungsstiftung, wurde gegründet, um den RTDNA-Mitgliedern zu helfen, die Standards des ethischen Journalismus zu verkörpern und aufrechtzuerhalten und die Führung in der Redaktion zu fördern. RTDNF bietet der elektronischen Nachrichten-Community professionelle Entwicklungsmöglichkeiten, ein offenes Forum für die Diskussion über Ethik, Unterstützung bei der Entwicklung von Führungsqualitäten, Unterstützung von First Amendment Themen und den Austausch von Ideen und Perspektiven von elektronischen Journalisten weltweit. Die Stiftung vergibt auch Stipendien an angehende elektronische Journalisten.
Über RIAS Berlin Kommission
Die RIAS Berlin Kommission ist eine binationale Organisation, die 1992 gegründet wurde, um die Verständigung zwischen den Vereinigten Staaten und Deutschland auf dem Gebiet des Rundfunks zu fördern. Jedes Austauschprogramm wird vollständig von der RIAS Berlin Kommission, einer gemeinnützigen Nichtregierungsorganisation, finanziert. RIAS war die Abkürzung für "Radio in American Sector", das während des "Kalten Krieges" Nachrichten, Informationen und Musik zunächst über Funk und ab 1988 als Fernsehsender in die DDR strahlte, bevor es nach dem Ende des Kalten Krieges geschlossen wurde.
---
Mai 31, 2018
Große RIAS Alumni Wiedervereinigung in Berlin startet neues RIAS-Treffen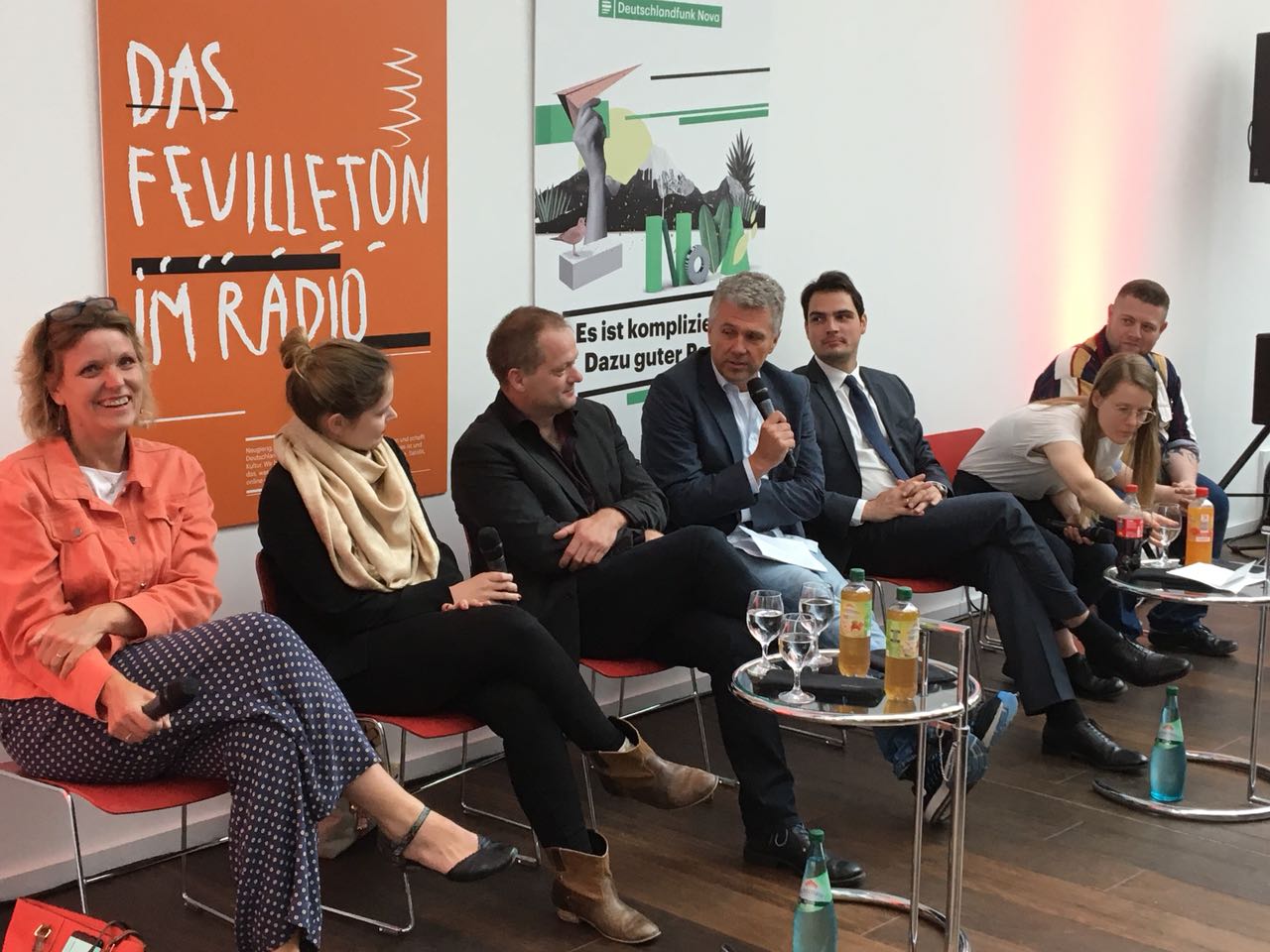 Mehr als 60 Alumni der RIAS Berlin Commission nahmen kürzlich an einer Podiumsdiskussion und einem Alumni-Treffen im historischen RIAS Funkhaus in Berlin teil. Die RIAS-Medienpreisträger Jan Phillip Burgard, Lara Wiedeking, Arndt Peltner, Kerstin Zilm, Ainara Tiefenthäler und Shane O'Neill sprachen über die Veränderungen in den USA in den letzten zwei Jahren und ob diese Veränderungen Auswirkungen auf ihre Arbeit als Auslandskorrespondenten hatten.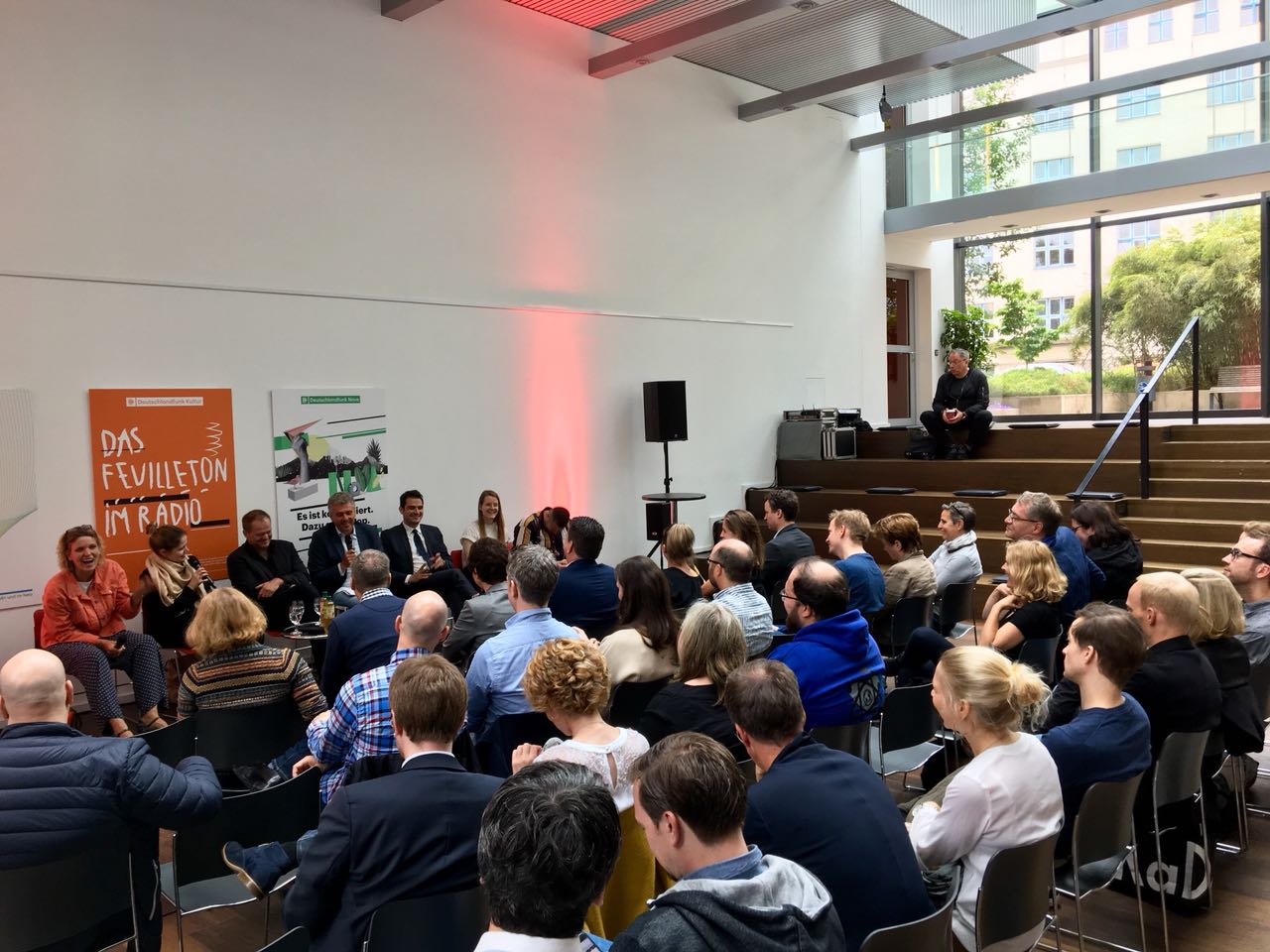 Anschließend trafen sich die Alumni der RIAS-Austauschprogramme der letzten 26 Jahre zu einem gemütlichen Beisammensein in einem lokalen Biergarten gegenüber dem RIAS-Gebäude, der bis spät in den Abend dauerte. Einige RIAS-Alumni kamen aus Washington DC und New York, während die deutschen Alumni aus Dresden, München, Mainz, Hamburg, Köln und Baden-Baden kamen. Viele trafen sich zum ersten Mal mit Kollegen, die in Deutschland für andere Netzwerke arbeiten, wobei sie alle RIAS-Alumni aus den Vorjahren waren. Viele der Teilnehmer äußerten die Hoffnung, dass die aufeinanderfolgenden Tage der Alumni-Veranstaltungen, die mit der Verleihung des Medienpreises beginnen und mit einer Podiumsdiskussion und einem Alumni-Treffen enden, den Auftakt zu einer Tradition in Berlin im Frühjahr bilden könnten.
Die Alumni-Treffen werden zu einem immer wichtigeren Schwerpunkt der RIAS Berlin Kommission. Mit informellen Alumni-Chaptern in Köln, Berlin, Hamburg, Rhein-Main (Mainz-Frankfurt), New York und Washington D.C. hofft die RIAS Berlin Kommission, dass in Zukunft noch mehr Treffen und individueller Austausch zwischen RIAS Alumni stattfinden werden.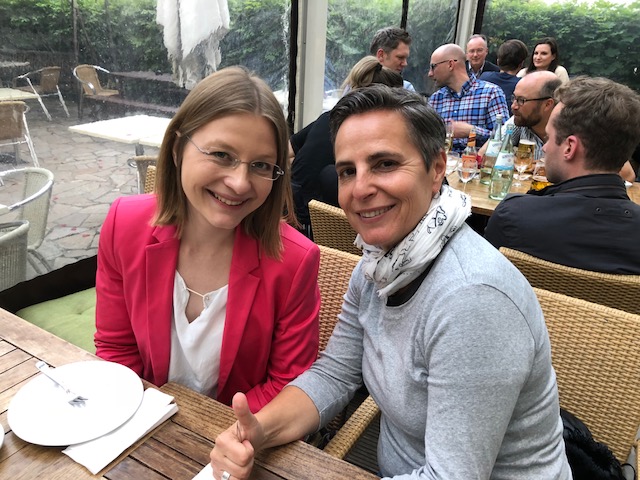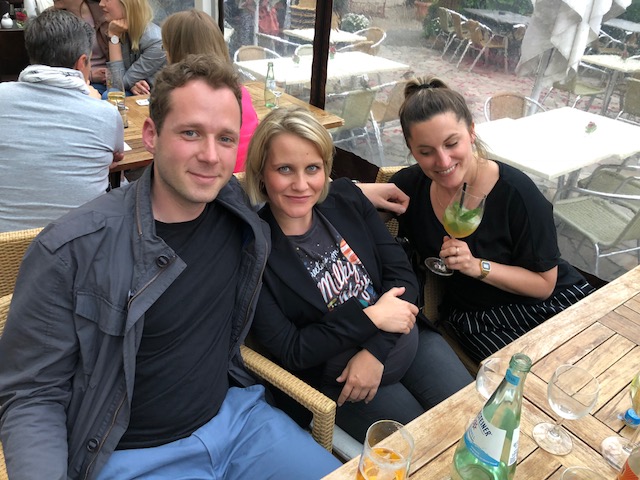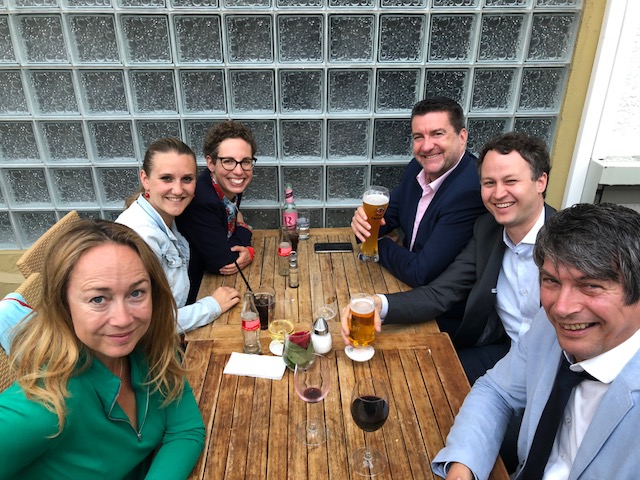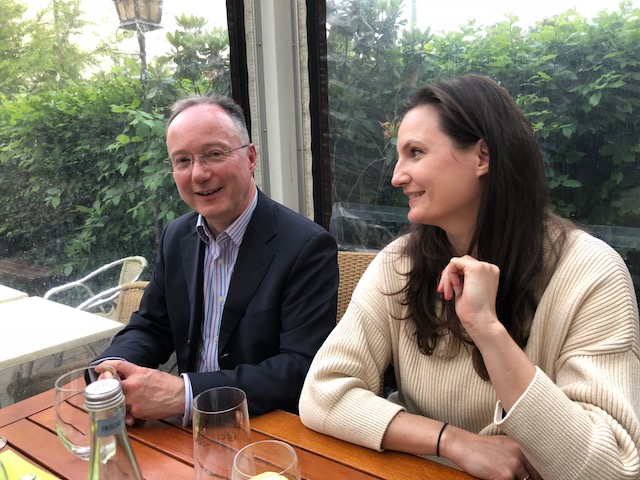 Die Alumni-Treffen, ob formell oder informell, sollen den Geist von RIAS und der Austauschprogramme auch Jahre nach der Teilnahme von Journalisten am Standardprogramm lebendig halten. Für Alumni, die in die Vereinigten Staaten oder nach Deutschland reisen möchten, gibt es auch Programme für Senior Editors, sowie neue Reisestipendien für Alumni, die in die Vereinigten Staaten oder nach Deutschland zurückkehren möchten, um an Geschichten zu arbeiten oder für ihr Netzwerk zu recherchieren. Mehrere US-Alumni sind nach Deutschland zurückgekehrt, um über Geschichten zu berichten, und blieben manchmal bei deutschen Alumni, während eine kleinere Anzahl von deutschen Alumni in die Vereinigten Staaten zurückgekehrt ist, um an Geschichten zu arbeiten. Für weitere Informationen über das Reisestipendienprogramm für Alumni wenden Sie sich bitte an Ihren örtlichen Leiter oder schreiben Sie an info@riasberlin.org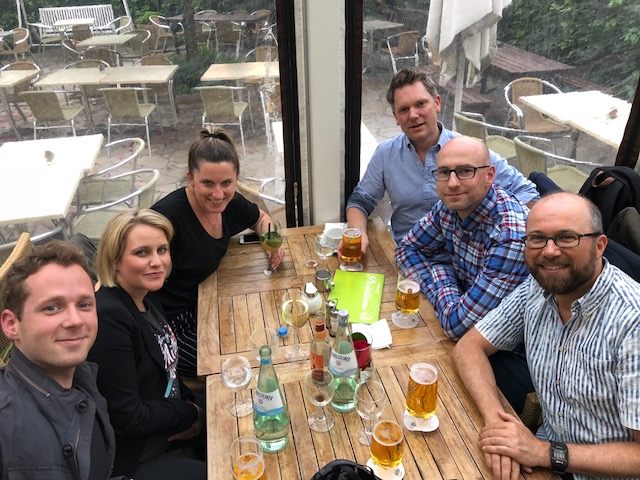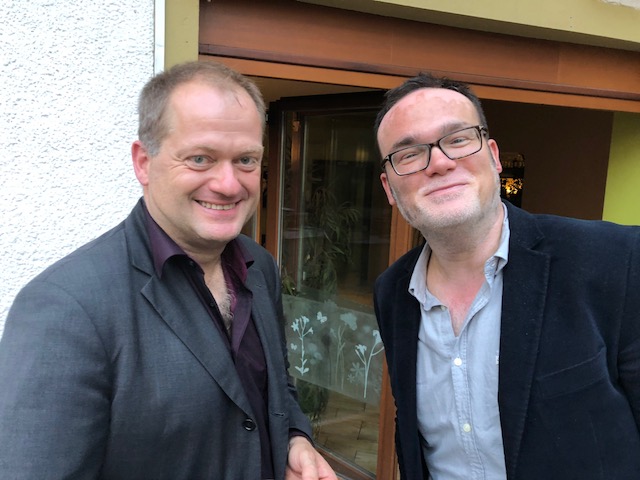 Die Berlin-Chapter-Alumni treffen sich am 14. Juni in einer amerikanischen Craft-Brauerei in Berlin mit der nächsten Gruppe von US-RIAS-Stipendiaten sowie eine Woche später mit RIAS-Alumni in Brüssel. Einige aus dem Berliner Chapter werden auch zur jährlichen 4. Juli-Party der US-Botschaft auf dem Feld am Flughafen Tempelhof gehen. Deutsche Stipendiaten, die im Oktober nach Washington und New York reisen, werden auch in diesen beiden Städten Treffen mit amerikanischen Alumni veranstalten.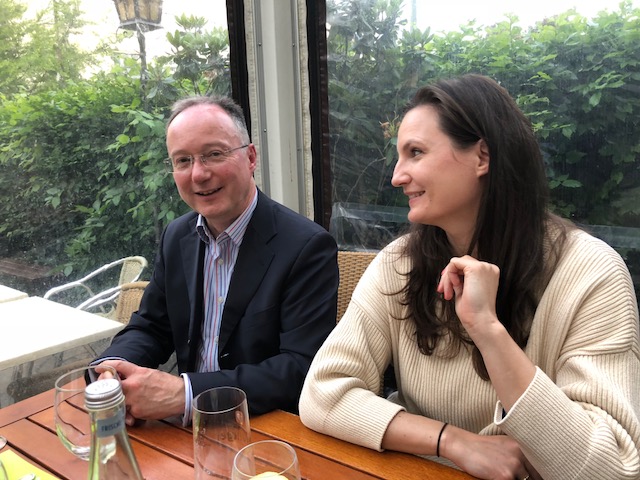 Alle Alumni sind auch eingeladen, an dem jährlichen US-Alumni-Wiedervereinigungsempfang teilzunehmen, der dieses Jahr am 28. September in Baltimore auf der RTDNA's Excellence in Journalism Convention stattfinden wird. Auch am Samstagmorgen, dem 29. September, findet in Baltimore eine Alumni-Podiumsdiskussion statt. Für weitere Informationen schreiben Sie bitte wieder an info@riasberlin.org
---
Mai 18, 2018
Whitaker drängt Journalisten, durch ihre Arbeit weiterhin den Stimmlosen eine Stimme und den Hoffnunglosen Hoffnung zu geben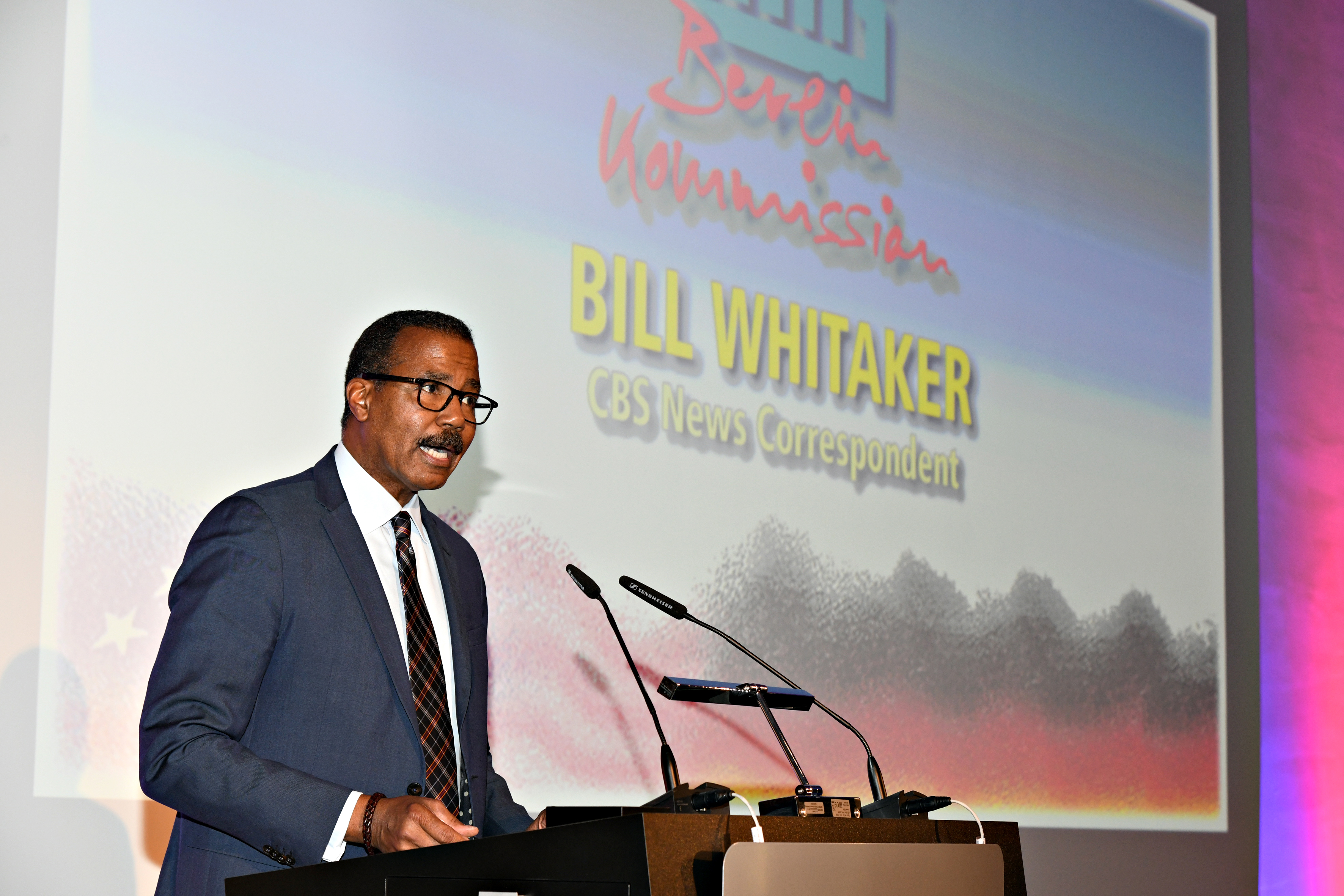 Der gefeierte CBS-Nachrichtenkorrespondent Bill Whitaker appellierte an Journalisten in den USA, Deutschland und der ganzen Welt, unermüdlich daran zu arbeiten, die Nachrichten weiterhin so genau und ehrlich wie möglich zu gestalten. Das hat er in seiner Grundsatzrede bei der jährlichen Verleihung des RIAS-Medienpreises am Donnerstagabend im historischen RIAS Funkhaus in Berlin bekräftigt, wo sechs Preisträger für ihre herausragenden TV-, Radio- und digitalen Berichte zu transatlantischen Themen geehrt wurden.
Der "60 Minuten"-Korrespondent und ehemalige Träger des RIAS-Medienpreises, Whitaker, stellte fest, dass Journalisten und Journalismus in den Vereinigten Staaten in den letzten Jahren mit zunehmender Kontrolle und Kritik konfrontiert waren, aber das sollte ihre Bemühungen, nach der Wahrheit zu suchen, nicht verlangsamen oder stoppen. Er sagte, es sei wichtig, "weiterzumachen" – ein Satz aus den 70er Jahren, der die Bedeutung von Beharrlichkeit angesichts der Not betont, anstatt in Verzweiflung zu verfallen.
"Schlechte Dinge passieren, wenn niemand zusieht", sagte Whitaker in seiner Rede vor 200 Gästen bei der jährlichen Preisverleihung, die von der RBB-Journalistin und RIAS-Alumni Petra Gute ausgerichtet wurde.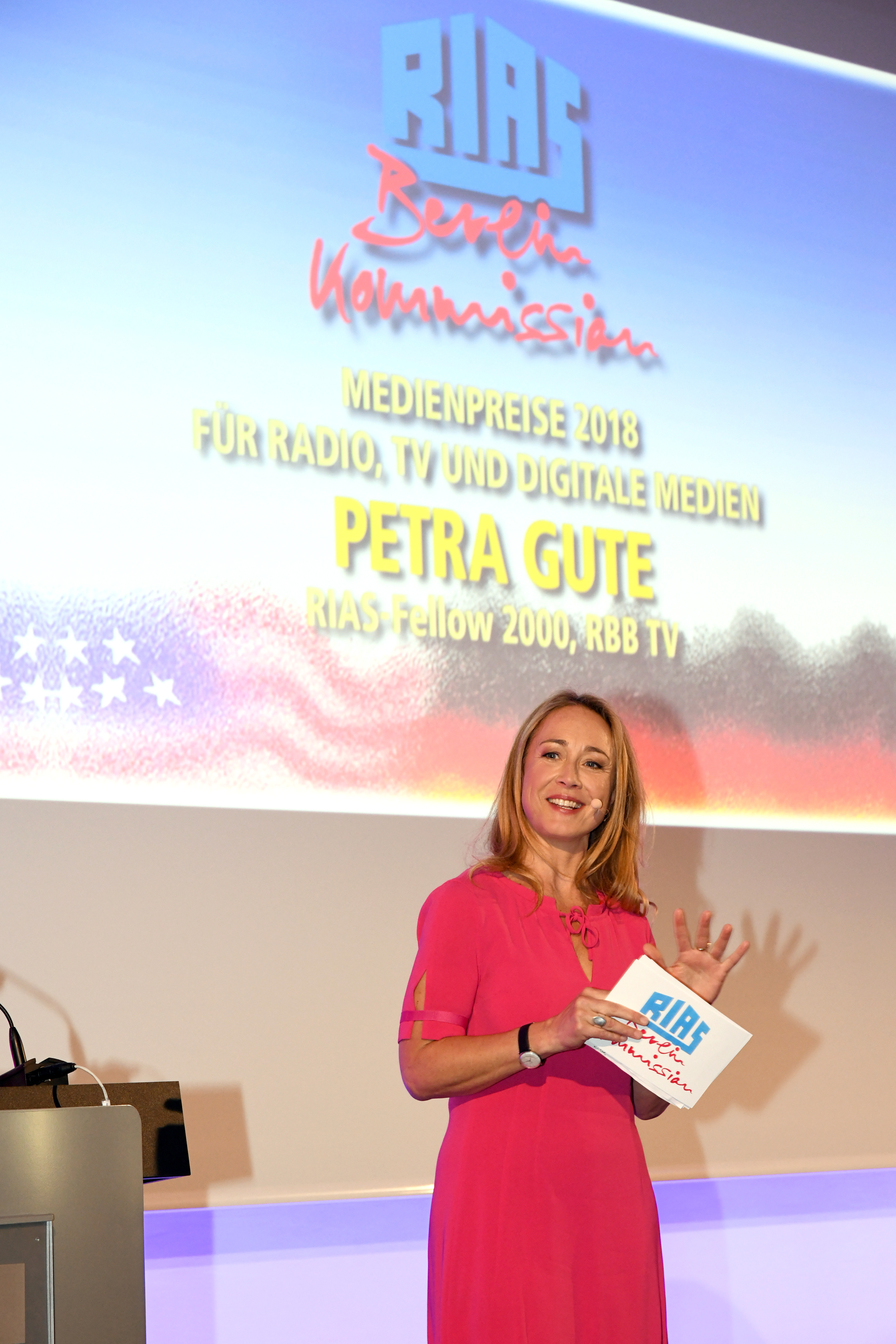 "Journalisten sind nicht perfekt und Journalismus ist nicht perfekt. Wir machen Fehler. Aber auch Präsidenten und Politiker und Demokratien." Whitaker bemerkte, dass eine freie Presse in die Verfassungen der Vereinigten Staaten und Deutschlands aufgenommen wurde und dass er als Auslandskorrespondent in Ländern wie China in den späten 1980er Jahren gearbeitet hatte, wo dies nicht der Fall war.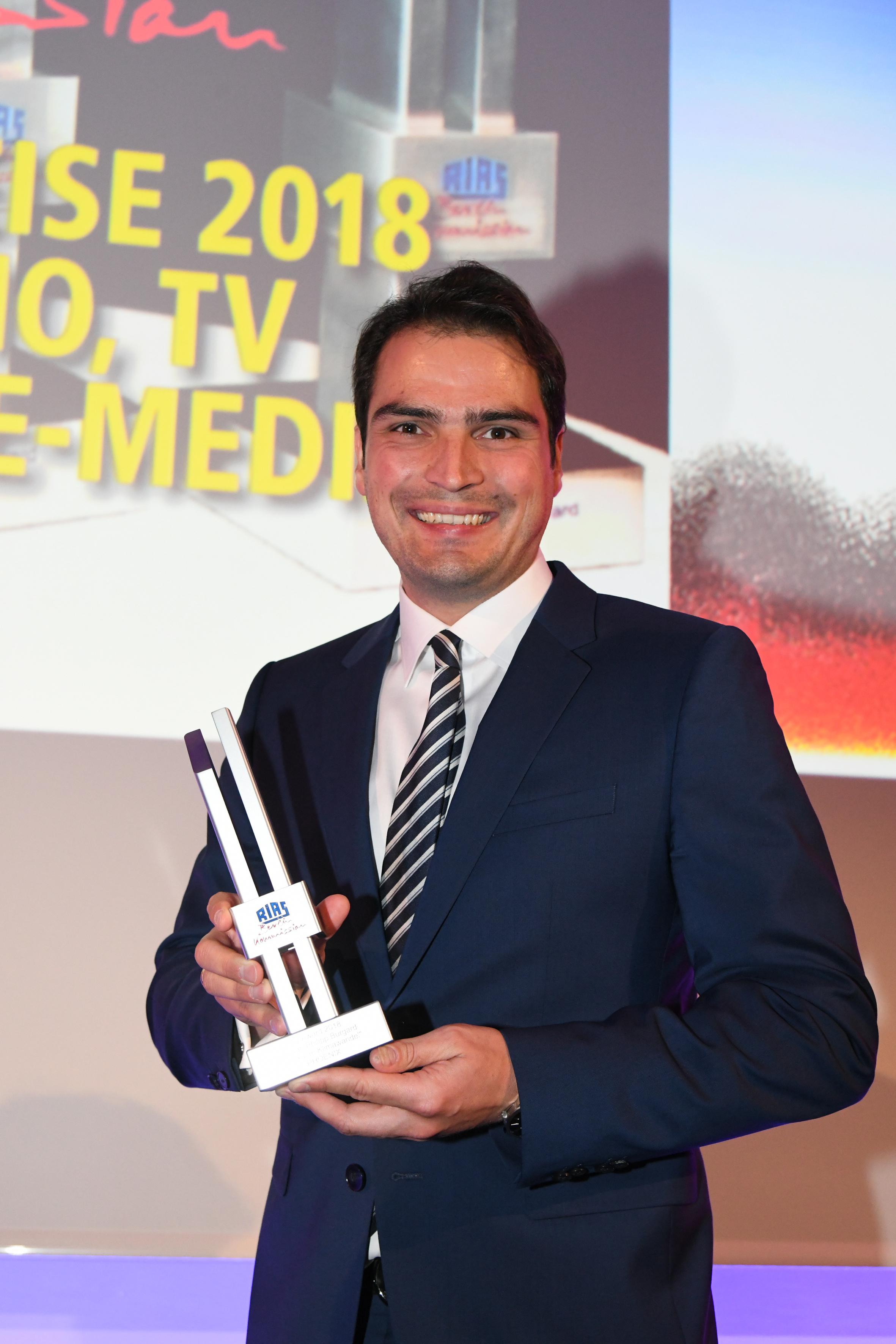 "Was soll ein Journalist in der heutigen Ära gefälschter Nachrichten tun? Diese Ära, in der soziale Medien unseren Glauben manipulieren und unsere Ängste vergrößern können.
Wie überstehen wir diese Stürme? Etwas, was wir schon in den 70ern gesagt haben, kommt mir in den Sinn: 'Weitermachen'. Also grabt weiter, schaut weiter unter die Felsen, haltet die Lichter unter den Schatten, erhebt die Stimme für die Stimmlosen, gebt Hoffnung für die Hoffnungslosen. Haltet Berichterstattung mit Ehrlichkeit, Integrität und Fakten. Wenn der Wind nachlässt, wird die Wahrheit siegen. Es wird klar sein, wer die Wahrheit sagt und wer nicht. In der Zwischenzeit, du, ich und wir alle: 'Einfach weitermachen'."
Bei der alljährlichen Preisverleihung sprach auch Deutschlandradio-Generaldirektor Stefan Raue, der Anfang der 1990er Jahre als Reporter für RIAS TV und dann als Chefredakteur oder Chef von Dienst für den TV-Sender gearbeitet hatte. Er erinnerte an die Geschichte des RIAS als wichtige und wertvolle Informationsquelle während des Kalten Krieges.
Der stellvertretende Missionsleiter der US-Botschaft, Kent Logsdon, sprach auch mit den Gästen darüber, wie sehr ihm die jährliche Preisverleihung in den letzten drei Jahren gefallen hat. Logsdon ist seit 15 Monaten Ehrenvorsitzender der RIAS Berlin-Kommission.
Der ARD-Korrespondent Jan Phillip Burgard, der für seinen Dokumentarfilm über die Auswirkungen des Klimawandels auf Gletscher und Inseln in Alaska den Preis für den besten Fernsehfilm erhielt, erzählte dem Publikum, wie er eines Tages von einem gewonnenen RIAS-Medaillenpreis träumte, den er zuvor 2004 bei dem ARD-Journalisten Claus Kleber im Büro von Washington DC zu seinem ersten Besuch im dortigen ARD-Studio gesehen hatte. "Er hat den Preis als eine Erinnerung an seine Zeit dort gelassen und ich habe es gesehen, als ich dort ein Auszubildender war und voller Ehrfurcht und Bewunderung davon war. Und diesen Preis jetzt selbst zu gewinnen, bedeutet mir sehr viel.."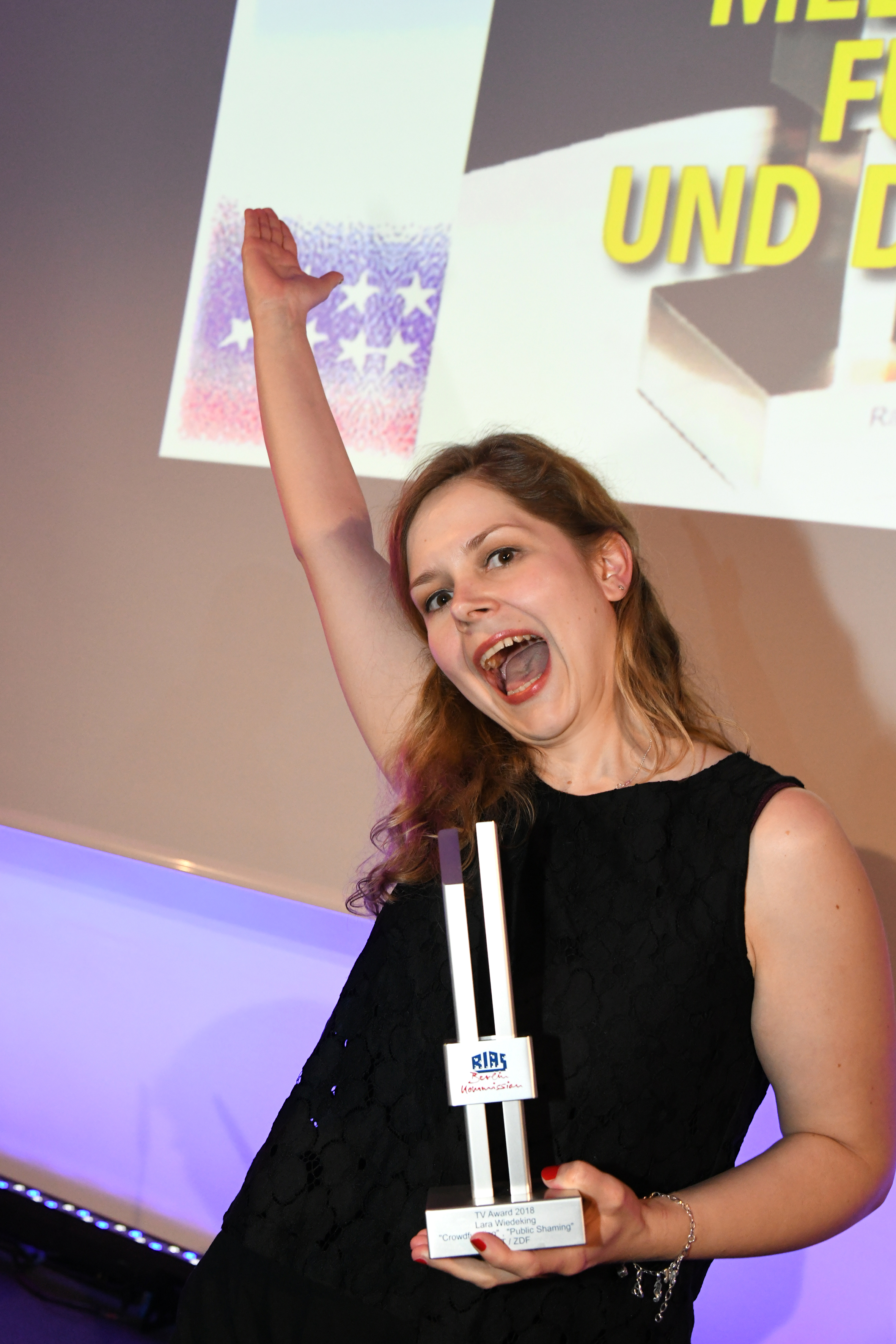 Lara Wiedeking erhielt den Preis für den besten TV-Kurzfilm für zwei Filme, die wichtige gesellschaftliche und politische Differenzen zwischen den USA und Deutschland beleuchteten – "Letzte Hoffnung Crowdfunding", der auf 3Sat und "Public Shaming", der auf ZDF heute+ erschien.
Arndt Peltner gewann für seinen faszinierenden 28-minütigen Radiobeitrag für Deutschlandradio über die Geschichte des Stacheldrahts und seine große Rolle bei der Entwicklung der Vereinigten Staaten – und wie er das Land, aber auch die Gesellschaft und die Menschen voneinander trennt.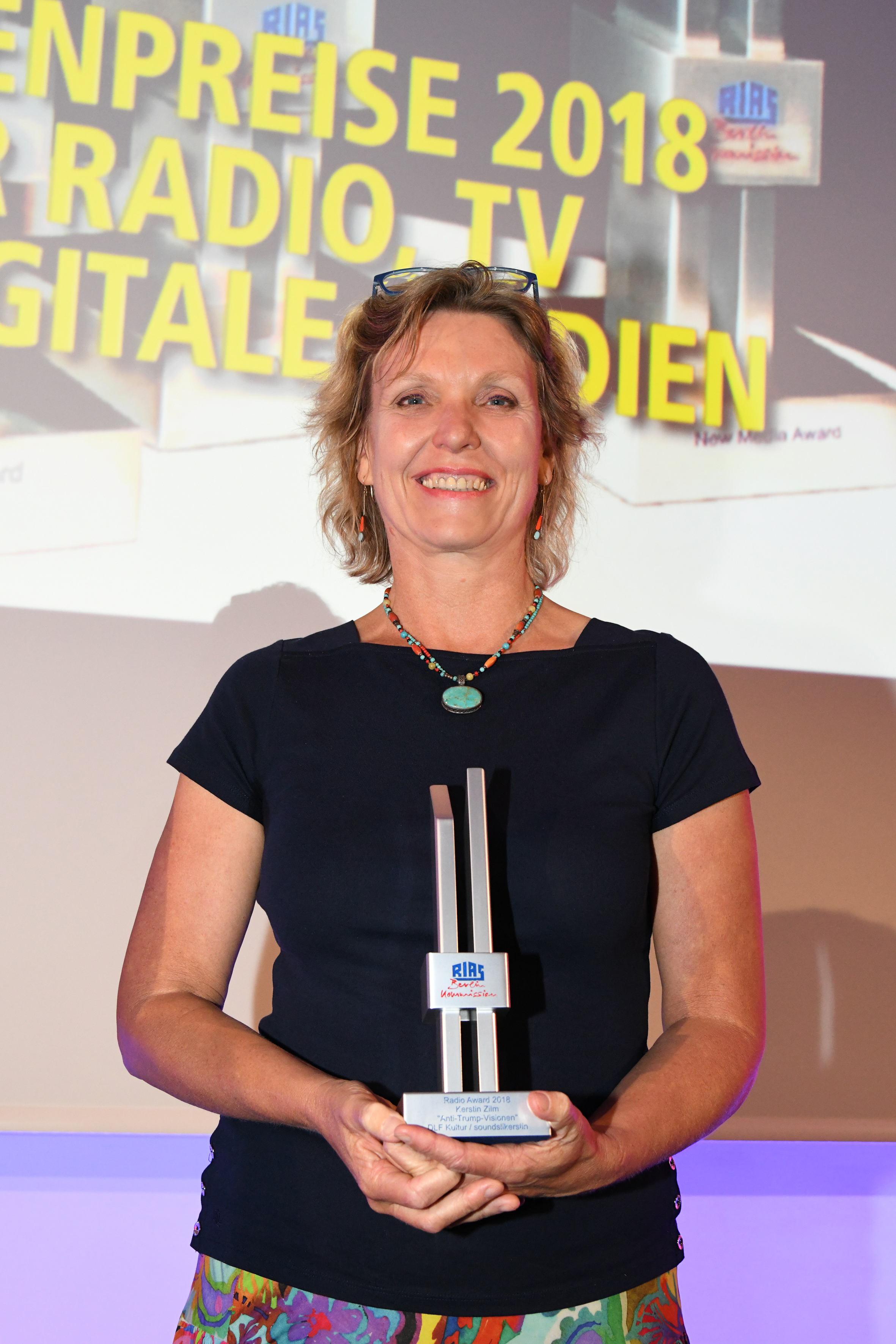 Kerstin Zilm gewann den Preis für ihre Serie von vier Radiobeiträgen für Deutschlandradio über die Auswirkungen, die die Politik von Präsident Donald Trump auf einige hat..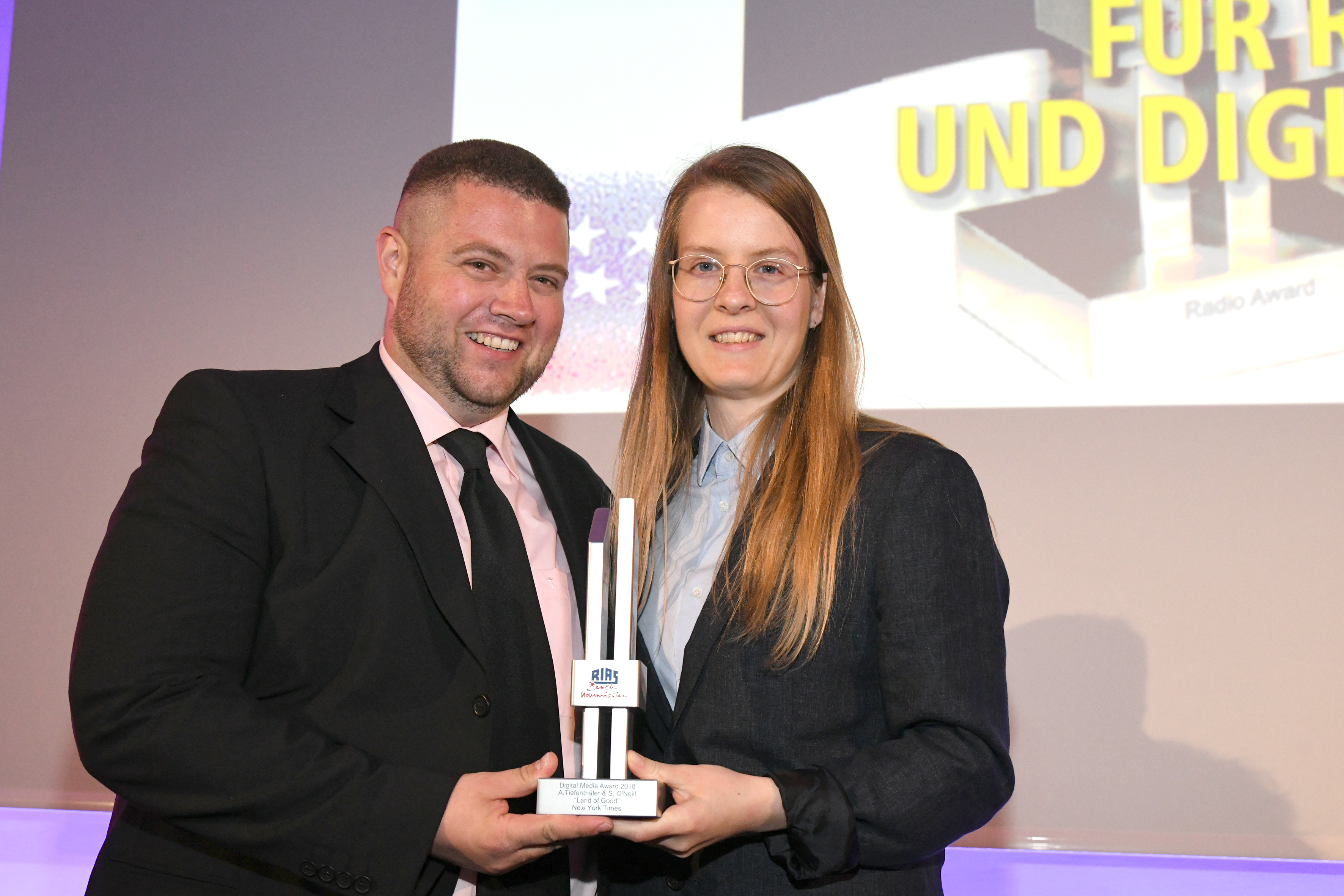 Ainara Tiefenthäler und Shane O'Neill gewannen den Preis für die beste digitale Mediengeschichte für ihren packenden Multimedia-Bericht "Land des Guten – Asyl suchen in Deutschland und Hass finden".
Die Preisträger nahmen auch an einer spannenden Podiumsdiskussion im Rahmen eines RIAS-Alumni-Treffens am Freitag, den 18. Mai im RIAS Funkhaus teil, bei der es um die Frage ging, ob sich das Klima in den letzten Jahren gegenüber den in den USA tätigen Auslandskorrespondenten verändert hat.
---
Mai 16, 2018
Das neue Buch von RIAS-Alumni Zamperoni versucht, die Popularität von Trump bei den Deutschen zu erklären
Einer der führenden Nachrichtensprecher in Deutschland, Ingo Zamperoni, RIAS-Alumni und ehemaliger Korrespondent der ARD in Washington DC, hat gerade ein spannendes neues Buch mit dem Titel "Anderland" in Deutschland veröffentlicht, in dem er erklärt, warum Donald Trump teilweise so populär in der Vereinigten Staaten ist – Trump könnte als Präsident im Jahr 2020 wiedergewählt werden.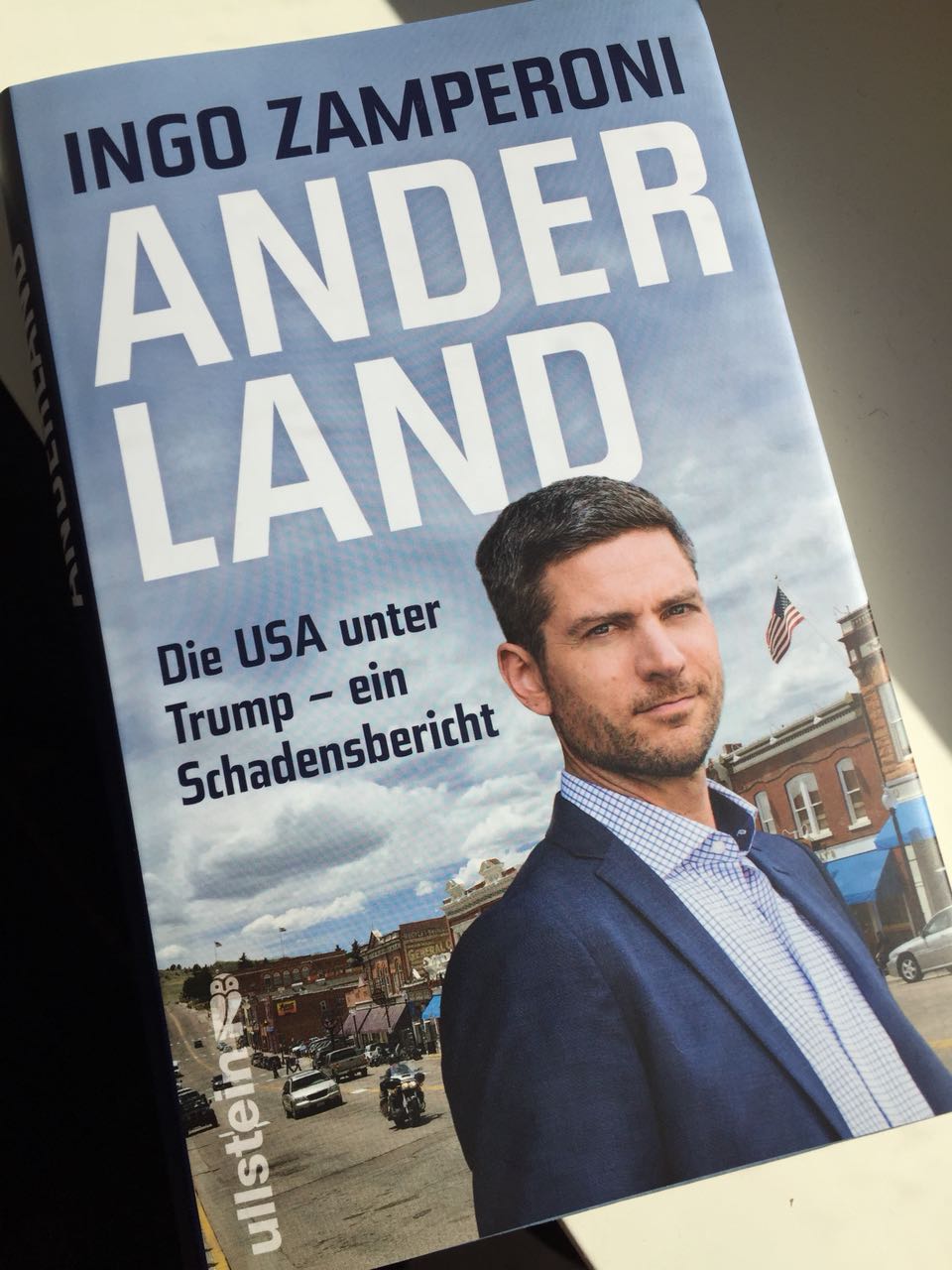 "Ich denke, es ist durchaus möglich, ja sogar wahrscheinlich, dass Trump eine zweite Amtszeit gewinnen könnte", sagte Zamperoni, 44, bei einer Buchlesung in Berlin diese Woche zur Vorstellung seines zweiten Buches über die Vereinigten Staaten. In seinem bemerkenswert ausgewogenen Buch gibt Zamperoni den deutschen Lesern nützliche Einblicke, warum Trump gewonnen hat und wieder gewinnen kann.
"Wir haben ein leicht gestörtes Verhältnis zu den Vereinigten Staaten", sagte Zamperoni, der von Anfang 2014 bis Ende 2016 in Washington war. "Die Antipathie gegen die Vereinigten Staaten und das, was dort jetzt passiert, ist wahrscheinlich stärker als in jedem anderen Land. Es gibt viele Missverständnisse in Deutschland über die Vereinigten Staaten. Wir denken, dass wir die Amerikaner gut kennen, weil sie dort im Urlaub waren oder so. Aber das tun wir nicht wirklich."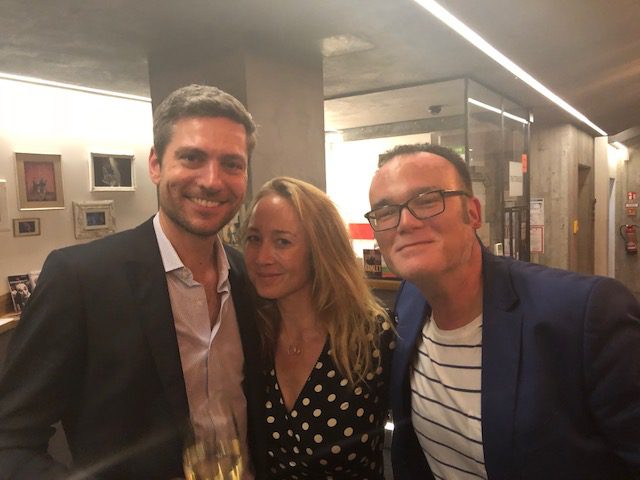 Zamperoni nutzte ein RIAS-Stipendium im Oktober 2017, um unter anderem in Texas, Washington DC und New York für sein Buch zu recherchieren – er besuchte zeitweise Amerikaner, die er vor der Wahl 2016 für das deutsche Fernsehen interviewt hatte und stellte fest, dass sie fast ein Jahr nach der Wahl immer noch starke Unterstützer von Trump waren. "Es gab keine'Käufer-Reue' unter denen, mit denen ich erneut gesprochen hatte", sagte er – Kommentare, die viele Deutsche überraschten.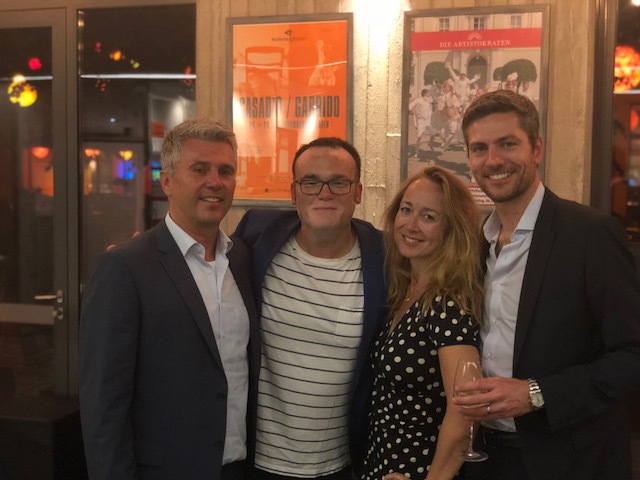 Zamperoni, der der Hauptredner bei der Verleihung des RIAS-Medienpreises 2017 war, war bereits 2004 im Alter von 30 Jahren erster RIAS-Stipendiat in einem Standardaustauschprogramm. Er nahm 2017 an einem zweiten RIAS-Stipendium teil, einem einwöchigen "Senior Editor's Program" in Texas. Nach der Buchpräsentation traf sich Zamperoni mit drei weiteren RIAS-Teilnehmern auf der sechsköpfigen Texas-Reise: Petra Gute vom RBB, Vladimir Balzer vom Deutschlandradio und RIAS Berlin Commission Executive Director Erik Kirschbaum. "Trump ist es egal, ob wir in Deutschland denken, dass er ein Narr ist", sagte Zamperoni, dessen Frau und Kinder Amerikaner sind, bei der Buchvorstellung. "Das Einzige, was ihm wichtig ist: Was seine Anhänger über ihn denken und wie es ihm geht."
---
Mai 14, 2018
Jährlicher Empfang und Preisverleihung – alle Alumni sind eingeladen!
Feiern sie mit uns ein fantastisches Jahr der RIAS Berlin Kommission! Sie alle sind zu zwei großen Alumni Reunion Veranstaltungen in dieser Woche in Berlin eingeladen – am 17. und 18. Mai. Die Verleihung des RIAS Medienpreises 2018 findet am Donnerstag ab 19 Uhr statt, gefolgt von dem jährlichen Empfang ab ca. 20:30 Uhr. Auf der RTDNA EIJ Konferenz in Baltimore, Maryland, am 28. und 29. September werden auch zwei große Treffen für US-amerikanische Fellows stattfinden.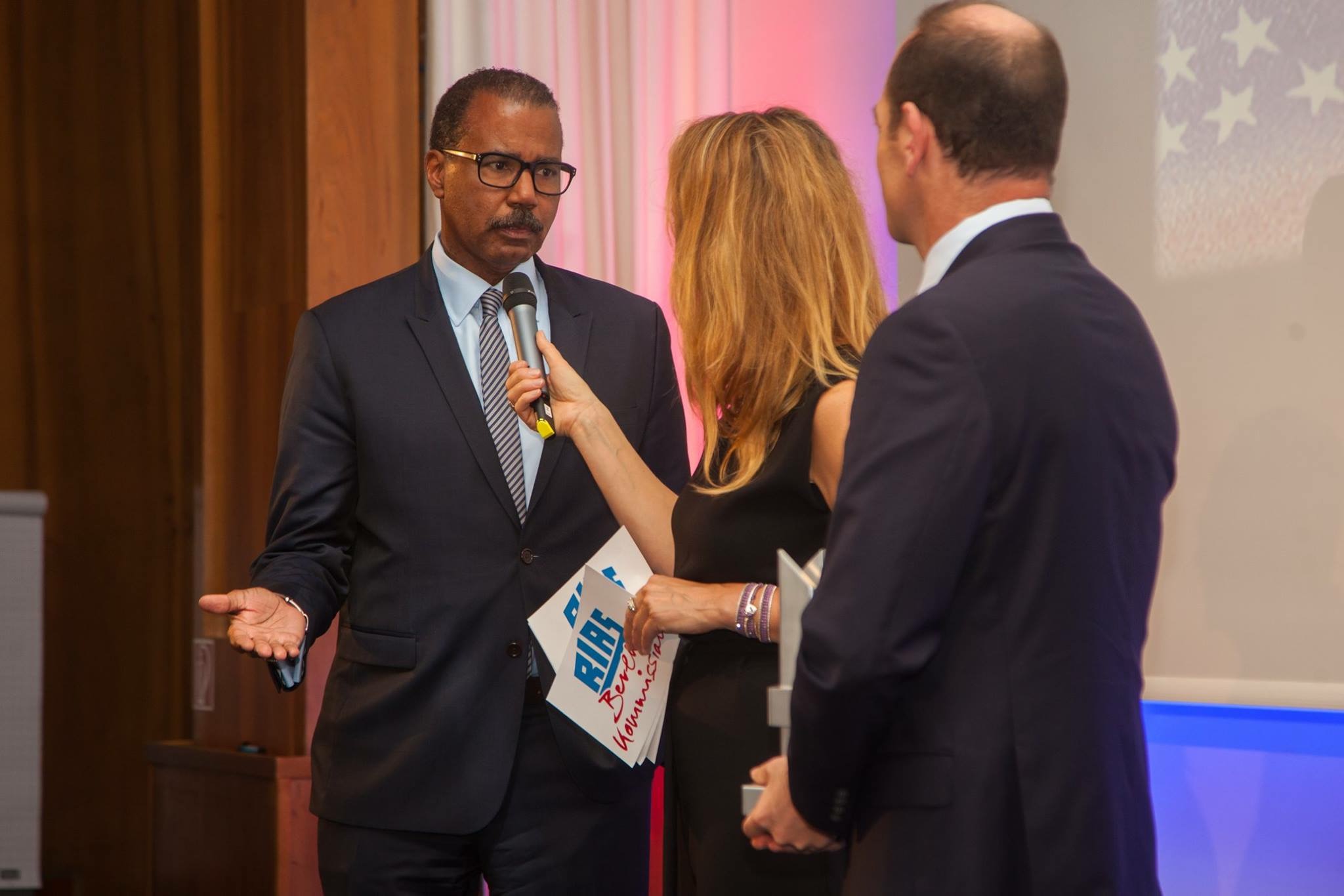 In diesem Jahr möchten wir Sie auch in Berlin zu einer Podiumsdiskussion und RIAS-Alumni-Treffen am folgenden Abend am 18. Mai ab 16 Uhr einladen. Das Thema der Podiumsdiskussion lautet: "Wie hat sich die Arbeit ausländischer Korrespondenten (aus Deutschland) in den Vereinigten Staaten seit der Wahl von Donald Trump verändert?" Auf dem Podium werden die Preisträger aus den USA zu sehen sein. Das wird in der Glashalle des RIAS Funkhauses im Erdgeschoss stattfinden. Anschließend werden alle Alumni eingeladen, an einem gemeinsamen Abendbuffet im Restaurant Pusteblume und im Biergarten.
Bitte teilen Sie uns unter info@riasberlin.org mit, ob Sie an einer oder beiden Veranstaltungen teilnehmen möchten. Nochmals vielen Dank für all Ihre Bemühungen, uns beim Aufbau unseres Alumni-Netzwerks zu helfen, und an all diejenigen, die jährlich Spenden für die Stärkung von RIAS gespendet haben. Das Alumni-Netzwerk mit rund 1.600 Deutschen und Amerikanern aufzubauen, ist eines der wichtigsten Dinge, die wir gerade aufbauen, und wir schätzen Ihre Bemühungen mit den lokalen Alumni-Chaptern, die in den letzten Monaten in Köln, Berlin, Hamburg, Washington DC, New York City und nun auch in Mainz-Frankfurt entstanden sind.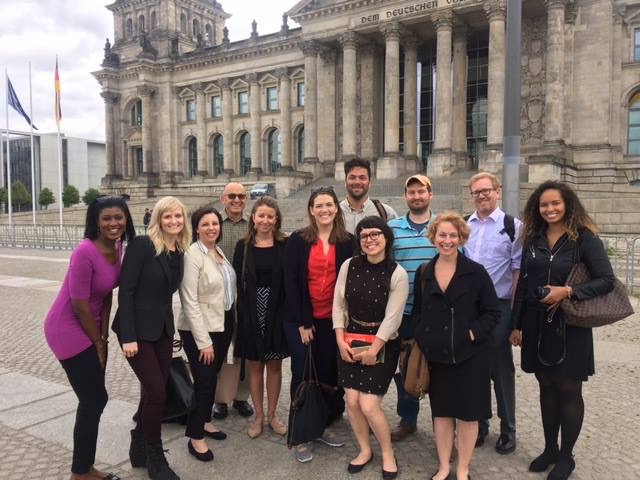 Es war wirklich ein großartiges Jahr, das es wert ist, gefeiert zu werden, wie einige der Bilder hier zeigen. Die Zahl der Bewerber und Teilnehmer aus den USA und Deutschland ist gestiegen – auch dank Ihrer Spenden und Ihrer unermüdlichen Bemühungen, die Kosten niedrig zu halten. An jeder Reise über den Atlantik nahmen in diesem Jahr 14 Journalisten teil – gegenüber 10 im Jahr 2016 und 12 im Jahr 2017.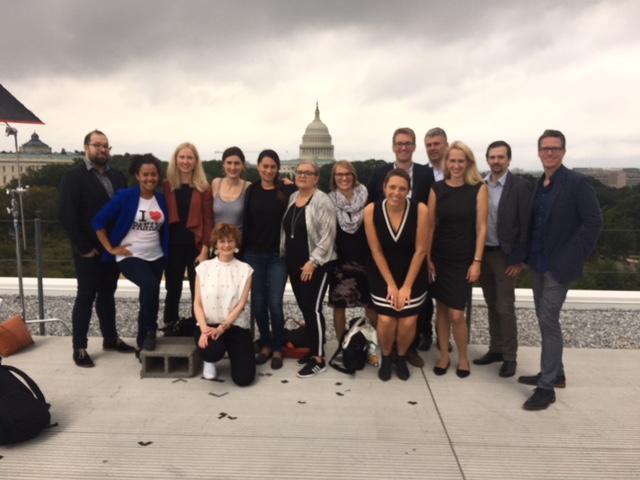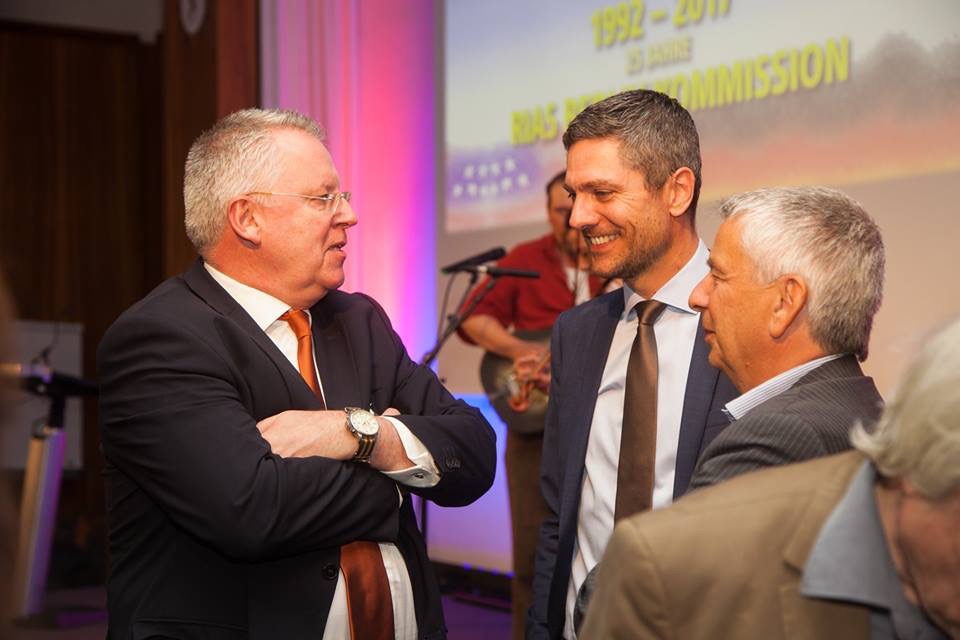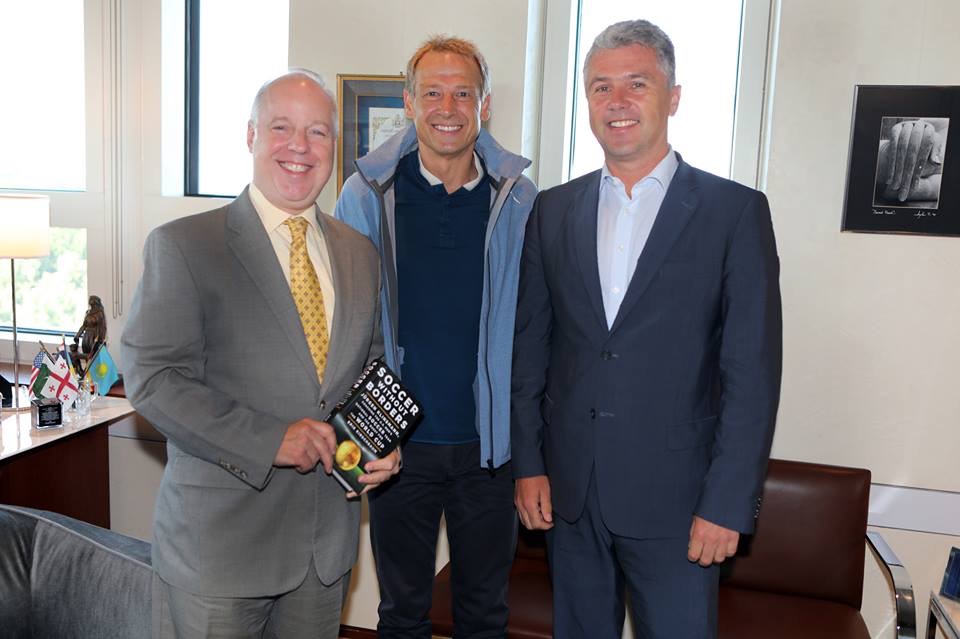 Die Fellows der RIAS Berlin Kommission hatten viele erhellende Treffen, u.a. mit dem amtierenden US-Botschafter in Deutschland, Kent Logsdon, und dem deutschen Botschafter in den Vereinigten Staaten – zusammen mit dem Kongressabgeordneten und New Jersey Gouverneur Phil Murphy, der in dem früheren Amt als US-Botschafter in Deutschland ein begeisterter Unterstützer der RIAS Berlin Kommission war.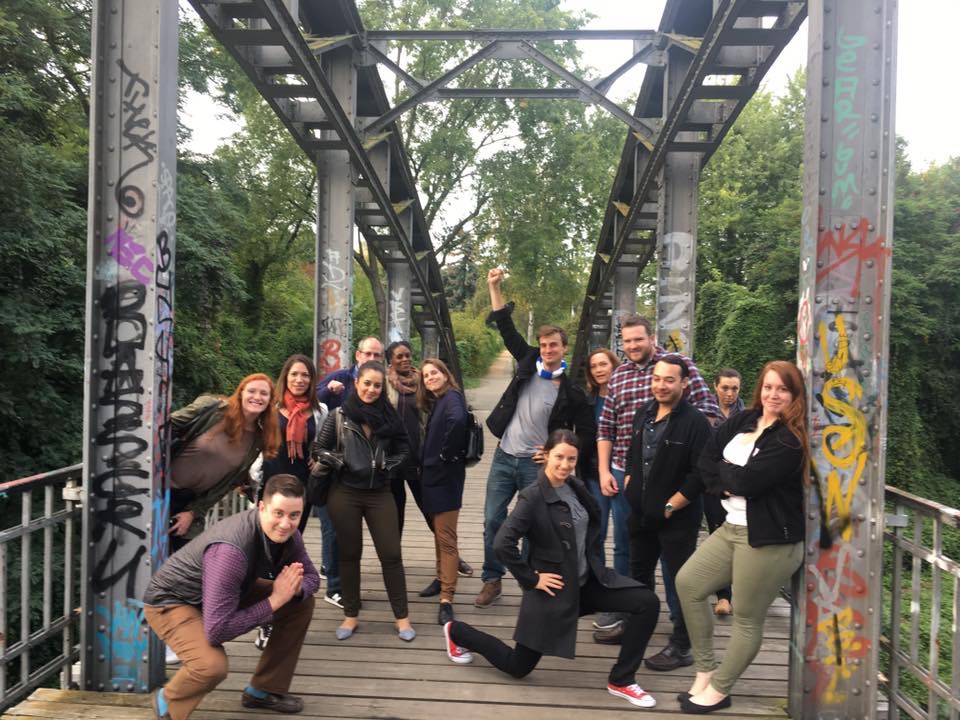 Wir hoffen, dass im Jahr 2018 weitere regionale Alumni-Chapter gegründet werden können – bitte teilen Sie uns mit, wenn Sie daran interessiert sind, ein lokales Chapter in Ihrer Region zu organisieren. Es gibt viele Alumni aus den letzten 25 Jahren, die in Atlanta, Los Angeles, Chicago, München und Leipzig leben. Im Idealfall verbinden sich die Regional-Chapter miteinander und schaffen die Voraussetzungen für einen individuelleren Austausch.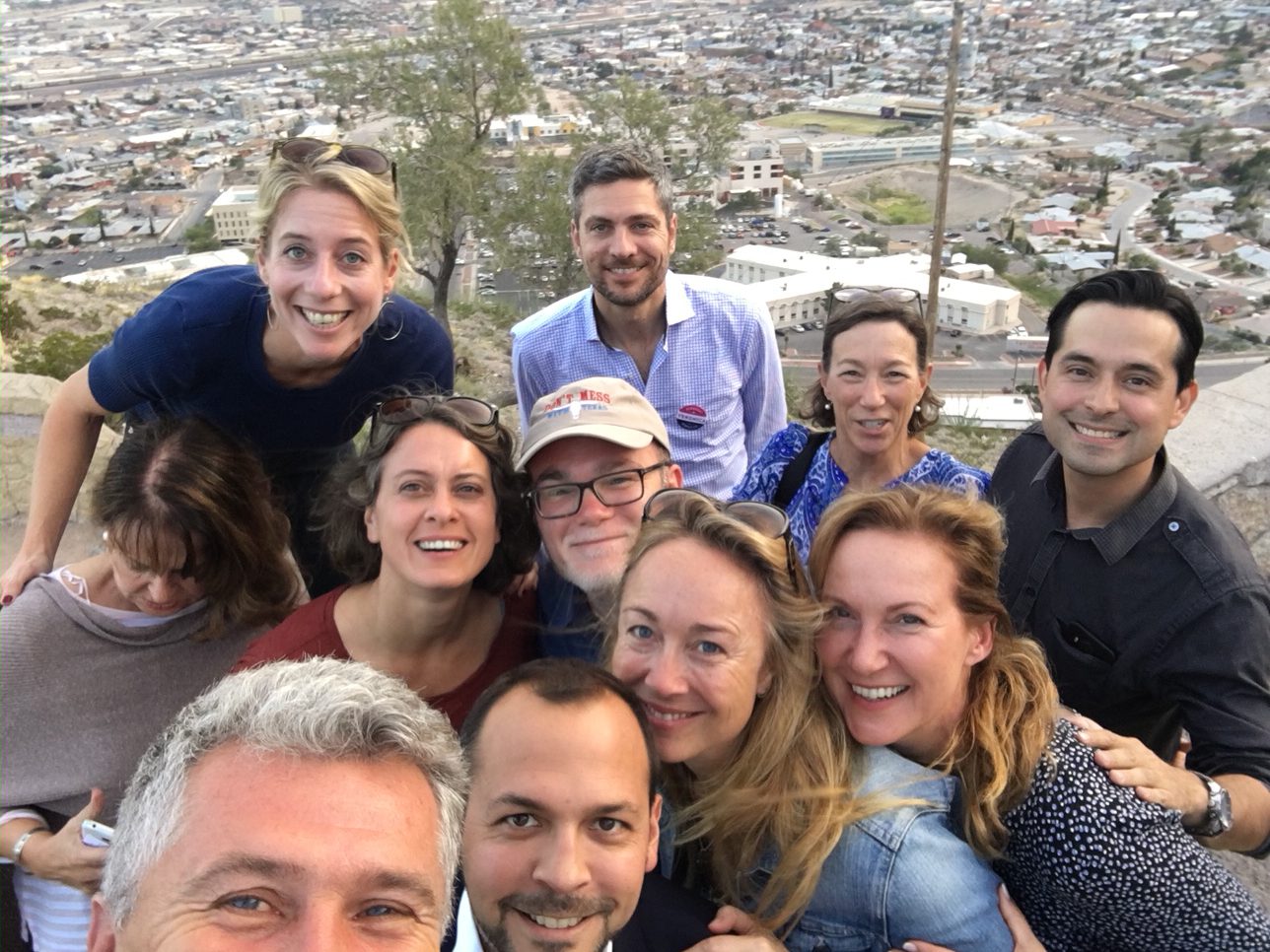 ---
April 20, 2018
Neues RIAS-Alumni-Chapter in Mainz-Frankfurt gegründet, Kölner Alumni-Treffen
Am 19. April wurde in Mainz-Frankfurt ein neues Alumni-Chapter der RIAS Berlin Kommission eröffnet – und damit die Liste der bereits bestehenden Alumni-Chapter in Köln, Berlin, Hamburg, Washington DC und New York City erweitert. Das Kölner Chapter hatte am Abend zuvor, am 18. April, sein zweites Treffen.
Etwa 10 Alumni aus vergangenen und neueren Reisen trafen sich in Mainz in einem Pub in der Nähe des Rheins. In Erinnerung an ihre RIAS-Reisen und Brainstorming über Möglichkeiten, weitere RIAS-Alumni deutschlandweit und auch in den USA zu vernetzen, brachten die Journalisten aus dem Dreiländereck und Netzwerke wie ZDF, HR und SR Hoffnung und Optimismus, den RIAS-Spirit am Leben zu erhalten,
noch ein Jahrzehnt oder mehr, nach ihrer Reise in die USA. Auf der Website www.riasberlin.org gibt es einen RIAS-Alumni-Community-Bereich sowie auf RIAS Berlin Kommission und RTDNA RIAS Facebook-Seiten, auf denen Alumni Informationen austauschen.
In Köln traf sich das im November gegründete erste Alumni-Chapter zum zweiten Mal in einem Pub – ebenfalls am Rhein an einem warmen und sonnigen Frühlingsabend. Die Journalisten aus Deutschlands viertgrößter Stadt kamen von vielen kommerziellen Sendern, wie RTL und NTV, von den öffentlich-rechtlichen Sendern WDR, Phoenix und Deutschlandfunk, sowie der Deutschen Welle in Bonn.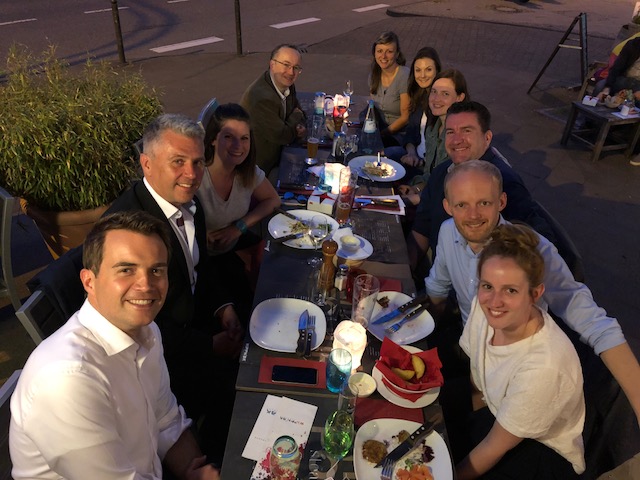 Obwohl die Kölner und Bonner RIAS-Alumni in der gleichen Stadt und Region leben und arbeiten, hatten sich viele noch nie zuvor getroffen und waren dank des RIAS-Alumni-Chapter-Treffens zum ersten Mal miteinander vernetzt.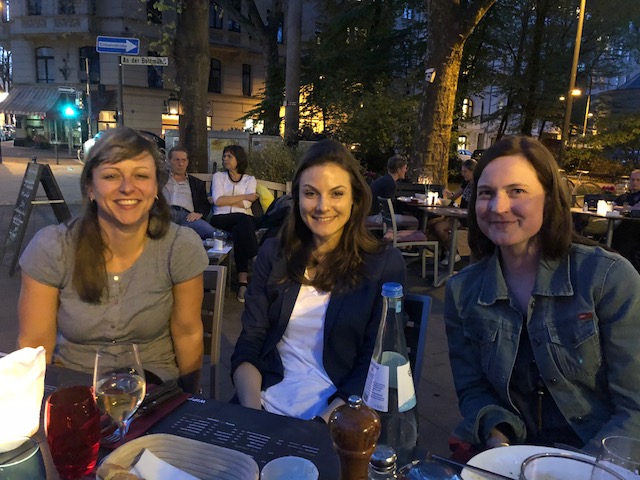 In Berlin stehen mehrere große Alumni-Veranstaltungen an. Am 17. Mai vergibt die RIAS Berlin-Kommission den jährlichen Medienpreis an sechs preisgekrönte TV- und Radioproduktionen. Nach der Preisverleihung sind alle Alumni und Freunde von RIAS zum jährlichen Empfang im RIAS Funkhaus in Berlin eingeladen.
Am Freitag, den 18. Mai, werden die Preisträger aus den USA an einer Podiumsdiskussion über ihre Erfahrungen als Auslandskorrespondenten in den USA der letzten Jahre teilnehmen. Nach der Podiumsdiskussion sind auch die Alumni der RIAS Berlin Kommission zu einem Alumni-Treffen eingeladen.
---
April 8, 2018
Deutsche Journalisten erfahren mehr über das Arbeiten von US TV- und Radio-Sendern
Die Journalisten der RIAS Berlin-Kommission nutzten ihre dreiwöchigen Stipendien in den Vereinigten Staaten. Die 14 deutschen Journalisten verbrachten eine Woche in Washington DC, eine Woche in New York und verteilten sich dann über das ganze Land, um amerikanischen Journalisten, die an großen und kleinen Stationen von Texas bis South Dakota und zwischen Kalifornien und South Carolina arbeiten, "über die Schulter zu schauen".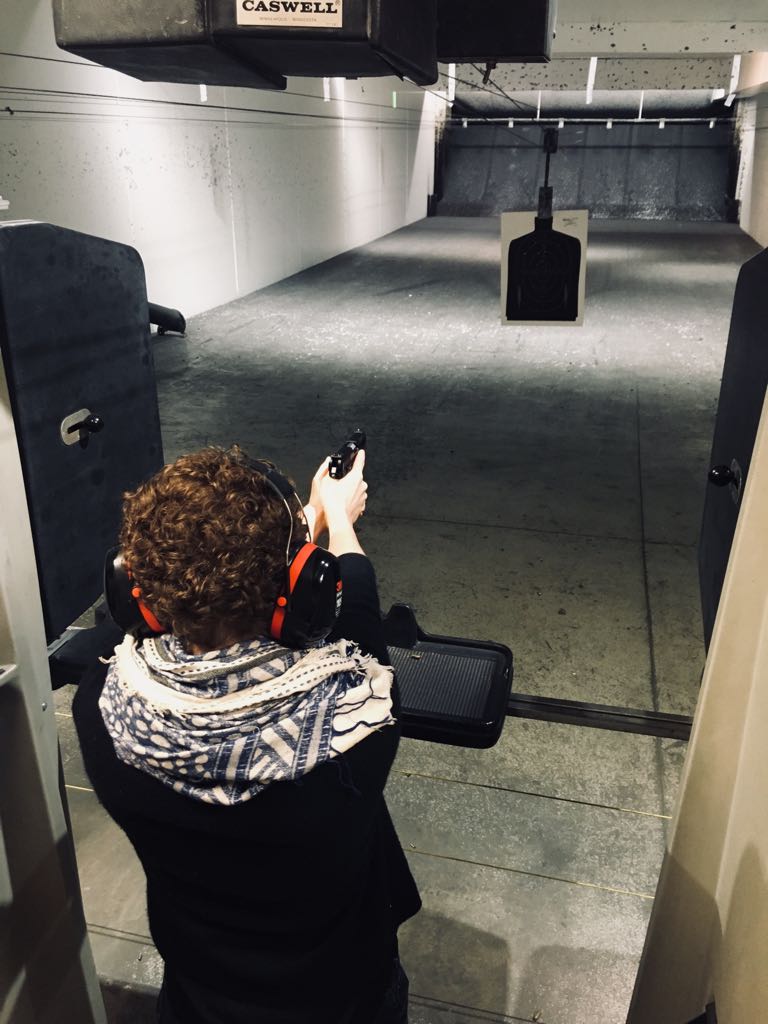 Viktoria Kleber, Reporterin bei RBB TV in Berlin, verbrachte eine aufschlussreiche Woche in Sioux Falls, South Dakota, moderiert vom amerikanischen RIAS-Kollegen Jay Trobec, wo sie nicht nur das Arbeiten in der Hochebene, sondern auch das Schießen mit der Pistole erlernte. Stolz präsentierte sie ihre Ergebnisse bei einem Talkshow-Auftritt im KELO-TV . "Es war das erste Mal, dass ich mit einer Pistole schoss. Ich bin wirklich talentiert", sagte Kleber (Bild links) lächelnd. "Ich hab's geschafft. Das dürfen wir in Deutschland nicht. Wir haben hier eine andere Waffenkultur."
In einem gut gelaunten Interview auf KELO-TV gab Kleber zu, dass sie überrascht war, wie schnell US-Reporter ihre Nachrichten auf Sendung bekommen und wie viel Arbeit US-Reporter alleine machen. "Ich war wirklich überrascht", sagte sie. "Du bist technisch sehr fortgeschritten. Wenn man sich einen Reporter ansieht und mit Deutschland vergleicht…. Hier steht ein Reporter ziemlich alleine da. Er trägt alles, z.B. die Kamera, dreht selbst, bearbeitet alles und macht alles selbst. In Deutschland haben wir große Teams. Wir haben einen Reporter, einen Kameramann, einen Tontechniker und manchmal sogar einen Fahrer, und dann jemanden, der mit Ihnen schneidet und jemanden, der ein Toningenieur ist. Hier macht nur eine Person all diese verschiedenen Arbeiten!"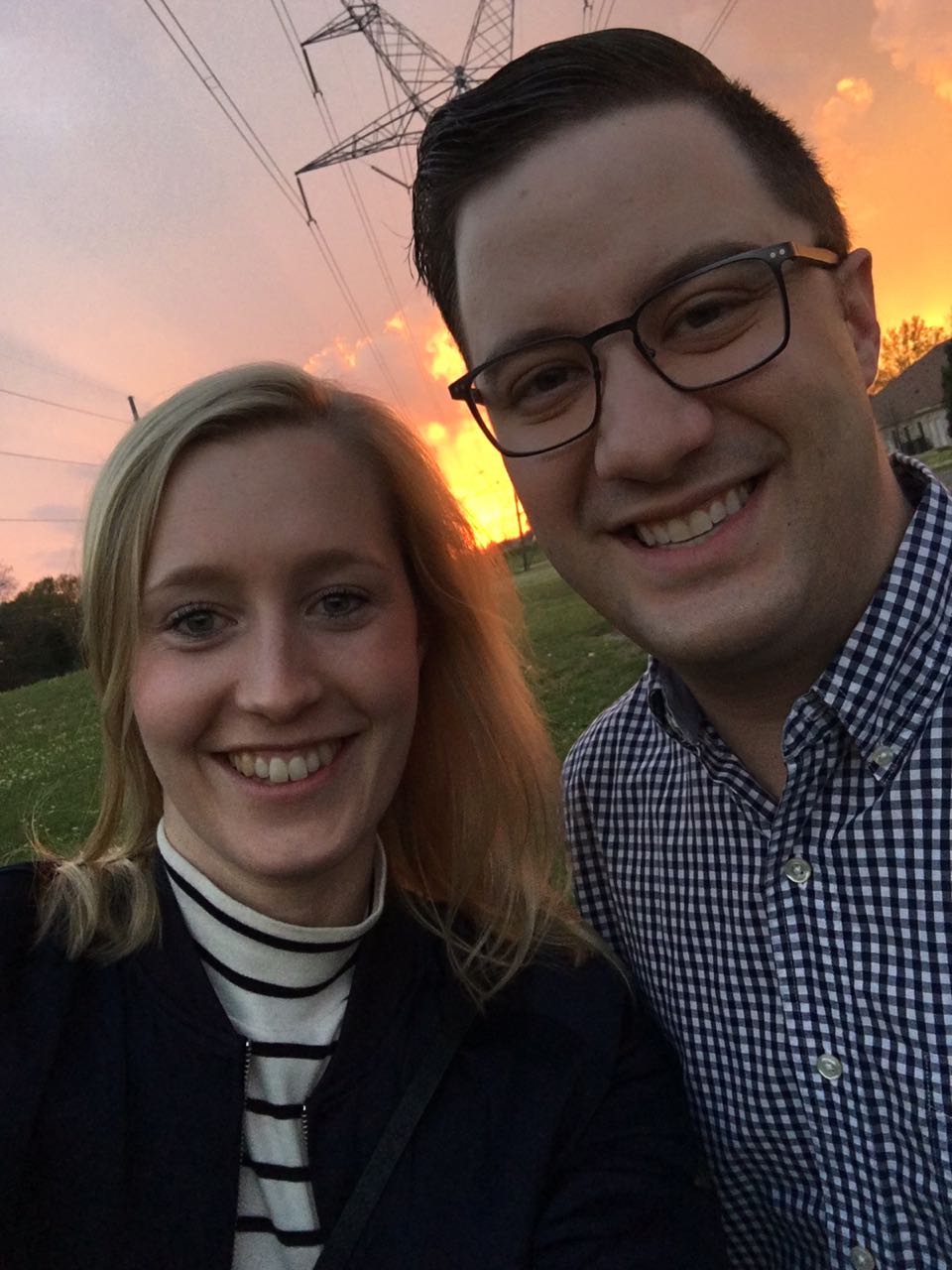 In Tyler, Texas, hat die ZDF-Journalistin Anna-Maria Schuck eine Woche lang mit den US-Alumni Lane Luckie (beide rechts im Bild) bei KLTV in Ost-Texas gearbeitet und ihnen über die Schulter geschaut – und dabei auch viel über das Leben in einem ländlichen Teil der USA und das Schießen mit einer Waffe gelernt. Schuck wurde auch in den Dienst vor der Kamera gedrängt und verbrachte zwei Stunden auf der East Texas Now live TV streaming broadcast, die in der Mitte des KLTV Newsrooms eingerichtet wurde. East Texas Now Gastgeber Jeremy Butler und Luckie schlossen sich Schuck für eine aufschlussreiche Diskussion über die Unterschiede zwischen Deutschland und den Vereinigten Staaten an.
Sarah Schmidt von RTL in Berlin verbrachte eine Woche in Los Angeles und arbeitete zunächst mit dem RIAS-Kollegen Frank Mottek, der als Senior Money Anker bei CBS's All-News-Sender KNX 1070 in LA tätig ist, und dann mit dem CNN-Nationalkorrespondenten Miguel Marquez, der ebenfalls RIAS-Alumni ist. Schmidt produzierte diese Geschichte für NTV online nach dem Treffen der RIAS-Fellows mit dem Kongressabgeordneten Mike Doyle (Demokrat) in Pennsylvania.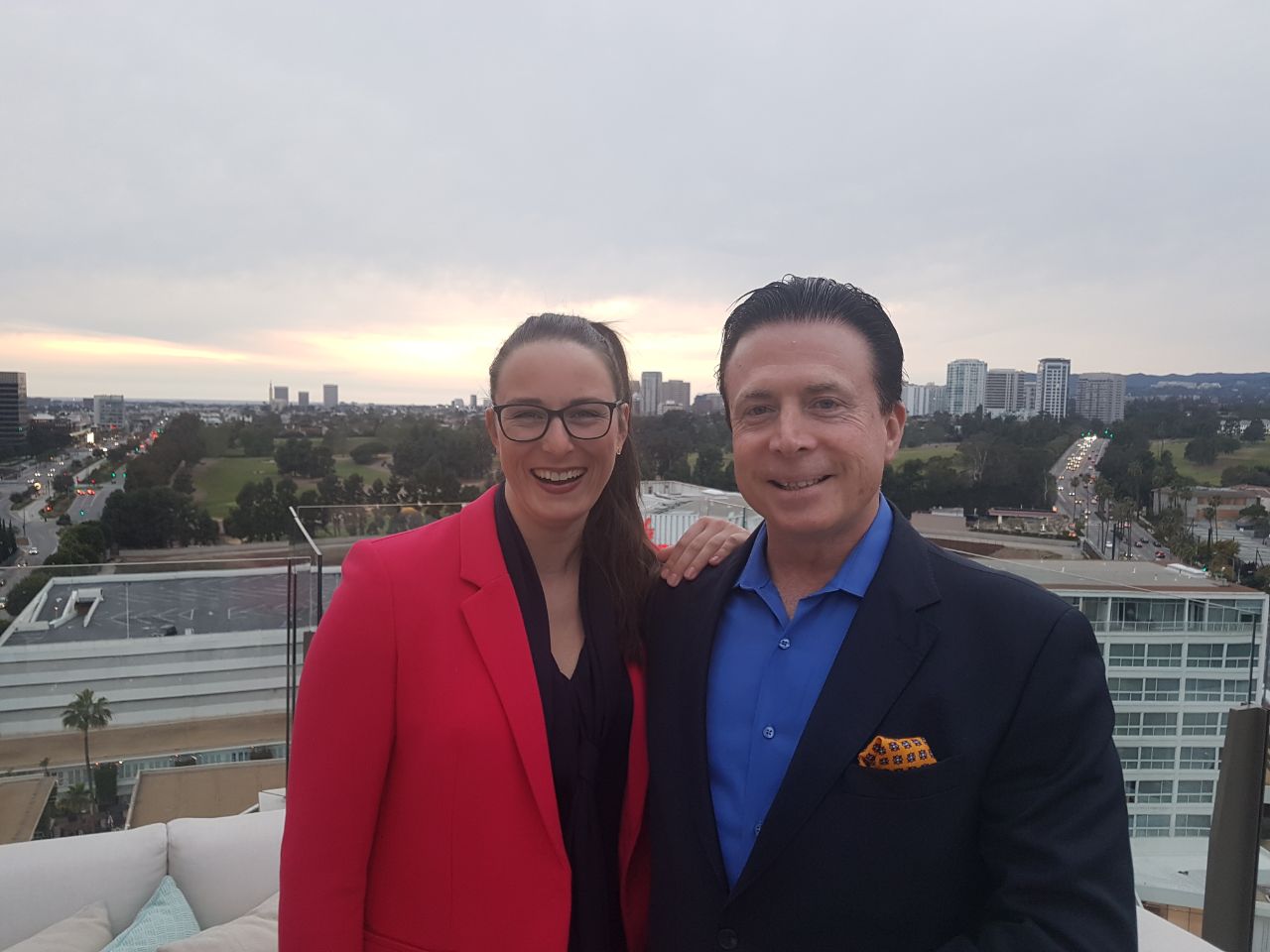 Andere deutsche Journalisten verbringen ihre Stationswoche in den Vereinigten Staaten und lernen mehr über Waffen und Waffenkontrolle – und wie man schießt. Louisa Maria Gersberg vom MDR Fernsehsender Schwerin verbrachte ihre Senderwoche in South Carolina mit Thomas Colones von WSPA-TV, einem US-Fellow von 1997, in Spartanburg.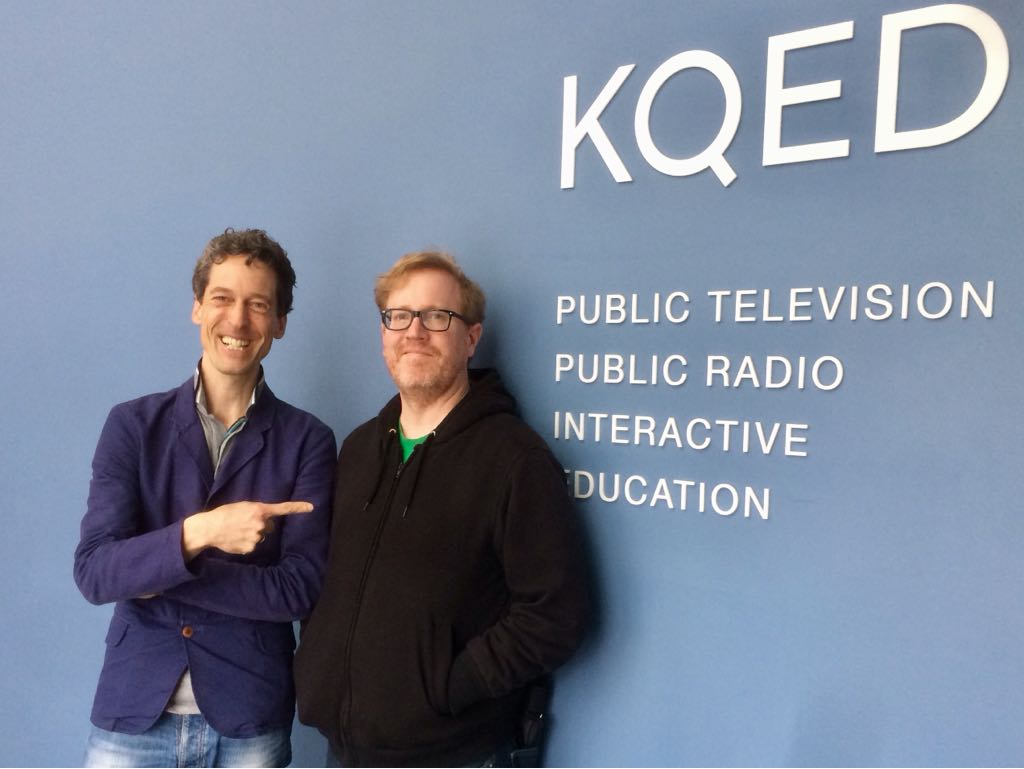 Eberhard Schade vom Deutschlandfunk-Radio verbrachte eine Woche in San Francisco am KQED-Radio mit dem US-Kollegen Don Clyde (oben). Hier erfuhr er mehr über Podcasts, während Bianca Leitner von der ARD Tagesschau einen Blick auf Las Cruces, New Mexico und Teile des großen Südwestens mit Hugo Perez (unten rechts) erhaschte, US-amerikanischer RIAS-Stipendiat und Journalistikprofessor an der New Mexico State University.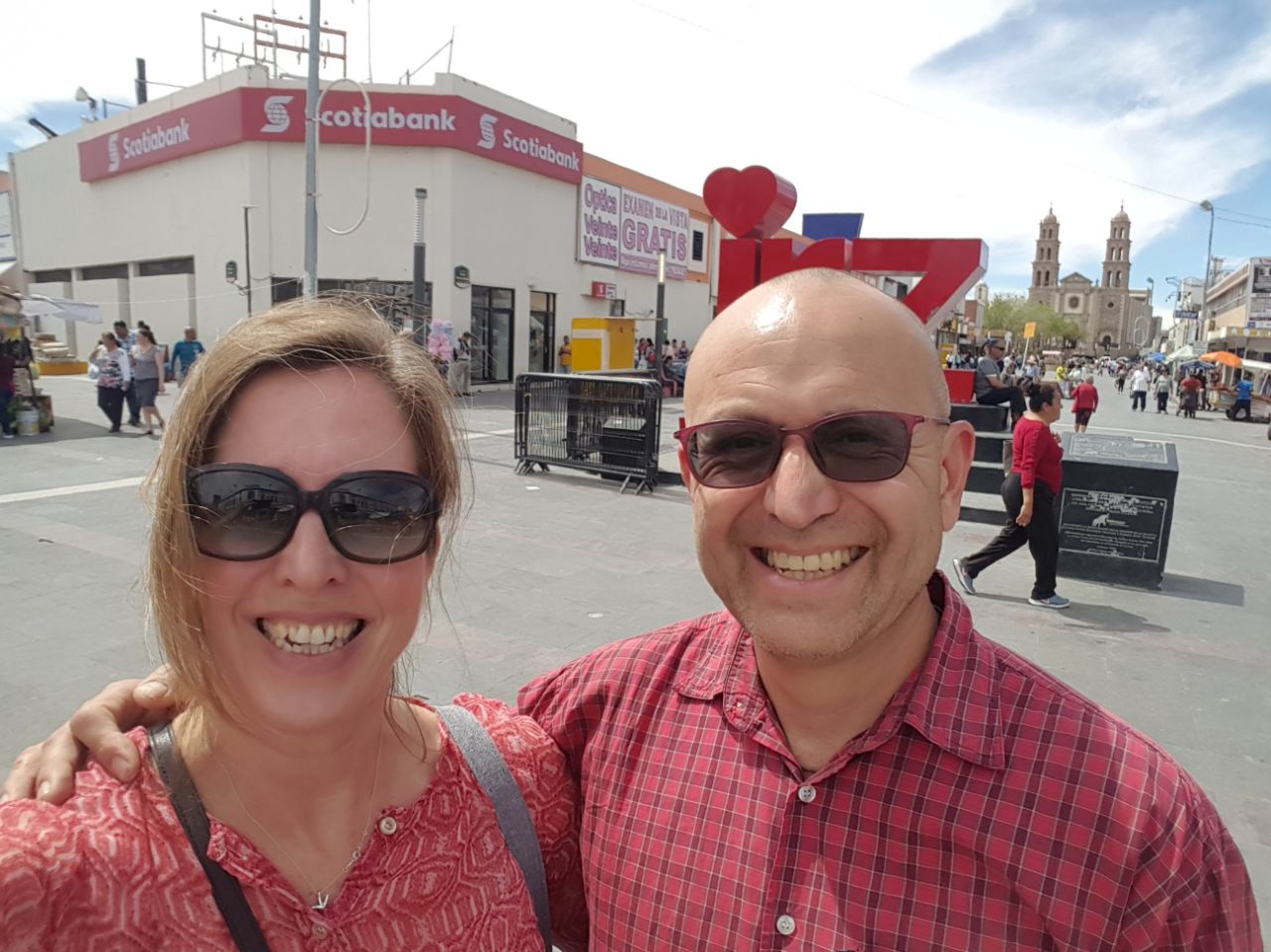 Marcel Grzyb, Executive Producer des deutschen Nachrichtensenders NTV (unten), beobachtete eine Woche lang bei CNN in Atlanta, wie die Dinge beim US-Medienriesen laufen – und verband sich mit vielen der Dutzenden von US-Alumni, die in Deutschland und den RIAS-Programmen dabei waren.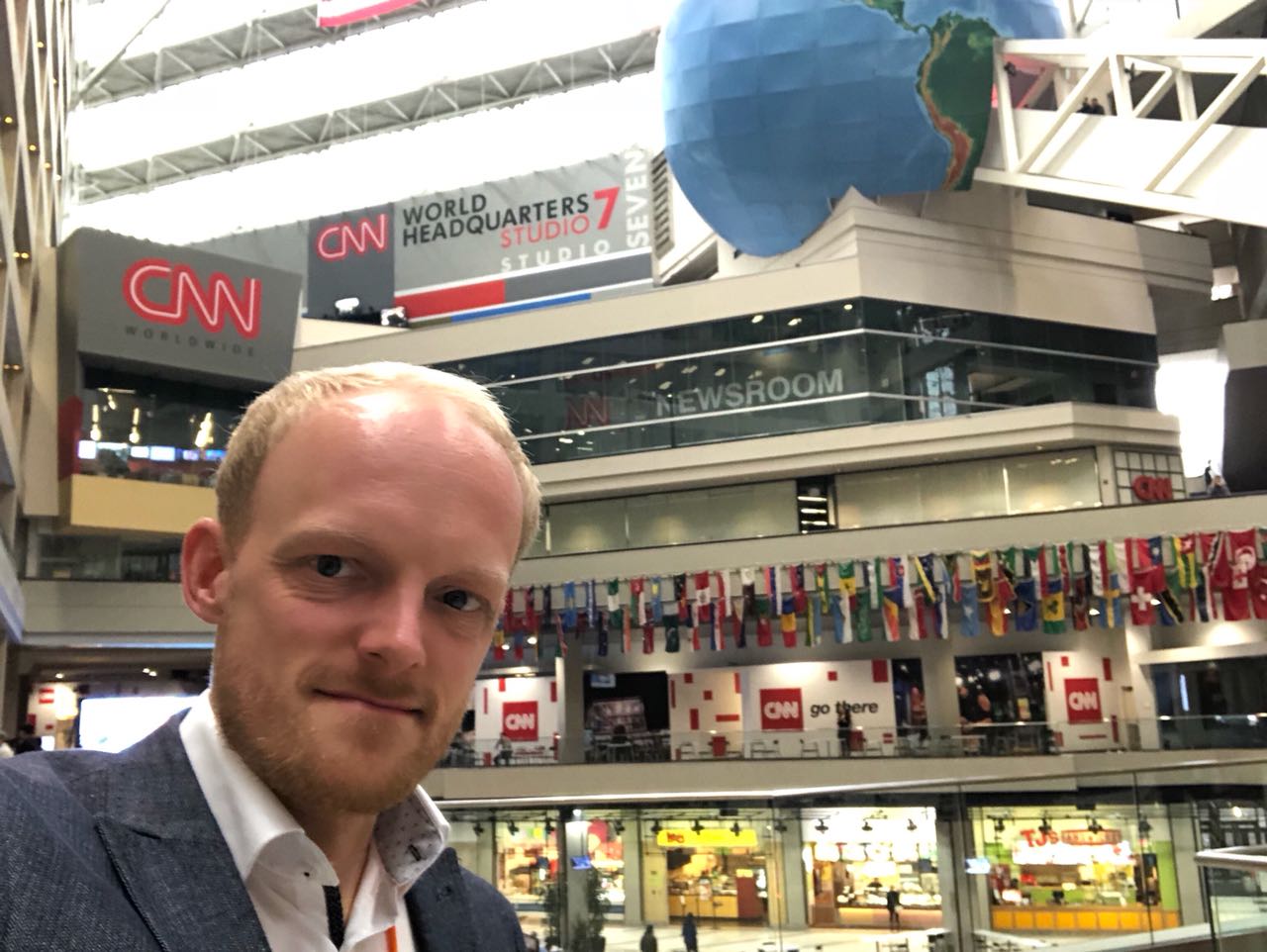 Viele RIAS-Fellows aus Deutschland verbrachten ihre Woche in Texas. Anne Demmer vom RBB Radio in Berlin hatte eine ereignisreiche Woche in Houston, Texas mit dem Reporter von Houston Public Media und RIAS Alumni Andrew Schneider (unten), bevor sie nach Süden zur US-Mexikanischen Grenze am Rio Grande fuhr, um eine Geschichte für ihre Station in Berlin zu bearbeiten.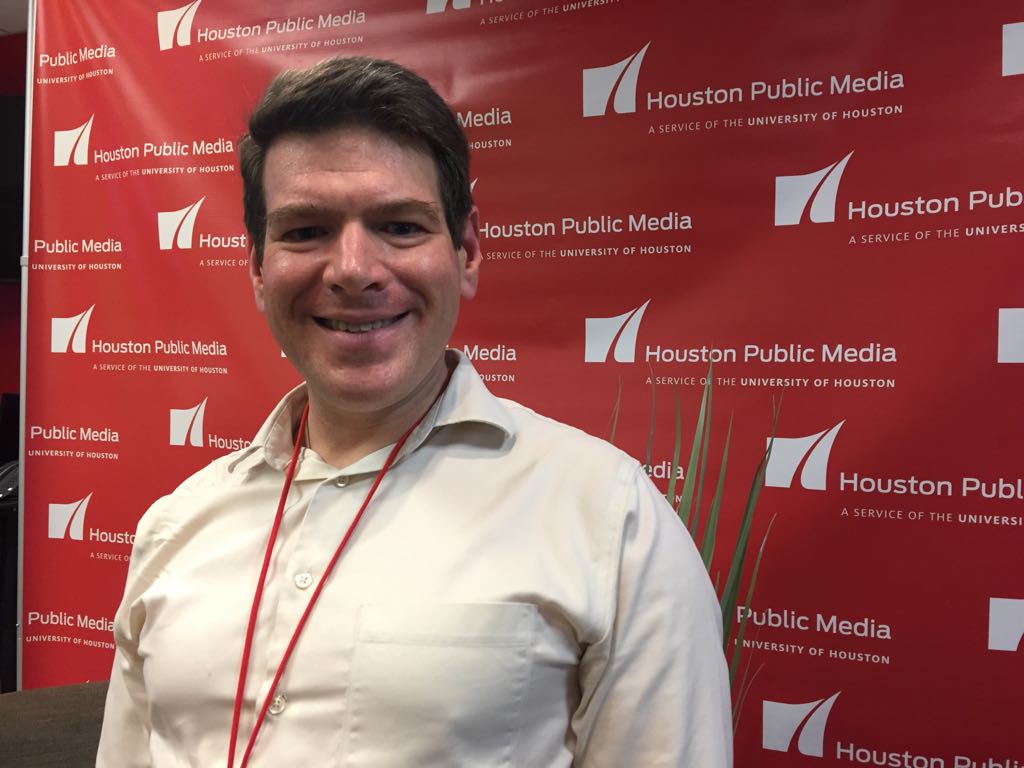 Und Laura Fritsch (unten rechts), Mitglied des Nachrichtensenders Welt TV nutzte ihre Senderwoche in Denver, Colorado sowie einen Gegenbesuch in New York City, um sich erneut mit der US-Kollegin Clare Tönniskoetter von der New York Times zu treffen (Bild links unten), ein RIAS-Alumni und New Yorker Gebietskoordinator.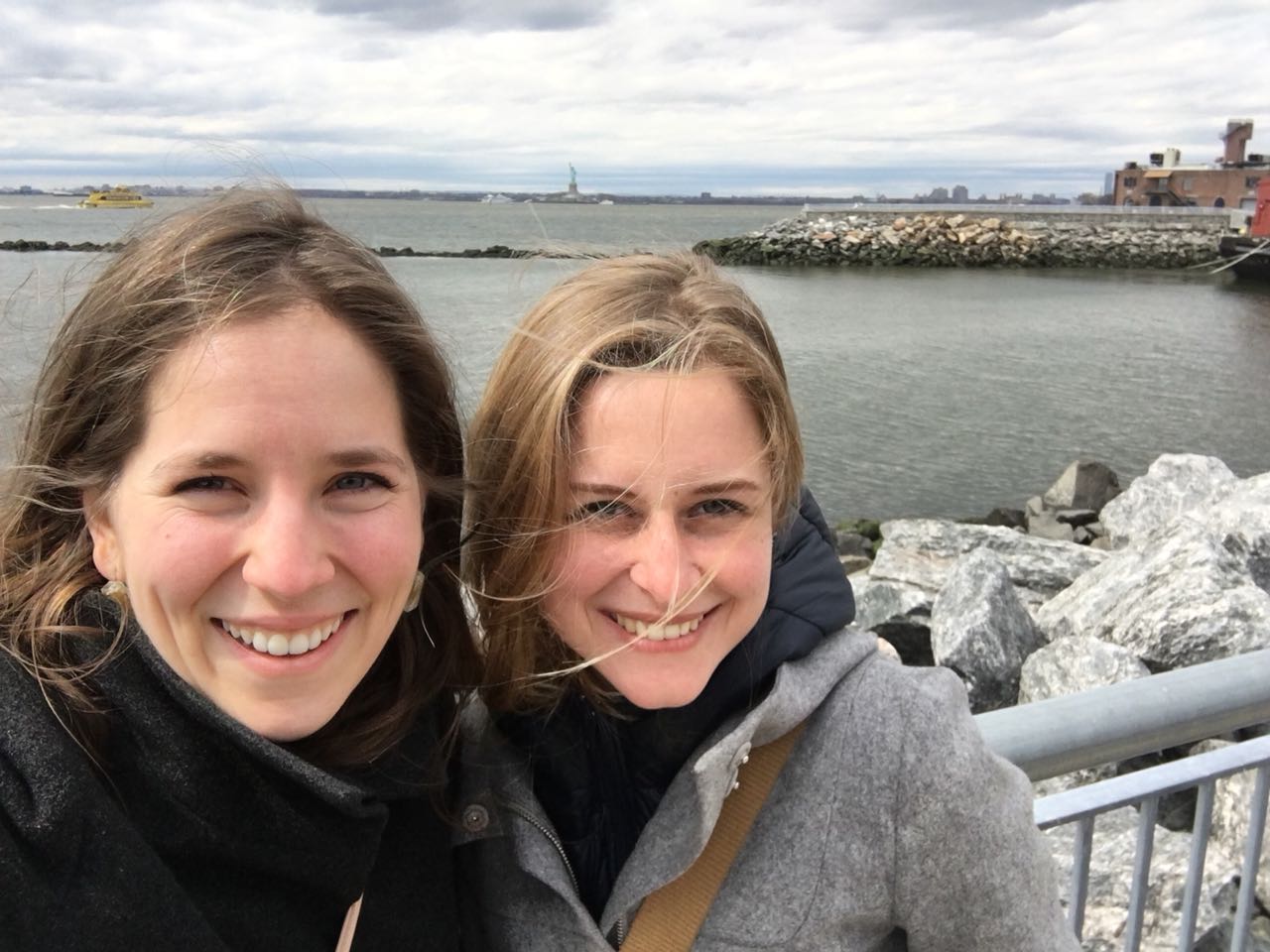 ---
März 13, 2018
New Jersey Gouverneur Phil Murphy spricht mit der RIAS-Gruppe über US-Politik

Der Gouverneur von New Jersey, Phil Murphy, gab einer Gruppe von 14 deutschen Radio- und Fernsehjournalisten einen interessanten Vortrag über die politische Landschaft in seinem Bundesstaat und in den USA. Murphy, der während seiner Amtszeit als US-Botschafter in Deutschland Ehrenvorsitzender der RIAS Berlin Kommission war, freute sich, die deutschen Journalisten in seinem Büro in Trenton, NJ, zu treffen und offen und eloquent über die Situation in den USA und in Deutschland zu sprechen. Er sagte, dass er der Meinung sei, dass die transatlantischen Institutionen und Bindungen stark bleiben.

"Ich fühle mich geehrt, dass Sie uns in Trenton besuchen würden – Trenton macht und die Welt nimmt ", sagte Murphy mit einem breiten Lächeln und zitierte einen alten Slogan aus dem Jahr 1911 während der industriellen Blütezeit der Stadt, der früher auf einer Hängebrücke über den Delaware River hing. Murphy, ein Demokrat, sprach eingehend über Zölle und Handel sowie Umwelt- und Einwanderungspolitik – und brachte damit offen seine Ablehnung der Politik des republikanischen Präsidenten Donald Trump in diesen und anderen Bereichen zum Ausdruck.

Er sagte, daß Gouverneure und lokale Führer in den US als Gegengewicht zu einigen Bundesregierungspolitiken wichtiger wurden und sagte voraus, daß seine Demokratische Partei Republikaner in den bevorstehenden Wahlen besiegen würde.

"Ich denke, dass die Gouverneure nie mehr Bedeutung gehabt haben, wegen dem, was auf Bundesebene vor sich geht", sagte Murphy. "Gouverneure und lokale Führer werden in der Geschichte unseres Landes nie wichtiger gewesen sein." Er sagte auch, daß er denkt, daß Präsident Trump eine Herausforderung 2020 innerhalb seiner eigenen republikanischen Partei während der Vorwahlen sogar gegenüberstellen kann.

Er sagte, er sei optimistisch, was die Chancen für die Demokraten angeht, und bemerkte, dass es etwa 30 Demokraten gibt, die ihr Interesse bekundet haben, sich im Jahr 2020 aufzustellen, und nannte das "eine gute Sache", dass es so viele auf dem Gebiet gibt. "Es gibt Menschenmassen am Horizont – und ich gehöre nicht zu ihnen", sagte er, als er gefragt wurde, ob er ein persönliches Aufstellen in Betracht ziehen würde. "Wir haben hier in New Jersey alle Hände voll zu tun."

Murphy, der gerade erst im Januar sein Amt angetreten hat, zeigte sich zuversichtlich, dass die deutsch-amerikanischen Beziehungen sowie die transatlantischen Institutionen in guter Verfassung sind, sprach sich aber auch gegen Zölle und Handelskriege aus. "Wir brauchen eine aufgeklärte Handelspolitik", sagte er. "Wir müssen die Verwerfungen unserer Arbeitnehmer besser vorhersehen" und uns mehr auf die Umschulung von Arbeitnehmern in verblassenden Industrien konzentrieren. Murphy sagte, daß er einem Plan entgegen steht, der vor kurzem durch die Trump-Verwaltung in Umlauf gesetzt wurde, um Lehrern Pistolen zu geben, um Massenschießereien in Schulen zu verhindern. "Das ist keine gute Idee", sagte er.
Die RIAS-Gruppe verbrachte den Nachmittag mit einem Besuch bei CNN in New York, wo sie Richard Quest und Anderson Cooper trafen.

---
März 9, 2018
14 deutsche Journalisten auf spannender Tour, um Horizonte in den USA zu erweitern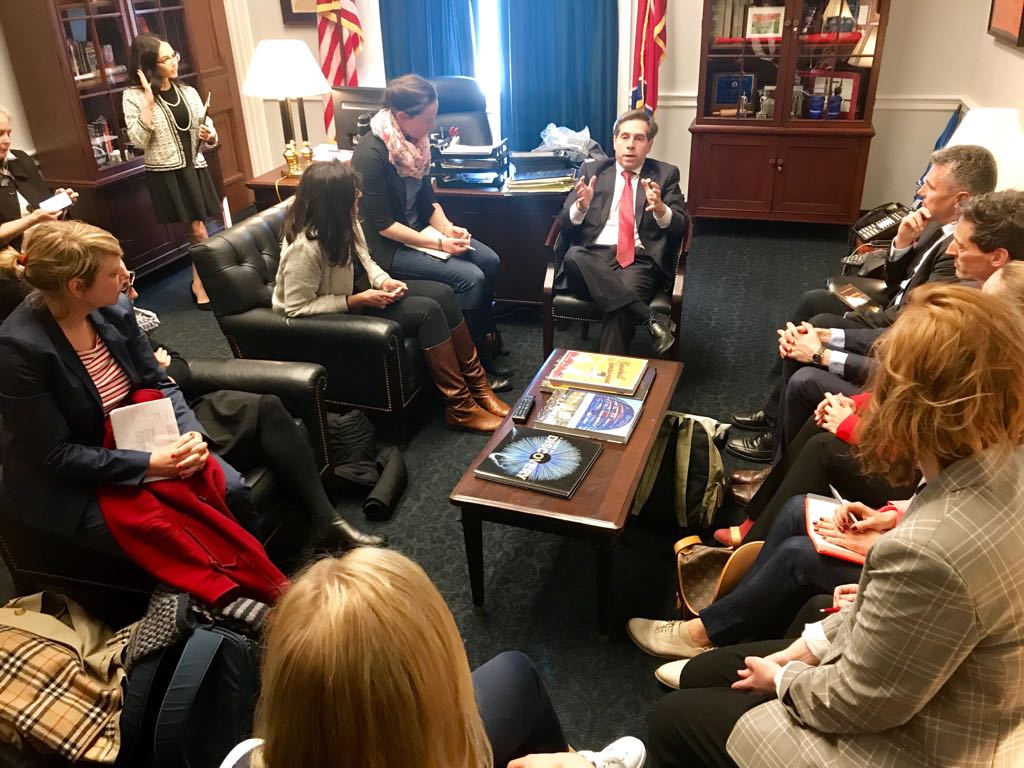 Vierzehn Radio- und Fernsehjournalisten aus Deutschland verbringen drei Wochen in den USA, um sich im Rahmen des aktuellen Austauschprogramms der RIAS Berlin Kommission über Politik und Medien zu informieren. Als erste von zwei Gruppen deutscher Reporter in diesem Jahr, die die Vereinigten Staaten besuchten, hatten die 14 Fellows in dieser Woche ein Dutzend faszinierender Treffen und Interviews mit Kongressabgeordneten wie Mike Doyle (D-Penn) und Chuck Fleischmann (R-Tenn) in ihren Büros in Washington sowie mit amerikanischen und deutschen Journalisten in ihrem Newsroom. Sie haben auch verschiedene Experten in Think-Tanks ausgewählt, und mehr darüber erfahren, wie Washingtoner Journalisten und Lobbyisten arbeiten, wenn sie nicht im Dienst sind, an den Wasserlöchern der Vororten.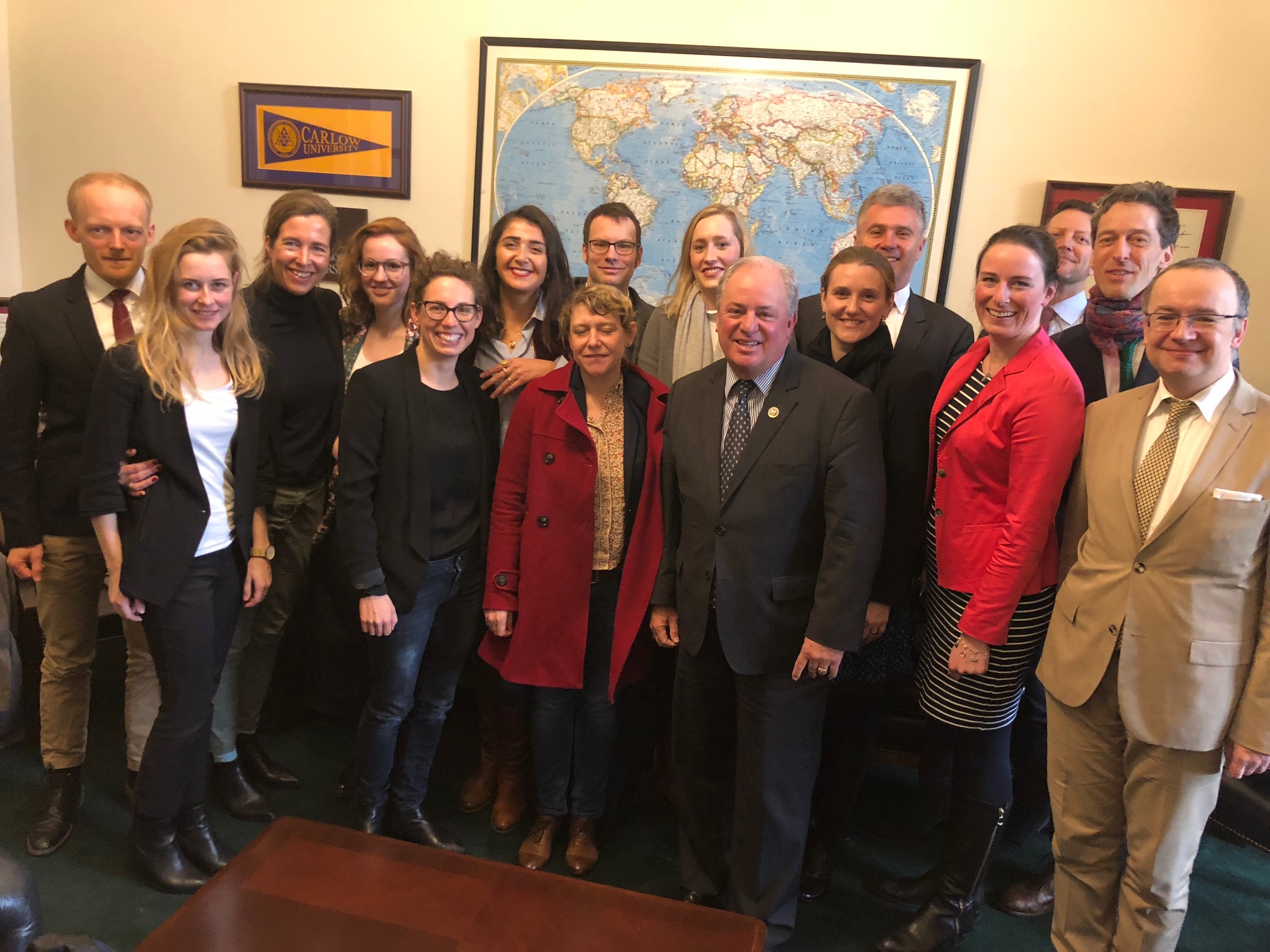 Doyle überraschte die Deutschen mit offenherzigen Bemerkungen, dass seine Frau einen viel besseren Job gemacht hatte, indem sie voraussagte, dass die Demokraten die Präsidentschaftswahl 2016 nicht gewinnen würden, während Fleischmann ihnen sagte, er sei ein guter Freund von Präsident Trump und unterstütze seine Positionen in den meisten Fragen. Fleischmann sprach auch ausführlich und ausführlich über seine Bewunderung für das deutsche Lehrlingssystem, das in seinem Bezirk Tennessee immer mehr eingeführt wurde, auch dank eines großen Volkswagen-Werks, das dort gebaut wurde.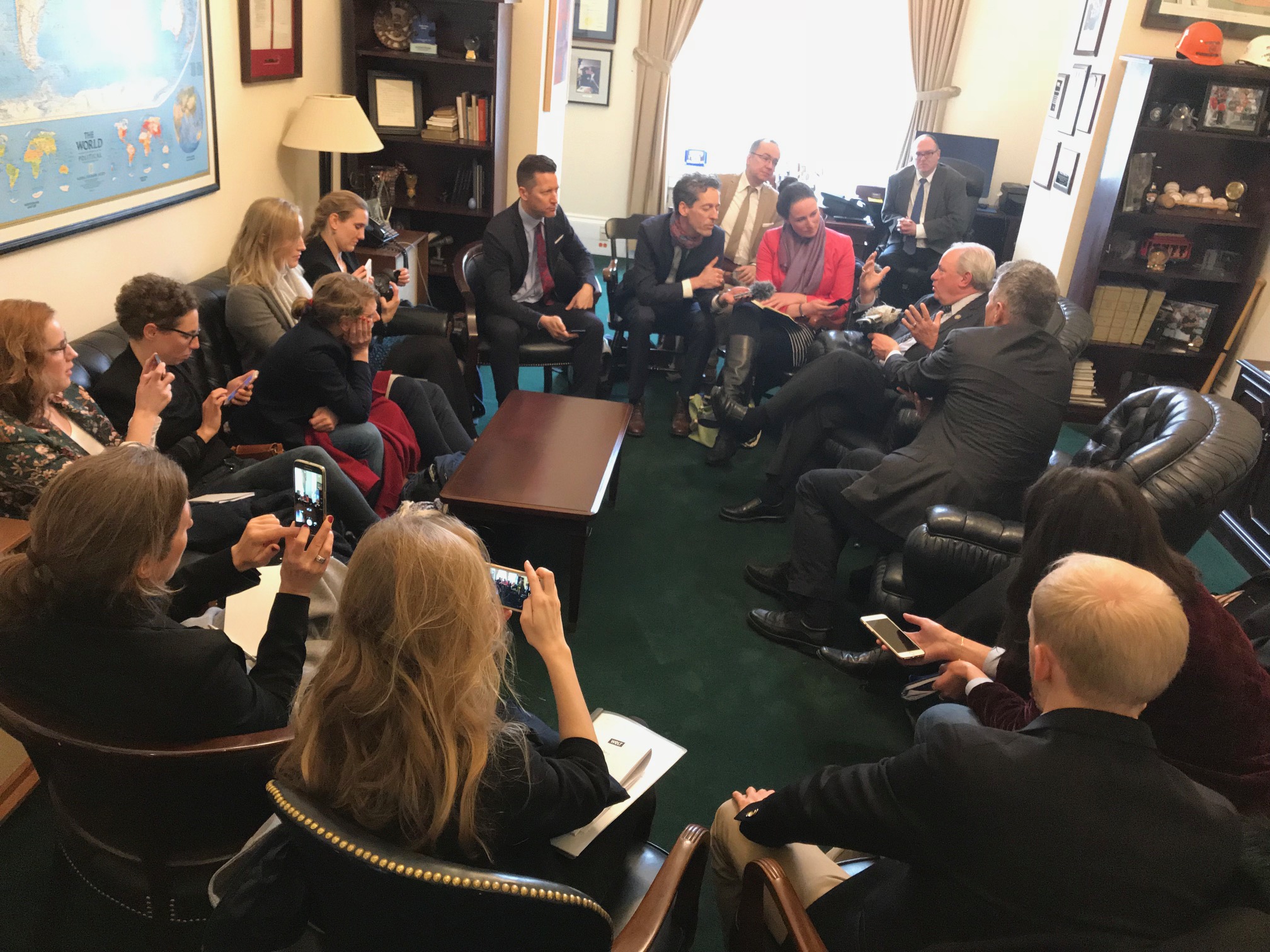 Weitere Stationen in Washington DC waren ein Besuch im Capitol (unten) von Voice of America (unten), dem NPR, dem deutschen ZDF, dem Brookings Institute, dem PEW Institut und der Deutschen Botschaft, wo Botschafter Peter Wittig den Fellows eine aufschlussreiche und detaillierte Analyse der deutsch-amerikanischen Beziehungen anbot.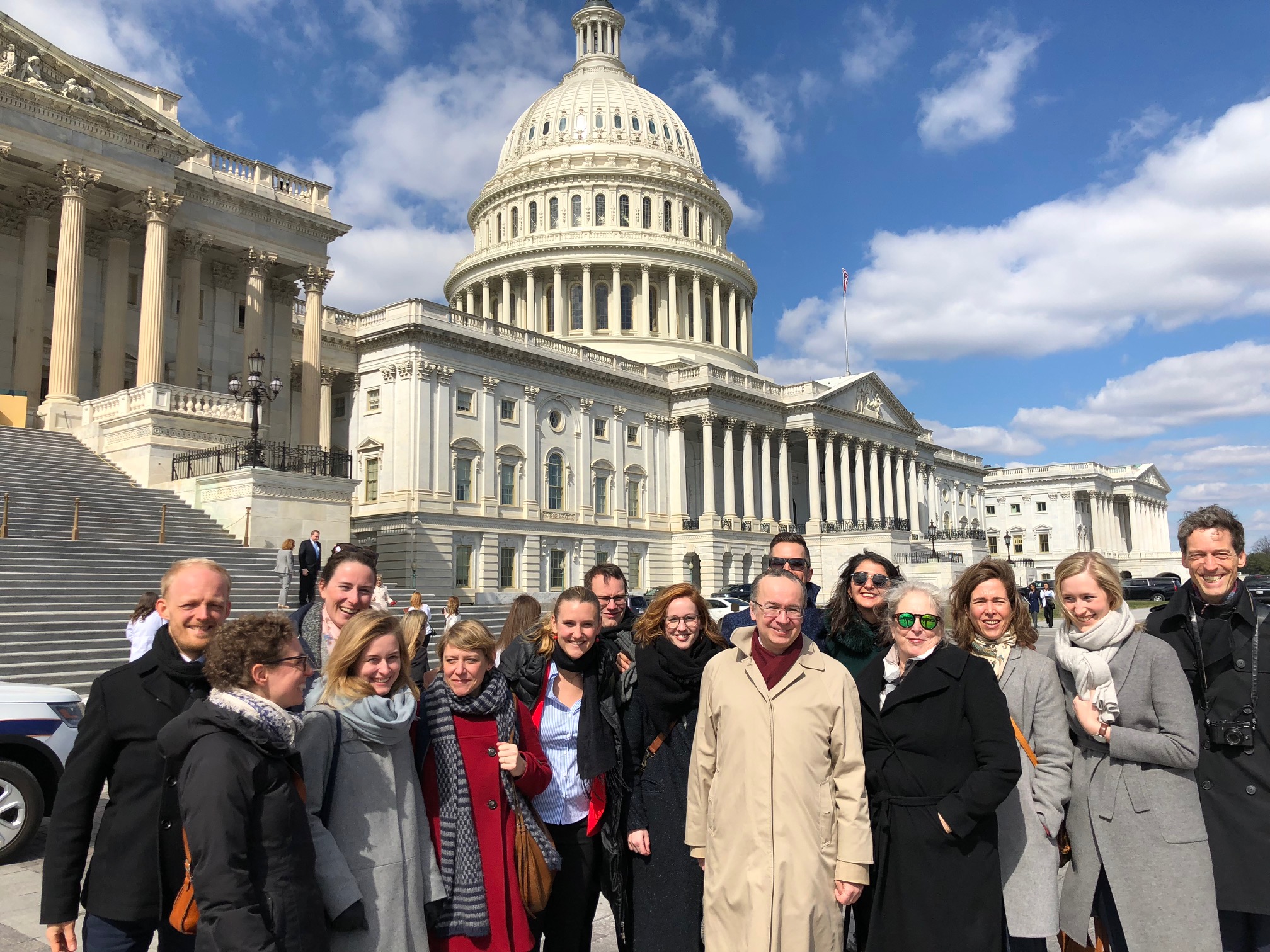 Hier finden Sie eine Liste der in Deutschland ansässigen Fellows und ihrer Netzwerke:
Bianca Leitner ARD Hamburg
Bartosz Dudek Radio DW Bonn
Laura Fritsch, N24 Berlin
Marcel Grzyb, n-tv Köln
Hanna Klouth,RTL Köln
Anne Demmer, Radio+online, RBB, D-Radio, Berlin
Anna-Maria Schuck, TV+Social Media ZDF Mainz
Eberhard Schade, Radio DRadio Berlin
Friedel Taube, TV+Online DW Berlin
Louisa Maria Giersberg, NDR Schwerin
Sarah Schmidt RTL, n-tv Berlin
Ben FajzullinTV DW Wirtschaft Berlin
I?il Nergiz TV Social Media DW Berlin
Viktoria Kleber RBB, DW, ARD Berlin
---
RIAS-Medienpreis-Jury wählt 5 Gewinner für die jährliche Verleihung der Medienpreise
März 2, 2018
Die RIAS BERLIN KOMMISSION freut sich, die Gewinner der diesjährigen RIAS Media Awards bekannt zu geben. Die jährliche Preisverleihung zum 26-jährigen Bestehen des deutsch-amerikanischen Austauschprogramms und dem besten transatlantischen Rundfunkjournalismus findet am Donnerstag, den 17. Mai 2018, um 19.00 Uhr im RIAS Funkhaus am Hans-Rosenthal-Platz in Berlin statt. Alle RIAS-Fellows und ehemaligen Preisträger sind herzlich eingeladen, an der Preisverleihung im historischen Gebäude teilzunehmen.

Die neunköpfige Jury, bestehend aus renommierten Journalisten aus den USA und Deutschland, traf sich in Berlin, um die Gewinner in den Kategorien TV, Radio und Digitale Medien zu ermitteln. Die Jurymitglieder führten lebhafte Diskussionen und zeigten sich beeindruckt von der hohen Qualität der eingereichten Arbeiten. Es war ein interessantes Jahr für den Journalismus sowohl in den USA als auch in Deutschland mit dem ersten Jahr einer neuen US-Regierung und den Bundestagswahlen.

Die Jury bestand aus: Melissa Eddy (The New York Times), Anja Heyde (ZDF), Helge Fuhst (Phoenix), Michael Gargiulo (WNBC in New York), Susan Stone (NPR), Melinda Crane (Deutsche Welle), Claus Detjen (deutscher Zeitungsverlag), Richard Meng (ZDF TV Council) und Christian Wilp (NTV, RTL).

Es wird auch eine Podiumsdiskussion über die veränderte Position und Rolle der Auslandskorrespondenten in den Vereinigten Staaten im vergangenen Jahr geben, sowie ein Alumni-Treffen der RIAS Fellows am 18. Mai in Berlin.
Die Preisgewinner diesen Jahres sind:
Jan Philipp Burgard: Alaska im Klimawandel. Wo Eis und Hoffnung schmelzen, 5.11.2017, PHOENIX, 43 Minuten
In seiner Dokumentation "Alaska im Klimawandel" zeigt Jan Philipp Burgard mit eindrucksvollen Bildern das Schmelzen riesiger Gletscher und die vom Untergang bedrohte Insel Shishmaref. Der Film blickt von der kleinen Insel auf die globalen Auswirkungen der neuen Umweltpolitik nach dem Präsidentenwechsel von Obama zu Trump. Dabei nimmt Burgard die Zuschauer mit auf eine Reise zu den Ureinwohnern Alaskas, die um ihre Heimat kämpfen. Er lässt beide Seiten zu Wort kommen – die Umweltaktivisten genauso wie die Unternehmer und Republikaner, die Trumps Deregulierungen unterstützen. Aber er bezieht auch klar Stellung. Im Interesse der Umwelt und des faszinierenden Lebensraumes Alaska.
In his documentary "Alaska and Climate Change", Jan Philipp Burgard uses awe-powerful images in Alaska of both vast glaciers that are melting away and the slowing disappearing island of Shishmaref to illustrate his gripping story. The film examines the impact of the new environmental policies in the United States resulting from the shift from the Obama to Trump administrations. Burgard takes viewers on a journey visit indigenous Alaskans who are fighting for their homes and includes protagonists on sides of the issue – the environmental activists as well as the business interests and Republicans who support the deregulation policies of the Trump administration. But he also takes a clear position in support of the enironment and the fascinating habitat that is Alaska.
Best TV (short)
2 Filme von Lara Wiedeking
Lara Wiedeking:
1) Letzte Hoffnung Crowdfundung
11. Dez., 3Sat
https://www.3sat.de/page/?source=/nano/gesellschaft/195859/index.html
2) Public Shaming
24. Aug., ZDF (heute+)
https://www.zdf.de/nachrichten/heute-plus/videos/public-shaming-hep-100.html
Lara Wiedeking hat es geschafft mit einer innovativen Herangehensweise die Geschichten ihrer Beiträge "Letzte Hoffnung Crowdfunding" und "Public Shaming" zu erzählen. Es handelt sich um zwei komplexe Themen über das Leben im Internetzeitalter und gleichzeitig wirft sie Licht auf große gesellschaftliche und politische Unterschiede zwischen Deutschland und den USA. "Letzte Hoffnung Crowdfunding" zeigt, wie viele Amerikaner, die durch das amerikanische Versorgungsnetz fallen, Crowdfunding als letztes Mittel nutzen. "Public Shaming" befasst sich mit dem "Outen" von rechten Anhängern in Anlehnung an die Märsche von Rechtsextremen in Charlottesville, Virginia. Wiedeking bringt einen frischen und energischen Stil mit und verbindet ihn mit solidem Journalismus; beides trifft in diesen beiden Kurzfilmen zusammentreffen.
Gewinner des Radio-Preises
Arndt Peltner "Stacheldraht und gated community. Als Zäune Amerikas weites Land eroberten", Radio-Feature, 28 Minuten
Die Jury hat sich für Arndt Peltners Feature "Stacheldraht und gated community" als herausragende Radio Geschichte des Jahres entschieden. Er zeigt, wie durch die Erfindung des Stacheldrahtes aus einem weiten, freien Land Stück für Stück die Freiheit verschwand. Zumindest für Einige. Der Stacheldraht teilt am Ende nicht nur das Land, sondern auch die Gesellschaft. Er trennt Menschen von einander. Die Auswirkungen der imaginären Grenzziehung prägen das Land und das Bewusstsein der Menschen bis heute. Arndt Peltner hat damit ein wichtiges Stück Kulturgeschichte auf einzigartige Weise aufgerollt.
Kerstin Zilm
"Vanlife – Hinter dem Hashtag"; "Kalifornien Speerspitze des Widerstands gegen Trump/Climate Policy: California Leads the Resistance against Trump";"Red, White and Blue am Spielfeldrand – Sport und Patriotismus in den USA" ; "Donald Trump und die Sioux – Proteste gegen Öl-Pipeline/Donald Trump and the Sioux – Protests against Oil Pipeline"
Die Jury vergibt in diesem Jahr den Radiopreis für eine Serie von vier herausragenden Radio-Reportagen an Kerstin Zilm. Sie zeigt, wie ein Camper für die einen der Traum vom freien Leben ist und für die anderen der einzige Weg zu überleben. Sie lässt kalifornische Widerständler der Klimapolitik von US-Präsident Donald Trump zu Wort kommen. Sie zeigt, dass ein Sportler, der sich zur US-Hymne nicht erhebt, dennoch ein Patriot ist. Und begleitet Sioux, die gegen eine Öl-Pipeline demonstrieren. Alle vier Reportagen zeigen beispielhaft und differenziert, wie der aktuelle US-Präsident die amerikanische Gesellschaft verändert hat und noch verändert. Kerstin Zilm ist nah an ihren Protagonisten lässt uns durch deren Blickwinkel die Spaltung in der amerikanischen Gesellschaft erfahren.
https://www.nytimes.com/video/world/europe/100000005090433/libyan-migrant- bautzengermany.html
Ainara Tiefenthäler & Shane O'Neill: "Land of Good | Seeking Asylum in Germany, and Finding Hatred" 21. Sept., 14:09 min.
Der Digitale Medienpreis der RIAS Berlin Kommission geht in diesem Jahr geht an Ainara Tiefenthäler und Shane O'Neill für ihren Film "Land of Good | Seeking Asylum in Germany, and Finding Hatred" (Land des Guten: Asyl in Deutschland suchen und Hass finden).
Diese multimediale Geschichte ist auf der New York Times' Website als Teil der Reihe "Times Dokumentarfilme" veröffentlich worden. Der Film begleitet einen jungen Mann, der vor Gewalt in Libyen floh , aber in Deutschland auf Hass und Konflikte in Bautzen traf. Die Autoren zeigen eine fesselnde Geschichte, die auf subtile und menschliche Art die komplexen Herausforderungen zeigt, die sich um die Themen Einwanderung, Extremismus und gesellschaftliche Polarisierung drehen.
---
Februar 2, 2018
Hamburg Chapter des RIAS Berlin Kommission Alumni-Netzwerks gegründet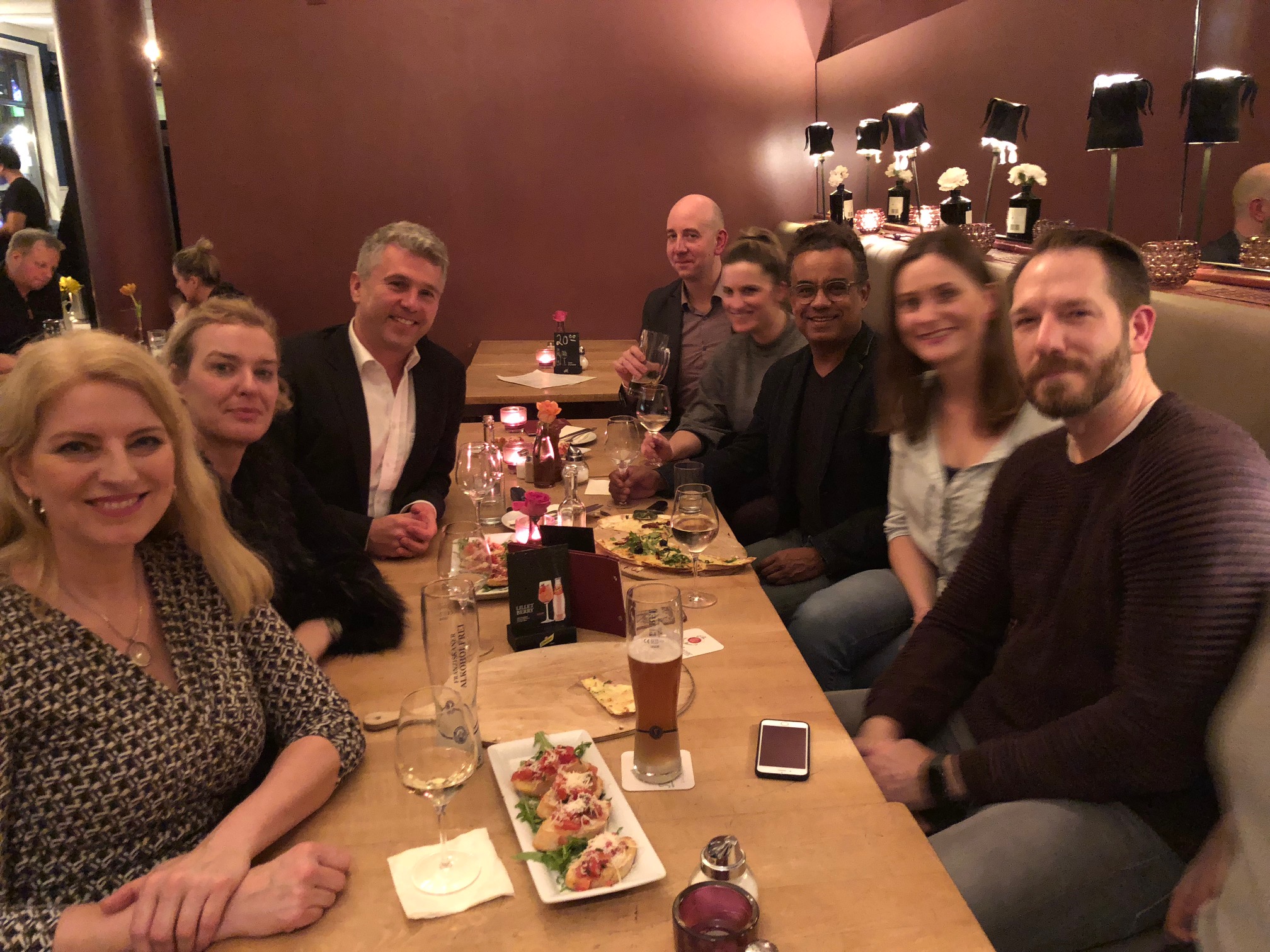 Ein Dutzend Alumni der RIAS Berlin Kommission versammelten sich am Freitag, den 2. Februar, in einer Hamburger Kneipe, um das RIAS Hamburg Chapter zu eröffnen – eine informelle Gruppe, die sich als eine Art Stammtisch alle paar Monate treffen will. Das Hamburger Alumni-Chapter ist das dritte Regional-Chapter, das nach dem Start der Regional-Chapter in Köln und Berlin in den letzten Monaten ins Leben gerufen wurde.
"Es war ein großartiger und inspirierender Abend", sagte Michail Paweletz, Nachrichtensprecher der Tagesschau der ARD, der zusammen mit Nadine Gries vom NDR das erste Treffen des Hamburger Chapters organisierte. Die Alumni sprachen nicht nur über ihre "lebensverändernden" Erfahrungen als RIAS Berlin Kommission Fellow, auf ihren Reisen, auf denen sie in den letzten 15 Jahren mehr über Medien, Politik und Kultur in den Vereinigten Staaten erfuhren.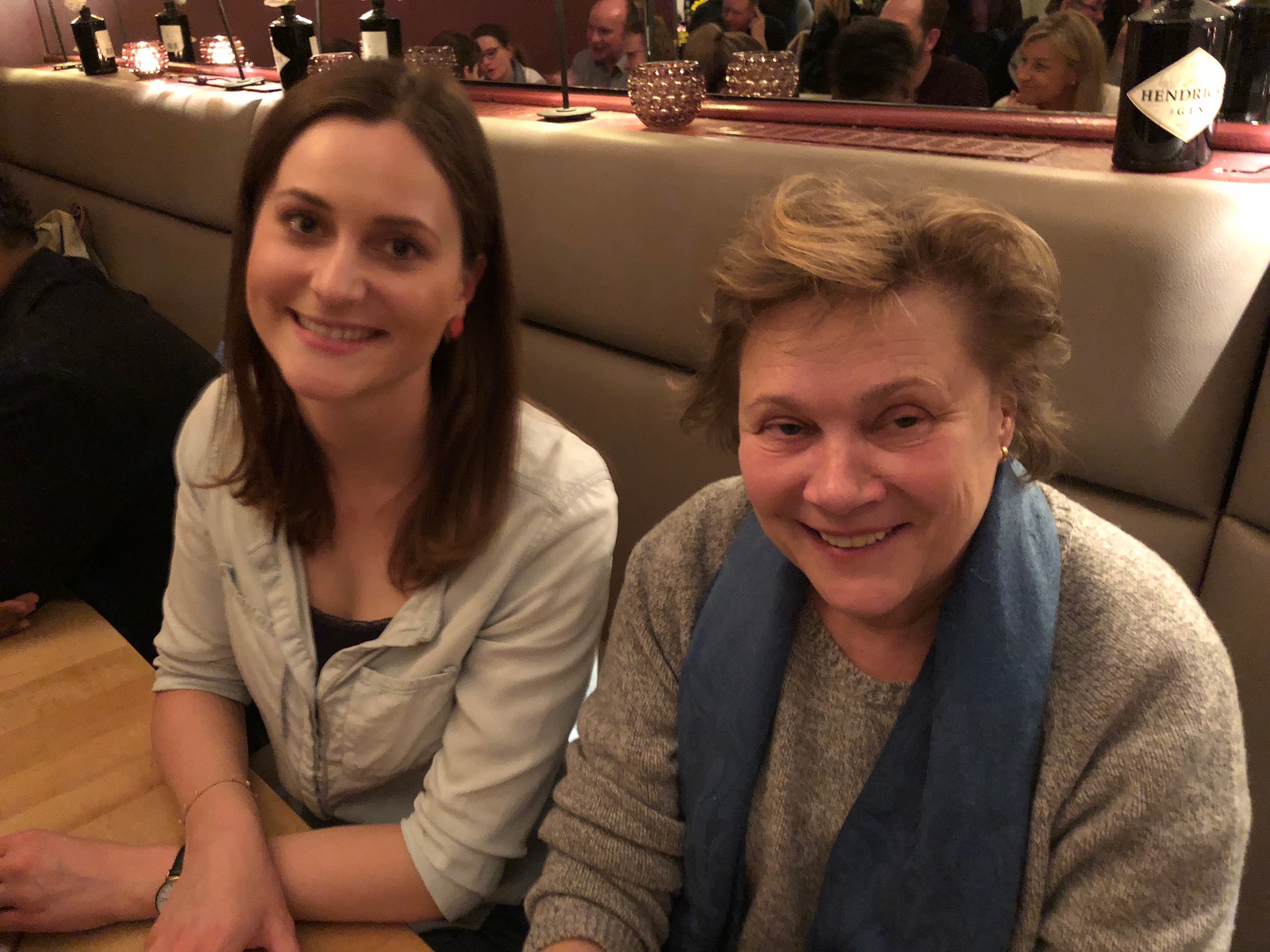 Sie sprachen auch darüber, wie sie den Geist von RIAS durch regelmäßige Treffen in Hamburg oder mit anderen Chaptern in Berlin, Köln und möglicherweise auch in den Vereinigten Staaten am Leben erhalten könnten, wenn hoffentlich bald dort auch Chapter gegründet werden. Die Alumni wurden auch dazu ermutigt, das Angebot der RIAS Berlin Kommission zur Unterstützung individueller Geschichtsforschungsreisen in die Vereinigten Staaten anzunehmen.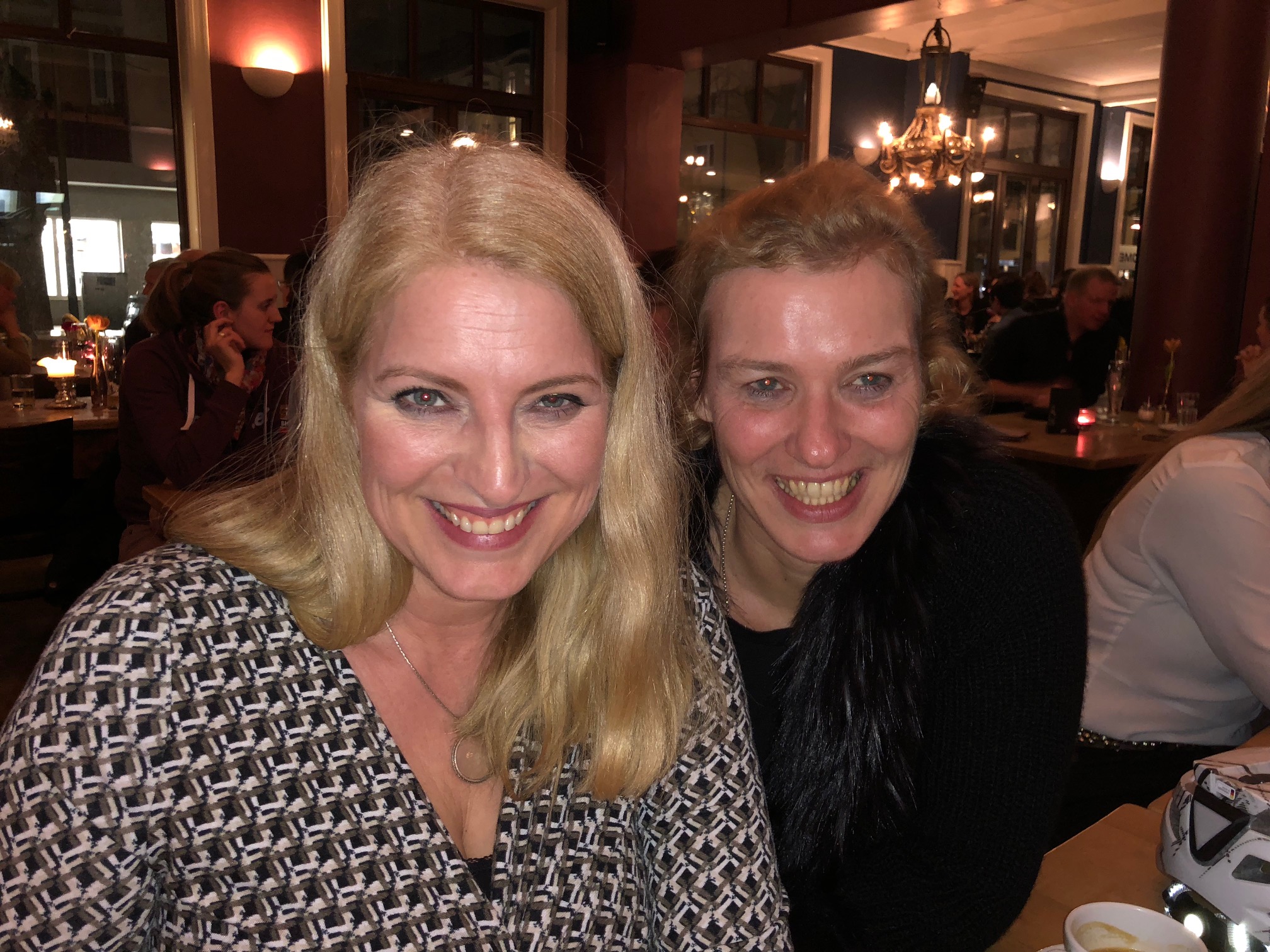 Die RIAS Berlin Kommission bietet Alumni mit fesselnden Ideen für Geschichten 1.000 Euro Stipendien an, um einen Teil der Reisekosten zu decken, die mit der Erforschung von Geschichten in den USA verbunden sind. Das Angebot von $1.000 Stipendien, um US-Fellows zu helfen, einen Teil der Reisekosten zu decken, die mit der Erforschung von Geschichten in Deutschland verbunden sind.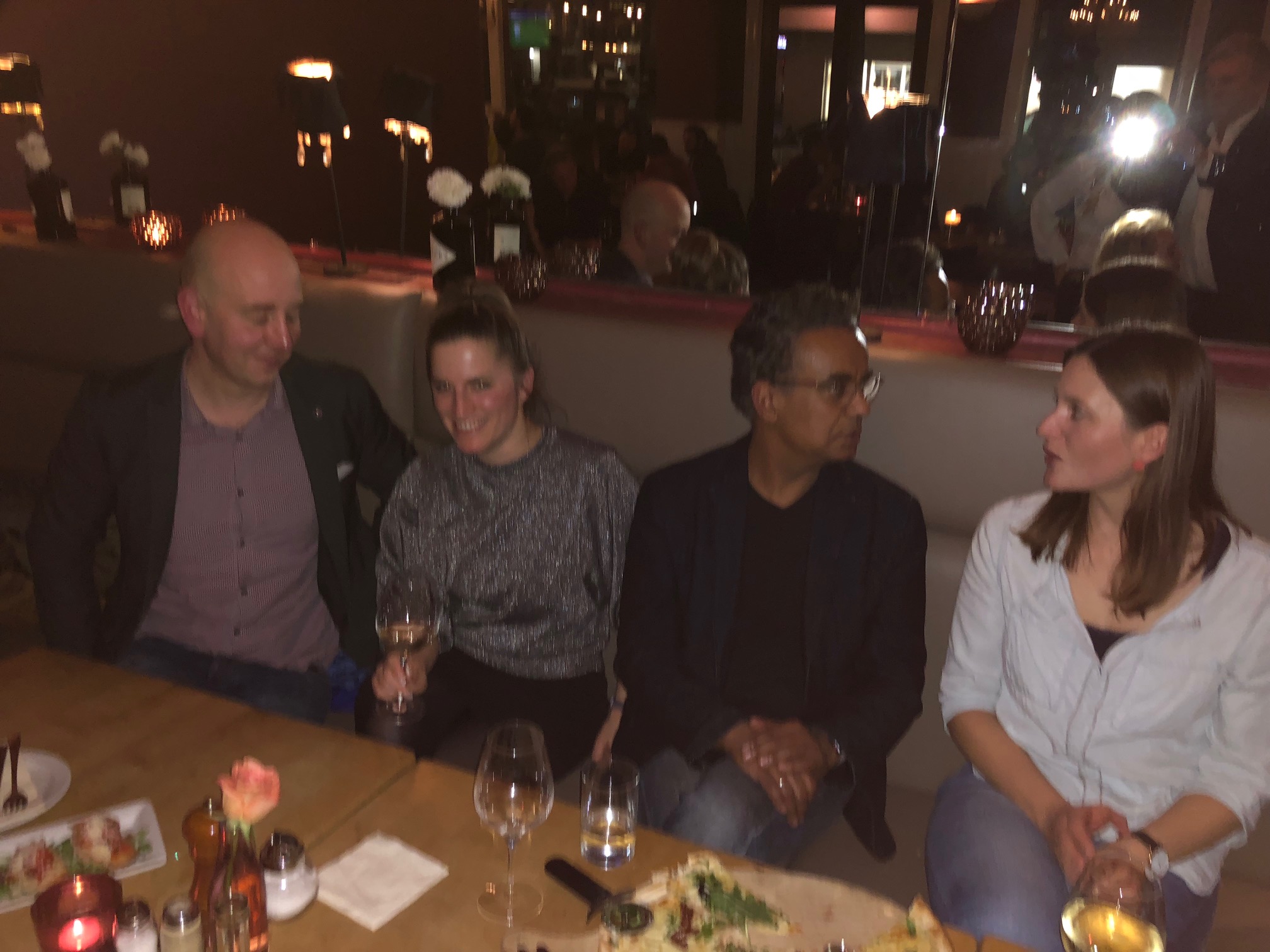 Erik Kirschbaum, Exekutivdirektor der RIAS Berlin Kommission, sagte, er hoffe, dass das neue Hamburger Chapter in der Lage sein werde, Netzwerke mit den Chaptern in Berlin und Köln zu verknüpfen und damit Brücken zu US-Alumni und Chaptern in den USA zu bauen. "Mit mehr als 1.500 Alumni aus den RIAS-Programmen in den USA und Deutschland in den letzten 25 Jahren gibt es so viel Potenzial für Netzwerke, transatlantische Kooperationen bei Geschichten und Freundschaften", sagte er.
Alle Alumni der RIAS Berlin Kommission sind eingeladen, an der Verleihung des RIAS Medienpreises am 17. Mai im RIAS Funkhaus in Berlin sowie an einem speziellen Alumni-Treffen am 18. Mai in Berlin teilzunehmen.
Unter den Teilnehmern des Hamburger Alumni-Treffens waren Charlotte Voss (NDR), Birgit Hahn (Radio Hamburg), Stefan Keilmann (ARD-aktuell), Nadine Gries (NDR), Michail Paweletz (ARD-aktuell), Jennifer Lange (NDR), Patrick Döcke (ARD aktuell), Sonja Keilmann (ARD aktuell), Regine Münder (ARD-aktuell).
---
Januar 17, 2018
Neues Sommer-Austauschprogramm für US-Studenten
US-Hochschulstudenten sind eingeladen, sich für ein dreiwöchiges Intensivstudium zum Thema Journalismus in Deutschland zu bewerben. Bis zu 14 herausragende Studenten aus dem Bereich Journalismus oder Internationale-Studien werden eingeladen, um sich in Deutschland über den Journalismus in Deutschland, deren Position, die Rundfunkanstalten, so wie den Berliner RIAS während des Kalten Krieges und die aktuelle politische Landschaft Deutschlands zu informieren.
Ab 2018 bietet die RIAS Berlin Kommission außergewöhnlichen Studierenden aus den Bereichen Journalismus, Internationale Angelegenheiten und verwandten Disziplinen die Möglichkeit, an diesem dreiwöchigen Ausbildungsprogramm in Berlin teilzunehmen. Das Programm, das vom transatlantischen Programm der Regierung der Bundesrepublik Deutschland finanziert wird, gibt 14 Teilnehmern wertvolle Einblicke in transatlantische, deutsche und europäische Angelegenheiten. Studenten aus den ganzen USA werden eingeladen sich zu bewerben.
Während eines dreiwöchigen Aufenthaltes in Berlin treffen sich die Teilnehmer mit Exkursionen in andere deutsche Städte mit führenden Politikern, Journalisten, Think-Tank-Vertretern und anderen Experten. Sie werden deutsche Regierungsinstitutionen, historische Stätten und Universitäten besuchen, um ihr Wissen über zentrale Fragen transatlantischer Angelegenheiten zu vertiefen und ein besseres Verständnis für deutsche Politik, Medien und Geschichte zu entwickeln.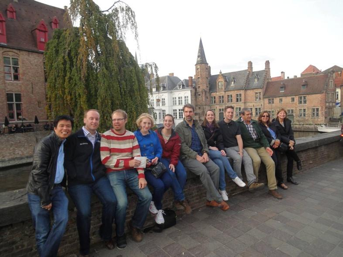 Programmbewerber müssen Studenten der Fachrichtungen Journalismus, Internationale Beziehungen, Politikwissenschaft, Geschichte, Geschichte, Deutsch oder verwandte Disziplinen an Universitäten und Fachhochschulen in den USA sein. Sie sollten zum Zeitpunkt des Studiums mindestens im dritten Jahr ihres Grundstudiums sein und vorzugsweise journalistische Erfahrung mitbringen – zum Beispiel bei einem Campus-Radio, einem Fernsehsender oder einer Zeitung. Interesse und Kenntnisse in deutschen oder europäischen Angelegenheiten sind wünschenswert; Deutschkenntnisse werden bevorzugt, aber nicht vorausgesetzt. Studenten, die bereits erste Berufs- oder Freiwilligen-Erfahrungen in ihrem Fachgebiet gesammelt haben, werden dringend gebeten, sich zu bewerben.

---
Januar 11, 2018
Berlin Alumni Chapter's konstituierende Sitzung
Zwanzig Alumni der RIAS Berlin Kommission trafen sich am 11. Januar zur Eröffnungssitzung des Berliner Alumni-Chapters in einem Restaurant in Berlin. Das RIAS-Chapter aus Berlin, das 2017 von den Fellows Anja Goerz und Benedikt Wenck organisiert wurden, nimmt seit dem Jahr 2000 an den Austauschprogrammen teil. Die Berliner Alumni erinnerten sich nicht nur an ihre Erfahrungen in den USA, sondern planen auch regelmäßige Treffen der Berliner Alumni-Chapter alle zwei Monate. Vladimir Balzar und Anja Heyde haben sich freiwillig bereit erklärt, das nächste Berliner Alumni-Treffen Ende März zu organisieren.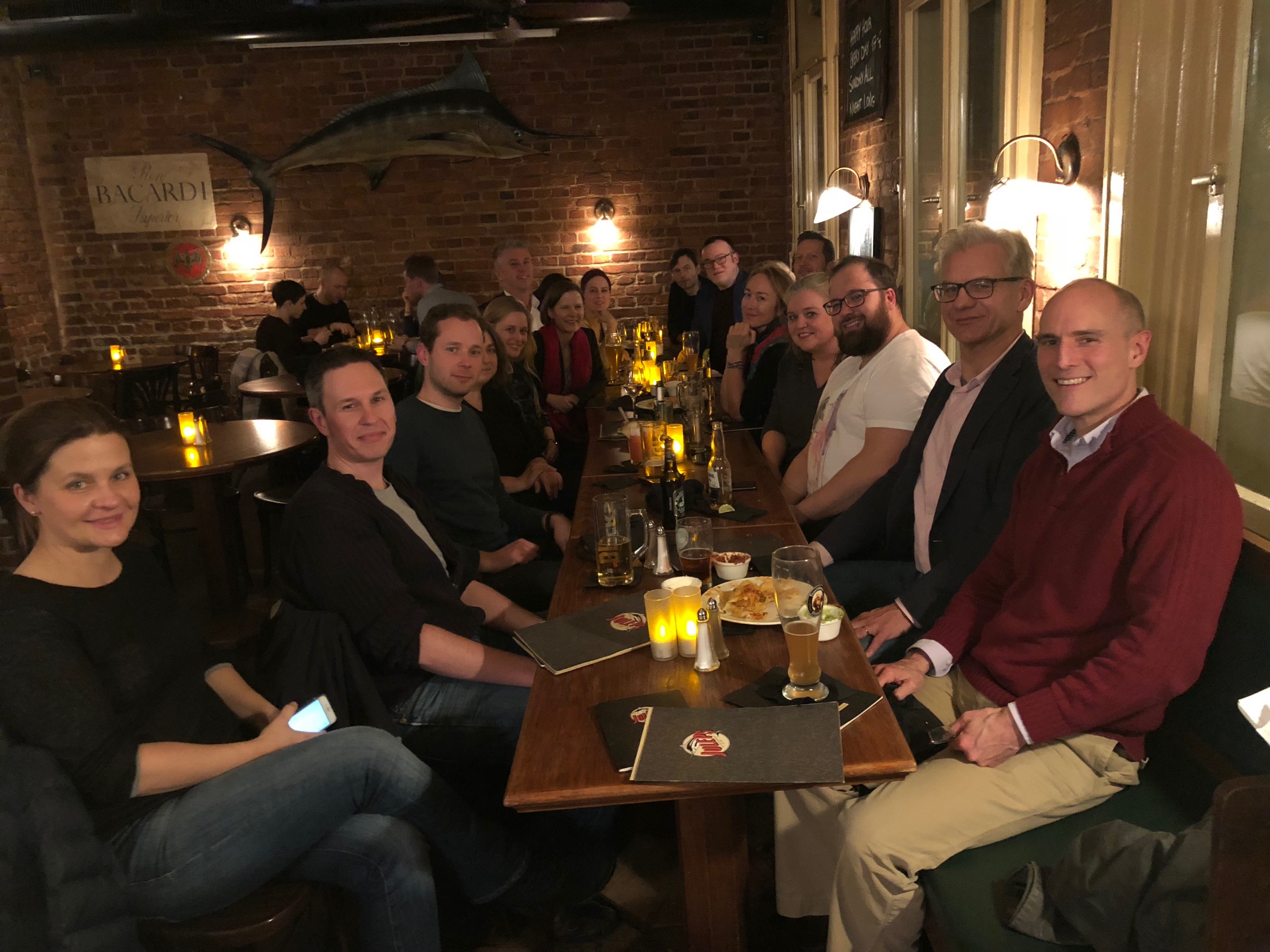 Das Berliner Alumni-Chapter war die zweite informelle Alumni-Gruppe, die nach der Gründung des ersten Chapters durch RIAS-Alumni in Köln im November gegründet wurde. Weitere Chapter in Hamburg, New York und Washington sind im Aufbau oder in Planung. Die Chapter Berlin und Köln hoffen, gelegentlich Gastredner zu ihren Treffen einzuladen.
"Die Hauptziele dieser Alumni-Chapter sind, abgesehen davon eine gute Zeit zu haben, die Schaffung von Netzwerken ehemaliger RIAS-Teilnehmer in den USA und Deutschland – und hoffentlich können die einzelnen Chapter auch in Zukunft bei der Einrichtung individueller Austauschprogramme miteinander interagieren", sagte Erik Kirschbaum, Exekutiv-Direktor der RIAS Berlin Kommission. "Sie sind für die Alumni (Ehemaligen) gedacht und diese Chapter und der individuelle Austausch sind das, was die Teilnehmer der Chapter aus ihnen machen."
Alle 1.500 Alumni der RIAS Berlin Kommission sind herzlich eingeladen, sich an der RIAS Berlin Community auf der Website www.riasberlin.org zu beteiligen und sich dort in die RIAS Berlin Community einzutragen, wo Nachrichten, Ideen, Vorschläge und Hosting-Anfragen ausgetauscht werden können.
Zu den weiteren Teilnehmern des ersten Berliner Alumni-Kapitels gehörten: Dorte Störmann, Marc Krueger, Philipp Eins, Martina Gross, Laura Fritsch, Gabriele von Moltke, Petra Gute, Karl Hinterleitner, Erik Kirschbaum, James Griffin, Ben Fajzullin, Sven Ole Schubert, Giusi Valentini und Anne Demmer.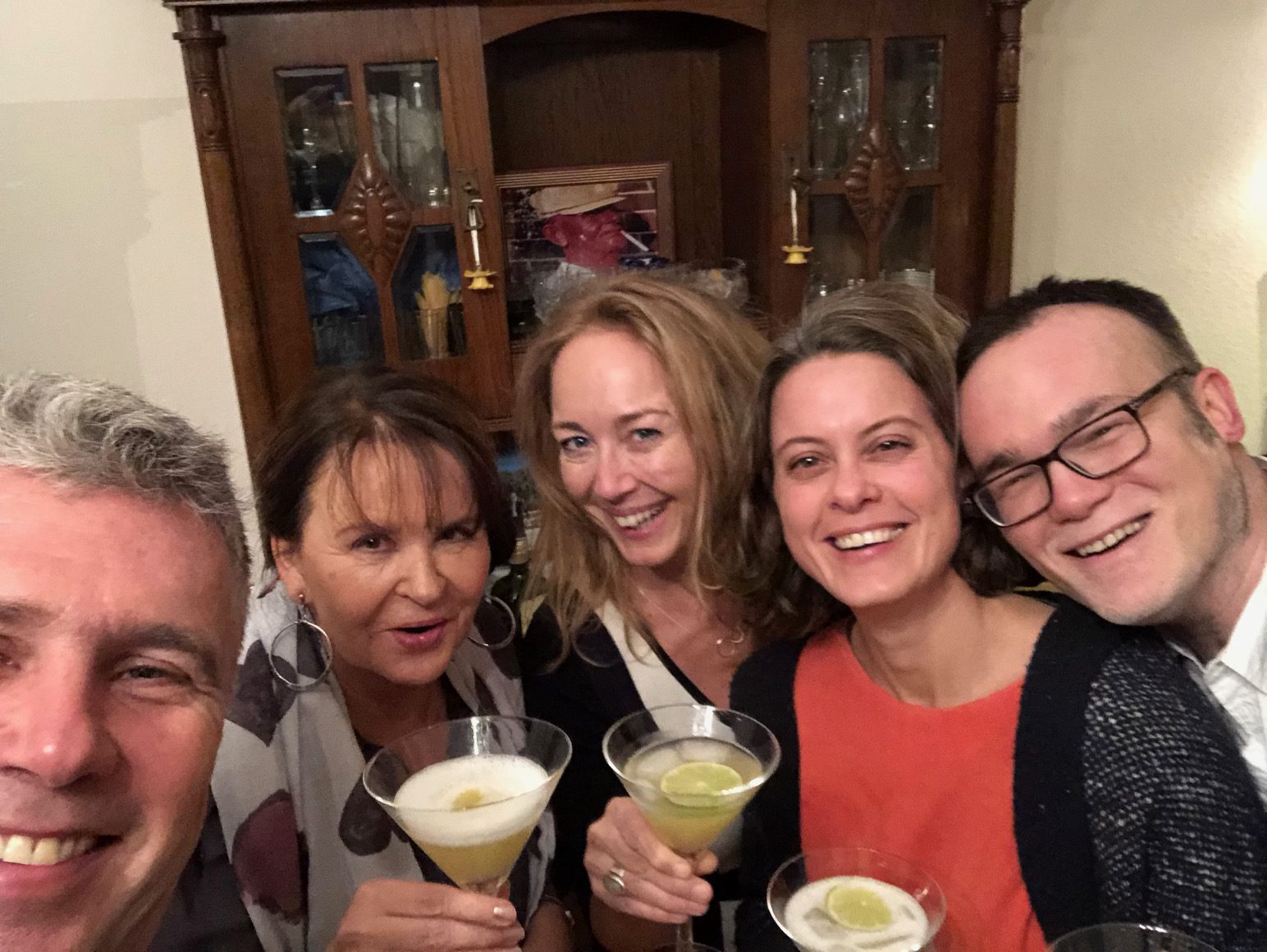 Zwei weitere RIAS-Alumni-Gruppen haben sich in den letzten Wochen ebenfalls versammelt. Fünf der neun Teilnehmer eines Senioren-Redakteursprogramms nach Texas im Jahr 2017 konnten den Geist ihres einwöchigen Crashkurses über Einwanderung und Grenzsicherung mit einem Abend mit Margaritas und würzigen Jalepeno-Burgern in Berlin: Vladimir Blazer, Anja Heyde, Petra Gute, Hildegard Boucsein und Erik Kirschbaum.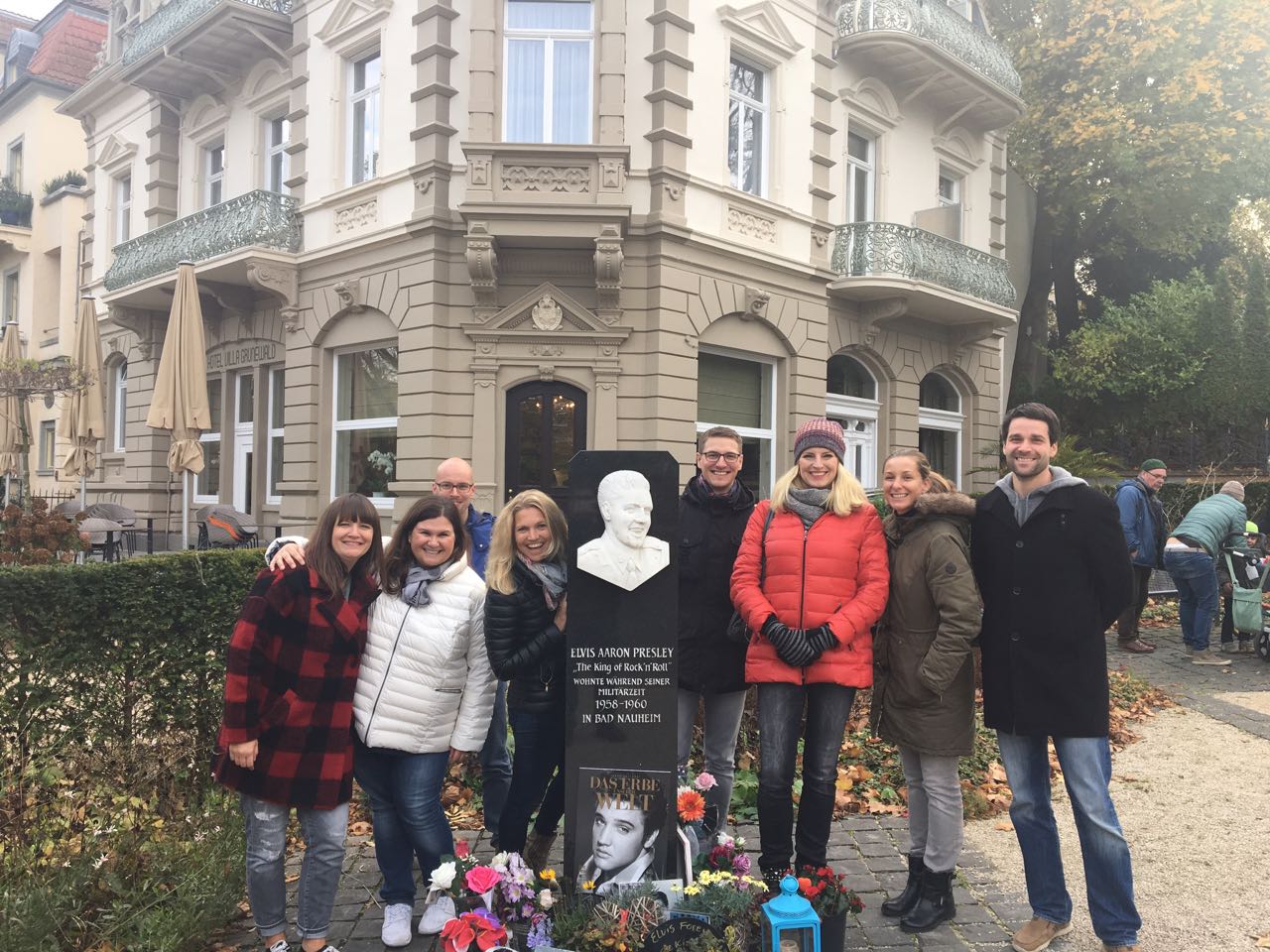 Und sieben der 10 Fellows vom März 2017 in den USA trafen sich zu einem Wochenendtreffen in Bad Nauheim nördlich von Frankfurt und besuchten das Haus, in dem Elvis Presley wohnte, als er in Deutschland stationiert war. "Wir wollten uns einfach wiedersehen, weil wir in den USA so viel Spaß miteinander hatten", sagte Kevin Arnold, der das Alumni-Treffen organisiert hatte. Weitere Teilnehmer sind Birgit Hahn, Selina Koc, Sarah Zerback, Anja Fröhlich, Arne Orgassa und Tobias Jobke.
---
Januar 4, 2018
Ausschreibung für RIAS Medienpreis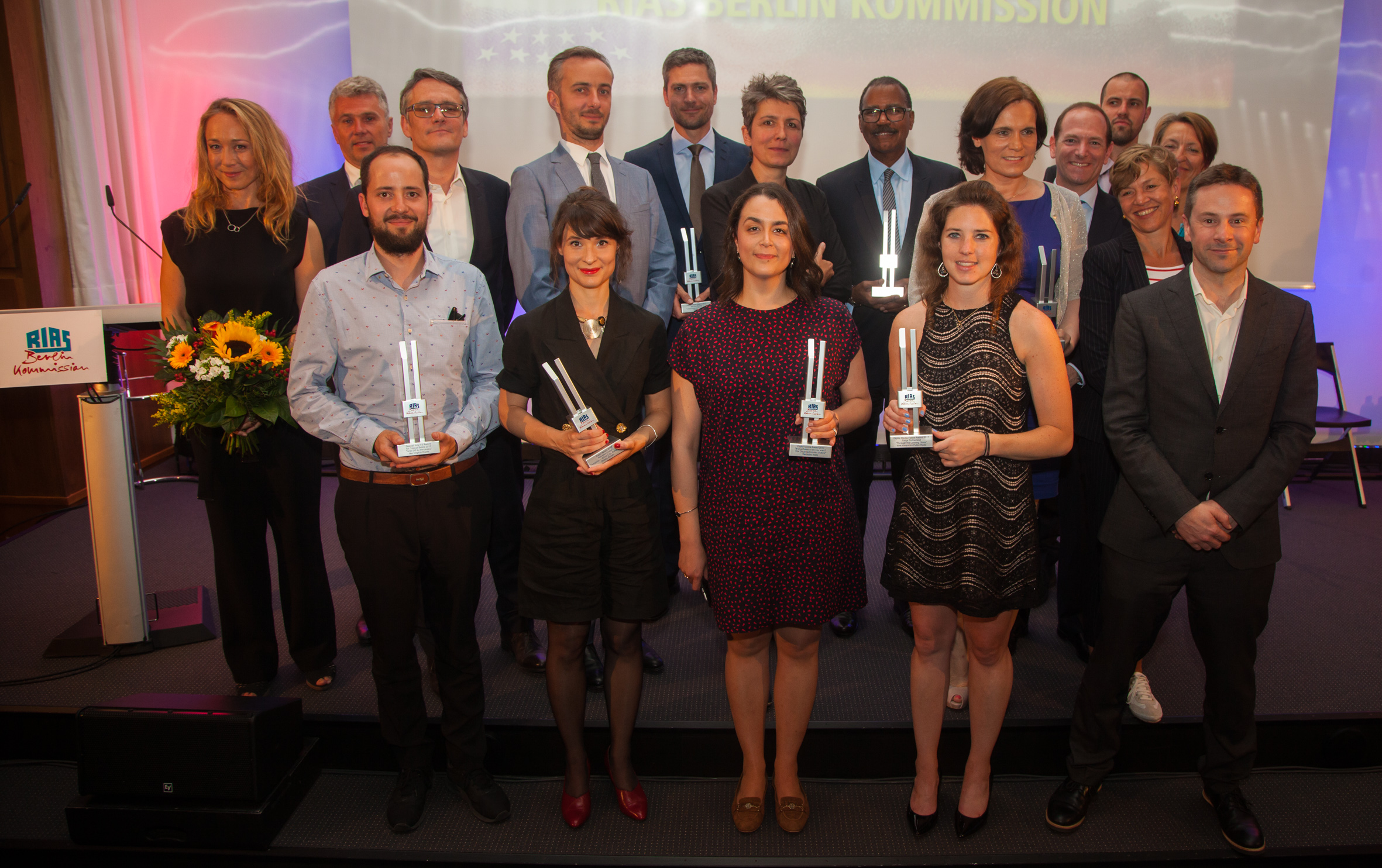 Die Deadline nähert für die RIAS Berlin Kommission Medienpreis. Die Ausschreibung der Preise erfolgt in Anerkennung der Leistungen des RIAS BERLIN in den Jahren 1946 bis 1993 als eine der Wahrheit und Demokratie verpflichteten transatlantischen Brücke und ihres Symbolgehaltes als herausragendes Beispiel deutsch- amerikanischer Zusammenarbeit.
Mit Preisen ausgezeichnet werden Hörfunk-, Fernseh- und Internetproduktionen (Websites, Blogs, einzelne Beiträge) von Rundfunkstationen bzw. freien Autoren, die in besonderem Maße zur Völkerverständigung zwischen der Bundesrepublik Deutschland und den Vereinigten Staaten von Amerika beigetragen haben.
BEDINGUNGEN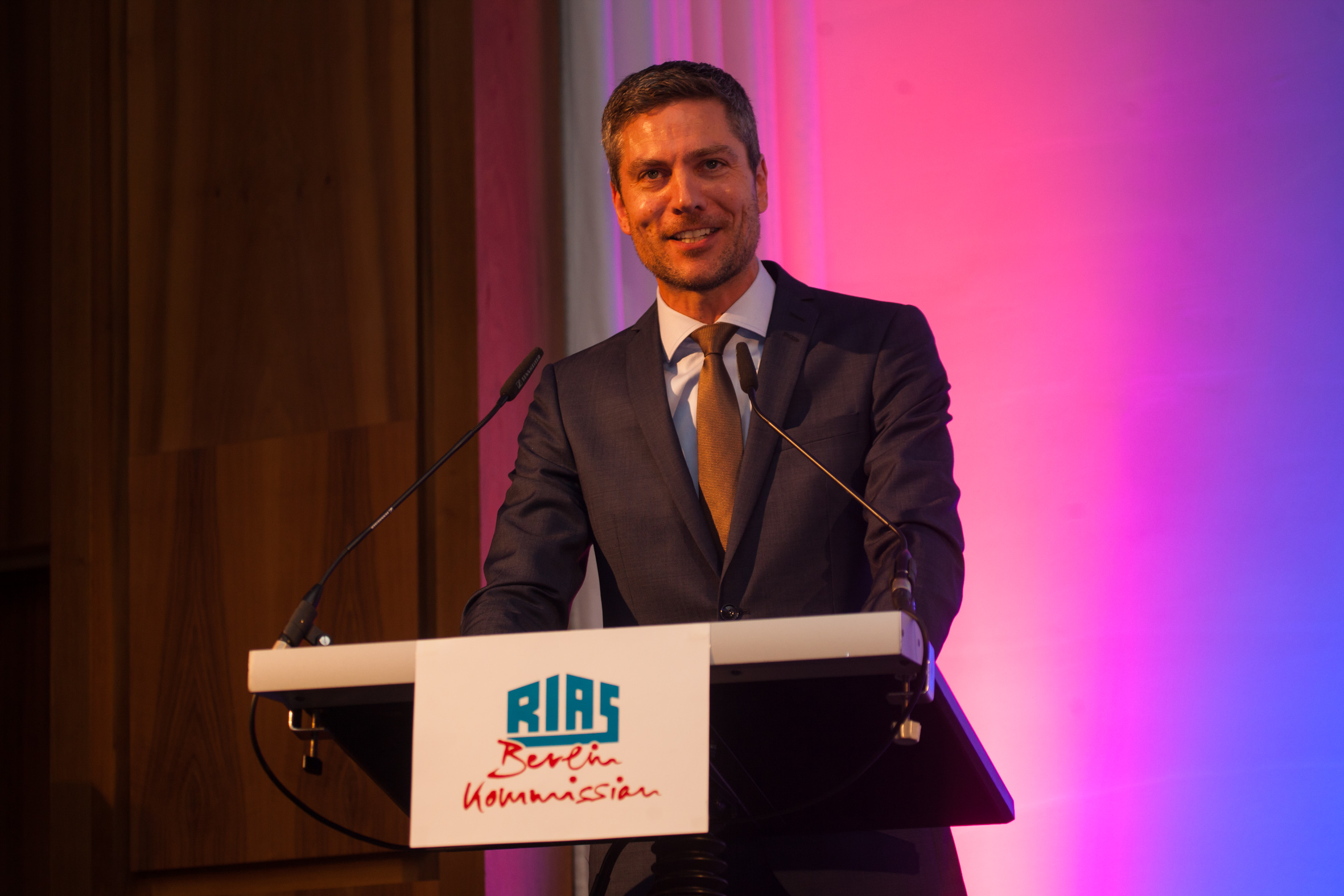 Teilnahmeberechtigt sind deutsche Beiträge zu amerikanischen Themen oder amerikanische Beiträge zu deutschen Themen, die im Jahr 2017 gesendet bzw. ins Netz gestellt wurden. Auch Beiträge zum trans-atlantischen Verhältnis oder zu internationalen Themen, die deutsche und amerikanische Interessen berühren, können eingereicht werden. Es gibt keine Eingrenzung auf bestimmte Sachgebiete.
Besonders willkommen sind Einsendungen von RIAS- Fellows (frühere RIAS-Programmteilnehmer), für die speziell eine neue Preiskategorie geschaffen wurde!
Die Auswahl erfolgt durch die internationale Jury der RIAS BERLIN KOMMISSION. Die Preisverleihung findet im Frühjahr 2018 in Berlin statt.