News & Events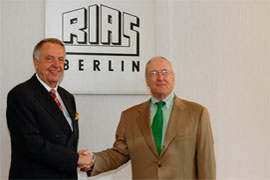 October 31, 2008
RIAS BERLIN COMMISSION newly constituted.
Meeting of the newly constituted RIAS BERLIN COMMISSION
The Honorary Chairmen of the RIAS BERLIN COMMISSION, Staatsminister Bernd Neumann, Minister of State for Culture and the Media and Ambassador William R. Timken Jr., Chief of the Diplomatic Mission of the United States of America, opened the meeting of the newly constituted RIAS BERLIN COMMISSION.
---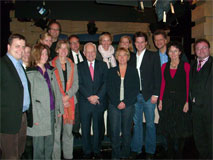 October 26 – November 1, 2008
German editors in the one-week Washington D.C. Pre-election Program 2008
Read more…
---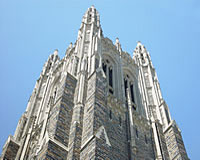 Sep./Oct. & Oct./Nov. 2008
German journalists in the Duke Visiting Media Fellowship Program
Read more…
---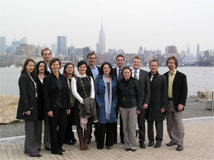 October 18 – November 8, 2008
German journalists participated in the U.S. Fall Program 2008
Read more…
---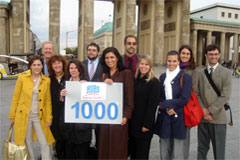 September 14–28, 2008
Twelve U.S. journalists, including the 1000th participant, in the RIAS Exchange
Read more…
---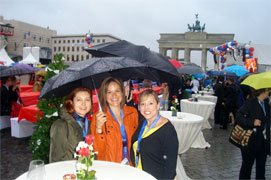 July 4, 2008
RIAS Fellows at the Opening of NEW Berlin US Embasssy
Three American RIAS Fellows attended the grand opening of the new United States Embassy to Berlin at its historic pre-war location at Pariser Platz next to the Brandenburg Gate. Though it started to rain thousands of Berliners and VIP-Guests, which included members of the RIAS BERLIN Commission, enjoyed the festivities and the glorious fireworks.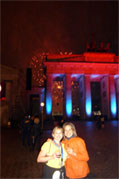 RELATED ARTICLES AND INFORMATION:
US Embassy returns to pre-WWII Berlin address
US Embassy Opening in Berlin Marks New Beginning
Amerikaner und Berliner feiern die neue US-Botschaft
Neue US-Botschaft am Pariser Platz
Amerikanische Botschaft am Pariser Platz wird eröffnet
---

June 26–29, 2008
4th Alumni Conference of the Round Table USA
Read more…
---
June 7, 2008
Festveranstaltung zur Verleihung der RIAS Radio-, TV- und Neue Medien Preise im Hotel Adlon, Berlin