TWO-WEEK GERMANY PROGRAMS 2008
Summer and Fall
---
RIAS Germany Program – Summer
June 15–29, 2008
13 U.S. journalists took part in the Germany summer program 2008 with stops in Berlin, Brussels, Frankfurt, Leipzig and, again, Berlin.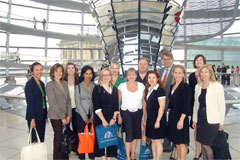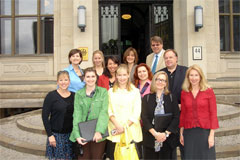 The main focus was on current political topics like immigration, fight against terrorism, transatlantic relations as well as presently discussed media issues, for instance to what extent the public stations in Germany are allowed to compete with private stations and newspaper publishers on the internet.
After the first 3 days in Berlin with many appointments on these topics, the group flew to Brussels for talks at the EU Commission and at NATO. From Brussels they travelled by train to Frankfurt for appointments at the European Central Bank and to Leipzig for talks with the city administration (Mayor Andreas Müller), a visit of the private radio station PSR and a historic walk through the city, following the route of the famous Monday-demonstrations, which marked the beginning of the end of the East German communist regime with the fall of the wall on November 9, 1989 and German unification on October 3, 1990.
Back in Berlin, the 13 U.S. journalists commemorated the 60th anniversary of the beginning of the Berlin airlift on June 26, 2008 with a visit to Tempelhof airport, where the majority of the planes landed during the 1948/49 airlift. The group also visited the new U.S. Embassy on Pariser Platz 2 and was hosted by Deputy chief of Mission John M. Koenig and Minister Counselor for Public Affairs and RIAS chairwoman Dr. Helena Kane Finn. A day at the German parliament in the Reichstags-building with talks to representatives of all political parties concluded the program.
---
REPORTS OF PARTICIPANTS
Missy Belote, KSMU-FM, Springfield, MO
Before my first trip to Germany in 2003, a friend of mine who was a RIAS Fellow told me I would have the time of my life. He was right. That's why I was so thrilled to have the opportunity to participate as a fellow again this year. Whether it was listening to someone talk about transportation issues or immigration/assimilation concerns, I learned a great deal about the challenges facing Germany. Perhaps more importantly, I began to see ways that Germany's problems are similar to problems in the U.S. I think there are opportunities for us to learn from each other.
Of particular interest to me during this program were the comments about the upcoming presidential election. There is so much interest among people in Germany and a real excitement about the candidacy of Barack Obama. I expected Germans to be excited about a change in leadership since relations between Germany and the U.S. have been strained during the Bush administration but I didn't expect this level of interest and enthusiasm. All the commotion that accompanied Obama's visit to Berlin a few weeks after I returned home only confirmed what people told me while I was there: Germany would like to see Obama elected president. To be sure, I did talk with several people who questioned whether Obama has the foreign policy experience to be president but the overwhelming sentiment was in favor of Obama.
The fellowship wasn't just about looking to the future. We had many opportunities to reflect on how the past shapes and influences the present. Learning about the efforts in Leipzig to change the communist regime was a real highlight for me. I just think there are so many lessons for other countries to learn from what happened in East Germany. The tour by Ms. Irmtraut Hollitzer was extra special because she was involved in the peace prayers and demonstrations herself. I always enjoy listening to someone who has lived through a historical time or event. This is also why I enjoyed having the chance to once again interview Rolf Wunderlich during the extension period. He was a German soldier in World War II who was captured and sent to a prison camp in Southeast Missouri. There, he worked for American farmers and developed many friendships with the locals. He enjoyed his time in Missouri so much, that many years later, he and his wife returned to the state to see the fields where he picked cotton as a POW.
Another high point of the trip was meeting several German journalists. I had the chance to see the RIAS Fellow who visited my station last fall. We had so much fun catching up! The tour of the radio station in Leipzig was also very interesting to me. I had the chance to see the kind of software they use and to talk with some of the reporters/producers about the kinds of stories they cover. I want to thank the RIAS Berlin Commission for providing me with this opportunity (again!). It truly was a memorable experience, something I will treasure always.
——————
Lori Bergen, Texas State University, San Marcos, TX
As one of the three journalism educators on the RIAS trip in 2008, I expected to learn a lot about German media and broadcasting, culture, politics and society to bring to my students. And I did — it was an amazing adventure, full of ideas and information to share back home.
What surprised me, though, was that some of the most important things I learned were about my own country and my own profession. That insight came from getting to know so well the group of professionals who made up our group of RIAS Fellows — smart, engaging, talented young woman who have committed themselves to broadcasting and journalism, women who have sacrificed a lot to be professionally successful.
I was especially struck by how much they have given up to be broadcasters — nearly all of them have struggled with personal challenges, relationships, families, shifting industry realities. How they have coped and succeeded in spite of those challenges made me proud of them and of the profession they serve.
I think it's also made me a better teacher — somebody who can help students understand the realities of the profession they want to enter. It was such a valuable lesson — and a surprise — that a trip to Germany would actually teach me so much about my own country. I can't imagine learning it in any other way than through a program like the RIAS Fellowship. That said, I don't know where to begin in the long list of highlights, funny moments, profound insights that I carry with me as a result of the trip. Let me share just a few of the things I learned as a RIAS Fellow:
If you're lucky enough to go, learn to pack light — if it doesn't fit in a 19-inch roller bag, you don't need it. You CAN re-wear the same black pants in Frankfurt, Leipzig, Brussels, Berlin and Bruges. Planes, trains, busses and Rainer's van are all easier to navigate with the least amount of stuff.
The beautiful American women of broadcasting are smarter than you think — I loved that moment at the European Union headquarters in Brussels when our speaker looked skeptically at us, asking the question "Ladies, ladies… doesn't anyone know what the 5th article of the NATO Treaty says… ladies… ?" And Rachel Elsberry turned slowly to him and quoted it directly: "An armed attack against any of them is considered an attack against them all. " You go, girlfriend!
The strangest wurst is a currywurst — who knew the famous wurst of Berlin is a currywurst and that currywurst is but a hot dog swimming in a plate of runny ketchup with curry powder sprinkled on top? We were served this Berliner favorite for lunch at the wonderful Theodor Tucher restaurant next to the Brandenburg Gate with all the pomp and circumstance befitting an American president. (Indeed, both presidents Bush and Clinton have been served the same in the exact same spot.) Currywurst — definitely an acquired taste. Lunch saved by perfect slices of Apfelstrudel for dessert.
A lost friend found — one delightful surprise for me was discovering what happened to Deidre Berger. Deidre's exceptional reporting from Germany for National Public Radio was something I took for granted for nearly 20 years and it was a relief to learn what she's up to today — directing the American Jewish Committee in Berlin, working to enhance integration and understanding of Jewish life in Europe. Our visit to the AJC and the meeting with Deidre was one of the highlights of our trip for me.
The power of communication — at many of our meetings throughout the visit, from discussions at the European Central Bank in Frankfurt to the meetings we had with American diplomats at NATO headquarters, I asked speakers about the challenges they face and how could they solve them. I was struck by the consistency of the answer so many gave — that they needed to have communicated better in the first place to have avoided the problem. As a journalism and mass communication educator, that was a powerful indicator to me that what we do with students — train them to be clear, accurate, fair and responsible communicators — is critical, universal and relevant. Great to have that strong endorsement of what we do.
Dinner for One — something the Germans do on New Year's Eve — Rainer talked about this one evening at dinner (which fantastic restaurant were we in… ?), and when I came home I googled it, watched it online, and frankly still can't figure out what the Germans find so appealing about this old black and white British comedy sketch from the 1960s where a butler serves dinner to an old lady alone on her 90th birthday, playing the role of all the other imaginary guests, serving the many courses, drinking all the alcohol on the table, and getting drunker and drunker with each course. "The same procedure as last year, madam?" the butler asks. As Rainer explained, the Germans have this memorized and holler out the response: "The same procedure as EVERY year, James. "I remain clueless about why this is Rainer's favorite film of all time…
Finally, I must say that nothing can compare to the opportunity afforded by a RIAS Fellowship. The chance to learn about German media, culture, politics and history with a group of bright, young, mostly female American broadcast journalists was priceless. With Rainer and Sandra in charge of our travel itinerary, I found everything was handled so professionally and with such grace and fun that I can't picture a visit to Germany again without them. No one devises a "master plan" better than Rainer, and I can still hear him saying it with his wonderful German accented English — one of my many happy memories of that amazing and life-changing trip.
——————
Meera Cheriyan, FOX-11, Los Angeles, CA
This was my second trip as a participant of the RIAS BERLIN COMMISSION program. The first one was 10 years ago. Needless to say the first time is always the best. However, it was interesting to see the changes in some of the places we had visited ten years ago. The major change in EVERY city we visited was how much more crowded and populous they had become… and it was a little disappointing to see how Americanized the young Germans had become. And almost every city and town had a McDonalds and Burger King. Ten years ago, we saw so few of those, and so many more "German" eateries. It's sad to see cities lose their personalities and it's the one time I am no fan of "globalization."
But let me start at the beginning. Due to circumstances beyond my control, I was able to join the group only a week later in Brussels. But the timing couldn't have been better. The day after my arrival we had a day-long trip to Bruges a medieval, historic town an hour's train-ride from Brussels. It was all worth it. It was just as I remembered a fabled, beautiful, charming place… except this time it was jammed much more by tourists propelled by the exposure given by the movie "In Bruges," no doubt.
In the short time I had in Brussels, I did manage to get down to the famous square and dine on mussels, take in an outdoor concert, and do a little bit of sightseeing. One of the sights that amused us was a coin-operated "condom box" vending machine, in the middle of a street. Those Dutch… they think of EVERYTHING. No wonder they have a much lower rate of teen pregnancies etc. etc. Smart thinking. Onwards to Frankfurt, the economic center of Germany. We had a very interesting tour of the city, listened to economic specialist at the European Central Bank and then headed to Leipzig. I had never been there before and fell in love with this amazing city. I had no idea it was here that the popular movement to tear down the Berlin Wall began.
One of the most interesting parts of the entire trip was the tour tracing the history of the freedom movement given by our tour guide who was part of the movement. It ended at the Staci Museum which left me speechless. Couldn't believe that a regime could have been so brutal. But I was also all the more astounded and encouraged by the bravery of the people of Leipzig. I hope to go back there some day. Then it was back to Berlin for the last few days of the program. Berlin had changed so much in the past ten years. Today it's all tall buildings and lots and lots of new buildings. Ten years ago, the Sony Center was just a shell of its current gigantic structure. Berlin is as lively as I remember and as cosmopolitan and quite "Americanized." One of the highlights of this trip was being in Germany during their soccer finals of the Euro Cup. Everywhere Germans were glued to their TV sets, whether in their homes, restaurants, bars or public parks. It was fascinating to see ALL Germans united their love of the sport for that brief period. (On the last trip the highlight was being able to stand right behind Gerhard Schroeder the night he was declared the new Chancellor. The chance to witness and be part of the political process at that time was incredible.)
One night in Berlin, one of my colleagues and I decided to watch the game while hanging out with the "locals." We found a small restaurant where the tables had overflowed onto the sidewalk and a giant screen dominated the action. No sooner had we sat down than we were greeted by the Germans who immediately welcomed us and ordered food and drinks for us. We had a great and fun evening and for me my appreciation of the German people increased even more. In Berlin we also saw the new American Embassy. Like most Germans I had to agree — I wasn't impressed. It's massive size and fort-like architecture stole the limelight from the beautiful Brandenburg Gate which years ago dominated the skyline. We also visited the soon-to-be-closed Tempelhof Airport, used by Hitler during his hey days. Despite its negative past, it is a tribute to the brilliance of German architecture and engineering. And as always one of the highlights of the trip was a visit to the German Bundestag (Parliament) building where we attended a session as well as were given a tour of that gorgeous building. There were many other fun things we did but obviously I can't go through all of it. Suffice to say, this program is worth the experience. You will never get the same opportunity if you go as just a tourist. It will leave you with a greater understanding and appreciation not only of Germany but of the U.S. as well. And last, but not least, Rainer and Sandra will not only take very good care of you but also keep you in splits!
——————
Dale Cressman, Brigham Young University, Provo, UT
The RIAS exchange far exceeded my expectations. When I first saw the itinerary, I wondered if I would be able to sit still for all those briefings. In fact, I found them to be very interesting and worthwhile. I particularly found the EU and NATO briefings to be useful, as they filled in some significant gaps in my knowledge of those two important bodies. Those briefings alone were worth the trip. The visits to German broadcasters were very enjoyable and educational. German radio appears to be much more serious — particularly in its commitment to news — that are U.S. radio stations. I was surprised to learn of how the public broadcasting system works in Germany and was interested in the tension between the public and private broadcasters. Perhaps the most emotionally satisfying part of the trip was Berlin itself. What a city! It is imbued with history and culture, and is a very walkable and enjoyable place. I was most touched by following the bricks in the roads that mark where the Berlin Wall once stood. I found it fascinating to see, in some parts of the city, cars parked over top of the marking: an inadvertent symbol of the normalcy of unification. Equally magnificent was the visit to the Bundestag.
In many, many ways, this trip was the trip of a lifetime and I am so appreciative for having had the experience.
——————
Hena Cuevas, KCET-TV, Los Angeles, CA
Giving Deutschland a Second Chance
It was a place I said I would never visit again. So any time any of my journalist friends tried to encourage me to apply to this wonderful Fellowship they had just participated in, I resisted. There was no way I was going back to Germany. My first visit was in college, just a few years after that country's reunification. I went with a friend whose father was a general in the U.S. Army stationed in Wiesbaden. We visited Frankfurt and Heidelberg, and even though it was my first trip to Europe, I was less than impressed. I found the German people to be cold and unfriendly, and the issue of Germany's role in the world was not a topic that was discussed. I was looking forward to conversations about the tragedies of World War II, and wanted to hear about the excitement following the fall of the Berlin Wall. But the Germany I experienced back then wanted nothing to do with its past. I was actually warned right off the bat to avoid any mention of the War, and reunification was simply another word for obtaining cool Soviet-looking hats and unusual communist regime coins. That's why I'm glad I decided to participate in the RIAS Berlin exchange program this year. The Germany I encountered nearly twenty years later is a different one, although in many respects much remains the same. I noticed the change as soon as I landed.
Germany is now a member of the European Union which changes the way people travel across the continent. Once there, we were free to go into any of the 27 member countries without having to pass through immigration or customs again. It was also nice to know there was only one currency we had to deal with. Our first session took place the first morning when we met German journalist Thomas Habicht. It was the perfect introduction to what Germany has been through in the last two decades. He talked about the pain and the shame the country feels, and how Germany is trying to improve its image on the world stage. He said in its brief history, Germany has been responsible for two World Wars, the Holocaust and one Communist dictatorship. "No wonder the world is afraid of us," he said. And it seemed every activity we did had that goal in mind: to show us the "softer side" of Germany.
It was interesting to learn from a member of Parliament that even though he belonged to a party opposed to Chancellor Angela Merkel's, he felt she was exactly what the country needed at this point in history. Germany is now the largest and strongest country in Europe and having a woman as its leader helps to diffuse in some way any fears the rest of the countries might have regarding Germany's power. Once again, here was the country doing its best to improve its image. A trip to Brussels gave us the opportunity to experience how Germany is viewed from the outside. It's a powerful player with much clout, plus it is the biggest contributor to the EU budget. It was interesting to hear how some Germans felt about what they called the "unfairness" of the European Union voting system. They said that as the largest country they paid the most, but a vote from a tiny country still carried the same weight when it came time to important decisions. There was much resentment in their voices so I wonder how much longer that egalitarian system of voting can last in the EU before the bigger players demand a greater say. Germany's larger size is a result of reunification which gave them a larger territory, as well as a stronger economy. But it's interesting to learn that many Germans still don't see themselves as part of one country. National unity is a work in progress, but that's where soccer comes in. Hosting the World Cup in 2006 gave Germany the opportunity to present a united front. And even the slogan "A Time to Make Friends" made echo of that eagerness to be liked and accepted. Many considered it a success when German flags were proudly waved in support of the home team. This year brought Germany a second chance to see if that "national unity" had taken hold. Austria and Switzerland were hosts to this year's Europe Soccer Cup, so soccer fever was everywhere. Being able to watch the games surrounded by enthusiastic, proud fans is an experience I will never forget. As always, sport bridged the cultural and language gap and gave me the opportunity- for the first time- to somehow connect with a German. It was also interesting to see how the immigrant communities — usually shunned from mainstream society — integrated during the days when Germany played. It didn't matter where they came from; on that day, they proudly waved the black, red and golden flag.
Perhaps more soccer games is what it's going to take for Germans to feel more accepted. Twenty years make a big difference, and during that time people- and countries- can grow quite a bit. The conversations and discussions I had during this visit wouldn't have been possible during my first trip. I wasn't ready, and neither were the Germans. I'm happy to report I noticed change, although the people still have a long way to go to fully heal internal and external wounds. They need to overcome that sense of pessimism that surrounds them. But I am sure of one thing: I'm glad I gave Deutschland a second chance. Now it's time for the world to do so as well.
——————
Rachel Elsberry, News 8 Austin, Austin, TX
It has probably happened to you. You make a decision that you want a new car, a particular make and model, and not soon after that you start to see that car everywhere. It has become a part of your conscious that wasn't there before your decision. It is with you now. That is what happened to me since my trip to Germany with RIAS this summer. Suddenly, Germany is everywhere. Germany is now permanently a part of my conscious and I now have an understanding and an appreciation for this country I'd have never found in a book or even on a vacation.
Berlin
I arrived in Berlin after spending four days of traveling on my own in sunny, spring-time Paris. It was grey and raining when my flight touched down in Berlin and as I looked about while my cab drove me to the hotel, I thought, "Ugh. You're not in Paris anymore."
Berlin hardly had the romance and sophistication of Paris, it was much more industrial — seeming, harder and because so much of it was destroyed in WWII, a lot of it was newer than the Paris that was preserved. I worried my time in Berlin would be a let down after Paris. Quite the contrary happened. By the time my trip was said and done, I'd fallen in love with Berlin. No, it wasn't love at first sight. Berlin grew on me. I left Germany with a profound respect for Berlin, her past and her present.
History haunts Berlin like the wrinkles on a woman's face. From Hitler's suicide bunker which sits near the Holocaust Memorial to the Brandenburg Gate which once sat in the former GDR to the remnants of the Wall that once twisted its way through a divided city. You can't escape the past in Berlin. It is in your face just as it has been for Berliners who grapple with their history's ugliness yet embrace the beauty of a future full of possibility more than 18 years after reunification of the East and the West. When I learned I'd been accepted as a 2008 RIAS Fellow, I prepared myself for two intense weeks of learning about German and European politics, trade, culture and media. When I left my local American newsroom, it was busy in June of 2008 localizing stories about salmonella-tainted tomatoes, high gas prices and the final outcome of the battle between Clinton and Obama for the Democratic nomination. How two weeks in Europe applied to all that wasn't so clear. Two weeks later, on the final Friday evening of the core program, it hit. I realized then that my two weeks with RIAS were an intensive lesson in the most important value known to mankind. It's a value, as part of the Fourth Estate, American journalists are charged to protect at home and abroad. That value is Freedom. That final Friday, Rainer Hasters took us to a show called "My Life" at the Chamaleon Variety and Music Theater in the middle of Berlin's historic quarter of Hackesche Höfe. The theater was originally built as a banquet hall in 1906. It survived the bombs of World War II, only to suffer great decay in what became the former Communist East Berlin. It became so decayed that it closed in 1961 and remained empty until Germany's reunification. After the reunification of Berlin, the area and the buildings in the Hackesche Höfe were restored. Today, it is a hip and happening place to be. The cabaret-style show featured dancers, singers, acrobats and jugglers. They were young and talented, hip and progressive. Their performance was at times humorous and edgy and at others haunting and beautiful. As I watched them in that historic space, on that magical final Friday with the RIAS Fellows, both the performers and the building to me became metaphors for Germany's past and present. They represented the future of a city and country where today possibilities seem endless. But, they also represented the painful past of a city and country once devastated by war and then split in half for decades by the Wall that twisted across streets, past historic monuments, along rivers and worse, between families.
It is hard to visit Germany today and not think of its not-so distant past. In fact, it is impossible. History's ghosts stare back at you where ever you go. Throughout the show that night, I kept thinking to myself, 20 years ago, the lives of these performers would have been so different here in what was then the Communist GDR. It's very likely they would not have realized their potential or even had the opportunity to pursue their professional or personal ambitions.
What is certain is they would not have been able to travel anywhere outside East Germany with the exception of Hungary (because Hungary was also under Communist rule). They wouldn't have been able to visit relatives in West Germany. Today, Capitalism, not Communism, thrives in Berlin and the German economy is at the heart of the Europe Union.
Stasi-Land
I randomly chose the book Stasiland from the suggested reading list prior to my RIAS trip. I ordered it used online. I started reading it on the airplane on the way to Europe and finished it during my first couple of evenings in Berlin. I highly recommend this book. In fact, by the time the RIAS trip ended, I think half of my colleagues on the trip had borrowed my book and read it. It is an easy, quick read but provides fantastic perspective on what life was like under the Stasi in the former GDR. During the second week of our RIAS journey, we got to visit Leipzig, where the former Stasi headquarters is located and is now a museum.
There you will find "smell jars" which the Stasi used to capture a person's scent, disguises they wore in order to spy on people and machines used for carefully opening letters and resealing them without detection. Life under the Stasi sounds like something from another era in time, like something other worldly. However, what is most profound life in the GDR is that it happened in our lifetime. It happened not so long ago and serves as a great reminder of the value of freedom. Overall, that's what my two weeks with RIAS were about: the value and importance of freedom, the lengths some will go to get it, and the lengths some will go to deny it to others.
Soccer
My RIAS Fellows and I were fortunate enough in the summer of 2008 to be in Germany just in time for the Euro Cup. Some nights when we should have probably been seeing German night life, we instead sat in the lobby of the hotel and watched soccer. We were hooked. The best game of the series was in Berlin during the final part of our trip when Germany played Turkey. The battle between the two teams is representative of the struggle Germany has within its borders to assimilate the 2.5 million who live there of Turkish decent.
I think many of us RIAS Fellows anticipated some strife that evening during and after the game. By that point in the trip, we'd heard a lot about some of the Turkish resentment in Germany toward what is perceived by some as a second-class citizenship. Fortunately, the only thing we saw that night was a young Turkish man jumping in front of the television, shouting at the pub owner and threatening to unzip his pants. His friends calmed him down and eventually whisked him away and hopefully sobered him up a bit. Germany eventually played Spain in the final but was defeated.
Rainer and Sandra:
I can't imagine doing what Rainer and Sandra do twice a year with a bunch of demanding, jet-lagged, finicky, American journalists. Lucky for us, they are two incredibly patient people who kept us on time and on task (because Rainer had a "Master Plan") and more than sufficiently fed. I think I gained 10 pounds!
——————
Wendy Gillette, CBS, New York, NY
My experience as a RIAS Fellow was wonderful on both a professional and personal level. As I write stories about international affairs, I see the world a bit differently following my time in Germany and Belgium. When Barack Obama spoke in Berlin the other day, it meant so much more to me than it would have a few months ago: Knowing what Germans think about him and our current president, following the debate about Obama possibly speaking at Brandenburg Gate, and knowing the exact place where Obama stood, having been there myself. On a personal level, I have made several friends and colleagues I will have for the rest of my life. I met fellow journalists who will face similar struggles and challenges as I will; they are smart people who are accomplishing so much in our field.
My most vivid memories in Germany are from our time in Berlin. On morning runs, I trotted past the Brandenburg Gate and the new U.S. Embassy as the sun rose, and touched sections of the wall that stood between freedom for East Germans. I also remember the incredible loyalty of soccer fans and how beautifully pristine and clean the city is, especially compared to New York! It is fascinating to see a city that has borne witness to so much history; from the Berlin airlift to the holocaust to the fall of the wall. One of the most stirring moments was when I happened upon the crosses near the river, having just arrived in Berlin. I read a nearby sign that described what they memorialized; those who died trying to flee to the west. It was extremely moving as I tried to imagine such a different place, only 19 years ago.
Germany's public versus private system of broadcasting is especially interesting to me as it is so different from what we have in the U.S. It is really surprising to see public funds supporting soccer matches. But that money also goes to fund some very meaningful programming. And what a gorgeous television studio we visited. So very, very different from the huge, barren warehouse that houses one of the networks that helped to create television news, CBS. I imagine German journalists who work at public stations must be quite shocked when they visit some of the affiliates here in America.
It was also fascinating to visit former East Germany. The Stasi museum so clearly demonstrates the lengths the government took to find out people's personal affairs. I remember when my parents visited East Germany when I was living in Austria as an 11 year old. They came home and talked about the propaganda they saw in East Germany, telling Germans that the west was evil and capitalism was bad for everyone. East Germany may have fallen but this type of mind control and manipulation is certainly not banished from our world. As we approach this year's Olympics, it will be very telling to see what journalists are allowed to report in China.
Now the really fun stuff! The delicious wine and beer in Germany and Belgium, the lavish breakfast buffets and lemon-infused wiener schnitzel all gave me a great taste of the cuisine. Our meal at the restaurant in Leipzig truly showed me how delicious German food can be. But aside from the meals that were made even better by shared laughter and stories, the most special night of my trip was the duel between Germany and Turkey in the Euro Cup. We sat outside, surrounded by five layers deep of rabid soccer fans, all of them fervently hoping their team would win. When the hard fought victory went to Germany, the streets erupted in joyful celebration. We joined with abandon. We were German, at least for one day.
——————
Rachel Grygiel, Freelancer, Hoboken, NJ
Diplomacy in Deutschland
Travelling overseas often teaches you more about your own country than the countries you visit. This was the case with our summer 2008 RIAS trip which coincided with the European Soccer/Football championships. One night watching a football game in Berlin was a vivid lesson in international relations and restraint.
The match was Germany vs. Turkey, the semi-finals of the tournament. It was a much anticipated contest with the strength of both teams and the uneasy relations between the two groups. In the days leading up to the match we saw the German and Turkish flags all over the city — on cars, apartment windows and on game night young soccer fans even wore their national flags as capes. Berlin was soccer crazy!
Several from our RIAS group decided to take in the match with the locals. With our German flag tattoos on our cheeks we sought out a big soccer screen and a mix of both fan groups.
As we settled into our seats, I noticed a group of young Turkish fans edging their way through an already crammed area up to the screen. Words were exchanged as they forced themselves between tables and other patrons. Although I don't speak German or Turkish it was clear that the teens were playing innocent in order to get closer to the screen. With their Turkish flags they planted themselves directly in front of the screen. Although there was no room, the boys crouched in front. I found myself getting a little nervous. I noticed the bartenders keeping a close eye on the boys as the tension mounted before the kick-off. To tell you the truth, I cannot remember the specifics of the match — who scored the goals or in which half. The game was back and forth. Germany scores, Turkey answers with another. But I do clearly remember the interaction between the fans after Turkey took the lead. Turkey scored and the teen fans went crazy jumping up and down in front of the screen. There was a back and forth in German and Turkish. Some Germans muttered things at the boys and seemed to tell them to sit down. Others just ignored them.
Then Turkey took the lead. One of the boys up front by the screen jumped up on a table and started to undo his belt and unbutton his pants. Immediately he was yanked backwards off the table onto the sidewalk. An older Turkish gentleman scolded the teen and apologized to the bartenders and the crowd for his behaviour. The final score: 3:2 — Germany won the match. And all the patrons left the bar on good terms. Mixed in with the Germans celebrating were nods of approval to their Turkish counterparts that overall, it was a clean, well-played match. I must point out that I am a huge soccer fan, so I understand the loyalty and dedication of the European soccer fans. And when it comes to an event like the Euro Cup where national pride is at stake, tensions are extremely high. So as a New York sports fan, I found myself thinking what would have happened if this were a Yankee-Red Sox game or even a Superbowl game? Words would have been exchanged. Maybe even punches thrown. More likely than not, someone would have literally been thrown out of the bar. Although I learned so much from the RIAS experience — I have found myself sharing this particular story over and over here in the states. I am not sure what to call the crowd's response that day: Restraint? Composure? Tolerance? Maybe it was some combination of these emotions or maybe it was none of them. Maybe it revealed a deep hidden bias of my own. Maybe that Turkish gentleman was merely an every day example of a "diplomat" who was able to "keep the peace" by merely keeping a kid in line. But I laugh now thinking that despite visiting the European Union, NATO, the Reichstag and all of the other international organizations one of the best lessons I learned about international diplomacy and peace keeping was at a street corner bar watching a soccer game.
——————
Don Heider, University of Maryland, College Park, MD
What is a European?
With the success of the European Union and the Euro, Europe is making a bid for becoming a world power again. The past decade or so in particular has seen a number of successes for the EU, including the not-so-small task of uniting a number of disparate countries that have historically been at odds (i.e. WWl & WWll to name but two).
A group of broadcast journalists from across America were invited to spend two weeks in Germany last summer, courtesy of an exchange program sponsored by RIAS, the former radio broadcasters located in Berlin. The purpose of the trip: for American broadcast journalists to learn more about broadcasting, politics and government in Germany. But you can't really think about Germany these days, even the reunified Germany, without thinking about Europe. What this trip did for me was prompt me to think for the first time about exactly how modern Europe is defined and how ideas about, and boundaries of, Europe are arbitrary, shifting and ultimately all about power. Since the signing of the Maastricht Treaty in 1992, the EU has grown to 27 members. But a fundamental question is; who gets to join and who doesn't? Some countries, like Norway and Switzerland, have opted not to join. Others, like Turkey are not yet eligible. Why not? Well EU representatives cite certain requirements needed for becoming an EU participant. But of course, those requirements are set by the current EU member countries. If a country wants to join, they must receive unanimous approval by all current member nations.
If you've visited or read about Europe in the past two decades, you most likely have heard or read about anti-Turkish sentiments, especially severe in Holland, Germany and France. Turkish workers have been brought into many places to help, but then, these workers are often not offered citizenship and some people are resentful of their presence, and of their Muslim faith. The real core issue with Turkey's membership into the EU though, isn't about its ties to Islam or proximity to the middle-east. It has to do with power. The EU operates on a somewhat representative system of government. Thus the more population, the more power within the EU. The biggest powers current are the most populace, i.e. Germany, France the U.K. and Italy. Turkey has more population than almost any of these individual countries, thus if they joined they would become a major player. Currently only Germany boasts a larger population. At over 71 million, Turkey's population is larger than France, the U.K. or Italy. Turkey also has a population growth rate well above all these other nations. So for Turkey to be granted admission to the EU, some of the current major powers would have to cede some of their power in the current EU, an unlikely scenario, at best. Add the power factor to a strong sentiment of xenophobia, and you get the idea Turkey will be waiting a long time for its EU membership card.
But, is being a part of the EU what defines being European? Even many people who live in countries in the EU may feel a much stronger allegiance to their home country than they do to the EU. As German Chancellor Merkel has said: "As politicians we have to react to the fact that many people do not feel that they can relate to the EU. " In 1928 Ferdinand Tonnies summed up the problem by defining the differences between Gemeinschaft (community) and Gesellschaft (society). People often feel a part of a community; feeling a part of a bigger society is more problematic.
We arrived shortly after Irish voters had rejected ratification of the EU's Lisbon Treaty, throwing the EU into turmoil. The sentiment was clear: the EU had not done an effective job of explaining to voters why the new treaty was important, and perhaps even more to the point, how it would impact them individually. The EU has many challenges ahead in keeping member countries unified.I came away from my visit to Germany and Belgium with the strong sense that the EU had helped Europe make strides economically, but that also this held true only for some Europeans, and to see who remains in power one has to only look at who gets to decide who's a European and who's not, at least in regard to the EU. One sign of hope: we were in Berlin the night Turkey and Germany met in the World Cup soccer playoffs. Thousands gathered to watch the match on big screen televisions near the Brandenburg Gate. Turkish workers were there in force, many draped in Turkish flags. Germany won the match and moved on to the next round. Despite a lot of cheering, yelling and taunting; it was a peaceful evening. I did wonder, though, if the result had been the same if Turkey had won. Things tend to remain peaceful when power remains in power.
——————
Frances Kuo, WCNC-TV, Charlotte, NC
IMPRESSIONS OF GERMANY
Having worked in local television news for nearly a decade, I have grown accustomed to seeing the world within a 30-mile radius. So I viewed the RTNDF/RIAS Fellowship as a unique opportunity to learn about the global community, beyond the borders of my home base. The trip turned out to be one of the most rewarding experiences of my life. What struck me throughout the trip was Germany's deep recognition of its past and, simultaneously, its fervor to move forward. An example of this was during an evening we spent in the Hackescher Markt area of central Berlin, a region teeming with trendy bars, restaurants and clubs. Upon leaving a wonderfully entertaining variety show at the Chameleon Theater, I stumbled upon something under my feet — polished markers scattered along the path. Each was inscribed with the name of a Jewish war victim, a small memorial to sacrifices made in days past. You see these subtle reminders of history everywhere. These two sides of Germany were also on full display at the Reichstag building, home of the Bundestag. Down one hallway, inscribed along the walls, were also stark reminders of Germany's tumultuous history. There, you see various names and messages of victory left by soldiers of the Red Army. Then when you arrive at the plenary chamber, you plunge immediately into the modernity of the 21st century. From the center, waste air rises from a cone as fresh air is channeled from below. This is a remarkable symbol of the environmental consciousness prevalent throughout Germany. The Green Party's representation in the Bundestag as one of the main political parties was particularly impressive. As a journalist, I was also fascinated with the media structure in Germany. For me, the most striking element was the 17 Euro/month public television fee charged to all owners of television sets. The rate brought up interesting discussions about the subsequent quality of programming. It was also remarkable to see the differences between American and German newscasts. The German newscasts seemed to focus more on politics and analysis with less emphasis on crime as in the U.S. The Germans also seemed especially well-read on political issues in their country, the U.S. and elsewhere around the world. It was also fascinating to learn about the reemerging role of the Communist Party in Germany and the support it receives from many eastern Germans. I discovered that this was somewhat reflective of the continuing problems in eastern Germany and the disillusionment of some of its residents. Perhaps one of the most exciting elements of our trip was the backdrop of the European Cup. The pride of the German people was on full display as the country sailed to the finals of the championship However, along with the excitement came tension. On a few occasions, minor clashes erupted between German and Turkish fans, reflective of the racial divisions which exist in Germany. It was interesting to hear the perspective of Ms. Bilkay Öney, a Turkish member of the Green Party. She discussed some of the societal matters involving the Turkish population in Germany, including unemployment, crime and citizenship. The immigration issues discussed seemed similar to those faced in the U.S. The overall experience in Germany was truly eye-opening in providing me a solid foundation for learning about the country and its people. It undoubtedly piqued my interest in learning further about Germany and other countries and in helping to promote better relations between Americans and citizens of other nations.
——————
Laure Quinlivan, Freelancer, Cincinnati, OH
I found the RIAS Fellowship a wonderful learning experience that accomplishes the German government's goal with this program, and gives unprecedented opportunity to the broadcasting professional. It's my understanding that Germany funds the program in the interest of educating American journalists on today's Germany, including its people, the German lifestyle, and Germany's role in the European and world community. The program does this beautifully. My group visited not only Berlin, but Leipzig, Frankfort and Brussels. Spending a day at NATO in Brussels, and at the European Union, was truly enlightening and educational. Some of the best exchanges occurred in smaller, more casual settings, such as breakfasts and lunches with journalists and politicians.I especially enjoyed our lunch with a Turkish female politician in a Turkish restaurant in the Turkish section of Berlin. Listening to her stories really gave me insight into the problems and challenges of integrating the Turkish community within Germany. Some of the most memorable experiences happen at night, after the official program is over and you venture out into the city. We were able to experience many exciting soccer matches of the European Cup, which gave further insight into this sometimes tense relationship between Turks and native German citizens living in Germany. We saw many autos sporting both Turkish and German flags. However, the night Turkey played Germany in the semi-finals the city was at fever pitch and battle lines were clearly drawn at outdoor cafes around the city. Our seats at Andy's outdoor café near Potsdamer Platz had a big Turkish contingent. There were almost a few fights, but in the end, everyone calmed down. My impressions included: surprise German food was so good, awe at the numerous ways Germany leads ecological conservation, from solar panels to natural landscaping around buildings. I totally fell in love with German parks that offer some things you simply don't find in American parks — lots of places to sit and plenty of food and drink, including beer. The playgrounds are much more fun as well. Finally, the opportunity to travel after the core program and do stories is a rare gift. Without the financial assistance from RIAS for the travel, I never would have researched and produced the stories I did, which aired on local television in Cincinnati in August. I did three separate stories on Cincinnati-Germany connections and the total airtime for the stories was about 20 minutes. I feel the stories helped me educate people in our region about Germany, which furthers the goal of the RIAS program. I feel very lucky to have been selected. Finally, I decided to blog about my trip, which is available on line at: www.quinlivaningermany.blogspot.com. The blog was featured prominently several times in "Shoptalk," a daily newsletter to media people across the country, so I hope that further educated journalists and perhaps inspired some of them to apply for a RIAS Fellowship.
——————
Sarah Saeger, KMSP-TV, Eden Prairie, MN
It was June of 2008. A major U.S. presidential election is just months away, it is a straining time in the economy, gas prices are at an all time high, and the European Soccer Championships are taking place. What an exciting time to be a journalist in Germany!
One of my eye-opening experiences during the RIAS program was in our first presentation in Berlin. Mr. Thomas Habicht spoke about the upcoming election and how many Germans would be disappointed if Barack Obama was not elected in November. However, Habicht also pointed out that if Obama is elected, most Germans do not realize all the problems will not be fixed right away, and that Obama would need an adjustment period after taking office. It was interesting to hear a perspective on the United States election from a different part of the world. Berlin and the other cities we visited are also filled with such history. It was amazing to be at the Brandenburg gate and think about how different it must have been years ago. Visiting the Stasi museum also gave another perspective into just how much has changed. Imagine having someone screening your mail, monitoring everything you send? It is hard to believe something like this could happen. In our meetings with local journalists in Germany and Brussels it seems even thought we work in different countries, we are a lot alike. It is hard to explain, but the instant rapport and feeling I got with speaking to reporters at our dinner meeting, made me feel right at home, like I was conversing with people in my newsroom. Of course there is the difference of public and private television, which is a whole different challenge for German journalists. But besides that, it seems the basics are the same. The most in depth look I got at German culture was watching soccer! The night that Germany took on Turkey was amazing to see. There we were in the heart of Berlin, crowded into a busy street corner, everyone watching one medium sized television. At one point, the TV stopped working due to storms where the game was played. But what really surprised me was no one got upset. I think in the U.S. if this happened there would be an uproar, people yelling, etc. But here in Berlin, everyone remained calm until the problem was fixed. This ties into my overall impression of people during my time in Germany. For example, on my visit to the Zoo in Tiergarten to see the famous Knut, I had to ask for directions a few times. And even though there was a language barrier, everyone was very nice and helpful, something I think is sometimes hard to find in the U.S. There are so many experiences that took place during the short time we were visiting, it is hard to mention it all. But everything from the people I met, to the delicious food, and of course the beer is something that will be hard to forget.
——————
Veronica Villafane, Freelancer, Glendale, CA
As the daughter of a foreign service officer, I have traveled all over the world since I was born. I have visited many countries and have learned from a multitude of different cultures. Yet, despite my many trips, I had never been to Germany. I consider myself very fortunate to have been selected as a RIAS Fellow, because I learned a lot more about Germany than if I would have visited the country on my own. One of the best aspects of the program is having access to representatives of government, political groups and the private sector, along with the expert guidance and exceptional hospitality of Rainer Hasters and Sandra Fettke. The most amazing thing to see first-hand is how Germany has been able to rebuild the country and reinvent itself after WWII into a powerful and prosperous nation. While we learned of the many challenges the country faces, such as unemployment and immigration, there seems to be a philosophy of working hard to improve its social, political and economic standing. It almost feels surreal to walk along the streets of Berlin and see the remnants of the Wall and the constant memories that this city was once divided not just by a physical wall, but by ideology. It's incredible to think that in just one year's time, the country will celebrate 20 years of the tearing down of the wall and the reunification of Germany. And in that relatively short period of time, there was a concerted effort to bring what was once East Germany, to par with the modern world. To hear from people who lived through the revolutionary movement which led to the fall of the Wall, to hear the stories of the Stasi and to learn about people's survival in the midst of oppression was very enlightening. We were also very fortunate to be in Germany during the Eurocup and witnessed the country's fanaticism with the sport. We actually had the opportunity to sit and watch a few games, including the disappointing final for Germans. But even the sport showed how the country can unite. When Germany faced off Turkey, immigrants fro that country were wearing the German and Turkish flag. There was fear that there may be riots depending on the result, yet at the game's end, no such disruptions ocurred. So, while there may still be many identity issues lurking in the lives of immigrants in Germany, there was common bond — that of being part of the country they now live in. When it comes to journalism in Germany, I wish we would have had more time to be able to hang out in a newsroom. But if there's something I learned during our visit is that there is a lot of respect for public television. I was surprised to find out that Germans have to pay a special tax to support public television and that by doing so, it is the highest quality and most watched in the country. A far cry from the public television system in the U.S., which struggles to keep financially afloat while trying to provide viewers with quality programming. If we could only adopt such a system, I wonder if the television networks would change and improve their own programming.
What I really liked about the RIAS program is that we got a chance to learn not just about the issues, but about the people themselves. I can only imagine what the RIAS Fellows in 2009 will learn, as they witness an incredible milestone in German history as it celebrates 20 years of freedom.
---
RIAS Germany Program – Fall
September 13–28, 2008
11 U.S. journalists took part in the Germany fall program 2008 with stops in Berlin, Dresden, Prague and Brussels.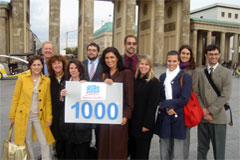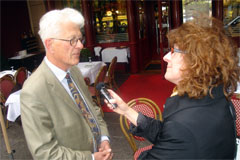 Against the background of the worsening global financial crisis, a number of economic issues were included in the program such as talks with Dr. Hartmut Mangold, State Secretary at the Saxonian Ministry for Economic Affairs and Labor; Marek Mora, Dep. Minister of State for European Affairs at the Czech Republic; Dr. Wolfgang Lutterbach, Head of international policy of the German Federation of Trade Unions and Martin Nies, spokesman of the VW manufactory in Dresden.
Visits to broadcast stations like RBB and rs2 as well as talks with German politicians and journalists and a meeting with German students of the Berlin high school "Graues Kloster" completed the German part of the program.
In Prague the U.S.-journalists had a chance to learn more about the programs of Radio Free Europe/Radio Liberty and to talk to several department heads, especially to members of the Afghanistan bureau of RFE On the last two days the U.S.-journalists visited Brussels for talks with NATO- and EU-representatives.
This program marked a milestone in the journalism exchange activities of the RIAS BERLIN COMMISSION which started 15 years ago. The RIAS BERLIN COMMISSION welcomed as its 1000th participant U.S.-journalist Kate Ryan from WTOP Radio in Washington, DC.
---
REPORTS OF PARTICIPANTS
Alison Bryce, National Public Radio, Washington, D.C.
I walked along side my eleven RIAS Fellows down a long hallway, passing doorways with different countries' names over them — Turkmenistan, Moldova, Iran, Georgia, Uzbekistan. We stopped in front of the door with the name Afghanistan over it and filed inside.
RIAS brought us to Prague and we were inside the Radio Free Europe building. As a radio producer, I instantly felt at home and I felt intimately connected with the whole world. It was like being at the center of the world: stepping into one door — the people and culture of one country — and right across the hall — a whole other country, at my fingertips.
In the Afghanistan room, we sat at a long table. The Afghani workers slowly gathered around. They were a group of passionate and humble Afghanis — some who had fled Afghanistan and called themselves, Afghani-Swedes or Afghani-Americans. First, the Director told us the way Radio Free Europe is broadcast in Afghanistan. It airs out of Prague. RFE broadcasts for twelve hours and then it switches over to Voice of America for the night hours. The shows range from call-in shows to strictly news programs. The languages move from Dari, to Pashto to English. RFE hires many freelance journalists on the ground, but it is getting harder and harder to recruit them because the violence is increasing.
Then the conversation got more interesting as the director of Radio Free Afghanistan recounted a story about a Taliban spokesperson calling into one of the call-in radio shows. (The Taliban has a spokesperson?) It went like this. A woman called in complaining that the Taliban had burnt down her child's school. Then, the host (in Prague) got the call from the Taliban spokesperson defending their decision to burn down the school. Turns out, the Taliban burnt down the school because of certain books the school was allowing its students to read. After a spar, the two came to a resolution. What were the results from that one conversation? A school spared from ash?
Something else that surprised me was the amount of mail they receive. Garbage bag-size mail bags come in daily. The director opened some letters and read them aloud. They ranged from Afghanis expressing their opinions about a show or thanking them for the service they provide.
Radio Free Europe Afghanistan is a U.S. funded program. In 2001, Congress gave money to build a "peaceful and democratic country, following the U.S.-led ouster of the Taliban regime." For most of the people in countries where Radio Free Europe airs, it is the only place to receive international and unbiased news. But, Radio Free Europe started in 1949 to broadcast to the European countries that fell behind the Iron Curtain. The U.S. had little involvement with the government of the U.S.S.R. In the new millennium, Radio Free Europe has geographically shifted to broadcast to the Middle East (and closed down broadcasts in Eastern Europe.)
The U.S.'s relationship with the Middle East is much different than it had with Communist Europe. When the U.S. toppled the Iraqi government, it wedged itself forever in Iraqi government and history. And the U.S.'s ties extend into other regions in the Middle East. Many Americans fear that what the U.S. did in Iraq, the U.S. will do in Afghanistan. Furthermore, Iran's relationship with the U.S. will change dramatically in the next few years. How will Radio Free Europe stay unbiased? How will it continue to be a space for free-speech, even when the funding country could be at fault for much of the violence?
After a spirited conversation with the Afghani team of reporters and producers in Radio Free Afghanistan, we RIAS Fellows left giddy with excitement. We gained first-hand knowledge of the situation in Afghanistan. And, we were reminded how lucky we are that we work in the news in the U.S., where unbiased media and free speech are a right and are expected.
——————
Mark Garrison, Freelancing, New York, NY
It is hard to know just where to start. RIAS did an amazing job of packing so many fascinating experiences into just a couple of weeks. The schedule of people, cities, sights, lessons and journeys looked exhausting when I first saw it. But it turned out to be exhilarating.
The trip was unforgettable and eye opening, and I'm grateful to RIAS and everyone I met on the journey. The experience included a surprise near the end. Our return flight landed in Tempelhof, among the last to do so, with the legendary airport closing mere weeks after we landed. It was quite special to land and walk on the hallowed grounds the Airlift pilots used. Before security could shuffle me off the tarmac, I stopped and took a long look at the sky. Sixty years ago one overloaded plane after another cycled through it. But that day it was clear, calm and gorgeous blue. The moment captured Berlin for me: rich with history, and an endless horizon of possibility.
Germans quickly impressed with their endless appetite for information. I found Germans to be exceptionally informed about world events and history. We were there as the American election was in full swing, and economic troubles rocked markets from New York to Tokyo to Frankfurt. I could always count on hearing an informed conversation about all the big events in the news at the time.
This was true across ages and occupations. We had a great visit to a German high school, where the students knew the issues, characters, and storylines of the American election just as well as any political pundit, and could discuss them at length, in flawless English. They had a better command of American politics than many students back in the U.S. For a journalist, a country where people actively seek out news and information sounds like paradise. We had a fascinating array of speakers and visits. One I found particularly interesting was our visit to Kreuzberg to meet a political leader in the Turkish community. Both the U.S. and Germany have important challenges involving immigration, so talking with someone working on the situation in Germany was helpful. There were many differences, but in both countries education and job creation are key issues.
I have learned about the Stasi in books and films. But the powerful experience I had visiting the former Stasi prison could never be conveyed through the written word. A former political prisoner showed us what he experienced, taking us to the interrogation rooms, and even his cell. It was impossible not to be moved at the thought of all the people who passed through that building, locked down for their thoughts alone. We also met a number of journalists, from radio, TV, print, local, national and international. We shared stories of the various ups and downs of our profession, and compared European and American journalism. I was intrigued at the robust and lavishly funded public broadcasting in Germany, in contrast to the lovable but lean American system.
We had a particularly memorable discussion in Prague with Afghan journalists from RFE/RL. Their dedication to providing free media to Afghanistan was evident in the passionate way they described their work. The visits to the EU and NATO were very useful for me. I wanted to get a better understanding of how they work and how they are changing. I got all of that and more in excellent, concise briefings, along with a few surprises.
But the lessons weren't confined to the briefings and planned visits. We trekked all over and stayed up late to explore the food, drink, music, nightlife, and art of all the cities we visited. And I also learned a lot from the other American participants.
My New York friends are jealous I got to experience Berlin, at the very moment that it's one of the hottest cities in the world. It didn't disappoint. The creative environment there is every bit as amazing and varied as advertised, from museums to artist squats, from opera houses to dimly lit indie rock clubs. It's a beautiful, surprising, dynamic, livable city, and that rare kind of place that captivates me like my home base in New York. I can't wait to be back.
——————
Kathleen Graham, RTNDF, Washington, D.C.
Reconnecting through RIAS with my German Heritage
Like so many RIAS Fellows, my experience enhanced my understanding of Germany's politics, economy, society and journalism practices. But I gained so much more.
I am a second generation German-American who had lost connection with my German roots. Through RIAS I made several personal connections that will stay with me always.
You should know that my grandfather was born in Blumenthal (near Bremen) and came to the United States in 1928. He spent two years working as a carpenter to pay off his passage to Ellis Island. After learning English and becoming an American citizen, Friedrich Adolf Funda legally dropped the "Adolf" and changed "Friedrich" to Fred. He so desperately wanted to "fit in" that much of our family's connection to Germany was lost.
The RIAS trip made me realize so many important German traits that I saw in my grandfather and want to embrace and pass on to generations to come. For example, the high level of skill and craftsmanship that went into hand-building the VW Phaeton; the warmth and hospitality of journalist Birgit Keller, who invited me into her home to share a meal; the tenacity of the human spirit demonstrated by Eberhard Zahn, as he shared his experience living in solitary confinement. And of course I delighted in the humor and fun our host Rainer Hasters who lead our group from one great adventure to another.
Everyone we met along the way was smart, well-informed and open-minded. Even the students from the Protestant high school spoke with great depth and understanding about American politics and the upcoming U.S. presidential elections. I admired the Germans' strength and willingness to confront and examine their tragic past with our trips to Sachsenhausen, the Stasi prison, the Checkpoint Charlie Museum and the Central Council of Jews in Germany.
I was impressed by the thoughtfulness of the German media and the emphasis on in depth coverage of international issues. At the time of our fellowship, the world was struggling with conflicts in Georgia, Iraq and Afghanistan plus the impact of America's economic meltdown on the global economy. I chuckle remembering how Rainer joked as we watched the U.S. bail out its financial giants, "When you arrived in Germany, you came from a capitalistic country but you will return home to socialism."
The RIAS trip opened my mind to the beauty of the county with the views of Berlin from the Reichstag and Dresden's marvelous reconstruction of the Baroque-style architecture. More important, it expanded my understanding and appreciation of what's happening overseas has an impact on us here at home.
I am so proud of RTNDF's longstanding partnership with RIAS. Since 1993, RTNDF has co-sponsored and administered exchange and production programs to give journalists the opportunity to learn first-hand about Germany. I am honored to have been a RIAS Fellow.
——————
Chas Henry, Newschannel 8/ABC7, Arlington, VA
The RIAS/RTNDF Fellowship visit was enlightening, exciting and exceptionally well organized. Understandings gained during the visits in Germany and elsewhere have already informed my reporting — and I have recommended the program to a number of colleagues who share a curiosity about the myriad, complex ways the United States interacts with other of the world's nations.
My previous experience of Germany had been limited to making flight connections in Frankfurt. The opportunity to spend even brief time in the country was useful and appreciated. Berlin is an extraordinary city — in geography, history and culture; it was a privilege to spend time there — admiring such new construction as that evident in Potsdamer Platz, as well as older, historically significant structures and engaging museums and galleries.
Hailing from a nation only 137 years old, I was of course struck by civilizations that stretch back centuries beyond creation of the United States. It was rather overwhelming to try to grasp — during a few short days — architecture and attitudes molded by epochs of empire, war, fascism, holocaust, Soviet oppression, national reunification and continental confederation. But the many and varied people with whom the RIAS program allowed us to interact provided an intriguing introductory understanding.
I enjoyed the opportunity to learn more about the creation of Germany from its constituent parts — as well as examining its role in the evolution of an increasingly unified Europe. In this latter regard, it was interesting to review how Germany's history, and the manner in which it is perceived by its neighbors, impacts its own actions in European Union venues, as well as the actions of other EU states.
Touring the Sachsenhausen concentration camp and the Gedenkstätte Berlin-Hohenschönhausen, one was impressed by both the psychological and physical violence engaged in support of Nazi and Soviet governance. But equally striking was the seeming openness with which the eras were considered and discussed by the people with whom we spoke. While our visit was certainly of insufficient duration to seriously scratch the surface of a nation's emotional state — it was noteworthy to observe the ever-present patina of 20th Century history, and the ways in which it eases or hinders Germany's international relations in this millennium.
Our conversations on the state of the post-1989 reunification project were exceptionally interesting. While it would have been useful to see first-hand some of the lesser-developed parts of the former East Germany, one is both impressed at what has been accomplished socially and economically — and reminded that some change requires passage of generations. Also impressive: observing a rebuilt, historically resonant Dresden. I was shocked, however, to realize that large portions of Second World War damage repair were only completed in recent years.
My understanding of minority affairs in Germany was enhanced considerably through our meeting with Özcan Mutlu, a Bundestag member of Turkish ancestry. It was shocking to learn of the Turkish community's 50 percent unemployment rate — and how the situation derived from short-view, boom-years hiring practices.
Observing media organizations and practices, a visitor from the U. S. is awed by the degree of public funding visible on Germany's broadcasting landscape, and large staffs that derive from government sponsorship of major broadcasting companies. This contrasts sharply with the present situation at most U. S. commercial broadcasting stations; newsroom staffs are being downsized, and journalists retained are being tasked to "do more with less." The facilities we toured seemed more-than-adequately staffed, and technologically well resourced. The only indication of similarity to the U. S. circumstance was a seeming trend toward hiring "perma-lancers" — that is, full-time freelance employees receiving few or no beyond-salary benefits. I was left wondering if the German business model is sustainable over the long term.
The RBB Abendschau broadcast we watched being produced was impressive in both substance and form. It managed to be seemingly comprehensive, aesthetically pleasing and well-paced without — as frequently happens in U. S. news programs — becoming overwrought with sensationalizing teases and promotional self-reference.
Our visits to the Czech Republic and Belgium provided informative insight into what has and has not been accomplished with regard to creation of European identity and cross-borders cooperation On the one hand, transnational acquiescence to a supranational judiciary is an incredibly impressive step useful to EU states as they do business with each other — and as a bloc with the rest of the world. Conversely, initiatives toward creation of a common foreign and security policy seem less robust than they did when I looked into their potential while in graduate school a decade ago. The meeting with Mr. Mora of the Czech Republic foreign ministry provided extraordinary insight into the interplay of national agendas within the EU leadership, and was a substantive high point of the program.
I remain amazed at the volume of experiential learning provided our group during just two weeks. Meetings with government leaders, labor organizers, students and fellow journalists provided us a remarkably comprehensive view of German and European affairs. I am grateful to have been able to take part in the RIAS Berlin Commission Visiting American Journalist Program — and know I will be a better reporter of world affairs for having done so.
——————
Sarah Herndon, ABC News, Washington, D.C.
I prepared for this fellowship as, I assume, most American ready themselves for a visit to Germany: read a couple of books on Hitler and some movie rentals on World War 2. There is a deep ceded interest among U.S. citizens in the astonishing success in the rise of the Third Reich and the heroic victories of the Allied Forces: the last war ÒwonÓ by soldiers of the greatest generation. Despite falling into the same trap as my fellow countrymen, my interest quickly turned to the life of the Germans after World War 2 and under communism.
I remember the exact moment my curiosity in the years that divided Germany activated: the cab ride to the Relaxa in Potsdamer Platz. The driver didnÕt speak English, and I, unfortunately, knew no German, but the first words uttered in the trip from the airport was this kind gentleman pointing and in his best English saying Òlook look, the Wall, the Berlin Wall!Ó Still foggy from the trans-Atlantic flight, there was a moment where I had no idea what the taxi driver was telling me. My internal monologue went something like: ÒWhat wall? Wait, IÕm in Europe, right? What European city has a wall running through it? OooohÉÓ
To see these colorful tablets memorialized as they haphazardly make an appearance and path throughout Berlin tells an incredible story that has been shadowed by a fascination with Hitler and World War 2. The interest in the GDR, specifically the Stasi, peaked on a visit to the prison Hohenschs®nhausen Memorial. Our guide, Mr. Zahn, an incredibly lovely man where with a single expression on his face, one could read his thoughts. As a seven year detainee of East GermanyÕs ÒMinistry of State SecurityÓ, there could be no better guide through the maze of cells, torture chambers and inquisition rooms of this Stasi prison.
What brought Mr. Zahn to this hell-on-earth is a story of an arrest marred with deceit despite the intentions which were filled with virtue. It is worth noting that when asked what the East German policeÕs reason for bringing him to Hohenschs®nhausen, Mr. ZahnÕs response was a simple Òoh, I had — what would be — $65,000 on me. But you donÕt have time to hear the whole story.Ó It was later revealed by Rainer: as a young West Berliner in a time of post-war fatigue and growing tension among neighbors, a young Eberhard Zahn sought to give financial aid to his neighbors in the east by being a money mule, of sorts. Families in West Berlin would give him money to discreetly deliver to loved ones confined to the East. Mr. ZahnÕs final run to East Berlin would put a pause to his studies as a student of psychiatry, but begin years of mental torture by the Stasi.
To see, to smell, to put hand to the rooms where torment and agony were inflicted on many innocent Germans was an experience that would put any person in awe of the cruelty that humans are capable of. But to know that this was a mandate by a government that revealed only a few years earlier the worst atrocities in modern history, all but frightened this observer. And the worst, the most disgusting detail in this sorted history of the GDR and its Soviet puppet-master is this all occurred while the West, lead by the U.S., congratulated itself for putting an end to the cruelty of the Third Reich.
One pervading thought I have carried to today is the unsettling feeling that the ingenious torture devices used by the Stasi are presumably being used at the American camp of the same nature in Guantanamo, Cuba; perhaps a more modern form of torture — a 2.0 version. Two in particular still haunt me: the door threshold where one only has the option to stand for lack of room. The second it one that Mr. Zahn said he was familiar with a room where freezing water would be filled just a few inches. A prisoner would have the option to either stand in the middle of the freezing room. In the event that the inmate would grow tired from standing and shivering, he would try to sit, but due to the freezing water, could only opt for standing in order to survive.
For a government to authorize the torture of its own citizens without an opportunity for the individualÕs defense is a sign of failed leadership. It is impossible for a country to succeed without the rule of law; the Soviet Union and those countries under the umbrella of eastern bloc failed because it took the citizenry for granted. The moment a country feels more powerful then the people to which it governs is the same time that nation begins its inevitable end. Despite the decision by Americas leaderÕs to take the low road and opting to use torture, it is my hope that those voted into office can learn from the mistakes of our German allies.
Speaking to German high school students, one learns quickly how the 28 years of division and GDR secrecy is not given great detail in German curriculum. It seems the country's desire to move forward in spite of its past is a mechanism used by many education systems (America has done so with the wars subsequent to World War 2 in teaching about U.S. wars Cambodia and Laos of the 1960s and 70s). Germans are humble about their past and confident in their future. All of this I would have never discovered without my fellowship in RIAS. Thank you to Sandra and Rainer for opening my eyes and reinvigorating my interest in Germany's fascinating past, present and future.
——————
Dr. Prerna Mona Khanna, icyou.com, Chicago, IL
I didn't know what to expect from my RIAS Germany Journalist Exchange Program. To be honest, I set it up that way. I only skimmed a past participant's online blog. I researched little about the RIAS experience, reading only the description in the glossy brochure. Nor did I seek out past participants. I suspected the food choice might be a little paltry for a vegetarian, given the preponderance of meat in standard German fare. I figured — so what? — I could stand to lose some weight (who can't?), so even that wouldn't be a dealbreaker. So, off I trotted to Berlin, blissful in my ignorance, with a hope that there was an outside chance of parlaying this grand experience into an insightful article or video blog.
From brief introductions a few weeks prior, I learned that I was in the minority of the participants who didn't have a previous German experience, German heritage or familiarity with the German language.
The color of the city of Berlin was as I might have imagined — gray most of the time, as if it was strangled in a pact to resist sunshine because it had not yet reconciled its dark past. Peppered throughout the city were reminders of that past. Some I visited alone, like the Jewish Museum and the Jewish Memorial. Some I visited with our group — Tempelhof Airport, Checkpoint Charlie, remnants of the Berlin Wall. Stretching past city borders stood other sights and places we toured: depressing Sachsenhausen Camp, gloomy Hohenschönhausen, quaint Bruge, the internationally-significant Brussels, and the stunningly beautiful Dresden.
As wonderful as the experience was, I would be remiss not to mention that it was bittersweet to be away from America at a time which will go down in history for two reasons: vigorous campaigning during a historical presidential election and the eruption of the global financial crisis.
The disappointment of being away from America at the time of the intensity of the presidential campaign was tempered by reading and hearing daily of the excitement in Europe about Barack Obama. Passing by Victory Garden at Tiergarten Park prompted a group discussion of the crowd of 200,000 he had attracted when he made his speech there. And the anxiety of being abroad while America's financial walls came tumbling down prompted a frequent email conversation with my financial adviser.
I think what surprised me most about Germany was how open and apologetic the Germans were about their horrific past. One memory is how our private tour guide at Sachsenhausen began our tour by apologizing for Adolf Hitler's misdeeds. Certainly one can't deny the horrors of the Holocaust, but the vast majority of Berliners (80%, I believe, we were told) were born after World War II.
Other memories:
Experiencing the compelling but practical honesty of the Germans. During one conversation, my new German friend said "What an (expletive deleted) George Bush is." Silence. "But then again, we had our own (expletive deleted). You may have heard of him. His name was Adolf Hitler."
Being uncomfortable with the brutally obvious resentment from the secretary of the Central Council of Jews in Germany whose fury at the Germans treatment of Jews in the past and present emerged frequently in a thinly-veiled manner of contempt when he was discussing the purpose of his organization in contemporary Germany.
Feeling compassion for the poverty-stricken physician in Prague. She told me her husband was out of work, and she was having difficulty making ends meet for herself and her son. It is virtually unheard of for physicians in America to be in similar dire straits. She pleaded with me to help her come to America.
Noting a surprising technical difference of editing for broadcast in Germany. During an editing session of a television health program in Berlin. I was surprised to see video laid down on the timeline first, with audio then recorded by the narrator to fit the video. I am familiar with tracking the story first, then retrofitting the video.
Being surprised by an invitation to share my experiences in humanitarian medicine as a guest on Radio Free Europe Radio Free Liberty. Later I was told the program was sent to "Central Services" and aired worldwide. Cool.
Meeting privileged German high school students, many of whom clearly felt superior to Americans. Celebrity worship was cited as an example of the inequality of intellectual prowess.
Shooting stand-ups and interviews around Berlin with a freelance crew.
Witnessing the making of a Volkswagen Phaeton, being gifted with the white laboratory coat worn to prevent street debris from entering the assembly line, wearing the coat during my medical rounds at a geriatric hospital, and then returning it to the Phaeton plant.
Making medical rounds at a geriatric hospital with two German physicians.
Allowing myself to consume what now seems a never-ending succession of Belgian waffles… all in three days!
Swimming in 50-meter Hallenbädern in most of the cities we visited.
Being able to take the efficient and comprehensive public transportation system everywhere I went alone.
Indulging in the excitement of Munich's Oktoberfest on my own as a private experience before returning to America.
Sending out post-program thank you notes and gifts that invoked memories of the three weeks in Germany, Czech Republic and Belgium.
As it turns out, the RIAS Germany Journalist Exchange program was so well-planned, chaperoned, and executed that additional preparation was not, as it turned out, critical. The lavish meals, the camaraderie, and the well-chosen tourism are a credit to the management of the program and the deep desire of Rainer Hasters and Sandra Fettke to ensure that we Americans had a unique, uncensored look at their country's past, present and future. I wish all future participants a similar immersion experience into the goodwill of the program so that they come away with a better understanding of a country struggling to distance itself from its dark past.
——————
Jill E. Konopka, WBRE-TV, Wilkes-Barre, PA
Words cannot adequately describe how I really feel about this fascinating once in a lifetime opportunity. I know I am blessed to have been chosen as a 2008 RIAS Fellow. I learned so much more from this trip than I ever imagined possible. I never would've been able to experience any of it, without the financial, emotional and educational backing this fellowship provided me.
It didn't take long to realize how amazing traveling abroad truly is. To immerse yourself in other countries' cultures, people, architecture, food, traditions and more is such an eye opening, wonderful, uplifting experience. The Germans inspired me to embrace knowledge even more so than I thought I had in the past. It was amazing to be a part of a culture (even if only briefly) so curious about its past, politics and the world. I found most Germans to be extremely intelligent and well versed on such a broad range of issues. I was humbled by it all, and driven to look and learn beyond my own "bubble" back here in the states. I now am trying to better focus on and understand more worldy issues that impact people from every corner of the globe.
I was also impressed with how much Nazi Germany is a part of present day life throughout the country; the fact Germans don't hide from their horrible past. There are constant reminders too, all over Berlin of a divided East versus West. To see that, was quite humbling as someone with German ancestry. I admit now I wasn't always the most proud of my German heritage. After this trip, that all changed drastically.
I also really respect the German approach to journalism and news coverage. I learned how important it is as a local television news reporter to try and focus my stories (when possible) more on local, state and federal issues that not only affect people here in Connecticut (where I am currently working) but all throughout America.
This trip also made me understand more so than ever, how vital it is to pay even more attention to our nations rich past. To respect and learn as much as possible from our own men and women in uniform and the sacrifices they have made for our freedoms. Knowlege truly is power.
I cannot even begin to explain how traveling abroad reinforced for me, to never stop learning, to never stop asking questions and to never stop being curious about the unknown or unfamiliar. Experiencing Germany, Belgium, the Czech Republic and later Poland helped me see also how short life can be and how precious it is to maintain strong relations between the United States and our European allies. There is so much we can continue to learn from each other.
In addition, I also walk away learning something so valuable from the Germans and Europeans in general. How important it is to embrace life, to enjoy every minute of it and to take it for everything it is and all its worth. Traveling allowed me to sit back and also see how much more there is to life than just your career. Of course, that is extremely important to me but work won't always love you back like friends and family will. I say this because I feel I developed friendships on this trip that will last a lifetime.
I learned so much from everyone:
Sarah Herndon showed me how important it is to live life to the fullest and to not take yourself too seriously.
Kate Ryan taught me to believe in myself and she showed me what it takes to be a dedicated journalist.
Gerry Shaftel showed me how important it is to be happy with yourself and all you have to offer this world.
Kathleen Graham showed me how easy it is to be a good listener and to give great feedback to friends in need.
Dan Tritle showed me how important it is to make the most of your life and to get from it, all that you can.
Chas Henry showed me how important it is to have passion for the work that you do.
Dr. Mona Khanna showed me how important it is to seize every opportunity that comes your way.
Blake Warenik showed me how important it is to never stop learning from whoever it is you cross paths with.
Alison Bryce showed me how genuine and real journalists truly are.
Mark Garrison made me realize how hilarious dry humor can be.
Coming home, I had an even great fascination with getting out and seeing as much as possible in Pennsylvania (where I was living) before I packed my backs for a new job in Connecticut. I am doing the same here in Hartford. I learned so much from this trip, but a few highlights for me also included touring the concentration camp, meeting with a former Stasi prisoner and visiting both NATO, The European Union and Radio Free Europe. Actually being there, and experiencing all of these things in person was so much more than you could ever read about in a history book.
Thanks again for the experience of a lifetime. I cannot thank everyone enough.
——————
Kate Ryan, WTOP Radio, Washington, DC
In my application to RIAS/RTNDF, I wrote that U.S.-German relations were strained, but that the coming election offered a chance for improvement. With the election of Barak Obama, I certainly believe that to be the case. On election night, my friends from abroad were instant messaging me, asking, "How does it look? How does it look?" Mostly younger people, they were eager for a change, and seemed to share the excitement of the young Obama supporters I'd seen here at home at university rallies.
But that excitement wasn't restricted to the young. In the older generation, especially among those who remember John F. Kennedy's famous speech in June of 1963 in which he declared "I take pride in the words 'Ich bin ein Berliner', there seemed to be a hope that the U.S. could regain its stature as a world leader whose military might was tempered by tolerance, that it could return to a world view that demonstrated a cooperative, not a combative spirit. And interestingly, I met Germans who felt both U.S. candidates had the potential to restore that.
My German experience was one that showed me something a bit unexpected: of how open the German people are. Open to different views, to different ideas, open to seeing themselves as the rest of the world sees them, open to examining their nation's own flaws. Granted, we were traveling with journalists, and meeting people who have an interest in things outside themselves, in sharing what they know and how they see things with others, but still, I saw a level of curiosity and openness that I didn't expect.
No matter what their own personal politics, many Americans who travel will talk about having to brace themselves for the criticism that the nation's foreign policy had engendered. And while I found that many Germans certainly took exception to U.S. foreign policy, I did not see the kind of condemnation or hostility that many Americans seem to complain about. Instead, I saw a clear separation of people from policy, of the personal interaction versus the political discussion.
I experienced a degree of warmth that was also unexpected. From pharmacists who tried to make certain they were getting you the right cold medicine to a tailor who helped out with a 'wardrobe emergency' when a hem came unraveled, I found that however limited my German and however limited their English, people were eager to bridge a gap, happy to extend themselves.
I saw in Berlin in particular a society that was more diverse and less fractious than I'd expected. I had been aware of the fact that Germany has, like the U.S., seen a boom in immigration, and that urban populations were not homogeneous, but I saw a society that to my eyes, was more, not less integrated than I expected. I know that in a very short time, I was getting a superficial view of the subtleties in daily life, but I've been to other European cities where the separation between native residents and new arrivals, even the frank ethnocentrism, was openly displayed. Certainly there are issues; we heard that directly from representatives of the various minority communities, but that in itself: the willingness of officials to state plainly what the issues are, showed an openness that I found refreshing.
Some stereotypes did hold up. Organization and punctuality really are part of the fabric of life in Germany. At least, that was my experience. I have to laugh when thinking about how our tour of the Reichstag was almost derailed because our group was two minutes late. Even our German host was taken aback by this, but over and over again, I found that if you said you were going to be somewhere at 7:15, you'd better be there. Or you could end up enjoying your planned activity on your own.
As any traveler will tell you, the more you see of the world, the more people you meet, the more struck you are by how we are all more alike than different. Our politicians make the same blunders, our families provide the same comfort, our hopes and fears aren't so different. In the case of Germany and the United States, we both face enormous economic challenges, we have similar strategic interests. We even face similar domestic problems; transportation, growth, energy and immigration policies all present challenges.
With the new President in the White House, one that has excited the imagination of not only the U.S., but much of the world, it will be interesting to see how the U.S. and Germany come together to solve the problems they have in common. I hope to return to Germany to see that for myself.
——————
Gerri Shaftel, Fox 11 News, Los Angeles, CA
The impressions and memories are numerous and overwhelming.
A tour of a Stasi prison led by an 80 year old former inmate. A press conference announcing Melamine in biscuits at the European Union. Raspberry beer at a Berlin schwarma café. Lunch with a Turk member of the German Parliament. A look inside overflowing mail bags at the Afghan service of Radio Liberty. A walk across Prague's Charles Bridge. Mussels in Brussels. The Wall. Checkpoint Charlie. Clearing security at NATO, and so much more.
These standout moments barely begin to scratch the surface of my experience as a RIAS-Berlin Fellow in September 2008.
I had no idea what I was in for.
The Journey to Berlin.
I've always wanted to visit a communist country. Cuba and North Korea topped my list because I believed visiting either would take me back in time, into a secret world I'd never otherwise be able to envision.
Little did I know that the last remaining vestiges of the Soviet occupation of Eastern Europe could also take me back in time and into a world previously hidden from me… while providing all the security, and conveniences a fully Western democracy like Germany has to offer.
I arrived in Berlin on an autumn afternoon. I got on the plane in sunny Southern California. I got off a plane and into a taxi in a cold, gray city. As we drove from the airport to the hotel, I was instantly depressed. Not only did I see a gray sky, I drove past what seemed like miles of monochromatic, tiled, apartment complexes. Where was the history? Where was the character? Why wasn't it waiting for me as soon as I got off the plane?
At that moment all the sunshine and color that we Californians take for granted became precious to me. I wondered what in the world I'd signed up for — how would I survive two weeks of grayness.
My depression didn't last long.
Monday morning I had my first opportunity to meet my fellow RIAS Fellows, and our guides Rainer Hasters and Sandra Fettke. Almost instantly my mood lifted. The other Fellows were so interesting and came from such diverse media outlets. And Rainer and Sandra were friendly, welcoming and seemed have a great handle on what American journalists in Germany might like to experience.
My first impression of current German political thinking came at a breakfast meeting with a former politician who said he was offended by politicians in the U.S. who he views as promoting religion as a political litmus test. I was surprised to learn that in a country where the leading party is called the Christian Democratic party, politicians refrain from boasting of their personal religious beliefs. In Germany, I learned, it is considered gauche to try to use your religious views to generate votes.
Church Tax.
It was equally surprising to learn that in a country that frowns upon public pronouncements of religious faith many Germans willingly shell out a 6% Church Tax. When one pays this tax they declare their religion so the money goes to the appropriate church/synagogue/mosque. As the granddaughter of a holocaust survivor, the idea of adding my name to a government list of Jews seemed a little chilling. Yet many Jews in Germany today feel safe doing it. At least for now. A Jewish community leader we had the opportunity to interview revealed to us that he purposely married an American citizen so that his children would have American passports. Just in case.
The openness of the speakers we heard from was wonderful. Considering that this program was paid for and arranged in large part by the German and U.S. governments, there seemed to be no effort to whitewash blemishes in German society. In fact all the speakers we met seemed very willing to point out not only the good but also the challenges they face,
From a Turk member of Parliament we learned that Turk-German children don't have the same educational opportunities other German children enjoy. I was sad to hear that, but so impressed that this wasn't hidden from us.
Every society has its bigots, and we learned that Germany is not immune. It seems that these days the primary targets of that bigotry are Turks and Russians. The impression I took away is that the vast majority of Germans are open to other races and cultures, and carry pacifist leanings, but that there remains a fringe element of far right racists. This element has ethnic minorities somewhat on edge. That edginess is undoubtedly kicked up a notch by current economic crises impacting Germany and the rest of the world.
I was amazed to learn the extent to which so many Germans seem to want America to succeed. Despite the contempt with which Europe views U.S. president George W. Bush, and U.S. foreign policy, particularly the Iraq War, there seemed to be little contempt for average Americans. It was amazing to find that so many Germans want a strong U.S. and seemed to be rooting for us to regain our position as the world's "good guy."
One of the very cool thing we did was have a "date" with journalists working in Germany. My host was an anchor/reporter for German public radio. Ulrike Biaritz and her husband Olaf invited me to their beautiful, historic 5th floor walk up apartment where they made me a traditional German, home-cooked meal. The appetizer was a chunk of low-fat cheese swimming in olive oil, served with pumpernickel bread. The aperitif was a blackberry beer. The main course was the most delicious hand made meat loaf patties with cauliflower and boiled potatoes.
From Ulrike and Olaf I learned why press conferences at the Bundestag are are likely to be more informative and productive than a White House press conference. The German press invites politicians into it's turf instead of the the other way around. Muckraking reporters can't be blacklisted, but non-responsive politicians can have their invitations to the press conferences revoked. The view is that politicians work for the people and are obligated to answer questions. That includes Chancellor Angela Merkel who regularly attends these press conferences.
The other really wonderful thing about spending an evening with Ulirke and Olaf was what they could teach me about life before The Berlin Wall came down. Both grew up on the Soviet side of the wall, and they were willing to answer all of my question about what it was like to live in East Germany under Soviet rule.
As a television journalist working in Los Angeles, I've certainly done more than my share of frivolous reporting. Sometimes it's easy to forget that we do can really change lives. Visits to Radio Liberty in Prague, and the original RIAS station in Berlin underscored that point.
I learned that an astonishing 60-plus percent of Afghans listen to Radio Liberty. It is their only window into the outside world. The letters from listeners that the station receives tell incredible stories of bondage, suffering, and pleas for help. For so many people that radio station is the only place to turn. And on occasion they are able to solve individual problems, and perhaps one day societal problem.
In 1989 RIAS proved a radio signal and a reporter can sometimes change the world. It was so incredible to visit the radio station that first broadcast the press conference where it was announced that East Germans would be permitted to freely travel to the West. That broadcast opened the floodgates that would ultimately result in the tearing down of the Berlin Wall. Only after The Wall came down did the RIAS reporters learn how important and influential their broadcasts had been over the years.
The lesson for me was to always take what I do seriously and continue to search for opportunities to share important messages. We never know the impact we might have. For all we know, one of our reports might one day change our world.
No summation of the trip would be complete without adding how impressed I was with the way this trip was organized and run. Sandra and Rainer were organized, prompt, funny, friendly, and so knowledgeable. They chose excellent, well informed speakers and fascinating places for us to visit. The days were often long and jam packed, but always so much fun. I will never be able to repay them for the experience they provided me.
During my two weeks as a RIAS Fellow I feel like I got an education in history, culture and international relations. I couldn't have asked for more.
——————
Dan Tritle, WCAI, Woods Hole, MA
The RIAS Program has inspired me to take a closer look at international relations and how I relate to the world. It's one of the best experiences I've ever had. I've met new friends, and gained an awareness of people in another part of the globe living with a history, culture and customs different than my own.
This was my second RIAS Fellowship. The first, six years ago, was a marvelous wall to wall mix of tours, speakers, meetings, great food, and new friends. Incredibly informative, eye-opening and just plain fun. This time was even better. Not that the sessions were very different. It's just that I had a better understanding of the experience.
My newest favorite city is Berlin. I've read that if Hemingway were alive he'd be living in Berlin rather than Paris. Even on a Sunday night, the city has a vibrancy that just seems to challenge people not to have a good time. Lights and energy to compete with Times Square and happy folks enjoying the evening. I can't imagine why the leaders of the late East Germany thought drab and gray mixed with suppression was a healthy way to live.
So many great experiences during our two weeks. We stopped at the Checkpoint Charlie intersection in Potsdamer Platz, once the crossing between East and West Berlin next to a desolate no-man's land. Now adjacent to one of the busiest commercial centers in the Western World. In the spirit of commercialism, for one euro you could have a picture taken with a fellow dressed up as an East German border guard. I did.
Germans and Americans have deeply shared history — whether it is 18th century immigration, World War II stories or political leaders. On my own I discovered next to the Brandenburg Gate a museum dedicated to the late President Kennedy, still fondly remembered in Berlin after all these decades. A tour and interview with the museum director formed the basis of what became a solid news story that aired on Boston radio and my station on Cape Cod.
Several people gave their time to speak to our little group. Erik Kirschbaum, correspondent for Reuters Berlin. An American who's lived in Germany for two decades with fascinating observations. Thomas Habicht, the senior political editor of Rundfunk Berlin Brandenburg, with revealing stories. Mr. Zahn, unjustly imprisoned by the former East German police. He took us through Hohenschönhausen where he was once jailed, the former Stasi prison now a memorial.
There were many more experiences adding up to a rich two weeks. I can't give thanks enough to RIAS for a well-organized and researched program. Accolades galore to Rainier and Sandra for their expertise and patience in dealing with our motley group of American broadcasters. I came away with new friends, rich experiences and a deeper understanding of American-German relations.
——————
Blake Warenik, Freelancing, Athens, GA
This year, I had the opportunity to spend time in Germany twice: once for two months in the spring, and again for two weeks in the fall. It was a complete surprise which of these two experiences taught me more about Germany.
In the spring, I rented a spare bedroom from a German psychologist in Prenzlauer Berg in the former East Berlin. I sought and occasionally found freelance work and was fully reliant on my phrasebook German and the help of my English-speaking friends. I shopped at the corner grocery, had just one American friend (an acquaintance, really) and rode a bike around Berlin. In the fall, I stayed in a hotel near the embassy district, spent my days in meetings and on tours, ate at restaurants, was surrounded by other Americans and traveled by taxi and charter bus. As an independent person who considers both tourism and business travel prime examples of modern cultural decay, that my time in the fall was actually more rewarding truly caught me off guard.
I and ten other American journalists had the great honor and pleasure of becoming fellows of RIAS Berlin Commission in Fall 2008. Not only was the travel experience of our time as guests of RIAS phenomenally enjoyable; the schedule itself was something I would recommend to any journalist, or any American, interested in truly understanding what a good relationship with Germany is worth.
On my first glance at the itinerary, I'll admit I shuddered. Like many journalists, I suffer from a mild form of Attention Deficit Disorder, a malady predominantly diagnosed in Americans. What this means is that when I am forced to sit through meetings, I frequently imagine myself riding a horse across open desert instead of paying attention to the proceedings. If anyone told me beforehand that I would not only sit through the several hours of meetings and discussions we had most days, but actually enjoy each and every one, I'd have stifled a laugh. That the time went by so quickly is a testament to the close relationships RIAS has with such captivating experts.
We met with diplomats, journalists, labor organizers, politicians, government officials and others, not one of whom was less than engaging and brilliant. Each gave us a unique insight into a different aspect of German society, how Germany differs from the U.S. and, most importantly, how we are similar. Germany is a very strong symbol to Americans, one of both good and evil and, as with any symbol, it is frequently oversimplified and misunderstood. To dig into the reality of German politics, journalism, economics, society and life in the discussions we enjoyed is to begin to understand what Germany means to us and what America stands to learn from Germany's historical lessons.
One of the most important aspects of RIAS' approach to the American experience in Germany is the in-depth look at history. Tours of Sachsenhausen Concentration Camp and Hohenschönhausen Stasi Prison, were provided not by mere tour guides but by academic experts—in the case of Hohenschönhausen the tour was a former inmate. Our proximity to Checkpoint Charlie and the line of the old Berlin Wall reminded us how recently Germany had triumphed over adversity and how quickly the rest of the world has forgotten the terrible reality of the Cold War's tensest frontier. Germany's complicated 20th-century experience was laid bare, giving us a clear look at how intertwined the histories of our two nations are. American and German societies appear at times strikingly similar, and it seemed obvious that it could just as easily have been America at the center of the bloodiest century in human history, and yet, even as a result, Americans still have plenty to learn from modern German attitude and policy.
RIAS doesn't just blow the horn for Germany, either. The journey focused on Germany as a part of the new Europe rather than a separate, disconnected entity. Trips to the Czech Ministry of Foreign Affairs and Radio Free Europe/Radio Liberty in Prague proved on par with anything we attended in Berlin or Dresden. Finally, rather than using the opportunity to sell Germany, RIAS demonstrated the common European spirit by finishing off the main program in the European political capital of Brussels. Complete with meetings at the European Commission and NATO and a day trip to the old town in Bruges, Belgium, the Brussels leg served as the capstone to the fellowship.
It would not serve any potential RIAS Fellow to ignore the recreational aspect of the program. After office hours, we enjoyed plenty of free time at night to explore the options in some of Europe's great cities. Not many American travelers are directed to Berlin for leisure travel, which is a sin to me. It may not be Paris beautiful, but Berlin remains my favorite city in the world in terms of day-to-day livability, with thriving art and music scenes, great bars and clubs and good, cheap food. It feels more like a collection of small cities than a great big one, as each neighborhood has a distinct style, look and culture. All of the other program stops were stunningly beautiful, and with a little sense of adventure it wasn't hard to scare up a good time.
Returning to Berlin at the end of our journey for the program extension left me that kind of satisfying bone tired that you only get when you use your time to its fullest. We worked hard and played hard, but none of it would have been possible without the people of RIAS. Their tireless work began long before we arrived — the work of making sure that not a moment of our short time abroad was wasted.
RIAS Executive Director Rainer Hasters and his assistant, Sandra Fettke, served not only as our coordinators, our generous benefactors, or even as shepherds for a lot of uncoordinated American journalists, but also as our friends. That was by far the most rewarding aspect of the RIAS experience: the relationships we formed with one another as fellows and with Rainer and Sandra. The temperament, patience, sense of humor, thorough organization and easy nature they displayed predisposed them to the unique job of handling us. In fact, I doubt there's anyone better suited to what they do.
Any American journalist in the 21st century who is concerned at all with international affairs would do well to gain a better understanding of Germany. Despite some policy disagreements, America's relationship with Germany is in some respects as strong and important as any other nation. With that in mind, I firmly believe there is no better way to learn so much about Germany in a short time than with RIAS, and I would encourage any American journalist to apply.