TWO-WEEK GERMANY PROGRAMS 2014
Summer and Fall
---
RIAS Germany Program – Summer
June 9–21, 2014
Thirteen U.S. journalists participated in the 2-week Germany program. With Berlin as starting point they also visited Dresden, Prague, and Brussels. Individual extension program for five participants.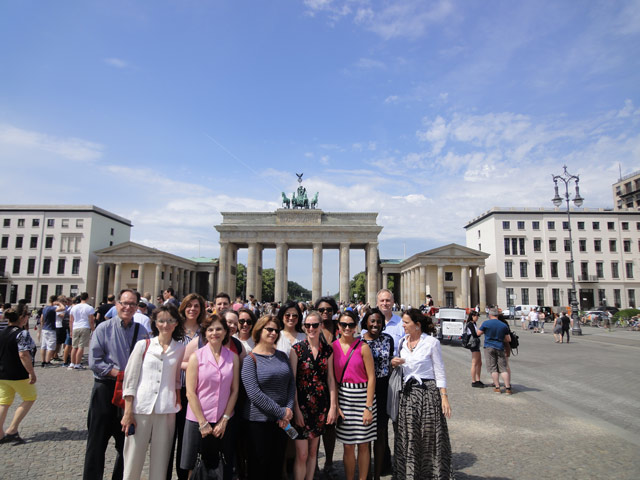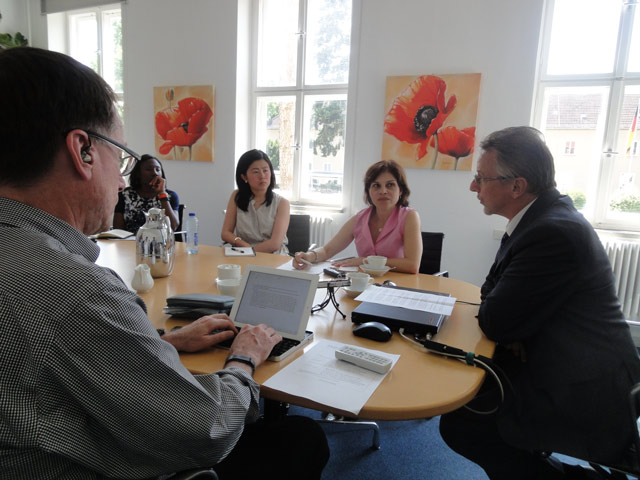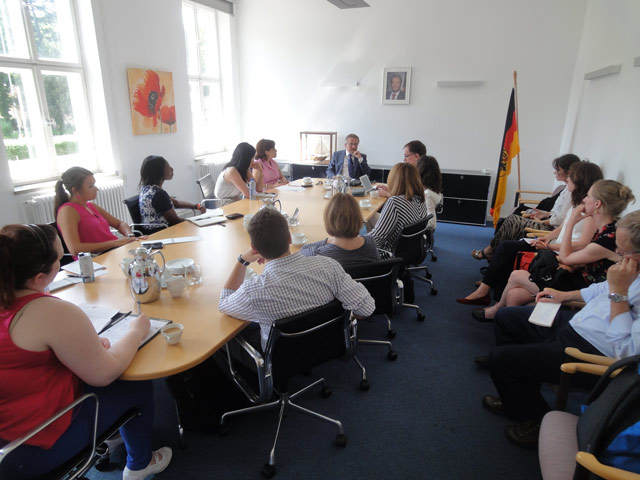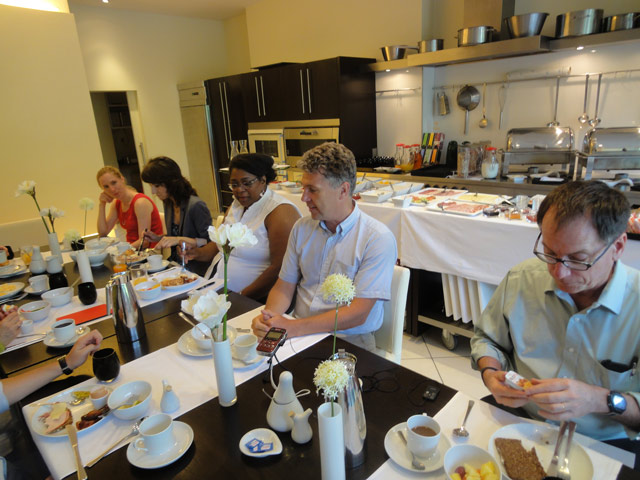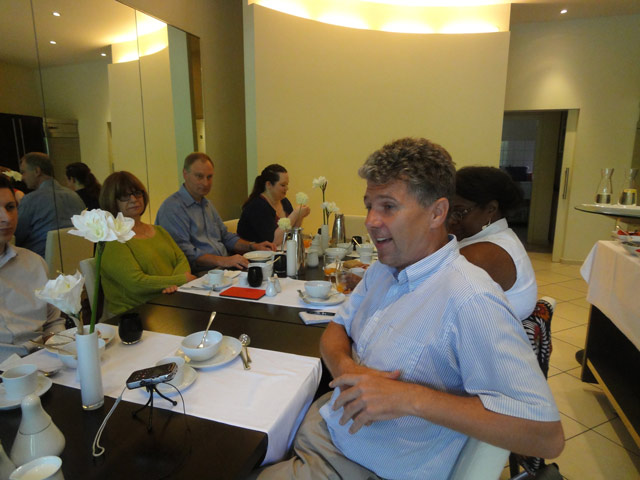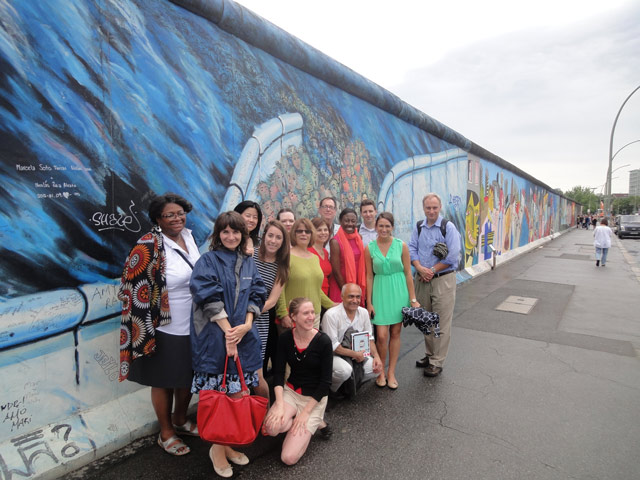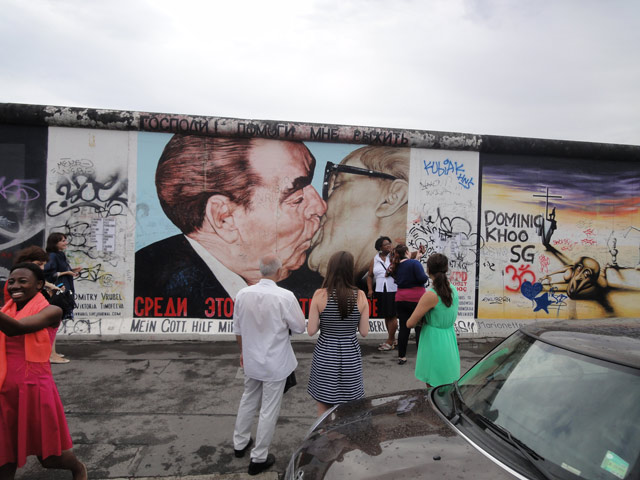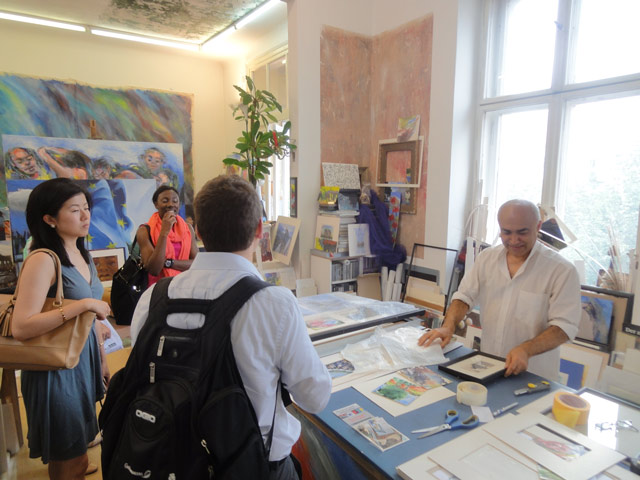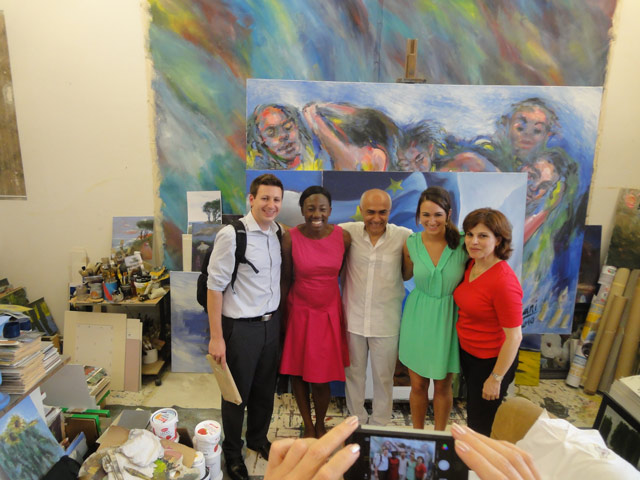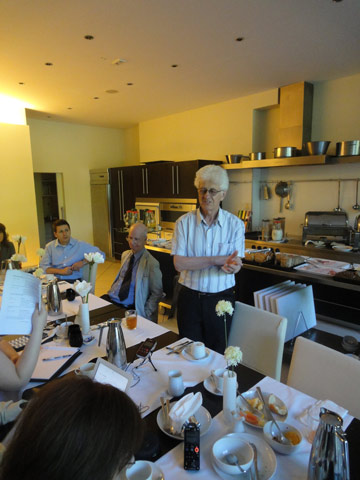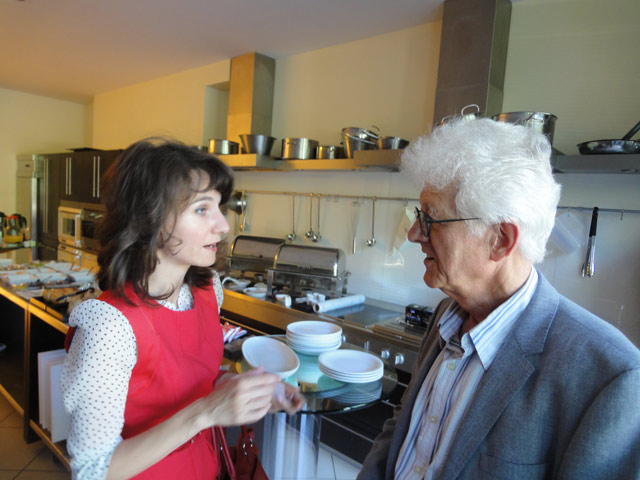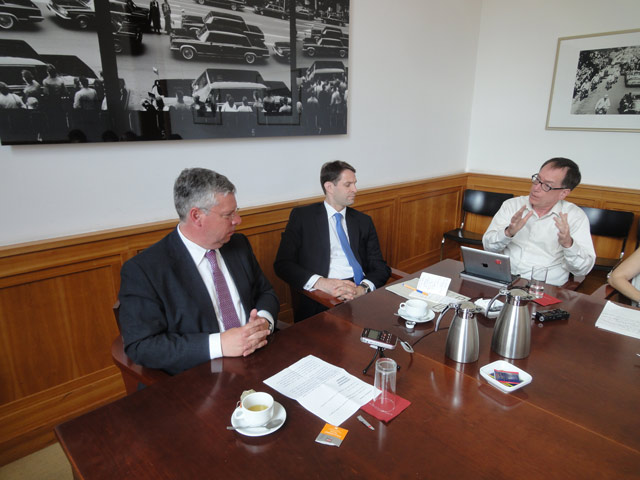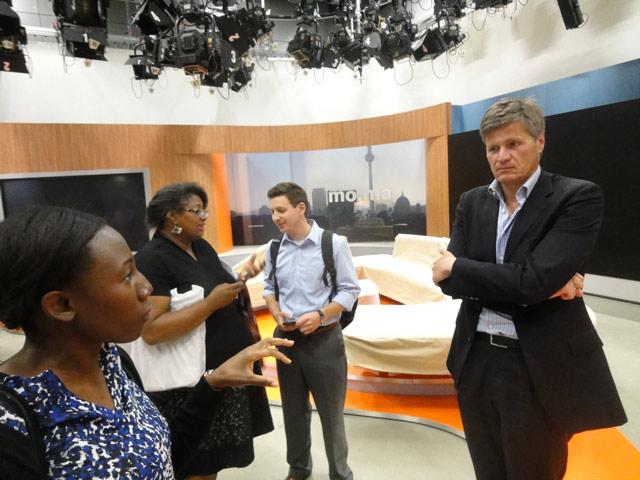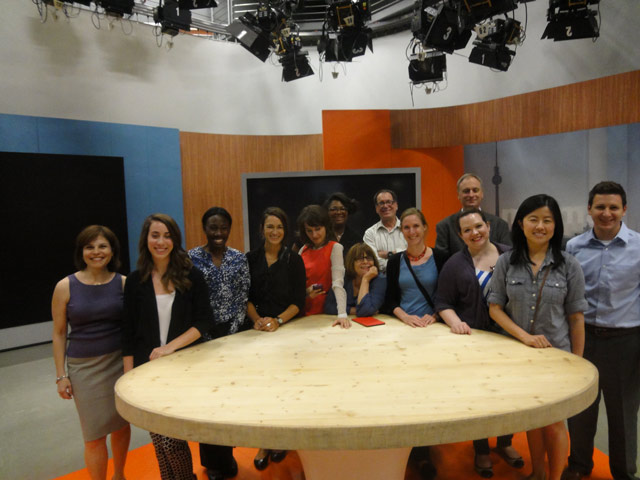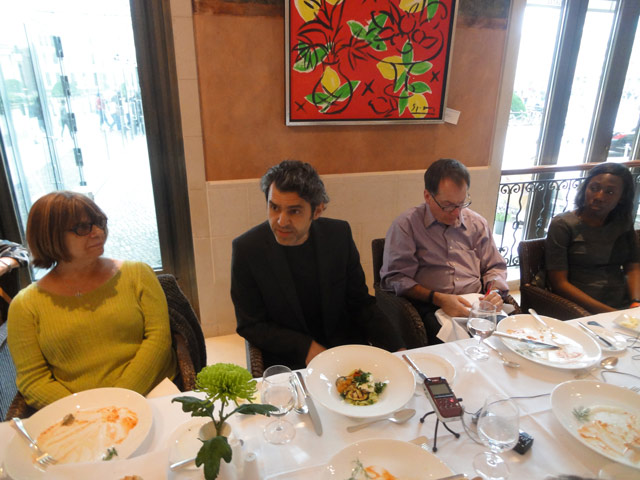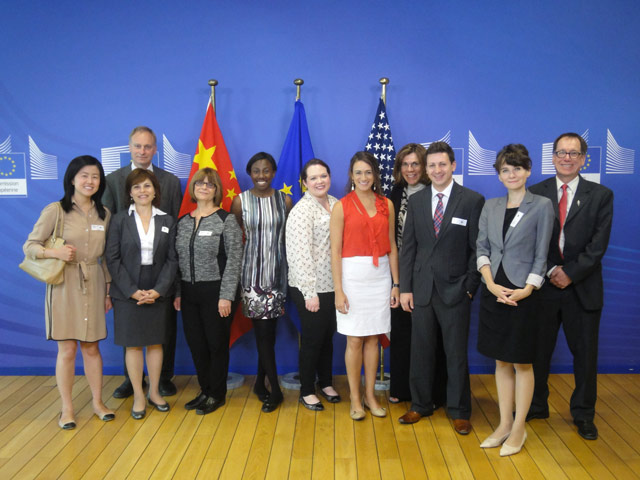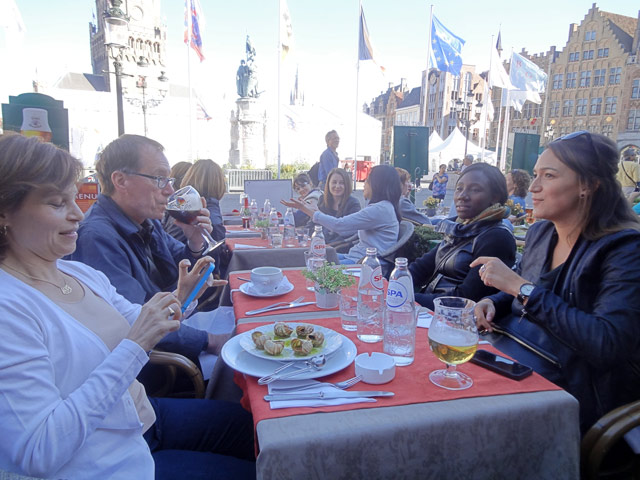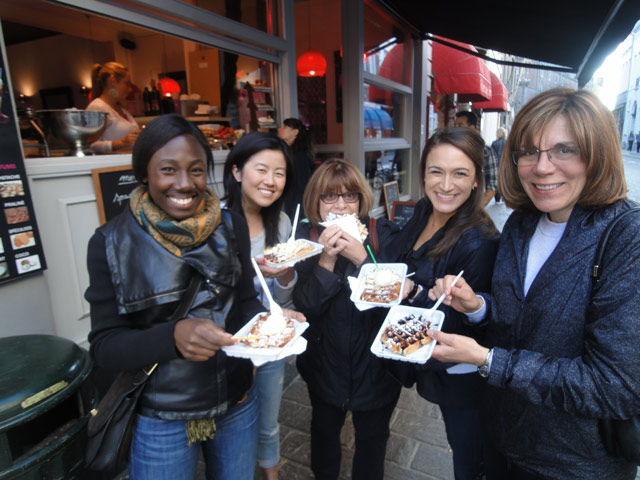 REPORTS OF PARTICIPANTS
Vivian Chakarian, Voice of America, Washington, D.C.
When I think about the RIAS Fellowship in which I participated in June 2014, my reflections are underscored by the perceptions I had of Germany before the program — the openness of the German people; their friendliness; the stereotypical German qualities of punctuality, efficiency and love of order; and the weight of the past, which seemed to permeate the entire narrative of the trip — and how my understanding of the country has since increased. While I had not spent any considerable amount of time in Germany since my childhood, when I lived in Kaiserslautern as the daughter of a U.S. soldier, these were my perceptions, as well as those gained academically and professionally as that of a nation that in the last five years has emerged as an economic powerhouse and Europe's reluctant leader. As a result of my RIAS experience, I can now say I have a more comprehensive and insightful understanding of Germany, its people, its government, its media systems and its culture.
For me, what left the most indelible impression is the German people's dynamism and their willingness to admit to their past, share and learn from it, and move forward. This manifested itself in the many highlights of the RIAS program — from our visit to the Reichstag, where the words and signatures of Soviet soldiers were purposefully left as an ineffaceable monument to history; to our visit to the Stasi prison where we learned shocking revelations about life in the former East Germany; to our tour of the somber Berlin Wall Memorial; to our visit to the German Embassy in Prague, where we were shown raw footage of the plight of East German refugees camped on the embassy grounds, marking the beginning of the end of the East German regime. Throughout the two-week RIAS program, in our briefings and discussions with leading politicians, business leaders and media figures, nowhere was there any effort to hide or evade historical responsibility; everywhere there was frank and candid discussion and transparency. To me, an American of Armenian descent, Germany's prominent remembrance of its difficult history stands in stark contrast to campaigns by other countries, notably Turkey, to deny or rewrite theirs.
Another testament to Germany's new leap forward was the burst of national pride the world saw with its glorious World Cup victory, a "new Germany" that no longer restrained from public displays of patriotism. While mindful of its past, Germany's celebration of its national triumph demonstrated how it had turned a corner in its post-World War II history to a new relationship with patriotism and identity. My RIAS experience helped me to more fully comprehend the significance of this moment for Germans.
The RIAS Fellowship has also profoundly impacted my understanding of transatlantic relations and Germany's emerging role on the world stage, and my reporting of related issues and events. As program coordinator for the Voice of America's Eurasia Division, my knowledge from RIAS has enabled me to better explain Germany to my colleagues. My clearer grasp of the European perspective has heightened my coverage of, among other news stories, the recent crisis in German-American relations over retaliation between the U.S. and German intelligence services; Germany's cautiously engaging Russia, one of its foremost trading partners in Eastern Europe, over the escalating crisis in Ukraine and the question of sanctions; and its stance vis-à-vis NATO. I have thus been able to better advise the VOA Eurasia Division's nine language services on content — for example, on VOA Serbian's coverage of Chancellor Angela Merkel's participation in a regional conference earlier this month in Croatia on economic cooperation among the states of the former Yugoslavia, and on VOA Georgian's coverage of a recent German-Georgian security conference in Tbilisi in which the German representatives nixed any hope of Berlin's support for a membership action plan for Georgia at an upcoming NATO meeting in September.
My RIAS experience also helped shape questions I posed in a recent interview I conducted with former U.S. secretary of state James Baker following the death of former Georgian president and Soviet foreign minister Eduard Shevardnadze — the two men who were the top foreign policy officials of the two most powerful nations in the world at the time of the fall of the Berlin Wall (https://www.voanews.com/content/baker-says-shevardnadze-played-vital-role-in-ending-cold-war/1956021.html). According to Baker, many people around the world today are much better off because of the non-interventionist policies Shevardnadze and former Soviet leader Mikhail Gorbachev instituted, which ultimately led to the fall of the Wall in 1989 and the collapse of the Soviet Union two years later. "This permitted millions of people in central and eastern Europe and in former republics of the former Soviet Union to experience freedom and opportunity and democracy and free markets — to varying extents, of course, in each republic — and I think that's quite a legacy. And I'm quite confident that history will treat both of them [Shevardnadze and Gorbachev] very well," Baker said.
Through the prism of my RIAS experience, Secretary Baker's words were compelling. As an American journalist, and as one who focuses on Europe and Eurasia, the program gave me a new perspective on the region and enabled me to grow both professionally and personally. In two weeks, I gained invaluable knowledge and professional connections, and improved my understanding of and ability to communicate transatlantic issues to my target audiences. Thanks to RIAS, I was able to build bridges of understanding with colleagues not only from across the ocean but also among our group of Fellows. Thank you, RIAS, for affording us the unique opportunity to learn from you and from each other. It was truly an educational, informative, motivating and altogether unforgettable experience.
——————
Marilyn Geewax, National Public Radio, Washington, D.C.
Two decades ago, I visited Berlin, Dresden and Cologne as part of a journalists' study tour organized by Atlantik-Brücke, a non-profit organization that promotes German-American understanding. At that time, Germany was still struggling to put itself back together after a long split between its east and west.
What I saw then was a country in turmoil. Much of Berlin was under construction as workers tried to reunite streets that had been divided by the Wall. People in the formerly communist east still seemed very wary of the capitalistic west, and everyone expressed worries about the cost of reunification. Government officials, who had grown accustomed to living in Bonn, seemed dismayed by the prospect of moving east.
In Dresden, workers were just starting to reassemble the burnt bricks of the Frauenkirche, or Church of Our Lady. And much of the city's central area was paved over with parking lots. Unemployment was a big problem and many Germans, especially older ones, still seemed rather shell shocked from the traumas of World War II and Communism.
So I was delighted when RIAS offered me an opportunity to return to Germany to see how it all turned out in this new century. I was really impressed and heartened! Time and again, Germans told us that the gain from reunification was worth the pain of stitching the parts back together. I was glad that the people we met were unanimous in their support for moving the government back to Berlin.
Today, the city seems vibrant and on the move again — finding its way as one of the great the capitals of the world. Both physically and spiritually, the city appears to be healing well in the 21st century after the unthinkable horrors of the previous century. Seeing the Frauenkirche — standing tall and beautiful — was really uplifting for me.
I guess the most noteworthy aspect of the trip for me was just seeing that — through sheer will and hard work — a nation can remake itself into a prosperous, peaceful place. Germany seems to have figured out how to wring the most out of its young people and instill hope in them.
The most educational portion of the trip for me as a business-news editor was seeing the Volkswagen plant in Dresden. It's such a world-class facility — I appreciated the tour. And as I said, the restoration of the city's central tourist area was very impressive. When I think of the challenges facing some of our Rust Belt cities, such as Detroit and Youngstown, I am heartened by the turn-around in Dresden.
And I saw that Germans and Americans really have so much in common. It seems so incredible to think that our two countries were such bitter enemies in two wars. I'm so glad that our relationship is based on a deep partnership now — both in business and in values. But I also see how U.S. policies involving spying are eroding that friendship. I was glad to gain insights into German thinking about privacy.
And of course, given this summer's news cycle — with all of the stories about Ukraine and the World Cup — it was wonderful to be so much more in touch with the German viewpoint.
——————
Leoneda Inge-Barry, NC Public Radio WUNC, Durham, NC
Berlin to Brussels
My world is a lot smaller, clearer and welcoming since traveling to Germany, Belgium and the Czech Republic. It was a trip I have wanted to make since the 1980s, since the fall of the Berlin Wall. I am grateful and fortunate the RIAS Berlin Kommission Exchange allowed me to have this long-awaited experience. This program, which began in 1993 to bridge understanding between the United States and the European countries we visited, has been one of my most memorable adventures, a moment in time I wish my sons could have experienced with me.
I love the history of the RIAS Kommission. Most of my career has been spent in radio, so to be associated with "Radio in the American Sector," and the first American radio station founded in Berlin, is humbling. It was extremely exciting to visit "Radio Free Europe — Radio Liberty" in Prague. My jaw dropped when we approached the beautiful complex, modern, not as grungy as I expected! And security was tight. If you didn't have a Passport and if it did not match the name already on their list, you would not get in. In fact, there were two levels of security and metal detectors.
Our visit to the new "Radio Free Europe" headquarters was a history lesson I had been waiting for. The independent, private, non-profit organization was founded around 1950, the beginning of the Cold War, to provide "uncensored news and information to audiences behind the Iron Curtain," or places where the government would not allow free-flowing information. It is overseen by a Broadcasting Board of Governors, which includes Secretary of State John Kerry. Radio Free Europe receives federal funding from the U.S. Congress — just like VOA (Voice of America). RFE and Radio Liberty (RL) are given a lot of credit for helping to end communism and spread democracy over much of Eastern Europe. So, after the September 11, 2001 terrorist attacks and what followed, newer, more secure offices were built for RFE. About 500 people work in this building. The approximately 250 journalists all speak English, Russian and Czech.
I admire the work of these journalists, immensely. We were not allowed to take many pictures while at RFE, because releasing a photo of a journalist or other staffer could result in a life or death situation. And RFE journalists have been killed in the line of duty. It was startling to hear how difficult it has been, recently, to broadcast in Ukraine and Russia. Our host said RFE had 36 affiliate stations in Russia when Vladimir Putin took office and now they have one, for 2.5 hours a day. They got "squeezed out".
My nearly three weeks as a RIAS fellow was much too short. Still, I thank our hosts for providing such access to newsmakers and visual references I will never forget. For example, our trip to the VW Phaeton Plant in Dresden was magnificent. We spent much of our first day in Dresden at VW, a "transparent", clear, concise, clean, odorless example of the future of manufacturing. I have visited a Ford manufacturing plant in my career, but this was my first foreign automobile plant visit (in a foreign country).
The VW "Transparent Factory" in Dresden is so popular it has become a busy tourist attraction, with a 5 Star restaurant. There's even lighting and perfect acoustics so the local symphony can perform! From the street, you see this round, glass tower. The closer you walk to the tower, you notice shiny, new cars stacked high like in a BIG candy vending machine! I cover Business and the Economy for North Carolina Public Radio and I rarely get access like this. Christian Haacke was our guide at VW. He told us how many Phaeton customers personally come to the plant (not to a dealership) to choose colors, leather, etc. And after 3-4 days, their car is ready to drive off the shiny showroom floor! Oh, it will cost you about 70,000 Euros.
From the VW plant, we had a candid conversation with Dr. Ralf Lunau, Deputy Mayor of Cultural Affairs. I was immediately reminded of how similar the Dresden area is to Raleigh, Durham, Chapel Hill. The "Triangle" in North Carolina is often referred to as the Silicon Valley of the South because of all the innovative and technology-based companies that call it home. With an unemployment rate of around 5%, Dresden often calls itself "The Silicon Saxony." Saxony is the state where Dresden is located. And like the Triangle, Dresden is growing (unlike some other parts of Germany). Its IT and semi-conductor sector is tops in Europe, I hear, with a well-trained workforce. I would take my new-found knowledge of the German economy with me on my fellowship extension to the Siemens Professional Education Center in Berlin. I joined North Carolina public school teachers on a tour, to witness its successful dual system of apprenticeship and education.
It was important for me to make connections with "home" and "abroad" while on this trip. It was my way of making sure I was able to remember it all. It is hard to forget our leisurely, Saturday bus ride to Potsdam. Before hitting the highway, we would pass by Tempelhof Airport, known by many as "Hitler's Airport." This is also the community where the U.S. "Candy Bomber" dropped sweets to children by parachute. Before reaching the "Cecilienhof Palace" where the Potsdam Conference made history, we would stop by this lush mansion in Wannsee. In 1942, the highest Reich officials would discuss the final deportation and extermination of European Jews. Chilling.
I kept a private journal and a public blog on WordPress, "Berlin to Brussels," while in Europe. I enjoyed our early tour of the historic Reichstag Building and lunch with TV host Ali Aslan at the "Hotel Adlon." But my blog cover photo is of artist Kani Alavi, standing in front of his East Side Gallery masterpiece along the Berlin Wall. The group of 13 journalists on this fellowship were able to spend priceless moments in Alavi's private home gallery. My favorite photos of this trip was the "selfie" I took puckering my lips in front of a Berlin Wall mural of Leonid Brezhnev and Erich Honecker doing the same, and a photo journalist Yang Yang took of me, with the famous Brandenburg Gate in the background. My only real regret, I did not buy enough "Leonidas" Belgian Chocolate while in Brussels! Sounds like my name, right!
——————
Alicia Inns, KTVZ News Channel, Bend, OR
Where do I start? It's the question I found myself asking when friends, family and co-workers asked about my trip to Germany. It's amazing how much you can learn, do, see, explore in two weeks and I haven't experienced that until this trip.
One of the biggest things I took away from our time abroad was the pure history and culture surrounding Germany. We've all read about it or maybe studied it in a history class. But until you are standing there in front of the Berlin Wall, talking with one of the original artists of the East Side Gallery does it hit you that this was very much a real event, which still affects the country today. Taking the guided tour through the park and seeing the memorial for all those who lost their lives during the time of the Berlin Wall was something that's hard to describe. Hearing about how this wall tore families apart, people would try and flee to be back with their loved ones, even soldiers.
One of my favorite places we visited on our trip was Dresden. I went into that trip without any expectations and the scenery as well as the story behind the city blew me away. The night we got there, we had a guided city tour where we learned about the Church of our Lady among many other amazing things. Our guide showed us a picture of the church after the bombing during WWII when it was shattered to pieces, only a tiny piece of it still standing. She mentioned that together, people laid out all the pieces like a puzzle to try and put it back together. I could look up and see which pieces had blackened with age on the castle as she was telling the story and that really stuck with me.
We took a trip to the Stasi prison in East Germany and I think I can speak for a majority of the group when I say it's hard to forget something like that. Being inside the cells and on the prison campus, I was really able to understand the workings of the Stasi police. The spying on the population, through a network of citizens turned informants, and fighting any opposition by overt and covert measures like hidden psychological tests was simply eye opening. Hard to believe that actually happened, but being there and seeing it made it almost too real. A very unique and interesting experience that really helped me grasp the way the Stasi played a role in the country's society.
We met some amazing people on this trip who really provided so much more than just a lesson, they provided perspective. My "blind date dinner" with Johanna Wahl was amazing and one of the best experiences during my two weeks. She took me to an Italian restaurant in her neighborhood and I could tell it was authentic because nothing on the menu was in English. I had to have her translate for me! For the next two hours we ate delicious food and she told me about her job being a political TV Reporter. It was very interesting to hear about her responsibilities as a reporter, what she covers and her deadlines and compare them to mine in as a reporter in Oregon. I learned some amazing things about news coverage in Germany from her that I have shared with my co-workers as well.
The group of people on this trip also taught me more than I thought. When you get a group of strangers and send them to a different country to explore and learn, anything goes. But I learned a lot just from this group of people. I made some amazing friends and contacts through this trip. The questions that other people asked made me look at a topic differently or challenged me to think outside the box a little and for that I'm grateful.
I really appreciated the tours of the news stations that we got during this trip. It gives us journalists a taste of what their working environment is like. When we visited ZDF studio to talk with Thomas Walde, I was really surprised to learn that social media doesn't play a huge role in their newsroom. We had a cross discussion about the role of twitter and Thomas said they only use it to follow politicians, whereas it's part of many of our jobs to constantly tweet out information for our followers. Being able to learn and compare things like that really added an interesting element to the program.
Overall, this trip was truly an amazing growing and learning experience for me as a person and a journalist. The people we met, the places we went and the lessons we learned have changed the way I look at news coverage, the history of different countries and much more. When people say this is a once in a lifetime experience, this trip comes to mind.
——————
Janet Paist, WNBC News 4, New York, NY
On the afternoon of Tuesday, July the 29th, President Barack Obama announced the United States was joining with the European Union to expand sanctions against Russia for its actions against the free people of Ukraine. In that one moment, I realized I understood the background and the significance of that act, because of my time with the organizers, speakers, and the participants of my RIAS trip of June, 2014.
I could imagine the growing desperation of the people of Ukraine, because of what I learned in Prague during our visit to Radio Free Europe — that country's struggle made more real after listening to the directors of the Ukraine and the Russian broadcasting services.
I had a better understanding of what it took for the European Union to strengthen its resolve against Russia, after the full day we spent with the various communications directors at the European Commission in Brussels. Albeit sanitized, there were things to learn, and to remember. From NATO, more candor & bluntness about the challenges of Russia and President Putin.
In early July, I read in the New York Times, that Chancellor Angela Merkel was making her seventh visit to China, taking German business leaders with her. Oh, I wondered, did someone from Volkswagen go with her? Before my RIAS trip, I would not have asked myself that — much less appreciated the importance of a business relationship between Germany and China. That is, until I experienced firsthand, the wonder of VW's Gläserne Manufaktur in Dresden, donning soft cotton white suits so we could walk on the floor where the VW Phaetons were being built by hand, learning that 70% of the vehicles manufactured in that factory — were sold to the Chinese. Paid for in cash! So, it was no surprise to hear that during Chancellor Merkel's Chinese visit, Volkswagen announced it was building two new plants in China, in a multibillion-dollar partnership with the Chinese auto maker FAW.
One of the biggest takeaways from the RIAS trip was what I learned about Germany's approach to education, its eye soundly on the future. At the VW plant in Dresden, Mr. Christian Haacke discussed the importance of training people for their jobs at the transparent factory. We witnessed the benefits of "tech training" writ large. We were able to see for ourselves, the advantage to the men and women of having received that training. We heard similar reviews of the benefits of the training, during our visit to Dresden city hall.
On this topic of education, as with others, I appreciated the openness to differing points-of-view. From the Reuters correspondent Erik Kirschbaum, we got our first hint of how the education system gives students an advantage. In his lecture and the subsequent Q&A, we learned from Erik how the system worked: providing training for those less suited for university and preparing them for work after graduation — versus placing young people on the gymnasium track. Much like U.S. students, the University-educated German young people get their education, only to find themselves without jobs when they graduate.
And then we met Ali Aslan, a German with a much different point of view. The choice not so clear, as he explained, when the decision that defines the lives of these students is made at the age of 10 years. His perspective as a Turkish-German citizen was much different than that of others we heard from. He talked candidly about the downsides of this tracking system — that it is as much a "class" system as an "education" system. Many boys and girls in the Turkish community lacked the advantages of the students of affluent parents. Ali told us how affluent parents would do everything they could to get their children on the gymnasium track, while the children of those of a migrant background don't necessarily receive the same support. Their parents may not be as attentive to their children's education, because they themselves are less educated, perhaps not as involved in schooling.
It was refreshing to see such candor, on all points of view on this topic.
The importance of education, and growing the future of Germany came up in so many of the sessions organized by RIAS. I felt the initial mission of this organization, to bring unfettered, uncensored points of view from the American Sector, clearly continues to play out as it has evolved to provide visiting American journalists an in-depth look at the "New Germany." We were afforded a chance to truly experience the past, now — and tomorrow of this dynamic, changing, powerful country.
I learned that Germany is a country with resolve and discipline, possessing a firm eye on the future with awareness of its history. "90% of the people living here now," said one guest speakers at a breakfast talk, "were not alive during our dark history. There is nothing we can do about our past, we can only do everything we can — to make sure it never happens again."
RIAS gave me the opportunity to experience and witness the spirit and resolve of the German people in oh so many ways:
Seeing the East Side Gallery through the eyes of artist Kani Alavi, visiting his studio. Even watching Kani furiously wash off the graffiti on that extant piece of the wall spoke legions.
Watching the World Cup competitions (Go Germany!) at the biergartens and bars of Berlin and Dresden.
Touring the former Stasi prison, sitting in the very cells where those standing up to the Soviets were tormented.
Spending moments at the Berlin Wall Memorial, hearing the stories of the desperation and resolve of the East Berlin people to be free.
Visiting Dresden, a city destroyed by Allied bombs, and, in our tour, seeing how it has been rebuilt. Without rancor against the West.
Finally, the visit to the German Embassy in Prague really brought home how far the German people would go to gain their freedom. Being inside the grounds, imagining the scene where thousands slept and lived in filth. The parents throwing aside the baby stroller as they climbed over the fence. And the idea of all those Trabbis, keys in the ignition, scattered on the streets of Prague. So evocative.
I am still processing every moment, every experience from my time with RIAS. As reflected in this contemporaneous reflection from my blog rulingwoman.com
I was granted the opportunity of a lifetime — A Life Time — to travel with a dozen other journalists from this country and visit five cities in three countries. You know how sometimes you have a moment, that only upon reflection do you realize was one of the best times of your life? This trip, in the spring of 2014, to Germany, Belgium and the Czech Republic screamed at me, while I was in it: this is it! This is a time you will never forget!
——————
Amanda Palumbo, KCTV5, Fairway, KS
I had never been outside the borders of the United States. My RIAS fellowship not only immersed me into a variety of different cultures, it also exposed me to new forms of governments and very different ways to do journalism.
I fell in love with the German culture. The mom and pop restaurants made you feel like family. The journalists, politicians and dignitaries we spoke with were so happy to answer all our questions.
Germany has a rich history, which we were constantly exposed to during our fellowship. Germany takes pride in preserving its history, no matter how unflattering. It's something we can definitely learn from in the U.S. Our tour of the current German Bundestag, the Reichstag building, showed its rich and sometimes brutal history. You can walk through the building and see the history for yourself. Various names and messages are still scrolled along the walls in parts of the building, from when The Red Army seized it from the Nazis in 1945. You can run your fingers along the letters, imagining this moment in the building's past. We were lucky to have a member of our group who spoke fluent Russian, who was able to translate the messages on the wall.
Germany even worked to preserve its notorious history, including its time when it was split. We could see East Germany's brutal political persecution when touring an old Stasi Prison, now called Berlin-Hohenschonhausen Memorial. Prisoners were often held for minor "political violations," many of them innocent, brought in on fabricated or circumstantial evidence. Conditions at the prison were abysmal and interrogation tactics were torturous. Instead of turning a blind eye to this black eye in Germany's recent history, the country and a foundation worked to put these atrocities front and center for all to see. The foundation still researches the lives of the prison's inmates and makes public files and information on those the Stasi was investigating.
The Frauenkirche Dresden, or Church of our Lady, is a prime example of Germany's tenacious effort to preserve its history. The church, like much of the city, was left in ruins after incendiary bombs were dropped towards the end of World War II. It would take 60 years and millions in donations to rebuild and restore Our Lady. Each brick and piece of rubble were painstakingly categorized to make sure parts of the original structure could be used to rebuild. Instead of bulldozing the remains and building a brand new church, Germany worked to preserve what was left behind.
It was amazing to see the social parallels between Germany and the United States. Germany's growing "guest worker" population, mainly made up Turks, mirrors America's "undocumented immigrant" population, mainly made up of those from Mexico and Central America. The Turks are widely underrepresented in Germany's parliament, in broadcast journalism and in law enforcement. We learned about this in great detail from Ali Aslan, a prominent Turkish journalist who also works as an ambassador for Muslim interests in Germany. I found Mr. Aslan's talk fascinating and candid about this rift I had no idea even existed.
He spoke about problems with Germany's education system and how Turkish children are often at a major disadvantage. While comparing Germany's education system to America's education system is like comparing apples to oranges, there is a reflection with how Latino students are often lost in our schools. There are very few "English as a second language" schools to catch these students up to their American counterparts. Latino students are often struggling to make the bare minimum to advance to the next grade or even graduate. Often they drop out to help make money to support the family. Both countries need to work to help this struggling population reach its full potential, so they can have the same opportunities as its natural citizens.
The foundations of broadcast journalism couldn't be more different between Germany and The United States. I first learned about this while hosting a German journalist a few months before making my own trek to Europe. In America, commercial companies rule the broadcast industry. Our main network affiliates: CBS, ABC, NBC and FOX get zero money from its viewers. All of its revenue is based on money gained from commercials and sponsorship. Many local TV stations count on political elections to keep them in the black. This can sometimes be a dicey situation, when news departments have to report unfavorable details about a client who makes up a good portion of the station's revenue.
In Germany and other European countries, it's much different. Public television rules the land. Citizens pay a fee that supports those stations. As we learned from the Berlin correspondent for ZDF, Thomas Habicht, a majority of the station's revenue comes from that fee. It almost sounded like to me, these stations were more financially secure. American TV stations found problems staying afloat during the economic recession. Business were going under and those that were able to stay afloat, cut back drastically on their advertising budgets. There were major layoffs at most tv stations on both the network and local level.
We did seem to have the same struggles as any journalist. While not to the same degree as here in the states, more people worldwide are turning to mobile and online platforms for news, weather and sports. It's something news institutions on both sides of the Atlantic will have to adapt in order to keep up with changing times and technology.
I learned more about international politics, culture and social issues from this fellowship than I did minoring in international relations in college. There's something to be said about being in the element and talking to the people than just reading about it. I feel this trip made me a better journalist, more cultured and more understanding of the world outside my own borders.
——————
Katherine Perry, WATD-FM, Marshfield, MA
Despite my German heritage, being a regular newspaper reader, and having a standard education in European history, until a few months ago I apparently knew almost nothing about Germany, and what it means to be German. This trip has completely reshaped my notion of Germany and its place in Europe and the world.
One of the most interesting differences I found between the German and American attitude in the public and political sectors is the value placed, or not placed, on "change", and what it tells us about German society. In the U.S., change is the norm. In almost every arena it is encouraged and applauded, and the lack of change is interpreted as stagnation and complacency. So, the German attitude of caution and aversion toward change is at first bewildering, even bemusing. When I recount the comment that Germans love Angela Merkel for her lack of charisma, my American friends think it is hilarious. Why would you want a dull leader? Why wouldn't you love change?
All of this speaks to the way that Germany still lives very closely alongside its history. It's difficult, without visiting and seeing it firsthand, to understand the very concept of a country and its capital divided. The traumatic legacy of East Germany is still astoundingly visible and fresh, from the physical reminders of the Berlin Wall, Stasi Prison, and Soviet architecture, to the stereotypes about Easterners and Westerners (the former are lazy, while the latter are snobs). While World War II didn't seem to be as ready a topic for discussion, its impact is clear in the attitude of the Germans I encountered. Repeatedly, I heard Germans say that above all, they value stability and peace. One man spoke about how incomprehensible they find the American plague of school shootings, saying that in Germany they are now brought up in a culture of nonviolence that is so deeply entrenched that the very idea of widespread assaults of this kind is unbelievable. Another man told me that he and all of his associates see the existence of capital punishment in the U.S. as a barbaric anachronism, at odds with the ideals of a civilized and mature society.
This commitment to stability appears to live, tensely, alongside Germany's drive for advancement. Germany is at the forefront of a number of industries: tourism, technology, finance, just to name a few. Financial success and social stability had put Germany in a position of strength in Europe at a time when most of the nations are struggling in every arena. This appears to force Germany into a leadership position that its populace finds unsettling. As the wider European community calls for Germany to step into a more prominent role, Germans call for caution, afraid of their own strength and its historical consequences. Developing an ideal, fully united national philosophy, integrating moderation and ambition perfectly, may not be realistic, but watching the country navigate this issue is fascinating.
But, of course, Germany's history isn't just about wars — it's also about a deep and varied cultural tradition of music, art, architecture and food. Listening to the symphony in Berlin, touring the lovingly reconstructed architectural masterpieces of Dresden, and travelling through the hops fields and dining in the guesthouses of the south I experienced Germany's legacy of beauty and community. Especially in Munich and the Hallertau, I saw the pride and colorful hospitality that defines the Bavarian region. After realizing how relatively new Germany as a united country is, I realized that each region brings its own distinct history to the table and that attempting to pigeonhole the country's culture is a fruitless attempt. But it stoked my desire to see what the rest of the country has to offer.
The ways that Germany has incorporated its historical legacies, both dark and light, into its present and future culture is just another testament to its ingenuity. By accepting and memorializing its tragic past, Germany honors the victims of that past, proves the integrity of its citizens, and keeps the country vital and forward looking.
——————
Ross Reynolds, KUOW-FM, Seattle, WA
My impression was of a nation justly proud of its recovery from the 2008 economic recession and its leadership economically in the European Community. I also found people hungry for the new challenges facing Germany going forward. When asked about the biggest challenge facing Germany one of our speakers said it was continually finding new innovative products and services to continue to export to the world, since Germany is so dependent on exports. The tour of the Transparent VW Plant in Dresden was an example of the effort to innovate.
Another speaker said the biggest problem facing Germany was the continuing legacy of a divided Germany and problem of East Germans too young to retire but too old to change, mentally bound by a system that told them all they had to do was go along to get along and unable to cope with a capitalist system where you have to make your own luck.
Germany is obviously a country concerned about Russian adventurism in Crimea and its impact on the future. Another concern that arose was the continuing economic problems of nations in Southern Europe. The latter debate revealed a strong German reluctance to borrow money to help out the afflicted nations.
In a post Fellowship reporting trip to Bad Hersfeld I was struck by how many nuclear power plants I saw in the vicinity of cities. Germany's dedication to closing nuclear and coal powered plants was impressive. Although a Berlin bike tour guide pointed out how dependent Germany remained on coal I was struck by the story of Reuters journalist Erik Krischbaum about how on a sunny all the coal power plants around Berlin were shut down because solar energy was becoming so prevalent.
As part of the program and my informal travel I realized how completely Germany was devastated in 1945, making its economic recovery today even more remarkable. The constant reminders in Berlin of the Nazi legacy — from the plaque by the façade of the former Anhalterbahnhof relating its history as a transshipment point for elderly Jews to death camps to the small sidewalk plaques commemorating Jews who died in the Holocaust and various larger memorials showed a national willing to acknowledge its past.
I was particularly struck by the Soviet soldier graffiti left up on the walls of the Reichstag. It didn't make sense to me that Germans would have left the evidence of their conquest in the halls of their national legislature, particularly given the harsh treatment inflicted on the German people by the Soviet Army. I couldn't imagine a similar remembrance on the U.S. White House of the British soldiers who sacked it during the War of 1812. But then someone pointed out that Soviet troops were not just defeating a hostile power. Their victory was also the liberation of German people subjected to 12 years of Nazi excesses.
I was left wondering what would Germany be like today if it hadn't been on the losing side of two world wars and divided in half for a big part of the 20th Century.
During the program and reporting extension I focused on German vocational education and how it compared to the U.S.. Most of the politicians we heard from confirmed the global opinion that the German system excels in linking workplace needs to education because of cooperation between government, schools, businesses and unions. But many of the people working in vocational training pointed out the problems that remain — a shortage apprenticeship positions leading to active recruiting of more small and midsize companies, young people who despite the opportunities still don't focus on career.
Overall I had the impression of an education system committed to helping young people make the transition from school to career. Not least of the reasons for this success is the fact that education is free. A comparison to the U.S. where career training after high school can be costly and useless was instructive.
Why does it work? One academic I interviewed suggested was the strong presence of labor unions and the collaboration they had with business. It struck me as much less adversarial than labor-management issues in the U.S.
I did focus on a noteworthy exception — the multiple strikes by Seattle Amazon.com workers at German fulfillment centers over their job classification. Two ex-pat American/Germans showed me a chart purporting to show how much less they got than workers in a contract classifying them as retail/warehouse workers. I was struck by one point. They 'only' got 28 days of paid vacation per year. Compared to U.S. paid vacation rates this struck me as incredibly generous. It made me realize how German workers begin discussions about wages and working conditions at a much higher level than American workers in similar positions.
Finally on the cultural front I was impressed by Berlin's deep heritage. So many philosophers I studied as a college undergraduate came from Germany. Visits to the Bauhaus Archiv and the Museum of Things impressed upon the rigorous intellectual tradition of advancing design. The art contained in Berlin museums was staggering. The proliferation of talented street musicians, an outdoor dance pavilion featuring couples of all ages dancing the tango across the Spree River from the Bode Museum, a jazz club packed with patrons on a Wednesday night all impressed upon me the cultural dynamism of the city.
And of course being in Germany during the World Cup was cultural eye awakening. I thought I knew about sports fanaticism since my hometown National Football League team the Seahawks won the U.S. Superbowl last year, but I was unprepared for tens of thousands at the Brandenburg Gate's viewing center, the big screen tv's set up in every restaurant and even in front of tiny convenience stores, not just for German games but or all matches.
On two home visits I had during my stay, one the journalist blind date and as second with two University of Washington professors who summer in Berlin, there was not doubt that once the dinner plates were cleared, we would be watching the World Cup.
I work in public broadcasting and the fact that German public TV had the wealth to outbid private stations for the rights to broadcast the World Cup matches was amazing. It's a country that has a bigger appreciation for supporting a public media system alongside the private.
One reason I was interested in visiting Germany and particularly Berlin was from reading Enrico Moretti's "The New Geography of Jobs". It's a strong critique of the widely adopted urban development theory of Richard Florida that to achieve economic advancement, cities must lavish funding on culture. Business will follow, according to Florida.
But Morretti cites Berlin as a counter-example — a city that lavishes funding on artists and arts organizations but is still 'poor but sexy'. Public officials we heard from firmly rejected that critique. Although they conceded Berlin hasn't been the center for major corporations since before World War 2, they pointed out the surge in digital businesses.
And although Berlin struck me as very affordable city compared to counterparts like New York, Paris, and London, there an undertone of concern about gentrification — a worry that city is still sexy, but perhaps less friendly to the poor.
——————
Yulia Savchenko, Voice of America, Washington, D.C.
Germany. Day 2 . Memorial Stasi prison in the outskirts of Berlin. Before the wall fell, a few knew about its existence here — tall brick walls, barred wire, discreet in its grayness. A lot of things look eerily familiar — old phones and wallpaper in the interrogation rooms, endless corridors, bright "happy" colored linoleum. I saw this all in the Soviet times movies.
I was born in the Soviet Union.
This trip to Germany has a special meaning for me. Second World War left a lot of scars in the social fabric of Germany and USSR. My two great grandfathers fell in the battles a year into this devastating conflict. More than 25 million Soviet citizens died in battles and of starvation. This memory is in my DNA. Now I am seeing the scars of that Germany bears from its war and post war experience. Seeing it so clear and up close is new to me…
The scale of destruction of the last days of war when German cities were bombed by the allies is devastating. The scale of reconstruction after that took place after the Wall fell is beyond any imagination. Every second guided walk we are being taken for involves demonstration of the photo chronicles of what these beautiful churches and buildings were before the reunification — ruins and rubble. Dresden, one of the most enchanting towns in the wonderfully booming state of Saxony, almost vanished on the night of Valentines day in 1945 when the attack aircrafts of the allies had a massive raid aiming to destroy the place completely. Its huge cathedral now reigns over the square filled with joyous locals and tourists. Few black stones on the walls are the original pieces that were masterfully put together with the stones in white symbolizing victory over the troubled past.
It was a true revelation to me that as its coping strategy Germany chose acceptance and recognition of its past in a manner that didn't create too much space for bemoaning and blaming but rather send it down the path of rolling up the sleeves and rebuilding of what needed to be rebuilt and acknowledging of what needed to be acknowledged. The State minister of the Free State of Saxony which Dresden is a capital of — Johannes Beermann — admits he himself sometimes can not believe the speed of change and recovery Germany has undergone.
Germany indeed exceeds expectations. Germany is thriving. Being the most prosperous E.U. state now, it creates opportunities not only for its citizens but for the new and "old-comers" who poured into the country when E.U. borders opened up. It spearheads the effort of green energy and its technological innovation is developing on a massive scale. On green energy, yet again it is confirmed — Germans care about their environment. On one of the first days of our visit we meet an American journalist turned German journalist turned green entrepreneur who now powers not just his house with solar electricity but produces enough to feed the greed that powers other people's homes in the village he lives in . He bravely started this endeavor and got a 2 million bank loan to do just that. He doesn't know when he would be able to repay it but the concept itself holds enough appeal for him to be involved in this tremendous country wide effort to go green. It doesn't take too much investigating there to establish how much of a priority it is for Germany to establish itself as a "Green leader" of Europe — giant wind farms is the prevailing feature of the wide open spaces in the countryside here. The big concern here though is how to convince the neighbours to join the eco- conscious living and policy making. So far among its closest neighbours, Germany is the only country to entirely give up nuclear energy production. A lot of people are worried that in case something blows, say, in Belgium all the careful crafting of German eco leaders will be in vain. Do I need to say they really care about Kyoto protocol? It comes up in many discussions on various levels and for most people I talked to it is very unsettling that the U.S. just seem uninterested.
Relationship with United States in general seems to be a questions on many minds in Germany. Before coming on this trip I had an overwhelming impression that in Washington politicians are (at best) disappointed with Germany's lack of desire to support robust sanctions against Russia. Interestingly enough in the U.S. Congress and on other levels of decision making, people were more vocal about their dissatisfaction. As dissatisfied as they are in Germany with NSA tapping scandal they are more subtle about this. Americans, they admit, crossed the line but collaboration is too important to be dropped on such an occasion. There is hope that lessons could be learned. These discussions, of course, are the once taking place before the spy scandal unfolds…
On the personal level, I find it that tensions don't affect people's perceptions that much. Of course, I am in Bonn when Germany beats the U.S. in soccer. No I didn't watch the game instead taking advantage of a great ballet performance in the Bonn Opera House, but cheered in the intermission on its rooftop with a group of wonderful locals who I just met right there. We are drinking Sekt and musing on why soccer has never been big in America. Down by the river all the passing cars are honking in celebration of the German victory. Little do they know there will be few more this season. My hosts nicely suggest that America will be there too. ?ne day…
——————
Robert Schaefer, National Public Radio, Washington, D.C.
Life changing may be a little strong to describe a trip to Germany, the Czeck Republic and Belgium to learn about German journalism, politics, culture, history and yes, beer. And it is not quite on par with my marriage or the births of my children but never the less LIFE CHANGING. Let me explain.
First the places; Berlin, Potsdam, Dresden, Prague, Brussels, Bruges, Bonn, Kaiserslautern, Fockelberg, Muhlbach, Rammelsbach, Kusel, Trier, and Speyer to name a few. I could name all the sights and describe the impressions gained in those big and small places but anyone on Google can pull up the pictures faster than I can describe the wonderful scenes.
But let me just give an example. The guided tours in Berlin of the Hohenschonhausen Memorial (former Stasi Prison) and the Berlin Wall Memorial showed in solid form how evil and destructive the East German authorities were and how the fall of the Berlin Wall was such a transformative event in German and world history.
Our trip was by no means all sightseeing. A guided tour of the Reichstag and explanation of the German parliamentary system and the states (Lander), discussions of German-U.S. relations, history, politics and culture, the EU, the Euro, NATO, the media landscape and journalism were all on our agenda and provided an in-depth understanding.
We learned the German people are warm and friendly to you especially if you try a little German and as a nation they feel like a responsible older brother for their European neighbors. Their politics seem stiff and careful but with what has happened in German history and the current European landscape there is reason for that. They generally like Americans even if what America does is often puzzling or downright harmful to the relationship. They have a difficult time dealing with immigration issues but then what nation doesn't.
There were the things you take in and only reflect on later. I found that very large cities can have clean and efficient public transportation and intercity rail as well thousands of people riding their bikes to work every day. That going 180 kilometers per hour on the autobahn seems perfectly logical and that trains efficiently zipping across Europe at 300 make a lot of sense. That beer and pastries can be national treasures made by craftsmen and women who take this stuff very seriously and are proud of their work. That national and state support of the arts makes a lot of sense for the Germans and they love opera, ballet and the orchestra. That a whole nation can pretty much stop what it is doing to watch the German national team in the world cup.
I am a radio network news producer so for my extension week I pursued interests that are meaningful to producers. Once back in Berlin I spent time with NPR's Berlin correspondent, Soraya Sarhaddi Nelson and her producer and assistant Esme Nicholson learning how they cover the news from Germany and the logistics they have to consider. I arranged a tour of ARD (We'd already been to ZDF with the RIAS group). I spent two days observing and learning about radio production the German way at Deutsche Welle in Bonn. And I finished up the week visiting with the community relations staff at Ramstein Air Base. We discussed how the staff there interacts with the community around the base, the German federal government and NATO. The knowledge gained in that week has made me a better producer now that I'm back at NPR News headquarters here in Washington DC.
And then a real adventure began for me. My father had been born in Germany before the war and had stayed in contact with our relatives there. So I spent a week getting to know the people and the towns associated with my family tree, Kaiserslautern, Fockelberg, Muhlbach, Rammelsbach, and Kusel. I lived with my cousins in Fockelberg and my gracious hosts helped me visit other relatives all over the region. In every case all my previously distant relatives greeted me with open arms. Two of them had been English teachers and many of the others made do with a bit of English and a little bit of German on my part… and a lot of good will. My father who has passed away would have been proud of them and glad that I connected with our German roots.
So, all in all, especially when you consider the extra time I took to meet my relatives I can safely say the fellowship sponsored by the RIAS Berlin Kommission in cooperation with the Radio Television Digital News Foundation was LIFE CHANGING.
——————
Graham Ulkins, WAFB-TV, Baton Rouge, LA
A good adventure is often full of good surprises, and my whirlwind trip hopping through Europe was no exception. From unexpected lessons to unlikely friendships, the RIAS Berlin Kommission delivered a stellar program that was educational, enriching and enjoyable — every day of the two-week fellowship.
My jitters in the month leading up to the trip rivaled those before my first day of high school. Would I get along with this group of total strangers? Am I prepared enough for what we'll be learning? Did I pack the right clothes? In hindsight, all that nervous speculation proved to be wasted energy. I didn't know then that the journey ahead would surpass all my expectations.
One of those expectations was a healthy dose of perspective. It's what journalists need to tell meaningful stories, and I was very impressed with the variety of perspectives offered over the course of the program. Be it over breakfast or a plate of sauerbraten, the speakers were engaging and (mostly) candid. Very few seemed to have any sort of agenda besides helping a group of journalists understand the places and topics they know so well. We heard from politicians, reporters, professors and artists, all of whom provided valuable insight.
The timing of our trip made listening to those experts all the more interesting. The situation in Ukraine deteriorated right before our eyes, and the urgency and concern surrounding this fluid story was clear during our trips to Radio Free Europe and the European Union. It was both fascinating and disturbing to see Russia's advanced use of social media to disseminate propaganda. It was also interesting to learn the direct role the European Union played in triggering the conflict.
With Brussels serving as ground zero for the ever-present Eurozone crisis, I was able to grasp Europe's economic woes on a much deeper level. That was thanks in part to expert analysis from one of our own group members who gave a crash course on the topic. Between that lesson and the speakers in Berlin, our meetings in Brussels made much more sense. I was happy to have the confidence I needed to participate in the conversations.
The week in Berlin almost felt like an entirely separate trip. We saw and experienced so much history and culture in our time there. Our excursions left me with a true sense of the city and a healthy respect for the dark history its streets hold. Now approaching 25 years since the fall of the wall, the timing of the trip again played a role in how I processed what I learned. As I was getting ready to enter elementary school, East Germans were still being held in secret prisons and scaling the fences of a foreign embassy with the hope of a better life. It boggles the mind to realize how recent many of these struggles were, and it's also interesting to watch how attitudes change as generations evolve. I was pleased to see so many young German students touring the Hohenschönhausen prison. As the victims from this era get older, it will be up to the next generation to preserve their heartbreaking stories.
A quarter of a century is plenty of time for economic change, and our trip to Dresden proved that much of former East Germany is in many ways better off than the former West. That's immediately evident to the senses thanks to the city's historic skyline that's been beautifully rebuilt. During our meeting with an official from the state of Saxony, we learned how the area has become a high-tech hub known as "Silicon Saxony" that thrives thanks to hundreds of small and medium-sized companies. VW's Transparent Factory is the face of the area's auto industry and a powerful symbol of the region's progressive attitude. Walking through their active production line was one of the surprise highlights of the trip.
An iPhone and a microphone (and some willing colleagues) were the only tools I needed to share my incredible experiences with my audience in Baton Rouge. My reports from Germany aired in two newscasts and were posted on my station's website, giving viewers a unique perspective they rarely get. Feedback from my stories was extremely positive, as I always paired anecdotal experiences like tasting Currywurst with the more serious topics we tackled with our daily speakers.
Just as important as the program's itinerary was the group of American journalists selected to take part. A two-week journey halfway around the world is an intimate experience, and our group really came together to make the most of it. The gang of 13 was perfectly diverse in age, experience and background, and I know many of us will stay in contact for years to come. Our varied perspectives helped keep everyone on their toes and allowed us to learn from each other while we learned as a group.
In Louisiana we call it "lagniappe" (LAN-yap), an unexpected little something extra that adds to an experience. This trip was full of lagniappe. The World Cup watch parties gave us a rare glimpse into German football culture, especially when a few of us ventured off the beaten path to a Berlin beer garden. Getting to visit the home and studio of famous Berlin painter Kani Alavi is an experience I'll remember for the rest of my life, and not only because one of his original paintings of the Berlin Wall now hangs on my own wall. The blind-date dinner ended up being with four Germans instead of just one, giving me and fellow-American Amanda the chance to pick multiple brains. And the trip to Bruges on the final day of the program was the unexpected cherry on top of an epic adventure.
For me, the ultimate bit of lagniappe was getting the chance to see my former host-family, with whom I lived for ten months in 2002 and '03. I hadn't seen them in nine years, and they are much of the reason I have such a strong passion for Germany. It meant a lot to my host-Mom that I took the time to visit her, and I could tell she was extremely proud to see me take part in this prestigious fellowship. It was comforting to see that very little had changed in nine years, and holding on to this connection will only strengthen my ties to Germany.
It doesn't take an expert to see the world is becoming more polarized. It's evident within the political system of the United States and in numerous other global conflicts. That's why programs like the RIAS fellowship are so important. Journalists have a powerful directive and a moral obligation to keep the world accurately informed, and any program that helps foster understanding between cultures helps that cause. Berlin's sordid past is a stark reminder of what can happen when the masses are uninformed. The lessons I learned there will help me both in my reporting and in life. It was valuable perspective presented in a fun and engaging way, and I feel lucky and honored to have gotten this amazing experience. Now if only I could get Spaghettieis in the United States…
——————
Ayesha Williams, CNN Newsource, Atlanta, GA
I thought I was prepared before going on the RIAS Berlin Fellowship, but the truth is, I didn't realize how little I knew about Germany. The two weeks spent engaging in this amazing experience were such an education for me. Before this trip, when I thought of Germany, specific things came to mind: beer, the Berlin Wall and the Holocaust. To prepare for our appointments, I read up on historical events and customs, so I could make an intelligent contribution to our discussions. I was delighted to learn so many interesting things about Germany that go beyond token presumption. Germany really surprised me.
Germany's federal government is parliamentary with 5 parties. To be honest, it was hard to believe that anything could possibly get done with that many political groups. In the U.S. there are just two recognized parties that can't seem to agree on anything. It was fascinating to discover that the various German parties rally to pass laws that are in the best interests of the people. It was also interesting to learn about the difference between the Bundestag (a body elected by the people) and the Bundesrat (a body of appointed state delegates). Both serve as the legislative branch of the German political system. Despite the Bundesrat's subordinate role to the Bundestag, it's no less powerful. The federal government has to present its legislative proposal to the Bundesrat before an initiative can be passed in the Bundestag.
I had some understanding of Germany's role in the European Union and seeing what Germans thought of it was fascinating. It may be a union, but I definitely got the sense that they feel some members aren't pulling their weight, namely Greece and Spain. Germany takes its role as an E.U. leader very seriously and that role is reinforced when it has to bail out a struggling country or mediate with Russia. It is remarkable that despite the negative aspects of Germany's history, it is in a unique position to help and to be seen as an influential world power. Learning about Germany's history has also given me a better understanding of the reasons why privacy is so revered in this country. After the revelations about the NSA's spying, I was interested to learn more about the reaction on that side of the Atlantic. I got the impression that Chancellor Angela Merkel was not pleased, but also not surprised. I also find the "Right to be Forgotten" laws fascinating and will be keeping myself informed on the developments in Germany and the other countries in the EU.
I found it amazing that a country that has endured the horrors of the Holocaust and Stasi rule can move forward, using that dark history as a lesson about the dangers of thinking that history can't repeat itself. There is a level of genius in the way the past is woven into everything. Take the architecture, for example. When you walk around Germany you constantly see the old and the new, existing side by side. A great example of this is the East Side Gallery. The idea of taking something like the Berlin Wall, that represented division, and turning it into public art is brilliant. There is also a sense of responsibility and thoughtfulness in the way businesses interact with their neighbors. The Volkswagen plant in Dresden takes great pains to make sure its lights do not pollute a nearby botanical garden or disturb residents. In the States there seems to be a movement for companies to be more conscious in their practices, and it seems like they could learn a lot from German businesses.
One of the things that I found very interesting about Germans is the strong national identity they have. They take great pride in being German first and foremost. In the U.S. people create identity around being a hyphenate: i.e. an African-American or Italian-American. In Germany, those with an immigrant background are quick to make a distinction between their background and their nationality. The discussion with Ali Aslan on the intersection immigration and education was fascinating. The idea that some immigrant children are missing out on the benefits of education because of where their parents were born is unthinkable. Aslan's personal account of how his parents lobbied for him is one that I have heard before in the States.
Most of the conversations I had with the Germans I met on this trip were about American politics. I did not expect that. I found myself answering questions about the Tea Party and whether most Americans agreed with their beliefs about gun control. Gun laws in Germany are very strict and many of the people I spoke with could not understand why more rigorous legislation had not been passed—given the number of mass shootings in recent years.
German media is a mix of public and private that seems competitive in the best of ways. American media has reputation being aggressive in pursuit of being "first," but television stations in Germany manage to get their exclusive interviews and content without the stepping on each other's toes. Learning about the public broadcasting system was particularly interesting. The German model is funded through a license fee that people pay for. I was surprised to learn that it actually works. In journalism school you are taught there is no room in your reporting for your personal opinion and that being unbiased is paramount. Some German journalists seem comfortable giving their opinions on social media. In some American newsrooms that would come with certain consequences, but I did not get a sense that was happening in the newsrooms we visited. I believe diversity is vital in any newsroom and was disappointed to learn that there are not many people of immigrant backgrounds seen on German newscasts. Knowing what I know now about how immigrants are viewed in the country, I can understand why that is the case.
I am glad I got the chance to take part in the RIAS Berlin Fellowship because it has changed the way I see Germany and its people. This country has a vibrant history that continues to influence the way its policy and culture evolve. This experience has already informed the way I think and report on the E.U. and Germany. It expanded my worldview and I will forever be grateful for the shift in my perspective. I have a better understanding of Germany's past and I am very interested in seeing what its future holds.
——————
Yang Yang, Bloomberg Television, Washington, D.C.
Before the RIAS German Fellowship my understanding of German history included but the time between the two World Wars, and modern-day Germany under Chancellor Angela Merkel. The first period because it was extensively covered in my 12th grade history class, and the second because working at Bloomberg Television for the last five years has required a basic but general grasp of the goings-on in Europe's economic center. As for the rest, I can now admit I had little to no understanding of what transpired in Germany between 1945 and the early 2000s, but all of that's since changed thanks to my time as a RIAS German Exchange Fellow.
For some time now, I've understood or rather had a general grasp of Germany's leading and important role in Europe, what I didn't expect to learn was just how much of that is interconnected with Russia and the former Soviet Union, and how that history has made current tensions in the Ukraine and surrounding region all the more complicated. Having never before been to Germany, I had always lumped Berlin in the same group as Paris or London; grand western European capitals rich in both history and modernity. Instead, soon after our arrival, I could see for myself that Soviet-occupied, divided Germany was not as retreated to the past as I had imagined. Russia's shadow was everywhere I looked, from the leftover USSR-style architecture of the 80s to the Stasi prison of the Soviet Secret Police to talk of Putin sympathizers.
I believe that it's thanks to this anomalous history that Germany has since been able to rise to the top of the European chain of power. Between the dark days of the Nazis and the failed stab at communism, Germans are an incredibly self-reflective people. It was a trait that I came to see and appreciate in my RIAS-organized blind-date dinner. A great meal and several hours of conversation later, we left no topic, argument or angle unturned. Lessons learned and self-reflection seemed to be at the center of everything we discussed, something quite foreign to me considering Americans are the exact opposite. We Yankees are a rather unlearned but opinionated bunch.
Similar to the blind date, the highlight of the fellowship was meeting Iranian-German artist Kani Alavi of East Side Gallery fame. While I enjoyed meeting and listening to each of the journalists and political officials, all impressively fluent in the English language, Alavi's paintings left the biggest mark with me. He may not speak English, but his work is proof that a picture is worth a thousand words. No translation necessary. I found seeing and feeling German history to be a much better way of soaking it all in. Not only did Alavi leave his mark on the Berlin Wall, he's been sharing his story and perspective on what led to that fateful night in November 1989 ever since.
Looking back, my learning goals for the exchange program included:
The current strength of the relationship between the U.S., Germany and European Union, and how revelations of NSA spying may have tested that alliance;
Germany's unique challenges balancing its obligations as the E.U.'s political and economic backbone, while battling criticism that its significant trade surpluses are to the detriment of its neighbors;
Obstacles to deeper economic integration of Eurozone nations;
How policymakers hope to address mass unemployment, especially among Europe's young population;
And finally, differences in news education, coverage and media business between the U.S. and Germany.
I can now confidently say I have an answer to each of those questions, some more positively than others, but each response I now understand is a result of Germany's unique challenge treading the delicate balance between leadership and excessive power.
Since my return, I've been able to count NATO, the European Central Bank and the Russia-Ukraine conflict among my new areas of understanding and familiarity. But above all else, I think the biggest takeaway in my experience with RIAS has been putting faces to the German names. Too often, we journalists tend to oversimplify and overgeneralize when telling a story, lumping a big group of people under one big umbrella word. That was my relationship with the seemingly all-encompassing word "Germany" before the fellowship. Since then, I now see all is not agreed to, and am grateful for the different political and cultural perspectives we were afforded throughout our stay. A multi-party system sure makes for a more interesting, dynamic government.
---
RIAS Germany Program – Fall
October 6–18, 2014
Twelve U.S. journalists participate in the 2-week Germany program. With Berlin as starting point they also visit Leipzig,Cologne, and Brussels. Four will use an extension of up to one week for research and reporting activities.
See a photo report on facebook by Sharon Raifer, WNBC-TV, New York, NY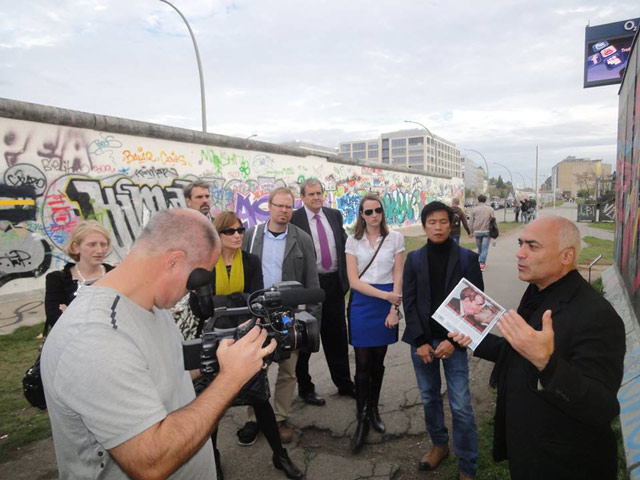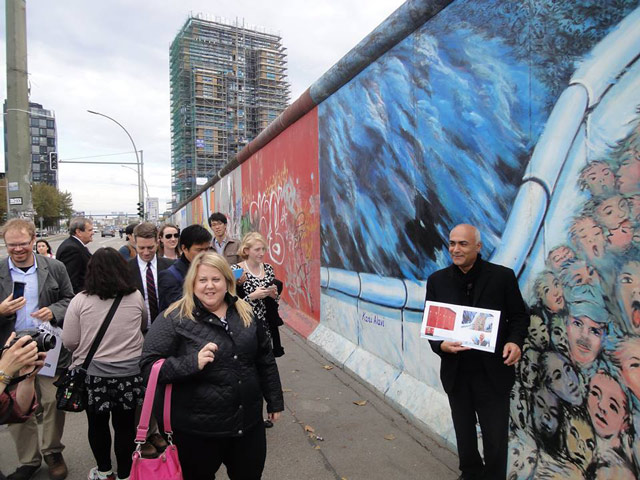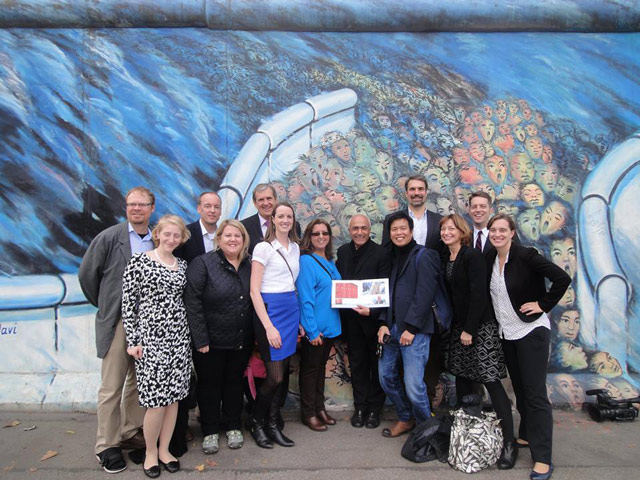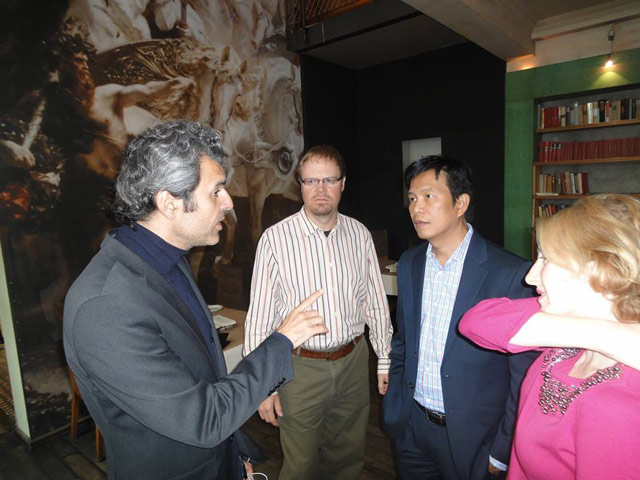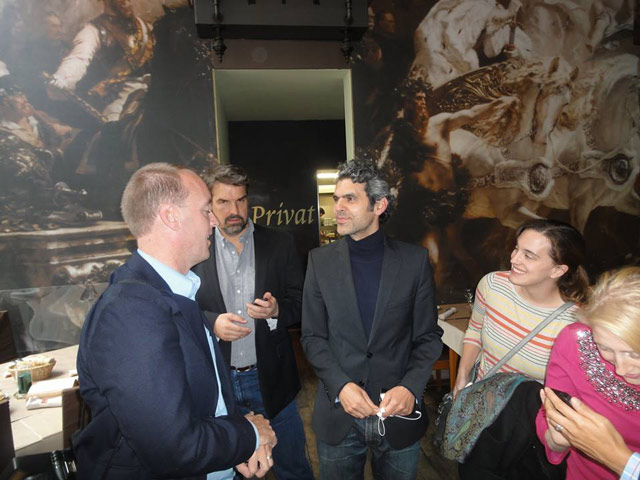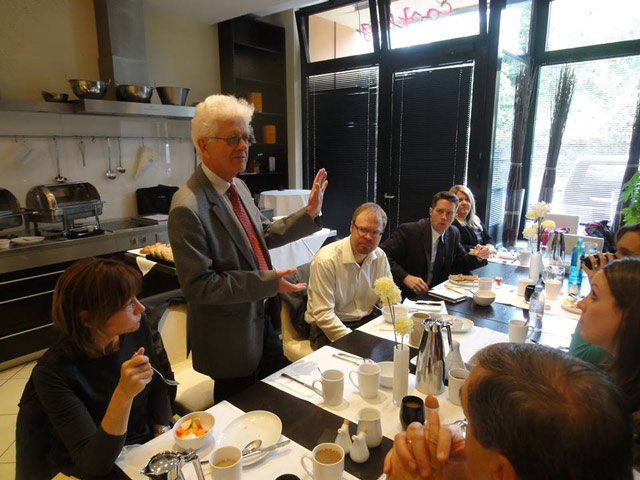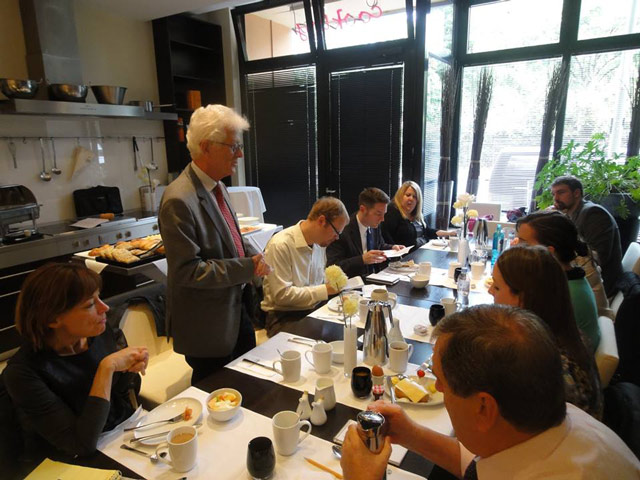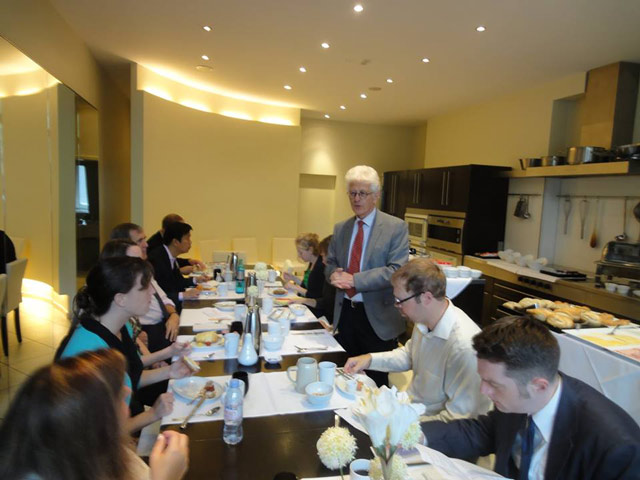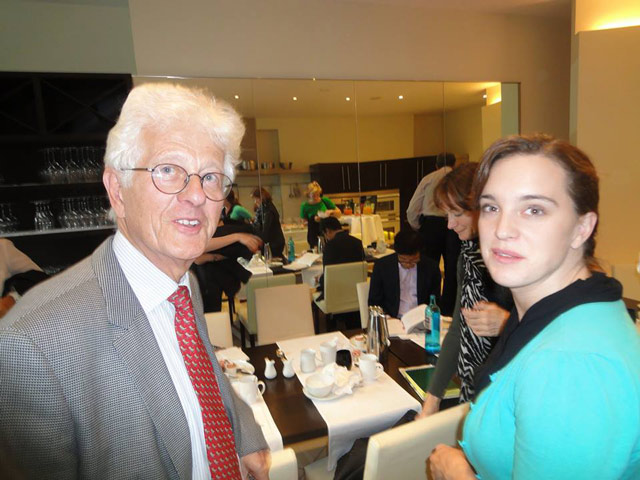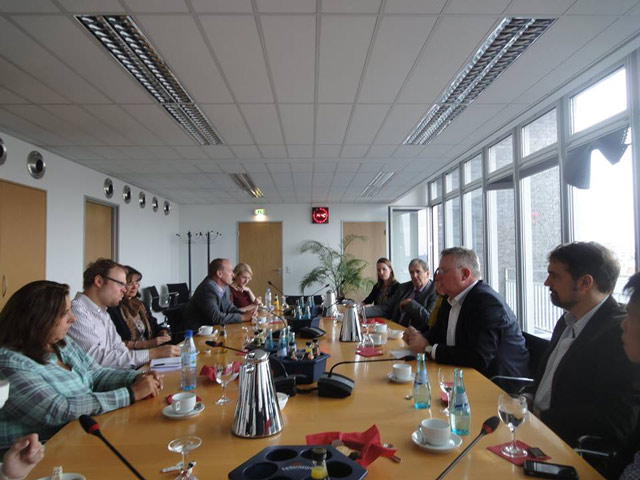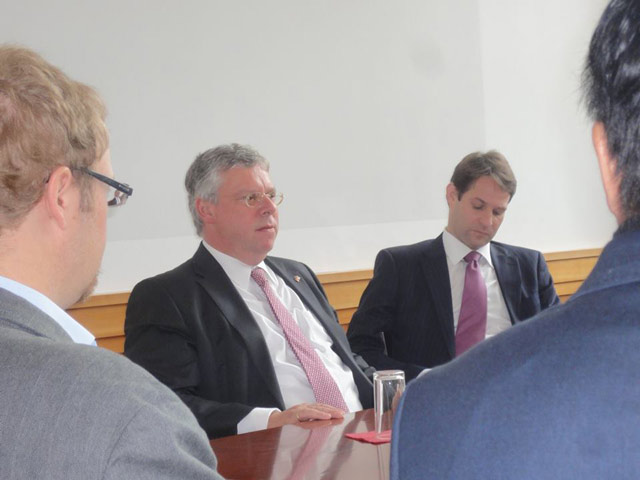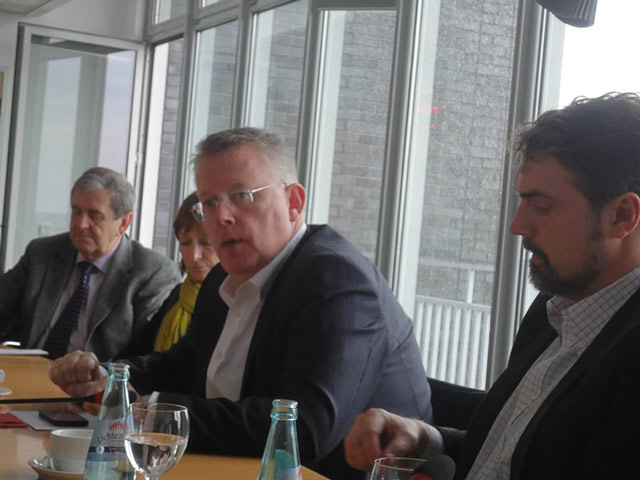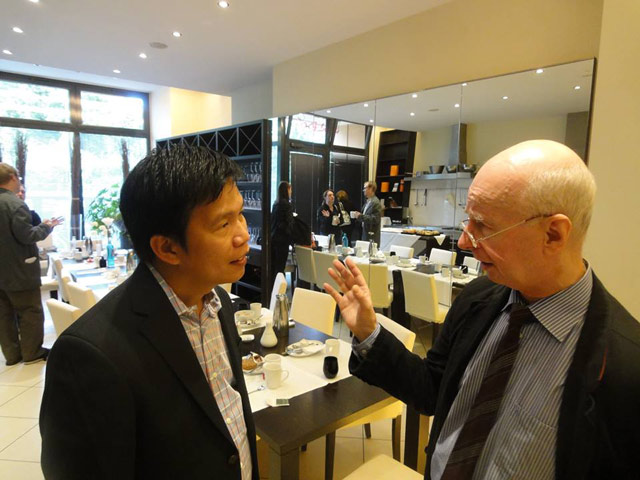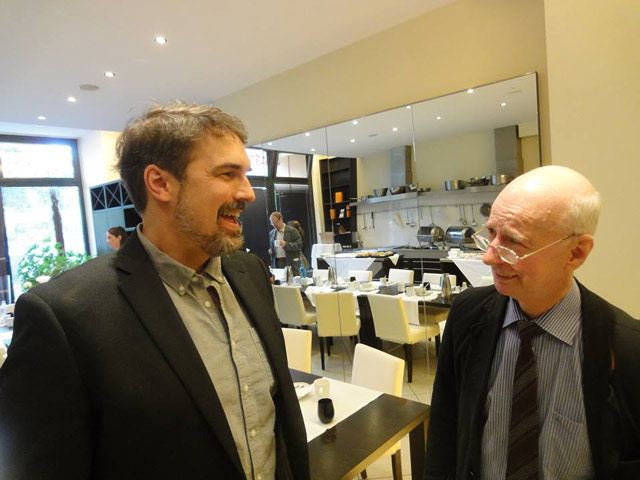 REPORTS OF PARTICIPANTS
Anthony Advincula, New America Media, New York, NY
Oranienberg is the last stop.
That was echoing in my head as I sat by the window of S1-Bahn train, watching suburban houses and buildings awash with stark graffiti. Three days after our RIAS fellowship ended in Belgium, I found myself heading for the Sachsenhausen Concentration Camp, an hour north of Berlin. It was overcast late Tuesday afternoon.
Squinting at the small map above my head, I had about 10 more stops before the end of the line. German transit is on the honor system, but the trip was long enough that a random ticket inspection might occur at some point.
This could be a test, I thought, of whether the system actually works. I was up for the challenge because I knew I had a validated ticket in my pocket. But the train passed all the stops and finally reached Oranienberg, and I felt oddly disappointed that no inspection had happened along the way.
My RIAS fellowship has made me learn the ropes of a country I barely knew before I embarked on a two-week journey with 11 other U.S. journalists. Many times during the trip, I was fascinated and puzzled at how an honor system works in a highly developed country, a home to more than 80 million people. I could not help but wonder whether it is something that the U.S. transit system could adapt for major American cities. Truth be told, I wish I would not have to swipe my Metrocard and dash through a turnstile every time I catch a train at home in New York City.
On the first day of the program, I was astonished at the developments in Berlin. Gone were the war-ravaged buildings and desolate spaces that I had imagined still existed. The wide boulevards on the former East-West corner of Potsdamer Platz, with rows of establishments looming on both sides, are now teeming with activity. There are modern shopping malls everywhere, and almost everyone speaks fluent English and seems welcoming to foreigners, from the young ones walking in groups on the streets to the bus driver who took me to Berlin Hauptbahnhof.
In Heilig-Geist-Kirche, a Catholic church located about six stops from downtown Berlin via U2-Bahn, I met with second-generation, German-born men and women of Chinese, Filipino and Thai descent who proudly identified themselves as Germans. But, allow me to generalize, why don't I hear about any of this cultural and infrastructural transformation in the media? Why, despite all that Germany has undergone, do we seem to focus on the nation's grim historical past and our negative impressions?
The beer-drinking behavior; uptight attitudes; all cars are Mercedes Benz, BMW and Volkswagen; the harsh tone of the German language — these are some flawed impressions that once stuck in my head. It occurred to me that I had a very limited view of Germany, obscured by stereotypes, personal biases, and ignorance. The fellowship corrected this.
In the days after I came back to the United States, I dwelled on the vivid images of the people we met as memories of the trip ebbed and flowed in my mind. I told my family and friends that I can always go back to Germany and Belgium in the future, but I will never have the same opportunity to meet these people again — this was something that I would only experience once in my lifetime.
The RIAS fellowship was a full-fledged immersion in the current issues and developments in Germany. There is no better source of information, though everything was off-the-record during our meetings, than the high-ranking government officials with whom we talked and shook hands, including the ones from the European Union Commission and NATO. And I could not be more honored to have met journalists working for the biggest news networks in Berlin, Leipzig and Cologne, who provided us with a much more enlightened view of the German media landscape.
As a transplanted immigrant from the Philippines, I knew that it might not be easy to adapt when you look and speak differently from most people around you. So, I was truly inspired to meet German painter Kani Alavi of the East Side Gallery, a 1.3-kilometer section of the Berlin Wall covered with murals — the largest open-air gallery in the world. Alavi, who emigrated from Iran, saw the fall of the Berlin Wall in 1989 from his former apartment, and since then has devoted his life to the preservation of what remains. Spending an hour with him at his apartment and art studio was an utmost pleasure; I easily fell in love with German arts and culture, so rich and vibrant.
I will be forever grateful to our RIAS hosts — Rainer Hasters, Isabell Hoffman, Lisa Ziss — and Jon Ebinger at RTDNA for taking care of everything for us, from our train tickets, lunches and dinners to bus and taxi fares. They treated us with exceptional kindness, consideration, generosity and respect, and I almost felt like a spoiled child when I was on my own during my extended trip. The day I crossed the German border into Szczecin, a port city on the western edge of Poland, I scrambled because I didn't have my RIAS support with me. My solo experience was completely different without them, so I only stayed for an hour at the Szczecin station and, literally, I turned around.
For 14 years that I have worked in journalism, I can say that the RIAS fellowship is the most memorable journalism program I have participated in. It was an opportunity to forget productivity for a bit, and to be away from the daily routine in the newsroom, and to still spend time with fellow journalists who were eager to learn from one another and explore new things in places that most of us had never been before.
Participating in the RIAS fellowship was like reading a book, only that I was included in the story. I arrived in Germany not knowing any of the other characters and feeling uneasy about what awaited me, and how everything would unfold in the next two weeks. And when it finally did unfold, that book was hard to put down.
I now have indelible memories and new lifelong friendships. I am not embarrassed to admit that I drank my first beer in 15 years, and it tasted like cough syrup; put duck liver pâté, salami and currywurst cutlets all together in my sandwich, grossing out a RIAS host; had a "blind date" with a local television reporter, arranged by RIAS to help fellows get a better understanding of German media, and he took me to dinner in a majestic castle; laughed more than I can ever recall; and took at least 3,000 photographs, more than in all my past travels abroad combined.
I am very proud that, in the more than 20 years that the RIAS German/American exchange program has been around, I am officially part of it. I'm not sure how many other similar programs will be around in the years to come, but no one can take this privilege away from me.
After I returned from my Sachsenhausen trip that Tuesday afternoon, I pondered how difficult it must have been for this great country to free itself, tacitly promising that what occurred in World War II will never happen again. While I was packing my suitcase, pregnant with Belgian chocolates and German souvenirs, I found that my train ticket had already expired when I was on the train to Oranienberg.
I was nine years old when I first heard Nena's famous song, "99 Red Balloons," on the radio. Some lyrics are in German, and I could not understand them. But I remember it became one of my favorite songs. Later on, I saw Nena on television, saying that she and her guitarist friend wrote the song after Mick Jagger released thousands of balloons at the end of a Rolling Stones concert in Berlin. A strong wind blew them over the Berlin Wall.
Recently, I downloaded "99 Luftballons," the original German version of the song, to my iPhone and quickly realized that my RIAS fellowship has given the song a more significant meaning each time I listen to it. The image of balloons may fade in my mind someday, but the memories of the trip will always be there.
——————
Kevin Beesley, National Public Radio, Washington, D.C.
This was a wonderful program, well thought out, impeccably planned, but adaptable and flexible enough to allow for changes of schedule, individual requests… and the occasional rail strike.
I can't think of a much better way for American journalists to discover Germany, learn about its great culture, the triumphs and tragedies of its history and the wonderful paradoxes of its politics. It gives you invaluable access to politicians and opinion formers, and offers a great chance to meet German colleagues, to see how they deal with many of the same issues and challenges that we face in the U.S.… and explore the different ways that journalists in Germany respond to them.
We met veteran journalists who lived through it all — the end of WWII, the Cold War, the Fall of the Wall and the Reunification of Germany… and we met younger colleagues who are trying to report on where Germany is going, and how it can balance its strength and influence without repeating the tragic mistakes of its history.
The politicians, experts and officials that we met gave us further insight into Germany's complex but cohesive political system, created after the war to create a parliamentary democracy out of the ashes of the Nazi state.
And then there are the cities…Berlin, a wild and wonderful place full of young people from around the world, the very essence of a modern European capital … but walk around a corner, and history hits you in the face like walking into a glass door. Like our lovely hotel, all modern and shiny with friendly and efficient staff, and a nice room with a view over an open space — the site of the former headquarters of the Gestapo. Leipzig, where the horrors of Nazism and the destruction of allied bombing were replaced by the suffocation of Soviet occupation and state socialism… finally blossoming today into a modernizing city proud of being the home of East Germany's peaceful revolution. And Cologne, the city reduced to rubble by allied bombing that became a symbol of West Germany's post-war economic wonder… and its unhealthy obsession with post-war "modern" architecture.
I was lucky enough to be awarded an extension to the program to pursue a particular professional interest… Germany's foreign policy, its relations with the United States and Russia, and its collective discomfort at finding itself once again the dominant economic and political power in Europe. Thanks to the RIAS program, I was able to see even more of the country and meet influential journalists, politicians and opinion formers, gaining a much clearer understanding of where Germany is, and where it might be going.
My take away from both parts of the trip? Germany seems to be performing a constant high wire act, always trying to balance its history with its future, the individual rights of its people with a collective need for social stability, its dreadful past with the security demands of a major power. All countries do this of course, but in Germany it is done very much in public, and with the constant sense that the world is watching. I was left with the impression that this high stress process has rather impressive results — a prosperous society where most things work and most people seem to be both relatively content with their own lives and willing to help others.
We were well looked after from the moment we arrived in Germany. I must thank the excellent RIAS team of Rainer Hasters, Isabell Hoffman and Lisa Ziss who are in turn immensely knowledgeable, efficient and very funny…we could not have been in better hands.
A final thought: There's only a certain amount of time available in a program like this, of course, and only so much Rainer and his colleagues can show. It is best to think of this program as a sampler — an invitation to return in the future, to spend more time exploring Germany and meeting the Germans.
——————
Catherine Berger, ZDF, Washington, D.C.
There was no question that I would be spending the next two weeks with a bunch of journalists when I was staked out at JFK Airport by the intrepid Kate Zickel and Miranda Dotson. Like all good producers, they planned ahead and printed out photos of the fellows who would be on the transatlantic flight so we could meet ahead of our departure. Thus introduced, we began our adventure in Berlin.
And what a time to be there, as citizens and visitors alike celebrated 25 years since the fall of the Berlin Wall and the subsequent reunification of East and West Germany. (It was also an interesting time to be a RIAS fellow, as RIAS — or Radio in the American Sector — had for years supported the goal of German reunification. When the Wall came down, RIAS reported live from the scene, then had to reinvent itself and change its mission.)
Our tour of the Berlin Wall memorial was all the more memorable in the context of the anniversary. The stretch of the old "Mauer" on Bernauer Strasse was a grim reminder of the dangers people faced in trying to escape to freedom and the lengths they would go in their attempts, like the man who tried to air balloon his way out.
Another highlight was a visit to the East Side Gallery of Berlin, an open-air gallery that's actually another long section of the Wall, the east side of which has been divided into more than 100 paintings by different artists. We met artist Kani Alavi, who witnessed East Berliners pouring into West Berlin the night the wall came down in 1989 and captured that scene in his own panel. The afternoon spent in his art-filled studio was one I will long remember (aided by the tiny painting I purchased from him).
Reminders of Germany's dark history were everywhere in Berlin. Just a short walk from our hotel, I stumbled upon a tribute to the Warsaw Uprising in an outdoor installation on the site of the former state secret police headquarters, complete with its own house prison. Strolling through the Oranienburg neighborhood, we saw numerous Stolpersteine, small markers that commemorate individual Jewish victims of the Nazis. And there were no euphemisms for what had happened: the Berlin Holocaust memorial refers to the "murdered Jews of Europe."
But Berliners don't live in the past. The future is also on display in the modern architecture, the hip art scene and the energy of the young students from all over Europe — and beyond — who have flocked to Germany's capital in recent years. 150,000 students live in Berlin and 50,000 people come to the city to live each year, drawn by cheap rent, a cool vibe and a burgeoning startup culture.
Despite this, Berlin has had some tough economic times. I hadn't realized before that it is actually a city-state , which meant it faced a unique challenge as the only one of Germany's 16 states that had to unite; all the others were either East or West. Unifying the divided city — with two of everything — initially proved difficult. Many people lost jobs in the 1990s and luring back the large companies that had decamped to Bavaria and other states after WWII has proved difficult. While it's grown into a popular tourist destination, the city's biggest problem is economic stability. As a former mayor said, Berlin is poor, but it's sexy.
I loved the visit to the Reichstag, with its transparent dome and graffiti left by Russian soldiers preserved on the interior walls. I may never understand exactly how the Bundestag works or the members elected, but I appreciate the relative harmony of the political culture there. I was amazed to learn that this wasn't always the case. One speaker noted that there had been Nazis in the chamber several decades ago and that German politics was considered very ideological in comparison to the U.S., where compromise was more likely. That's certainly not the case now.
From Berlin, we travelled to Leipzig, site of peaceful Monday demonstrations that started in September 1989 and sparked protests in other cities that ultimately led to the fall of the Wall.
While some of the exhibits at the Stasi HQ museum were unintentionally funny (like the disguise kit used by undercover spies), others were a chilling reminder of the fear and paranoia the Stasi instilled among citizens as it relied on a huge network of spies and informers. After the opening of the East German Stasi files in 1991, many people were shocked to discover they'd been betrayed by friends, family and even spouses.
The trip to Stasi HQ brought home for me the real anger that Germans feel after the NSA eavesdropping scandal. It's one thing to know intellectually about the history, it's another to see it and hear it. Speaker after speaker brought the issue up and while most seemed to think it would blow over, there's no doubt that the scandal has increased anti-American sentiment among Germans and damaged U.S. credibility in a key ally.
From Leipzig, we visited the Rhine city of Cologne which is dominated by the enormous cathedral, the Kolner Dome. Though our visit was cut short by a train workers' strike, we spent an afternoon at the private television channel RTL. German news for years was dominated by the public television stations ARD and ZDF and there was no private TV until 1984. Now, like the U.S., the German TV market has become increasingly fragmented. And, also like the U.S., the audience for news skews older and networks are struggling to reach young people.
In Brussels, we spent mornings at the European Commission and NATO, where we got a sense of Germany's place in these organizations. I enjoyed the overview of the EC and the behind the scenes jockeying among European member states which has resulted in three Presidents who hail from Luxembourg, a result of distrust of larger states, i.e. Germany and France. And our background briefings at NATO were particularly enlightening given recent events in Ukraine and questions over the German military's air capacity.
Other observations — my German colleagues in the U.S. always mention the higher standards that Germans have for nearly everything (it's one of the most bureaucratic governments in all of Europe). But having been there, I have to agree with them because I was impressed by so many things, from the windows that open out or down to the fresh food available nearly everywhere. Even in the train station, the sandwiches are a feast for the eyes and rival ones sold at high-end sandwich shops in the States.
Since coming back, I've longed for a glorious German breakfast (fruehstueck), a smorgesboard of cheese and meats and fish and fruit and yogurt and bread. No one does breakfast as well as the Germans.
And the amazing doner, a Turkish dish similar to a Gyro that features meat or vegetables piled into freshly baked bread and topped with lemon and yummy sauces. After waiting an hour for "the best" doner in all of Berlin, Mustafa's ran out of meat and told us it would be a another half hour before it was cooked. Unable to wait another minute, we ordered the gemuse (vegetable) doner and it was one of the best meals I had the entire trip — for less than three Euros!
My memories aren't limited to the food. As I looked over my notes, it was hard to believe how much material we covered over the course of the two weeks. Some that jumped out at me are issues also faced by the U.S.: the problems with an aging population; as a magnet for migrants all over Europe, there is a need for — and resistence to — immigration; the crisis in German newspapers and print media; issues in the labor market and questions about whether Germans, with their bent to equality, will tolerate low-skilled, low-pay jobs that leave workers in a precarious position; the increasing reliance on freelance workers in some sectors, like journalism. We also heard quite a bit about the ongoing debate over Germany's role in the world and how much responsibility it should be taking on, especially in dealing with Russia.
In short, I applied to be a RIAS fellow just after starting a full-time job as a producer for one of Germany's two public television channels, ironic for an American who doesn't speak the language and had never even been to Germany. Being accepted to the program truly was a once in a lifetime opportunity and, from beginning to end, it did not disappoint.
——————
Miranda Dotson, WRAL-TV, Raleigh, NC
When I signed up for the RIAS program, I had no idea what I was getting into. I found information through RTDNF only by chance, and I was intrigued by the opportunity to travel to Germany. Previous trips had only heightened my affinity for the country. I knew there would be 11 other journalist colleagues, with impressive career histories.
What I did not expect was the efficiency and preparedness of both RTDNF and RIAS. Every detail was planned out, and hours had clearly been spent painstakingly finalizing the program. Listed on the itinerary were meetings with both American and German experts with whom I will never again have the opportunity to converse: a director with the German security academy, the U.S. Ambassador, radio and television CEOs and anchors, to name only a few. Our meetings were insightful and thought provoking, with a deep insight into the turbulent relationship with the U.S. and Germany.
I also did not expect the seemingly great reluctance of Berliners to put the past in its place and fully embrace the city as a single entity. My fellowship was just before the 25th anniversary of the fall of the Berlin Wall, so people were particularly reflective about the events of the last few decades. My German host, a former RIAS participant, admitted it took international traveling for him to realize the rest of the world did not stigmatize Berlin, or indeed Germany, because of its rocky past. It pained me to see such a strong country and people a bit ashamed to be openly proud of their heritage, their place today as a world leader, even their flag. Thousands of people from all over the world are flocking to Berlin to become part of its vibrancy, and for all the opportunities the city offers. Berliners need to seize this chance to prove — to themselves — what an amazing place they come from.
The RIAS program did a wonderful job of mixing in meetings with visits to important and historical sites throughout the trip. The trip to the German parliament building, the Reichstag, was an incredible experience. Architecturally, it was so interesting to see the older outer shell juxtaposed with a modern interior. The woman who lead us through the building explained in so much detail both the building and the history and function of parliament. I was able to learn a great deal about the inner workings of the government system in Germany, and compare those differences to the U.S. congress.
One of the biggest variances is a multi-party system. This system helps shape the attitudes and functions of much of the country, and it helps many voices have a say in the government. I also think it allows the people to place more trust in their elected officials and have a less invested role in the decisions. I see a big difference in U.S. politics, which is by nature polarized and more controversial. The typical German, in my opinion, votes to elect their party, and then puts faith in the party to select the right lawmakers and leaders to represent their interests.
The trip to Potsdam was a big eye-opener for me. I had no idea the deep history in the town. Our first stop, to the Wannsee Villa, was very much a connector to the callousness of Hitler, Himmler, and their men. The exhibits about the "final solution to the Jewish Question," as well as firsthand accounts from Jewish families, clarified the chilling straightforwardness with which the Nazis planned to rid the world of all Jews and "lesser" human beings. One of the exhibits that hit home the most for me was a piece of propaganda that just happened to catch my eye. It showed what was considered an acceptable family (I believe German or possibly Polish). Although the sketches were black and white, it was very clear the family was white, fair skinned, with blonde wavy hair and light eyes. Below this depiction was a drawing of a Jewish family. Every single person drawn in this family was rough-looking, disfigured and misshapen. This, I think, explained quite succinctly the mentality of the Nazi party and purpose. They considered Jews, and other unacceptable peoples, as subhuman and with undeniable hereditary problems.
The Cecilienhof Palace next was as if taking a step forward through European history — from the Wannsee Conference to the Potsdam Conference, where leaders from the U.S., U.K., and Soviet Union gathered to lay out the future of Europe post World War II. Walking on the same floor, past the same books and desks and conference tables where Churchill, Truman, and Stalin debated was surreal. Each country had their own section of the palace and their own entrance into the buildings, because of the high tensions between everyone at the time. Leipzig was another city with incredible history I was not aware of. The Monday Demonstrations, which began with just a few people and swelled to hundreds of thousands, actually helped bring down the Berlin Wall. The opportunity to retrace these steps of thousands of peaceful protestors was an experience I will not soon forget.
Our visit to Cologne was cut short because of a train strike, which actually afforded the group an experience we would not have had otherwise. Our planned afternoon meeting with two reporters from state-owned TV station ARD was cancelled. Instead, the reporters met us the night before for dinner. A more casual environment really allowed everyone to ask quite varied questions about their positions, and the opportunities they had moving around the country working in various cities and bureaus for ARD. At the end of the night, the reporters took the group on a private evening tour of the Cologne station, and we were even given the opportunity to go on the rooftop to see the Cologne cathedral, a breathtaking sight. It became a landmark for pilots during World War II and because it was so easy to spot, managed to avoid any major damage from bombing. Much of the rest of Cologne was destroyed.
Before this fellowship with RIAS, I thought I knew a decent amount about the history of Germany and the culture of Germans. I learned so much more about both, and came back to the U.S. with a fresh take on life for people in Germany, particularly in these cities with such controversial histories. I was able to see inside the workings of the media there, which is almost polar opposite to journalism in the U.S. Here, most radio and TV stations are private, and the public stations are not as popular or mainstream. In Germany, public stations are funneled billions of dollars a year from the government and are extremely popular. I also learned a great deal from the other American fellows along on the program with me. Our careers and the paths to where we are today have all been so varied, each fellow had stories and insights from which to learn. The RIAS fellowship was an amazing experience both personally and professionally; I have now made it a point to spread the word about the program to other journalists in hope they too will have such a deep and valuable experience.
——————
Jennifer Feldman, CNN, Atlanta, GA
It's November 9th, 2014. As I sit in the quiet CNN newsroom filling in on the overnight shift, our coverage begins. The fall of the Berlin Wall happened 25 years ago today, and we spent much of the day commemorating the historic event. Like every other news story I have covered over the past 17 years, I did it from the comfort of the newsroom, typing away at a computer, watching history unfold before my eyes on a TV screen. But this anniversary was different.
I stood, just a few weeks ago, at the very site where our correspondent was standing. I witnessed firsthand the city that was once divided, walking along the path of cobblestones that signify where the Berlin Wall had divided a country in two. I was alongside Tom Brokaw and his NBC News crew filming in the exact spot he stood 25 years ago outside the iconic Brandenburg Gate. It feels like it was just yesterday I was walking down those crowded streets, lined with tourists, snapping pictures, retracing history, in what is now modern day Berlin.
It's hard for me to sum up my experience as a RIAS fellow in just two pages. Those two weeks changed me both personally and professionally. I was given the opportunity to step outside of my comfort zone and hit the streets of Germany to experience the history in a way that was very new to me — in person.
The program was perfectly coordinated from start to finish. I bonded with a group of strangers — all journalists. Many of them I "met" before we even made the trip overseas. From asking each other on Facebook what to pack or if anyone was actually going to "pack light" to figuring out how we would find each other in the crazy Berlin Tegel Airport. The program was coordinated and executed flawlessly. In just two weeks, we explored Berlin, Potsdam, Leipzig, Cologne and Brussels.
Among other things, we took a guided tour along the Berlin Wall and sat in the very seats where members of Parliament sit in the Reichstag. Along with stops to the U.S. Embassy and Stasi Museum, we were given access to cells where prisoners were held, it felt like we saw it all. Thanks to careful planning, we were given unprecedented access to prominent politicians, media professionals and business leaders who provided us a firsthand perspective on how the decisions made in the United States impacted Germany and the rest of the world. From ISIS to the events in the Ukraine, as journalists, we all learned what an important role each of us in the media plays.
One of my highlights was the trip to Cologne and visiting the historic cathedral. We learned that the beautiful structure took more than 600 years to build. While inside, some prayed and some took photos — it was very peaceful.
The first week flew by, and I still found myself thinking back to the day we arrived. Tired and jet-lagged, we took off on foot to explore Berlin. We stumbled upon the holocaust memorial, officially called by the jarring name of the Memorial to the Murdered Jews of Europe, and it literally took my breath away. I was born and raised Jewish, and observing the sea of concrete markers, which to me represented a mass grave for all the murdered Jews, really hit close to home. I snapped some photos, while watching children running around smiling through what they thought was a maze. It was a very chilling reminder of all the lives lost.
I was looking forward to our visit to the House of the Wannsee Conference. We took a bus ride down the winding roads in the pouring rain before seeing a large white building settled amongst beautiful greenery. I had read what went on behind those closed doors, yet it seemed like such a peaceful place. Once inside, the photos and exhibits gave us a real account of the meetings that went on and how the final solution came about. The documents, on display, were written out before my very eyes and signed by Hitler.
I took a photo that I go back and read often. It said, "On January 20th, 1942, Richard Heidrich, second in command of the SS, convened to the Wannsee Conference in Berlin, with 15 top Nazi bureaucrats to coordinate the final solution in which the Nazis would attempt to exterminate the entire Jewish population of Europe, an estimated 11 million persons." At the end of the letter was written "Heil Hitler."
One of the visits that stood out to me most was our time at RTL Television and our talks with anchor Peter Kloeppel. His knowledge and candid discussion about the German media were eye-opening. He mentioned a story that hit very close to home: the fatal shooting of teenager Michael Brown in Ferguson, Mo. I was born and raised in St. Louis, just a few miles from Ferguson. Watching the local story unfold at CNN was surreal. Kloeppel mentioned that the Brown story was one of their big stories, and they sent a reporter and crew to Missouri to cover the case. When I asked why a story like that was important for German viewers, he summed it up perfectly: It doesn't matter if they are across the world; everyone can relate to a story like that.
One of my favorite stops along the trip was our "blind date." I took a taxi across town to a small gymnasium off the beaten path. Inside I was introduced to the sport "German wheel." My date, who was a photographer at Deutsche Welle, was training for her upcoming weekend competition. She told me the sport didn't take off in the United States, because it still carried the Nazi Germany stigma. Watching them train was fascinating. It took coordination, strength and determination. After her training, we walked to a great Italian restaurant close to the gym. We sipped wine and talked about work and our travels. I found myself bonding with a complete stranger like we had known each other for years. She talked about her RIAS experience and why it was so important for her to host journalists when they visit. I am already looking forward to hosting a future journalist on a "blind date."
I would be lying if I didn't say that we ate and drank our way through our journey. From the famous currywurst washed down by an Alster mit Sprite (Who knew mixing sprite with your beer was a good thing?) to waiting in line 90 minutes for the "world's best doner" at Mustafa's Germuse Kebab all the way to the famous Kinder Eggs, which I now know are banned in the United States because they pose a choking hazard (I still managed to bring some home as gifts).
I find myself looking back at all of the photos I took to document my fellowship, including those taken in the famous room where the Potsdam Conference was held, standing in the very room where Truman, Churchill and Stalin met. It's all still surreal.
The RIAS fellowship changed my life. I left Germany with lifelong friends and endless knowledge. I will always remember my RIAS fellowship as one of the greatest experiences. I cannot begin to express my gratitude to Rainer, Lisa, Isabell and Jon. I certainly left a piece of my heart in Germany.
——————
Shawn Flynn, Time Warner Cable News, Charlotte, NC
"Ich bin ein Mecklenburger."
In June 1963, President John F. Kennedy said "Ich bin ein Berliner," which sparked an uproar from the tens of thousands watching in person and the millions watching on tv around the world. Three decades later, Mecklenburg County Commission Chairman Parks Helms received a similar reaction when he told the crowd in Mecklenburg, Germany, "Ich bin ein Mecklenburger."
As part of the RIAS trip, I was able to travel to the small town of Mirow in Mecklenburg, Germany. It took three trains, including one that was more of a bus than a train, and several hours. I was greeted there by a small village time forgot. The grey stucco buildings reminded visitors of an era quickly to be forgotten in former East Germany. At the end of the village, a small island with a castle where Princess Sophia Charlotte once lived. Somehow, this German princess was selected from this tiny village to marry the eventual King of England, George III. She became world-renowned. 250 years later, one of the biggest cities in the United States bears her name, Charlotte in the county of Mecklenburg.
This story does not end in the 18th century. Following the end of the cold war, Queen Charlotte's house was more of a shack than a castle. Holes littered the roof and foundation, windows were broken and weeds grew in the walls and floors. At this point, the newly reunified Germany was making decisions on which castles to keep and repair, and which ones to sell. This is where the power of the media helped to save Queen Charlotte's home.
In 1993, an idealistic group from Mecklenburg, Germany traveled to Charlotte, North Carolina to ask for money to rehabilitate and save the castle. After much debate and negotiation, Mecklenburg County government officials donated $15,000 to help improve the relationship with Germany and save the castle. This is also when the Mecklenburgs signed a partnership to work together. This came at a time where there were hungry people in the streets of Charlotte, but leaders felt the need to support history. The amount of money was comparatively small, but its message was loud and clear. Many news reports and articles were written about this newly formed partnership and desire to save the castle. Germany decided to save the historic castle.
A decade and $15 million later, the state of Mecklenburg celebrated the official opening of Queen Charlotte's castle in Mirow in June of this year. Since then, more than 20,000 visitors made the voyage to the small lake-side town to embrace this unlikely historical figure. This castle is now a source of pride for the villagers in Mirow, Germany and here in Charlotte, North Carolina.
The word "pride" is an interesting one in Germany. In the many people I met, from governmental leaders to taxi drivers, there seemed a humble pride in their spirits. The country is still reveling in its victory in the 2014 World Cup. Attending a Bundesliga (soccer league) game in Frankfurt, your soul is moved by the chanting, singing, and revelry. The passion is unrivaled by any sport in the United States, including football.
Despite this pride, there still appears a sense of shame for some of the historical atrocities of the 20th century. You could sense an eagerness to remember this history, but also move past it. From a trip to Potsdam, an eye-opening historical lesson at the Topography of Terror exhibit, or a walk through the holocaust memorial, you could sense the importance of remembering this history.
The most moving memorial to me, however, was nothing the government was doing, but an art movement. There are now more than 40,000 Stolpersteines, or "stumbling stones" that line the streets and sidewalks of Germany. Each one represents a victim of National Socialism who lived at the address where the stone is placed. When you see all of these stones, each representing a person, you truly understand the impact of this tragic part of history.
Even with this history, the German people seem happy to be in their place. Working extremely hard, but not trying to lead or take credit. Everyone talks job security in Germany where it's extremely difficult to get fired, yet they work even harder and longer than the people of other European nations. They know the importance of globalism, even when they're the ones who end up paying the price. They're being called visionaries for their work in renewable energy, despite the political and economic ramifications currently being felt. Germans are world leaders, even if they don't want to be.
The German connection is strong back here to North Carolina. There are more German-owned companies here than any other foreign country. Hundreds of German companies locate in the Charlotte region to find low-costs, but a hard-working labor force. The influence here is strong both in culture, and name. We are connected economically, and in our history, with a little-known 16 year old German princess who somehow became Queen.
Charlotte can provide an example to us all. Her family's history was not glorious, and in fact, was not very royal at all. Her parents weren't even alive when she made the three week long journey across Europe to become Queen of the British empire. But, here we are two and a half centuries later, with one of the fastest growing cities in the world bearing her name, working with her home country to save the castle she called home. It's a partnership than extends well beyond politics.
The 2014 RIAS fellowship is a historical and life lesson I never expected to experience, but will remember for the rest of my time.
——————
Matt Hilburn,Voice of America, Washington, D.C.
I think the most interesting aspect of the fellowship was the high levels of consensus Germans seem to have about some of the big issues such as social welfare benefits, health care, clean energy and high quality journalism, infrastructure, among others.
The best and most obvious example is that Germany's equivalents of American Democrats and Republicans govern TOGETHER.
This is something that is very hard to imagine in the U.S. where our political parties are increasingly entrenched in ideology.
Sure, the two parties differ on some things, such as minimum wages and taxes, but these fights are not nearly as bitter as they are in the U.S. There seems to be the notion among many politicians that even they disagree with a policy from the other side of the aisle, they still assume more or less good intentions are had. This is seldom the case in the U.S.
It's ironic that Germany's politics appear to be more functional than its American counterpart because it was the U.S. that set the German system up after World War II that made it nearly impossible to NOT have a coalition government of some kind.
"We are the students very eager to learn the American re-education program," said Jürgen Falter, a professor at the University of Mainz and an expert both on the Nazi past and Germany's complex electoral system, told the New York Times. "And we have really fully internalized it — we go for pacifism, not belligerence, consensus rather than conflict."
Another huge difference to me was the German commitment to a strong middle class. U.S. politicians talk about it, but it seems little more than lip service.
The German middle class represents over 60 percent of the population, and even though that percentage has been declining of late, the US middle class is about 20 percentage points lower.
There also seems to be a willingness to invest in the middle class through robust apprenticeship programs, making college tuition free and investing in infrastructure.
While there does seem to be consensus about many domestic issues, there are many questions Germany will be forced to answer in coming months and years, namely the Euro-crisis and Russia's aggression in Ukraine and in the Baltic region. Germany will likely be forced to take a leadership role on many issues, something the country seems reluctant to do.
Consensus was even apparent in our meeting with Peter Kloeppel of RTL. You'd think he'd be seething at the money lavished on both Germany's public media outlets, but he seemed to acknowledge their role and importance. This is also unimaginable in the U.S.
——————
Michael Pope, WAMU 88.5 News, Washington, D.C.
Ghosts in the Tram Lines
Haunting my way though Europe as a RIAS Fellow.
"We're off the record, right?"
The deputy ambassador glanced nervously across the room of journalists for visual assurance. Several heads nodded in approval. Then he explained part of the behind-the-scenes negotiating that happens between the American embassy and the German embassy after Russia invaded the Crimea. It was an inside look at how the system of requests and counter-requests happen behind the curtain of diplomacy, a negotiation that often involved asking for more than needed and receiving less than desired.
It was an amazing and unforgettable moment, a time when years of reading about foreign policy in newspapers finally crystalized into something that actually happens between real people. It was undoubtedly the highlight of my time traveling through Europe as a fellow in the RIAS Commission, a program that funds a handful of journalists from America and Germany to travel abroad and learn about government and politics.
I glanced around the room there at the American embassy. It had a sweeping view of the Brandenburg Gate, and we were almost at eye level with the horses that Napoleon once stole from the top of the structure. I imagined all the offers and counter offers that must have been made around that giant wooden table with an American flag emblem at the center.
I began to think about the room being haunted. Not haunted in a literal sense, the way most people use the word to describe a floating beer stein or a piano that plays mysteriously in the middle of the night. But haunted by all that has happened there, a spot in what had previously been the American sector of a divided city that was constructed on the grounds of an old palace.
Germany has layers of history, one on top of another on top of another. Like the the Victory Column that celebrates a series of military victories that led to the unification of the German states. Today it still bears the scars of artillery fire from the war that tore it apart. By the time Berlin was reunited, it served as a setting for Barack Obama's triumphant speech to Europe during his first campaign for president. All of these layers jumbled up on top of each other as a tried to catch my breath after climbing almost 300 stairs to get the top.
Up there, way above the Tiergarten, the sweeping view of Berlin offers some perspective on all those layers. I could see the line across the city where the wall once stood, keeping westerners from the historic part of the city. I wondered what it must have been like for David Bowie to live and create in only half of a city now available to me. I wondered what it must have been like for those trapped on the other side, a part of the city with all the historic structures and ancient grievances.
At some point in the visit, I read that the Austrians great trick against history was to persuade the word that Hitler was German and Mozart was Austrian. I considered this while I viewed the statue of Mozart and Beethoven and Hayden in the Tiergarten. Like much of the city, it was also haunted by war. A photograph of its condition after the war showed a landscape of devastation and a sculpture that was in ruins.
Today one could easily arrive in Berlin unaware of the war or the division or the ghosts that lurk behind every corner. But it doesn't take long to encounter a poltergeist. Even something as simple as the streetcars that run up and down the streets of East Berlin. They are absent from West Berlin.
"I have to blame you, the Americans," said Petra Reetz, who runs the authority that operates the streetcars. "They thought, we have to build huge streets, we have to build the city that cars can come through, city buses, much more nice and nicer looking and not so old fashioned as tram lines."
Over the weeks I was in Europe, I interviewed many people about the streetcar lines that crisscross their cities. The lines have become increasingly controversial in the states, where developers are pushing the idea to elected officials as neighborhood groups stand in opposition. I wanted to see if Europe had any lessons for America about how to approach the issue.
After interviewing a number of people about the issue, though, I realized that asking Germans about navigating conflict is probably not a good idea.
When I spoke to mayor's spokesman at Berlin's City Hall, all I got were stale platitudes about how great the city is. When I asked journalist Rainer Hasters, I received a case study in pedestrian anxiety. When I asked museum guide Andreas Hoffman, I heard the sound of nostalgia arriving along the tracks by the building where the secret police were once located in Leipzig.
"That's why they take the old ones, Tatrabahn, to use them here as well," he said, giggling like a schoolboy at the thought. "Yeah, it's nice to have them because there's a special feeling about it because they have this typical noise of it and this is actually quite a nice sound."
Perhaps the most important lesson from Europe was the tension between preservation and development. On a stretch of the Berlin Wall that has become an art gallery, one developer is trying to demolish a section of the wall so residents can get in and out of the shiny new high-rise that looms over the landscape.
Here was the dilemma that Berliners live with every day: Is the past a family jewel that should be preserved even though the patriarchs were a vile bunch of criminals? Or does the future require that the past is demolished like those old West Berlin tram lines? Money and power line up for modernity, although tourists flock to Checkpoint Charlie and anything that might explain the nightmare of the Nazi era.
Inside the corridors of power that radiate about the Reichstag, that's a conflict that can haunt every decision. When we met with Honey Deihimi, who leads the department of societal integration, she explained that that Germans are reluctant to ask for too much information on their census forms. Why? Because that's what the Nazis did. Over at the Federal Academy of Security, Karl-Heinz Kamp explained that much of German's foreign policy is designed to be as anti-Nazi as possible, even if that conflicts with the national interest or even rational thought. Despite what you've heard, the Germans can also be a bit irrational when they want to.
Leaving Germany and arriving back in Washington, D.C. was a culture shock all its own. First, there was the airport — boring, dilapidated old Dulles, where I walked past dozens of machines that could have made checking out at customs an easy and streamlined procedure. That didn't happen, though. Because this was America, and the machines were not plugged in.
Instead, I waited for an hour to pretend like I wasn't bringing anything back. In reality I brought back more than I will ever know. Much of it I have yet to unpack.
——————
Sharon Raifer, WNBC-TV, New York, NY
As a journalist we're never one for a loss of words but as I sit here trying to write this essay that's exactly what I'm experiencing. How to put into words this once in a lifetime experience.
As I think back to the two weeks I spent as a RIAS Fellow traveling through Germany and Brussels, I can't help but think how proud and lucky I am to have been accepted into this program. I not only learned a great deal about the history, the culture and the people of Germany but I also made some great friends with whom I now share a common bond that will last forever.
So let's start at the very beginning. What I love about traveling through foreign lands is that unlike America, the rest of the world has a rich history that dates back thousands of years. It's always incredible to see it all firsthand and this trip exceeded all my expectations… from sitting in the seats of Parliament to the Berlin Wall to NATO and the European Commission just to name a few.
What made the timing of the trip so special was that it was the 25th Anniversary of the Fall of the Berlin Wall… a monumental occasion I watched unfold on television as a college student. I felt honored to be standing at the remnants of the wall 25 years later. But I also was surprised to see that even though the wall is no longer standing there is still a big divide between the former East and West especially politically and economically.
My other surprising takeaway… the burden the German people still feel for their country's past atrocities. How they still feel they have to pay a price for the holocaust 70 years ago.
I found Germans are not a proud people, they don't wave flags or wear their country colors… as my blind date dinner host told me "what do we have to be proud about."
The Germans don't hide their past. In fact, I saw it everywhere… from the Stasi Headquarters, the House of the Wannsee Conference, the Holocaust memorial and the gold plaques outside the homes of Holocaust victims.
I also saw how Germany goes to extreme lengths to fight anti-Semitism and the high levels of security outside synagogues and how the country chooses not to be a leader when it comes to military force.
I loved meeting German journalists and hearing things from their perspective. How they cover news and what news they cover. It also makes me a little jealous seeing they get to sink their teeth into serious news versus the crime story of the day we often end up pursing.
Another highlight was the trip to the East Side Gallery and meeting Kani Alavi. It's incredible to see how these artists took something that was despised and turned it into a beautiful work of art.
As an American journalist, I have come to realize how little I really knew how Germany, until now. Now, when I read stories about Germany, the U.S., and our relationship I have a much better understanding
I'd also like to take this chance to thank our fearless leaders who guided us through this two week journey… Rainer, Lisa, Isabell and everyone at the Commission, thank you for making us feel so welcome.
——————
James Rowbottom, CNN, Atlanta, GA
Despite working in journalism for 17 years, this was my first time traveling overseas. Pathetic? Maybe. But my parents never instilled in me the value of getting out and seeing the world. Globe-trotting wasn't necessary to work at a small town daily newspaper. It wasn't even necessary to work at CNN. After all, we have this wonderful thing called the Internet to learn nearly anything we need to know, plus a world-class team of newsgatherers that go out and record the video and get the information all of us writers and producers need to write our anchor scripts and produce our packages. But recently, the desire to break out of my small world started burning inside of me, particularly around a milestone birthday, which I will not disclose. After all, I'm not old, but I'm not getting any younger. This was my big opportunity to get the fire started. There was no sticking my toe in to test the waters. It was a cannonball into the deep end of the pool.
In this baptism of fire, we visited four cities in Germany and two cities in Belgium in two weeks. It was crammed to the breaking point with history, culture, media and politics. My personal travel extension gave me the chance to spend time in Amsterdam and Paris on my own. I was really in over my head at this point. I have to say, it was the most memorable three weeks of my life. Over that time, my eyes were opened to European perspectives and ways of life that I can't really get from watching television and movies, reading books or listening to lectures. I'm no longer just looking from the singular vantage point of an American anymore. In the wake of this trip, I will seek out and take every opportunity I can to travel to gain new perspectives on the world. I cannot wait for my next chance to get outside the U.S. again. And it all makes me wonder, what the heck was I thinking, staying within my safe and comfortable boundaries and routines of life for so long? What have I been doing with my life?
I was hungry to visit as many countries as possible. So, when several of us considered going to Prague on our own in place of the optional trip to Potsdam, I was up for it. Our best laid plan: leave at 4:30 a.m. on Saturday, take a four-and-a-half-hour train ride to Prague, spend nine-and-a-half hours there, and then take the four-and-a-half-hour ride back to Berlin. During my "blind date" night with German journalists, they assured me that "a day trip to Prague is insane." In the end, we decided against it. If we really want to hit another country, they recommended we take a one-hour train ride from Berlin to a village in Poland. Ultimately, we decided that wasn't really worth it either.
Now to the program: In Germany, I quickly learned punctuality is next to godliness. Five minutes early is on time. On time is late. And five minutes late is really unacceptable. That took some adjusting. As we took in the beauty and history all around us, our team of fellows took A TON of photos. Including my extension time, I took about 1,500 photos and video clips between my smartphone camera, my backup digital camera and a disposable camera I bought near the base of the Eiffel Tower for 15 euros. It was a purchase of desperation when my smartphone and my power stick were completely drained! If our Fall 2014 RIAS fellows were to pool all our photos, audio interviews and videos, it might turn out that this was the most-documented trip in the history of mankind. My point is: our RIAS handlers practically had to drag some of us to the next shuttle bus, subway, train or cab to move on to the next location or appointment as we tried to squeeze in just a few more photos of each other in front of remarkable pieces of German history, beauty and architecture.
It was hard to be on "German time" with so much around us to soak in, experience, capture and document. We are journalists after all. (One suggestion: RIAS should add 10 to 15 minutes to the schedule for each location or appointment as a cushion to provide extra photo time). I thought about my oldest brother, Joe, affectionately called "Slow Joe." He would not survive a day in Germany with RIAS.
I also picked up on the German virtue of following the rules. People actually wait at the crosswalks; jaywalking is not the socially accepted practice that it is in the U.S.
And we learned national pride is not a virtue in Germany. The haunting shadow of World War II lingers over the country. In the grand scheme of things, it wasn't that long ago, and Germans, by and large, are not proud of being German. And I can understand that. It's interesting that Germans identify more with their city than with the country. For example, "I am a Berliner."
In winning the 2014 World Cup, however, the country has started to turn the tide on this. Young Germans are starting to wear national team jerseys and wave their flag at games. For years, they have been reluctant to show patriotism and wave flags, because Hitler appealed to national pride in rallying support for his Nazi agenda. Related to this, one speaker suggested that Germany is uncomfortable seeing its troops out in the world, no matter what the cause; and that Germany wants to portray pacifism.
I learned the political process is a lot different than in the U.S. In Germany, when people vote in particular elections, they're not really voting for individual politicians. In different races, they are essentially voting for the party they support, not the individual.
Indeed, it's a party-line vote so there's not a lot of campaigning. And the chancellor is not directly elected by the public; the leading party in the Bundestag selects the chancellor. Interestingly, as one of our presenters said to us, candidates could lose elections if they run on a platform of change, and win on a platform of keeping things the same. That's the complete opposite of the U.S. system, where President Barack Obama's campaign was based on the word "Change".
As a journalist, the high priority placed on the media by Germany is truly impressive. Public television and radio networks are well funded. Every household is required to pay a monthly fee of around 17 euros to pay for public media, regardless of whether they want to listen and watch. Public media are the big players, and private media play a smaller role — the exact opposite of how it works in the U.S. In Germany, those big players are not obsessed with ratings. It must be incredibly freeing for those journalists to concentrate on doing their job and practicing good journalism, as opposed to focusing on ratings and the bottom line to stay in business and keep the cash flowing in. Somehow, in the United States, it's difficult to do your best, purest work with an ax hanging over your head. It was great to meet with a wide variety of journalists to see what the lives of journalists are like in Germany. The "blind date" night helped in getting to know some German journalists on a more personal level.
As for the RIAS program, it was a highly organized and finely tuned machine. We had amazing access that tourists wouldn't normally get. The U.S. Embassy in Berlin (wow!), the German Chancellery, Berlin City Hall and the really big ones: The European Commission and NATO, both in Brussels, Belgium. We also dined and met with television news hosts and presenters and other journalists, and toured various media offices and studios. The green room studio at RTL, the largest private German broadcaster, located in Cologne, was particularly notable. The lineup of experts, historians, diplomats, politicians and journalists was first-rate. Accommodations were amazing. We were wined and dined and I felt like media royalty. It was great to break away from the daily grind of the newsroom and just experience, learn and enjoy, with the freedom of not having to sweat deadlines and deal with the pressure of filing stories. It was also interesting to spend time with fellow U.S. journalists working in other markets and roles and in other forms of media (radio, non-profit, news service, local, on-camera, behind-the-scenes.)
I was a little disappointed we didn't visit the Dachau Concentration Camp or travel to Prague, as the program sometimes does. However, the final evening of the fellowship, in Bruges, Belgium, made up for that and then some. What an amazing time! It truly was a medieval fairytale town, as the character Harry in the movie "In Bruges" described it, with a few 'F' bombs thrown in. The canal boat ride was a very rich and satisfying icing on the cake. I was intoxicated even though I hadn't been drinking. I was drunk on the beauty. And a few days earlier, standing and staring, jaw dropped, at the Cologne Cathedral, there was no thought to what we didn't do on this particular trip.
Any U.S. journalist would be clinically insane not to apply for this program, unless you just cannot get the time off (You should change companies, then.) I wish I had done it much sooner. I've been given so much through this trip, so I plan to give back as an active RIAS alumnus. I want to give my heartfelt appreciation to RIAS, particularly Rainer, Isabell and Lisa, and Jon Ebinger at RTDNA, for making this experience possible. I'm eternally grateful.
——————
Lisa Voyticki, WMBC-TV, West Caldwell, NJ
I can't understand him but I can feel his enthusiasm. Artist Kani Alavi seems to have explained this a million times, yet it feels like he is telling the story for the very first time. The language is a barrier. But, really, what are barriers to him? When a barrier divided his city, breaking apart lives and smashing economies, he turned it into one of the world's most famous galleries.
Then, Alavi stops. An Asian tourist takes a pen and starts writing next to one of the East Side Gallery's most famous murals. It is a light blue wall featuring a "trabi" smashing through the wall with the headline "TEST THE REST." Alavi is not to be tested. He runs over, taps the tourist on the shoulder, and points to the sign below that explains the laws of the East Side Gallery: it is illegal to vandalize any of the 105 paintings. Nonetheless, Alavi says he is in court almost every day to fight perpetrators. Alavi immigrated to Germany from Iran and you can sense his pride in both countries.
There isn't a lot of unity among Berliners, but you can arouse almost any resident when you bring up the fall of the Berlin Wall. Even at 2:00 a.m., when you're lost in Hakescher Market and there's a train strike; you wait endlessly for a train you're not sure is coming, but if you bring up the wall, you will awaken anyone.
We were discussing whether the 1988 concert about freedom by Bruce Springsteen really did contribute to the fall of the wall, and out plopped the headphones of a 20-something year old Berliner.
"OK, Bruce Springsteen did NOT have ANYTHING to do with the fall of the wall," he says vehemently. Conversation ensues. Point made.
Without the RIAS fellowship, I would have seen the Berlin Wall differently. When I visited the summer before, it was an abstract work of art with a global twist. But now I had the opportunity to ask the resident curator: Why commission a piece that shows the German flag with a Star of David over it? Why paint a close up of the socialist smooch between Soviet leader Leonid Brezhnev and East German leader Erich Honecker? Because of our meeting with Alavi at his mural on the wall and at his personal art studio, I saw the wall as a success story — a model of international peace.
Throughout our trip, the narrative of the Berlin Wall was repeated in different ways through the eyes of various high-level figures. The most notable meeting was with the U.S. Ambassador to Germany John Emerson and, coincidentally, after I returned to the United States, I had the opportunity to meet with the former U.S. Ambassador Philip Murphy. It was the day after the 25th anniversary of the fall of the Berlin Wall.
RIAS gave us an exclusive tour of the Reichstag building — the pride and patriotism of Germany. I knew how hard it was to access the parliament and that touring the dome is a bonus, if you were so lucky to get inside. As we circled to the top of the dome of transparency, we could see all of Berlin, from the former East to West. A German flag waved in each of the four corners of the building, making the black-red-and-gold stripes the forefront of any panoramic picture. This is the same dome that was set on fire in 1933, and one of the defining moments in the early days of Nazi Germany. Signatures by members of the Russian army, who took back the Reichstag on April 30, 1945, are preserved on the first floor hallways as a reminder to what once was. (Adolf Hitler committed suicide on the same day).
A few days before the RIAS fellowship began, I had the opportunity to visit the Dachau concentration camp which all other camps were modeled after. As the granddaughter of Holocaust survivors from Hungary and Slovakia, there are no words to describe the raw experience of such a dark and inhumane part of history. I heard the stories of torture, but it was overwhelming when I saw the site of the crime. With two preserved bunkers and a maintenance building turned into a museum, Dachau is now considered a memorial site.
Life goes on around it, just as it did during World War II. People now jog, drive, and walk their dogs along its perimeters and preserved barbed wire walls. Even the watchtowers and entrance gates are untouched. But for many residents, these remnants of history are the backdrop of their everyday lives. Perhaps this is what forced Germans to face the country's past, and make progress toward a different future. As it says on a famous wall in the memorial site: Nie Wieder (Never Again).
During the RIAS fellowship, we discussed the presence of Jews in today's German society and the country's stance on Israel-Palestine relations. It didn't come up often but I felt when it did, it was understandably an icy topic. The migration of Israelis to Berlin has helped distill any perceived divides; however, I still think most people aren't ready yet to discuss Judaism openly and honestly. The shameful past of the Holocaust seems to have put Germany on the defensive when it comes to military strategy, and cautious about anything that might evoke history repeating itself.
Another RIAS Fellow was working on a piece that focuses on ethnic minorities in German society. Through a former colleague who now lives in Berlin, I was able to connect my fellow with a Haitian man who recently moved to the city. About six percent of the German population is Afro-German; two percent of them live in Berlin. But what stuck out from our interview was the love that he had for Germany as well as his gratitude for the opportunities given to him, even though he said he has been discriminated against. This brought to life the pulse of many conversations during the fellowship; integration is a huge issue. According to Honey Deihimi, the federal minister of social integration, whom we met at the Federal Chancellery in Berlin, she spends her career finding strategies to dispel stereotypes among German society and bridge different cultures together.
Another speaker, a German of Turkish descent, had a frank discussion with us about socioeconomic struggles in society and told us about how immigrants, particularly from Turkey, have unmet needs. He addressed how the educational system sets par for the course for children starting at the age of ten; that's when children may be put in a more rigorous academic program or set on a track to vocational school. I think it's wise to instill a sense of professional direction at such a young age, however, it's a bit stringent. In the U.S., for instance, students are just starting to learn about the different careers that exist at age ten, let alone seriously grasp which one they will fit into in ten years.
My RIAS fellowship made me feel comfortable in my surroundings and gave me the chance to experience the city from a resident's perspective. That enabled me to see places where the locals go, like Markthall 9, a grassroots international food court, and Primark and Kadewe shopping centers. I was able to try different kinds of curry wurst, considering I never liked curry. But the one at Curry 36 was deliciously memorable. And in Cologne, I also had an opportunity to visit the Roonstrasse Synagogue, the largest in the entire North Rhine region.
In my job as a reporter, I cover press conferences alongside other American media outlets. But the opportunity to be at a press conference at the European Commission, in Brussels, Belgium, was a whole different ballgame. It was remarkable to witness a press conference being led by two moderators, with journalists from different countries who need sound bites in multiple languages. There were at least eight booths above the floor, with a different translator in each one, and each seat in the audience had a set of headphones that you could put on to translate the press conference into the language of your choice.
My current television station often airs stories from the EU but as a news anchor, I didn't know about the intricate planning that goes into generating stories from the same place for each country. RIAS arranged a tour of the EU TV studio, which any journalist can use for interviews or hosting. This collaborative effort among EU media outlets is something we lack in the United States. And within the journalism industry, I often feel my passion and love for the craft is unrequited.
In Germany, there is great respect for public and private television. At 8:00 p.m., a large number of viewers tune in for the daily Tagesschau, a reading of the day's top stories. Interestingly, every household must pay a fee for access to television and radio. For me, this is a symbol that Germany believes in an informed and progressive society.
Back at the Berlin Wall, there is an ongoing universal conversation, and the art is a universal language. I learned through my own research that one artist had to restore their work 44 times, at least, due to vandals. That artist was Guenther Schaefer who painted "Vaterland," known in English as "Fatherland," the mural with a Jewish star. Vandals have used it as an opportunity to write messages of hate, but the hate was always washed away. This cycle of persistence and progress represents the German people. The strength has to come from within, given the divisions the entire country has faced and the stereotypes that will live with it for a long time.
As President John F. Kennedy said in his famous "Ich bin ein Berliner" speech in June 1963, "I know of no town, no city, that has been besieged for 18 years that still lives with the vitality and the force, and the hope and determination of the city of West Berlin."
I've been on a lot of group trips before, but the RIAS fellowship impacted my life in a very profound way. The perspectives I gained on a personal and professional level have far exceeded my expectations — and I treasure each second of it.
By the time the two-week trip was over, I no longer knew President Kennedy's famous speech as a historic saying; I felt I had lived it. Ich bin ein Berliner.
——————
Katheryn Zickel, Chiaroscuro Foundation, Princeton, NJ
Unless you stalk me on Facebook, you may not be aware that most of my October was spent running around Germany. The RIAS Berlin Kommission sends about 12 U.S. journalists overseas twice a year to talk to folks familiar with German history, government and culture. This fall, I was selected as one of the lucky few to attend this fantastic program.
We started in Berlin with a week of breakfast talks, tours and high security meetings that would have been impossible to get without the program's assistance. Every day gave me something new to consider or some piece of information on Germany's story of which I used to be incredibly ignorant. The best part about spending extra time in Berlin though, was the opportunity to experience all the things I didn't get to do when I was there in 2011. The Bundestag, for example, holds more historical relevance on German government in one building than many of the theaters and museums I visited on my last trip. We climbed to the glass dome and saw a spectacular view of the city and enjoyed a first class tour of the German Senate.
Most folks explored Checkpoint Charlie and sections of the Berlin wall, but the most striking moment in Berlin was our visit to the East Side Gallery. For the last several years, artist Kali Alavi has been working with the German government to secure portions of the Berlin wall for artists to translate something negative into a positive new identity. It's difficult as an American to describe what the wall means to someone who lived within its borders, but walking through the exhibit, it is hard to deny the power behind it.
Many of our conversations throughout our time in Berlin centered on getting a better understanding of just how recent the mistakes of World War II and the Cold War are to Germans now. For the younger generation, it is a somewhat distant memory, a moment in history that came, shocked, and faded away again. To many in Germany, these memories are very fresh and still have a direct impact on political and cultural decisions. My friend, Hannah, for example, explained to me that many young Germans have chosen to delay marriage until much later than their parents and grandparents, who raised them to enjoy a better life than what they experienced behind the wall. This, by the way, is why I think the country's birth rate remains so dangerously low. Politically, although Germany maintains the best economy in the European Union, the country steadfastly refuses to utilize its military defense system as a general practice as a result of the disastrous outcomes of its last two major military campaigns. This, I admit, surprised me. Although I know Germany's history well enough to understand, as an American, I found the lack of military strength and prowess unusual.
Germany also displays a certain lack of national pride. Up until her success at the World Cup in 2006, Germany never wore the flag, never bragged about her accomplishments and no one ever said he was proud to be a German. While this attitude is slowly changing, the reformation is very slow in coming. Football jerseys are rising in popularity, young people are turning out in drives for matches, but there seems to be a temperance to it that never fully reaches patriotic pride.
In Leipzig, however, I did discover two triumphs of which Germany can certainly be proud: that is the churches and the food. Despite a fee on church members throughout the country that seems to be discouraging a whole generation against Christianity, Germany seems to take a certain pride in religious architecture. Every church I visited in Leipzig had significant historical impact. St. Thomas' Church housed an organ designed by Johann Sebastian Bach, while St. Nicholas' Church marked the gathering place for countless peaceful protests that changed the city's history. We spent most of the first day touring the churches and walking Leipzig's beautiful campus before joining RIAS alumni for dinner.
Dinner in Leipzig was its own unique experience. Since the menu was completely in German and my translation skills are minimal at best, I was forced to rely on the culinary expertise of the journalist seated next to me. When the food arrived, I was as shocked as everyone else to discover that I had ordered a Bavarian delicacy known as a pig's knuckle. The massive plate of food was surprisingly fantastic, once I sliced my way through two inches of crispy pork fat to discover the deliciously tender meat beneath it. This, my friends, is something everyone must try once.
The next day, we took a two hour train ride over to Cologne, home to one of the largest cathedrals I have ever seen. It took my breath away from the outside, but the majesty and detail inside truly impressed me. We weren't able to stay long as a train strike forced us to leave early, but we did manage to tour the local private television station, RTL. This is where I began to understand the distinct differences in American and German programming. What impressed me was that, despite state sponsorship, very little of the actual content for many of the state sponsored stations is directly influenced by politics or the government. These stations have also moved beyond hard news into areas like entertainment, educational programming, and youth shows. This level of thought and creativity was displayed at every city state station we saw as well as the private stations. I don't personally think this system would work in the United States, but I enjoyed seeing it play out in a country where most people seem to appreciate the content, despite being compelled to pay monthly dues for the programs.
Our last stop on the tour was Brussels. While technically a Belgian city, it has a great deal of direct influence on the German political and military sphere. The first full day was spent meeting with members of the European Union, touring the facility, sitting in on press conferences and discussing the latest issues facing the EU. Much of the first half of the day was old information from my days at VOR, but once we got the press conference, things started to look interesting. I discovered that not only does the EU offer free technical broadcast services to members of the press, the organization is also open to direct questions on any topic during daily press briefings.
Our last official meeting of the program was with NATO. This was really a special opportunity for most of us since a briefing on this level would be almost impossible without RIAS. After a rather intense security screening, we were met by the press liaisons and escorted to some fascinating briefings on NATO's inner workings and updates on the organization's international relations with Russia.
For me though, the real highlight of the trip was Bruges. The group spent our last evening there, and I still can't get it out of my head. The place really felt like Disneyland for adults. We all took a boat tour of the city before walking towards the city square and listening to the bells play an evening concert. RIAS made sure to send us off in style with a glorious farewell dinner, which of course, included vast quantities of beer. It was one of those nights that stay special even when the food and friends have gone.
It was a long trip, and I was naturally exhausted before arriving home, but RIAS has certainly earned my respect for the professionalism displayed during this fellowship. I think we all learned to truly appreciate Germany as a country, but also gained a much better understanding of her history and approach to journalism. It's an opportunity that, as a reporter and producer, you really hope comes along at least once.