TWO-WEEK GERMANY PROGRAMS 2017
Summer and Fall
---
RIAS Germany Program – Summer
June 12–24, 2017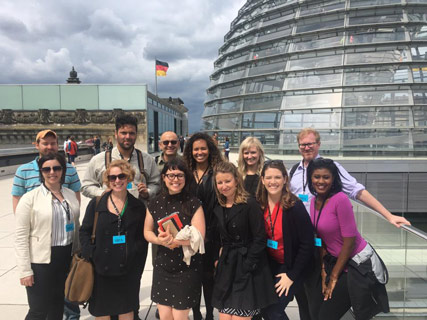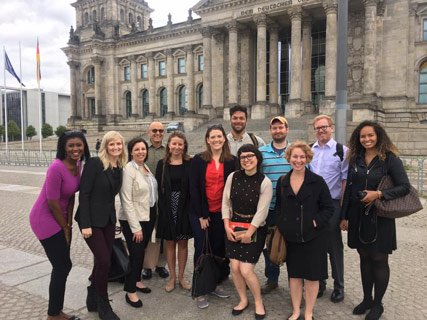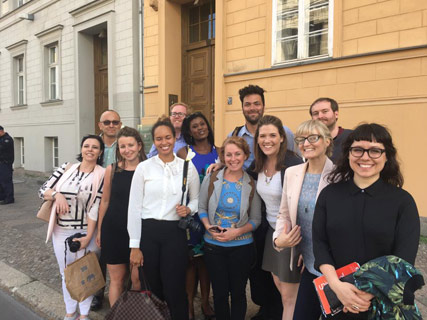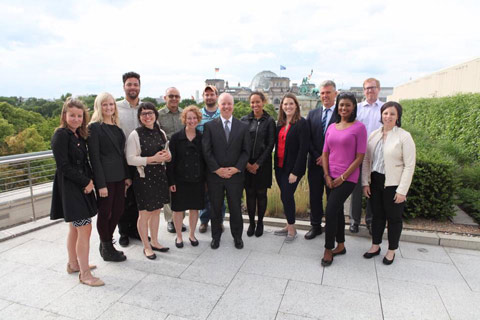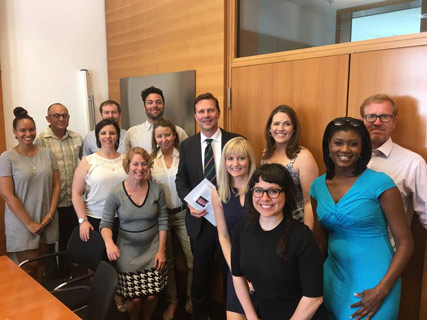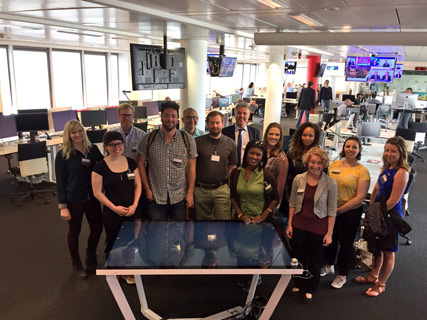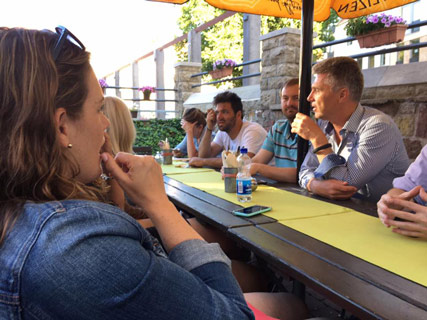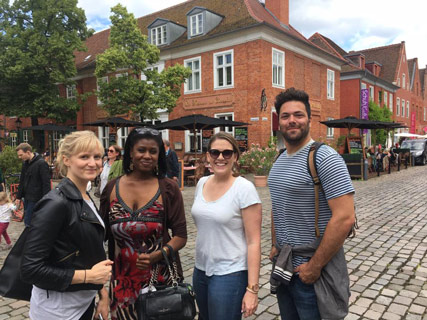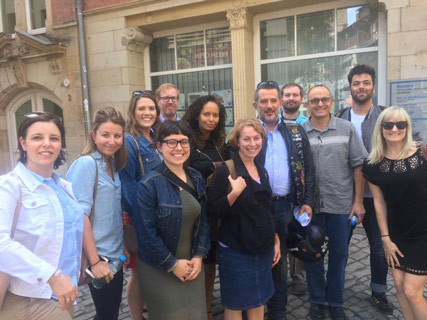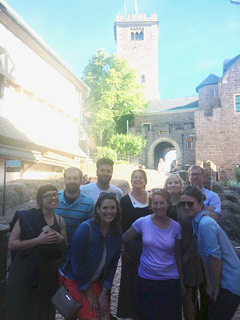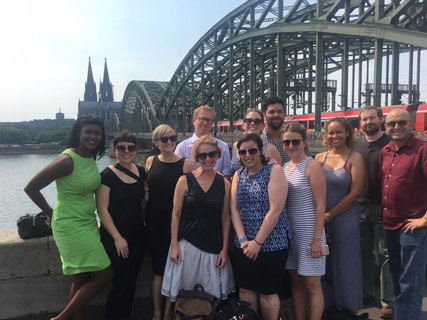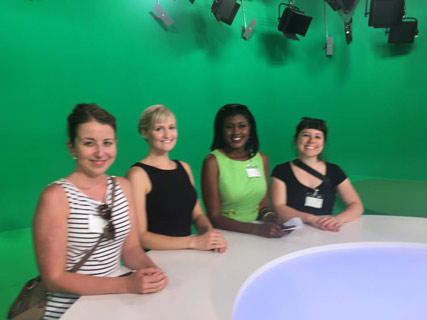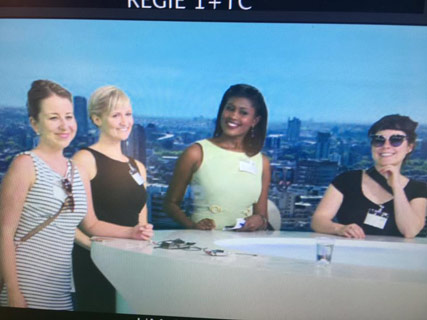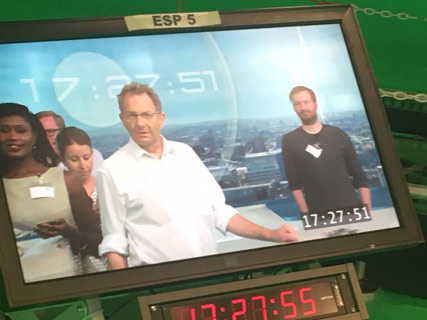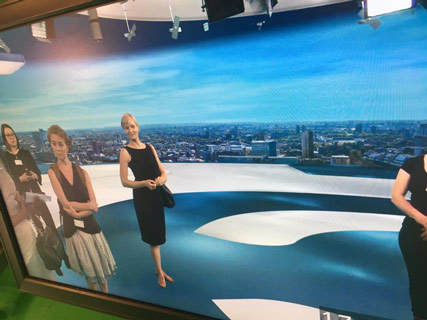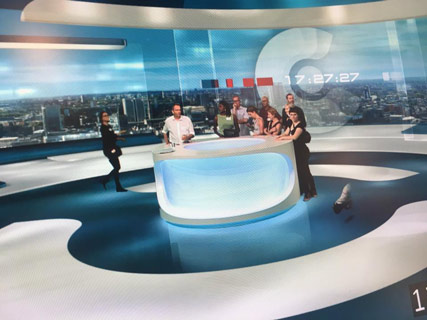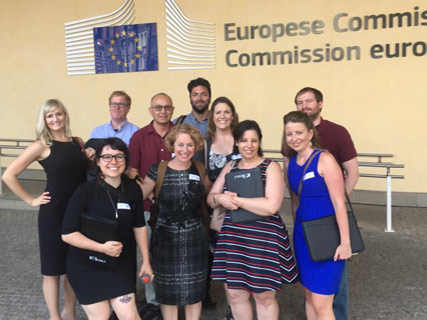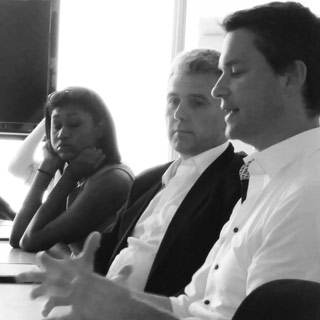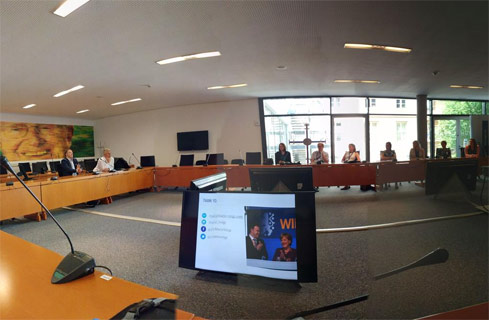 ---
RIAS Germany Program – Fall
September 18, 2017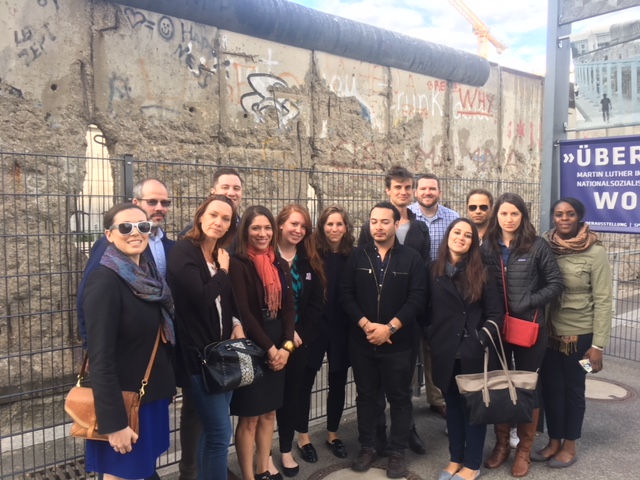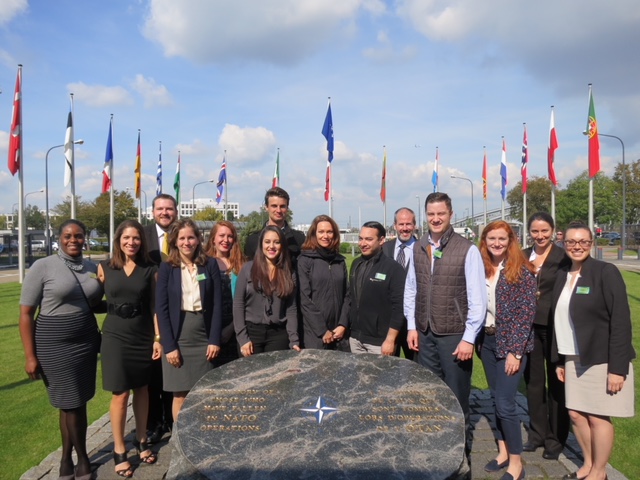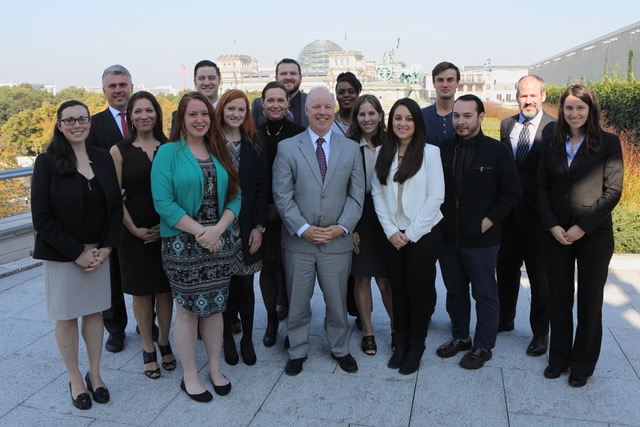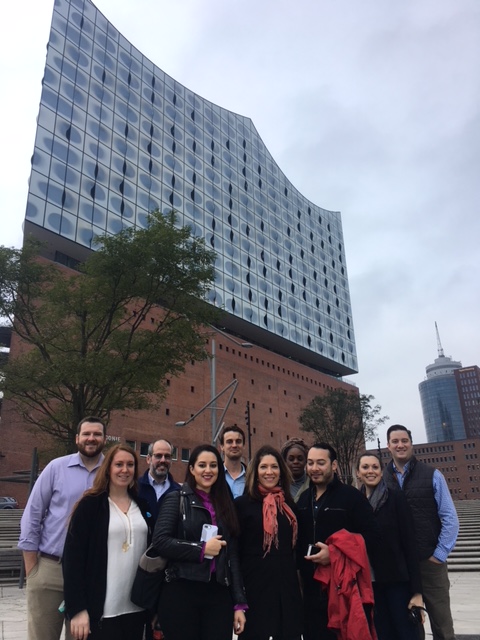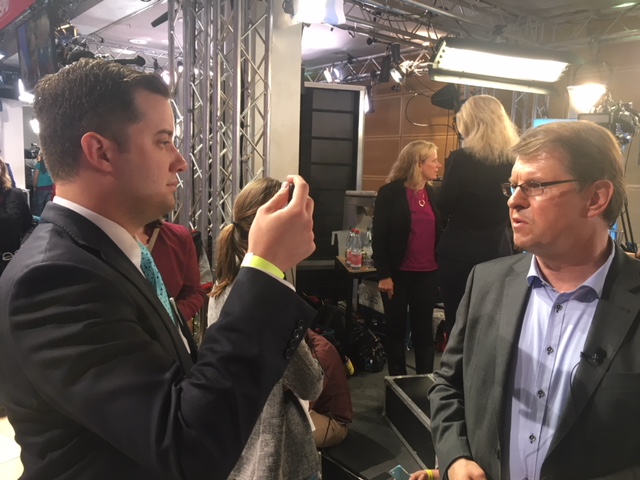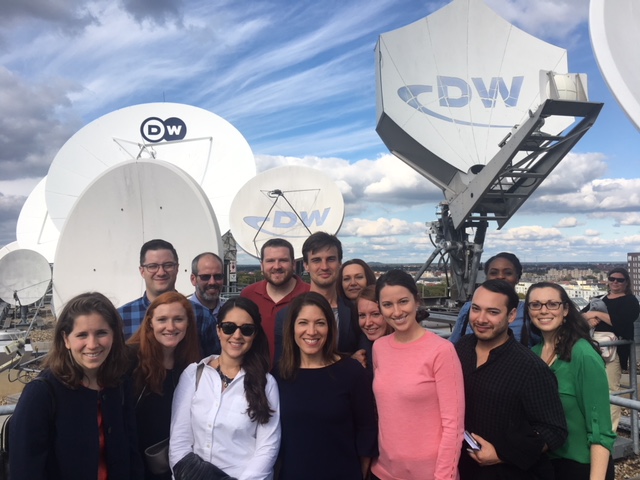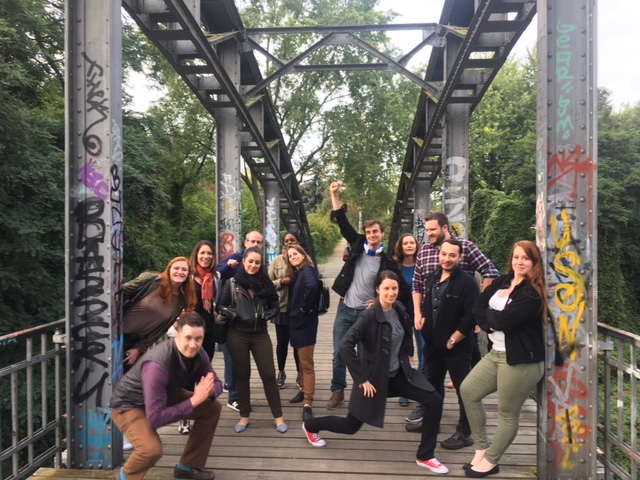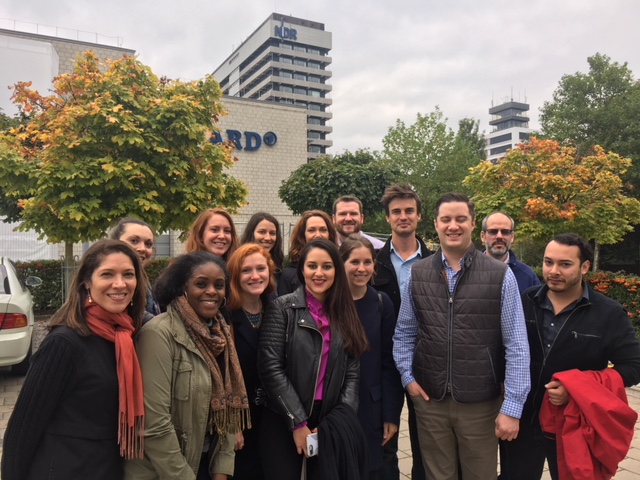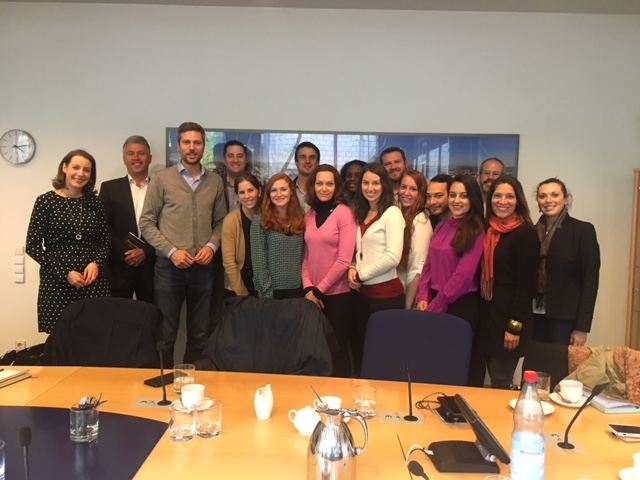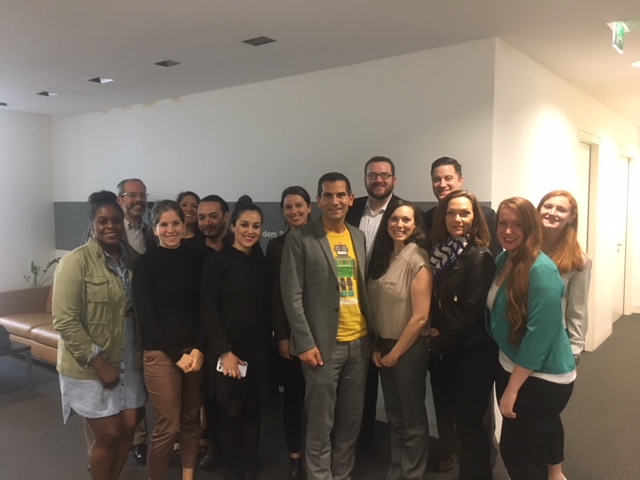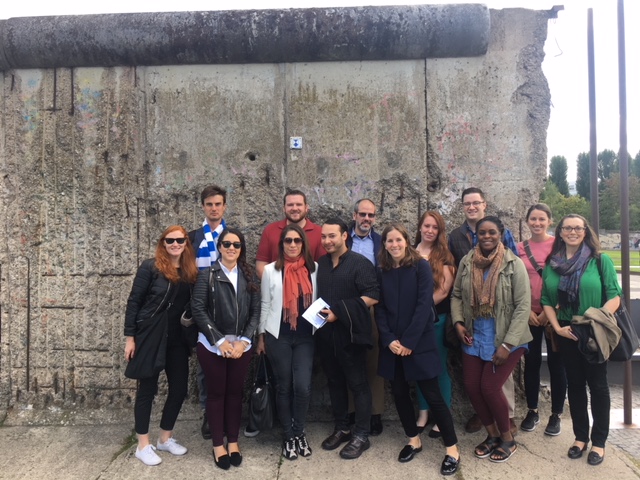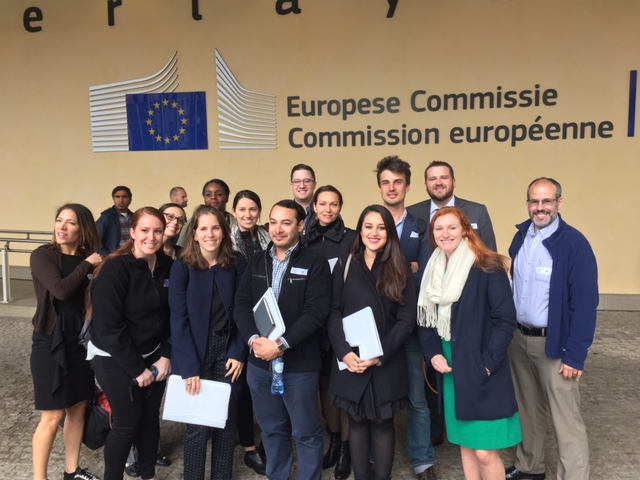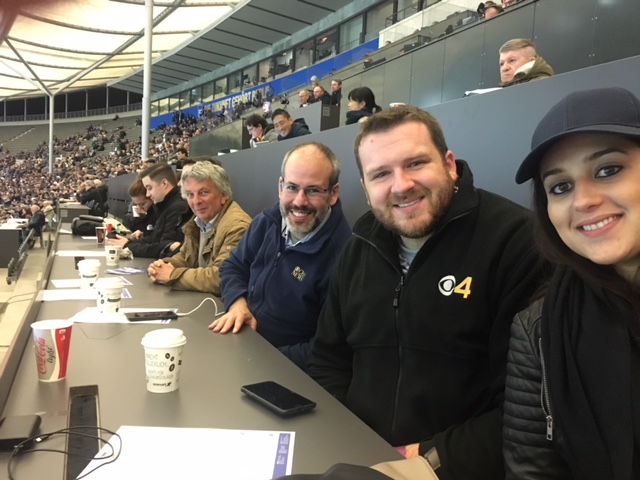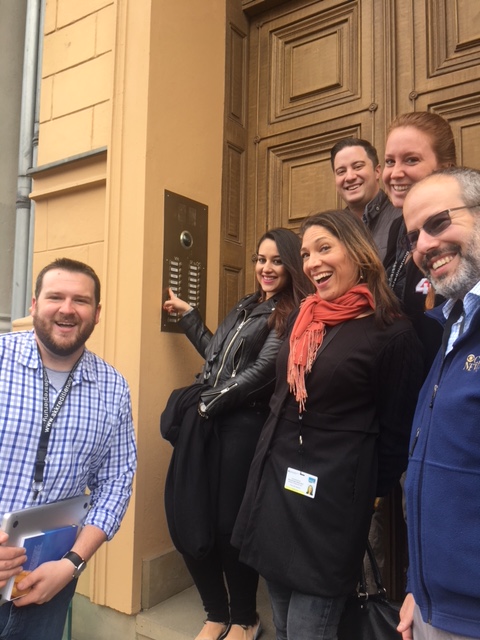 ---
PARTICIPANTS

Brooke Buford, KALB TV,  Alexandria; LA
When I began my RIAS adventure in Germany in June, I'll admit I didn't know what to expect. I knew our trip would take us across the country and into Belgium covering a wide range of political and journalistic topics, but I had no clue of the extent of how much the experience would change my life, both personally and professionally.
I really appreciated how much I learned in such a short amount of time about German politics while in Berlin and beyond. I had a working knowledge of how the political structure worked in the country, but we had the opportunity to meet so many different political movers and shakers that I really came to appreciate the system by the conclusion of the trip. Some of my favorite parts included meeting Steffen Seibert, the spokesperson for Chancellor Angela Merkel, touring the Reichstag, and while in Erfurt, meeting with Stephan Kramer of the Thuringia Intelligence Agency.
I realized that Germany is facing a lot of the same issues that the United States is in the political arena when it comes to topics like refugees and ISIS. But, what I really appreciated is how much more civil the discussions seemed to be in Germany and how the different political parties often team up to work on issues.
One of the most impactful parts of the trip for me was learning how Germany has taken on the Syrian refugee crisis and how the country has learned from its mistakes throughout that journey. Going into RIAS, I hadn't really formed an opinion about if I thought Germany's role in taking on so many refugees was a wise decision or not. I was impressed to find out about all the ways the country has worked to help refugees assimilate into Germany culture. I was also impressed to hear that while different political parties may not always see eye-to-eye with Chancellor Merkel's policies, most agree that the decision to take in refugees was a success on a humanitarian level. Still, the country recognizes that there is a lot of work to be done. I found that our speakers were honest with us about what challenges they have faced with the process – specifically how Stephan Kramer told us about the lack of commination between federal and state law enforcement when it comes to tracking people who they believe could be involved in terrorism.
While in Belgium, I really enjoyed visiting NATO and learning more about how NATO works – something that I didn't have a strong knowledge of going into. I also appreciated the honesty of our speakers within NATO who strongly defended the organization amidst President Trump's criticism of it.
Professionally, RIAS gave me great insight about how newsrooms in Germany operate. I learned so many tips from the journalists I met – including Mirja Fiedler of Deutsche Welle, who I had dinner with for our journalist "blind date." I was most interested in learning about the television networks who receive money through the monthly "fee" that residents must pay – specifically how that system works and how they push to make sure that their content isn't dictated by the government, as I originally assumed it would be. It was also great to get a break from some of the more traditional broadcasters and have some fun learning about the BILD publication.
I think the organizers of the journalist exchange did a terrific job making sure that we still had some free time and got to do some touristy things along the way. I really learned a lot about German and Belgian culture thanks to all the amazing food stops we make along the way! The stop at the STASI prison and the wonderful people we got to meet there really helped me better understand how the secret police operated and the terrible things that happened within the prison walls. I also enjoyed the visit to the Wartburg Castle and learning about Martin Luther.
Since I have returned to the United States, so many colleagues have been anxious to ask me about the RIAS experience and inquire how they can apply. I've shared so much about what I have learned with them and I hope some of that knowledge – specifically involving the topic of refugees, which we cover a lot – has opened their eyes to what's possible outside of the United States. I have also made some lifelong friends with the other American journalists I met along the way. I can't thank the amazing staff enough for planning such an impactful trip and for selecting me. I certainly would recommend the program to other journalists.
__________________
Megan Cloherty
, WTOP FM/WTOP.com, Washington, D.C.
The new motto at "The Washington Post," Democracy Dies in Darkness, speaks to the essential role journalism plays during a time when reporting the truth is under threat. The lesson of keeping authority in check was hard-learned in Germany, where history continues to shape the profession in a profound way.
Countless journalists whom we met with during the RIAS Kommission fellowship recognized the importance of their work as it relates the history of their country. And although there are similarities between the United States and German journalism, there are specific points of contrast in how German journalism organizations are run, specifically among those with state affiliations. There is also a stark difference in the financial interest of the German news audience and in how journalists navigate privacy in sourcing.
The most popular TV, radio and newspapers in Germany are publically funded and maintain the public's trust. Oliver Sallet, who runs Deutsche Welle TV Brussels is upfront about the fact his station is funded by a mandatory license fee, and does not equate the funding source to any potential content bias. When asked if there is any government influence in DW's product, Sallet made himself clear the state is not involved in news judgement nor in setting content, and would be rebuffed if it ever attempted to adopt such a role. The idea that government interests would not leak into a product it funds is difficult to believe. However from those we spoke with, including Thomas Walde of ZDF, the mandatory 18 euro license fee which sustains news outlets offers journalists the professional liberty to pursue news without commercial pressures.
It is likely that by paying the licensing fee the German public is more invested in its news. The awareness current events by average Germans not in the industry was fascinating. Therefore it's not entirely surprising that appointment television in Germany is still going strong. While American nightly news shows struggle to maintain 8 million viewers a week, according to a Nielsen poll released last spring, 10 million Germans tune in nightly at 20:00 for ARD's "Tagesschau." Prime-time programming starts only after that 15 minute newscast in Deutschland, despite multiple failed attempts to pull viewers away in the same timeslot.
While they have a hunger for news, few Germans want to be the story. Germans fervently protect their right to privacy which can make a journalist's attempt to source a story difficult by American standards. Thomas Habicht, a Berlin correspondent for shz media enlightened the fellows to the historical reasoning behind residents' innate desire to remain private. He pointed to the role of the Ministry for State Security in East Berlin, or the Stasi, who would use personal information to blackmail Germans into becoming spies. The terror inflicted upon families by the German Democratic Republic simply by using knowledge of their personal lives has not left the psyche of the people. Habicht said even today, many will decline to give their last names in an interview on even the most innocuous topic.
The country's communist history and its continued effect on the culture bleeds into every part of German life, including journalism. It's a key reason why publically-funded news outlets so staunchly defend their independence from state influence. It even affects how successful commercial companies fair in the German marketplace. An American acquaintance living in Berlin employed by the U.S-based furniture outlet, Wayfair, said it is nearly impossible to execute the same business model which requires American users to enter their email address before they have access to order from the site. Germans simply will not give away their private information, email included. It raises the question, how do paywalls work in Germany?
It is one of the most hot button issues in American journalism: how to successfully monetize reporting that a user is accustomed to accessing for free? It's a question legacy companies like the "New York Times," "Boston Globe" and "Washington Post" have grappled with for years. Depending on the approach, paywalls have both tanked newspapers and magazines and created a sustainable content platform for others.
In 2013, Bild was one of the first German outlets to put some of its content behind a paywall. While more German newspapers, including Die Zeit, move away from free content online, it will be an interesting experiment to watch. It's clear Germans are interested and willing to pay for news, but are they willing to exchange their information for access?
It's clear from our travels, German journalists strive to maintain transparency while respecting the sensitivities that still lie just beneath the cultural surface. Journalism thrives in Germany because of hard lessons learned and an unanimous desire to move into the light.
__________________
Don Clyde, KQED, San Francisco, CA
I read everything I could about Germany before heading out for the RIAS program… About the upcoming elections, the history, its relationships with other countries, everything I could get my hands on. But through this program, I came to know so much more about Germany, my own country and my own community. The parallels and contrasts are striking.
Correspondent Thomas Habicht was particularly illuminating about Germany's role in the world. He described Angela Merkel as "the woman we need in a world of dangerous men." No statement seems to be truer now. We have seen Russia mass troops along Eastern Europe, and President Trump has, in recent days, threatened war against North Korea and potential military action in Venezuela. During particularly frightening times, Merkel has condemned Trump's saber rattling, illuminating Germany's role as a stabilizing rational actor in the world.
Frankly, one of the biggest takeaways from the program was about the election of President Trump. He was, as my "blind date" said, the "elephant in the room." How was it possible that such a man could be elected? What do you think of Trump? These were questions I heard everywhere. And my answer was reflected by what Thomas Habicht said. "Donald Trump is not the United States." I hope our German friends realize that our institutions and our values are not reflected in a man who has said some very ugly things. (As a news editor, I know I shouldn't really voice such strong opinions, but I have the same question, "How could we elect him?")
I was very interested in the differences between news media in the U.S. and Germany. The mandatory licensing fee is fascinating and something that would never fly in the U.S. We would immediately view any kind of public-funded outlet as somehow being the mouthpiece of the government. But it was reassuring to find that outlets like ZDF are editorially autonomous from the state. ZDF's Thomas Walde described the fee as a necessity – that everybody participate is a requirement for democracy.
It was interesting to hear Walde's take on the U.S. presidential elections. He asked why news media wasn't more aggressive in calling out false statements from Trump. It's a good question. And it was reassuring to find that the German public largely trusts public media. It's a striking contrast to the U.S., where many of our news outlets have been labelled as "fake news," and where many news outlets have approval ratings on par with Congress. I also found it interesting that there is a very real effort by Correctiv to disprove false stories geared to steer the upcoming German elections.
I've been impressed with Germany's compassionate attitude toward the refugee crisis. We report on issues of immigration in the Bay Area quite often, about families being torn apart, about the potential impacts on families by some of Trump's proposed immigration policies. MP Özcan Mutlu was particularly prescient about the immigrant crisis. He spoke directly about the needs of refugees – that they need jobs and education. The similarities between the U.S and Germany were so obvious.
One of the more frightening similarities between the U.S. and Germany and across Europe is the growth of far-right populist groups and parties. That the anti-immigrant, anti-refugee, German-first Alternative for Germany is projected to take some seats in the Bundestag in upcoming elections mirrors the rise of such growth in the U.S. And as I've been writing this on Aug. 12, 2017, I've just read news of a white supremacist march in Charlottesville, Virginia and just witnessed the horror of a vehicle plowing through a peaceful protest against Nazis, the KKK and other hate groups, killing one and injuring 19 more. This was disturbing and hurt me deeply. How could this possibly happen here? These people are certainly emboldened by a president who wants to build a wall, ban people from six predominantly Muslim countries and has said plenty of racist things of his own.
But Germany gives me hope. Angela Merkel and protesters in Germany called the violence, racism and anti-Semitism in Virginia repulsive. This is the greatest takeaway from the RIAS program. Now I know Germany still has groups and people who espouse despicable views. But that a country which saw many of its own horrors during WWII could embrace its past and advance to become a progressive, positive force in the world gives me hope.
I can't stress enough how much of an impact the RIAS program had on me. I was so impressed with all of the other fellows. And I really want to stress to the organizers of this program that I thank you so much.
__________________
Terra Hall, KSHB-TV, Kansas City, MO
"For the things we have to learn before we can do them, we learn by doing them." While this quote is attributed to Aristotle, it's an approach I've worked to apply throughout my personal life and professional career.
Here's what I mean by that. I've always been curious about the world around me, but learning about it through books or documentaries has never been enough. It's the core reason I became a journalist, and the main motivations behind my extended studies abroad in Costa Rica, Spain, Peru and most recently Germany and Belgium.
During my decade-long career as a reporter, many of my days have looked like this: research, interview, shoot, report, write, edit, present. Rinse. Repeat. Often times, trying to be the first to get a story on social media, my station website, and on-air has taken priority over really delving into the whys and hows of storytelling.
That's where the RIAS German/American Journalism Exchange and Fellowship stepped in to mix of the monotony.
Meeting with political and media players across Germany's landscape provided insight I'd never get in a newsroom in America. Hearing the questions other fellows asked gave me a new perspective for reporting. Learning how Germany's tumultuous history continues to impact the way its society functions allowed me to reflect about my own nation's past and present. Witnessing how member nations of the European Union and North Atlantic Treaty Organization work together for mutually beneficial opportunities gave me a glimpse at the importance of international collaboration.
But perhaps the biggest takeaway from my month-long extended study in Europe was in speaking to German journalists, politicians, influencers and citizens about the United States' recent presidential election, and Germany's upcoming election. While separated by an ocean, there were parallels between the two nations; people shared similar fears, passions and sentiments about political movements, specifically the trend in the increase in alt-right political involvement.
I write this essay on the eve of the one year election of Donald Trump as president. Over the past 12 months, supporters of the alt-right, white power, Ku Klux Klan and Nazi movements have been particularly vocal and active, and propaganda regularly flows from the highest office in our nation. Learning how German journalists handled such uprisings in the 1930s and 40s, during the era of the Eastern Bloc, and even now, empowered me to report on related topics in the U.S.
Above all (from visiting the Stasi Prison in Berlin, to speaking to Refugees in Erfurt, to my own travels to Poland, the Czech Republic and Hungary) I learned first-hand how many avoidable atrocities took place under the blanket of darkness.
Journalists provide the light that illuminates injustice, misinformation and corruption.
The RIAS German/American Fellowship provided the spark to relight the flame inside me.
__________________
Chanteé Lans, WBZ-TV, Boston, MA
__________________
Liz McLaughlin, NBC News Channel Specials, Charlotte, NC
"It's like no other place in the world… and I will live here until I die."
A transplanted American shared these words as we sipped coffee in her stylish flat, overlooking a hip Berlin neighborhood. And after spending two weeks being charmed by German culture myself, her love for the city was understandable. Every now and then, I would find myself drifting into a daydream, flirting with the idea of missing my flight back to the States, and giving life as an expat a try.
Both alluring and gritty, Berlin has managed to transform oppression to expression, with walls that now breathe life through spray-painted kunst. The city is a cultural melting pot, with English as the connective tissue in a sea of diverse demographics. But even for those fluent in my native language, sarcasm never seemed to translate.
German culture is creative but pragmatic. Adventurousness is valued just as highly as punctuality (down to the minute!). Not everything is bigger in America, but the elevators certainly are. Be prepared for accidental physical contact with strangers in public places.
Hotel breakfast in Germany isn't your lackluster continental layout; it's the brunch-goer's dream. Every meat, cheese, bread, and spread you can imagine is on display, along with traditional staples. But Germans aren't fans of ice cubes or air conditioning. The only solace for iced drink cravings is Starbucks and the window is your only temperature control, even when it's 90 degrees outside.
Uber and Lyft are banned in Berlin, but it's easy to get around with public transport or a nice walk (with the right shoes, of course). Planning to visit the co-ed sauna? I'll give you the warning I never got: Everyone will be naked. Avoid eye contact.
One evening, as I strolled through Kreuzberg with a native Berliner, I noticed a non-descript metal box. It turned out to be a vending machine to give IV drug users access to sterile hypodermic needles. Did you catch that? A vending machine. FOR NEEDLES. I checked to see if it was stocked, and a box that resembled a cigarette container popped out of the bottom, printed with safety tips. What an amazing concept: the dangers of using a dirty needle could be avoided for just 50 cents a pop. I placed the box back in the dispenser, for the next patron in need. These machines would be controversial in the States, but it seems like a worthwhile investment for preventing disease and reducing the associated health costs, both in dollars and in human life. Germany isn't afraid to try progressive policies to solve problems, and this one appears to be working.
Some of my experiences, while enriching, served as a haunting look into the reality of international news stories so displaced from my life in America. As I stood in the rain listening to the words from Nafeh Kurdi, a 20-year-old Syrian, I was able to put a face on the "refugee" label that laces global political rhetoric. He described when he was a university student in Damascus, preparing for finals. One morning, he did something relatable for many college students: He skipped his exam, hoping to buy more time to study. And that day, a mortar attack hit the very classroom where he should've been. The loss of his peers – "the blood on the floor," as he phrased it – was a sign he had to get out of the country while he still had the chance. For almost two weeks, he set out on an arduous journey to Germany. He swam through frigid waters after a raft he boarded with 35 others started to lose air. He went by train, by bus, by boat… making his way across borders. Some nights, he had to sleep standing up. His family back in Syria anxiously worried during the long stretches when he wasn't able to communicate. When he finally made it to Germany, there were still hard times ahead: sleeping on a cot in a gymnasium with hundreds of other refugees, all while trying to learn a new language.
I heard this man's story, felt his struggle and witnessed his ambition to make it work, despite seemingly insurmountable obstacles. Perhaps for the first time, I was struck by the potently human element of Chancellor Angela Merkel's controversial decision to open the country's borders to asylum seekers. Germans are deeply affected by their history and want to ensure it's never repeated. I heard many describe Merkel's refugee policy with pride, as if it were a form of penance for Germany's ugly past. Conversely, a smaller but sizeable group began voicing their resentment toward this influx of foreigners seeking refuge, who were reaping the same generous benefits to which hard-working German citizens were entitled, without having paid their fair share.  As a result, the refugee crisis birthed a new far-right nationalist party, AFD. As support grew for these Eurosceptic sentiments, so did a fear in mainstream politics.
After a week in Berlin, exploring German institutions and the issues that plagued them, we traveled to beautiful Erfurt. As I was sitting on the cobblestone, eating the most delicious Thüringer Rostbratwurst and watching dancers in lederhosen, I was stunned by the stark contrast between the quaint provincial charm of this little town and the edgy ethos of Berlin.
It was another night-and-day transition when we arrived in bustling Cologne, greeted by looming gothic architecture. No sooner had we arrived, than we were off to Brussels, a cultural and political crossroads that felt like the Washington, D.C. of Europe. We paid visits to the European Union and NATO, where we were able to get a more in-depth understanding of these vital global organizations.
Back in Berlin, on one of my last nights of the trip, I found myself at a restaurant in the heart of the city, nestled between art galleries under a chandelier of vintage lights, sharing a table with a fascinating group of locals. I laughed with a resident food blogger, who offered tips for my next curryworst craving as we noshed on high-brow tapas. A sommelier complemented each dish with a German pairing, and I discovered that Riesling could be crisp and delicious, quite unlike its sweet and syrupy American counterpart. I talked shop with a German BBC reporter, and peeked at the newest finds from a boutique owner returning from Copenhagen. A tech entrepreneur shared his latest venture over tartare and pickled shiitake. The meal felt like a microcosm of the city itself: adventurous, stimulating, diverse… Berlin has its own unique identity, defined by the people there who breathe life into it.
I caught my flight back to America, as planned… but as the plane took off, I couldn't help but feel a twinge of envy for those who call Deutschland home.
__________________
Marissa Melton, Voice of America International, Washington, .D.C
Somebody asked me during the June 2017 RIAS fellowship if I thought it would change my life.
I didn't know. Who knows what impact an event will have on you while it's still happening?
But it did. My view of the future is broader than before, and my sense of what I'd like to do next is more focused. I knew I wanted to move overseas in a few years. RIAS showed me how it could be done. I met people who had done it.
For me, the RIAS fellowship boiled down to people, places, and possibilities. I had applied for the fellowship because I had an interest in Germany and wanted to spend some time learning about it. What I hadn't expected was the number of impressive and interesting people we had access to, the variety of places in Germany that we would get to know, and the number of options for an American journalist in Germany, as well as for cross-cultural reporting.
The people, of course, were what made the experience a special one. Our group of fellows was such a nice mix of people — all curious, respectful of one another, easy-going, and kind. Most of us were history buffs, which really pleased me. And we were different in all the best ways: I have a. long radio background, but had always been intimidated by television. Exposure to several TV journalists on the trip helped me unlearn some prejudices and understand a little more about how that industry works. I still prefer radio, but I have some new respect for local television hosts, who get more criticism about their looks and delivery than any radio host I know.
The people we met on our travels were just extraordinary. How often do you get to tell a friend, "today we met the acting U.S. ambassador to Germany" or "Angela Merkel's spokesman spent an hour with us today"? On top of that, the RIAS Berlin Commission was so good about finding speakers who could address our individual interests. I have already contacted several of the people we met in June for help on stories about German politics and am about to begin a project on German nationalism for which my RIAS experience will be essential.
I also spent a little time in Berlin on my own after the fellowship was over, and it was a real pleasure to spend more time with the RIAS staff. I stopped by the RIAS building to drop off some paperwork and felt very welcome there, catching up with Isabell Hoffman and Lisa Ziss and Erik Kirschbaum, who actively sought feedback on our experience.
Dr. Seuss wrote a book called "Oh, the Places You'll Go!" and at least one friend quoted me the title when I got the RIAS fellowship. And weren't they right! RIAS took me to new places and helped me understand the political climate, cultural history, and ways to connect what is happening in the United States with what is happening in Germany.
And Berlin – it has always left me vaguely unsettled. After spending more time in the city, I understand why. It feels as though it is still in transition, and is moving faster than I can keep up!  But having an entire week in the city, taking public transport, and doing a lot of walking helped me get a little more comfortable with the city's mixture of old and new architecture and its unique history. After getting to know the streets and the people and the politics, I feel more like embracing the buzz of vitality that courses through the city. Now I can see the harmony in the city's contradictions. Berlin is bracing, but also old and kind and graceful.
The travel to other parts of Germany was an unexpected pleasure. Eisenach and Erfurt were places I would not have found on my own, and each was fascinating. Erfurt was particularly interesting – I had not imagined a medieval German town could be a stronghold for neo-Nazi sentiment.
Cologne and Brussels were also enlightening. I never would have guessed that I would see more crime and homelessness in Brussels than anywhere in Germany! The exposure to both NATO and the EU were a thrill and an honor.
As important as the people we met and the places we visited are the possibilities to which the RIAS fellowship opened my eyes. What a pleasure it was to talk to American journalists like Erik and Susan Stone, who have made their living as U.S. citizens in Germany for such a long time. With the news business changing to fit the new media landscape we live in, independent reporters seem to have more opportunities than ever. But I needed to be convinced that freelance journalism in Europe was a field I could navigate. Visiting with journalists at Deutsche Welle and the Axel Springer publications, as well as the research company Correctiv, let me see that there is a place for me to do journalism in Germany if I choose to pursue it. And with the global economy and culture growing ever more tightly woven together, there is much need for stories that encompass more than one culture, as well as viewpoints that compare the history of one place with another.
More than ever, the fellowship has convinced me that American journalism is too tightly focused inward. We need to be aware of our ties to Europe and how events on one continent affect things on another. In this way, the scope of my vision for the future has broadened to include actual people and places and issues in Germany, projects I'd like to do, and places I'd like to spend more time reporting. I am still overwhelmed by the fact that we were given the gift of two weeks of education in Germany, and I could not be more grateful for it. Thank you for a life-changing experience.
__________________
Hugo Pérez, News 22, New Mexico State U, Las Cruces, NM
Berlin has been on my list of cities to visit for about ten years. For many years I have heard from friends and read articles that Berlin is the center of Europe. I truly agree because the city has amazing energy and I am very much drawn to the way that everything appears to operate so smoothly.  Journalists from the United States should apply to the RIAS Journalism Fellowship Exchange Program because of the amazing insight one has with German politics, media, culture and everyday society. This fellowship is very unique because it gives you insight about a country that still has a stigma that is connected to World War II and the history of the Nazi party. I strongly believe many citizens in the U.S. continue to perceive Germany in this way. This ideology for the most part does not exist in Germany any longer.
I have been a very big fan of the German movies Downfall and The Lives of Others since their releases in 2004 and 2006, having watched each movie at least ten times. The trip to Berlin and other parts of Germany places you at those famous locations during World War II that were turning points in the war. Our group toured a Stassi prison, the tour gave us unbelievable insight about the way the Stassi prisons operated up until the fall of the wall dividing both East and West Germany. I would highly recommend that future RIAS fellows produce or write a story about the Stassi prison system, this is a part of East Germany that many Americans do not know about and I highly recommend doing an interview with the Cuban tour guide at the Stassi Prison.
The best way to get a grasp for Berlin and for Berliner's, is to walk the streets of the many unique neighborhoods that exist throughout the entire city, there are so many beautiful hidden gems that suddenly pop out of nowhere, Kreuzberg is one of these unique neighborhoods. I noticed that many Germans in Berlin are focused on their daily lives and don't seem to not pay attention to other people that are in their immediate vicinity. I noticed there doesn't appear to be a lot of conversation in public with people they do not know, Germans appear to keep to themselves. They do tend to open up to you once you ask a question about anything you are trying to find out.  I started approaching more and more people after my third week in the country and came to the conclusion that Germans are very nice, helpful and great people to talk to.
The visits to all the media outlets were very insightful, especially the visit to Deutsche Welle, which should be a model for other public television networks throughout the world. Their programing is unique, while broadcasting in German,
English, Spanish and Arabic. DW content is also available in 30 other languages online, amazing, amazing, amazing.  I have been viewing their content in both Spanish and English since spring of 2016. It is amazing to see the quality and quantity of content they produce on a daily and weekly basis.
The trip also took us to Erfurt, Cologne and Brussels, Belgium, this fellowship is a big treat because you get to visit places that you normally do not get access to, such as briefings with regional and state security officials as well as briefings with European Union and NATO spokespersons.
Make every effort to apply for the third week of the trip that is dedicated to reporting. You will have to send out many emails before arriving to Germany to track down the interviews you are looking for. Make sure you are very clear and direct about your intentions with the interviews you are conducting, especially if you are shooting photographs or video with audio. Explain to the person you are interviewing that you are going to record video and audio if they grant you permission to do the story.
My thoughts are that I will be recommending Germany to many of my family members, friends and colleagues and will be encouraging my colleagues in media to apply to the RIAS program. I will definitely be returning to Germany and I hope to shoot more refugee related stories and other stories that need to be told about the region.
If your group is lucky, you may get a chance to attend music concerts taking place in the city you are visiting during the RIAS trip. For example five of us attended the Aerosmith concert while in Cologne or the U2 concert in Berlin. RIAS coordinator Lisa Ziss made this happen, Germany ROCKS. Thank you, Lisa, Isabell, Erik and the RIAS Berlin Kommission for a great trip.
__________________
Victor Ramirez, CNN Newsource,  Atlanta, GA
__________________
Michael Stone, WUFT Public Broadcasting, Gainesville, FL
My name is Michael Stone, and I work as a freelance journalist, public-broadcasting editor, and college journalism teacher in the United States. I had the privilege of serving as a RIAS Berlin Commission journalist exchange fellow in June 2017. The roughly two-week program, which took us from Berlin to Erfurt to Cologne to Brussels, was educational, cultural, well-organized, fun, exhausting, and overall inspirational — and I will certainly be able to trace its influence in my work, career, and life.
First, a reflection of our time in Berlin. I unfortunately missed the first activity, the RIAS Award Ceremony, because of flight delays, but the other fellows said they enjoyed seeing the variety in subject matter of the top journalism projects showcased at the ceremony. During orientation the following day, the trip leader, Erik Kirschbaum, who has lived in Germany for about 30 years and works as a journalist there, gave us a good bit of background information on German media and politics, and his knowledge and language fluency made me feel comfortable with him as our guide. Rounding out this first full day were trips to the Reichstag — which was a trip favorite because of the tour of the building, including of the Russian graffiti by the forces that overtook Berlin in 1945 — and a meeting with the acting U.S. ambassador to Germany, Kent Logsdon. Logsdon became my favorite speaker of the entire trip because of his articulate wit, his comprehensive knowledge of U.S.-German relations, his full responses to our questions, and his blunt honesty. And I'd be remiss if I didn't also mention the high-up view we got of Unter den Linder from atop the U.S. embassy.
Though the first day proved to be my favorite in Berlin, other highlights from our few days in the city abound. They include: the tour of the Deutsche Welle newsroom, during which we saw the broadcaster's journalists responding to the breaking news of the shooting of U.S. Rep. Steve Scalise; the tour of the Hohenschönhausen Stasi prison, which revealed the intricacies of how the Soviets kept the inmates — and even their own guards and interrogators — in check; the meeting with Steffen Seibert, the German equivalent of U.S. Press Secretary Sean Spicer, who gave us some good insights into the federal government despite keeping his responses to our questions in PR speak; the tour of Bild, the largest print publication outside Asia, including of its unique daily editorial critique and of its fancy top-floor lounge and restaurant; and the day trip to Potsdam, which included stops at the 1945 meeting place of the "Big Three" Allies following Germany's surrender in World War II and at the house in which Nazi officials planned "the Final Solution." Recommendations for reworking the Berlin portion would be cutting the trip to Correctiv because the person we met with didn't offer much of a unique media perspective and didn't seem knowledgeable of her organization's workings, and cutting the walking tour of Berlin, or at least this trip's guide specifically, because the tour seemed like a great deal of arbitrary walking without key, close-proximity destinations, cohesion, and in-depth explanations.
At Erfurt, I enjoyed the meeting with intelligence official Stephan Kramer — specifically, his down-to-earth, detailed, and open explanations despite the subject matter being intelligence. I also appreciated: the tour of the elaborate Wartburg castle, especially tour guide Alexandra Husemeyer and her charm; the Erfurt immigrant council arranging our meeting with three refugees, especially the young man who fled Iraq for fear of retaliation following his parents helping American soldiers; and the meeting with CDU politician Mario Voigt, though I was shocked by his opposition to gay adoption despite all the progressive stances Germany holds as a whole.
My highlight of Cologne — if the spontaneous Aerosmith concert spearheaded by the RIAS Commission's Lisa Ziss is excluded — was the behind-the-scenes tour of RTL, Germany's largest private TV station, especially the room with the extra-large green screen. Then, in Brussels, the best parts were, of course, the trips to European Commission headquarters and to NATO. Of the speakers at both, NATO's were my favorite — specifically, the English man (don't remember his name) who was a bag of knowledge on all things European relations and the American woman (don't remember her name) who sat with our table at lunch and delved into the inner workings of NATO.
From all these experiences, some of my major learning points are:
Germany's media being extremely socialized in that all citizens are required to pay 17.50 euros monthly to fund public broadcasting.
S. President Donald Trump creating great disturbances in U.S.-German and U.S.-European relations by:

Demanding 2 percent defense spending of NATO countries and of Germany (Something not mentioned often in U.S. media or politics that I learned is that Germany still has a few years to hit that mark. As at least one person told us, though, the country wouldn't know how to spend all that money, but the U.S. ambassador told us that he'd gladly provide a list).
Failing to mention NATO's Article 5 (collective defense) during his May visit to the new headquarters building.
Overall, his talk of isolationism, borders, tariffs, and unequal international treatment, and his constant international criticisms.

The deep influences World War II and the Soviet control afterward have on German politics, such as maintaining strong independent media through the monthly fee, avoiding posting information online and overall privacy desires because of past privacy invasions, and avoiding troop deployments.
How support for Chancellor Angela Merkel's decision to let in refugees rises and falls — in politics, the media, and the general public — almost arbitrarily and is supported one week but then criticized the next by the same institution — for example, Bild.
My two major suggestions for future programs would be to include more women as speakers, including as refugees, and to reduce the early-morning days: For example, instead of having a day start at 7:45 a.m. and end at, say, 2 p.m., perhaps switch it to 9:45-4. This would allow for more rest amid the exhausting schedule. But overall, I'm extremely grateful for the opportunity and everything Erik Lisa, and the RIAS Commission's Isabell Hoffman did for us, and I'm sure the commissions will be getting some more applicants as I continue to discuss my great experiences among peers. And if the commission is ever in need of a Florida host, I hope it'll count me in.
__________________
Kassandra Sundt, WBUR 90.9FM, Boston, MA
I am truly grateful for the opportunities that the RIAS Fellowship granted me to visit and work in Germany and Belgium in June 2017. Though my father is from Berlin, and I lived in South Western Germany on military bases as a child, the learning and working opportunities that I was afforded through the RIAS program were truly illuminating.
Some of my favorite experiences were the talks and tours that provided greater context for the current political environment. Our discussion with Julius Van De Leer was a really great intro to German Politics. Julius had worked on both American and German political campaigns, and had lived in the U.S. previously, so his approach was really accessible and his comparisons to the 2016 U.S. Presidential Campaign and the current Federal Election were really grounding for the rest of our trip. I know I had read about the various parties within the German Bundestag, and did my best to understand the parliamentary system — but his ability to put them within the broader picture of German society, while using specific comparisons to U.S. political figures, was really helpful. I also appreciated his insight about how he was able to help run campaigns in the US, versus Germany. I didn't realize there were so many restrictions on campaigning, and especially personal information. After an almost two year election process in the US, many of us were very envious to hear about the distinctions between the "hot campaign" season and the "cold campaign" season.
The historical talks were particularly enlightening. Much of what I already brought to the table for this fellowship was based on an American perspective. So the talks, for example, about the lasting political and societal effects of the Nationalist Socialists and, later, the East German regime filled in a lot of comprehension holes that I wasn't even aware that I had. For example, I knew that the Stasi were the East German Secret Police, and that they had were omnipresent among the East German people. But I wasn't aware of the size and scope of the Stasi, or how relatively recently those events were. Going to the Stasi Memorial Prison was eerie and extraordinary. Meeting the tour guides who were former prisoners was particularly heart wrenching, and added an extra authentically emotional layer to the information we were getting. Since we are all journalists, I also enjoyed the talks with longtime journalist Thomas Habicht. He had a very candid way of speaking about the experiences of journalists. My favorite line will always be when he was talking about two colleagues who were later exposed as Stasi collaborators — that they were "mediocre journalists anyway."
While Berlin was an exhilarating and fascinating city, I was really excited to get out of the capital and visit Erfurt. This was much more of a cultural awakening for me, and provided us with a deeper understanding of average Germans. For example, this was the city where I used the most of my German language skills because fewer of the people were encountered outside of the day's itinerary felt comfortable speaking English with us or had English proficiency at all. One of my favorite memories was having a currywurst in the town square in Erfurt where a traditional music festival was taking place — it was one the best snacks I've ever had in my life!
While the cultural experiences in Erfurt were really revealing, the programming from the RIAS Itinerary were particularly fascinating. Meeting with Mario Voight, the Chairman of CDU Thuringia, was a highlight. We had met more left leaning politicians in Berlin, so it was interesting to hear another perspective — especially from the dominant political party in the Bundestag. Voight was clearly a very skilled politician — when he was asked a question about Gay Marriage, which at this point was still not legal in Germany, he said something along the lines of "I don't have a problem with it personally, but I'm not sure that they should be allowed to adopt children" — and then he very quickly pivoted with a line like "well, that's just my opinion." Though we didn't realize it at the time, in retrospect I think it was a bit of a foreshadowing of the vote that Chancellor Merkel would allow on the matter later that summer. Later in Erfurt, we heard from Syrian refugees living in the town, and their specific journey from Syria to Germany. This was fascinating. In the US, there is often a very specific perspective pushed out on what kind of refugees are coming from Syria and Iraq to Germany, and getting the story of two young men who didn't want to live in a big city, but instead start to build a life in a smaller town.
But hands down, the lecture and conversation with Stephen Kramer was my favorite part of the itinerary from Erfurt. Kramer was incredibly engaging, and provided a lot of context on both the plight of jews in Germany following WWII and the Holocaust — specifically why it was so difficult to rebuild this community. He also gave us a lot of background for the rise White Supremacist hate groups and Islamic Terror Cells in Germany. Hearing his frustrations with the systems in place was a breath of fresh air for me — because I think a lot of my American colleagues were not as critical as they could have been of the messages put out by various government officials, and instead saw a lot of our trip with rose colored glasses. His "real talk" helped remind us, as American journalists, that while Germany amy be getting a lot of things right in terms in our opinions, that it's still a government and society made up of people, so there are going to be bumps and mistakes, and things or policies we disagree with.
I was also honored to visit both the European Parliament and NATO headquarters. It was really stunning to visit Brussels in general, but the viewing these central buildings where so much newsmaking happens was fascinating. The informational talks provided some really important context for the work that the EU and NATO do. My one wish would have been to talk to locals who are critical of the work that both organizations do. Either organizers that don't like how the two groups have addressed specific issues, or even down to the nitty gritty of "I don't like how they've changed our city, or driven up rent."
In general, I wish we had had more women speakers — especially among the refugee speakers. I realize of course, that a vast majority of those coming to Germany are young men, and that women might be particularly traumatized by their experiences. But I think this perspective is often lost in U.S. coverage of the issue, and would have been refreshing. Also, I would have liked to hear from more Turkish-Germans about the historical context of their migration to Germany — which I understand has to do with the rebuilding following WWII.
That being said, I'm very grateful for my experiences with the RIAS program in the Summer of 2017. Because of this experience, I've been working with my home station on three stories — one segment on the German election, and two other narrative pieces that I hope will air this Fall. There's no way I could have gotten this same knowledge and insight without the help of the Berlin RIAS Kommission, and I can't thank Lisa, Isabell, and Erik enough!
__________________
Bonnie Turner, CNN International, Atlanta, GA
Attending the RIAS program was truly a life-changing experience. After having applied for two years, I was truly honored to have been chosen for the trip and vowed I would use this opportunity to learn as much as I could to make me a more well-rounded journalist and open my eyes to a culture my ancestors came from, but that I knew little about.
The program delivered on my expectations in so many ways. Having never been to Europe, it was an eye-opening, culturally riveting and a monumental learning experience. I broadened my knowledge about both German culture and history, as well as the journalistic practices of the country. It was great to explore Germany alongside other American journalists. The group really got along well, and formed a bond by the end of the trip. We learned about Germany together and we learned from each other as well.
The access we had to people like Chancellor Angela Merkel's spokesman Steffen Seibert and Kent Logsdon of the U.S. Embassy, as well as being able to attend prepared events at the EU and NATO was incredible. Visiting cultural sites like the Stasi prison, the Bundestag and the Warburg Castle and meeting with Syrian refugees was phenomenal. I loved having the blend of both meetings and visiting tourist sights. Everything we attended gave me a tremendous insight into a country that plays such a big role on the world stage and has a unique and defining history. I was eager to soak in as much information from these activities during this once-in-a-lifetime opportunity.
RIAS awards ceremony was a lot of fun and it was a good way to break the ice with the other participants. Meeting leaders and alumni from RIAS gave me a better understanding of what the organization is all about and made me want to get more involved. It was also great to get a chance to talk to Bill Whitaker from CBS News.
The schedule was a bit grueling some days, but I'm glad we had the chance to see and do so much during our time there. The first thing I learned on this trip is the fact that Germans are well informed about the American system of government and pay attention to American politics. Even with Donald Trump's antics and some anti-American sentiment, Germans believe Trans-Atlantic relations are still very important, no matter who the American president is. Angela Merkel isn't shy about her love and admiration for the U.S. despite her reservations about the Trump administration, because she places a lot of trust in American democracy.
The use of social media in Germany is very different compared to the U.S. I discovered that printed newspapers are more popular than Twitter — even for young people. Privacy is taken very seriously and many Germans avoid using social media altogether. I was surprised to learn that media outlets need to take special care not to invade people's privacy. Even criminal suspects last names are not used in reporting. I found it interesting that Facebook was more-or-less the social media platform of choice, compared to Twitter or Snapchat.
The thought-provoking conversation with Thomas Walde of ZDF made me understand the differences between public and private broadcasting in Germany. The government's view is that news shouldn't be a business. Although there are private TV stations, Germany imposes a TV tax to show that everyone is required pay for a true democracy.
The experience of meeting various Germans in media including our breakfast talk with long-time journalist Thomas Habicht was truly compelling. I enjoyed hearing about his experience with the Stasi. The fact that he said that the years of the Stasi is still an open wound for Germans and how morally, the unification process remains unfinished was extremely eye-opening.
An Italian philosopher once said, "those who don't learn from their past are doomed to repeat it." Germany has learned from its past and has become a better country for it. Not just that a dictatorship is unlikely in Germany ever again, but I think welcoming thousands of refugees is almost a way of giving back to those who helped Germans flee the Nazis during WWII. The country has strict laws against displaying Nazi symbols and slogans, performing the Nazi salute. Even suggesting any support for those ideas are taboo. Germans have closed the door on their history, while knowing it's a scar that will be forever imbedded in the country. The U.S. has a lot to learn from Germany on this front.
I found out a lot about the German election process on this trip. Julius van de Laar told us that the elections in Germany may not be as exciting as in the U.S., but that the system is effective. I loved learning about the Bundestag and how it works. Meeting Özcan Mutlu of the Green Party and Mario Voigt of the CDU in Thuringia were two very informative sessions.
The German government is run very differently than the U.S. Elections aren't a Democrat/ Republican spectacle, but operate in a way that represents all voices. Legislation is passed in a very thoughtful and efficient way. I plan to use much of what I learned for CNN International's coverage of the German elections on September 24th –so be sure to tune in!
I was also thankful I had the chance to visit Brussels, another vibrant and cultural city. It was fascinating to see how the European Commission is run and managed and the role it plays. The discussion on the refugee crisis was very enlightening. I had no idea how much they do behind the scenes with regard to granting asylum, relocating people and possibly returning them to their home countries. The enormity of the number of people involved and the massive databases to identify the migrants is mind-blowing. Not to mention the fact that they're working through a situation that is unprecedented.
It was also incredible to see how NATO works and the role it plays as well as how it collaborates with other organizations. The fact that Article 5 is crucial to the existence of NATO truly defines what it means to have allies.
There are too many places we went to and people we met to mention specifically. I was glad we could go to BILD, Deutche Welle and RTL. They all were great to see and experience. I absolutely enjoyed the blind date dinner.

Germany's culture, its people and its history all make it unique. Through my experience, I would describe it as a place of opportunity, of industry, of tradition as well as a place of hope. From Erfurt to Cologne to Berlin, Germany now holds a special place for me and I can't wait to go back and visit.
---
---
RIAS Germany Program – Fall
September 17–30, 2017
---
PARTICIPANTS

Stephanie Carr, 41 Action News, Kansas City, Missouri
Make the most of every moment.
That simple sentence creates the framework for my entire life. Anyone who knows a sliver of my weekly schedule at home in Kansas City, Missouri knows I do not leave much time for trivial things like sleep. Make memories now and sleep when you are dead. It is the philosophy I carried with me to Germany for RIAS Fall 2017. Let me tell you, it came in handy.
Every day of RIAS felt like three. The program packed so many lessons and experiences into the time we had, but also gave us time to explore the culture on our own. I remember walking around Brussels with some of the ladies in between sessions, breathing in as much of the sugar-scented air as possible. One referenced a "mind the gap" blunder that had occurred on our way to our first meeting at the European Commission. We were all shocked when we realized that it had only been a few hours since it happened. We learned and saw so much that morning and afternoon that the reality of time did not feel at all possible.
The disorienting feeling of time passing much slower than it felt only intensified once we reached Germany. There is just so much to see and do in Berlin! I found a couple fellows who had similar interests and sightseeing goals, and we decided to squeeze in whatever we could during breaks or stay out late crossing things off our lists. These guys became brothers to me over those two weeks.
One of my fondest moments from the trip was the night of Martin Schulz rally. The group went to a bar at Alexander Platz to celebrate Oktoberfest. That alone was an unforgettable cultural experience. But the night got even better when we decided to walk around Berlin and see the monuments lit up. Somehow, we ended up sitting under Brandenburg Gate after midnight, eating a box of donuts. We talked about all the history that unfolded there, from Hitler's propoganda parade through the columns to John F. Kennedy's "Ich bin ein Berliner" speech (which made our donuts appropriate). It was a humbling moment just soaking it all in.
The timing of our RIAS adventure gave us an opportunity to see how another country handles an election. Coming out of such a wild election season in America, it was fascinating to see something so chill and civil. I was surprised at how much Germans pay attention to politics and the issues that shape their world. The level of politcal awareness in general is astounding, especially in comparison to the months leading up to the American election. People in the states have a lot to learn.
The same applies to journalism. Seeing German media was kind of like witnessing the dream. Most journalists get into the business wanting to make an impact, but get caught up in the circus of ratings. Tagesschau is a great example of that. It is not about the flashy movements or graphics. Tweets need the action behind them in order to matter. The core of journalism is telling quality stories that actually carry an impact on the viewer, and I think that is something Americans have lost. Instead of being plugged in to what is happening, the entertainment factor takes priority. It has changed what kind of stories I look for when building my show.
RIAS gave me the opportunity to make my first trip across the Atlantic to experience Europe. It was something I dreamed about since I was a child, but never had the means to turn into a reality. The lessons and connections from RIAS were absolutely incredible. I will be forever grateful for the eye-opening moments and the chance to cross things off my personal history nerd bucket list. I cannot wait to go back for more!
__________________
Iris Carreras, CBS News, New York
What an incredible experience that was! We did so much in three weeks that here I am, two months later and still processing everything we experienced. The RIAS Program exceeded my expectations and I will forever be grateful for this opportunity. Here are my thoughts on the program.
BRUSSELS
We hit the ground running in Brussels with a full-day meeting at the European Commission. I thought I had a fair understanding of the organization but I realized it is way more complex. We spent our second day at the NATO headquarters. Getting into the compound was an adventure in itself. They made sure we left all of our electronics at the security gate, which is a small building at the entrance, so technically not even inside the compound. The meetings were off the record so I can't disclose details but some of the topics we covered were; the diplomatic efforts with Russia, the threat of North Korea, security challenges, defense policy and of course the biggest topic of the moment, Brexit. The speakers were informative and very kind to answer all of our questions.
As a side note, Brussels is such a beautiful city and it was a pleasure to spend some time there at the beginning of the program. Meeting some of the RIAS alumni on our welcome dinner was a bonus. 

THE 2017 GERMAN ELECTION
I'm sure every single RIAS trip is interesting but I have to say, the fall 2017 group hit the jackpot. We were very fortunate to be in Germany during the federal elections and have the type of access we did. Although Angela Merkel was expected to win, the rise of the far-right Populist Party, Alternative for Deutschland, was staggering. For the first time since WWII a far-right party had enough votes to gain seats in the German parliament, also referred to as the Bundestag. AfD was launched in 2013 and became popular after Merkel allowed over a million Syrian refugees into the country. According to polls, those who voted for the AfD were originally from Merkel's own party, CDU, and from the SPD, Germany's second largest party. During post-election analysis, polls revealed Germans who voted for the AfD were mainly doing so as protest against Merkel for letting the refugees stay.
On the night of the election a group of us had the chance to be at the SPD's headquarters where their candidate for chancellor, Martin Shultz, delivered his concession speech.

THE BROADCAST NETWORKS: ZDF, ARD & DEUTSCHE WELLE
The way people get the news in Germany blew my mind. The broadcast stations we visited were supported by the viewers directly. Meaning that when you watch these stations, you won't see any commercials. Deutsche Welle, the German version of Voice of America, can only be broadcast outside of Germany.
The journalists we spoke with agreed that German citizens have a good understating of how the election process works and are engaged with the news. And not just news about Germany but also the rest of Europe and the US. One program in particular, Tagesschau, a straight-news show that broadcasts out of a studio in Hamburg gets close to 10 million viewers each night! I thought that was really impressive.
I did my extension week in Berlin with Deutsche Welle's parliament correspondent, Oliver Sallet. He was excellent at explaining the access they get and how they cover the news day to day. The main DW headquarters is an impressive operation. They broadcast in 30 different languages and cover everything from hard news to travel. They even have German lessons on their site. I really enjoyed talking to their reporters in the newsroom and I will continue to follow their reports from home.

GERMANY AND ITS PAST
Germany is not trying to sweep its past under the rug. Quite the opposite, in my opinion, they want to come to terms with it. They've kept portions of the Berlin wall as a reminder of their history. There are a number of Jewish memorials, museums and libraries with detailed records on the Nazi crimes. They also have strict laws that prohibit showcasing the Nazi flag and salute and denying the holocaust can land you in jail. Some concentration camps have been kept as museums and are open to visitors. I visited the one in Sachsenhousen with a couple of other fellows. It was one of the most surreal experiences of my life, not fun by any means, but shocking and emotional. Keeping places like this is important because it reminds the world that we can never let this happen again.
Germany might be a world power today but it is still struggling to move on from its past and have a sense of pride. The country had been divided for so long that one of our speakers said the first moment it really felt like there was national pride was when Germany won the world cup in 2014.

THE TAKEAWAY
It's hard to think of just one takeaway considering how much I learned on this trip. But if I have to, I would say it is the importance of listening. I was off-duty during this trip. Meaning, I wasn't looking for angles on a story, or subjects, or soundbites. I was there to learn, and I did. Every single speaker brought something interesting to the table and it all came together nicely in the end.
The RIAS program was designed to promote an understanding between American and German journalists after the reunification of Germany. Considering the relationship between our current president, Donald Trump, and German chancellor, Angela Merkel, this relationship is more important than ever. We need to get the story straight and rely on each other to tell the truth. I'm very glad I chosen as a fellow and I look forward to working on stories with the German fellows.
On final note, Erik, Isabell and Lisa: you did a great job putting this program together. Vielen Dank!
__________________
Viviana Hurtado, WTOL, Toledo, Ohio
I am deeply honored and grateful to the RIAS Berlin Kommission for selecting me as a summer 2017 journalism fellow. This professional study tour allowed me to dive deeper into issues of nationalism, the so-called wedge issue of immigration/migration, and its impact on civil society and the political system. I was able to draw first-hand parallels between the conditions that gave rise to the so-called Trump voters, with my viewing area of Northwest Ohio and Southeastern Michigan one of the nation's epicenters. While the Alternative for Germany (AfD) has far right elements, including Neo-Nazis, many voters cast their ballots, not because they subscribe to this ideology. Rather, they are fed up with the establishment and don't feel their economic prospects are bright or equitable with other sections of society. Their vote was more a protest vote against the so-called system but not necessarily in favor of the AfD party itself. This squares with the conditions and results of the 2016 U.S. Presidential election.
Another important learning point is the difference between journalism in Germany and the U.S. To be fair, our group featured local and national networks and the German newsrooms we visited are national networks. Still, I observed less pressure for ratings and sales in comparison to the U.S. I have worked in both local and national U.S. newsrooms and can affirm that while they adhere to the division or the "wall" between sales and editorial, the lines are blurred, especially as newsrooms struggle with a contracting business model and the rise of digital. For example, "clicks," "likes," and "views," which stations can monetize, many times drives editorial decisions. Additionally, I didn't sense presenters or reporters are expected to engage on social media and rack up followers. This leads me to the conclusion that at least for now, journalism in Germany is able to focus on a craft that is tasked with the critical role of informing the citizenry—key to a vibrant democracy. However, as the youth "consume" news and media differently, I will continue revisiting this topic to see how German journalism adapts and/or changes.
I observed that overall, Germans are more informed than their U.S. counterparts of current events and history. Although we were exposed to a more elite segment of society (journalists, government leaders, diplomats, and think tank scholars), Germans are more aware of what is happening in their country, region, and world than Americans. While the U.S. is larger and isolated geographically, a decades-long trend has contributed to the so-called closing of the American mind. Indeed, the education system, the deregulation of media in the Reagan years, and the rise of digital informs this condition. Of particular concern to me is the willful geo-political "invisible" fences average Americans erect that chokes curiosity and creativity—a phenomenon I have observed first-hand since moving to the U.S. heartland two years ago.
Lastly, I was impressed with "living history," especially in Berlin. I felt that history is not just a fact or an aesthetically beautiful object. Rather it is a living, breathing artifact with which German interact every day. More Germans than Americans are not just aware of their history, but this knowledge shapes their present and future. Additionally, compromise, negotiation, and consensus are values German prize—in history, politics, and civil society. I wonder if the U.S. approached our painful chapters of history like slavery and contemporary hot topics such as police-involved shootings with a German perspective, perhaps there would not have been the deadly violence of Charlottesville, Virginia. Indeed, the RIAS Berlin Commission 2017 summer journalist study tour sparked many questions and ideas for stories and points of view that will inform my reporting.
__________________
Allegra Johnson, Sheridan Broadcasting Networks, Pittsburgh, Pennsylvania
Traveling through Europe with over a dozen strangers has been one of the highlights of my year.  When I applied for the RIAS Berlin fellowship I didn't have any preconceptions; I just knew that I wanted to have a cultural experience and learn more about Germany.  While applying, I figured that I would be informed on election politics, eat some interesting food and get a few new stamps in my passport, but I could have never imagined that I would transformed in so many ways.
As I stepped off the airplane in Brussels; it hit me – I'm going to have to take public transportation by myself.  The idea of finding my way through Brussels scared me just a little, I don't have the best sense of direction (as my RIAS fellows would soon to find out).  But even in my uncertainly, I felt an overwhelming sense of adventure and excitement.  Throughout the program, I would have to take public transportation daily, and I think that was such a benefit.  Allowing the fellows, to use public transit throughout Brussels, Berlin and Hamburg was not only exciting but also helpful from a journalistic standpoint.  By nature, journalists are curious creatures; we often end up in places that we shouldn't, and we are always quick on our feet, so our time spent traveling on local trains and busses was invaluable.
After finding my way to Ibis Brussels Off Grand Place (thank goodness for Google Maps), I appreciated the free time we had to explore Brussels before the orientation session.  In Europe for the first time, it was empowering for me to navigate my way through the city.  Seeing, feeling, touching and tasting Brussels was liberating for my mind and spirit.
Meeting the other fellows during orientation was a wonderful experience.  I had read the everyone's bios and I was extremely impressed!  I liked that the backgrounds of the fellows were so diverse, but I was a little disappointed in the lack of racial diversity – but there was great cultural diversity.  It was refreshing to interact with colleagues with broad global perspectives.  It's not every day that I connect with people in my industry with such different international frame of references.  Columbia, Paraguay, Hong Kong, Mexico, Australia, and West Africa; I mean that's pretty diverse.  I don't know if it was intentional, but I applaud the selection committee for selecting fellows through a "global lens."
Another note on diversity.  Like many of the other fellows, I have experienced being "the only." Often, we have been "the only" person of color in the room, "the only" woman in the office, "the only" young person in the meeting, or "the only" person over 35 on the board.  I think there was a good representation of men and woman and different age groups.  I sincerely believe that the RIAS Fall 2017 group will go down in the history books as one of the best groups ever!  LOL
That was just the first day…….
Overall, I think the program was excellent.  In my opinion, the visits to the European Commission, NATO, Reichstag, dpa, Deutsche Welle (Brussels and Berlin) Schulz campaign speech, the blind date dinner, the experience at the international media center, various election day activities, Hamburg, Tagesschau visit, Stasi prison visit, ZDF morning show, asisi Panometer Berlin, and the dinner with the Rias Fellows in Hamburg were highlights of the program.
I think those highlights helped me to better understand German/European politics, culture, and journalism.  I also understand that the program, was a cultural exchange, with no-strings-attached – however I would have liked to have done a joint project.  It's ambitious to want to do a podcast or newsletter, especially with the rigorous schedule, but it would have been nice to maybe work in a newsroom in Brussels or Berlin – write a script, record a story, edit sound or video – something along those lines.
The RIAS experience was awesome, I met and connected with great people, I learned so much on European culture and politics, and I truly had a global encounter.  Even with the experiences that were a little more challenging; it was still a perfect experience.
__________________
Elizabeth Johnson, CNN, Atlanta, Georgia
I learned so much about Germany, German politics and German relations with the U.S. It's hard to believe it was only a two-week program!
I wasn't really sure what to expect from this program, but the speakers were remarkable and the U.S. fellows were a great mix with thoughtful questions and discussion. We had people from radio, broadcast TV, podcasts and digital.
I studied German language/culture in high school and have dabbled in learning the language since then. I've always been interested in Germany, and it was even more complex than I imagined. The Germans we talked to were very aware of their history, even if they weren't alive when World War II happened.
We started the program in Brussels, where we met with people from the European Commission, NATO and journalists from the Deutsche Welle bureau there. From the beginning, we could see that Germany plays a big role in European and international politics. I was surprised to hear people from NATO saying that they appreciated the pressure U.S. President Trump has put on NATO member states.
Next we journeyed to Berlin. We were quite fortunate to be in Germany as the 2017 elections were happening, and there seemed to be a sense of that tension around Berlin – but maybe it was all the campaign posters! While everyone we talked to before the election predicted more or less what would happen – Merkel would remain in power and the right-winged Alternative for Germany (AfD) would make its way into the Parliament – there still seemed to be nervousness and uncertainty from the Germans about the election.
I was fortunate enough to be at the Christian Democratic Union (CDU) on election night. The two most remarkable things of an otherwise chill evening, was hearing the crowd countdown like it was New Year's Eve ("5, 4, 3, 2, 1!") and then immediately hearing the results of the election, and hearing the gasp and hush over the crowd when the numbers for the AfD were announced.
During our stint, we met with several German media organizations: Deutsche Welle, DPA, ARD and ZDF. Only DPA was privately funded; the rest were publicly funded. It was hard to wrap my mind around government-funded news agencies. Quite different than the way the U.S. does it!
I was blown away by the transparency in the Reichstag – both literally and figuratively. One of the things I found so interesting was how Germany set up its government in modern history — as opposed to the way older governments run.
I surprised to hear that East and West Germany (and Berlin) still have deep divides — culturally and politically. One of the things we heard during the post-election analysis was that first-time voters and young voters were very much divided by region when it came to voting for the Alternative für Deutschland: East Germans turned out stronger for the far-right party than voters in West Germany.
The coalition system in Germany was probably my favorite aspect of German politics. It was interesting to hear the theories of how a Jamaica Coalition would come together. (Jamaica coalition meaning a three-way partnership between Angela Merkel's conservative CDU, the pro-business Free Democrats (FDP) and the Green party.) It seems that the general public are interested and excited to see what happens with a Jamaica coalition — although it sounds like it could be a while before that comes through.
The last thing I found interesting – though not necessarily surprising – was the link between media and the far-right movement. There were many comments in Germany right before and after their election that mirrored how people felt about the media's role in the 2016 U.S. election. It seemed as if journalists in Germany were still grappling with how to treat the AfD; however, the politicians were pretty clear: They would not be working together.
I really enjoyed the program, and I learned a lot. Thank you for the opportunity!
__________________
Lane Luckie, KLTV, Tyler, Texas
As I stepped off the platform onto my train to the Frankfurt Airport, my world seemed to transform into a slow motion flood of memories. After three weeks in Germany as a fellow with the RIAS Berlin Commission, this life experience had just become my standard by which all others will be measured. Gazing out the train window, I realized how much this opportunity had provided in such a short time. Surrounded by the chatter and bustle of business travelers and vacationing families heading the airport, those final 20 minutes on the ICE train seemed to last forever. Could I have really immersed myself in so much history and culture in such a short time span? Absolutely.
Just three weeks earlier, this whirlwind of an experience began in Brussels, Belgium. I knew this fellowship would be an immersive learning opportunity, as trans-Atlantic relations are ever-evolving. In retrospect, I grossly underestimated how eye-opening my first visit to Europe promised to be. Feelings of excitement and anticipation were initially overwhelming, but they ultimately helped me absorb and process so many lessons and observations.
Without hesitation, I am certain the people and connections made during this trip had the greatest impact on my experience. This fellowship certainly provided opportunities unique to each fellow, but our group dynamic was a significant factor in its success. This small cadre of journalists represented a broad cross-section of our industry, through various levels experience, geographic difference, cultural backgrounds, and interpersonal dynamics. As we learned about German-American relations, the fellows also learned from each other.
Upon arrival in Brussels, our first stop, it was time to put my years of French language classes and months of studying German history and current events to the test. While overcoming language barriers was no problem, some simple, laughable cultural differences caught me by surprise. I struggled to turn on the lights in my hotel room, unaware the room key must be inserted behind the wall switch to activate power. Hours earlier, I happened to connect with another fellow on my inbound flight, so we set out to explore the city before the program officially got underway. After swapping stories of our journalism backgrounds and previous travels, I realized that the camaraderie among the American RIAS fellows would be a critical take-away. After getting lost several times and exploring the historic Cathedral of St. Michael and St. Gudula, we gave in to gastronomic tourist temptations – devouring frites drowned in mafia sauce, followed by Belgian waffles drizzled in hazelnut chocolate. Those few hours served to only whet my appetite for immersion in culture, cuisine, and conversation.
Our two days in Belgium couldn't have been more fascinating. Our visit to the European Commission provided an eye-opening look at the intricacies of the body and its strategy to strengthen member nations economically through competition with the U.S. This experience helped to personalize the Commission, giving me a new appreciation of its true purpose, successes, and areas of inefficiency. Our meetings at NATO's headquarters were among the most fascinating and engaging conversations of the program. Speakers were refreshingly candid, helping us to navigate the policy versus politics within the alliance. I left with a new perspective on the organization's shift from Cold War operations to combating terrorism and addressing tensions with Russia. Touring NATO couldn't have been more a more timely appointment, with President Trump having spoken here months earlier. Diplomacy and world affairs have never been more important. These visits led me to the realization that American journalists, including those in local news, should have a vested interest in educating their audiences on developments within these entities.
The RIAS program's timing, whether intentional or coincidental, couldn't have been better. Arriving in Germany the week before the Federal election served to boost excitement about an already exhilarating itinerary. Appointments with political foundations, journalists, and political analysts provided a thorough and engaging crash course in German politics and government. Not only did we navigate the complexities of the Bundestag, but also the political issues and national landscape that would serve as key factors in the ultimate election outcome. I was struck by how invested in government the average German appeared to be. While some might compare the current state of American politics to fans rooting for their favorite sports team or player, I gathered that many of the Germans with whom we interacted were actually quite intentional about understanding where in the political spectrum they belong. Election coverage in the local and national media was straightforward and less about a storyline or political drama.
Seeing the political process in action was necessary for a real understanding how German politics differs from the United States. From attending a campaign rally for candidate Martin Schulz, covering election night returns from SPD party headquarters, to attending a post-election analysis session, we were able to observe the key players in real-time. Producing reports for my station's broadcast and digital platforms served as a much-need "pop quiz" over the lessons and information we absorbed in one short week. In the final days of the fellowship, our meeting with a member of parliament was enlightening. We were able to dialogue about the implications of the election's outcome and his views on working in a coalition government. His candor was refreshing.
With the election behind us, I was ready to delve into learning how Germany's past plays such an important part in its present and future. Through conversations with everyone from government workers, restaurant staff, and journalists to people on the street, I was struck by the level of awareness about the country's dark 20th century history. I sensed a widely shared pain and embarrassment connected to the atrocities of the Nazi Party and oppression wrought by the communist East German government. Despite this, so many seemed upbeat about Germany's progress. Many societal safeguards and institutional mechanisms are now in place to prevent a repeat of past mistakes. Though I hesitate to make a blanket statement based on my limited experiences, enough tangible evidence exists to assert that Germany is not shying away from its past. So many monuments, museums and individuals are dedicated to educating the population about Nazism, the Holocaust, totalitarianism, corruption, and division. This approach came as a surprise, as I often heard the phrase, "Never again a perpetrator," repeated by so many people.
A life-long history buff, I've read countless books and articles about Germany's role in two world wars, its decades as a divided nation, and its resurgence after reunification. However, it wasn't until I re-traced the footprint of the Berlin Wall, toured a Stasi prison, and wandered the halls of the Reichstag Building did those historical "stories" impact me in a real and personal way. Putting my hands on the Brandenburg Gate, I suddenly thought of historic photos and videos of this iconic location that was once a no-man's land, nearly destroyed by shelling. It wasn't enough to simply visit relics of war, but we were impacted by the personal accounts of victims of tyranny. I'll never forget reading about the lives lost trying to escape over the Berlin Wall, nor the chills I experienced after gazing at their photographs at a memorial in Bernauer Strasse. That sobering walk in such a beautiful park left an indelible mark on me. It's still quite difficult to imagine the anguish of the families that spent decades divided by a physical and ideological barrier. A certain level of distrust or skepticism seems to remain. We were told many people are highly protective of their privacy.
This immersion in Germany culture and society also provided the chance explore the role of journalism in Europe. Our visits to Deutsche Welle, ARD, ZDF, and DPA provided a deeper understanding of not only the standards and practices of journalists, but the organizational differences within the industry. I gathered that Germans view journalism as an essential investment in maintaining an informed, educated society. Each household pays a monthly licensing fee, which is collected by the government, then distributed among the broadcasters. This seems to free broadcasters from a hyper-focus or obsession with ratings and profits. Instead, coverage dictates staffing and resources. Perhaps this is one of the factors contributing to a growing broadcast audience for many of the traditional broadcasts in Germany.
One might question the government's involvement in this process as a potential influence on content. However, we were assured that there is no editorial pressure or control from outside the organization. Another observed difference between American and German newsrooms was the division of duties. In Germany, it seemed that a media organization's staff members had a more specific task or role as part of the editorial process. I was so impressed to learn that many broadcasters have staff members whose sole responsibility is fact verification. In many American newsrooms, especially in smaller local newsrooms, media professionals "wear many hats" simultaneously. We observed a common commitment to responsible and factual coverage among the agencies we visited. I learned that while fervent protections of free speech exist in Germany, the response to libel and the associated legal ramifications seem to be just as serious.
My "blind date" dinner with a RIAS fellow and his family was one of my favorite exchanges with German journalists. Not only did we have candid conversations about the differences within the media and communications industry, but this served as a very real and personal opportunity to witness the home life for the average German. The warmth and hospitality of my host family helped broaden the conversation to the topics of day-to-day life, family values, culture, history, education and recreation. This newly-formed trust allowed an opportunity to ask questions and share observations that may not have been best-served in the more formal meetings and lectures of the previous days.
This fellowship also provided so many "firsts" for me, as I had never before traveled to Europe. Whether taking a high-speed train or the experience of travelling solo abroad, this served as an exciting adventure. I have a new appreciation for language barriers, as well. Patience and empathy put me at ease when interacting with individuals who didn't speak English. Never before in my life had I been in situations where the majority of those around me didn't speak my native tongue. I'll never forget that feeling of vulnerability. When the lack of shared language seemed to slow communication, I was amazed at how other factors filled in the gaps. Food, music, or a simple smile seemed to bring us together without speaking a word. Surrounded by thousands of people in Hamburg's Elbphilharonie, the world's most acoustically advanced concert hall, we shared an understanding without a single word being spoken. The music moved us in such a way that was universally appreciated. The same could be said for interacting with people on the streets. A simple smile on someone's face sent a powerful message, setting the tone for any further interaction. For such large cities, I was so impressed by how friendly people in public were throughout our stay.
Not everyone, though, is received the same. When you look different in this relatively homogenous society, there arises the opportunity for discrimination. We saw this in context while taking a tour of Berlin's Neukölln district with Samer, a Syrian refugee who escaped the civil war in that country. Right now, it seems Germany is largely divided over the refugee crisis in Europe and Chancellor Angela Merkel's decision to accept more than a million people seeking asylum. While it may be accepted as the right decision from a humanitarian standpoint, there is much discussion over the political fallout. Samer told us that economic and societal opportunities are not always the same for refugees. Security concerns and fear of the unknown elicit different reactions. This fear seems to be driving the rise of the AfD party, whose success in the parliamentary election shocked many in the country. For the first time in more than 50 years, a far-right nationalist party would hold seats in the Bundestag. The AfD used immigration and the refugee crisis as one of its main talking points during the election. This has been a difficult conversation in many circles. Samer told us the majority of refugees have been welcomed with open arms and specifically chose Germany because of its values. Hope is not lost in this land of opportunity.
Downtime between appointments was often spent with RIAS fellows, making touring and exploration a shared experience. I'll always cherish these forged friendships, which reminded me why journalists are some of my favorite people. Most are great listeners, who seek to understand people on a deeper level. While differences often divide communities, I've witnessed what can be accomplished when people realize they have more in common than they think. The art of empathy is a skill that must be learned, practiced, and embraced. This experience of a lifetime reignited my curiosity and passion for learning.
As our RIAS program came to a close, my next adventure began. My week-long extension would serve as another test of my skills. I must admit, I was quite nervous about this portion of the fellowship. I simply didn't know what to expect. I swallowed my pride, allowed myself to be vulnerable, and jumped into the proverbial "deep end." I set out to explore the country on my own. That month marked the 500th anniversary of the start of the Protestant Reformation, so I hopped another train to the town considered the cradle of the Reformation. It was in Wittenberg that Martin Luther posted his 95 theses and spent his years preaching and teaching bible studies at the university. Using the communication skills I had formed over the previous two weeks, as well as my training as a digital journalist, I was able to report for my home station while gaining a deeper appreciation for this moment that changed human history. The next day, it was off to Germany's fourth-largest city, Cologne. Here, I was able to soak up history around every corner, learning about the country's history within the Holy Roman Empire. It's also home to Germany's most-visited destination. Even after an entire day inside the Cologne Cathedral, I felt l had only glazed over the real reach of modern Christianity's roots in Germany. The cathedral, which took 600 years to build, served as the focus of another report I filed as part of my 'Power of Prayer' series for my station.
Now having been exposed to Germany's ancient, Medieval, and modern history, I wanted to gain a better understanding for the challenges of post-reunification. I rode the train to Mainz to take part in the country's official 'Germany Unity Day' observance. This event, which drew tens of thousands of people, was the perfect way to witness the evolving identity of Europe's largest economy. The people I interviewed were hesitant to use the word "pride" or "patriotism," I could sense they were excited by their country's progress in the last 27 years. The best of Germany's culture, food, music, art, and technology were on display. Educating the attendees about government, both state and federal, was a well-planned and significant part of the event. It was refreshing to watch people, young and old, express such sincere concern and interest in ensuring efficiency and cooperation within government. Not knowing any German, much of this day was spent in silence, listening and reflecting on the environment around me. I can't recall another time when I was so intently focused on observing my surroundings.

Only a week after returning to the U.S., I was able to host a German journalist in my newsroom in East Texas. I never imagined how important this element of my RIAS fellowship would become. Planning this week of learning and cultural experiences for my German fellow helped me apply all of the lessons I learned abroad. Our conversations and reflections taught me that despite the differences between our two countries, we have more in common. I now have a true friend across the pond.
I will always consider this one of the most impactful experiences of my life. I'll be forever grateful for the kindness, expertise, and dedication of the RIAS staff, who were essential to the success of this exchange. Erik, Isabell, and Lisa were highlights of the trip because their personalities added a fun factor to each day. On our final day in Berlin, the U.S. Embassy's Minister-Counselor for Public Affairs Mike Reinert told us, "When you walk down the street (here), history speaks to you." Now that I'm home, it isn't just history that's speaking to me. We have so much to gain, personally and professionally by broadening our horizons. I expected this exchange would provide me with a new world view and appreciation for Germany, but I didn't count on being inspired to do some self-reflection. It is my hope that more American journalists will seek opportunities in the spirit of international cooperation and understanding. I now have a deeper appreciation and respect for Germany's role in the world and the importance of every person's access to free, unbiased information.
__________________
Heather Maxwell, VOA, Washington D.C.
I had been to Germany several times before. My older brother, Todd, moved to Berlin in the 1980s to pursue an opera career, and then met his wife, started a family and ultimately became a TV producer at Deutsch Welle. My trips to Germany began in 1988. I was en route home from Ghana, West Africa and made a point to catch a layover in Berlin to visit Todd. Since then I have made a career as an Africanist ethnomusicologist and have, on many occasions, stopped over in Berlin on the way home.
Clearly I was no stranger to Berlin or Germany when I went in the Fall of 2017 with 13 other American journalists on the RIAS fellowship. However, my experience with RIAS taught me that I had never known Germany or even Berlin at all until then. First off, the pre-departure studies we were encouraged to do brought me in line with Germany's political system, history, and current challenges and accomplishments. Then the actual experience of visiting so many government offices, officials, and fascinating talks brought what I'd been reading about during pre-departure studies into reality. The fact that we were there at the time of the 2017 Presidential elections was unbelievably exciting and one that will forever be engraved in my memory.
The two weeks in Germany with RIAS also put me in direct contact with numerous German fellow journalists and other professionals. In all of my previous visits combined I had never talked with so many Germans. Our blind date was one memorable case in point, as were our many dinners out where German participants joined us at the table. From our visit to Deutsche Welle in Berlin, I liaised with the editor-in-chief Ines Pohl who, in turn, connected me to two African radio hosts/producers of a wonderful radio drama series called "Crime Stoppers" on DW's English to Africa stream. As a radio host/producer on VOA's English to Africa stream, I was excited to interview the two hosts and learn about their series. I brought this new knowledge and connection back to VOA in Washington and shared it with our Africa Division and now a new professional bond is between us.
It's interesting that my brother (who as I mentioned also works at DW) and I have never taken advantage of our respective careers as journalists at parallel broadcast –digital news agencies to make professional connections. But RIAS made it happen! I was particularly delighted that on the day our group visited DW, my brother was also there working and we were able to pop in and get him to give us an impromptu short summary of his experiences as an American producer there. After my two weeks with RIAS in Germany, I learned enough about German social norms to know that the impromptu aspect of that DW/RIAS brother-sister encounter was unusual. I greatly appreciated the structured way that the meetings and talks were held, and that the public transportation got us around to all of our destinations. The logistics of the RIAS program carried out by our leaders, especially Isabelle was equally impressive.
One of the biggest take-aways for me was the enormous responsibility that Chancellor Merkel has taken on to welcome over one million migrants and refugees. I was fascinated by all of the talks and tours that involved the German migrant/refugee population. From Germany's earlier handling of the Turkish migrants to the current crisis of refugees from Syria and other places; it all fascinated me especially as we struggle with our own issues of borders and migrants and refugees on US soil. I found parallels between the rise of our own "America First" movement and some of its more radical off-shoots such as what happened in Charlottesville, VA and the historic rise of Germany's far-right nationalist AfD Party and victory in winning seats in Parliament. Relatedly, I was impressed with the way the Berlin managed its monuments especially with regard to its horrific Nazi chapter in a not so distant history.
The cultural aspect of our visit to Berlin and to Hamburg were highlights for me. I had no idea how different Hamburg was from Berlin and that it was and still is such an important hub of global trade and musical theatre culture. I continue to tell the etymology of our American Hamburger and Frankfurter as well. Speaking of the trips outside of Berlin, I must add that the days visiting the EU and NATO in Brussels were highlights for me. I learned so much about European and world politics in these few days and then on into the two weeks in Germany, I would need many more than 2 pages to properly explain.
The RIAS fellowship changed my life, made me a smarter person, a more connected journalist to other American journalists and to German journalists, and ultimately a better host/producer of my own music program. "Music Time in Africa" on the Voice of America has and will continue to feature special reports, music, and interviews of African artists in the Belgian and German diaspora in 2017 and 2018.
__________________
Scott Saloway, MSNBC, New York, New York
Germany is a nation of paradoxes. To America, it's not only an ally, but also a competitor for influence in Europe and around the world. That's the perspective I walked in with at the start of this amazing journey to Brussels, Berlin and Hamburg. I wanted to see what Germany looked like on the inside to my uneducated American brain. Boy, was I in for a surprise.
Suffice it to say, the RIAS visit gave us a chance to witness history. We saw first-hand how some Germans chose to revolt against the established order, electing the right-wing AfD to parliament for the first time since the end of the war. In a nation re-built on the ethos that "it will never happen again," some German voters bought in to the belief that right-wing populism was the solution to economic and social issues.
It showed that even in a nation so well educated on its own history, some voters were willing to again tip-toe down that path.
I walked away realizing that the same economic and immigration fears gripping parts of the United States were also running rampant in Germany. While in the U.S., we see a divide between North and South, in Germany (26 years after reunification) there still exists a split between East and West. The East, it seems, feels left behind in the West's economic growth. The West does not understand the East's anger over refugees "taking away jobs."
It comes through as a profound culture clash (much as it is in the United States). Simple dialogue cannot solve the issue, especially when most leaders seem committed to the economics of the West without offering much to resolve the East's complaints.
It drew striking parallels to the United States, where we just witnessed a similar rise in a new kind of populism. At nearly every stop in Germany, journalists and officials wanted to talk about Donald Trump, how he became president and what that means for the future of the world. I responded by turning the question around: what does the AfD mean for the future of Germany?  This led to deeper conversations on the role of leaders in responding to voter anger, why Germany's government is built around a federal system with so many checks and balances (hint: the U.S. was used as a model), and what journalists can do to keep informing the public even if the public does not seem receptive.
I realize the historical experience between our two nations is very different. Yet, the conversations came to the same conclusion: we must simply keep reporting the truth as we know it and hope that prevails over the "fake news" and emotion gripping parts of the voting public.
At the same time, we also had the chance to see the future of Germany. In Hamburg, young and educated Germans are charting a new path towards economic and social freedom. There's an energy and welcoming attitude in that city you don't feel in Berlin. Perhaps it's a reflection of Hamburg's history as a shipping port – a place where travelers of all creeds pass freely. Or perhaps it's a recognition that in today's world the only color that matters is green (or the rainbow of other colors that make up the Euro).
Likewise, we saw the bustling immigrant communities defining a new future in Berlin. On what's become known as Arab Street, there is a feeling of community and commerce you don't see elsewhere in that city. The typical German efficiency (and Berliner Schnauze) is given over to friendliness and warmth that only comes from people looking to start something new.
I left Germany thinking of the United States in the early part of last century, when it too was at a crossroads. It was immigrants who fueled America's rise in the 1920s and 30s; the Irish, Italians, Poles, Chinese, Japanese and Jews fought through racism to change the country for the better.
Germany, it appears, is at the same crossroads. Most of the leaders are white and northern European, as are most voters. But the energy belongs to the immigrants and the young people with a different perspective. The notion of a homogeneous people is long gone. The future of Germany is one of many colors, and many faces.
That, I feel, is the future of journalism as well. Perhaps the greatest thing I learned on this visit was about myself and my role as a journalist. We in the U.S. do not often have the luxury of time, nonetheless self-reflection, as we hop from crisis to crisis. We can be left wondering if we did the right thing. Yet, the nature of our business means those evaluations happen long after the crisis has passed and the time for correction is gone.
In our conversations with German journalists and political leaders, I saw a very different approach. It's an approach that favors thought over action, facts over speculation and substance over spin. That's not to say Germany is some wonderland that has journalism figured out. As we learned, younger people are not watching TV and that could upend the entire system. But the strategy in place for collecting and delivering the news offers a kind of purity we could only dream of in the United States.
Being in Germany reminded me why I became a journalist: to report and to inform, not to inflame fights or anger politicians. To be part of the conversation, not to be the loudest person in the room. And to build a better country with the remarkable tool we have embedded in our Constitution: press freedom.
Freedom, though, comes at a price. It is something you must fight for every single day. That is also something the German example shows us. It is an example I understand now more than ever.
I came to RIAS thinking I knew something about Europe. I also thought I knew something about Germany and about journalism. Perhaps the best part of this program was realizing all the things I still need to learn.
__________________
Alex Stambaugh, CNN, Atlanta
From day one visiting the European Union in Brussels, we were challenged to not only think about Germany's struggles and successes, but also to understand those in the context of our own country. How does Germany handle its financially failing partners? What will a post-Brexit world look like? Should a the union have the power to decide contentious issues like refugee migration? To my surprise during these conversations, I realized how much our nations both struggle with the same issues of economic uncertainty, immigration, growing political divisions and distrust towards the media.
My favorite experiences of RIAS, however, occurred during our time in Berlin. It's hard to imagine the city being anything but a beacon of freedom, knowledge and artistic expression. From art installations like the East Side Gallery to the transparent design of the Reichstag, it's clear Germans are acutely aware of their history and adamant in assuring it never happens again. I enjoyed most seeing this history through our city tour, the holocaust memorial, the Stasi prison and the 360 mural of the Berlin Wall. I also very much enjoyed understanding how this history fuels the country's politics.
Having the unique opportunity to be there during elections allowed us to better understand the factors of German politics unfolding in front of us at the time. From our discussions with government representatives, think-tank policy experts and our conversations with other German RIAS fellows, we were able to learn about the coalition government, Merkel's challenges and what fuels the AfD. I enjoyed being able to participate in election night up close by attending Martin Schultz's election party (SPD) and later seeing people protesting in front of the AfD's election headquarters. The AfD won an unexpected 12% of the vote, allowing them, a far-right party, to gain seats in parliament for the first time since World World II. The reaction to this was people holding EU and rainbow flags shouting "Nazis out!" while being held back by riot police. It was an emotional night for Germans and I felt privileged to have the opportunity to not only witness the moment, but also to document the occasion for CNN.
As a journalist, I was surprised to learn how our cultural differences influence the way we cover stories. During our visits to Deutsche Welle, ARD's Tagesschau and ZDF's morning broadcast, we learned how Germans prefer a more matter-of-fact style news and how TV news survives off public funds. Additionally, I enjoyed our conversation at the news agency dpa, where we learned privacy laws are very different than in the states. These conversations allowed us to realize that while there are many differences between German and American media, we have the same challenges: the growing criticism of "fake news", keeping the attention of oversaturated audiences, diversity in the workplace and harnessing the power of social media.
I'm very grateful to RIAS for the unique experience and for their hard work in making sure our two weeks were packed with the right balance of policy talks, news agency visits, and cultural activities. I gained a greater understanding of Germany and had a more rewarding experience than I could have hoped for in traveling to a new country. Thank you also to the other fellows who shared their diverse perspectives to create stimulating conversations. They reminded why I got into this industry in the first place – to dig deep into issues facing our societies, to share new perspectives and to find ways we relate as humans.
__________________
Simon Thompson, KRWG, Las Cruces, New Mexico
The RIAS fellowship was a career enriching experience that enhanced my perspective about global issues and deepened my understanding of Europe. I don't think I can mention all the compelling things I got from it, but here some of my biggest takeaways.
Coming on the RIAS exchange during the German elections gave real immediacy to the breadth of issues our hosts and speakers explored with us. The most fascinating take away for me was the extent to which Germany's Nazi and fascist past continues to shape its policy and cultural outlook. There seems to be an outgoing effort by everyday Germans to acknowledge, repair and almost atone for the atrocities that occurred more than half a century ago. This certainly seems to be the driving factor behind Germany's approach to the immigration crisis. Having covered the US/Mexico border and reported for some time on immigration, I was fascinated by our stop at the CDU funded 'Conrad-Adenauer-Stiftung' policy center. Not just by the impact of refugees and migration on German society, but the policy approach taken toward immigrant issues and integration. These solutions did not seem in step with 'Conservative' politics of the party leading the governing coalition. Comparing these policies to the major parties in the US I was stunned by how liberal Germany's 'Conservative' party: the CDU is and has been, particularly when it comes to their environmental policies, infrastructure spending and immigration policies. The CDU policy seemed comparable to the Democratic Party (USA).
I think this played a huge part in the success of the AFD/Alternative for Germany in the 2017 election. The reported news angle of it was that of a far right party gaining a foothold in Federal German parliament for the first time since the Nazis and Far Right extremism was growing stronger in Europe – certainly noteworthy. However, on reflection it does seem like an understandable consequence of a ruling conservative party implementing policy that is not particularly conservative. How else could conservatives underwhelmed with the ruling coalition express their frustrations or indicate their hopes of more conservative government.
The most fulfilling aspect for my RIAS experience was the reporting opportunities. I was really impressed by the influential speakers and their willingness to share their insights – almost all of them were rich sources of information, stories and most could have been key interviews in long form reports. The program really allowed me to develop nuanced understanding of the German system and the nation's social/cultural challenges. On a more casual level, Erik gave me a lot of background info and really pushed and drew on his journalistic contacts to get me access to sources and stories – including information on where the AFD party (Far Right Party) was having their election night celebrations. It made for great footage.
Some of the more causal social events with German stakeholders and journalists gave some insight into what it is like to be a journalist in Europe and how the German media functions. I still can't believe the level of funding German public media gets compared to US public media. It was also clear that German Broadcasting has taken notes and production style techniques from US news shows. The dinner date with German journalists was a fantastic way to get an understanding of life, culture and growing up in Berlin, as well the East/West divide in Germany. This is the only real thing I think there could have been more of in the exchange. There could have been more testimony from people from East Germany who valued the culture and system.
Spending time in Brussels was key to understanding the EU and geopolitical issues facing the western world. I was especially intrigued by going to NATO – all the speakers were extremely open and led challenging discussions. I was astonished to learn many of the NATO representatives agreed with President Donald Trump on the contribution European countries are supposed to be making to NATO.
For my extension week I was extremely fortunate to spend a week at the Deutsche Welle EU/Brussels bureau and even assist on a story and get a web story byline. Whilst there I went to EU press conferences and reported on the EU licensing of Monsanto's weed killer round up. I spent time with top notch European journos. I gained unique insights in to how the EU functions and sometimes doesn't function from the journalists there, as well as how they articulate convoluted issues to their audiences.  All in all the fellowship really broadened my perspective and understanding as a reporter.
__________________
Clare Toeniskoetter, Marketplace, New York, New York
On my flight from New York to Brussels, I opened about a dozen articles and cued up several podcasts, all on the upcoming German federal election. I revisited topics I'd studied for the past few months: coalition governments, the rise of the far-right AfD party, the ongoing refugee crisis. I thought I had a general grasp on German politics and current events, but three weeks later, I finished the RIAS fellowship with a newfound level of understanding that could only come from my time in Berlin, Hamburg, and Brussels, along with a new group of sources, mentors, and friends.
The first week of the trip was jam-packed with briefings, meetings, and visits focused on the upcoming election, with speakers from different backgrounds, professions, and viewpoints. But learning wasn't limited to formal Q&A or lecture settings. Walking around Berlin, we analyzed popular and controversial campaign posters; returning to our hotel at night, we turned on the news and watched interviews with political candidates; we attended a campaign speech for the center-left SPD candidate and heard shouts from far-right protesters in the distance; the morning of the election, we visited a polling station and talked to German voters  — we didn't just observe the election, we lived it.
For me, election week culminated with a trip to the center-right CDU election party in Berlin. Election results came in seconds after the voting booths closed, so quickly that the crowd was able to count down like a New Year's Eve celebration — perhaps there's truth to the stereotype that Germans are extremely punctual people. The crowd erupted in cheers when CDU results appeared on the room's projected screen, but cheers quickly turned to silence when the higher-than-expected far-right results came in. About twenty minutes later, the joyous crowd returned as Chancellor Angela Merkel gave her acceptance speech. Despite the language barrier, the week one RIAS meetings helped me understand the room.
Beyond politics, the fellowship was rich in cultural events. We watched a Hertha soccer game at the historic Olympiastadion, took a bus tour through the highlights of Berlin, drank craft beer on a brewery tour, and attended an orchestra performance at the prestigious Elbphilharmonie in Hamburg. We also visited several TV and radio studios, and joined the studio audience at a popular live morning show, Morgenmagazin. Whether it was a 6am wake-up or a late-evening dinner, there wasn't a dull moment in the two-week program schedule.
The real highlight of the trip, though, was the lasting connections I made, both with fellows in my group and German RIAS alumni in Berlin and Hamburg. One night, RIAS set us up on "blind date" dinners with German journalists. My host Ute Kindler taught me about my ancestry. She recognized the style of my German last name, and explained its etymology. Even more surprisingly, we discovered that Ute grew up in a small village in Northwest Germany just kilometers away from my ancestors' home. She told me all about the region, and recommended the best areas to visit on my next trip to Germany.
The RIAS fellowship was an unparalleled opportunity to step away from day-to-day reporting and production to learn, explore, and meet new people. Now that I'm back home, my German education continues with the list of movies, books, articles, and news sources our speakers suggested, meetings with American RIAS alumni in New York City, future station visits from German fellows, and, hopefully, a trip back to Germany somewhere down the road.
__________________
Benjamin Warwick, KCNC, Denver, Colorado
__________________
Stephanie Wolf, Colorado Public Radio, Westminster, Colorado
There's a lot of history to behold in Berlin's Gendarmenmarkt, with German and French cathedrals flanking the storied Konzerthaus. On the day I was in the public square, people had gathered to hear about Germany's future rather than contemplate on its past. Some of them held large red balloons that read: Es ist Zeit für Martin Schulz. "It is time for Martin Schulz."
As the leader of the Social Democratic Party (SPD) made one of his final pitches to voters in mid-September, I thought about something a campaign consultant had said earlier that day, while addressing 14 American RIAS fellows. Julius van der Laar, who worked on Barack Obama's 2008 and 2012 campaigns, said he wished German politicians brought more "sex appeal" to their campaigning. Sure, Schulz's rally didn't have the same fervor or spectacle as some of the ones along the U.S. 2016 campaign trails. But, at this point in the trip, I had learned it was foolhardy to make apples-to-apples comparisons between American and German politics.
Being in Germany during the federal elections was a major motivator to apply for the RIAS fall term. I learned about the fellowship fresh off of covering the 2016 elections. It seemed like the U.S. elections were top of mind for journalists and citizens alike, and discussions hit a similar note, from social media's effect on the sharing of inaccurate stories, the boundaries of free speech and an "urban/rural" political divide. A former RIAS fellow, who I met at a conference, recommended the program and I was curious to observe politics and journalism in another country leading up to and during a big election.
The first week of the program was largely focused on the German federal elections. We visited political think tanks and spoke with analysts and journalists. It appeared that immigration, as well as economic and national security, were big issues. Reading the news from afar, I had not fully understood the effect of, what several speakers called, the 2015 "refugee crisis." Chancellor Angela Merkel had invited people fleeing unstable conditions in their countries to come to Germany. More than a million took her up on her offer and systems were not yet in place to handle such an influx of people coming to the country. While one could argue that some of those snags have been smoothed out, there are German citizens, and even politicians, that are still upset about the policy.
The argument for migration is that Germany has a large aging population and low birth rates. When we visited a think tank that holds similar values as the CDU/CSU, an analyst explained that Germany needs immigration to stabilize the population. Others saw it differently, particularly in East Germany. Nearly three decades after the Berlin Wall fell and German Reunification, many of our sessions alluded to a metaphorical wall between East and West Germany — lingering effects of the Cold War. And this East/West divide would have a role in the 2017 federal elections.
On election night in Colorado, I left my newsroom shortly before midnight Mountain Time, and while the electoral map looked more and more red, the presidential race had yet to be officially called. This was not my experience on Sept. 24, 2017, from my vantage point at the SPD election night party. The preliminary results came in around 6 p.m. in Germany, and within maybe 15 or 20 minutes, Schulz gave, what essentially was, a concession speech. A bit anti-climatic after my week of non-stop political discourse.
Both the SPD and CDU/CSU lost seats in the Bundestag. But the biggest news story of the night was the far-right Alternative für Deutschland (AfD) party entering parliament with 12.6 percent of the federal vote. After the results were in, protesters took to the streets of Berlin, and other German cities, chanting "Nazis out" and "racism is not an alternative."
German media outlets reported that AfD performed the strongest in the former communist East. But, in a video message after the elections, Merkel cautioned against overstating the divide: "We see the same concerns about globalization, anonymity, and poor facilities also in the "old" states [of former West Germany]."
It wasn't all about the elections during my time in Europe. A visit to NATO in Brussels deepened my understanding of the military alliance and geopolitics more broadly; a tour of a Stasi prison in Berlin left my mind wheeling about what a number of East German citizens endured. I also took some time on my own to check out the art scene.
You could argue that Berlin is one large outdoor gallery, because there's street art and graffiti everywhere. I had read an article about "The Haus," a temporary street art gallery in an old bank awaiting demolition, which made me curious about other spaces created for sanctioned urban art. I hunted down the Urban Nation Museum for Urban Contemporary Art. It opened in September 2017 and is Germany's first museum devoted entirely to the work of urban and street artists — possibly even the first of its kind in the world. In interviews, the director said one goal is to bring more legitimacy to urban art and artists.
The Urban Nation museum displayed artists from around the world; each work an expression of how that individual viewed their society. Seeing this prompted my own reflections on urban art in Germany, including the art that had once been on the Berlin Wall and the fading painted images on the still-standing remnants of the wall. I also thought about the scribblings of Soviet soldiers preserved on the interior walls of the Reichstag I saw while touring the building. In a way, street art and graffiti, as fleeting as it can be, told a part of Berlin's history.
While I craved more free time to explore on my own, it was both freeing and empowering to have a three-week period without deadlines, in which I essentially got to be a student again. I felt invigorated by the challenge of navigating new cities, meeting new people, trying new food, and attempting to communicate in German — I've learned I have a long ways to go on the latter.
It was also an honor to spend this time with American journalists working in all parts of the U.S. I enjoyed our conversations over beers and many many schnitzels about the stories we've covered, the challenges our respective newsrooms face and, ultimately, what makes us tick as journalists. I sincerely hope our paths cross again. And thanks to RIAS for inviting me along for the ride.
__________________
Edgar Zuniga, Telemundo News, New York, New York