ONE-WEEK GERMANY PROGRAM 2009
---
Special Berlin Short Program 2009
Berlin for U.S. News Directors and Gatekeepers
October 4–11, 2009
This program in Germany for broadcast media gatekeepers, designed specifically for radio and television news directors, assistant news directors, vice presidents for news, and senior editors took place one week after the 2009 general election in Germany and provided the participants with first impressions of the future shape of German politics. It brought our American journalists to German newsrooms and German political offices to hear first hand how the media covers stories and issues in Germany. They were able to compare and discuss broadcast structures and news coverage models, public and private radio and television entities in Germany, along with viewing trends, content and form, and the impact of technology and new media on future developments in news coverage and news gathering.
During the program participants saw Berlin, the capital of Germany, and discussed the changes and challenges 19 years after German unification. The participants got a close look at modern Germany and saw how business and political interests work within the increasingly globalized economy.
On Monday, October 5 the American journalists visited the German Parliament and talked with Karsten D. Voigt, coordinator of German-American cooperation at the Federal Foreign Office, about the election results and transatlantic relations.
The political talks continued on Tuesday when the group met senior editors from Radio Berlin-Brandenburg and Deutschlandradio Kultur. In the aftenoon the ten U.S. journalists visited the Turkish Community in Berlin to discuss immigration and integration issues. On Wednesday they visited the public radio- and TV station Berlin-Brandenburg (RBB) to learn more about their local radio- and TV programs for Berlin and Brandenburg.
An excursion to Hamburg was scheduled on Thursday with a visit of the most popular German TV news "Tagesschau" which attracts a daily audience of up to 7 to 8 million viewers. Tagesschau has launched interesting new internet news formats and also a short 1-minute podcast version. The official program concluded on Friday, October 9 with an analysis of the German election by Infratest Dimap, an institute of electoral and political research, and a trip to the former Stasi prison Hohenschönhausen, where the plot of the 2009 Oscar-winning movie "The Lives of the Others" was set.
A trip to beautiful Potsdam followed on Saturday, October 10, before the participants returned to the States on Sunday, October 11.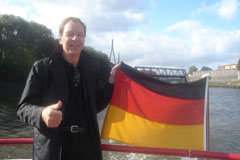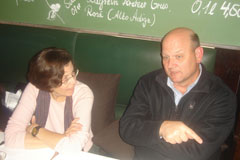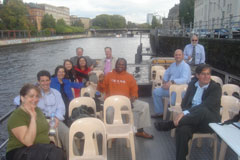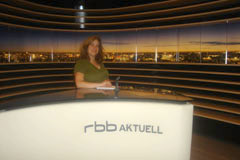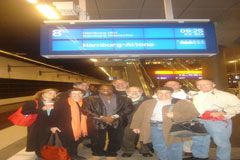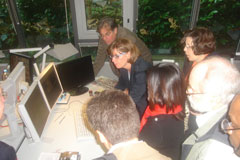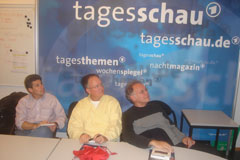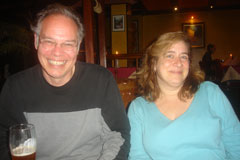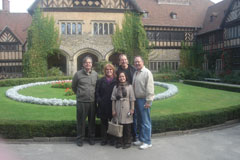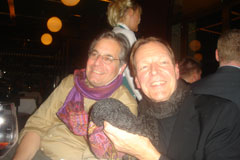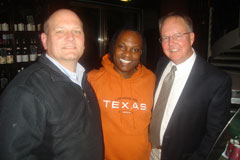 REPORTS OF PARTICIPANTS
Doug Adams, NBC News, Washington, D.C.
The week in Berlin offered our group of ten RIAS fellows a wonderful opportunity to explore not the just the fascinating city, but also German politics, as we arrived just days after the federal election that culminated the "Superwahljahr" (super election year) of 2009.
I regret that I wasn't able to visit Berlin 20 years ago when it was a divided city, for it would have offered me some perspective to compare with the modern Berlin I encountered. And though I tried to read about and imagine what it was like, it's probably impossible for someone who never experienced divided Berlin to understand the psychological effects on both the city and nation. During our travels for the week, we often crossed back and forth where the Wall once stood — now demarcated by a simple cobblestone path — very similar to the surrounding sidewalk or road, except that it's a slightly darker grey stone and occasionally a brass plaque embedded in the ground stating simply "Die Berliner Mauer 1961-1989". It is an understated, and powerful reminder of just how savagely this city was divided.
To an outsider, there are few physical indications that the Wall ever existed. The notorious Potsdamer Platz "kill zone" on the GDR side of the Wall in now filled with cafes, hotels, shops, and shining modern office buildings. Checkpoint Charlie has been turned into a campy tourist destination; and for a fee of five euros you can have your passport stamped with a real GDR stamp.
But it is startling to try to visualize how the Wall ran thru this city like a knife, seemingly arbitrarily dividing neighborhoods, families and lives. The wall runs within a few feet of the massive and impressive Reichstag building. It divided the beautiful and historically important Brandenburg Gate from the rest of Berlin. I got a chill every time I stepped over those innocuous dark gray cobblestones.
At the brink of the 20th anniversary of the Fall of the Wall, we encountered a city that remains a study in contrasts — East versus West. Baroque versus ultra-modern… a responsibility to remember the difficult past versus a desire to look to the future and leave the past behind. This same internal tension seems to be reflected in the recent election, which we are able to discuss at length with several German journalists, politicians, and a prominent pollster.
The recent election is seen by most analysts as a clear victory for Angela Merkel — her Christian Democrat party won enough support to form a liberal ruling coalition independent of the SPD, and (at least at first glance) offers her the opportunity to pursue some of the free market reforms she was unable to enact in her first term in office.
Merkel was able to ride her personal popularity to victory. Pollsters told us that 32% of CDU voters supported the party mainly because of their positive feelings about Merkel. The Chancellor represents what passes for charisma today in German politicians. Germans don't seem to want flash in their politicians — they want competence and continuity. Commentators repeatedly cited Merkel's comforting "mother of the nation" image in trying to explain the "Merkel factor".
German voters are more motivated than Americans — turnout in this election was about 70%, which is a historic low for Germany but significantly higher than the 55% average in the United States. And while Americans want to connect on a personal level with their politicians (especially at the presidential level) German voters seem to base their choices more on party, issues, and their pocketbook. There's another question too — are German voters more calculating? One pollster we talked to suggested that a major reason for the Social Democrats' poor showing was not necessarily because voters disliked the party or its policies, but because voters couldn't see a viable way the SPD could form a coalition to be in power.
But beneath the surface of what many Germans saw as the dullest election in modern history, there were some interesting subplots. The two party system that has governed Germany for the past half century seems imperiled. There are now five parties that can lay claim to least 10% of the vote, and no party has more than 33%. As a result, governing just got exponentially harder as this factionalism means that no party or coalition has the numbers to force thru legislation without the most rigid of party discipline.
This factionalism seems to reflect the internal tensions I mentioned earlier. The German electorate is beset by conflicting desires. As Jürgen Hofrichter, the director of election research at Infratest showed us, while 80% of the public says the economy is bad, nearly two thirds of voters also say they haven't been personally affected by the recession yet. A large majority of voters want to preserve the "social market" economy which has shielded workers thru generous social programs like wage subsidies. Yet, 48% of voters voted for either the Christian Democrats or the Free Democrats — both of whom campaigned on free market reforms that would dismantle some of these social protections.
Another tension seen in the recent election, it seems to me, is an East v. West divide. This "Ossis" versus "Wessis" tension was an undercurrent running thru our conversations all week. A recent poll found that fully 64% of Eastern Germans feel treated as second-class citizens. It has even led to a romanticism of their repressive past — a shocking one in 10 former Easterners wishes he or she were still living in the GDR. This sentiment is reflected with surprising popularity of the Die Linke Party (New Left) made up partially of former East German Communist leaders. There are areas in Eastern Germany where Die Linke garnered over 40% of the vote! Clearly seen protest vehicle for frustrated East Germans — and angry trade union workers dismayed by the recent policies of the SPD — Die Linke's future lies in whether it can shed this image as a protest party and figure out a path to power in government.
The RIAS fellowship also offered us the chance to examine the publicly funded German media system. While I'm sure my fellow travelers will discuss this as well, I'd like to take some time to include my observations about German television news in particular.
There are some pretty stark differences between Germans and Americans when it comes to television news habits. For starters, there doesn't appear to be the same culture of "morning television" in Germany. While the "First Channel", ARD, does have a morning program, it is a hard news program with little of the attributes of programs in the U.S. like the Today Show and Good Morning America.
Perhaps this stems from the German work ethic — people are up early and they seem to prefer to get their news in the morning from the radio and newspapers.
Another interesting difference is the lack of popularity of local TV news — a staple in the U.S. We visited the studios of "Berliner Abendschau," which is the ONLY local Berlin-centric TV news program in the city. The broadcast gets a 30% share — pretty darn good — until you realize they have no other stations competing with them. Berliner Abendschau is a half hour newscast that airs from 7:30 to 8 p.m. without commercials. It is strictly local — they don't cover national political news for example, unless there is a Berlin angle. The newscast we watched included seven news packages, ranging from 2:00 to 2:30 in length. There is usually one live guest segment per show, and a short weather and cultural segment. There is no regular sports block, and sports coverage is sparse.
The show is pretty basic. An anchor reads the copy and introduces stories. An unnamed and never seen off-air "newsreader" reads voiceovers. And there is very little "live" reporting. It's clear the "live mania" that thrives in the U.S. has not made it across the Atlantic to Germany. Berliner Abendschau has exactly ONE satellite truck to cover a sprawling city-state full of news. That fact astonished one of the fellows in our group, who as the news director of KTRK TV in Houston, has to coordinate 12 live satellite and microwave trucks every day.
We also visited the Hamburg headquarters of ARD — the largest TV network in Germany. ARD is a network of over 9 publicly funded television stations all over the country, and produces the premier national newscast "Tagesschau." The newscast runs 15 minutes and has no commercials. There are three versions of the show — airing at 5:30 p.m., 8:00 p.m. and 10:30 p.m. — but it is the primetime 8:00 p.m. Tagesschau that matters most. With an estimated audience of 10 million viewers, it is the most prestigious TV news broadcast in Germany. Think CBS Evening News in the 1960s. In fact, the anchor reads the news from written pages on his or her desk. Why? Because it is thought German viewers consider it more authoritative than reading from a teleprompter.
Tagesschau takes itself VERY seriously. The show has a fifty year history, and as far as we could tell little about the format has changed over the years. As ARD Editor in Chief Thomas Hinrichs told us, Tagesschau doesn't do "entertainment news". As he describes it "We do news that is relevant. All that is not in this program is not relevant". And while his moral certitude is to be admired, our group couldn't help but wonder if perhaps the German system of abundantly funded public networks and the lack of competition might have had something to do with his arrogance.
The average age of Tagesschau's viewers is 59 years old, and while its editors understand the need to reach out to younger viewers, they have decided to do that via FORMAT, rather than content. The way to appeal to younger viewers, Hinrichs says, is to increase access to programming — thru the Internet, podcasts, mobile phone aps, and on demand video.
Hinrichs is supremely confident in his belief that once Germans get to a certain age, they will seek out serious news. "We are very strict. Very conservative. And people like it." He estimates the mix of news on Tagesschau is about 60% political; 20% economic, and 20% cultural. Unless Germany wins the World Cup, sports has no place on Tagesschau's air. Its viewers want and expect to hear about Angela Merkel, not Boris Becker's latest girlfriend.
To be sure, many of Tagesschau's news values are to be applauded. Their philosophy is that a serious sober newscast is what their viewers want, and frankly they don't have any compelling reason to change what they're doing. Tagesschau has the luxury of being publicly funded and they don't have to worry about ratings. Of course, competition can also be a good thing — pushing journalists to rethink what they do, and adapt to changing tastes. I would argue that Tagesschau suffers from its status of being a monopoly.
It would be interesting to see if a more American style news show — still hard news, but with multiple lives shots, a faster pace, and a more interactive and personal mix of stories — would be successful in Germany. Or perhaps German viewers are more dedicated to getting information without the need to be "entertained" at the same time. In the U.S. television news is constantly competing for viewers other networks, niche cable channels, and websites and we believe we have to capture our viewers with active news or risk losing them.
And there's one more difference from the U.S. formula — Germans do not believe in building a news show around a single personality. "The news is the star," Hinrichs explains, and the half dozen Tagesschau anchors rotate weekly. This may be CBS Evening News, but WITHOUT Walter Cronkite.
In closing I'd like to thank RIAS for giving us such an amazing opportunity to experience Germany. Spending the better part of a week in Berlin allowed us to explore and learn about Berlin in a more complete way at our own pace. I thought RIAS did a phenomenal job crafting a schedule that exposed us to a wide variety of interesting ideas, places and people. The half-day we spent examining the Turkish immigration issue was fascinating; The visit to Hamburg port was really interesting, and the ARD studios opened my eyes to the dramatic differences between the broadcasting systems of Germany and the U.S. In many ways however, the highlights of the trip were the visits to the Jewish Museum Berlin and the former Stasi prison — not only for the insight they offered, but also for the appreciation they gave me for a nation unafraid to examine and remember its difficult past.
—————
Meredith Beal, Lasting Value Broadcasting Group, Austin, TX
My trip to Germany for an exchange with senior news radio and television editors was a great learning experience. It provided an opportunity for me to get a glimpse of German media, politics and culture. I also gained a greater awareness about the issues of reunification that still exist. I feel that coming just after the elections was good timing.
I think the selection of interviews and activities was well thought out. They provided as good an orientation as could be gained during a short one week visit. It was a good opportunity to compare how German media and the political process interact in contrast to how it works in the United States. The trip also provided some perspective of the cultural issues facing the country, like the challenges with the Turkish community, which seem to be similar to some of the issues surrounding diversity faced in the United States.
I think that starting the week with the tour of the German Parliament Deutscher Bundestag was an excellent way to set the stage. The historical perspective provided by the tour was important and helped me establish context. The lunch talk with Mr. Voigt was very insightful and the two activites together was a good first day.
I am glad that we were able to use public transportation for most of the trip and that the weather was not bad so it allowed us to see a great deal as we traversed Berlin for our appointments. I also am glad we were able to hear various perspectives. For example, some of the perspectives and concerns we heard voiced by misters Habicht, Pindur and Thies we took at face value but when we spoke with the members of the Turkish community we got a different take.
The visit to the Jewish Museum of Berlin was fascinating and I am glad that we were able to experience some cultural activities while in Germany. For me, the highlight of the trip was the tour of the former Stasi prison and Mr. Zahn's sharing of his incredible story. I have not seen "The Lives of the Others" but now I certainly will.
I was somewhat surprised to find President Obama's approval rating to be so high in Germany. It also was humorous to hear how some German journalists think that America's Fox News is characteristic of how U.S. news organizations function.
Again, the selection of activities and meals was excellent and we covered a great deal in one week, however I feel that this should be a two-week session to allow for more conversation with political leaders, particularly since Germany has so many political parties.
I would like to thank Rias Berlin for an excellent experience that will enhance my career.
—————
Larry Carlson, Texas State University / KTSW-FM, San Antonio, TX
The RIAS Program for Senior Editors provided me with my initial visit to Europe and my introduction to the RIAS fellowship tradition. It is both humbling and gratifying to become a very small link in this storied program. I learned so much from "interviewing" my fellow participants and our wonderful hosts, Rainer, Lisa and Isabell. They all provided insights and information that will stay with me as an educator and as a broadcaster. The program planned by our RIAS hosts delivered an opportunity to sample an interesting slice of German politics and culture, in the immediate wake of national elections and a reunification celebration, and just one month ahead of a much-anticipated 20-year anniversary of the fall of the Berlin Wall.
The RIAS activities and Berlin sightseeing gave me chills at least a couple of times each day. Of particular note for me were repeated visits to Checkpoint Charlie and the Brandenburg Gate. As is the case with so much of Berlin, it is possible to stand amid the tracks of great and terrible history and the ghosts of Napoleon, Hitler, JFK and Reagan. Our Saturday excursion enabled me to visit the sites of the Wannsee Conference and Potsdam Conference, extreme examples of war and peace.
Our group's visit to the Stasi museum provided a singular experience and an incredible inside look at the horrors of the Cold War. Films and books prescribed by our RIAS hosts had prepared me for the visit. So I thought. The reality of the actual site was mind-boggling. But during our afternoon visit, the candor and irrepressible good humor of our host, a former political prisoner, provided inspiration.
To me, the most powerful moment of our week-long program came when the spry octogenarian who served seven years of his young adulthood as a political prisoner — a stretch of it in the very cell in which he hosted us — recited passages from Shakespeare, recalling his silent enumerations of a half-century ago when these "brain exercises" in the face of stifling, solitary confinement allowed him to endure.
For a group of journalists, our multiple sessions of lively Q&A with television and radio executives and broadcast "talent," plus visits with a venerable political leader and the president of Berlin's Turkish community, provided access to understanding contemporary Germany. An unusual experience for most of us, the translated format of our visit with the aforementioned Turkish spokesman turned out to be bonus experience rather than a hindrance.
Encounters with German media professionals were enlightening and eye-opening. Our RIAS fellows were at least somewhat familiar with the government-funded system of public TV and radio. Still, I believe most of us were surprised by some of the attitudes and programming of Germany's top-rated stations.
In the U.S., with intense ratings competition driving news content, strategies and tactics at commercial stations, there is a constant pressure that's absent for government-subsidized German stations. We heard from broadcasters who seemed quite assured of the future and feeling only mild pressure to constantly evaluate and validate their news programming.
I was envious of the Germans' confidence in the merits of hard news but unsure about the government broadcasters' motivation to strive and evolve without a sense of urgency. But like their American colleagues, German broadcasters acknowledged the ominous task of attracting young audiences that are tech-savvy but disengaged from traditional news-consuming ways.
It would be too easy for all of us to quickly pass judgment on what little we truly know of the day-to-day broadcast workplace in Germany. The same goes for our mere snapshot of German politics. The infamous past no doubt weighs heavily on political and social decision-making, and admission of the growing pains after a blink of less than two decades since reunification came as no surprise.
In spite of its burdens and challenges, Berlin's people and the country's leaders seem poised to handle the duties and opportunities inherent in Germany's position of power as a world leader. There is some simple, positive symbolism in the fact that a great city known for an evil wall can now be acknowledged as the home to more bridges than even Venice.
Americans should empathize with Germany and its citizens' path. Almost a century-and-a-half after our Civil War and reconstruction, politics and social mores are still guided largely by North-South, "red state" vs. "blue state" divisions. Change and trust build slowly. But America has elected an African-American president and Germany has a female chancellor from an East German background. Both countries face bold challenges involving our economies and our educational systems, pressing immigration questions and debates over language, and struggles among growing minorities.
Certainly, our RIAS visit to Berlin provided ready proof that Germany's willingness to address energy issues and climate change early on has propelled it to the vanguard of industrialized nations on those fronts, while the U.S. lags behind. It was also easy to observe that the great majority of German citizens are fit, not fat. A long custom of walking and cycling has Germany in an enviable situation when it comes to general good health.
For its part, America, to me, still rides its tradition of competition and capitalism to provide a stronger overall media picture and capability of a quicker, more steady economic recovery. Overall, both our nations share many attributes, plus a commitment to face the future proactively. We cannot presume to understand each other's peculiar hurdles and mindsets.
On our first day, the excellent guide at the Reichstag provided keen observational skills and foreshadowing of the coming week's experience, when she noted several times while amplifying on past and present situations, "These are…very complex issues." Indeed.
—————
Steve Coon, Greenlee School of Journalism, Ames, IA
A group of ten American Senior Editors visited Germany the week of October 3–11, 2009. My evaluation below is divided into three parts: assessment of the program, impressions of people and institutions, and recommendations for future programs.
PROGRAM ASSESSMENT: This was an excellent opportunity for our group to compare United States journalistic practices with those of our German colleagues. Equally beneficial was the chance to forge linkages with our domestic counterparts. Our group was exceptionally cohesive.
Our hosts Rainer Hasters, Isabell Hoffmann and Lisa Ziss were extremely cordial and accommodating during the entire week. Rainer and Lisa were our daily companions. Isabell provided excellent pre-travel logistics.
The schedule was full of both professional and cultural exposure. As one who has conducted similar in-country programs for visiting international journalists, I was able to witness firsthand how rewarding this experience is.
At our visit with Dr. Jürgen Hofrichter at Infratest Dimap, we got valuable background information on the voting patterns of the Germans in the federal elections.
IMPRESSIONS: I had little time to interact with average German's on this trip. This is not a criticism. Rather I chose to use my free time either to consolidate my notes from the daily sessions or to catch up on personal correspondence.
However, the tour of and explanation of government institutions was highly informative. Equally beneficial was the list of suggested readings and online resources given to all of prior to our trip.
Our visits to the various ARD facilities both in Berlin and Hamburg were enjoyable and enlightening.
RECOMMENDATIONS: During our visits with the various ARD journalists and editors we repeatedly heard their view of the private media in Germany.
Finally, this was an excellent experience. I enjoyed every minute of it. Thank you again for inviting me to join my American colleagues on this journey.
—————
Deborah Potter, Religion and Ethics Newsweekly, Washington, D.C.
Broadcast journalists in the United States have more in common with their counterparts in some developing countries than they do with their colleagues at the biggest network in Germany. That's a sweeping generalization, I know, but it's based on having spent a good part of a week visiting television and radio newsrooms in Berlin and Hamburg — all of them affiliated with the public broadcasting behemoth ARD.
As an international journalism trainer, I've often found myself telling reporters in other countries how similar their complaints are to those I hear in American newsrooms: the low pay, miserable working conditions and unrelenting pressure to do more with less. But the German journalists I met on the RIAS program seemed to live in a different world.
And no wonder. ARD is modeled on the BBC. The funding for public broadcasting in Germany comes from a fee on every household in the country. The money — around $12 billion a year — is split between two national television networks, nine regional TV stations and dozens of radio outlets. They're fee-supported but not government controlled.
Journalists who work for the German public broadcast systems make more money and have more job security than their counterparts at private stations. And the working conditions are pretty good, too. Inforadio, the all-news public radio station in Berlin and neighboring Brandenburg State, has a staff of about 120 journalists, including part-timers. Reporters typically cover just one story a day. And they're not being pushed to file separate versions for the Web. In fact, the station is prohibited from putting anything much online that hasn't already aired. Privately owned news organizations, trying to make money on the Web, have successfully argued so far that online competition from publicly funded broadcasters would be unfair.
The program structure at Inforadio looks familiar — five minutes of news every 20 minutes, with weather, traffic and sports, plus long-form interviews and background reports. But it was stunning to learn that the morning drive program doesn't have a regular host. Or rather, it has four of them, each of whom hosts one week per month. Why? "Because it's exhausting," said news director Marion Brandau.
But that's obviously not the whole story. German broadcast news is deliberately not built around personalities. There's no star system, even at the network level. The 15-minute national newscast Tagesschau (Daily Show) at 8 pm also rotates anchors weekly. It's focused almost entirely on politics and economic news, and the host reads from a paper script not a prompter.
From a U.S. broadcast perspective, there's not much in the way of production values or visual storytelling, either. But Tagesschau is the most successful newscast in Europe, according to editor-in-chief Thomas Hinrichs, with a 30% share of the audience.
"Our philosophy is not to do any entertaining news," Hinrichs says. "We are very conservative and people like it."
Like network news in the US, Tagesschau has a graying audience — the average age is 59 — and ARD knows it needs to attract younger viewers. But instead of trying to draw them in by presenting a zippier program or covering a broader range of topics, the company's strategy is to spread its current product across more platforms, from the Web to on-demand TV to mobile phones. The network's involvement in social media is in its infancy. You can follow Tagesschau on Twitter, for example, but all you'll get is an automated headline feed.
"We will not compromise on issues in our news show," Hinrichs told us. He's confident — some might say arrogant — about the network's approach. Tagesschau, he says, covers all the important news that Germans need to know. "What is not in this show is not relevant," he said flatly.
Can this anachronism survive? "We are not naive," Hinrichs insisted. "If nobody watches, no one will want to pay [the monthly license fee that funds public broadcasting]."
But I detected no sense of panic at Tagesschau or any of the other stations we visited. Yes, the audience is aging, but hey — maybe they'll stay alive for a while. "We have a good health care system," Hinrichs joked.
Germany does have commercial broadcast outlets, where I'm sure the perspective is quite different. I regret not having had the opportunity to meet with any journalists from RTL or other ad-supported stations.
But that would be about the only regret I have about the RIAS Fellowship. The timing of the trip could not have been more propitious, coming just after the national elections that paved the way for a new coalition government and just before the 20th anniversary of the fall of the Berlin Wall. Among the highlights: touring the historic Reichstag building, with its modern glass dome symbolizing transparency; seeing the memorials to those who died trying to cross from East to West; and visiting a former Stasi prison guided by a one-time inmate.
At the Jewish Museum in Berlin, our tour guide talked about two kinds of memories. The first is based on what you see; the second on how it makes you feel. A lot of what we saw was beautiful, including the parks and the evident concern for the environment. Some of it was ugly; the prison and the remnants of the Wall, of course, but also the stark, repressive look of the buildings in what used to be East Berlin.
The feelings are harder to describe. There's a palpable sense that almost 20 years after reunification, Germany is still divided between East and West and between native Germans and immigrants, especially from Muslim countries like Turkey. The generous German welfare system so far has kept social problems under control, but the tensions are close to the surface.
Then again, it's only been 20 years. America has been dealing with the legacy of the Civil War and slavery for more than 100 years and discrimination still lingers. Healing not only takes time, it can only happen in a free and democratic system, as messy and uncomfortable as that may be. Thanks to the RIAS program for that invaluable reminder.
—————
Regina Reyes, North America News Bureau Chief ABS-CBN International
I traveled to Germany with a sense of excitement and openness, expecting a break from my daily routine of running a news bureau and looking forward to a return to Europe. The German study tour was an opportunity to learn more about the country and its people, encounter its history and culture, faint images of which I can only recall from historical books read and period films watched.
Berlin greeted us, a group of ten journalists from various parts of the US, with a mix of old and new. A trip to the Reichstag Building set the tone for much our visit. While the building's majestic exterior remains unchanged, inside, everything from the cupola to the plenary area, is modern, functional and energy-efficient. But traces of the past are difficult to ignore — the preserved graffiti left by Soviet soldiers, the archived metal boxes belonging to former Members of Parliament, and outside, the marker of what was once the demarcation line that separated East and West. In our meetings with politicians, fellow journalists and other personalities arranged by RIAS Berlin Kommission, one dominant theme was Germany's history and how its people continue to feel the impact of its decades-long division.
Several journalists and analysts agree that Chancellor Angela Merkel is the most popular German politician; in fact, the first chancellor to achieve such popularity and the first to come from the East. But she has yet to bridge the gap between East and West. I and the other fellow RIAS fellows were riveted to the stories that illustrated the continuing existence of this wall, a social border that replaced the physical one in the minds of many Germans, twenty years after the fall of the Berlin Wall.
During his breakfast talk, Senior Political Editor Thomas Habicht said, "East Germans were disillusioned by the reunification because the West was not the paradise they thought it was." I was reminded of how Filipinos were disappointed after the People Power Revolution of 1986 failed to transform the Philippines into a thriving and mature democracy. Incidentally, our very own bloodless revolution which catapulted housewife-turned-president Cory Aquino into power signaled the beginning of people power movements that toppled authoritarian regimes in Eastern Europe and other parts of the world.
In Germany, we were told that the divide between Ossis and Wessis (Easterners and Westerners) is largely due to economic aspirations that remain unfulfilled. For an outsider like me, who lived in a third world country for much of my life, it was hard to believe that this is happening in an economic powerhouse like Germany. But even after West Germany spent $1.5 billion to reconstruct the East following reunification in 1989, a recent TIME magazine article reported that "the region remains substantially less productive thank its western counterpart. The former GDR has 20 % of Germany's population but one-third of its unemployed." Habicht explained, "Up to the present, the East Germans' standard of living is still being subsidized by West Germans." Those who could no longer make a fresh start feel nostalgic for the old GDR, specifically for the old jobs that did not require much hard work. These Ossis are mostly middle-aged East Germans who lost their old way of life; the younger generation benefitted more from reunification, which offered new opportunities and a cultural resurgence.
The debate over whether or not life is better for East Germans after the fall of the Wall will surely continue. However, not all of Germany is about the division that persists. Reuters' Erik Kirschbaum, an American journalist living in Berlin hardly misses life in the States. Kirschbaum likes Germany's strong middle class, universal health care system and a renewable energy law that is already ten years old.
A big part of our study tour was devoted to talks and visits with Germany's leading broadcast stations. I was struck by the thriving public broadcasting system — its operations, programming and viewership. Nine regional radio and TV stations and one international broadcasting service make up ARD. ZDF is the second national TV service. Modeled after the British Broadcasting Corporation, their services are funded through license fees (18 euros a month!) paid by everyone who has a radio, TV, computer or mobile phone with internet access. These broadcast stations share a budget of 7 billion euros a year and advertising is limited.
News and public affairs programs are mostly high-brow, with focus on politics, the economy and culture. News coverage is international, so global bureaus are maintained and shared among the stations. I was amazed that producers and news directors are under no pressure to top the ratings or make money for their shows from advertisements and sponsorships.
One of the most notable parts of the study tour was our visit to the Hamburg studios of ARD's "Tagesschau" or Daily Show, Germany's most popular news show. As we entered the studio control room, I expected an hour-long news program with all the bells and whistles. To my surprise, as well as most of my colleagues, Tagesschau is a 15-minute newscast covering all the important news of the day, global in scope, with no-nonsense graphics, limited stand up reports and most importantly, no commercial breaks. I wondered how this highly traditional news program (the 8 o'clock show has the news anchor reading not from a teleprompter but sheets of paper) could command a third of Germany's TV audience.
That audience, according to Chief Editor Thomas Hinrichs, has an average age of 59, which explains the show's international bent and serious tone. But still, our group could not believe that this news show, touted to be the most successful in Europe has no single permanent anchor. In all the public TV stations, anchors and program hosts rotate their schedules. This means, Tagesschau and other news programs have different anchors on different days of the week. Our hosts assured us, this arrangement works for the network, the journalists and the audience. They may give their audience what they need, but public broadcasting networks are not in the business of building up journalists and news personalities in the mold of Christiane Amanpour.
One thing Tagesschau has in common with its counterparts in the U.S. is the need to reach out to younger viewers through new media. We were told that its website, although still in a transition period, enjoys between 1.5 and 2 million page views a day. I came away from this visit feeling a bit envious over the big budget, less stressful news jobs at ARD, but also with a better appreciation of what we do back home — the daily struggle amid limited resources, the fierce competition, the creative challenges that go with producing a daily newscast.
The most memorable and heart-wrenching of all was our visit to the Jewish Museum and the former Stasi Prison. I am familiar with Germany's turbulent past and the Holocaust, but encountering the history of the Jewish community in Germany and seeing the reminders of their suffering during the Third Reich was something I did not prepare for. The building itself was designed to convey the horrors of Jewish persecution in those dark days. When we went inside the Holocaust tower, a cold and dark structure, I was overcome with a feeling of claustrophobia and disorientation.
On the other hand, I have nothing but admiration for Eberhard Zahn, former prisoner of the Stasi prison, who guided us through what used to be the Soviet special camp and remand prison. After the GDR secret police took over the camp in the 1950's, the Stasi prison became the center of communist repression. The existence of this prison was kept secret until the fall of the Wall in 1989. Zahn was arrested by the Stasi in 1953, on allegations that he was a spy for the Americans. He was incarcerated for 7 years, and spent the first ten months in the U-Boot or submarine; his bunker-like cell only had a wooden bed, a bucket and a light bulb that was never switched off. Although he suffered no physical torture, Zahn was isolated, helpless and sleep-deprived for days. He told us that he kept his sanity by reciting Faust and Shakespeare inside his cell.
After 10 months, he was moved from his isolation cell to what he called "paradise," a regular cell with a window, bed and sheets, a sink, toilet and chair. Zahn was freed in 1960. He said, "It took a very long time to prove I was not a spy!" This 81-year-old Cold War survivor told his story with such wit and humor that was both inspirational and endearing. Zahn continues to hold tours of the Stasi prison, a monument to political persecution and communist repression.
There were other highlights of the study program — the barge tour of Hamburg's port, our visit to the House of the Wannsee Conference and the Turkish community, and "Soap the Show," a cirque du soleil-like show that showcased acrobatic skills in a unique bathroom setting. It is to the credit of our RIAS hosts that our weeklong visit turned out to be highly rewarding and enriching. I am also grateful for the opportunity to be exposed to new ideas, notable people and interesting places, along with an excellent group of journalists. I now know more about the political and cultural differences between Germany and America, and the huge economic and political gap between Germany and my home country, Philippines. But I also appreciate the similarities in the way these countries confront their past as they continue to shape their future.
—————
Steve Scher, KUOW-FM, Seattle, WA
RIAS 2009 Confronting History Without Complacency.
The importance of RIAS was never clearer than when we left the Jewish Museum of Berlin two nights into our fellowship. It was dusk, with the lights of the museum behind us falling on the patrons. Most were young people on a school outing, making their way through a portal into an uncomfortable confrontation with their own history. Standing there, our group gathering after our own visit to the museum, it was hard to separate this American journalist learning about the German nation today from this American Jew, whose Lithuanian ancestors left this continent ahead of the pogroms of the 1890's. Religion plays almost no role in my life, but history and identity have their own subtle power. To confront your own past, stripped of propaganda, dogma, shame, righteousness, to have the facts laid bare before you, is emotionally draining, but intellectually fulfilling. The Jewish museum offered that, and that visit, that honesty was reflected throughout the fellowship. Above all else, I have come to appreciate the honesty of the experience. I have come to feel its affect in the stories I report. I have come to apply some of the standards some German institutions are applying to their history to the stories we Americans tell about our own history. It isn't always a favorable comparison. In some ways, Germans are ahead of Americans in acknowledging the sins of the past. In other ways, some Germans still seem to have a blind spot.
Our visit to the Turkish community revealed one. The Turkish citizens who have lived in Germany for many decades now feel that the nation has yet to offer them equality of service or citizenship. The Chairmen, Bekir Yilmaz, argued that the nation needed to accommodate Turkish culture and make a space for Turkish Germans in the political power structure. There are two sides, of course and we heard from more than one speaker that the Turkish in Germany clung to their old way, their old customs and kept their ties to Turkey much tighter than their ties to Germany. But the telling exchange was with our Journalist guests. More than one was asked, who was covering the Turkish community for their institution? No one in particular, we were told. It went story by story and no Turkish German had been assigned or recruited to report back to Germans about the community from the inside.
But as U.S. journalists, we had our own comeuppance. Twice we heard from young German journalists that the U.S. didn't have the kind of freedom of the press they had in Germany. These journalists had gained the impression that U.S. journalism was innately biased and constrained. The yelling that passes as reporting by O'Reilly or Limbaugh colored their notion of the American media. Somehow, the standards of political reporting present in their newspapers, with different parties represented by different papers offered a reader a variety of opinions to sift through, rather than a cacophony of competing biases. The failure of the American Media to push back against the drumbeat of the Iraq war, the complicity of the New York Times and the major networks taught these journalists that the U.S. did not have the kind of free and free-wheeling media that they enjoyed in Germany. The black mark on the American media that many journalists acknowledge already turns out to have had an impact beyond our borders. It was a sobering realization.
Also sobering, for me anyways, was to learn about the power of public broadcasting in Germany. I was on the fellowship during our Fall pledge drive. We were trying to raise more than a million dollars in 12 days. That is the highest amount that KUOW has ever attempted and we succeeded, but it took every person, including myself long distance, to argue, cajole, plead and wheedle in order to get about 9000 listeners to pledge an average of 115 dollars for a year's worth of the service. That is about a tenth of our listening audience deciding to pay for the service most use at least 7 hours a week, many much more. And there we were in a nation where public broadcasting is constitutionally mandated, a fee assessed and everyone with a radio or a TV must pay monthly. I saw wealthy institutions, doing quality work, proud of their status and comfortable in their position. Now, with the advent of the net, the public broadcasters have new opportunities to expand their reach and new responsibilities to a younger audience. Their challenge, of course, is to do it without getting too fat or too complacent.
Our final few days journeys reminded me again of that necessity. Remain vigilant, avoid complacency. I wasn't sure I wanted to visit the house of the Wannsee Conference, the fine mansion on the lake where the Nazi's planned the final solution. It is hard to look at the pictures of the officers who wrote the plan to exterminate the Jews, to look into their proud, dutiful eyes, to read their letters and reports. It was hard to accept their humanity. It seems easier to look away. But looking away only leaves the crime hidden, the responsibility avoided. Better to confront the truth, stare back into the abyss and try to make some sense of it.
Hence the power of our visit to the Stasi prison and the talk we had with Eberhard Zahn. To be asked to sit with this genteel old man with the fine white hair and the faint but luxurious British accent, and have him recount his capture, his imprisonment in an old cold storage locker with tens of others, his isolation, his psychological torture, and his long years in captivity was profoundly humane. Here he was, joking about his lonely days, blissfully sitting between two women long years after his cold isolation. To be forced to sit on the edge of his bunk, day after day, year after year, not allowed to sleep, not allowed to lay down or stand up, spied upon by unknown guards through a tiny peephole and then emerge decades later to recount the tale, to remind the next generation of what happened, to confront the truth of it, yanks a person out of any complacency. History, told honestly, by the people affected, demands a response from each individual. It is a lesson at the essence of journalism.
Thank you for the opportunity to experience it through RIAS.
—————
Dave Strickland, KTRK-TV, Houston, TX
Anyone who lived in Western Europe in the late 1960's understands the power of radio and the message it delivers. I spent part of my childhood living in the Netherlands where television was limited and English speaking television even more limited. Radio was the lifeline along with the International Herald Tribune. While RIAS was not broadcast in the Netherlands, Radio Free Europe, BBC and Armed Forces Radio were available. I spent many afternoons listening to news, sports and music using my dad's battery-powered portable shortwave radio.
RIAS built its reputation by delivering news and information from the free world into Communist East Germany. The same strategy was performed by RFE and AFN although AFN was destined for the U.S. audience primarily expats and service members. I can remember during the crushing of The Prague Spring my parents listening intently to Armed Forces Radio for the latest information on what must have been a tense time for all Western Europeans and Americans. We were on holiday in Bavaria when the Soviet Union invaded Czechoslovakia. I can still remember U.S. tanks on the move as they repositioned towards the Czech border to prevent a possible Soviet invasion of Western Europe. My parents were scared to death and the radio was a lifeline to sanity.
I make the analogy among AFN, RFE and RIAS because they delivered news from the free world into an area where news is dominated by propaganda from the state-controlled media. My recent visit to Berlin and the RIAS studios allowed me to come full-circle with an understanding of how these types of media organizations were conceived and executed. While the mission of RIAS has changed since the fall of the Berlin Wall, its history is rich and its story should not be forgotten.
The fellowship was much more than a history lesson of RIAS. I left Berlin with the impression that the German people are still dealing with the transgressions of years past. West Germans have spent the past 60 years coming to terms with the guilt associated with its Nazi history. While acknowledging its impact, most Germans have come to terms with the past and are moving on with an emphasis on never forgetting. But that all changed when the Berlin Wall fell and East Germans reunified with their western brothers. This time a unified Germany once again found itself dealing with transgressions at the hands of its government. East German Security Police files exposed the tentacles of a secret police state. The files reached deep into many German families exposing relatives, friends and co-workers as state spies. The consequences of the files hammered the German soul and once again challenged the people to focus on "never again". While the Wall was torn down 20 years ago, it is still easy to determine the division of east and west through building architect and discussions with Berliners.
Our fellowship was unique as it took place shortly after the national elections. We were given a tour of the Bundestag and met with Mr. Karsten D. Voigt who was able to give us a current view of Germany's foreign policy. We also received an excellent, detailed look at German radio and television. What struck me was the amount of money these operations receive through state licensing fees. The money dwarfs the amount budgeted to similar organizations in the United States. That money, along with limited competition, allows German media to focus on detailed news gathering without the need to worry about marketing and thus money for operating budgets. That allows German media to spend additional money on news gathering like foreign bureaus and quality journalists. Listening to the German News Executives discuss their operations left the three television fellows in our group shaking our heads in astonishment. One cannot compare the German news operation to the U.S. operation.
The fellowship also proved benefits from a personal news point of view. I received several interesting story ideas. I sent Reporter Christine Dobbyn (herself a RIAS Fellow) to Berlin in late October. Her main story was to preview the 20 year anniversary of the fall of the Berlin Wall. Former President George H.W. Bush lives in Houston as does former U.S. Secretary of State James Baker. President Bush gave Christine an interview on the fall of the wall. Christine then traveled to Berlin to preview the celebration. She produced a 30 minute documentary on the event.
While in Berlin, I had Christine contact Reuters correspondent Erik Kirschbaum who was a guest lecturer during our fellowship. Erik discussed the growing green movement in Germany and how he is personally profiting from the government incentives. I had Christine interview Erik and he showed us his solar business venture.
Finally, here in Houston, there is a major debate underway concerning the taxpayer funding of a professional soccer stadium. That story came hit home when during our RIAS going away dinner, RIAS' Rainer Hasters mentioned off-hand about an East Berlin soccer club (FC Union) that was in need of a new stadium to maintain their professional league status. The problem was the club had limited money to build a new stadium and could not afford the cost. The solution was with the club's fan base. Skilled workers, who are fans, provided the labor and built the stadium with the club purchasing the building materials. It's a great story of fan passion helping and working with the needs of a professional club and thus the community. In Houston, the soccer stadium debate is on hold until early 2010. Christine will air that story when the issue heats up.
I had a terrific time on the fellowship. I learned a lot and received several news stories as a result of my experience. I also went full circle from my childhood in understanding the value of news produced and delivered in a free world versus a controlled state.
—————
Tom Tangney, NewsTalk 97.3, KIRO FM, Seattle, WA
Paris has the Eiffel Tower, London has Big Ben, Rome has the Coliseum and Berlin, like it or not, has its Wall. Despite centuries of rich political and cultural history, Germany's capital city is still probably best known for those 97 miles of barbed wire (and eventually, reinforced concrete) that divided and isolated Berlin for almost 30 years. And that will no doubt remain the case for at least another generation or two.
Despite this month's major hoopla over the 20th anniversary of the fall of the Berlin Wall, the most striking thing about this particular symbol of Berlin is its absence. It speaks to the power of the imaginative hold the Wall had over not only Berlin but also the world that its presence still captivates decades after its disappearance.
Like most every other major city in the world, Berlin is grappling with how to preserve its unique past without strangling its growth and progress. Europeans are especially sensitive to the dangers of "Disneyfication," whereby their homelands become carefully preserved historical playgrounds for tourists the world over. It's going too far to suggest that great metropolises like Paris and London are held hostage to the demands of their spendy visitors, but the power brokers there certainly recognize the financial benefits of keeping their History front and center. The Tower of London, Westminster Abbey, and the centuries of accumulated royal trappings are certainly central to an outsider's image of England's capital city. And that goes double for Paris, what with its Eiffel Tower, Notre Dame Cathedral, Louvre Museum and its centuries of accumulated cultural and artistic trappings.
But these symbols of national heritage are not just for tourists. They're also highly prized by the town's inhabitants. They're markers of civic pride and social identity. They help the citizenry define itself.
That's what makes the case of Berlin so particular and piquant. Of all the capitals of the world, is there any with a more troublesome or problematic 20th century past? As many historians have noted, so horrific were the 12 years of National Socialism that they threaten to permanently color, if not actually wipe out, centuries of German history in the minds of most everyone now alive. And to have the monstrosity of Adolf Hitler and the Holocaust followed immediately by the Soviet-controlled experiment called the German Democratic Republic, one has to seriously wonder how Germans in general and Berliners in particular can muster any civic pride at all.
If any capital has earned a sense of cataclysmically low self-esteem, it would seem to be Berlin. How much does the city want to remember, let alone commemorate, its Nazi past, for instance, or life behind the Iron Curtain in "Stasiland," as journalist Anna Funder so sharply coined it? With a past as notorious as Germany's, the danger is not in getting stuck in the past. It's far more likely to be a denial of the past that could cripple this great city.
It's preposterous, of course, to try to address such profound issues in such a short essay. But I hope to at least frame the complexities by looking at two striking examples now in evidence in Berlin: the startling ABSENCE of the Mauer (the Wall) and the powerful PRESENCE of the Hohenschönhausen prison. In a nice twist of historical irony, the once visible is now invisible, and the invisible now quite visible.
For the most part, all that remains of the Wall is a line of cobblestones through the heart of the city. It's such a quiet marker that it goes unnoticed by the millions of pedestrians trampling over it as they rush hither and thither. The contrast is striking. What had been a nearly impregnable barrier to so many for so long is now traversed without a second thought. As I did my best to walk the Wall's path through the city, I continually found myself disoriented enough to have to stop and check — now is this the East side and that the West? Twenty years after the Fall, it's not so easy to tell. I'm sure I'm not the first visitor to Berlin who wished, if only momentarily, that the Wall was still standing in some form … as an aide-memoire to those of us in search of history. In fact, I can imagine someone like Christo or perhaps the artists at Tacheles organizing a massive performance art piece in which a lifesiize replica of the entire Berlin Wall would be reconstructed out of, say, cloth and strung along the path of the original wall. That's too fanciful for most people, I'm sure, but I personally would have preferred that to the oversize dominoes that were used in the 20th anniversary celebration.
Although I was fortunate to have visited Berlin when the Wall was in full operation and been able to wander the streets of East Berlin on one memorable day, it's still hard for me to imagine what life must have been like during those nearly 30 years of bi-section. I remember thinking at that time, in the late 70's, how outlandish and unimaginable the Wall was, even as I leaned up against it. And with each passing year, it gets harder and harder to imagine and/or accept that reality. The further away I get from my specific memory of it and of the fall of the Wall itself, the more it becomes as unreal (or real) as an episode of THE PRISONER, that classic TV series of paranoia.
Berliners have a complicated relationship with the Wall. As a quite literal symbol of oppression, the Wall was so hated, on both sides, that once it was breached, it seemed to fall down by itself. The rage over the Wall eventually consumed it. You can hardly blame Berliners, East and West, for wanting to obliterate every scrap and remnant of the hated divider. Twenty years later, I suppose it's to Berlin's credit, that any stretches of the Wall persist at all. Curiously, it's Checkpoint Charlie and not the Bornholmer Strasse border crossing that's best memorialized. After all, it was Bornholmer that served as the border crossing for Germans, not Charlie (which was restricted to non-Germans.) Perhaps because it has always been a privately funded endeavor, the preserved Checkpoint Charlie station and accompanying museum has become a major tourist attraction, catering primarily to tourists, I suspect. Its excellent if somewhat rickety museum still bears the stamp of its origins in the early 1960's. No better holdings exist of the various (and all rather amazing) means of escape under, over, and through the Wall.
By contrast, Bornholmer, where thousands of East Berliners first crossed over into West Berlin that fateful night of November 9, 1989, has nothing more than a pop art bench and a non-descript stone marker by the side of the road to acknowledge the historical significance of the place. It's now such a quiet, almost pastoral place, it's hard to imagine this was where the sixteen year-old girl featured in the book "Stasiland" was tracked down and caught at the very edge of the "death strip," just inches from freedom and the prospect of a very different life than the life she ended up with in a Stasi prison. But this rather more subdued approach may be the way most Berliners prefer to remember. For them, the Wall is a matter of historical record but no longer a pre-occupation.
This is not to say Berliners are in any state of denial over the Wall. As a people, I can't imagine how Germans could say mea culpa any more than they already have for their hand in many of the major horrors of the 20th century. And the Wall is well-memorialized on Bernauer Strasse with the block long preservation of the original Wall and its corresponding death strip, an extensive Berlin Wall Documentation Center across the street, and the Evangelical Reconciliation Church rebuilt on the spot where its previous incarnation once stood in the middle of said death strip. Nearby, there's even an outdoor stainless steel sculpture of East German soldier Conrad Schumann making his famous leap over the barbed wire into West Berlin. There's also a small Wall park and a lengthy stretch of wall known as the East Side Gallery, which features Wall Art created post-Fall. And finally, occasional swaths of the Wall crop up in the most unexpected places — some are covered in ivy and apparently forgotten, others form the back walls of cemeteries, while still others seem to be backdrops for billboards and traffic signs.
In other words, The Berlin Wall still exists for those who want to seek it out but for all intents and purposes, it's non-existent for those who don't. That may be the proper balance for Berlin to strike. There's been a lot of talk about the "wall in the mind" that persists for some Germans, and a segment of the population even calls for the return of the Wall — mostly East Germans who nostalgically remember full employment and conveniently forget the Stasi. But the vast majority on both sides of the divide reject that notion outright. The most recent and intriguing call for the return of the Wall is from Dr. Rita Kuczynski, a German writer who says the Wall should have been left standing as a memorial, a commemoration in stone that would serve as "a resistance to amnesia." As sympathetic as I may be to this line of thinking, the impracticality of such an idea makes it seem more like academic posturing than a real call for action.
If the Wall was the most visible manifestation of Germany's division, the work of the Stasi was, obviously, the most invisible. When it became clear that as many as one in seven East Germans were spying on their fellow citizens, that neighbors were reporting on neighbors, priests on parishioners and vice versa, that spouses even betrayed each other — it was a testament to the secrecy skills of the Stasi bureaucracy that the news stunned everyone, East Germans most of all.
The exposure of the Stasi machinery is the most important work (and accomplishment) of the reunited Germany. The destruction of the Wall was an understandably immediate priority — it satisfied the emotional needs of the time and its physical presence was a literal hindrance to the unification of Berlin. But it was the dismantling of the operations of the GDR, and most notably the exposure of the Stasi apparatus that did the most to pave the way for unification.
A good illustration of the institutional invisibility of Stasi operations is Hohenschönhausen Prison. This Stasi prison in northeastern Berlin was so well-hidden it didn't even show up on East Berlin maps. Like many Stasi buildings, its map footprint was simply blacked out and never identified. So effective was this official invisibility that a one-time political prisoner there in the 1950's says he had no idea where he had been held until after the fall of the Wall, 30 years later. Hans-Eberhard Zahn, who at the time of his imprisonment was a West Berlin college student legally visiting East Berlin, is now in his 80's but he gives tours of the prison to this day as a way to shed light and bring attention to the darkest underbelly of life in the GDR. His compelling account of the psychological torture he endured and his tales of how he combated it were made all the more poignant for being told to us from inside the very cell he was once imprisoned in. And when he began reciting for us the Shakespearean sonnet that he said helped keep him sane, he managed to covey to our group of jaded journalists a hint of the emotional costs of life in what he also called "Stasiland."
The Hohenschönhausen Prison is now visible for all the world to see, but most importantly, for Berliners themselves. In addition to the daily tours of its once heavily guarded premises, the prison is even featured prominently in the Oscar-winning German film "The Lives of Others." In his work as a prison guide, Hans-Eberhard Zahn is the very embodiment of this so-called "resistance to amnesia." He represents the living past. And as for the future, the most hopeful sign is this: schoolchildren now regularly tour this once most secret and awful manifestation of the German Democratic Republic. Those children are the best antidote to amnesia there is.