RIAS RADIO, FERNSEH- UND NEUE-MEDIEN-PREISE 2008
7. Juni 2008
Festveranstaltung zur Verleihung der Radio-, TV- und Neue-Medien-Preise 2008 für herausragende Beiträge zur deutsch-amerikanischen Verständigung. Durch den Abend im Hotel Adlon Berlin führten RIAS-Fellows Katja Schlesinger und Bernhard Kempf.
Begrüßung der 450 Gäste durch Dr. Helena Kane Finn, Vorsitzende der RIAS Berlin Kommission
Ansprache von H.E. William R. Timken Jr., Botschafter der Vereinigten Staaten von Amerika in der Bundesrepublik Deutschland und Ehrenvorsitzender der RIAS Berlin Kommission
Musikalische Unterhaltung: "a-live"— A-capella singing performances
"Die Rückkehr der US-Botschaft zum Pariser Platz 2" – Ein kurzer dokumentarischer Streifzug durch die wechselvolle Geschichte der amerikanischen Vertretungen in Berlin
Verleihung der Radio-, TV- und Neue-Medien-Preise 2008 der RIAS BERLIN KOMMISSION
durch die Jurymitglieder Dr. Melinda Crane und Dieter Schröder
Empfang der RIAS BERLIN KOMMISSION
---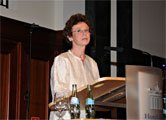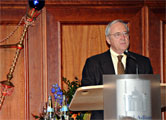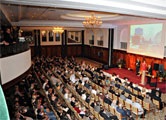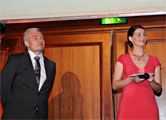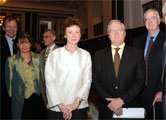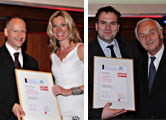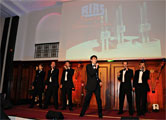 ---
DIE PREISTRÄGER 2008
Ausgezeichnet wurden die folgenden Hörfunk- und Fernsehproduktionen, die im besonderen Maße zur Verständigung zwischen der Bundesrepublik Deutschland und den Vereinigten Staaten von Amerika beigetragen haben.

1. Radiopreis
Tom Noga
Damit die Welt besser wird
Tom Noga nimmt uns mit auf eine Reise an die US-mexikanische Grenze und gibt uns einen tiefen Einblick in das amerikanische Einwanderungsdilemma, gesehen mit den Augen von Mitarbeitern einer örtlichen Kirchengemeinde, die in der heißen Wüste Arizonas erschöpften Flüchtlingen, die von einem besseren Leben in den USA träumen, erste Hilfe leisten. Er erklärt anhand der harschen Realität die Komplexität und Dimension eines Problems, dem sich auch Europa an seinen südlichen Grenzen gegenüber sieht.
---

2. Radiopreis
Paul Nellen
Out Of Oil
Ein umfassender Blick auf die Geschichte der Ölsuche und Förderung der USA. Nachdem die einheimischen Quellen erschöpft sind und die Nachfrage nach ausländischem Öl immer größer wird, sehen sich die Amerikaner einer neuen Realität gegenüber: Explodierende Preise und zunehmende Verknappung durch die wachsende Ölnachfrage in Ländern wie China und Indien. Paul Nellen zeigt, dass diese neue Situation auch eine neue Diskussion über den Umgang mit Energie in den USA hervorgebracht hat.
---

3. Radiopreis
Marcus Tepper
40 Jahre für eine Dauerkarte — ein Besuch bei den Green Bay Packers
Ein unterhaltsamer, kurzer Blick auf eine amerikanische Institution im Sport und seine vielen leidenschaftlichen Fans, die bereit sind, bis zu 40 Jahre auf ein Saisonticket zu warten. Marcus Tepper führt uns auf spannende Weise in die Geschichte, die Bedeutung und die Einzigartigkeit der Green Bay Packers und ihrer Anhängerschaft ein.
---

1. Fernsehpreis
Alex Gibney
Taxi to the dark side / Taxi in den Tod
Produzent Alex Gibney präsentiert mit "Taxi in den Tod" eine exakt recherchierte Studie eines afghanischen Häftlings im Bagram Gefängnis. Anhand von militärischen Dokumenten und Interviews mit amerikanischen Soldaten zeigt der Film Einzelheiten von Diliwars Gefängnisaufenthalt, von seiner Verhaftung bis zu seinem Tod nach der Anwendung von "Spezialmethoden". Der Autor zieht Parallelen zu der Behandlung von Häftlingen in Abu Ghraib und Guantanamo. Die Dokumentation wirft beunruhigende Fragen über die amerikanische Haltung zu den Grundwerten von "Freiheit und Gerechtigkeit für alle" auf.
---

2. Fernsehpreis
Thomas Berbner
Spiel mit dem Tod — Häftlingsrodeo im Staatsgefängnis
Westdeutscher Rundfunk und Reporter Thomas Berbner ermöglichen dem Zuschauer einen Besuch von Louisiana's Haftanstalt Angola und des jährlich von Gefängnisinsassen veranstalteten Rodeos. Das Filmteam wirft einen Blick hinter die Fassade und beschreibt das Leben, die Hoffnungen und die Ängste der Häftlinge, die fürchten als alte Männer hinter den Gefängnismauern sterben zu müssen.
---

2. Fernsehpreis
Steven Rosenberg
"Angela Merkel — Miss World" und andere Beiträge aus Deutschland
Die Jury spricht dem Reporter Steven Rosenberg ihre Anerkennung für vier kurze Fernsehbeiträge aus, die von BBC "World News America" in den Vereinigten Staaten gezeigt wurden. In sehr gut gemachten kurzen Fernsehbeiträgen erzählt er unterschiedliche Geschichten wie die Eröffnung des Deutschen Naziarchives, die Weltmeisterschaft im Schach-Boxen oder ein Kurzporträt über Angela Merkel — Miss World.
---

Neue-Medien-Preis
Dr. Johannes Bohnen, Jan-Friedrich Kallmorgen
www.atlantic-community.org
Der diesjährige Neue-Medien-Preis geht an Dr. Johannes Bohnen und Jan-Friedrich Kallmorgen für Ihren Internetauftritt www.atlantic-community.org. Es ist ein gelungenes Beispiel, welche wichtige Rolle das Internet als Plattform für den transatlantischen Austausch und Diskurs spielen kann. Die Jury möchte mit diesem Preis das Wachstum dieser Webseite und den zukünftigen Einschluss von Audio- und Videomaterial unterstützen.