RIAS RADIO, FERNSEH- UND DIGITALE-MEDIEN-PREISE 2018
Mai 18, 2018
Whitaker drängt Journalisten, durch ihre Arbeit weiterhin den Stimmlosen eine Stimme und den Hoffnunglosen Hoffnung zu geben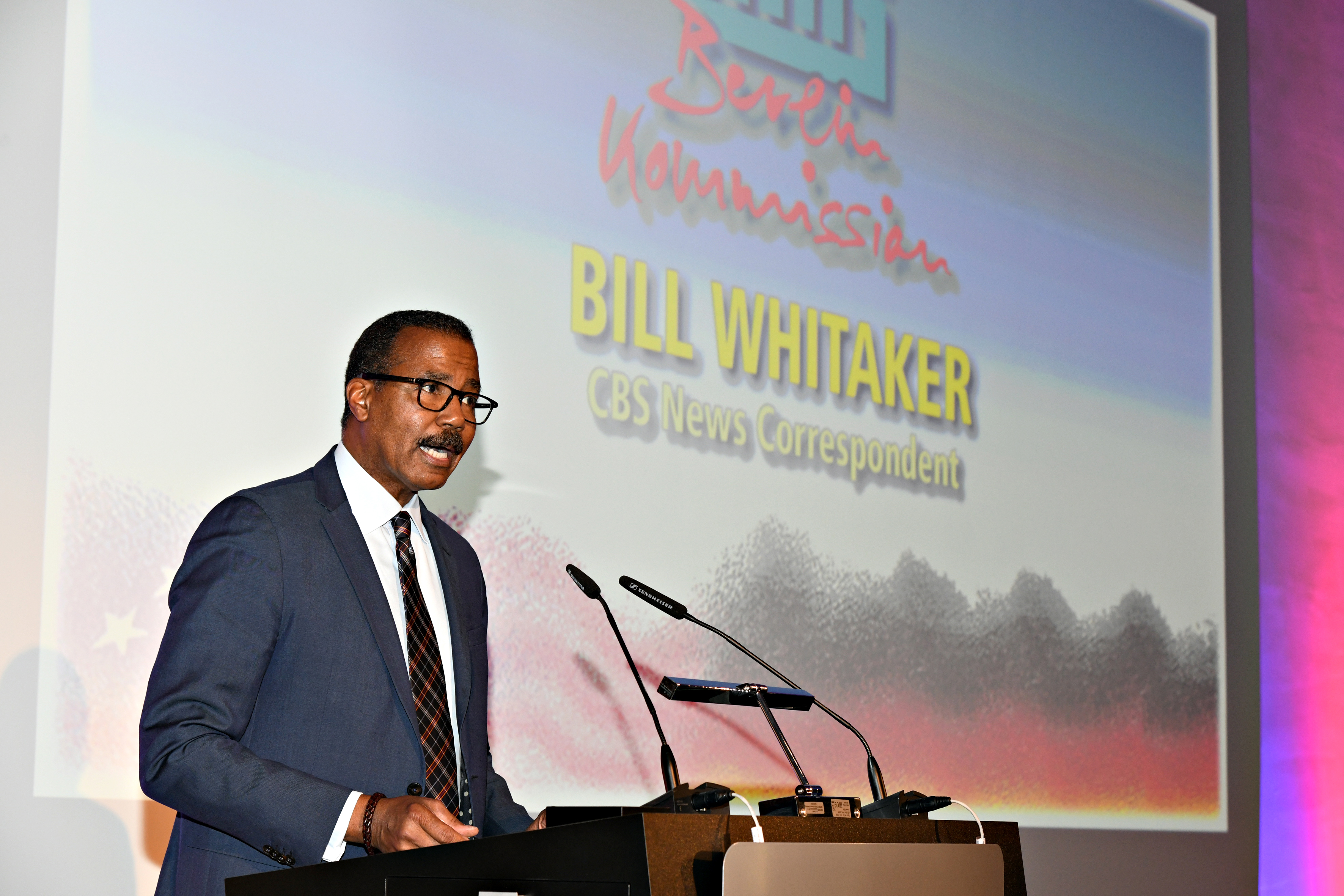 Der gefeierte CBS-Nachrichtenkorrespondent Bill Whitaker appellierte an Journalisten in den USA, Deutschland und der ganzen Welt, unermüdlich daran zu arbeiten, die Nachrichten weiterhin so genau und ehrlich wie möglich zu gestalten. Das hat er in seiner Grundsatzrede bei der jährlichen Verleihung des RIAS-Medienpreises am Donnerstagabend im historischen RIAS Funkhaus in Berlin bekräftigt, wo sechs Preisträger für ihre herausragenden TV-, Radio- und digitalen Berichte zu transatlantischen Themen geehrt wurden.
Der "60 Minuten"-Korrespondent und ehemalige Träger des RIAS-Medienpreises, Whitaker, stellte fest, dass Journalisten und Journalismus in den Vereinigten Staaten in den letzten Jahren mit zunehmender Kontrolle und Kritik konfrontiert waren, aber das sollte ihre Bemühungen, nach der Wahrheit zu suchen, nicht verlangsamen oder stoppen. Er sagte, es sei wichtig, "weiterzumachen" – ein Satz aus den 70er Jahren, der die Bedeutung von Beharrlichkeit angesichts der Not betont, anstatt in Verzweiflung zu verfallen.
"Schlechte Dinge passieren, wenn niemand zusieht", sagte Whitaker in seiner Rede vor 200 Gästen bei der jährlichen Preisverleihung, die von der RBB-Journalistin und RIAS-Alumni Petra Gute ausgerichtet wurde.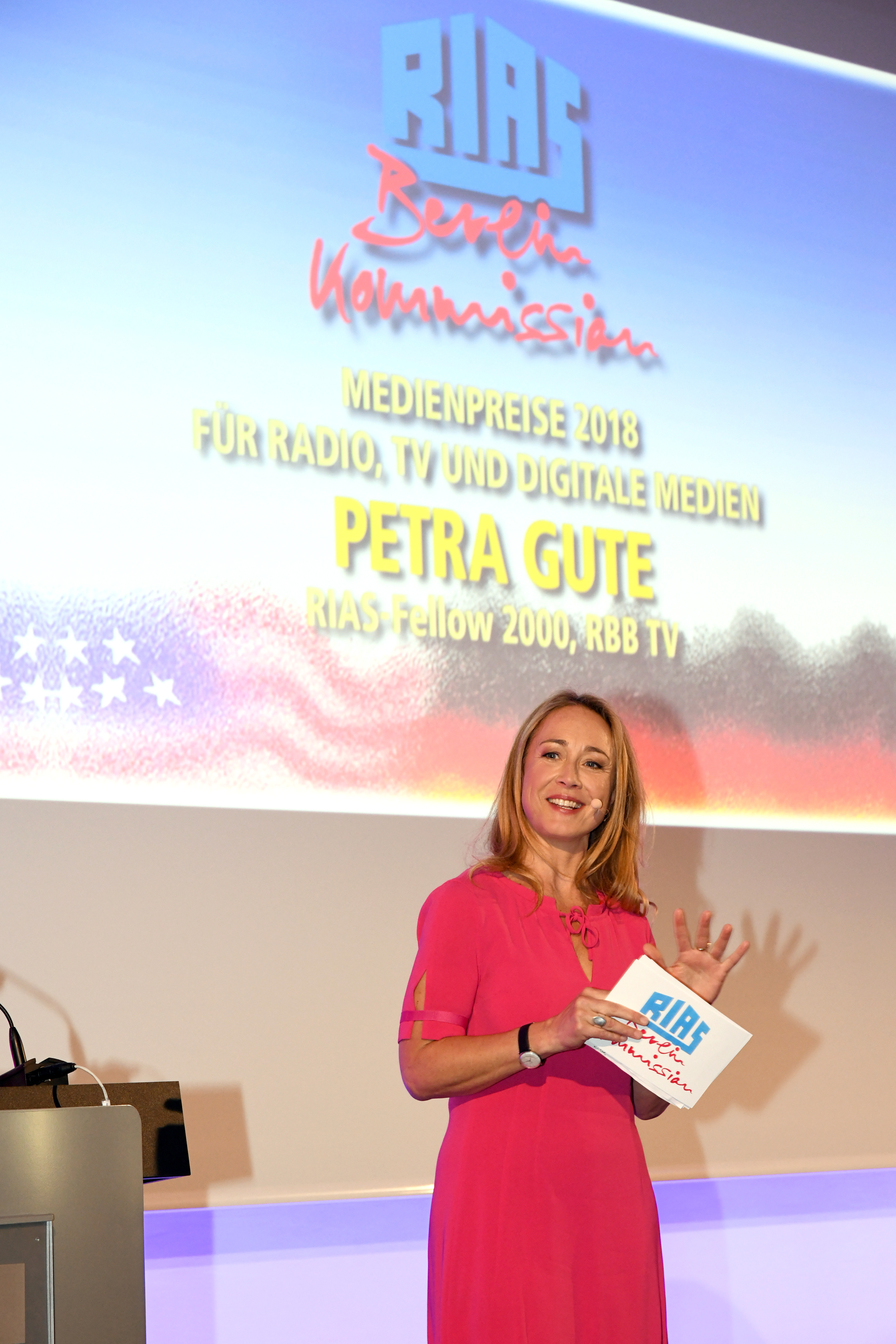 "Journalisten sind nicht perfekt und Journalismus ist nicht perfekt. Wir machen Fehler. Aber auch Präsidenten und Politiker und Demokratien." Whitaker bemerkte, dass eine freie Presse in die Verfassungen der Vereinigten Staaten und Deutschlands aufgenommen wurde und dass er als Auslandskorrespondent in Ländern wie China in den späten 1980er Jahren gearbeitet hatte, wo dies nicht der Fall war.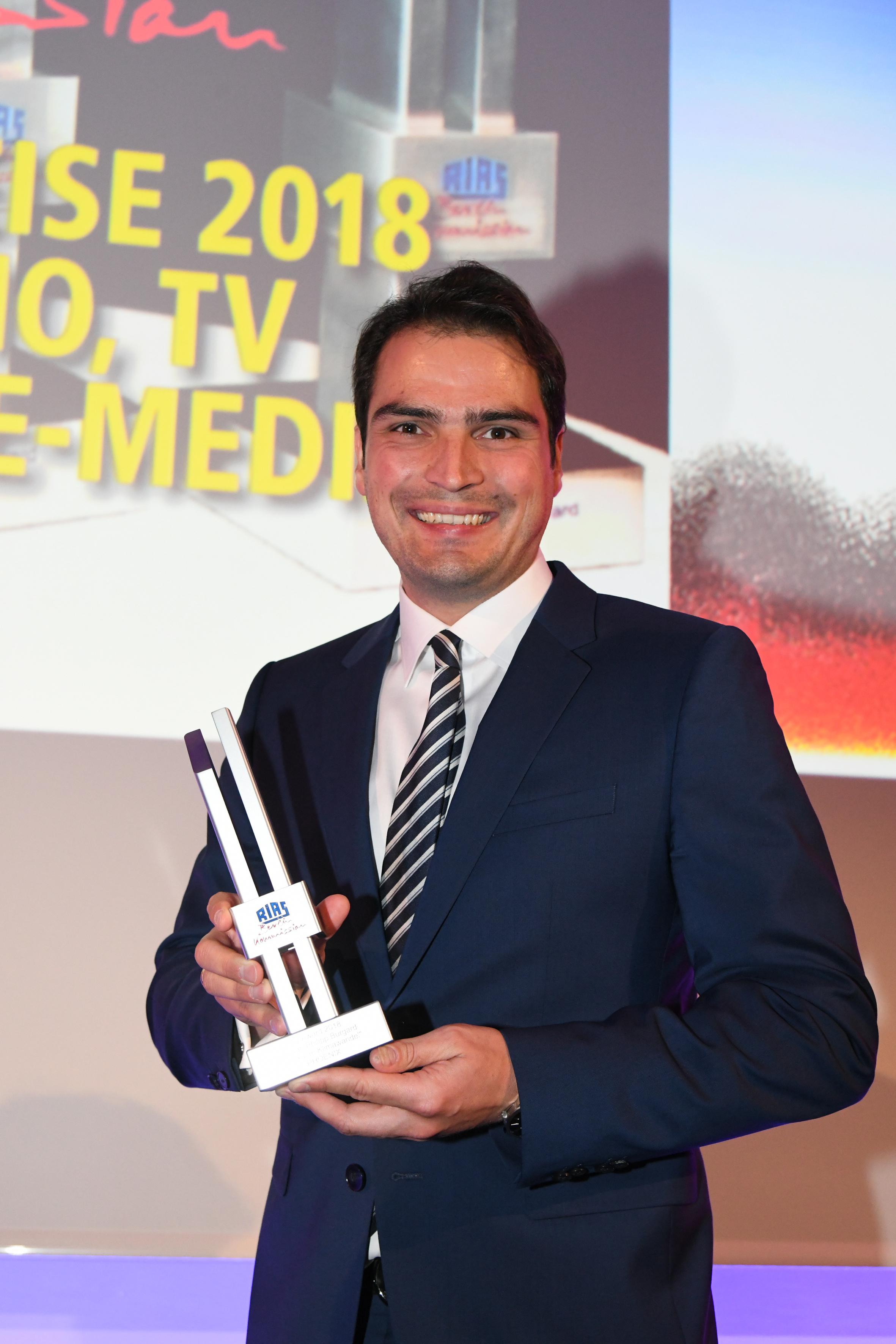 "Was soll ein Journalist in der heutigen Ära gefälschter Nachrichten tun? Diese Ära, in der soziale Medien unseren Glauben manipulieren und unsere Ängste vergrößern können.
Wie überstehen wir diese Stürme? Etwas, was wir schon in den 70ern gesagt haben, kommt mir in den Sinn: 'Weitermachen'. Also grabt weiter, schaut weiter unter die Felsen, haltet die Lichter unter den Schatten, erhebt die Stimme für die Stimmlosen, gebt Hoffnung für die Hoffnungslosen. Haltet Berichterstattung mit Ehrlichkeit, Integrität und Fakten. Wenn der Wind nachlässt, wird die Wahrheit siegen. Es wird klar sein, wer die Wahrheit sagt und wer nicht. In der Zwischenzeit, du, ich und wir alle: 'Einfach weitermachen'."
Bei der alljährlichen Preisverleihung sprach auch Deutschlandradio-Generaldirektor Stefan Raue, der Anfang der 1990er Jahre als Reporter für RIAS TV und dann als Chefredakteur oder Chef von Dienst für den TV-Sender gearbeitet hatte. Er erinnerte an die Geschichte des RIAS als wichtige und wertvolle Informationsquelle während des Kalten Krieges.
Der stellvertretende Missionsleiter der US-Botschaft, Kent Logsdon, sprach auch mit den Gästen darüber, wie sehr ihm die jährliche Preisverleihung in den letzten drei Jahren gefallen hat. Logsdon ist seit 15 Monaten Ehrenvorsitzender der RIAS Berlin-Kommission.
Der ARD-Korrespondent Jan Phillip Burgard, der für seinen Dokumentarfilm über die Auswirkungen des Klimawandels auf Gletscher und Inseln in Alaska den Preis für den besten Fernsehfilm erhielt, erzählte dem Publikum, wie er eines Tages von einem gewonnenen RIAS-Medaillenpreis träumte, den er zuvor 2004 bei dem ARD-Journalisten Claus Kleber im Büro von Washington DC zu seinem ersten Besuch im dortigen ARD-Studio gesehen hatte. "Er hat den Preis als eine Erinnerung an seine Zeit dort gelassen und ich habe es gesehen, als ich dort ein Auszubildender war und voller Ehrfurcht und Bewunderung davon war. Und diesen Preis jetzt selbst zu gewinnen, bedeutet mir sehr viel.."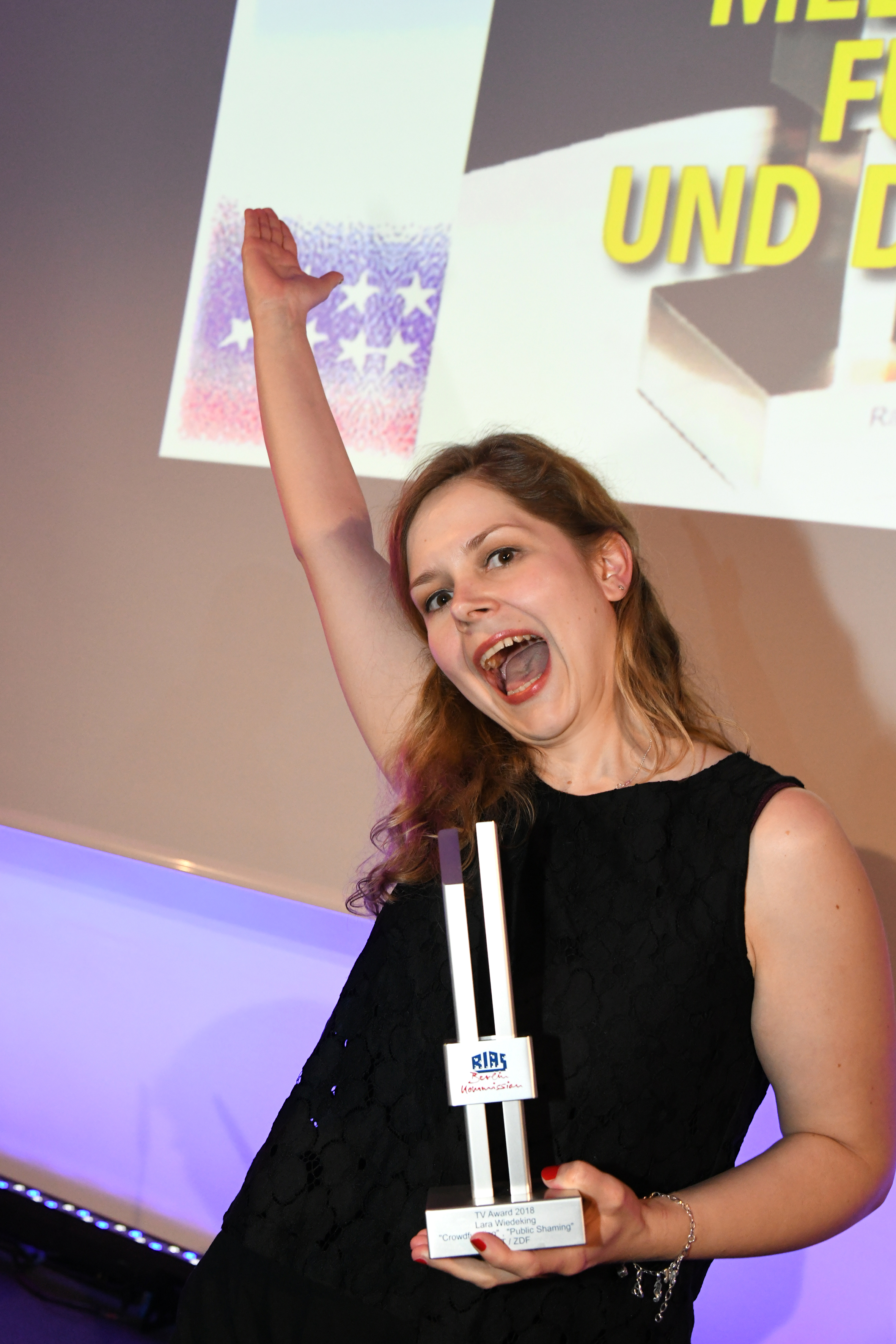 Lara Wiedeking erhielt den Preis für den besten TV-Kurzfilm für zwei Filme, die wichtige gesellschaftliche und politische Differenzen zwischen den USA und Deutschland beleuchteten – "Letzte Hoffnung Crowdfunding", der auf 3Sat und "Public Shaming", der auf ZDF heute+ erschien.
Arndt Peltner gewann für seinen faszinierenden 28-minütigen Radiobeitrag für Deutschlandradio über die Geschichte des Stacheldrahts und seine große Rolle bei der Entwicklung der Vereinigten Staaten – und wie er das Land, aber auch die Gesellschaft und die Menschen voneinander trennt.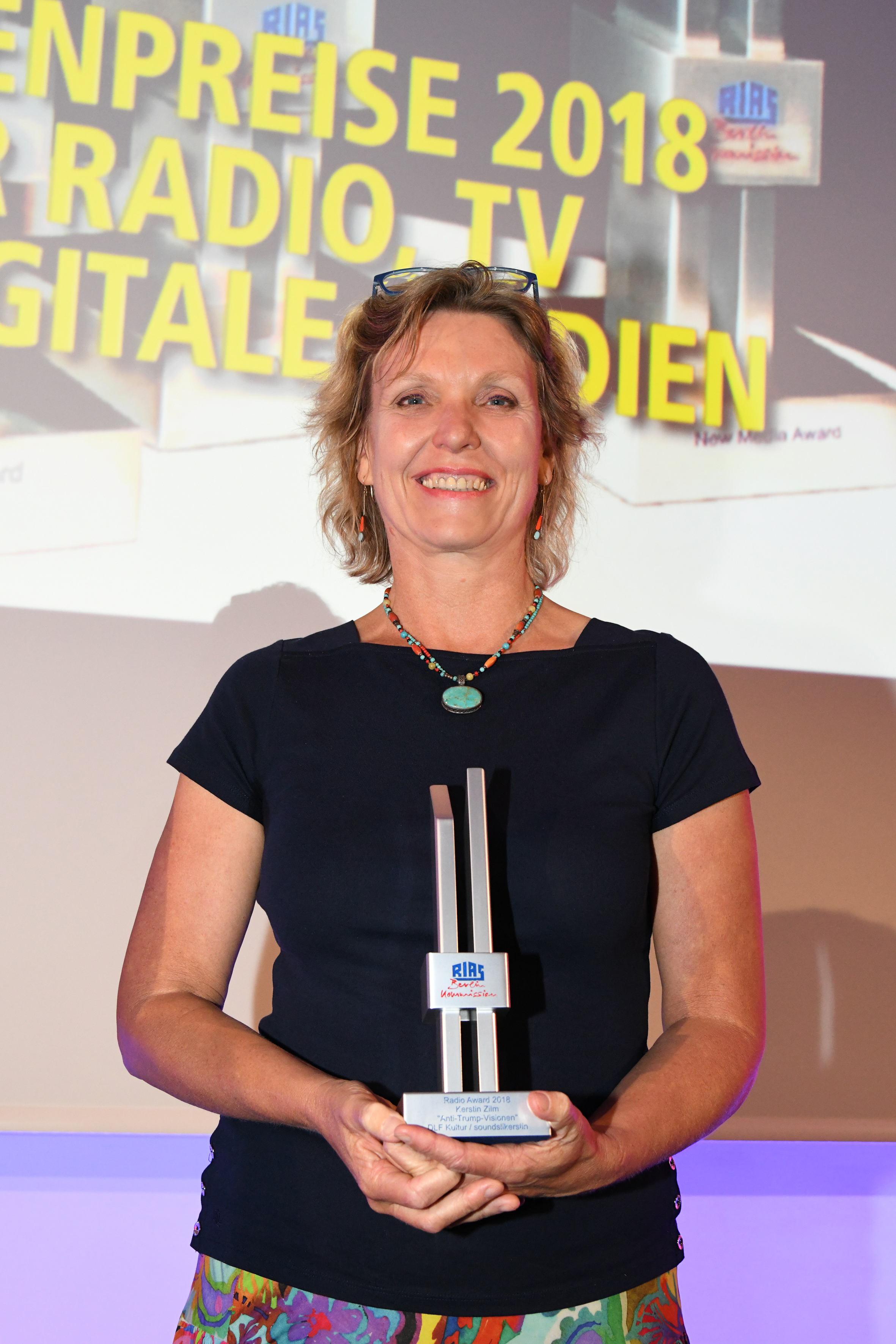 Kerstin Zilm gewann den Preis für ihre Serie von vier Radiobeiträgen für Deutschlandradio über die Auswirkungen, die die Politik von Präsident Donald Trump auf einige hat..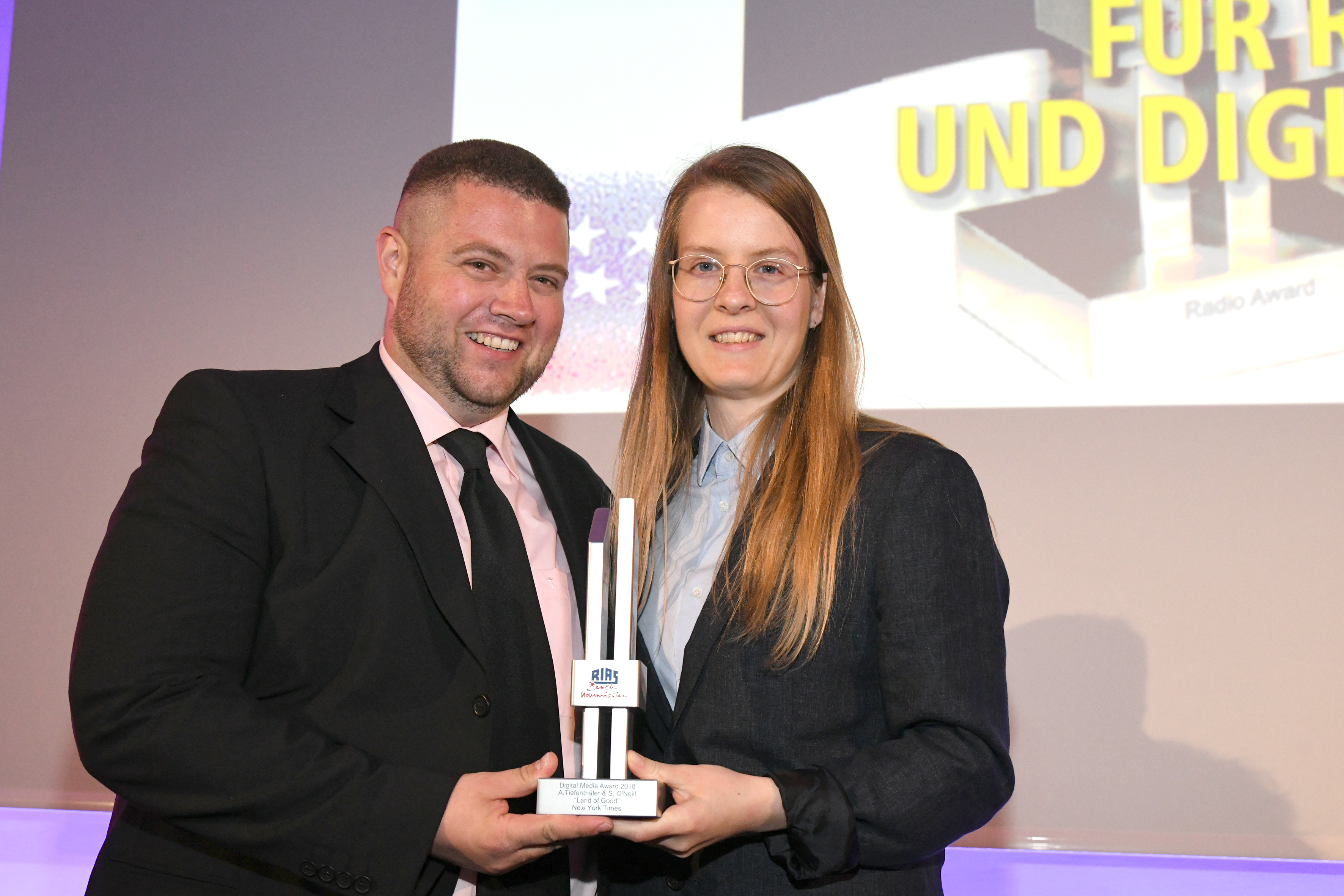 Ainara Tiefenthäler und Shane O'Neill gewannen den Preis für die beste digitale Mediengeschichte für ihren packenden Multimedia-Bericht "Land des Guten – Asyl suchen in Deutschland und Hass finden".
Die Preisträger nahmen auch an einer spannenden Podiumsdiskussion im Rahmen eines RIAS-Alumni-Treffens am Freitag, den 18. Mai im RIAS Funkhaus teil, bei der es um die Frage ging, ob sich das Klima in den letzten Jahren gegenüber den in den USA tätigen Auslandskorrespondenten verändert hat.
---
RIAS-Medienpreis-Jury wählt 5 Gewinner für die jährliche Verleihung der Medienpreise
März 2, 2018
Die RIAS BERLIN KOMMISSION freut sich, die Gewinner der diesjährigen RIAS Media Awards bekannt zu geben. Die jährliche Preisverleihung zum 26-jährigen Bestehen des deutsch-amerikanischen Austauschprogramms und dem besten transatlantischen Rundfunkjournalismus findet am Donnerstag, den 17. Mai 2018, um 19.00 Uhr im RIAS Funkhaus am Hans-Rosenthal-Platz in Berlin statt. Alle RIAS-Fellows und ehemaligen Preisträger sind herzlich eingeladen, an der Preisverleihung im historischen Gebäude teilzunehmen.

Die neunköpfige Jury, bestehend aus renommierten Journalisten aus den USA und Deutschland, traf sich in Berlin, um die Gewinner in den Kategorien TV, Radio und Digitale Medien zu ermitteln. Die Jurymitglieder führten lebhafte Diskussionen und zeigten sich beeindruckt von der hohen Qualität der eingereichten Arbeiten. Es war ein interessantes Jahr für den Journalismus sowohl in den USA als auch in Deutschland mit dem ersten Jahr einer neuen US-Regierung und den Bundestagswahlen.

Die Jury bestand aus: Melissa Eddy (The New York Times), Anja Heyde (ZDF), Helge Fuhst (Phoenix), Michael Gargiulo (WNBC in New York), Susan Stone (NPR), Melinda Crane (Deutsche Welle), Claus Detjen (deutscher Zeitungsverlag), Richard Meng (ZDF TV Council) und Christian Wilp (NTV, RTL).

Es wird auch eine Podiumsdiskussion über die veränderte Position und Rolle der Auslandskorrespondenten in den Vereinigten Staaten im vergangenen Jahr geben, sowie ein Alumni-Treffen der RIAS Fellows am 18. Mai in Berlin.
Die Preisgewinner diesen Jahres sind:
Jan Philipp Burgard: Alaska im Klimawandel. Wo Eis und Hoffnung schmelzen, 5.11.2017, PHOENIX, 43 Minuten
In seiner Dokumentation "Alaska im Klimawandel" zeigt Jan Philipp Burgard mit eindrucksvollen Bildern das Schmelzen riesiger Gletscher und die vom Untergang bedrohte Insel Shishmaref. Der Film blickt von der kleinen Insel auf die globalen Auswirkungen der neuen Umweltpolitik nach dem Präsidentenwechsel von Obama zu Trump. Dabei nimmt Burgard die Zuschauer mit auf eine Reise zu den Ureinwohnern Alaskas, die um ihre Heimat kämpfen. Er lässt beide Seiten zu Wort kommen – die Umweltaktivisten genauso wie die Unternehmer und Republikaner, die Trumps Deregulierungen unterstützen. Aber er bezieht auch klar Stellung. Im Interesse der Umwelt und des faszinierenden Lebensraumes Alaska.
In his documentary "Alaska and Climate Change", Jan Philipp Burgard uses awe-powerful images in Alaska of both vast glaciers that are melting away and the slowing disappearing island of Shishmaref to illustrate his gripping story. The film examines the impact of the new environmental policies in the United States resulting from the shift from the Obama to Trump administrations. Burgard takes viewers on a journey visit indigenous Alaskans who are fighting for their homes and includes protagonists on sides of the issue – the environmental activists as well as the business interests and Republicans who support the deregulation policies of the Trump administration. But he also takes a clear position in support of the enironment and the fascinating habitat that is Alaska.
Best TV (short)
2 Filme von Lara Wiedeking
Lara Wiedeking:
1) Letzte Hoffnung Crowdfundung
11. Dez., 3Sat
https://www.3sat.de/page/?source=/nano/gesellschaft/195859/index.html
2) Public Shaming
24. Aug., ZDF (heute+)
https://www.zdf.de/nachrichten/heute-plus/videos/public-shaming-hep-100.html
Lara Wiedeking hat es geschafft mit einer innovativen Herangehensweise die Geschichten ihrer Beiträge "Letzte Hoffnung Crowdfunding" und "Public Shaming" zu erzählen. Es handelt sich um zwei komplexe Themen über das Leben im Internetzeitalter und gleichzeitig wirft sie Licht auf große gesellschaftliche und politische Unterschiede zwischen Deutschland und den USA. "Letzte Hoffnung Crowdfunding" zeigt, wie viele Amerikaner, die durch das amerikanische Versorgungsnetz fallen, Crowdfunding als letztes Mittel nutzen. "Public Shaming" befasst sich mit dem "Outen" von rechten Anhängern in Anlehnung an die Märsche von Rechtsextremen in Charlottesville, Virginia. Wiedeking bringt einen frischen und energischen Stil mit und verbindet ihn mit solidem Journalismus; beides trifft in diesen beiden Kurzfilmen zusammentreffen.
Gewinner des Radio-Preises
Arndt Peltner "Stacheldraht und gated community. Als Zäune Amerikas weites Land eroberten", Radio-Feature, 28 Minuten
Die Jury hat sich für Arndt Peltners Feature "Stacheldraht und gated community" als herausragende Radio Geschichte des Jahres entschieden. Er zeigt, wie durch die Erfindung des Stacheldrahtes aus einem weiten, freien Land Stück für Stück die Freiheit verschwand. Zumindest für Einige. Der Stacheldraht teilt am Ende nicht nur das Land, sondern auch die Gesellschaft. Er trennt Menschen von einander. Die Auswirkungen der imaginären Grenzziehung prägen das Land und das Bewusstsein der Menschen bis heute. Arndt Peltner hat damit ein wichtiges Stück Kulturgeschichte auf einzigartige Weise aufgerollt.
Kerstin Zilm
"Vanlife – Hinter dem Hashtag"; "Kalifornien Speerspitze des Widerstands gegen Trump/Climate Policy: California Leads the Resistance against Trump";"Red, White and Blue am Spielfeldrand – Sport und Patriotismus in den USA" ; "Donald Trump und die Sioux – Proteste gegen Öl-Pipeline/Donald Trump and the Sioux – Protests against Oil Pipeline"
Die Jury vergibt in diesem Jahr den Radiopreis für eine Serie von vier herausragenden Radio-Reportagen an Kerstin Zilm. Sie zeigt, wie ein Camper für die einen der Traum vom freien Leben ist und für die anderen der einzige Weg zu überleben. Sie lässt kalifornische Widerständler der Klimapolitik von US-Präsident Donald Trump zu Wort kommen. Sie zeigt, dass ein Sportler, der sich zur US-Hymne nicht erhebt, dennoch ein Patriot ist. Und begleitet Sioux, die gegen eine Öl-Pipeline demonstrieren. Alle vier Reportagen zeigen beispielhaft und differenziert, wie der aktuelle US-Präsident die amerikanische Gesellschaft verändert hat und noch verändert. Kerstin Zilm ist nah an ihren Protagonisten lässt uns durch deren Blickwinkel die Spaltung in der amerikanischen Gesellschaft erfahren.
https://www.nytimes.com/video/world/europe/100000005090433/libyan-migrant- bautzengermany.html
Ainara Tiefenthäler & Shane O'Neill: "Land of Good | Seeking Asylum in Germany, and Finding Hatred" 21. Sept., 14:09 min.
Der Digitale Medienpreis der RIAS Berlin Kommission geht in diesem Jahr geht an Ainara Tiefenthäler und Shane O'Neill für ihren Film "Land of Good | Seeking Asylum in Germany, and Finding Hatred" (Land des Guten: Asyl in Deutschland suchen und Hass finden).
Diese multimediale Geschichte ist auf der New York Times' Website als Teil der Reihe "Times Dokumentarfilme" veröffentlich worden. Der Film begleitet einen jungen Mann, der vor Gewalt in Libyen floh , aber in Deutschland auf Hass und Konflikte in Bautzen traf. Die Autoren zeigen eine fesselnde Geschichte, die auf subtile und menschliche Art die komplexen Herausforderungen zeigt, die sich um die Themen Einwanderung, Extremismus und gesellschaftliche Polarisierung drehen.
---