RIAS RADIO, FERNSEH- UND NEUE-MEDIEN-PREISE 2002
Ausgezeichnet wurden Hörfunk-, Fernseh- und Neue-Medien-Produktionen, die im besonderen Maße zur Verständigung zwischen der Bundesrepublik Deutschland und den Vereinigten Staaten von Amerika beigetragen haben.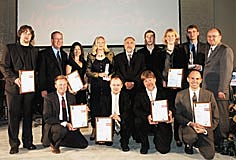 DIE PREISTRÄGER

1. Radiopreis
Ulrike Timm
Der amerikanischen Traum in Tönen (DeutschlandRadio Berlin)
Die Autorin benutzt Antonin Dvorak's Symphonie aus der Neuen Welt, um ihre Faszination mit vielen Aspekten des amerikanischen Lebens einschließlich historischer Erfolge und Tragödien wie den 11. September 2001 darzustellen. Dazu kommen in diesem Beitrag Kinder mit ihren Ansichten und Gefühlen zu Wort.
---

2. Radiopreis
Kyle James
Reports on Germany — from "Ostalgie" and "German Pride" (Marketplace, Minnesota Public Radio)
Der zweite Preis wird verliehen an Kyle James und seine Deutschlandberichte für Minnesota Public Radio's Marketplace, in denen über eine Vielzahl von deutschen Themen, die von Ostdeutscher Nostalgie bis hin zu Nationalstolz in Deutschland handeln, berichtet wird.
---

3. Radiopreis
Tanja Selmer
Einsame Spitze — Computercracks in Californien (Deutsche Welle)
Ein Beitrag über deutsche Dot-Com-Pioniere, die in Kaliforniens Silicon Valley für die Internetfirma Google arbeiten. In diesem Beitrag werden persönliche Karriereentscheidungen sowie Verbindungen zwischen universitärer Forschung und kommerziellen Möglichkeiten in Deutschland und in Amerika verglichen.
---

1. Fernsehpreis
Elmar Theveßen, Ulf Röller
Das Netzwerk des Terrors (ZDF spezial)
Das Netzwerk des Terrors deckt detaillierte und bis dahin nicht bekannte bzw. nicht berichtete Verbindungen zwischen den Terroranschlägen in den USA und ihrer Planungsphase in Deutschland auf. Die Möglichkeiten des Mediums "Fernsehen" werden in diesem sorgfältig gemachten, methodischen und analytischen Beitrag hervorragend eingesetzt.
---

2. Fernsehpreis
Kahler, Martin; Lego, Ritter
Mark Kahler, Kevin Martin (WLWT-TV): Homeland Hatred
Valerie Lego, Wayne Ritter (WGBA-TV): German Heritage
Den 2. Fernsehpreis 2002 teilen sich Fernsehjournalisten von WLWT-TV in Cincinnati, Ohio und von WGBA-TV in Green Bay, Wisconsin. Unabhängig voneinander warnen beide Beiträge ihre Zuschauer vor feindlichen Reaktionen gegenüber Moslems und Arabern in den Vereinigten Staaten nach dem 11. September 2001, indem sie über die Diskriminierung gegenüber Deutschen in Amerika während des Ersten Weltkrieges berichten.
---

2. Fernsehpreis
Hanno Hummel, Sven Voss
Kinder in New York — Leben nach dem Terror (ZDF, Kinderkanal, logo!-extra)
Ein im Kinderkanal ausgestrahlter Beitrag mit einer ergänzenden Webseite: Das Programm schildert New York nach dem 11. September mit den Augen eines Kindes und läßt auch moslemische Kinder zu Wort kommen.
---

Neue-Medien-Preis
Bopp; Bundy, Meindl
Den Neuen Medienpreis teilen sich zwei Gewinner, die sich des großen Potentials des Internets auf unterschiedliche Weise bedienen.
Herbert Bopp: Besuch in einer verwundeten Stadt — New York nach den Terroranschlägen (online wdr.de)
Herbert Bopp schildert in seiner WDR-Website von New York schon kurz nach den Terroranschlägen persönliche Schicksale in Gesprächen mit Feuerwehrleuten und betroffenen Familien. Diese einfache Website zeigt, dass sich auch die Stimme eines einzelnen Journalisten in der Informationsflut nach den Anschlägen dank desInternets Gehör verschaffen kann.
Jürgen Bundy, Wolfgang Meindl: USA — the sound of… (SWR Multimedia-Paket)
Das Multimedia-Paket des SWR gewinnt den "Neue-Medien-Preis" für die hervorragende Nutzung der technischen Möglichkeiten des Internets, um deutschen Jugendlichen die geographisch sehr unterschiedliche amerikanische Musik zu vermitteln. Das erzieherische Projekt beinhaltet eine Website, eine CD mit Filmen und Musikbeispielen und ein Begleitheft und erlaubt Jugendlichen, die musikalische Vielfalt der verschiedenen Regionen der Vereinigten Staaten in Bild und Ton zu erkunden.