RIAS RADIO, FERNSEH- UND NEUE-MEDIEN-PREISE 2010
30. Mai 2010
Festveranstaltung mit Kulturstaatsminister Bernd Neumann zur Verleihung der Radio-, Fernseh- und Neue-Medien-Preise 2010 für herausragende Beiträge zur deutsch-amerikanischen Verständigung. The Ritz-Carlton, Berlin, Potsdamer Platz 3, Grand Ballroom.
14:00 Uhr Fellow-Brunchempfang der RIAS BERLIN KOMMISSION
15:00 Uhr Preisverleihung der RIAS BERLIN KOMMISSION
Begrüßung durch Erik Bettermann, deutscher Vorsitzender der RIAS BERLIN KOMMISSION und Dr. Helena Kane Finn, amerikanische Vorsitzende der RIAS BERLIN KOMMISSION.
Ehrengast und Gastredner: Staatsminister Bernd Neumann, der Beauftragte der Bundesregierung für Kultur und Medien; Ehrenvorsitzender der RIAS BERLIN KOMMISSION.
Begrüßungsansprache durch den U.S. chargé d'affaires Greg Delawie.
Die Preise wurden überreicht von Dr. Melinda Crane, Mitglied der RIAS BERLIN KOMMISSION und der RIAS Jury. Musikalische Unterhaltung: The Quartbreakers
In seinem Grußwort bei der Preisverleihung erklärte Kulturstaatsminister Bernd Neumann, der auch Ehrenvorsitzender der RIAS BERLIN KOMMISSION ist: "Deutsche und Amerikaner treten seit Jahrzehnten gemeinsam für Freiheit und Menschenrechte ein. Mit dem RIAS-Medienpreis zeichnen wir nicht nur guten Journalismus aus, sondern auch Beiträge, die diese Werte vermitteln. Durch ihre Aktivitäten bewahrt die deutsch-amerikanische RIAS BERLIN KOMMISSION die freiheitlich-demokratische und journalistische Tradition dieses Senders und gibt dieses Erbe an neue Generationen von Journalisten weiter."
---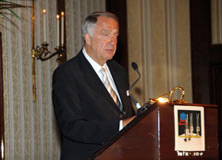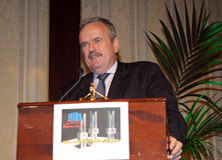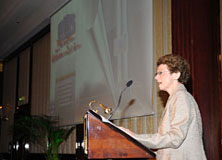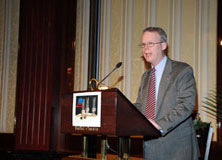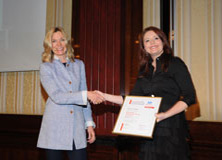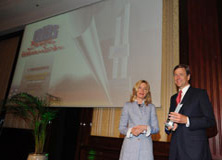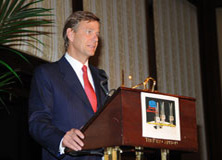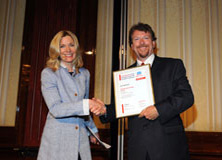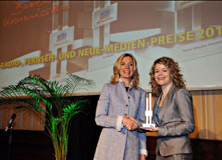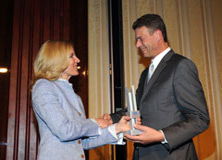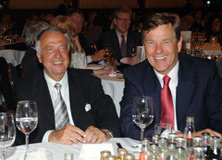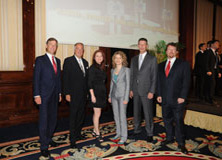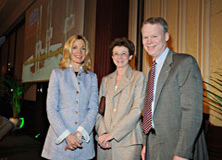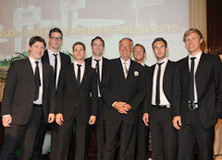 ---
DIE PREISTRÄGER 2010
Ausgezeichnet werden die folgenden Hörfunk- und Fernsehproduktionen, die im besonderen Maße zur Verständigung zwischen der Bundesrepublik Deutschland und den Vereinigten Staaten von Amerika beigetragen haben.

1. Radiopreis
Marion Fuchs
Yes we can — Wie die US-Kleinstadt Wilmington der Wirtschaftskrise trotzt
Autorin Marion Fuchs verdeutlicht den deutschen Hörern die globalen Aspekte der Wirtschaftskrise durch eine sehr persönliche und direkte Reportage aus Wilmington, Ohio. 8500 Angestellte haben in dieser kleinen Stadt, die nur 12.000 Einwohner hat, ihre Jobs verloren, als DHL, die Pakettochter der Deutschen Post, ihr dortiges Frachtumschlagszentrum schloss. Durch den ausgefeilten Einsatz von Originaltönen unterstreicht der Bericht den Optimismus der Bürger Wilmingtons, die versuchen ihre Probleme zu lösen.
---

2. Radiopreis
Liam Moriarty, Erin Hennessey
Getting Solar Energy online
Dieser Bericht stellt einen gründlichen Vergleich zwischen der Entwicklung der Solarenenergie im pazifischen Nordwesten der Vereinigten Staaten und dem bereits weiter vorangeschrittenen Einsatz dieser Energieform in Deutschland an. Angesichts großer Herausforderungen mit weitreichender wirtschaftlicher und politischer Bedeutung berichtet Autor Liam Moriarty sehr fachkundig, wie Erfahrungen auf diesem Gebiet gemacht und geteilt werden können.
---

1. Fernsehpreis
Angela Andersen, Claus Kleber
Die Bombe
Diese dreiteilige Serie führt eine weltweite Untersuchung unserer gemeinsamen Verletzlichkeit durch die wachsende Gefahr von nuklearen Attacken durch Terroristen und Schurkenstaaten durch. Sie zeigt eine der größten politischen Herausforderungen der Gegenwart: Den Kampf gegen nukleare Proliferation und die Gefahr, dass Terroristen in den Besitz nuklearen Materials gelangen könnten. Dank ihres einzigartigen Zugangs zu wichtigen Akteuren und Schauplätzen ist Angela Andersen und Claus Kleber eine zutiefst beeindruckende Dokumentation gelungen. Die genaue Problemanalyse vermittelt den deutschen Zuschauern einen besseren Einblick, warum die USA der Eindämmung der Verbreitung von Nuklearwaffen einen hohen politischen Stellenwert beimessen.
---

2. Fernsehpreis
Christine Dobbyn
Berlin Reborn
Christine Dobbyn ist ein fundierter historischer Rückblick auf die Ereignisse vor und nach dem Fall der Berliner Mauer gelungen, der bewegende Erinnerungen des früheren US-Präsidenten George Bush, des früheren US-Außenministers James Baker und des früheren sowjetischen Präsidenten Michael Gorbatschow enthält. Für den sowohl in den Vereinigten Staaten als auch in Deutschland produzierten Bericht hat der lokale US-Sender KTRK-TV Houston bemerkenswerte Ressourcen und Sendezeit zur Verfügung gestellt, um ein einmaliges geschichtliches Ereignis sehr differenziert und angemessen zu würdigen.
---

Neue-Medien Preis
Christoph Lanz, Max Hofmann
Walled-In
Diese einfallsreiche und sehr informative Entdeckungsreise durch die innerdeutschen Grenzanlagen konnte zuerst als "streaming video" auf der Webseite der Deutschen Welle angeschaut werden. Die aufwändige Animation mit dem Titel "Eingemauert" rekonstruiert detailgenau die Berliner Mauer und stellt einen herausragenden geschichtlichen Beitrag zum 20. Jahrestag des Falls der Berliner Mauer dar.