RIAS RADIO, FERNSEH- UND NEUE-MEDIEN-PREISE 2009
7. Juni 2009
Festveranstaltung zur Verleihung der Radio-, TV- und Neue-Medien-Preise 2009 für herausragende Beiträge zur deutsch-amerikanischen Verständigung. The Ritz-Carlton, Berlin, Potsdamer Platz 3, Grand Ballroom.
Fellow-Frühstücksempfang der RIAS BERLIN KOMMISSION gefolgt durch die Preisverleihung der RIAS BERLIN KOMMISSION. Begrüßung durch Erik Bettermann, Vorsitzender der RIAS BERLIN KOMMISSION und Dr. Helena Kane Finn, stellv. Vorsitzende der RIAS BERLIN KOMMISSION. Durch die Veranstaltung führten RIAS-Fellows Heidi Bruns und David Patrician. Musikalische Unterhaltung durch Roland Heinrich und die Rumtreiber.
---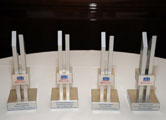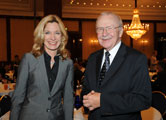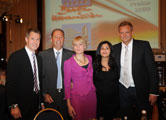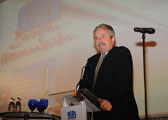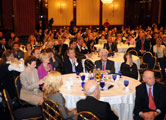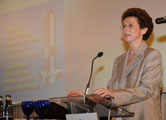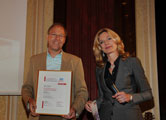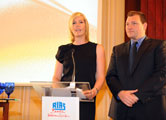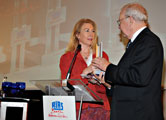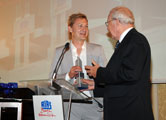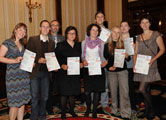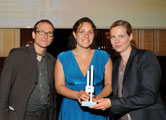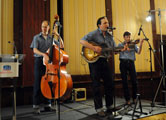 ---
DIE PREISTRÄGER 2009
Ausgezeichnet wurden die folgenden Hörfunk- und Fernsehproduktionen, die im besonderen Maße zur Verständigung zwischen der Bundesrepublik Deutschland und den Vereinigten Staaten von Amerika beigetragen haben.

1. Radiopreis
Daniela Gerson, Wibke Bergemann
Too many Geister — Eine jüdische Enkelin auf Spurensuche in Berlin
Daniela Gerson, Enkelin von Überlebenden des Holocaust, ist eigentlich zu Recherchen über Immigrationsfragen nach Deutschland gekommen. Aber in Berlin wird die 28-jährige jüdische New Yorkerin plötzlich von der Vergangenheit eingeholt. Ein früherer Neonazi, der in der Nachbarwohnung lebt, ist nur der Anfang einer bewegenden Geschichte, in der Vergangenes wieder gegenwärtig wird. Durch den hervorragenden Einsatz von Originaltönen wirft dieses sehr persönliche und engagierte Radiofeature einen frischen und außergewöhnlichen Blick auf immer noch existierende Probleme.
---

2 . Radiopreis
Susan Stone
Reports on Germany and Berlin for Public Radio
American Films Dubbed for European Audience; Facebook Faceoff: German Rival Gets Poked; Germans Emigrate to Other Nations at Record Pace; Low Income Christmas Market; Sylvia's Story — a Personal History of WWII
Eine Serie von dokumentarischen Stücken, die zeigt, wie man in den kurzen, in den USA üblichen Formaten schwierige Themen informativ vermitteln kann. Susan Stone wählt ihre Themen kreativ aus, bleibt in den Darstellungen präzise und erzählt humorvoll und mit hoher Professionalität.
---

1. Fernsehpreis
Peter Kloeppel
Amerika zwischen Angst und Aufbruch
Peter Kloeppels Reportage macht die sozialen Auswirkungen der politischen Probleme deutlich, die Amerika in die Krise gestürzt haben und im Mittelpunkt der Wahlkampagne standen. Kloeppel zeigt, wie die Finanzkrise, der Zusammenbruch des Immobilienmarktes, der Irakkrieg, die Mängel im Gesundheitssystem und die Abhängigkeit von fossilen Brennstoffen das Alltagsleben der amerikanischen Bürger beeinflusst hat. Die abwechslungsreiche Erzählweise macht die Berichte spannend, hoch informativ und erscheint spontan – aber Peter Kloeppel hat ein Mosaik produziert, das auf einer fundierten Kenntnis der Vereinigten Staaten, seiner Politik und seiner Bürger basiert.
---

2. Fernsehpreis
Ralph Gladitz
Der Präsidentenmacher — Amerika vor der Wende
Dieser Dokumentarfilm wurde sechs Tage vor den Präsidentschaftswahlen gesendet und zeigt, dass sich der Wandel in den Vereinigten Staaten bereits vollzogen hat, egal wer gewinnt. Der Bericht begleitet Studenten, die unermüdlich, mit Enthusiasmus und Hingabe, für die Demokraten und Republikaner Wahlkampf machen. Ralph Gladitz zeigt, wie sich junge Menschen politisch engagieren, ihre eigenen politischen Wege gehen — und sogar die politischen Einstellungen ihrer Eltern beeinflussen. Dieser Film überzeugt durch seinen authentischen Stil und stellt eine Ermutigung für politisches Engagement auch für deutsche Zuschauer dar.
---

Neue-Medien-Preis
Andreas Korn
Kindernachrichtensendung logo! über die US-Wahl (ZDF)
Die Kindersendung logo! hat mit der Verbindung von Fernsehen und Internet ein beispielhaftes Format entwickelt, mit dem Kinder und Jugendliche in einer für sie verständlichen Weise über ein aktuelles politisches Ereignis informiert werden können. Im Mittelpunkt steht die US-Präsidentschaftswahl: Abläufe, Eigenheiten des amerikanischen Wahlsystems und inhaltliche Auseinandersetzungen der Kandidaten werden erzählerisch vermittelt. Autor Andreas Korn tritt sympathisch auf, ohne zu vereinfachen. Das Internet regt das junge Publikum zu partizipatorischer Mediennutzung an.
---

RIAS-Fellow-Preis
Laure Quinlivan
Cincinnati to Germany Connections
Der neu geschaffene RIAS Fellow Preis wird an Laure Quinlivan für ihre Serie über die Partnerstädte Cincinnati und München verliehen. Die sehr lebendigen und unterhaltsamen Berichte zeigen, wie sich Deutsche und Amerikaner aus beiden Städten kennenlernen und zusammenarbeiten. Die TV-Berichte wurden durch den ausgezeichneten Internetblog "Cincinnati to Germany Connections" unterstützt.
---

Besondere Empfehlung
Radio mephisto 97.6, Uni-Radio Leipzig
Various background reports on US election 2008
Die Jury gibt dem Leipziger Radio Mephisto eine besondere Anerkennung für eine Serie über den Wahlkampf in den USA. Für das überwiegend junge Publikum wird ein eigener Stil produziert: schnell und witzig, mit hoch verdichteter Information. Damit durchbricht der Sender Vorurteile und ermöglicht eine von Klischees unbelastete Auseinandersetzung mit den Eigenheiten Amerikas.