RIAS RADIO, TV, AND NEW MEDIA AWARDS 2009
June 7, 2009
Ceremony for the RIAS BERLIN COMMISSION Radio, TV and New Media Awards 2009 for outstanding radio, TV and new media contibutions for the mutual German-American understanding.
The Ritz-Carlton, Berlin, Potsdamer Platz 3, Grand Ballroom: Fellow Breakfast of the RIAS BERLIN COMMISSION followed by the awards ceremony of the RIAS BERLIN COMMISSION. Welcome speeches by Erik Bettermann, chairman RIAS BERLIN KOMMISSION and Dr. Helena Kane Finn, deputy chairwoman of the RIAS BERLIN COMMISSION. Hosts were RIAS Fellows Heidi Bruns and David Patrician. Music entertainment by Roland Heinrich und die Rumtreiber.
---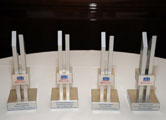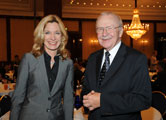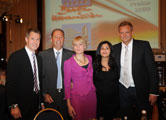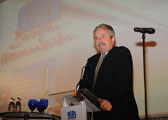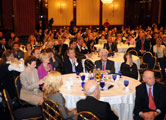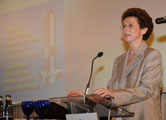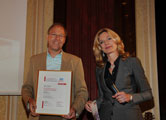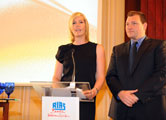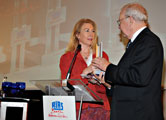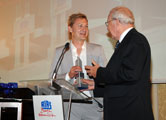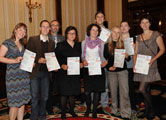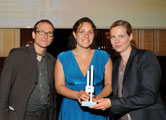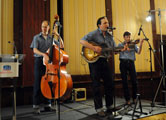 ---
THE AWARD WINNERS
Awards were given to the following radio and TV productions which made special contributions to the mutual understanding between the people of Germany and of the United States of America.

1st Radio Award
Daniela Gerson, Wibke Bergemann
Too many Geister — Eine jüdische Enkelin auf Spurensuche in Berlin
Daniela Gerson, granddaughter of a Holocaust survivor, comes to Germany to do research on immigration issues. But in Berlin, the 28 year old Jewish New Yorker finds herself engulfed in the past. Meeting the former Neo-Nazi living next door is only the beginning. This moving story shows how the past colors the present. It is a unique and fresh look at issues of enduring importance. Personal and engaging in style, the report makes particularly good use of sound.
---

2nd Radio Award
Susan Stone
Reports on Germany and Berlin for Public Radio
American Films Dubbed for European Audience; Facebook Faceoff: German Rival Gets Poked; Germans Emigrate to Other Nations at Record Pace; Low Income Christmas Market; Sylvia's Story — a Personal History of WWII
A series of documentary features which shows that shorter radio pieces can deal with difficult topics in a very informative way. Susan Stone has shown creativity in selecting her themes, and her reporting is humorous, precise and on a high professional level.
---

1st TV Award
Peter Kloeppel
Amerika zwischen Angst und Aufbruch
Peter Kloeppel's series of reports show the human impact of the political problems that plunged America into crisis and were the focus of the 2008 U.S. election campaign. Addressing the financial crisis, the collapse of the housing market, the war in Iraq, gaps in the U.S. health care system , and dependence on fossil fuels, Kloeppel shows their impact on the everyday lives of ordinary people. His colorful storytelling makes the reports both compelling and highly informative. His reporting seems extemporaneous – but he creates a mosaic based on profound knowledge of the United States, its policy and its people.
---

2nd TV Award
Ralph Gladitz
Die Präsidentenmacher — Amerika vor der Wende
Aired six days before the U.S. presidential elections, this documentary shows that – no matter who was the winner – change was on the way in the United States. This production follows students who campaign indefatigably with enthusiasm and commitment, for both Democrats and Republicans. Ralph Gladitz explains how young Americans commit themselves to politics and how they learn to make a difference – even influencing the political preferences of their parents. The broadcast is convincingly authentic with an encouraging message for political involvement.
---

New Media Award
Andreas Korn
Kindernachrichtensendung logo! über die US-Wahl (ZDF)

The children's program logo! combines TV and internet to inform German children about current political events in a very easy to understand way. The focus is on the U.S. elections: the latest campaign developments, the differences in the American voting system, and political discussions about the candidates are well-told as a story. The author and likeable host Andreas Korn never oversimplifies, and he encourages the young audience to participate by using the logo! web site as well.
---

RIAS Fellow Award
Laure Quinlivan
Cincinnati to Germany Connections
The newly created RIAS Fellow Award goes to Laure Quinlivan for her series on the sister cities Cincinnati and Munich. The very lively and entertaining reports show how Germans and Americans from both cities get to know each other and work together. These TV reports were also supported by the excellent internet blog "Cincinnati to Germany connections."
---

Special Commendation
Radio mephisto 97.6, Uni-Radio Leipzig
Various background reports on US election 2008
The jury awards Radio mephisto, Leipzig a special commendation for a series on the U.S. election campaign. Here the reporting aims at a mostly young audience: fast and witty, with considerable information content Radio mephisto defies prejudices and enables a cliché-free reflection on America's character.