RIAS RADIO, TV, AND DIGITAL MEDIA AWARDS 2020
Winners 2020
RIAS TV Award:
Bill Whitaker: "60 Minutes – The Rock"
RIAS Radio Award:
Wiebke Keuneke: "Jenseits des American Dream – deutsche Sozialarbeiter unterwegs in den USA"
RIAS Digital Video Award:
David Diwiak, Han Park: "Veggie vs. Labor?"
RIAS Fellow Award TV:
Monica Quintero, David Wagner: "Beyond Borders – A Trip Abroad"
RIAS Fellow Award Radio:
Christopher Conover: "The Buzz: German Perspectives on Immigration"
December 4, 2020
NEW PRIZE MONEY, NEW FOCUS FOR 2021 RIAS MEDIA PRIZE AWARDS
The RIAS Berlin Commission's Media Awards will be relaunched in 2021 with new prize money, a new focus and new categories. There will be a total of up to 10,000 EUR in prize money awarded for exceptional radio, television and digital stories that includes a new 5,000 EUR grand prize for the single most outstanding entry that was broadcast in either the United States or Germany during 2020.
The RIAS Media Prize is intended to help strengthen the diversity of transatlantic dialogue and to deepen interest in German-American relations. Germany and the USA are each facing new directions in many respects, both internally and externally. Committed, independent journalism can contribute a great deal to mutual understanding of and between countries as well as to an open social discourse about values and goals. The contributions submitted should go beyond daily and routine reporting, should process information and describe social reality in a remarkable way, and promote dialogue on similarities and differences in transatlantic relations.
Ideally, contributions worth consideration should: stand out thematically and/or in their execution; take on new questions in a creative way; critically examine and make the diversity of social reality clear; contain interesting suggestions for transatlantic debate; encourage reflection on problems and solutions; question clichés about Germans and/or Americans; describe trends in everyday life that are of general interest; contribute in a special way to mutual curiosity and understanding; be suitable to strengthen democratic and societal values.
Entries must be received by RIAS Berlin Commission via email no later than January 31st, 2021. All work submitted must be the primary effort of the person or persons making the entry. RIAS Berlin Commission reserves the right to create additional categories such as a "Jury Prize" for awards or decline to make an award in a category where only a few entries or those of poor quality are received.
Radio, TV, and Digital Media Awards
DEADLINE FOR ENTRIES: JANUARY 31, 2021
Entries must include:
– full name, title, business address; phone, e-mail; posting date(s) of the story; its running length, word count, story title and brief description; a brief description of your role in the production of the story; Clearly indicate the category for your entry: Categories are: 1). Television 2) Radio 3) Digital (includes podcasts and online) 4) "RIAS Fellow Prize" (best TV, radio or digital entry by a current RIAS participant or RIAS fellow alumni). A maximum of two entries per person is allowed. An entry is considered to be one single entry when several shorter pieces relate in form or content to a specific category.
All entries must be submitted electronically via email with a valid URL that is active until March 2021 and can be accessed without proprietary information (password) by RIAS jury.
ALL ENTRIES SHOULD BE SENT TO:
Email: info@riasberlin.org
The RIAS Berlin Commission is a binational organization for the promotion of German-American understanding in the field of broadcasting.
Click here for the RIAS Media Prize Call for Entries 2020:
RIAS_Call_2021_Flyer English 04 12 2020
---
March 20, 2020
RIAS Media Prize event cancelled due to coronavirus
The RIAS Berlin Commission regrets to announce that its Media Prize gala event will not take place in 2020 due to the coronavirus crisis. The annual event celebrating outstanding broadcast journalism covering transatlantic issues was scheduled for May 7 in Berlin, where the five winning entries of the Media Prize competition from the United States and Germany were to be honored. A grand RIAS alumni party scheduled for May 8 in Berlin has also been indefinitely postponed.
The RIAS Berlin Commission will pay tribute to the 2020 winners at the next Media Prize ceremony in 2021. The RIAS Berlin Commission annually presents awards for excellence in reporting on German-American issues. The awards are given for radio, TV and internet productions which made special contributions to the mutual understanding between the people of Germany and of the United States of America.
There will also be fuller reports on each of the winning stories on the www.riasberlin.org website in coming weeks. In the meantime, here are the findings from the independent panel of journalists from the United States and Germany who met at the historic RIAS building in Berlin-Schoeneberg on March 7 to pick the five winners from among nearly 100 submissions.
RIAS TV Award:
Bill Whitaker: "60 Minutes – The Rock"
"The Rock" opens with a reference to a previous 60 Minutes report — recognized by RIAS — comparing the German and American incarceration systems and raising the question: Could a German-style focus on rehabilitation work in a United States prison?
In the piece, Bill Whitaker introduces us to a prisoner-turned-college hoops star, wardens who dare to show weakness around inmates and prison lifers who find redemption in counseling young inmates to seize the opportunity of a second chance. Through their voices and experiences viewers are introduced to a program in one of the toughest U.S. prisons, inspired by what officials saw in Germany and challenged to reconsider the role of imprisonment in modern society.
While the jury deliberated long and hard over whether to award a prize to a journalist recognized in 2017, "The Rock"' stood out, not only as an example of highest quality reporting, but as a testament to the RIAS mission: promoting mutual understanding between German and American society through a free exchange of information and ideas.

RIAS Radio Award:
Wiebke Keuneke: "Jenseits des American Dream – deutsche Sozialarbeiter unterwegs in den USA" Listen here
In Wiebke Keuneke's impressive radio report she accompanied twelve Berlin social workers on their journey to Chicago and Detroit. She recorded the critical, often skeptical and sometimes shocked impressions that the encounter with the reality of American social work led to.
The differences between Europe and the USA are clearly worked out and classified in the journalistic protocol of these encounters, yet it is always clear how universal the underlying questions are: It is about exclusion and lack of opportunities on the fringes of society, which can lead to violence and crime – and about fighting against them.
The report is brimming with a curiosity about another world. At the same time, it is about respect for the people who are trying to change something there. It is an outstanding example of how productive it can be in transatlantic relations to develop a mutual interest in the problems of everyday life, while remaining open and willing to learn instead of turning away from one another. Curiosity about one another helps everyone. Wiebke Keuneke has succeeded in curiously accompanying and exciting this learning process through journalism.
RIAS Digital Video Award:
David Diwiak, Han Park: "Veggie vs. Labor?"
From its very first moments, the video report Fleischersatz: Veggie vs. Labor? captivated the jury with its energy and attitude. David Diwiak and Han Park of youth-oriented NDR online-channel STRG_F explore the growing market for and appeal of meat replacements, both natural and man-made. Eating their way through many mouthfuls in the process, the team manages to shed light on the science, business, and ethics of cultured meat, as well as the differing views in Germany and the US when it comes to genetically modified foods. What starts as a humorous taste test quickly evolves into a well-thought out exploration of the current meat alternative offerings, and those soon to come via technological innovations. Interviews, animation, a deep dive into the California fake meat start-up scene, and other research are all used to excellent effect, leaving the jury hungry for more from this clever duo of young journalists.


RIAS Fellow Award TV:
Monica Quintero, David Wagner: "Beyond Borders – A Trip Abroad"
A thoughtful and intelligent TV documentary that successfully expands viewers' knowledge of the 30th anniversary of the fall of the Berlin Wall. David Wagner and Monica Quintero bring the story into the present day by offering their West Texas audience a comparative look between the infamous symbol of the Cold War and today's Mexico-United States barrier or Border Wall. The documentary deftly delves into the historical circumstances behind the two barriers while providing compelling snapshots of current day issues, including immigration and gun control in each country. Viewers are enticed to decide for themselves whether or not history is repeating itself. Wagner and Quintero utilize a powerful mix of interview subjects and eyewitness testimony. The audience is given further pause at the description of the mixed emotions with which the then West- and East Germans greeted the fall of the Wall: from unbridled joy to confusion to sadness. "Beyond Borders: A Trip Abroad" surpasses the expectations of its title by bringing home to West Texas a pivotal epoch in German history within the context of today's headlines.
RIAS Fellow Award Radio:
Christopher Conover: "The Buzz: German Perspectives on Immigration" Listen here
At a time of growing anxiety on both sides of the Atlantic over the short- and long-term implications of mass migration, RIAS fellow Christopher Conover of Southern Arizona public radio explored Germany's recent experience with the refugee influx of 2015 and what lessons America can take from it. In a series of in-depth interviews with people on the front lines – the architect of Europe's "refugee deal" with Turkey, a Syrian who nearly died trying to cross the Mediterranean on his way to Germany, and a German journalist who covered the crisis – Conover's dispatch offers a window into the complexities, challenges and contradictions of Europe's approach to migration. By letting those closest to the German crisis offer a nuanced picture of their views and experiences, the work exemplifies the RIAS Commission's founding principle to promote German-American understanding.
---
January 6, 2020
Win a trip to Berlin for the May 7, 2020 RIAS Media Prize Awards!
U.S. and Germany-based journalists are invited to enter their best stories that touch on transatlantic or global themes for the annual RIAS Media Prize Awards. The best TV, radio and digital stories aired or published in the year 2019 are eligible for the prestigious competition and winners in each category will be invited to attend the gala prize ceremonies on May 7 in Berlin at the headquarters building of the legendary Cold War-era radio station known as the free voice of the free world.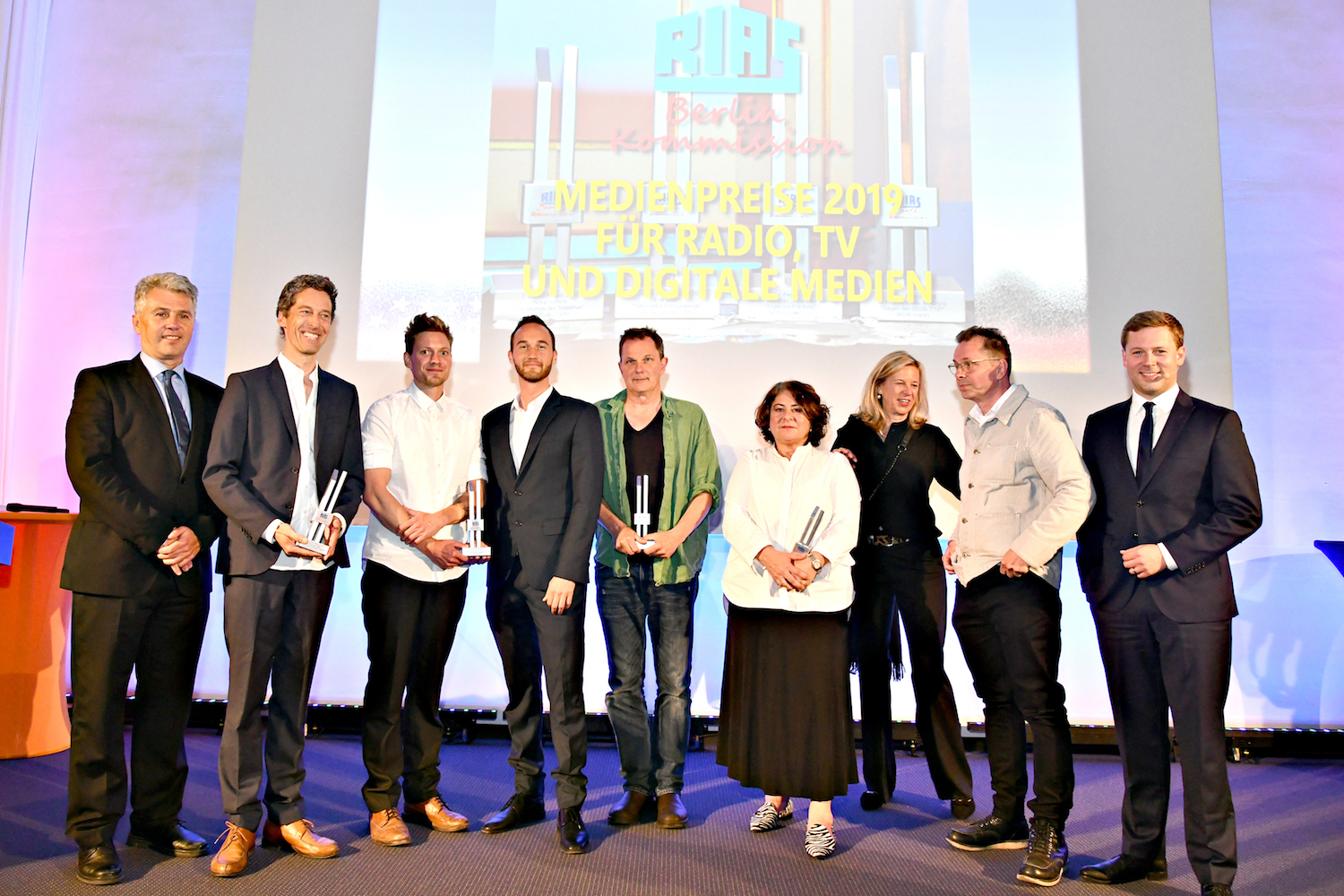 The deadline for submitting entries on January 15, 2020.
RADIO, TV AND DIGITAL MEDIA AWARDS
Call for Entries
The RIAS Berlin Kommission presents annual awards for excel- lence in reporting on transatlantic issues. Awards are presented in three categories: Radio, TV and Digital Media. In order to qualify a report must have been on a German topic aired domestically in the U.S. or on a U.S. topic aired in Germany, or be another local, national or international story of mutual interest, be it on politics, economics, security, social issues, culture or current events and developments. Entries from recent and former RIAS Fellows are welcomed and encouraged.
RADIO AND TV AWARDS
Entries must be radio or television stories aired in 2019 and may be single stories or multi-part series. There is no length requirement. All U.S. entries must be submitted electronically, with a URL for the story.
Entries must include:
— your name, title, business address, phone, e-mail,
— air date(s) of your story and its running length,
— title and a brief description of your story,
— a brief description of your role in the production of the story.
DIGITAL MEDIA AWARD
This award will honor all kinds of German or American stories posted on the internet in 2019. All entries must be submitted electronically, with a URL for the story, and any additional materials should be submitted as an attachment. Accurate web addresses leading to the website(s) must be transmitted by Email to the RIAS Berlin Kommission.
Sites must be active and accessible by the RIAS jury at the time of judging, and not require any proprietary information for access.
Entries must include:
— your name, title, business address, phone, e-mail,
— posting date(s) of the story, its running length, word count, — title and a brief description of your story,
— a brief description of your role in the production of the story.
DEADLINE FOR ENTRIES:
JANUARY 15, 2020
Entries must be received at RIAS Berlin Kommission, Berlin not later than January 15th, 2020. All work submitted must be the primary effort of the person or persons making the entry.
AWARDS CEREMONY
The awards ceremony will be held in Berlin on May 7th, 2020. Qualified expenses (travel and hotel) will be paid for each award winner attending the ceremony in Berlin.
ALL ENTRIES SHOULD BE SENT TO:
RIAS Berlin Kommission Hans-Rosenthal-Platz D-10825 Berlin, Germany
The RIAS Berlin Kommission is a binational organization for the promotion of German-American understanding in the field of broadcasting.