50 Years J.F.K. speech &
RIAS RADIO, TV, AND NEW MEDIA AWARDS 2013
June 24, 2013
Award Ceremony 2013 at 5:30 PM, Schoeneberg City-Hall, Berlin, celebrating the 50th anniversary of the John-F.-Kennedy speech "Ich bin ein Berliner" on June 26, 1963.
Awards honor the following radio and TV productions which made special contributions to the mutual understanding between the people of Germany and of the United States of America.
---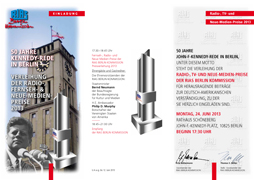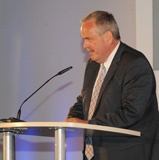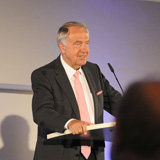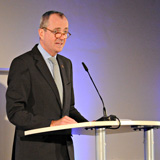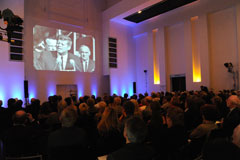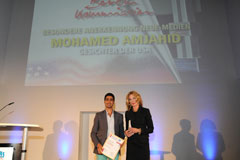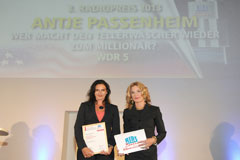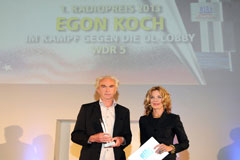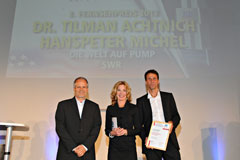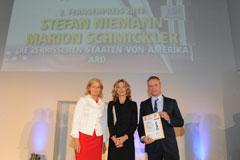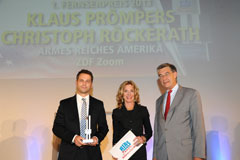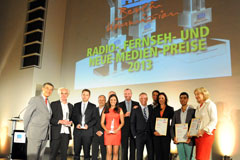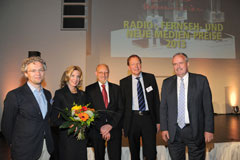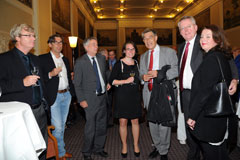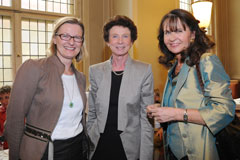 ---
THE AWARD WINNERS

1st TV Award
Klaus Prömpers, Christoph Röckerath
Armes, reiches Amerika. Auf der Park Ave. durch New York (ZDF Zoom)
It's little known that New York's famous Park Avenue is also part of the poor Bronx. Klaus Prömpers and Christoph Röckerath compare the rich part of Park Avenue in mid-Manhattan to the rundown area in the Bronx with its homeless people and street gangs. They impressively show one of the big problems of the United States, the huge difference between rich and poor. Outstanding images were combined with thoroughly researched stories of incredible wealth, but also misery, crime, and destitution. This documentary by Klaus Prömpers and Christoph Röckerath excels by outstanding camera work and insightful interviews.
---

2nd TV Award
Dr. Tilman Achtnich, Hanspeter Michel
Die Welt auf Pump — Reißen uns die Schulden in den Abgrund? (SWR)
Dr. Tilmann Achtnich and Hanspeter Michel show how Germany and the United States have been more and more engulfed by the global debt crisis, and how the permanently growing public debts have influenced the life of German and American families. There is the Dönch-Odenthal family from Oberhausen, who has to work hard to make ends meet, while the city treasurer finishes his work day by borrowing an additional amount of 400,000 euros. And there is the McDonneth-family in Lindstrom, Minnesota, who desperately tries to earn enough money for their monthly mortgage payments. While the German couple is still employed, the U.S. family father has already lost his job and has to work as pizza delivery boy and cleaner at his kid's school.
---

2nd TV Award
Stefan Niemann, Marion Schmickler
Die zerrissenen Staaten von Amerika — Der erbitterte Kampf ums Weiße Haus (ARD)
A second TV Award is also given to Stefan Niemann and Marion Schmickler for their documentary "Die zerrissenen Staaten von Amerika. Der erbitterte Kampf ums Weiße Haus". Again, the issue is the huge discrepancy between rich and poor in the US, this time from the point of view of politicians and election campaigners. Two young Obama supporters describe what it means to live in the United States today, what it means to have lost everything, to have no health insurance, and to be citizen in a country where the rich get richer, and the poor get poorer. The opposing view is represented by Romney-supporter Jim Wilson, a 70-year- old Vietnam veteran, who has covered thousands of miles on the campaign trail, convinced of the American Dream of individuality, liberty, greatness, and economic success.
---

1st Radio Award
Egon Koch
Im Kampf gegen die Öl-Lobby. Die Ökostadt Greensburg und die U.S.-Energiepolitik (WDR5)
First radio award winner Egon Koch describes how the U.S. city of Greensberg turns to alternative energy sources, after it was destroyed by a tornado. An interesting and comprehensive analysis, which contradicts the often heard German prejudice that the US government doesn't prioritize the development of alternative energy.
---

2nd Radio Award
Antje Passenheim
Wer macht den Tellerwäscher wieder zum Millionär? (WDR5)
Who hasn't heard of the American dream "from rags to riches"? In her outstanding feature, Antje Passenheim analyzes if this dream is still alive in times of economic crises and growing discrepancies between rich and poor.
---

Honorary Commendation
Hanna Ender
Häuserkampf in L.A. Fort Lucero und die Deutsche Bank (Deutschlandradio Wissen)
An exciting snapshot from the streets of LA, where activists and engaged citizens fight against the eviction of the Lucero family from their house, which has been their home for many years. With this commendation the jury also wants to acknowledge the important role of on-site radio reports.
---

RIAS-Fellow-Preis
Tonya Papanikolas
Ties between Germany and Utah
This year, the jury voted a Fellow Award to Tonya Papanikolas of KSL Television in Salt Lake City, Utah. She used her Germany trip to produce four stories that reflect the ties between her state of Utah and Germany. She shows Utah citizens who came to Germany in search of records of their ancestors, and how unemployed young people from Utah found new jobs in Germany; she spoke with Utahns at Ramstein Air Base and visited Salt Lake City's sister city Saarbruecken.
---

New Media — Honorary Commendation
Mohamed Amjahid
Gesichter der USA — 30 Impressionen einer Reise durch die USA
The jury extends an honorary commendation to Mohamed Amjahid, who used his coast to coast US trip for reports about US citizens from all regions and walks of life. These multimedia reports and interviews give an outstanding impression of the different living conditions in the US, and the worries and hopes of the people.