RIAS RADIO AND TV AWARDS 2000
Awards were given for radio and TV productions which made special contributions to the mutual understanding between the people of Germany and of the United States of America.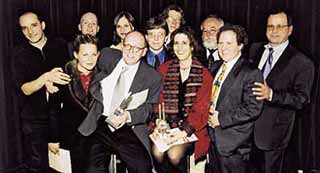 THE AWARD WINNERS

1st Radio Award
Wolfgang Stenke
Manhattan — Marzahn. Jüdisches Leben in New York und Berlin (Westdeutscher Rundfunk)
The author, Wolfgang Stenke, introduces the audience to Jewish life in Berlin and New York. Few people in Germany realize that membership in the Jewish Community in Berlin has increased dramatically due to emigration from Russia. Integration into the diverse Jewish community of New York is much easier, however.
---

2nd Radio Award
Curt W. Nickisch
German Prisoners of War in Utah (KUER, Salt Lake City)
Many Americans have never heard about the 400,000 captured German soldiers who lived and worked in prisoner of war camps in the United States during World War II. Curt Nickisch and Salt Lake Citys public radio station KUER have skillfully produced a short radio documentary about POW's experiences in camps across the state of Utah.
---

3rd Radio Award
Matthias Fink
Das amerikanische Jahrhundert (Bayerischer Rundfunk)
The American Century is an exemplary presentation of political information as part of the educational tradition and mandate of public stations in Germany. The three-part series documents and analyzes the rise of the United States of America as the only remaining world power.
---

1st TV Award
Lisa Lewenz
Letter Without Words (PBS, Channel 13)
This extraordinary program combines the diaries and home movies of Lisa Lewenz' grandmother with contemporary letters and interviews with relatives to recreate this family's history in Germany and America during the first half of the 20th century. It never shows familiar scenes of Nazi concentration camps, but records the gradual erosion of democracy through everyday scenes.
---

2nd TV Award
Richard Blystone
Special Visions of Europe — Iron Curtain Odyssey (CNN)
Ten years after CNN once again shows the reality of the Wall and the Death Strip. The author compares the expectations of the people on both sides with the disappointments of today. Richard Blystone shows that despite the growing similarities between East and West, the memories of the old generation are still marked by the divisions of the past.
---

2nd TV Award
Peter Ponnath
Der Techno-Pakt — Die bayerisch-kalifornische Partnerschaft (Bayerischer Rundfunk)
The Free State of Bavaria employs a representative to the high-tech industry in California, to encourage investment and enhance Bavaria's ability to compete globally. The author shows, that young entrepeneurs in Silicon Valley can still start their careers in a garage, like the founders of many world famous corporations.
---

Letter of Commendation
Uni-Radio 87,9 FM
Amerika und die Freie Universität
The jury wants to recognize and encourage Uni-Radio, Freie Universität Berlin, to continue to deal with important aspects of the FU's history. Campus radio stations are common in the States, but they are a new phenomenon in Germany.