RIAS RADIO, TV, AND NEW MEDIA AWARDS 2003
Awards were given for radio, TV and New Media productions which made special contributions to the mutual understanding between the people of Germany and of the United States of America. This year, because of the high amount of submissions dealing with September 11 the jury decided to equally award eight productions in two categoriess, one dealing with September 11 and of general interest.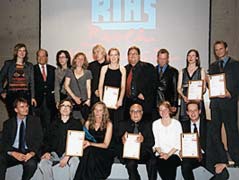 THE AWARD WINNERS — CATEGORY SEPTEMBER 11

Radio Award
Kathrin Röggla
Really Ground Zero — Anweisungen zum 11. September (Bayerischer Rundfunk)
The writer opens mentally and formally a way into a reality that is described by the most of the eye-witnesses as indescribable, with a richness of natural sound which include voices of German politicians. The author succeeds in creating a fascinating collage of reflections and documentary evidence. She does not attempt to force her own views on the listener, but exposes the audience to estrangement and contradictions. A common reality does not exist. There are only subjective impressions and evaluations.
---

TV Award
Jürgen Brand
Der 11. September — ein Jahr danach (i+u TV, for Stern-TV / VOX)
The author concentrates his program on the people affected by Sept. 11, using sparingly the troubling images of the collapse of the World Trade Center buildings. He shows the fate both of survivors and of those who lost close relatives. For example, moving conversations with the widow of an American busi-nessman who organized fight against the terrorists in the plane which crashed in Pennsylvania. The memories of a young woman whose figure, covered with dust and ashes after escaping from the south tower, circulated worldwide in a photo. The detached report of a German insurance dealer who escaped from his office on the 103rd floor of the South Tower. As well as the stories of a journalist-photographer and a surviving firefighter.
---

TV Award
Johannes Hano, Elmar Theveßen
Der Tag, der die Welt veränderte (ZDF)
This program shows the vulnerability of the United States, and, for this special historic moment, the weakness of the powerful. The authors show the extent of the terror and the reactions which lead the United States to define its specific policy and a new military strategy. The audience can recognize the roots of conflicts that strained American-European relations a year later.
---

New Media Award
WDR – Internetredaktion
Spezial zum Jahrestag des 11. September
WDR takes full advantage of the internet's multimedia environment to offer viewers a comprehensive resource for information and analysis about the events of September 11, 2001. The site uses still photos, animation, text and audio to bring alive a wide variety of views. Easy navigations invites viewers to explore topics they might not have seen in another medium. This site demonstrates the distinctive value of interactive media compared to more traditional television and radio products.
---
THE AWARD WINNERS — GENERAL CATEGORY

Radio Award
Peter Rothammer
Kein Schmelztiegel — New Yorks neuer Bevölkerungsmix (Bayerischer Rundfunk)
A lively audio painting with a variety of music and language. The audience experiences the multi-ethnic mix of New York City's population. This city is still the hope of people who cannot envision a future in their own homelands. The waves of immigrants follow political and economic developments. The author looks at New York not as a melting pot, but demonstrates that despite Americanization, a variety of dis-tinct ethnic cultures remains. A result of that is that new immigrants want to stay among themselves, sometimes even forcing previous immigrants from other ethnic origins out of their neighbourhoods.
---

Radio Award
Annie Baxter, Ariane Schnug
Jazz von Morgen: Die neue Jazzelite in Rheinsberg (Produktion: SFB Feature-Abteilung, Redaktion: Ulf Drexel, Jazzredaktion)
Jazz von Morgen is a rich sound portrait of some of Germany's most promising young musicians as they learn and perform America's classical music — jazz. Music of various periods and styles is woven generously into the piece. This radio piece profiles the Bundesjugend Jazz Orchestra, which holds workshops by leading American and European jazz artists for musicians age 18 to 24 in the town of Rheinsberg, Germany.
---

TV Award
Mica Stobwasser, Armin Toerkell
New York — Musik im Untergrund (Bayerisches Fernsehen)
New York is more than the scene of a terrorist attack. It has a rich culture and a vibrant economy and they come together underground in this innovative and adventuresome piece about the musicians and other artists who entertain thousands of people daily in the New York subways. In a beautifully photographed composition, the journalists Armin Toerkell and Mica Stobwasser give us the low-down on the private lives and career dreams of artists who perform under the feet of the hurrying crowds of New Yorkers. It paints a portrait of New York City quite different from the one many documentaries see.
---

TV Award
Christoph Lütgert, Siri Nyrop
Das Lipobay-Desaster — Milliarden-Klage gegen Bayer (Norddeutscher Rundfunk/Fernsehen)
This television news program explores the legal economic, social and financial implications of medicines sold in the worldwide market by a German pharmaceutical company with customers in the U.S. It is an example of how globalization forces transnational corporations to deal with emotions and laws in several countries while attempting to maintain crucial internationality reputations and uphold the integrity of their firm.