RIAS RADIO, TV, AND NEW MEDIA AWARDS 2006
February 5, 2006
Celebration of the 60th anniversary of RIAS Berlin and ceremony for the RIAS BERLIN COMMISSION Radio, TV and New Media Awards 2006 for outstanding radio, TV and new media contibutions for the mutual German-American understanding. Schöneberg City Hall in Berlin, John-F.-Kennedy-Platz
---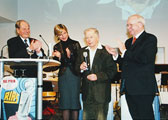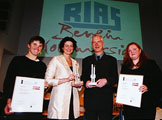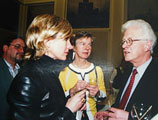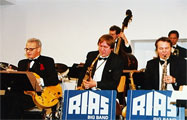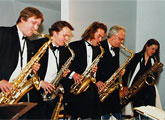 ---
Welcome by Anne M. Chermak and Jürgen Graf, Chairs of the RIAS BERLIN COMMISSION
Review 60 Years RIAS Berlin
Guest Speaker Dr. h.c. Klaus Schütz
Governing Mayor of Berlin, 1967–1977; German Ambassador to Israel, 1977–1981; Intendant Deutsche Welle, 1981–1986; Director State Institution for Broadcasting in the State of North-Rhine Westfalia, 1988–1993
Presentation of the Radio, TV, New Media Awards 2006 of the RIAS BERLIN COMMISSION
Reception of the RIAS BERLIN COMMISSION
Music Entertainmant by the RIAS Big Band Berlin
---
THE AWARD WINNERS
Awards were given to the following radio and TV productions which made special contributions to the mutual understanding between the people of Germany and of the United States of America.

1st Radio Award
Tom Noga
Changelujah – Reverend Billy and the "Church of Stop Shopping" (Südwestrundfunk)

Among the religious movements in the United States, Reverend Billy's "Church of Stop Shopping" is unique. With the passion of a zealot and no irony, he fights against the power of the consumer society — especially popular brands. In doing so, the Reverend has discovered a market niche for himself and the new religious brand with the battle cry, "Changelujah." Author Tom Noga has produced an exciting and entertaining radio feature about an unemployed New York actor who reinvented himself six years ago as Reverend Billy.
---

2nd Radio Award
Emily Harris
Berlin Holocaust Memorial (National Public Radio)

The holocaust memorial in Berlin has become an attraction for visitors from all over the world. This radio feature presents the multitude of reactions collected by Emily Harris shortly after its opening. The unimaginable crime against the Jews represented by the memorial evokes highly emotional individual responses. Most of the visitors interviewed were deeply moved as they tried to understand and express their own feelings.
---

1st TV Award
Christian Bauer
The Ritchie Boys (Tangram Film / Alliance Atlantis for German Public Television ARD)

In the 1930s, many young emigrants from Germany were recruited by the US Army for special assignments against Hitler's Nazis. The training center was Camp Ritchie in the Blue Ridge Mountains south of Washington, DC. Operations included intelligence work like the interrogation of prisoners of war, analysis of the foe's strategy and technical innovations and psychological warfare in addition to dangerous exercises behind enemy lines. The German language skills of the emigrants were a great asset to the mission.The most riveting parts of the documentary are the interviews with the surviving Ritchie Boys.
---

2nd TV Award
Marcia Henning, Bob Faw
Jews and Germany (PBS)

Berlin is home to the fastest growing Jewish community in the world as a result of the influx of thousands of Jews from Russia, Ukraine and the Former Soviet Union. Bob Faw and Marcia Henning describe the difficulties — especially unemployment and social isolation — faced by the immigrants as they tries to adapt to a new environment.