RIAS RADIO, TV, AND NEW MEDIA AWARDS 2001
Awards were given for radio, TV and New Media productions which made special contributions to the mutual understanding between the people of Germany and of the United States of America.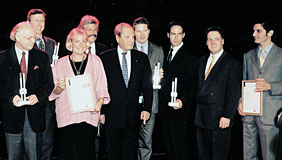 THE AWARD WINNERS

1st Radio Award
Dr. Clemens Verenkotte
Das amerikanische Jahrtausend (ARD Washington)
The American millennium shows how the United States is strengthened and enlivened by a multitude of immigrants. Two immigrants — one from Ethiopia, the other from China — explain with almost identical words, how they feel as new Americans and how much they want to contribute to their new nation. Both stress the value of freedom and the opportunity to pursue their dreams in the US. The author also describes the long fight of African-Americans to gain their constitutional rights, a road full of sacrifices from the Civil War to the time of Martin Luther King and John F. Kennedy.
---

2nd Radio Award
Guy Raz
From Leitkultur to NPD woes — Reports from Germany (NPR National Public Radio, Berlin)
Guy Raz provides American radio listeners with explanations of complex social developments in Germany, ranging from tensions over immigration and rightist extremism to issues of national pride and identity. These subjects are infrequently discussed in the US media; so the RIAS BERLIN COMMISSION applauds NPR's willingness to devote consistent attention to German society.
---

1st TV Award
Dr. M. Zehetmair, V. Wild, B.C. Bugl
Wo die Besten gewinnen sollen — Amerikanische Top-Universitäten auf dem Prüfstand (Bayrischer Rundfunk)
The series Elite US Universities is a very topical contribution to the ongoing debate about reforming German higher education. Using Harvard, Stanford, Princeton, Yale and MIT as examples the series shows the substantial differences between the German and US system. For instance, American universities, as part of a competitive society which isn't afraid to encourage an achievement-oriented elite, actively compete for the best students. This is part of a competitive society, which isn't afraid to sponsor an achievement-oriented elite. US universities are very expensive Talented but less well-off students can get scholarship, contradicting the German perception, that only the rich can attend those universities.
---

1st TV Award
Prof. Kurt Rittig
Bonhoeffer — die letzte Stufe (NFP teleart)
This documentary drama tells the little known details of Dietrich Bonhoeffer's faith based resistance to the Hitler regime. Produced for American and German audiences and aired on PBS and ARD in 2000 this film is a gripping revelation of Bonhoeffer's unique and ultimately tragic personality. Although this American German coproduction is a work of fiction, it is based on historical fact, and uses it's powerful message to draw attention in both Germany and the United States to an aspect of Germany's history that has often been overlooked.
---

Letter of Commendation TV
Sam Koltinsky / Peter Ponnath
The Fall and Rise of Germany (telefilm Nürnberg for PBS)
The jury highly commends this unique video tour of Germany's postwar history which was financed by the Bundespresseamt, an agency of the German Government. Under our rules, this production did not qualify for a cash award. However, we wish to single it out as emblematic of the kinds of German-US TV-productions of significance that are possible.
---

1st New Media Award
Thomas Waldner
www.zdf.msnbc.de/news/newsusawahlen (ZDF-online)
For the first time RIAS presents an award to entries in the field of new media. Like the television and the radio awards the new media award is intended to encourage transatlantic dialogue. With this first award we want to highlight an example of how the internet can take this dialogue in new directions and expand accessibility to sources of information about the German and American cultures.
Our first new media award goes to the website www.ZDF.MSNBC.de. This site contains information and creative resources about both countries. Our award goes to the portions of the site that deals with the American elections of 2000. For the judges the most important aspect of this site are the enticing links which draw users deep into the content of other sites. In addition to the analysis provided by journalists, users are invited to explore original sources of information in both societies. These sites go beyond what individuals might gain from a television or radio broadcast or from wire service or print reports.
---

Commendation New Media
B. Kliebhan, Nina Thomas
Max Kämper and the Mammoth Cave Connection (www.kliebhan.de)
This website is based upon the radio feature Looking for Max broadcast by Hessische Rundfunk. Max Kämper was a German engineer, who came to Kentucky as a tourist in 1908. Initially he wanted to stay only for a few days, but the impressive Mammoth Cave fascinated him so much that he stayed on. Eight months later he had explored and mapped over 30 miles of the cave. His unbelievably precise map is still considered a marvel of cartography. Who was Max Kämper, why did he draw this cave map? What happened to him after his trip back to Germany? The jury considers this website a wonderful example how little stories which don't draw worldwide attention can be popularized on the internet. It is an excellent example of how a radio feature can be supplemented by a very exciting website worth a visit.