RIAS RADIO, FERNSEH- UND NEUE-MEDIEN-PREISE 2006
5. Februar 2006
Feier des 60. Jahrestags der RIAS-Berlin-Gründung und Verleihung der Radio-, TV- und Neue-Medien-Preise 2006 für herausragende Beiträge zur deutsch-amerikanischen Verständigung. Rathaus Schöneberg am John-F.-Kennedy-Platz in Berlin
---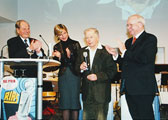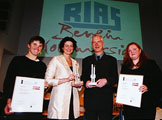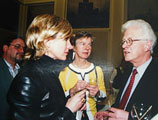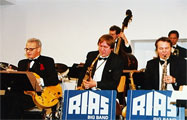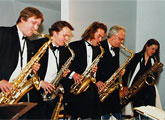 ---
Begrüßung durch Jürgen Graf und Anne M. Chermak, Vorsitzende der RIAS BERLIN KOMMISSION
Rückblick 60 Jahre RIAS Berlin
Gastrede Dr. h.c. Klaus Schütz
Regierender Bürgermeister von Berlin, 1967–1977; deutscher Botschafter in Israel, 1977–1981; Intendant Deutsche Welle, 1981–1986; Direktor Landesanstalt für Rundfunk NRW, 1988–1993
Verleihung der Radio-, TV-, Neue-Medien-Preise der RIAS BERLIN KOMMISSION
Empfang der RIAS BERLIN KOMMISSION
Musikalische Unterhaltung: RIAS Big Band Berlin
---
DIE PREISTRÄGER
Ausgezeichnet wurden die folgenden Hörfunk- und Fernsehproduktionen, die im besonderen Maße zur Verständigung zwischen der Bundesrepublik Deutschland und den Vereinigten Staaten von Amerika beigetragen haben.

1. Radiopreis
Tom Noga
Changelujah – Reverend Billy und die "Church of Stop Shopping" (Südwestrundfunk)
In der Welle der religiösen Bewegungen der USA setzt Reverend Billy mit seiner Kirche gegen die Einkaufswut einen ungewöhnlichen Akzent. Ohne jegliche Ironie, mit der Leidenschaft eines Eiferers kämpft er gegen die Macht der Konsumindustrie, insbesondere gegen die populären Marken. Der Reverend hat damit für sich selbst eine Marktnische entdeckt und mit dem Ruf "Changelujah" eine eigene Marke geschaffen. Als arbeitsloser New Yorker Schauspieler hatte er sich vor sechs Jahren neu erfunden. Der Autor hat daraus ein spannendes und unterhaltendes Feature gemacht.
---

2. Radiopreis
Emily Harris
Berlin Holocaust Memorial (National Public Radio)
Das Holocaust Mahnmal in Berlin ist zu einem Anziehungspunkt für Besucher aus aller Welt geworden. In der Sendung fängt die Reporterin kurz nach der Einweihung eine Vielzahl von Stimmen und Stimmungen ein. Niemand ist unbeeindruckt, die meisten suchen nach Deutungen und Erklärungen für ihre eigenen Gefühle. Das Unvorstellbare des Verbrechens an den Juden vermittelt sich nicht rational, sondern emotional in den individuellen Eindrücken.
---

1. Fernsehpreis
Christian Bauer
Die Ritchie Boys (Tangram Film / Alliance Atlantis für ARD)
Viele aus Deutschland emigrierte junge Juden wurden von der amerikanischen Armee für spezielle Einsätze im Kampf gegen den Nationalsozialismus ausgebildet. Das Zentrum dafür war Camp Ritchie in den Blue Ridge Mountains südlich von Washington, D.C. Zu den Aufgaben gehörten Intelligence-Einsätze wie die Befragungen von deutschen Gefangenen, Analysen der strategischen und taktischen Aktionen des Gegners, psychologische Kriegsführung, aber auch Einsätze hinter der feindlichen Front. Die deutschen Sprachkenntnisse der Emigranten spielten dabei eine entscheidende Rolle. Das spannendste an dem Film sind die Interviews mit den Ritchie Boys, die ihre gefährlichen Einsätze überlebten.
---

2. Fernsehpreis
Marcia Henning, Bob Faw
Jews and Germany (PBS)
Nirgendwo in der Welt wachsen jüdische Gemeinden so wie in Berlin. Der Zuwachs kommt vor allem von der Einwanderung zehntausender Juden aus Russland und der Ukraine. Der Autor schildert deren Schwierigkeiten mit ihrer neuen Umwelt, insbesondere mit Arbeitslosigkeit und mangelnden Kontakten.