RIAS RADIO, FERNSEH- UND NEUE-MEDIEN-PREISE 2007
12. Mai 2007
Feier des 15-jährigen Jubiläums der RIAS-BERLIN-KOMMISSION und Verleihung der Radio-, TV- und Neue-Medien-Preise 2007 für herausragende Beiträge zur deutsch-amerikanischen Verständigung. Hauptstadtrepräsentanz Deutsche Telekom, Berlin
15 Jahre RIAS BERLIN KOMMISSION 1992–2007
Am 19. Mai 1992 wurde in Berlin das Abkommen zwischen der Regierung der Bundesrepublik Deutschland und der Regierung der Vereinigten \Staaten von Amerika über die Förderung der deutsch-amerikanischen Völkerverständigung im Rundfunkwesen und die Durchführung von Austauschprogrammen für Rundfunkfachleute unterzeichnet.
---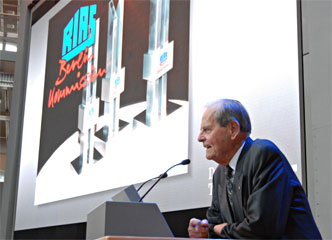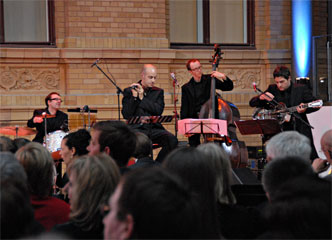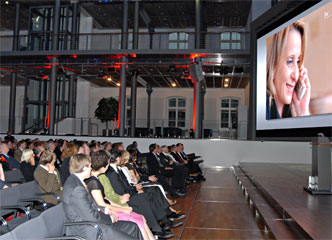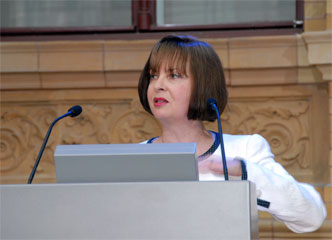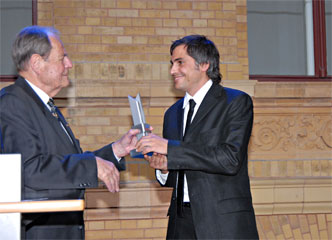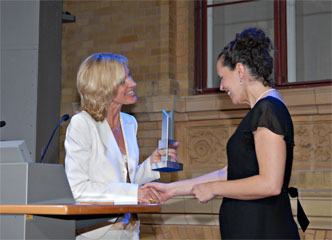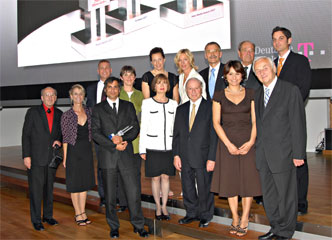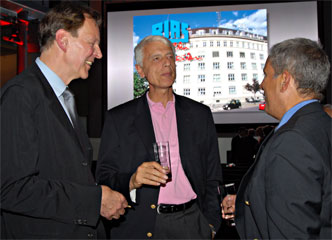 ---
Verleihung der Radio-, TV- und Neue-Medien-Preise der RIAS BERLIN KOMMISSION
Musikalische Unterhaltung: Daniel Mattar's Fantastic Country
Empfang der RIAS BERLIN KOMMISSION
---
DIE PREISTRÄGER
Ausgezeichnet wurden die folgenden Hörfunk- und Fernsehproduktionen, die im besonderen Maße zur Verständigung zwischen der Bundesrepublik Deutschland und den Vereinigten Staaten von Amerika beigetragen haben.

Radiopreis
Emily Harris
The Changing Face of Berlin (National Public Radio)
Emily Harris, bereits 2006 Gewinnerin des zweiten RIAS-Radio-Preises, setzt ihre Erfolgsserie von Radioberichten, die den amerikanischen Hörern Deutschland erklären, auch in diesem Jahr fort. Ihr nuancierter und anschaulicher Streifzug durch Berlins neue, bisweilen kontroverse Architektur zeigt auch die Identitätskrise, unter der Bürger der ehemaligen DDR immer noch leiden. Diese Technik wird von Emily Harris immer wieder benutzt: Anhand einer kleinen Geschichte zeigt sie wichtige Hintergründe, an einem speziellen Beispiel erklärt sie prinzipielle Zusammenhänge.
---

Fernsehpreis
Peter Gerhardt
Papa macht Urlaub vom Krieg (Hessischer Rundfunk)
Der Dokumentarfilm von Peter Gerhardt und seinen Kollegen zeigt uns sehr direkt und hautnah die Anspannung und den Stress in einer deutsch-amerikanischen Familie, deren Vater als Soldat im Irakkrieg ist. In eindringlichen Worten und Bildern und fast ohne Script lässt das Team Susanne Flum und ihre Kinder Alisa und Kevin schildern, wie sie auf Sergeant First Class Jim Flum warten, dessen zweiwöchiger Heimaturlaub in Deutschland bevorsteht. Es ist ein fesselnder, eindrucksvoller Blick auf die Auswirkungen des Krieges auf die, die ihn kämpfen müssen… im Irak und zu Hause.
---

Neue-Medien-Preis
Christina Pino-Marina
A Life Lived in 4/4 Time (Washington Post)
Die Geschichte eines Hitlerjungen, der sich nach dem zweiten Weltkrieg durch glückliche Umstände als Jazzmusiker in den Vereinigten Staaten wiederfand, wurde von Christina Pino-Marina in zwei Formaten hergestellt für die Washington Post Website und für das US-Kabelfernsehen. Sie schrieb das Drehbuch, führte die Interviews, übernahm Aufnahme und Schnitt des Videomaterials, präsentiert die Geschichte und war für das Design der Website verantwortlich. Es ist ein herausragendes Beispiel, wie die Arbeit von Neue-Medien-Journalisten Grenzen überwinden und das journalistische Handwerk im 21. Jahrhundert neu definieren kann.