RIAS RADIO- UND FERNSEH-PREISE 2000
Ausgezeichnet wurden Hörfunk- und Fernsehproduktionen, die im besonderen Maße zur Verständigung zwischen der Bundesrepublik Deutschland und den Vereinigten Staaten von Amerika beigetragen haben.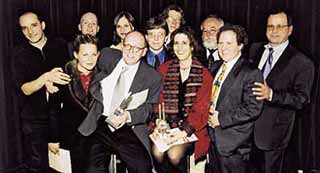 DIE PREISTRÄGER

1. Radiopreis
Wolfgang Stenke
Manhattan — Marzahn. Jüdisches Leben in New York und Berlin (Westdeutscher Rundfunk)
Der Autor Wolfgang Stenke läßt die Hörer am jüdischen Leben in New York und Berlin teilhaben. Dabei ist wenig bekannt, daß die jüdische Gemeinde in Berlin durch vorwiegend russische Emigranten wieder eine beachtliche Größe erreicht hat, wobei die Zuwanderer in Berlin noch Fremde sind, wohingegen in New York die Integration durch das vielfältige jüdische Milieu erleichtert wird.
---

2. Radiopreis
Curt W. Nickisch
German Prisoners of War in Utah (KUER, Salt Lake City)
Viele Amerikaner haben noch nie von den 400.000 deutschen Kriegsgefangenen gehört, die in Kriegsgefangenenlagern in den Vereinigten Staten während des 2. Weltkrieges gelebt und gearbeitet haben. Curt Nickisch und Salt Lake City's Public Radio Station KUER berichten in dem hervorragend produzierten Radiofeature über deren Erfahrungen in Camps in allen Teilen Utahs.
---

3. Radiopreis
Matthias Fink
Das amerikanische Jahrhundert (Bayerischer Rundfunk)
"Das amerikanische Jahrhundert" ist ein Stück beispielhafter politischer Information und Unterrichtung, wie es zum Auftrag und zur Tradition öffentlich-rechtlicher Sender gehört. In drei Sendungen wird der Aufstieg Amerikas zur allein übrig gebliebenen Weltmacht dargestellt und analysiert.
---

1. Fernsehpreis
Lisa Lewenz
Letter Without Words (PBS, Channel 13)
Dieses herausragende Programm zeigt die Familiengeschichte von Lisa Lewenz' Großmutter in Deutschland und Amerika in der ersten Hälfte des 20. Jahrhunderts anhand von privaten Schmalfilmaufnahmen, Tagebucheintragungen, Briefen und später geführten Interviews mit Angehörigen. Dieser Film enthält keine Bilder von Konzentrationslagern, sondern zeigt den allmählichen Zerfall der Demokratie in ruhigen, aber dramatischen und sehr authentischen Alltagsbildern.
---

2. Fernsehpreis
Richard Blystone
Special Visions of Europe — Iron Curtain Odyssey (CNN)
Zehn Jahre danach zeigt CNN noch einmal die Realität von Mauer und Todesstreifen. Der Autor stellt die Erwartungen, die Menschen auf beiden Seiten damals hatten, den Enttäuschungen von heute gegenüber. Richard Blystone schildert, daß äußerlich der Unterschied zwischen Ost und West kaum noch erkennbar ist, in der Erinnerung der Älteren die Trennung aber immer noch prägend bleibt.
---

2. Fernsehpreis
Peter Ponnath
Der Techno-Pakt — Die bayerisch-kalifornische Partnerschaft (Bayerischer Rundfunk)
Durch einen eigenen Beauftragten für die Zusammenarbeit mit Kalifornien versucht Bayern, seine Führungsposition in moderner Technologie im globalen Wettbewerb auszubauen. Der Autor zeigt beispielhaft, daß junge Unternehmer im Silicon Valley — ähnlich wie Gründer inzwischen weltbekannter Firmen — ihren Aufstieg immer noch in der Garage beginnen können.
---

Besondere Anerkennung
Uni-Radio 87,9 FM
Amerika und die Freie Universität
Die Jury will mit dieser Besonderen Anerkennung das Uni-Radio der Freien Universität ermutigen, sich weiterhin wichtiger Themen der eigenen Geschichte anzunehmen. Damit wird zugleich die in Deutschland im Gegensatz zu den USA immer noch ungewöhnliche Arbeit eines Universitätssenders gewürdigt.