News & Events
1. Oktober 2021
Starke Zukunft für RIAS Berlin Kommission dank Alumni Netz
Liebe Freunde und Alumni der RIAS Berlin Kommission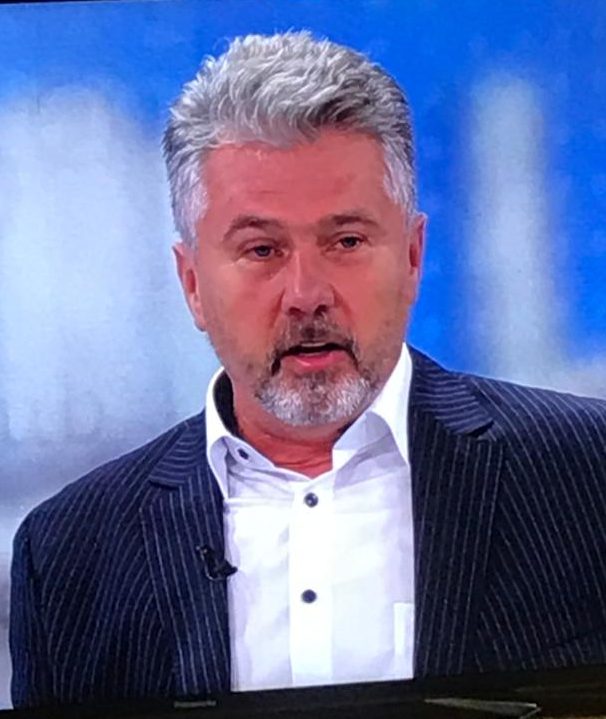 vor genau fünf Jahren bin ich in die großen Fußstapfen meines überragenden Vorgängers Rainer Hasters getreten, der als erster und einziger Verwaltungsdirektor dieses fantastischen deutsch-amerikanischen Austauschprogramms für Rundfunkjournalisten die ersten Vierteljahrhundert leitete. Ohne sentimental zu werden, scheint es dennoch der richtige Zeitpunkt zu sein, kurz über die vergangenen fünf Jahre nachzudenken und einen Blick auf die nächsten fünf Jahre zu werfen.
Wie immer ist es unser wichtigstes Ziel, den Geist von Rundfunk in Amerikanischen Sektor (RIAS) lebendig zu halten – "eine freie Stimme einer freien Welt", die während des Kalten Krieges Nachrichten, Informationen und Musik in die DDR strahlte.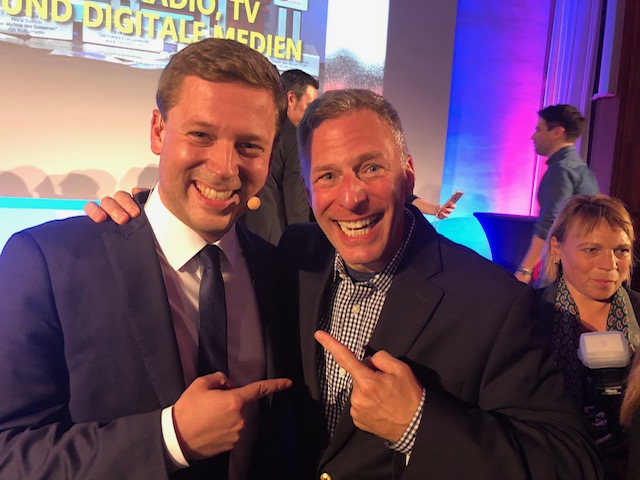 Trotz der anhaltenden Phase extrem niedriger Zinsen und schwindender Kapitalerträge, die es allen Stiftungen wie der unseren schwer macht, ist es der RIAS Berlin Kommission gelungen, die Zahl ihrer transatlantischen Austauschprogramme in den letzten Jahren sogar noch zu erhöhen – zum Teil dank Ihrer großzügigen Spenden sowie neuer Studentenprogramme, die größtenteils durch einen Zuschuss aus dem ERP-Programm der Bundesregierung und Eigenbeiträge der Studenten finanziert werden. Im Jahr 2022 hoffen wir auf etwa 100 Teilnehmer in sieben verschiedenen Programmen – darunter ein Programm für 30 deutsche Alumni im Oktober, kurz vor den November 2022 Midterm Elections in den USA. Das sind fast doppelt so viele Teilnehmer wie bisher, trotz des schwierigen finanziellen Umfelds. Dank der Streamlining-Bemühungen, bescheidenen Kürzungen, der Zentralisierung der Aktivitäten in Berlin, der stärkeren Nutzung z.B. des öffentlichen Nahverkehrs und der bescheidenen Eigenbeiträge der Teilnehmer an den Austauschprogrammen hat die RIAS Berlin Kommission die schwierigen Bedingungen überstanden, ohne dass die Qualität oder die Tiefe unserer Programme darunter gelitten hätte. Darauf können wir alle stolz sein.
In den vergangenen fünf Jahren hat RIAS Berlin Kommission an der Erfüllung eines wichtigen Ziels gearbeitet, das von den RIAS Berlin Kommissioners, einem angesehenen 10-köpfigen Vorstand, der sich aus fünf Amerikanern und fünf Deutschen zusammensetzt, formuliert wurde. Sie wollten, dass diese wirklich binationale Organisation neue Wege findet, um unsere 1.900 Alumni-Mitglieder besser zu vernetzen. Es war nicht immer einfach, zwei Schritte vorwärts und einen zurück, aber inzwischen gibt es sieben florierende RIAS-Alumni-Gruppen, die von begeisterten Freiwilligen in Berlin (Vladimir Balzer, Petra Gute, Anja Heyde), Hamburg (Michail Paweletz, Nadine Gries), Köln (Martin Richter), Mainz (Anna-Maria Schuck), München (Lydia Leipert), New York (Michael Gargiulo) und Washington (Larry Miller) geleitet werden. Sie leisten Großartiges, um den Geist der RIAS am Leben zu erhalten. Diese Chapter veranstalten regelmäßige Treffen, laden Gastredner ein und sind immer bereit, die nächste Gruppe amerikanischer oder deutscher Stipendiaten zu treffen, die ihre Stadt besucht. Diese Alumni-Wiedersehenstreffen sind zu einem gern gesehenen Bestandteil unserer RIAS-Programme in Washington, New York, Berlin, Köln und Hamburg geworden.
Mit Blick auf die Zukunft möchte die RIAS Berlin Kommission ihre drei Hauptprogrammtypen verbessern: die zwei- bis dreiwöchigen Standardprogramme, die dreiwöchigen Studentenprogramme und die einwöchigen Alumni-Programme. Wir hoffen, soziale Medien und modernste Technologie nutzen zu können, um unsere Alumni in den Vereinigten Staaten und in Deutschland noch besser zu vernetzen. In Deutschland hoffen wir, mehr Journalisten aus dem Osten, mehr Journalisten von privaten Sendern und mehr Journalisten, deren Familien aus dem Ausland stammen, für unsere Programme in den Vereinigten Staaten zu gewinnen – und insbesondere Journalisten, die noch nie in den USA waren. In den Vereinigten Staaten hoffen wir, mehr Journalisten aus dem Mittleren Westen, dem Süden und den westlichen Gebirgsstaaten für unsere Programme in Deutschland zu gewinnen – auch und gerade solche, die noch nie in Deutschland waren.
Nochmals vielen Dank für all Ihre Unterstützung in den letzten fünf Jahren und bitte hilft uns auch in den nächsten fünf Jahren, den Geist der RIAS lebendig zu halten.
Mit freundlichen Grüßen
Erik Kirschbaum
---
30. September 2021
RIAS trifft bei RTDNA21 Kandidaten für zukünftige Austauschprogramme
Die RIAS Berlin Kommission nahm kürzlich an der RTDNA21-Konferenz in Denver teil – ein Forum, um potenzielle Kandidaten für künftige Programme und Alumni der RIAS Berlin-Kommission zu treffen.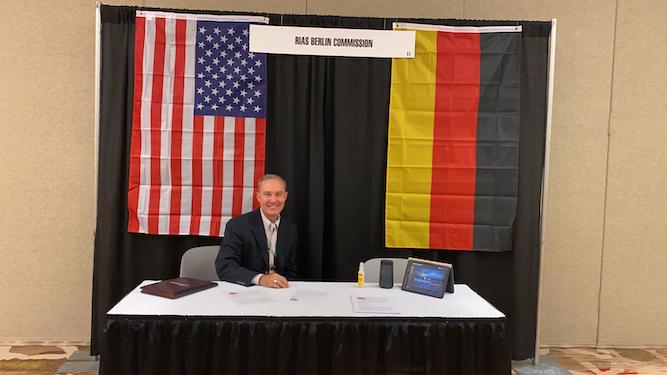 David Wagner, Alumni 2019 und RIAS-Medienpreisträger 2020, war am Stand der RIAS Berlin Kommission auf der RTDNA21-Konferenz und traf dort Kandidaten und Alumni auf der Jahrestagung der amerikanischen Partnerorganisation der RIAS Berlin Kommission. Die RTDNA-Konferenz war viel kleiner als in den vergangenen Jahren, was zum einen daran lag, dass es das erste Jahr war, in dem RTDNA keine andere Organisation hatte, die bei der Durchführung der Konferenz half, und zum anderen daran, dass es die erste Konferenz nach der Schließung von Covid-19 im Jahr 2020 war.
"Es war großartig, mit anderen Journalisten über die fantastischen Möglichkeiten zu sprechen, die der RIAS bietet", sagte Wagner. "Ich weiß, dass meine Erfahrung im Jahr 2019 wirklich augenöffnend war, und ich hoffe, mehr Menschen für das Programm zu interessieren."
Rund 200 Personen nahmen an der Veranstaltung teil, für die Covid-10-Sicherheitsprotokolle galten, da alle Teilnehmer einen Impfnachweis vorlegen und während der Sitzungen und in den Ausstellungsbereichen eine Maske tragen mussten. Wagner hatte den Stand der RIAS Berlin Kommission im Ballsaal Denver 5 aufgebaut.
Er zeigte den Dokumentarfilm, den er und seine Kollegin und RIAS-Absolventin Monica Quintero über ihr Programm zusammengestellt hatten. Er erstellte auch einen QR-Code, über den die Besucher des Standes weitere Informationen von der RIAS Berlin Website abrufen konnten.
Wagner, der vier Jahre lang Mitglied des RTDNA-Vorstands war, sagte, er habe auch mit aktuellen Vorstandsmitgliedern über die Beziehung zwischen RIAS und RTDNA sprechen können, und alle, mit denen er gesprochen habe, seien der Meinung gewesen, dass die Partnerschaft stark sei und fortbestehen werde.
"Seit fast 30 Jahren arbeitet RTDNA mit RIAS zusammen, um deutsche Journalisten in amerikanische Redaktionen zu vermitteln und amerikanische Journalisten nach Deutschland zu entsenden, um dort zu recherchieren und zu berichten", sagte Vince Duffy, ein RIAS-Alumni und Nachrichtenleiter beim Michigan Public Radio in Ann Arbor – und ein RTDNA-Treuhänder. "Es ist eine großartige Partnerschaft, von der beide Organisationen und Journalisten auf allen Ebenen profitieren. Ich gehörte zu einer Gruppe amerikanischer Journalisten, die zum 25. Jahrestag des Falls der Berliner Mauer nach Berlin reisten, und es war eine lehrreiche und emotionale Erfahrung. Ich kann nicht genug Gutes über den RIAS sagen und freue mich auf die Möglichkeit, in Zukunft wieder daran teilzunehmen.
---
30. September 2021
Austausch der RIAS Berlin Kommission beginnt wieder mit deutschen Wahlen
Die Bundestagswahl am 27. September war für 17 amerikanische Journalisten eine willkommene Gelegenheit, eine Woche in Berlin zu verbringen, um mehr über den Wahlkampf, die Themen, die sechs Parteien und das deutsche Wahlsystem zu erfahren – und darüber, was anders ist als bei Wahlen in den USA. Nach einem 18-monatigen Winterschlaf aufgrund der Corona-Pandemie hatten wir außerdem das Glück, trotz der anhaltenden Corona-Beschränkungen mit einem halben Dutzend deutscher Spitzenjournalisten zusammenzutreffen, entweder in deren Büros (RBB und WeltTV) oder in Restaurants oder Cafés. Dank der enormen Flexibilität der Gruppe und der Gastredner waren offene und interessante Gespräche mit führenden Politikern aller Parteien (SPD, CDU, Grüne und AfD) möglich (manchmal im Freien). Einige der Amerikaner im Alumni-Programm nutzten das Programm sogar, um Berichte über die Wahlen in Deutschland an ihre Heimatsender zu senden. Alles in allem war es eine fantastische Gruppe und eine aufschlussreiche Woche – für unsere amerikanische Gäste und Gastredner. Hier sind einige Kommentare der Teilnehmer: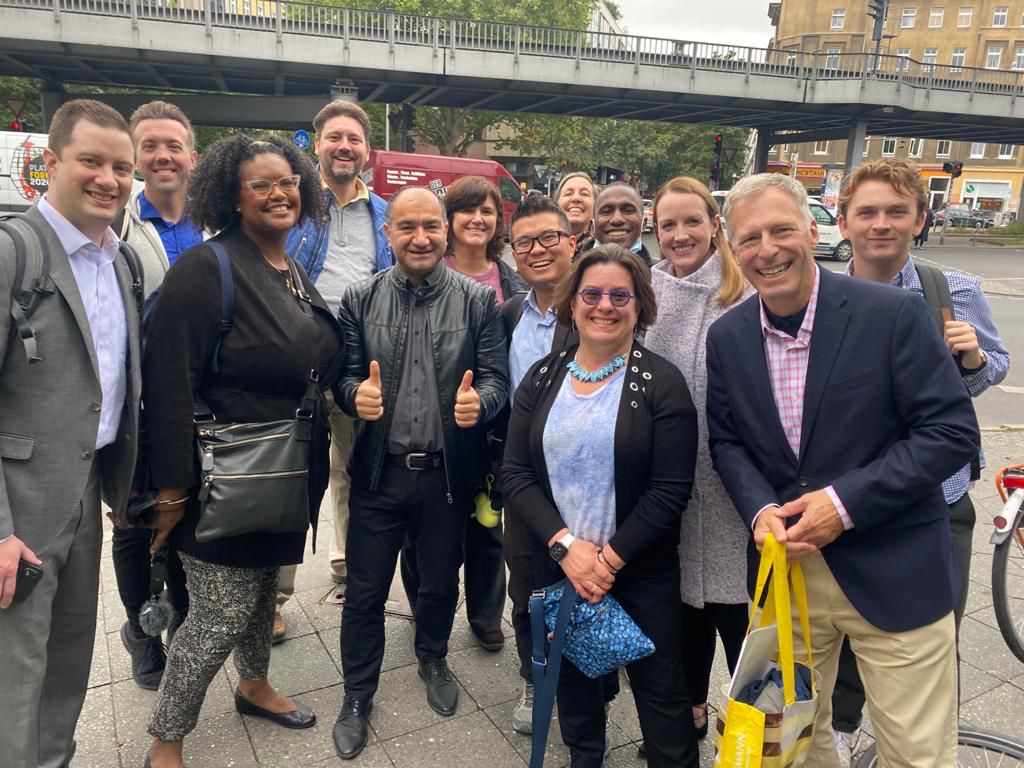 Michael Gargiulo Anchor, WNBC New York: Meine Zeit in Berlin im Rahmen des Alumni-Programms ermöglichte es mir, das zu tun, was ich am Journalismus am meisten liebe: Zeuge der Geschichte zu sein.
Eine ganze Woche lang konnte ich in ein Thema eintauchen, über das ich bisher nur gelesen hatte. Mit einer großartigen Gruppe von Reporterkollegen, Produzenten und Redakteuren reiste ich durch ganz Berlin, besuchte Fernsehsender, Regierungsbüros und Think Tanks für politische Forschung. Wir trafen uns mit deutschen Politikern, Journalisten und Politikexperten…. und versuchten zu erfahren, wie und warum Deutschland in der Ära nach Merkel eine neue Richtung einschlagen wird.
Jeder von uns war zu unterschiedlichen Zeiten RIAS-Stipendiat. Obwohl ich anfangs nicht alle Teilnehmer des Programms kannte, war ich erstaunt, wie schnell wir uns als Gruppe zusammenfanden. Nach dem ersten Tag war es, als wären wir schon einen Monat zusammen und tauschten alles aus, von Berliner Restauranttipps bis hin zu Karriereratschlägen.
Für mich hat RIAS sich wieder von Ihrer besten Seite gezeigt mit das "German Elections Alumni Program": Das Programm endet nicht, wenn das Programm vorbei ist, sondern ist nur der Beginn einer großartigen Beziehung.
Karin Caifa, Reporterin CNN Newsource, Washington DC: Was für eine ereignisreiche Zeit, um in Berlin zu sein! In meiner kurzen Zeit in der Stadt wurde ich Zeuge eines von Greta Thunberg initiierten Klimamarsches, des Berlin-Marathons und – natürlich – der wichtigsten Wahlen, die Deutschland seit 16 Jahren erlebt hat. Unsere Gastredner gaben perfekte Tipps, wie man die Ergebnisse vom Sonntagabend richtig einordnen kann, und wir hatten das Glück, am Wahltag in einem echten Wahllokal empfangen zu werden, um den Vorgang in Aktion zu erleben. Die kulturellen Ausflüge, einschließlich der Besichtigung der East Side Gallery mit dem Künstler Kani Alavi, und die Networking-Möglichkeiten waren besonders wertvolle Ergänzungen und bereicherten die Erfahrung ungemein.
M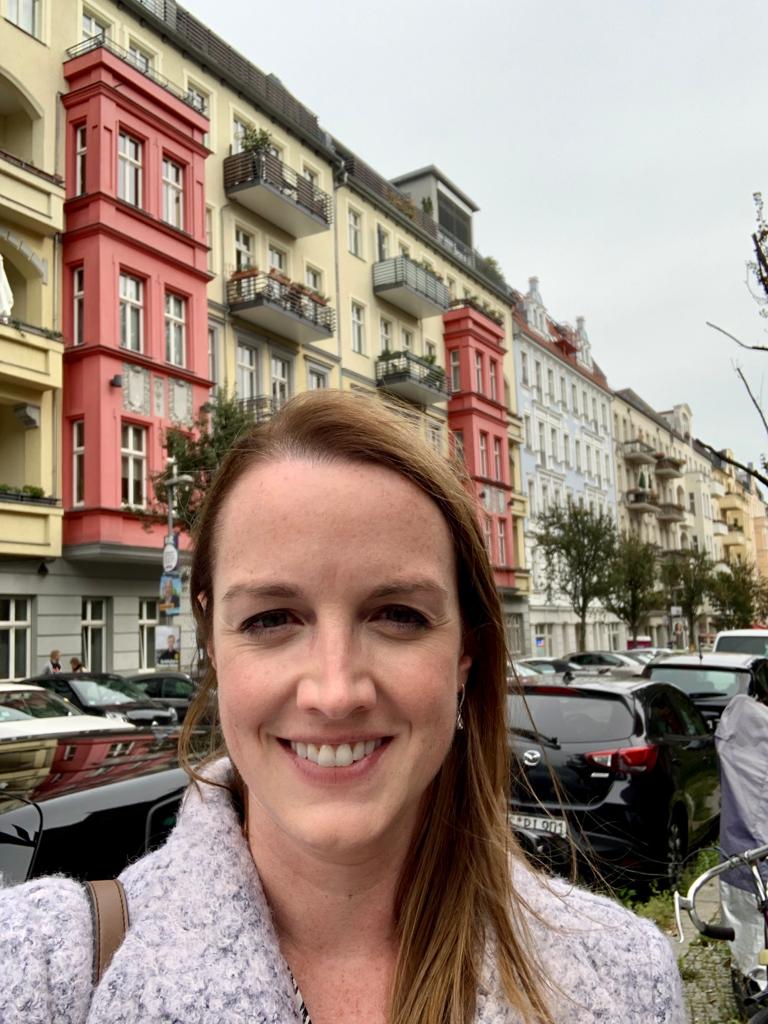 iranda Dotson Reed, ehemalige KGO TV/ABC7 News, San Francisco, Kalifornien: Ich bin immer wieder erstaunt über den umfassenden Zugang, den das RIAS-Programm bietet, und diese Erfahrung war nicht anders. Von Treffen mit Politikern bis hin zu einflussreichen deutschen Journalisten, vom Besuch des Roten Rathauses in Berlin bis hin zum Gang in ein Wahllokal am Wahltag – das Programm ist unübertroffen.
Die ausführlichen Gespräche, die wir führten, waren offen und aufschlussreich und ermöglichten ein neues und umfassenderes Verständnis des deutschen Wahlsystems. Es gab einen echten Einblick in das, was für die deutschen Bürger und ihre Zukunft wichtig ist.
Darüber hinaus ist die Möglichkeit, mit amerikanischen Kollegen aus dem ganzen Land in Kontakt zu treten, eine hervorragende Möglichkeit, mein journalistisches Netzwerk zu erweitern. Und es ist eine weitere Bestätigung für die erstaunliche journalistische Arbeit, die in jeder Ecke der USA (und Deutschlands) geleistet wird. Ich bin zuversichtlich, dass diese Beziehungen über viele Jahre hinweg fortbestehen werden. Nochmals vielen Dank für eine wirklich wunderbare und einflussreiche Erfahrung!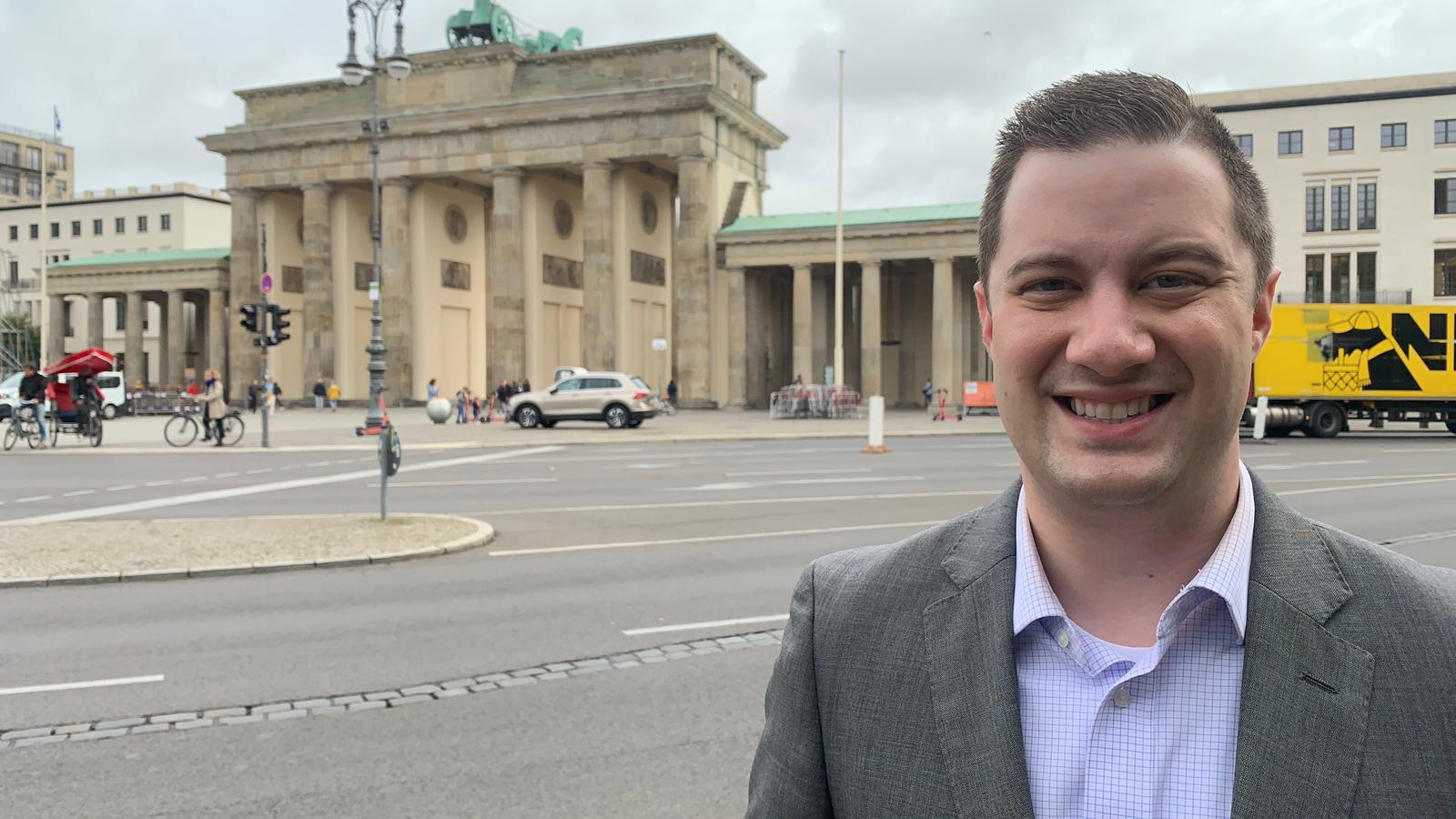 Lane Luckie, Anchor, KLTV, Tyler, Texas: Die Teilnahme am Alumni-Programm der RIAS Berlin Kommission im Herbst 2021 war eine weitere lebensverändernde Gelegenheit. Nach der Coronavirus-Pandemie, die die Welt isolierte, war dies eine wertvolle Lektion – eine starke Erinnerung daran, dass Nichts persönliche Erfahrungen ersetzen kann. Da ich bereits an einem früheren Programm zur Bundestagswahl teilgenommen hatte, konnte ich mein Grundwissen weiter ausbauen und unseren Zuschauern in Ost-Texas diesen historischen Moment besser erklären. Wie immer war dies eine enorme berufliche Herausforderung, die mir geholfen hat, mich als Journalist weiterzuentwickeln und als Mensch zu wachsen. Vor allem aber berühren mich die Freundschaften, die durch RIAS entstanden sind. Es war wirklich etwas Besonderes, amerikanische Kollegen wiederzusehen, deutsche Kollegen zu treffen, die meinen Sender in Texas besucht oder mich in Deutschland beherbergt haben, und neue Freundschaften mit einigen wirklich außergewöhnlichen Journalisten zu schließen. Es kann viel erreicht werden, wenn unsere Länder zusammenarbeiten, und RIAS trägt dazu bei, diese Verbindungen auf sinnvolle Weise zu vertiefen. Ich habe RIAS als 'goldene Eintrittskarte' bezeichnet, weil so viele in Deutschland sein Erbe kennen. Er öffnet Türen, um Quellen zu erschließen, Freundschaften zu schließen und das Vertrauen anderer zu gewinnen, was von unschätzbarem Wert ist. Es ist eine echte Ehre, mit der RIAS Berlin Kommission verbunden zu sein.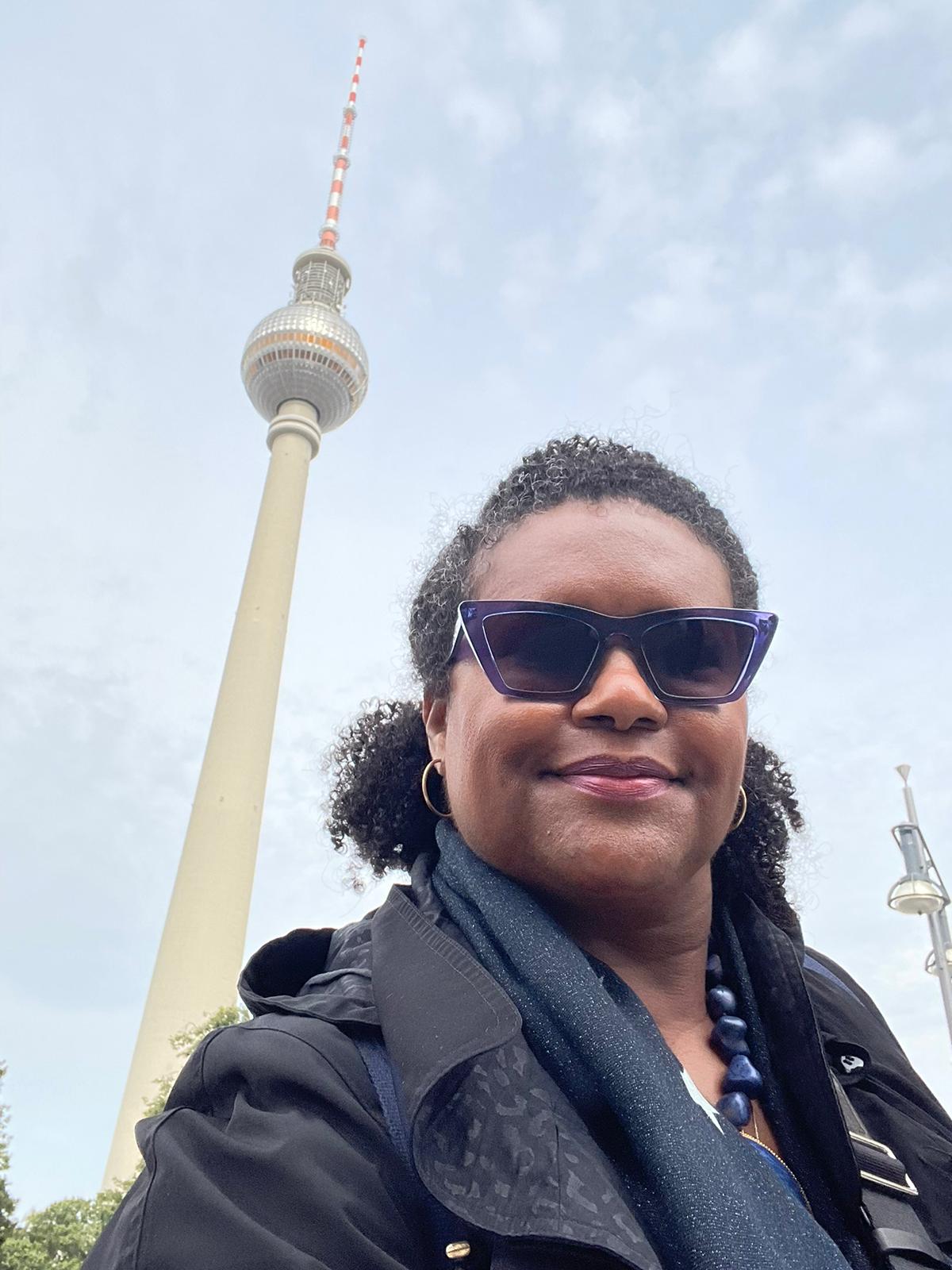 Tiffany Zeno, Produzentin WNBC, New York: Demokratie ist nicht einfach. Repräsentation ist ein Muss. Hass und Rassismus haben nirgendwo Platz. Die Wahlen in Deutschland im Jahr 2021 haben all das bewiesen. Als Journalistin ist es meine Aufgabe, über Wahrheit und Fakten zu berichten. Wir gehen dem Kern dessen auf den Grund, was in der Gesellschaft ist und was die Gesellschaft bewegt. Ihre Wähler haben gesprochen. Jetzt ist es an der Zeit, dass Sie ihre Wünsche umsetzen. Vielen Dank, dass Sie sich während dieses unglaublichen, lebensverändernden Ereignisses Zeit für uns genommen haben. Viel Erfolg in dieser neuen Realität. Und denken Sie daran: Sie repräsentieren ALLE in Deutschland.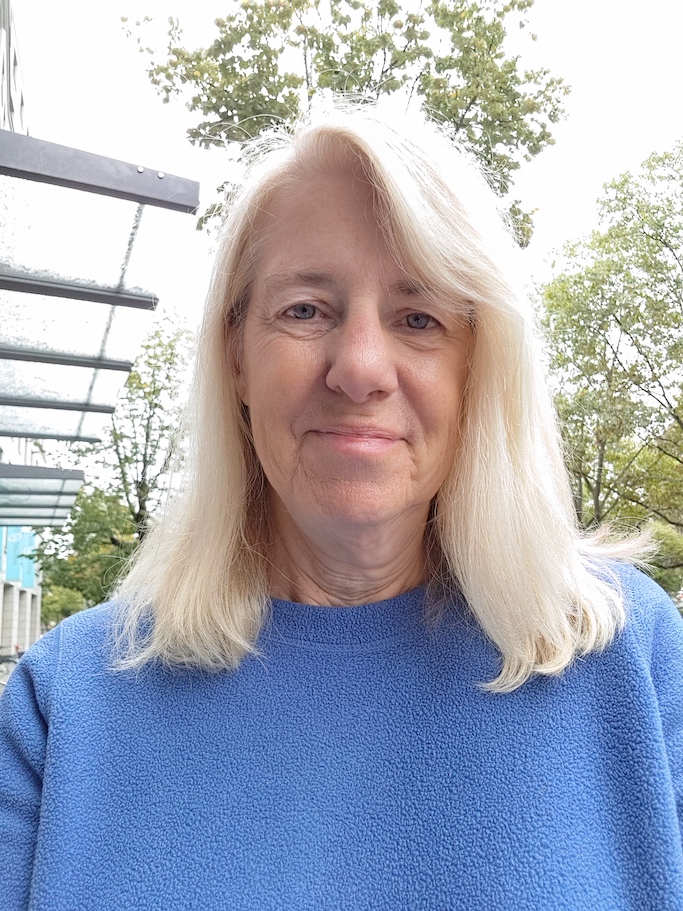 Debby Block, Voice of America, Washington DC: Eine weitere unglaubliche Erfahrung im Rahmen des RIAS-Programms, die durch die Möglichkeit, aus erster Hand etwas über die deutschen Wahlen zu erfahren, noch spezieller wurde. Ich habe so viel von den Referenten und anderen Menschen, die ich getroffen habe, gelernt. Der Höhepunkt war der Besuch eines Wahllokals am Wahltag, wo ich die Menschen bei der Stimmabgabe beobachten und mit dem Leiter des Wahllokals über die hohe Wahlbeteiligung sprechen konnte. Ich bin auch dankbar, dass ich deutsche und amerikanische RIAS-Journalisten wiedersehen und neue kennenlernen konnte. Vielen Dank, dass Sie die amerikanischen Alumni nach Berlin eingeladen haben, wo wir ein weiteres Kapitel der erstaunlichen deutschen Geschichte erleben konnten.
Jeremy Chen, KTNV Las Vegas: Es war ein Privileg und eine Ehre, am ersten RIAS-Programm seit Beginn der Pandemie teilzunehmen. Es kam auch zu einem guten Zeitpunkt, da die deutschen Wahlen stattfanden, bei denen mit dem Rücktritt von Angela Merkel alles möglich war. Wir sprachen mit Menschen, die Ansichten aus dem gesamten politischen Spektrum vertraten. Es war sehr aufschlussreich zu erfahren, wie die Deutschen wählen und wie sie die Demokratie bewerten, im Gegensatz zu unserem eigenen System in den USA. Es war eine wunderbare Woche, in der wir hervorragende Redner und Kollegen getroffen haben. Vielen dank!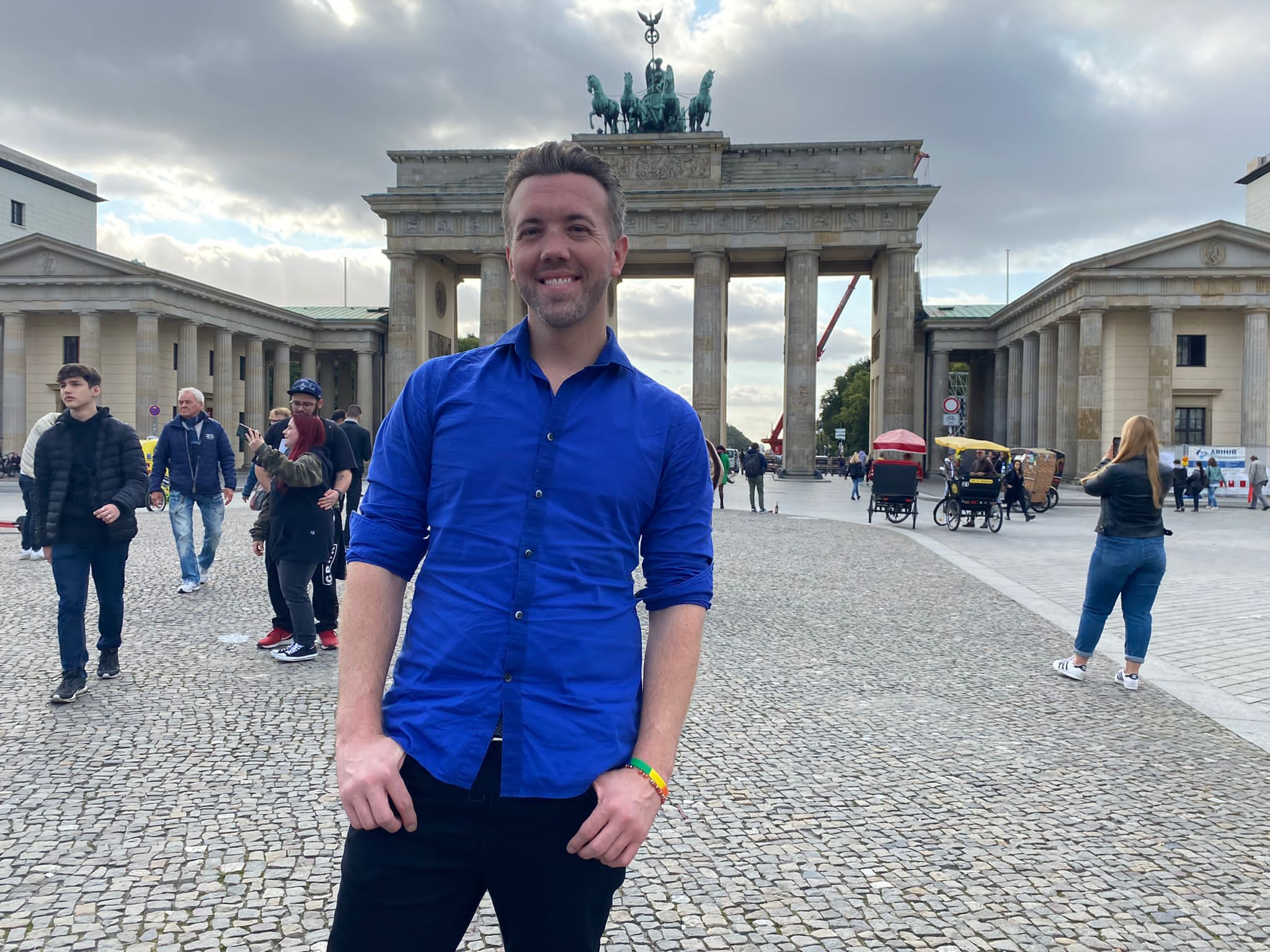 Bryan Weakland, Produzent MSNBC, New York: Die Teilnahme am RIAS-Alumni-Programm war unglaublich. Ich konnte deutsche Journalisten, die ich während meines ersten RIAS-Stipendiums kennengelernt hatte, wieder treffen. Ich hatte auch das Privileg, eine neue Gruppe deutscher Journalisten kennenzulernen, von denen ich weiß, dass sie mich ein Leben lang begleiten werden. Die Redner und Gäste, die wir im Rahmen dieses Programms getroffen haben, waren phänomenal. Während solch entscheidender Wahlen hier zu sein, ist ein Sitz in der ersten Reihe, um Geschichte zu schreiben, und ich bin so dankbar, dass ich diese großartige Gelegenheit wahrnehmen durfte.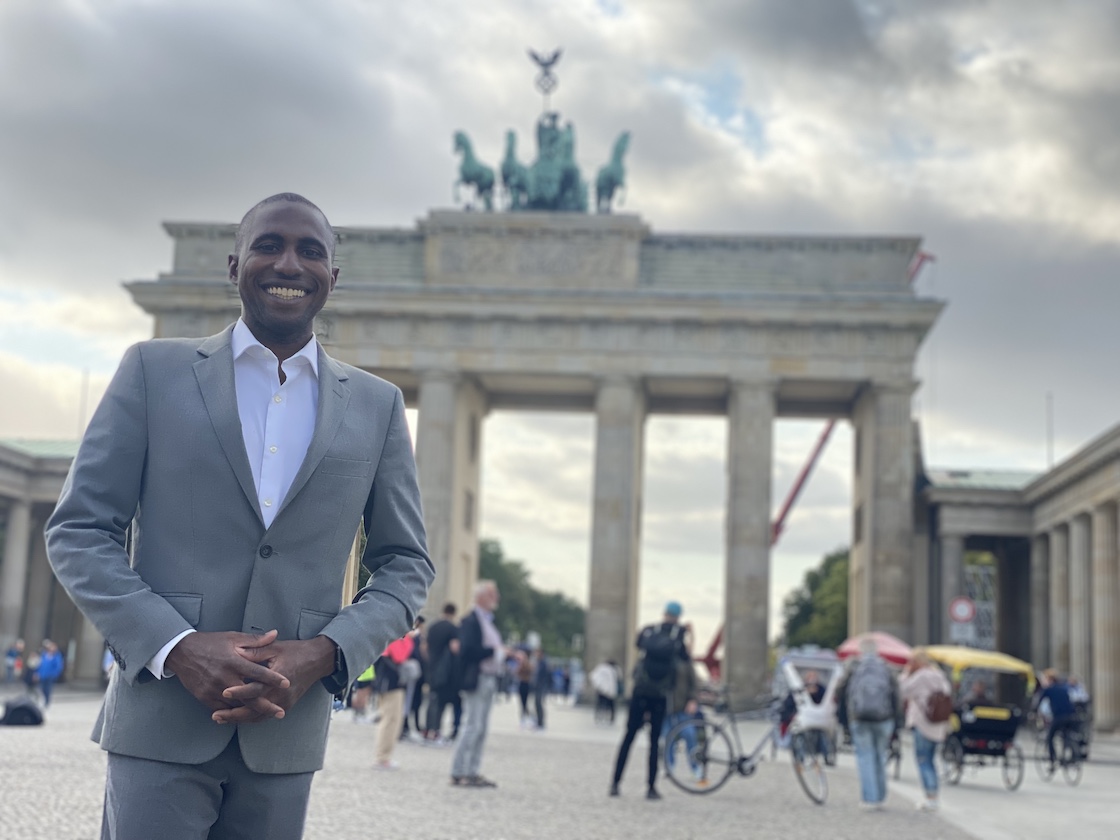 Justin Campbell, Reporter, WKMG News, Orlando, Florida: Es war eine unglaubliche Ehre, zum RIAS-Alumni-Programm in Berlin eingeladen zu werden und daran teilzunehmen. Ich habe so viele Journalisten kennengelernt und so viel über die historische Wahl in Deutschland gelernt. Ein Punkt, den ich interessant finde und nicht vergessen werde, ist, wie sich die deutsche Wählerschaft verändert. Fast jeder Redner betonte, dass die Wähler in der Vergangenheit ihre Stimme für die Partei abgegeben haben, aber jetzt wählen sie eher den Kandidaten, wie die Amerikaner. Das zeigt, dass das, was in den USA passiert, wirklich auf die ganze Welt ausstrahlt. Nach 16 Jahren Angela Merkel wird das Land einen neuen Weg nach vorne einschlagen. Was für ein entscheidender Zeitpunkt, wieder nach Deutschland eingeladen zu werden, um dies aus erster Hand zu erleben.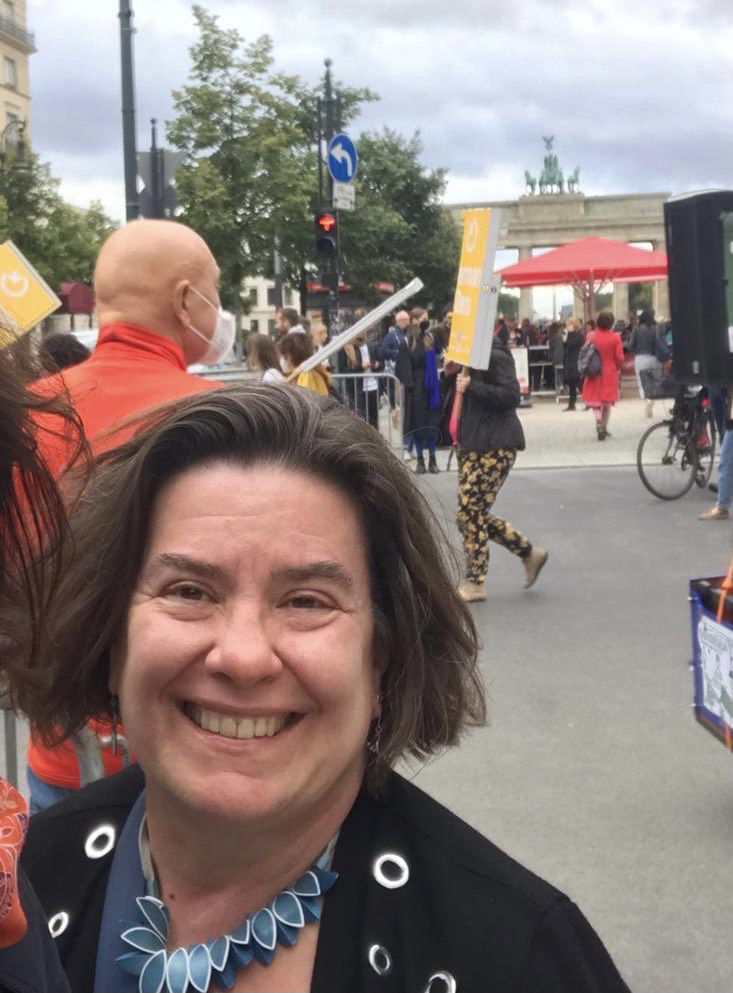 Bonnie North, Programmdirektorin North Country Public Radio, Canton, Potsdam New York: Es war mir eine Ehre, am ersten RIAS-Programm seit dem Beginn der COVID-Pandemie teilzunehmen. Während der Woche hörten wir Redner aus dem gesamten politischen Spektrum, besuchten einige unserer deutschen Medienkollegen und vertieften unser Verständnis für diese historische Wahl in Deutschland. Ich konnte auch den Klimastreikmarsch und den Berlin-Marathon miterleben – perfektes Timing! Es war eine tolle Woche. Nochmals vielen Dank für alles.
Joel Waldinger, PBS Madison Wisconsin: RIAS hat mir eine weitere Gelegenheit gegeben, meinen Horizont auf dem europäischen Kontinent zu erweitern. Mit den historischen Wahlen in Deutschland hatte ich einen Sitz in der ersten Reihe, um die Demokratie in Aktion zu erleben. Diese Erfahrung trägt dazu bei, die Bedeutung des Wahlrechts zu stärken und zu betonen – ein Recht, das einige Amerikaner für selbstverständlich halten. Am meisten beeindruckt haben mich die Geschichten der Einwanderer Sawsan Chebli (SPD) und Kani Alavi – Geschichten, in denen sie die Not und das Elend überwunden haben, um ein besseres Leben für sich, ihre Familien und ihr Land zu schaffen. Sie leben ihren besten "deutschen Traum"! Nochmals vielen Dank für diese großartige Erfahrung!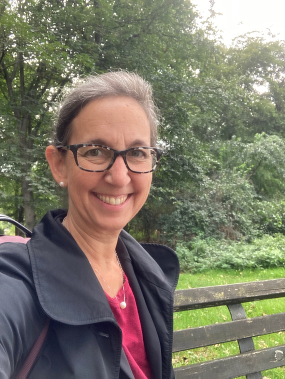 Maggie Kerkman, Fox News Channel /Dallas-Büro, Außenproduzentin: Es ist eine faszinierende Zeit, in Deutschland zu sein. Ich hatte schon einiges über die deutsche Politik und die Parteien gelernt, aber das alles an einem historischen Wendepunkt in der deutschen Geschichte in Aktion zu sehen, war aufregend. Ich habe das Gefühl, dass ich den deutschen Wahlprozess endlich annähernd verstehe – und vielleicht sogar ein wenig die deutschen Wähler. Wie mir einer sagte: "Wir wollen Veränderung, aber keine Revolution". Ein anderer erwähnte, wie historisch die Regierungszeit von Angela Merkel war, vielleicht nicht so sehr in Bezug auf die Politik, sondern vielmehr auf ihre lange Amtszeit als erste weibliche Bundeskanzlerin. Für Teenager, die sich nicht daran erinnern können, dass es jemals eine andere Kanzlerin als Merkel gegeben hat, so sagte mir jemand, scheint das jetzt normal zu sein. Ich werde in den nächsten Monaten mit großem Interesse verfolgen, welche Koalition an die Macht kommen wird.
Wir sind nicht nur nach Berlin gekommen, um mehr über die deutsche Politik zu erfahren. Wir trafen unsere deutschen und amerikanischen Kollegen – oder lernten sie wieder kennen. Wir hatten auch die Gelegenheit, die Stadt zu erkunden und zu erforschen. Als ich an einem sonnigen, schönen Tag in einem großen Park saß, Eis aß und den Leuten beim Spielen mit ihren Kindern und Hunden zusah, hatte ich für einen kurzen Moment das Gefühl, etwas wirklich Wunderbares zu erleben – und typisch Deutsch.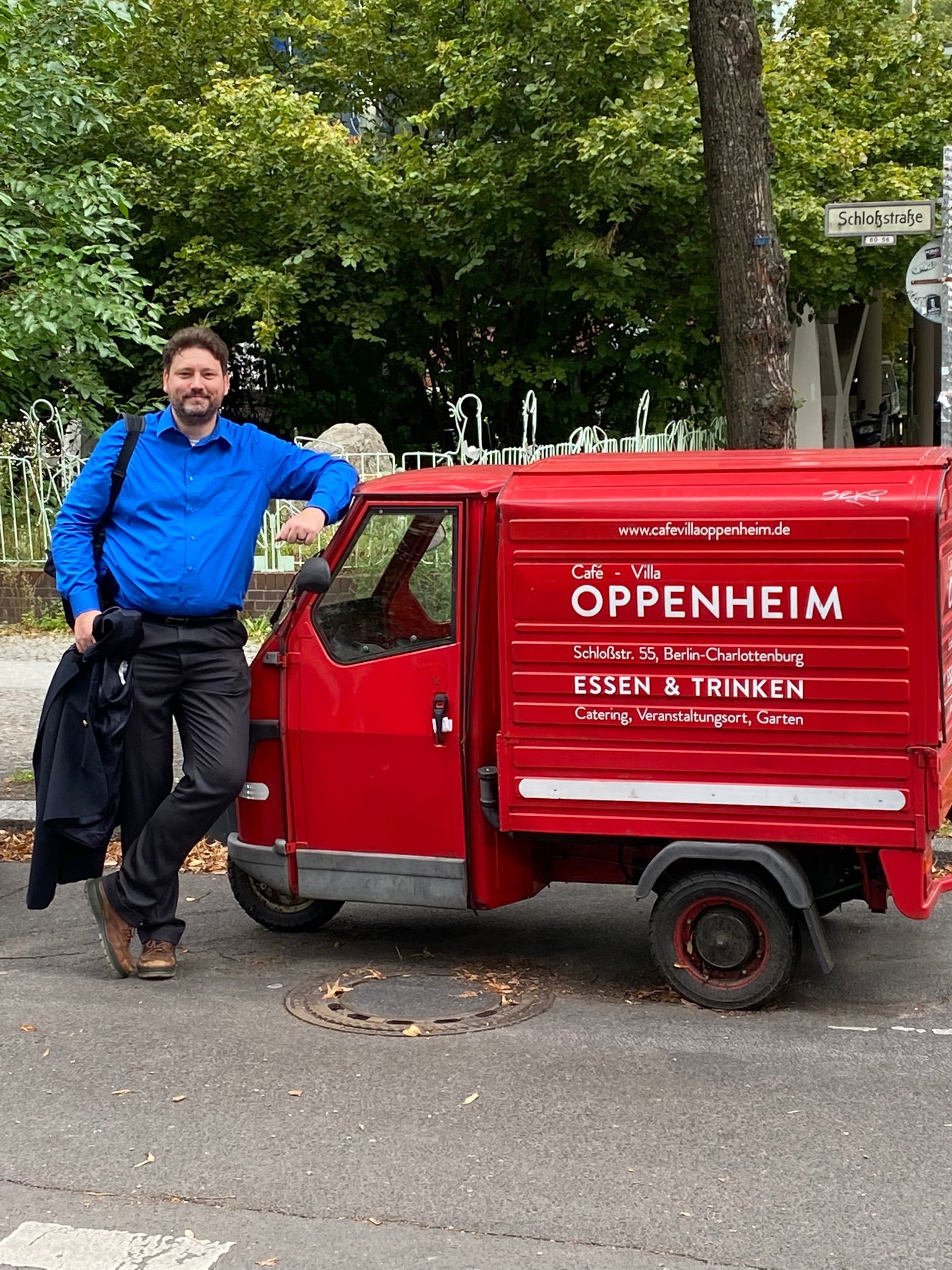 TJ Speicher, Senior National Editor & Desk Operations Officer/Fox News, New York:
21 Jahre, 2 Monate, 17 Tage. Oder 7749 Tage. Oder 669.513.600 Sekunden (mehr oder weniger, aber wer zählt schon mit?) So lange ist es her, dass ich im Sommer 2000 das letzte Mal in Berlin war. Seitdem hat sich so viel verändert, nicht nur ich oder Berlin, sondern die Welt als Ganzes. Und auch wenn wir den Times Square als Kreuzung der Welt bezeichnen, so ist es vielleicht wirklich Berlin, das diesen Titel trägt. Von den Menschen bis zum Essen. Und dass RIAS uns zu einem so günstigen Zeitpunkt für eine weitere historische Wahl (sind das nicht alle heutzutage?) wieder in Berlin willkommen heißt, war eine ganz besondere Woche, in der wir wieder einmal eine ganz besondere Stadt erkunden konnten. RIAS hat uns wieder mit verschiedenen Standpunkten von Politikern und Journalisten bekannt gemacht, was ich wirklich aufschlussreich finde. Also, noch einmal Berlin, ich sage auf Wiedersehen, im wahrsten Sinne des Wortes.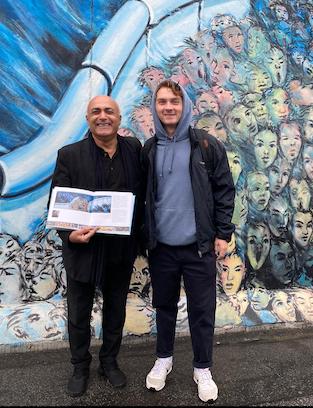 Michael Makowski, The Progressive Magazine, Madison, Wisconsin: Was für eine aufregende Zeit, um in Deutschland zu sein – während einer historischen Wahl und einer Wahl, die die Richtung der Regierung ändern wird. Als Alumnus hatte ich das Hintergrundwissen, das die Treffen mit Journalisten, Politikern und einflussreichen Persönlichkeiten umso bereichernder machte. In der Wahlnacht fühlte ich mich über alle Parteien, Nuancen und möglichen Ergebnisse informiert und hatte eine tiefe Wertschätzung für den demokratischen Prozess. RIAS hat mir so viele Lern- und Vernetzungsmöglichkeiten gegeben, und ich bin ein besserer Journalist geworden. Danke an Erik, Melissa, den RIAS-Vorstand und meine Kollegen für eine weitere fantastische Erfahrung.
Susan Valot, Reporterin bei öffentlichen Radiosendern, Kalifornien: Beim RIAS-Programm ging es immer darum, Brücken zu bauen, zwischen den USA und Deutschland, zwischen den teilnehmenden Journalisten, zwischen den Referenten und den Journalisten. Es beleuchtet das Gute und das Schlechte, zeigt, was funktioniert und was verbessert werden muss. Ich fühlte mich geehrt, am diesjährigen Alumni-Programm teilzunehmen, das es mir ermöglichte, zum ersten Mal seit fünf Jahren nach Berlin zurückzukehren und zu sehen, dass die Stadt sich immer noch entwickelt und verändert und dass der Himmel wie immer von Baukränen gesäumt ist.
Sei es die Erfahrung von einer muslimischen Politikerin zu hören, die so viele Morddrohungen erhält, dass sie sich fragt, ob sie ihre derzeitige Karriere fortsetzen kann, oder als ich sah, wie viele deutsche Kinder und Jugendliche am Klimastreikmarsch teilgenommen haben, der die Straßen Berlins mit Tausenden von Leuchtfeuern der Hoffnung füllte – diese Art von Interaktionen, sowohl formell als auch informell, führen zu neuen Geschichten, neuen Perspektiven und neuen Freundschaften.
und Bob Jamieson, NBC News New York
---
27. September 2021
Amerikanische RIAS-Gruppe auf den Spuren der Bundestagswahl in Berlin
Eine Gruppe von 17 amerikanischen Journalisten verbrachte eine Woche in Berlin, um mehr über die Bundestagswahl 2021 zu erfahren, bevor am 27. September gewählt wurde. Aufgrund der Unterbrechungen durch die Covid-19-Pandemie war dies das erste persönliche Austauschprogramm der RIAS-Berlin-Kommission seit fast zwei Jahren. Während des Besuchs der RIAS-Alumni in Berlin trafen die amerikanischen Rundfunkjournalisten mit Journalisten, Politikern, Politikexperten, Musikern und anderen deutschen Alumni zusammen.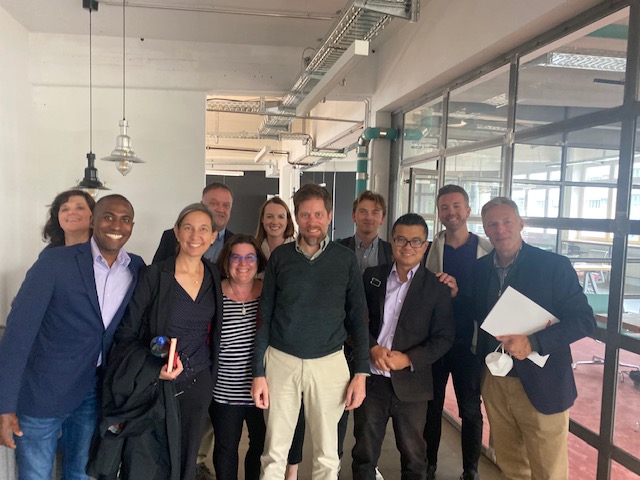 Einige der Amerikaner schickten auch Berichte über das Treiben in Berlin während der deutschen Wahlen an ihre Heimatstationen, während andere Informationen und Kenntnisse über die Feinheiten des deutschen Wahlsystems sammelten.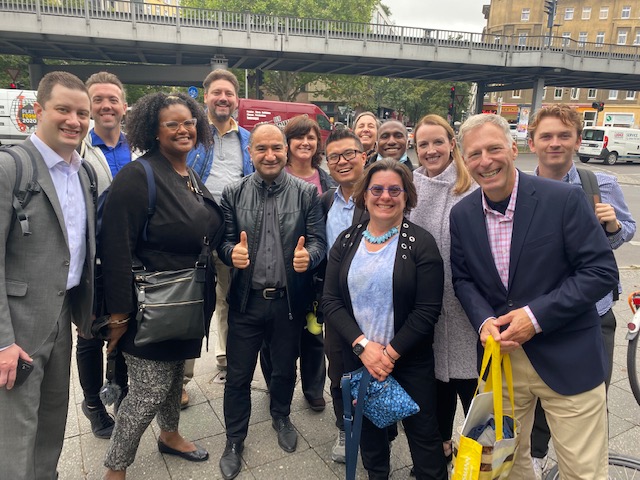 Zu den Treffen gehörten auch Gespräche mit deutschen Wahlbeamten, welche erläuterten, wie die Grenzen der Wahlkreise in Deutschland auf unpolitische Weise neu gezogen werden, wenn dies aufgrund von Bevölkerungsverschiebungen erforderlich ist. So etwas wie "Gerrymandering" gibt es in Deutschland nicht, erfuhren sie, und die Neuzuteilung von Wahlkreisen erfolgt nach strengen Standardverfahren.
Da die anhaltende Corona-Pandemie es unmöglich machte, Zugang in einige deutsche Redaktionen zu erlangen, welche nicht nur für Besucher, sondern oft auch für viele Mitarbeiter tabu sind, bestand die Herausforderung für die Gruppe von Amerikanern (die alle geimpft waren) darin, Orte für Treffen mit deutschen Journalisten, Politikern und Ehemaligen an neutralen Orten zu finden, z. B. auf den Dächern von Fernsehsendern (wie beim RBB-Fernsehen), in Restaurants, Hinterzimmern von Cafés, an Straßenecken und sogar auf Wahlkampfveranstaltungen im Freien.
Dank der Geduld und Flexibilität der amerikanischen Alumni und der deutschen Gastredner war es möglich, ein großartiges Programm zu gestalten, welches der Gruppe ermöglichte, die Themen, die bei den Wahlen am 26. September auf dem Spiel standen, besser zu verstehen.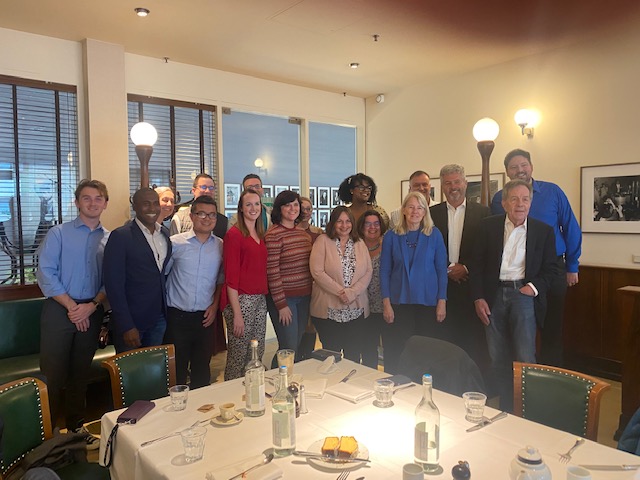 Hier ein Überblick über einige der Treffen: Treffen im Biergarten mit der RBB-Journalistin Petra Gute und der Radio Bremen Intendantin Yvette Gerner; Gespräch mit der deutschen Wahlleiterin Ulrike Rockmann über das deutsche Wahlsystem; Gespräch mit Politico-Europakorrespondent Matt Karnitschnig.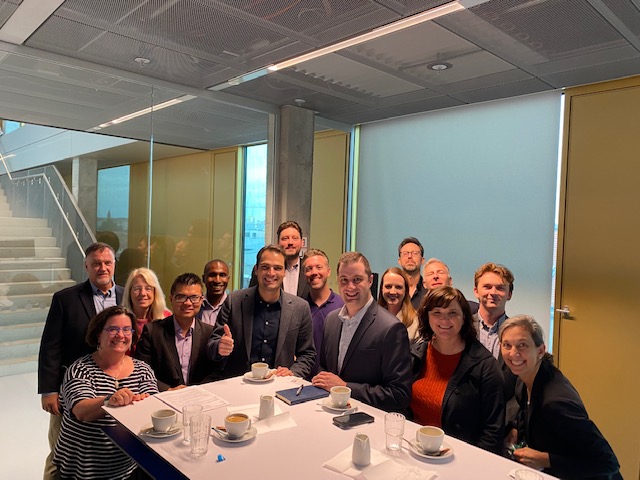 Außerdem gab es ein Gespräch mit WeltTV-Chefredakteur Jan-Philipp Burgard und einen Besuch in den hochmodernen Studios seines privaten Fernsehsenders.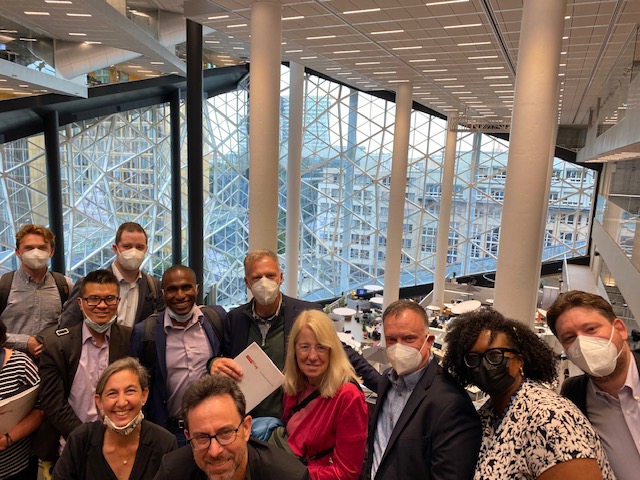 Außerdem gab es ein Treffen mit Jan Niklas Engels und Knut Dethlefsen von der SPD-nahen Friedrich-Ebert-Stiftung, ein Treffen mit Dr. Jochen Roose und Alexander Beribes von der CDU-nahen Konrad-Adenauer-Stiftung und einen Rundgang durch Kreuzberg mit Özcan Mutlu, Mitglied der Grünen.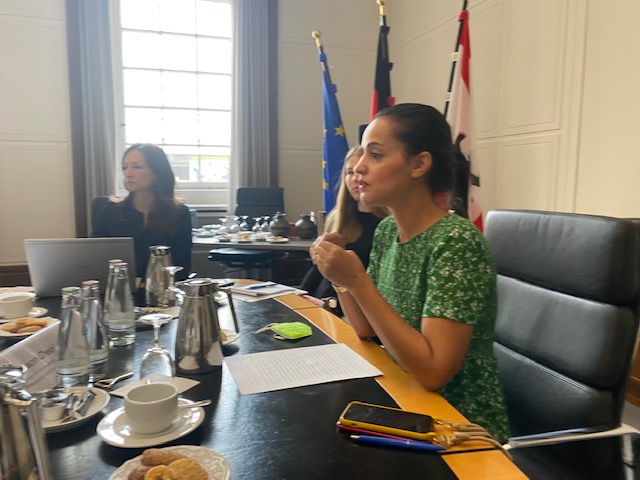 Außerdem gab es ein Treffen mit dem ehemaligen US-Botschafter J.D. Bindenagel, ein Gespräch mit der brandenburgischen CDU-Landtagsabgeordneten Barbara Richstein, ein Treffen mit dem Leiter der deutschen Swing-Band Andrej Hermlin, ein Treffen mit Dr. David Biesinger und Jade-Yasmin Tänzler vom RBB-Fernsehen/Radio und ein Gespräch mit Sawsan Chebli, stellvertretende Ministerin für Bundesangelegenheiten in Berlin und Vorsitzende der SPD-Fraktion. Außerdem gab es ein Gespräch mit der rechtsextremen AfD-Abgeordneten Beatrix von Storch.
Außerdem gab es eine multimediale Lichtshow im Bundestag, Gespräche im Cafe Einstein mit Mitri Sirin & Anja Heyde & Michael Wagenbach vom ZDF-"MorgenMagazin"-Frühstücksnachrichten sowie ein Talk mit Julius van de Laar, einem führenden Politikberater in Deutschland, der in South Carolina Politikwissenschaften studiert und an Obamas Kampagnen mitgearbeitet hat.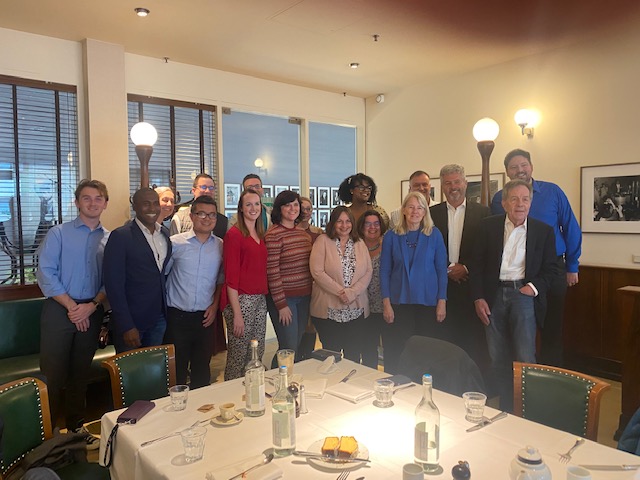 Die Gruppe traf sich auch mit Soraya Sarhaddi Nelson, Moderatorin des Podcasts Common Ground, Autorin und Auslandskorrespondentin für den öffentlich-rechtlichen Rundfunk; sie sprachen mit einem AfD-Abgeordneten und sahen sich eine Wahlkampfkundgebung an; genossen ein Alumni-Dinner und ein Treffen mit deutschen Alumni; hatten ein Treffen und eine Führung durch die East Side Gallery mit dem Künstler Kani Alavi und besuchten am Wahltag deutsche Wahllokale.
---
RIAS-Austauschprogramme mit drei Programmen im Herbst wieder aufgenommen
Die RIAS Berlin Kommission wird in den nächsten acht Wochen drei Austauschprogramme für ca. 55 Teilnehmer aus ihrem unfreiwilligen COVID-19-bedingten Winterschlaf hervorholen – zwei einwöchige Alumni-Programme für ca. 46 Teilnehmer und ein dreiwöchiges Standardprogramm für neun Teilnehmer.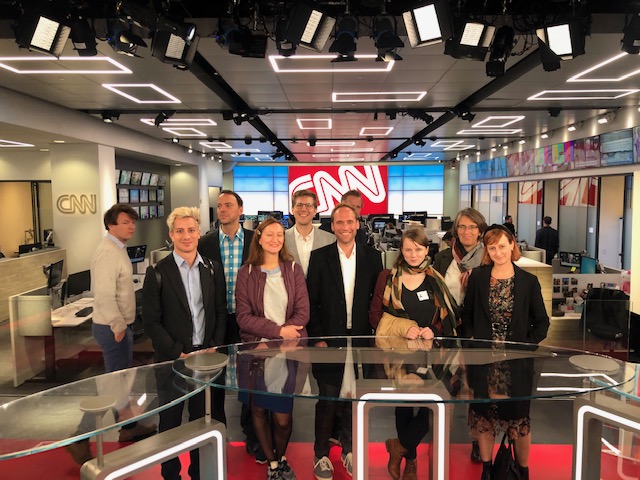 Trotz der schwierigen und sich verändernden Situation in den Vereinigten Staaten und in Deutschland im Zuge des allmählichen Abklingens der Pandemie hat die RIAS Berlin-Kommission deutsche und amerikanische Teilnehmer für die drei kommenden Programme ausgewählt und wird versuchen, die Programme so gut und kreativ wie möglich durchzuführen. Die Aussichten auf eine Wiedereröffnung der Redaktionen und Nationen im Herbst 2021 schienen im Juni besser zu sein, bevor die Delta-Variante einen Strich durch die Rechnung machte.
Insbesondere die anhaltenden Reisebeschränkungen, die die meisten Bürger des EU Schengen-Raums daran hindern, in die USA zu reisen, haben die Organisation der Reisen erheblich erschwert. Man hatte gehofft, dass die Beschränkungen aufgehoben würden, nachdem die EU im Juni ihre Beschränkungen für USA-Reisende nach Europa aufgehoben hatte. Doch die Beschränkungen der USA bleiben bestehen. Glücklicherweise konnten die Journalisten der RIAS Berlin Kommission Ausnahmevisa für die Programme erhalten.
Da viele Redaktionen in den USA und Deutschland nach wie vor für ihre eigenen Mitarbeiter sowie für Besucher geschlossen sind, werden einige der Treffen an unkonventionellen Orten stattfinden. RIAS-Alumni-Chapterleiter in Köln und New York, Martin Richter von Phoenix TV in Bonn und Michael Gargiulo von WNBC in New York, haben bei der Auswahl und Koordinierung der beiden Alumni-Gruppen hervorragende Hilfe geleistet.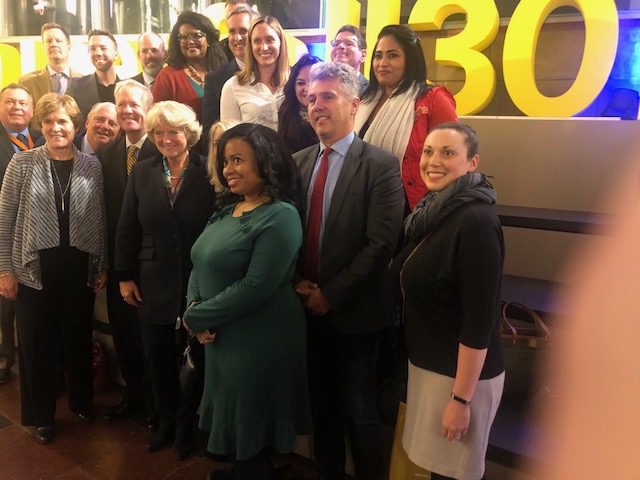 Hier ist ein kurzer Überblick über unsere drei kommenden Programme:
20. bis 27. September: 16 amerikanische Journalisten werden zu einem einwöchigen Alumni-Programm nach Berlin kommen, das zeitlich mit den deutschen Wahlen zusammenfällt. Viele von ihnen werden für ihre Sender in der Heimat über die deutschen Wahlen berichten. Am Freitagabend, den 24. September, wird es ein Alumni-Treffen mit deutschen und amerikanischen Alumni geben. Alle Alumni sind herzlich eingeladen, daran teilzunehmen. Bitte schreiben Sie an info@riasberlin.org für weitere Informationen.
11. bis 29. Oktober: 9 deutsche Journalisten werden in Washington DC (eine Woche), New York City (eine Woche) und in der dritten Woche bei einem kleinen Sender im Süden, Mittleren Westen oder Westen für das dreiwöchige Standardprogramm sein. Die Gruppe wird sich mit den wichtigen Bürgermeister- und Gouverneurswahlen in New York City und New Jersey befassen.
24. bis 30. Oktober: 30 deutsche Journalisten und RIAS-Alumni aus dem ganzen Land werden eine Woche lang in New York sein und sich mit den Wahlen in New York und New Jersey sowie mit der Erholung der Stadt New York von der Pandemie befassen.
Hier sind die USA Teilnehmer Sept 20-27 Berlin Programm:
Michael Gargiulo, Anchor WNBC TV, New York
Lane Luckie, Anchor, KLTV, Tyler, Texas
Karen Caifa, reporter CNN, Washington DC
Maggie Kerkman, producer, Fox News, Dallas, Texas
TJ Speicher, producer Fox News, New York
Bonnie North, reporter/anchor North Country Public Radio, Canton, Potsdam New York
Bryan Weakland, producer MSNBC, New York
Tiffany Zeno, producer WNBC, New York
Susan Valot, reporter public radio stations in California
Bob Jamieson, NBC News, New York
Justin Campbell, reporter, WKMG News, Orlando, Florida
Michael Makowski, The Progressive Magazine, Madison, Wisconsin
Larry Levin, Irish Echo, Dublin, Ireland
Jeremy Chen, KTNV Las Vegas
Debbie Block, Voice of America, Washington DC
Miranda Dotson Reed, former KGO TV/ABC7 News, San Francisco, California
Hier sind die deutsche Teilnehmer für die 11-29. Oktober Programm in den USA
Lena Mosel, Welt TV Berlin
Dilek Üsük, RBB Abendschau/WDR news, Berlin
Annette Yang, NDR, Hamburg
Kristian Wiegand, Phoenix, Bonn
Jan Fritsche, ZDF, Magdeburg/Berlin
Julia Grünwald, MDR, Leipzig
Dania Maria Hohn, RTL/NTV Hamburg
Frauke Holzmeier, RTL/NTV Cologne
Kate Brady, Deutsche Welle, Berlin
Hier sind die deutsche Teilnehmer für die 24-30. Oktober Programm in den USA
Martin Richter, Phoenix, Bonn
Michail Paweletz, NDR Hamburg
Vladimir Balzer, Deutschlandradio, Berlin
Mitri Sirin, ZDF, Berlin
Anja Heyde, ZDF, Berlin
Anna Maria Schuck, ZDF, Mainz
Mirja Fiedler, NDR, Hamburg
Andre Schünke, NDR, Hamburg
Anja Martini, ARD, Hamburg
Anne Sieger, ARD, Cologne
Björn Heckmann, RTL, Cologne
Cornelia Gerhard, Phoenix, Bonn
Guido Meyer, Deutschlandfunk, Bonn
Iris Ollech, Phoenix, Bonn
Kerstin Ruskowski, Deutschlandfunk Nova/WDR, Cologne
Lydia Leipert, BR, Munich
Marc Krueger, podcast freelancer, Berlin
Maren Hellwege-Beck, BR, Munich
Nina Hansen, ARD, Hamburg
Petra Gute, RBB, Berlin
Philipp Eins, freelance radio/podcast, Berlin
Sabine Krebs, ARD, Nairobi, Kenya
Steffi Clodius, ARD, Hamburg
Susan Falkenstein, BR radio, Munich
Zlatin Nikov, SR, Saarbrücken
Boris Baumholt, WDR, Duesseldorf
Bartosz Dudek, Deutsche Welle radio, Bonn
Marius Zekri, NDR radio, Hamburg
Michael Meyer, Deutschlandfunk, Berlin
Micha Wagenbach, ZDF, Berlin
Oliver Sallet, Deutsche Welle, Washington DC
---
6. August 2021
Ehemaliger NBC-Korrespondent und RIAS-Medienpreis-Juror John Dancy verstorben
John Dancy, langjähriger NBC News-Korrespondent und RIAS-Medienpreis-Juror, ist im Alter von 84 Jahren gestorben, wie ein ehemaliger Kollege bei NBC News in Washington mitteilte. Dancy war viele Jahre lang ein festes Mitglied der RIAS-Medienpreis-Jury und war bei den Jurysitzungen für sein freundliches, aber bestimmtes Beharren auf den höchsten Standards für preisgekrönte Beiträge bekannt. Sein Tod wurde kürzlich von Bill Hatfield, Nachrichtenproduzent für NBC News Today in Washington, in einem Twitter-Post bekannt gegeben.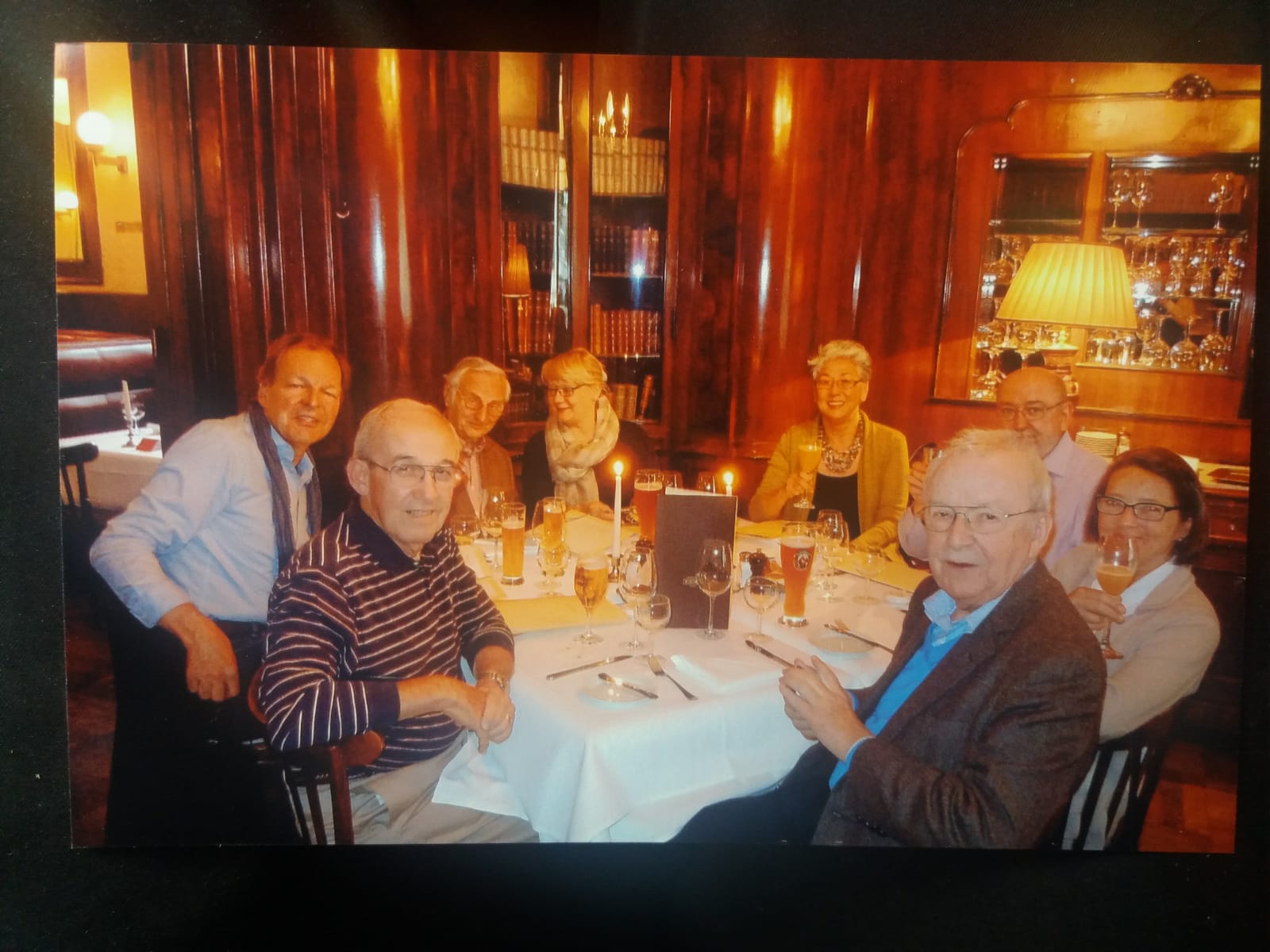 "In Erinnerung an meinen Freund und Mentor John Dancy (1936-2021)", schrieb Hatfield. "John verbrachte 30 Jahre bei NBC News mit Stationen in Chicago, Berlin, Moskau, London und DC, wo er über alle wichtigen Themen berichtete. Im Ruhestand unterrichtete er die nächste Generation von Journalisten. Ich hatte das Glück, ihn zu kennen."
John Albert Dancy wurde am 5. August 1936 in Jackson, Tennessee, geboren und schloss 1959 sein Studium an der Union University in Jackson mit einem BA in englischer Literatur ab. Später, im Jahr 1989, erhielt er einen Ehrendoktortitel der Union University. Während seiner langen Karriere erhielt Dancy 1977 den Columbia-Dupont-Preis für Dokumentarfilme, 1977 den Overseas Press Club Award für Dokumentarfilme, 1984 den Janus Award für Geschäftsberichte und 1987 den Everett M. Dirksen Award für Kongressberichte. Er war Mitglied der Radio-Television Correspondents Association in Washington. Von 1961 bis 1965 arbeitete er als Journalist für die Westinghouse Broadcasting Company, KYW-television in Cleveland, bevor er ab 1965 Korrespondent für NBC News in Los Angeles, dann in Chicago, Berlin, London und Washington wurde. Von 1978 bis 1979 war er der leitende Korrespondent des Senders für das Weiße Haus. Später war Dancy von 1982 bis 1988 Kongresskorrespondent von NBC, 1988 Chefkorrespondent für diplomatische Angelegenheiten und von 1994 bis 1996 Korrespondent für Moskau.
"Traurig nehmen wir das Ableben des ehemaligen NBC News-Korrespondenten John ("Bud") Dancy zur Kenntnis, mit dem ich in den späten 1980er/Anfang der 1990er Jahre über die globale Diplomatie berichtete", schrieb das ehemalige RIAS-Vorstandsmitglied und CNN-Korrespondent Ralph Begleiter in einem Beitrag auf Facebook. "Er war einer der klügsten Reporter auf dem Gebiet der Diplomatie… Nach seinem Ausscheiden bei NBC lehrte Dancy Journalismus an der Duke University. Mein aufrichtiges Beileid an Ann und seine Familie."
Dancy war auch ein regelmäßiger Gastgeber für deutsche Journalisten, als er an der Brigham Young und der Duke University Journalismus unterrichtete, so der ehemalige Geschäftsführer der RIAS Berlin-Kommission, Rainer Hasters. "Das ist eine wirklich traurige Nachricht", sagte Hasters. "John war ein guter Freund, ein langjähriges Jurymitglied und ein langjähriger Gastgeber für deutsche Journalisten an der Universität."
18. Juli 2021
RIAS-Alumni-Chapter treffen sich in New York, Köln & Berlin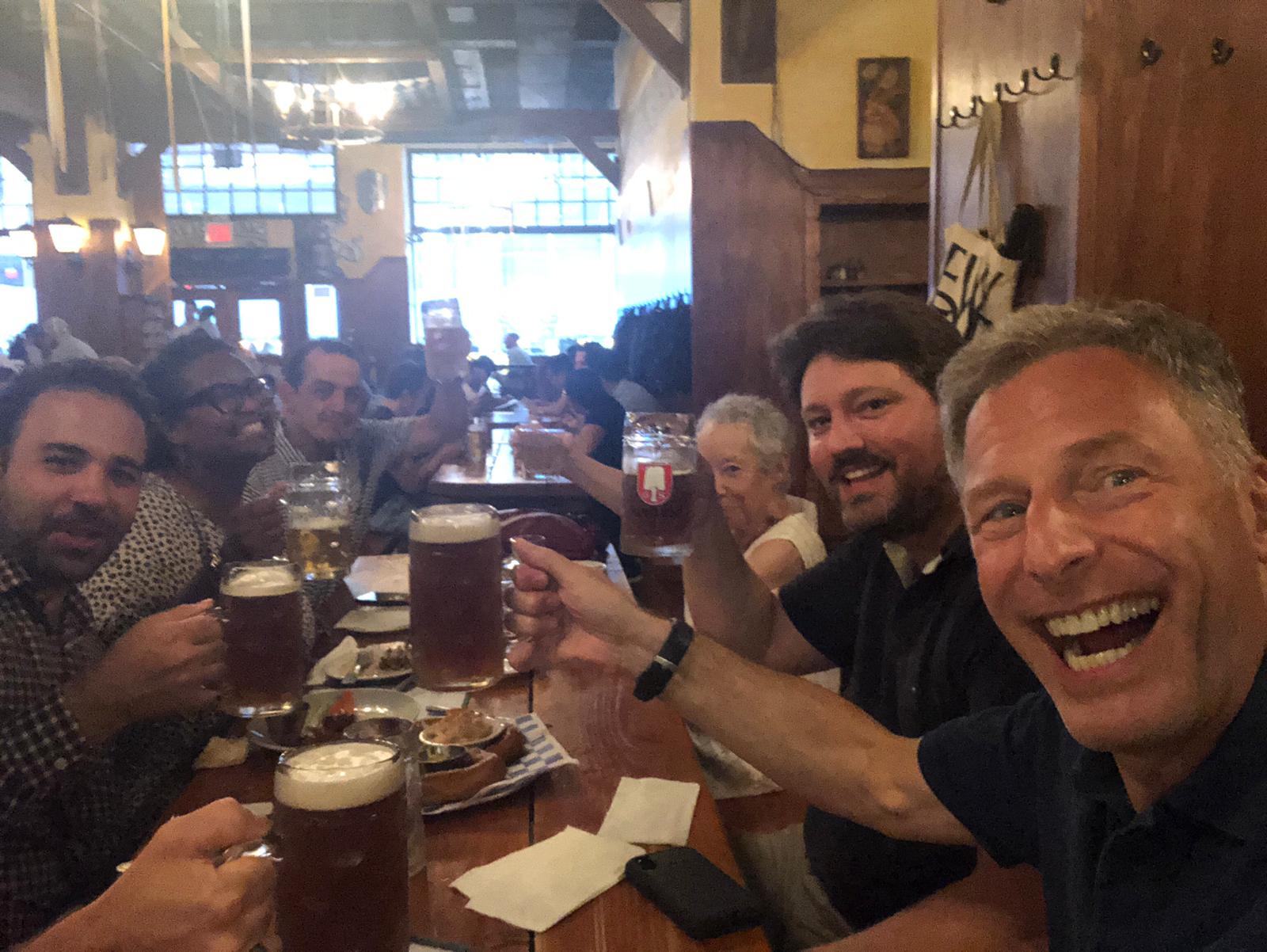 Die Alumni-Chapter der RIAS Berlin Commission hielten in den letzten Wochen Wiedersehenstreffen in New York, Köln und Berlin ab – die ersten Zusammenkünfte seit über einem Jahr. Der Leiter des New Yorker Alumni-Chapters, Michael Gargiulo (rechts), und sechs weitere Mitglieder der New Yorker Alumni-Gruppe trafen sich am Donnerstag, den 15. Juli, in der Reichenbach Hall in Manhattan, um ihr erstes Treffen nach dem Ausbruch der Coronavirus-Pandemie zu feiern. Gargiulo sagte, die Gruppe sei erfreut, sich wieder in der beliebten Bierhalle im deutschen Stil in Midtown zu treffen und sprach über das bevorstehende Alumni-Programm im September in Berlin für bis zu 30 Amerikaner, die an der Berichterstattung über die Bundestagswahl am 26. September interessiert sind, und über das Networking.
"Es bedeutete so viel für uns, nach anderthalb Jahren wieder zusammenzukommen, weil es bedeutete, dass RIAS New York zurück ist, aber auch, dass New York City zurück ist", sagte Gargiulo, der auch der US-Koordinator für Bewerber für das Alumni-Programm ist. Zu den Alumni, die ebenfalls an dem New Yorker Alumni-Treffen teilnahmen, gehörten Adam Reiss, Tiffany Zeno, TJ Speicher und Basti Hartung.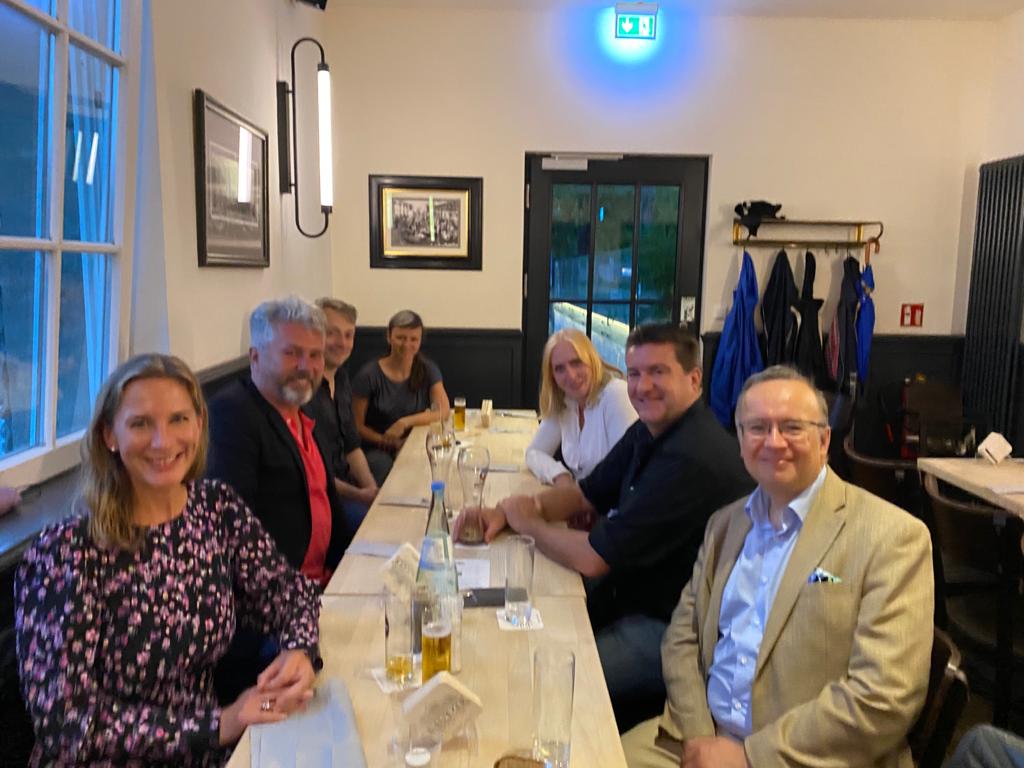 In Köln trafen sich Chapterleiter Martin Richter (zweiter von rechts) und sechs weitere Teilnehmer am Mittwoch, 14. Juli, in einem Brauhaus am Rhein. Die Teilnehmerzahl wurde durch starke Regenfälle in der Region am Abend reduziert, die am nächsten Tag zu verheerenden Sturzfluten in Ortschaften südwestlich von Köln führten. Die Anwesenden sprachen auch über das geplante Alumni-Programm in die Vereinigten Staaten Ende Oktober und darüber, ob die Vereinigten Staaten die Reisebeschränkungen für Bürger der Europäischen Union bald lockern werden – ein Thema, das Bundeskanzlerin Angela Merkel einen Tag später bei ihrem Treffen mit US-Präsident Joe Biden in Washington DC besprach.
"Ich denke, alle, die gekommen sind, hatten eine tolle Zeit", sagte Richter, der die deutschen Bewerber für das Alumni-Programm Ende Oktober in New York koordinieren wird. Zu den Teilnehmern des Alumni-Chapter-Treffens gehörten auch Bartosz Dudek, Claudia Davis und Kerstin Ruskowski.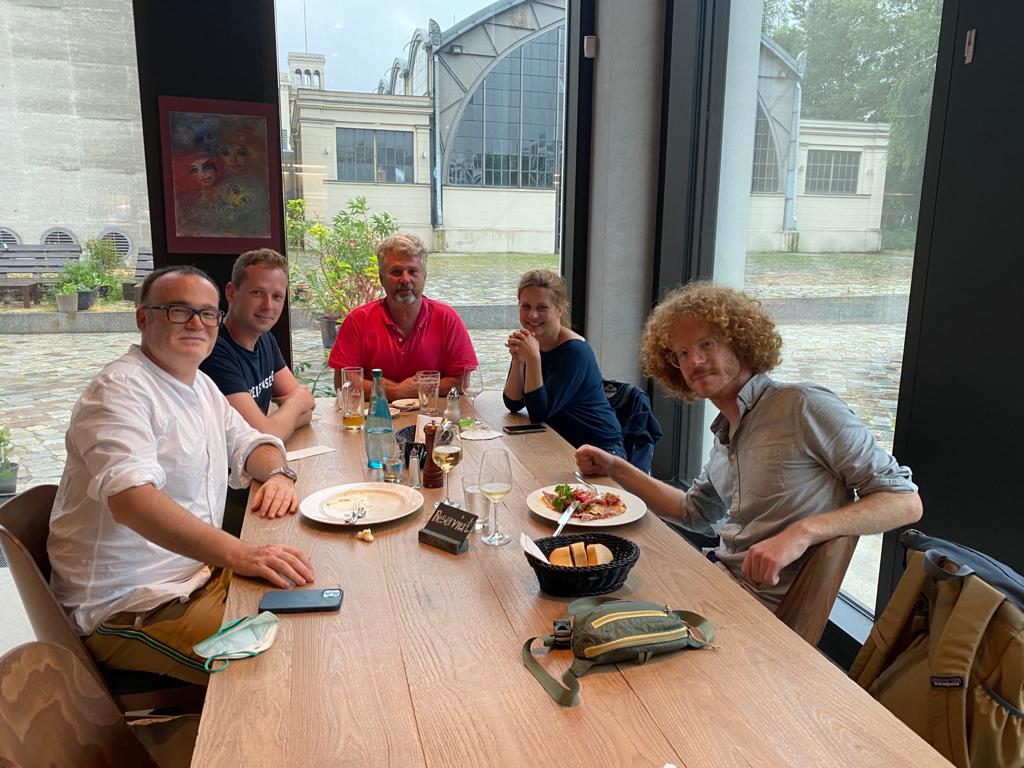 In Berlin traf sich das Chapter am 30. Juni. Vladimir Balzer (erster von links) organisierte ein Treffen in einem Berliner Restaurant im Regierungsviertel, an dem vier weitere Personen teilnahmen. Die Berliner Gruppe sprach über die anstehenden Wahlen in Deutschland, den Stand der Impfungen und Infektionsraten bei der Coronavirus-Pandemie, die Rekrutierungsbemühungen um neue Bewerber für die RIAS-Programme vor allem aus Ostdeutschland und das anstehende Alumni-Programm im Oktober in New York, nachdem das Programm im Oktober 2020 nach Washington abgesagt wurde. Die Gruppe feierte auch Benjamin Eyssels lange verzögerte Berufung nach Peking für den RBB-Hörfunk (rechts). Ebenfalls anwesend waren Dorte Störmann, Erik Kirschbaum und Philipp Eins.
---
7. Juli 2021
RIAS Alumni Program in New York für Oktober geplant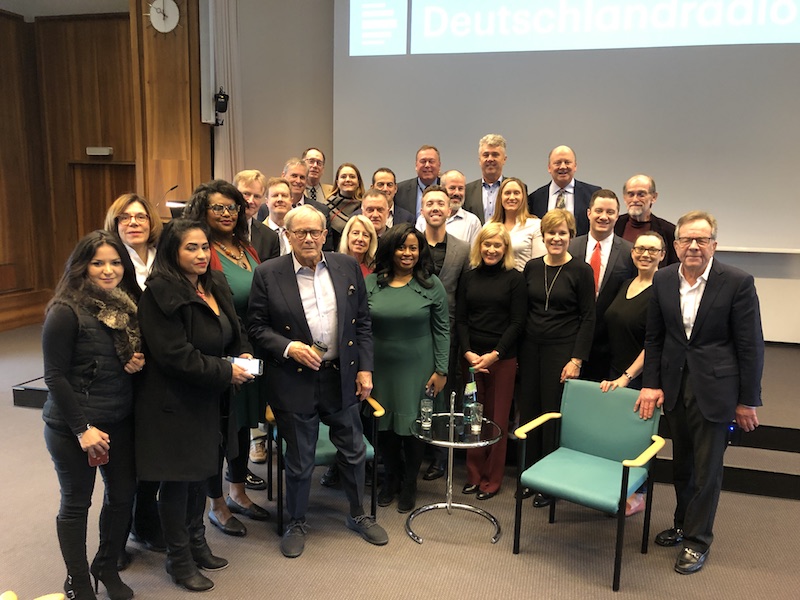 Die RIAS Berlin Kommission plant ein einwöchiges Alumni-Programm in New York für bis zu 30 Deutsche vom 24. bis 30. Oktober und lädt alle ehemaligen RIAS-Teilnehmer ein, daran teilzunehmen. Im Mittelpunkt des Programms stehen die Aufarbeitung der Coronavirus-Pandemie in New York sowie die wichtigen Wahlkampfschlachten um den Bürgermeister von New York und den Gouverneur von New Jersey.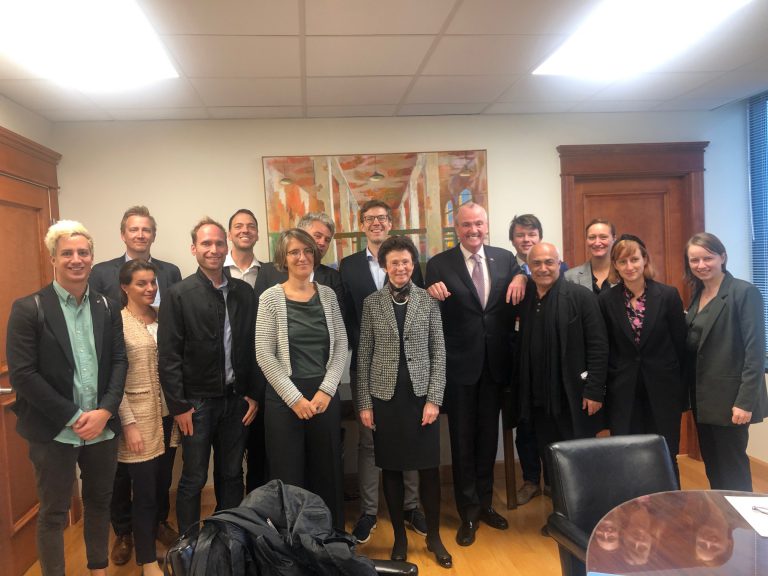 Nach dem großen Erfolg des Alumni-Programms im November 2019 in Berlin, das zeitlich mit dem 30. Jahrestag und den Feierlichkeiten zum Fall der Berliner Mauer zusammenfiel und bei dem viele der amerikanischen Alumni ihren Heimatsendern von den Ereignissen berichten konnten, werden die RIAS-Alumni-Programme in den Vereinigten Staaten und Deutschland in jedem zweiten Jahr stattfinden. Es gibt in 2020 auch ein Alumni Programm in Berlin von 20.-27. September.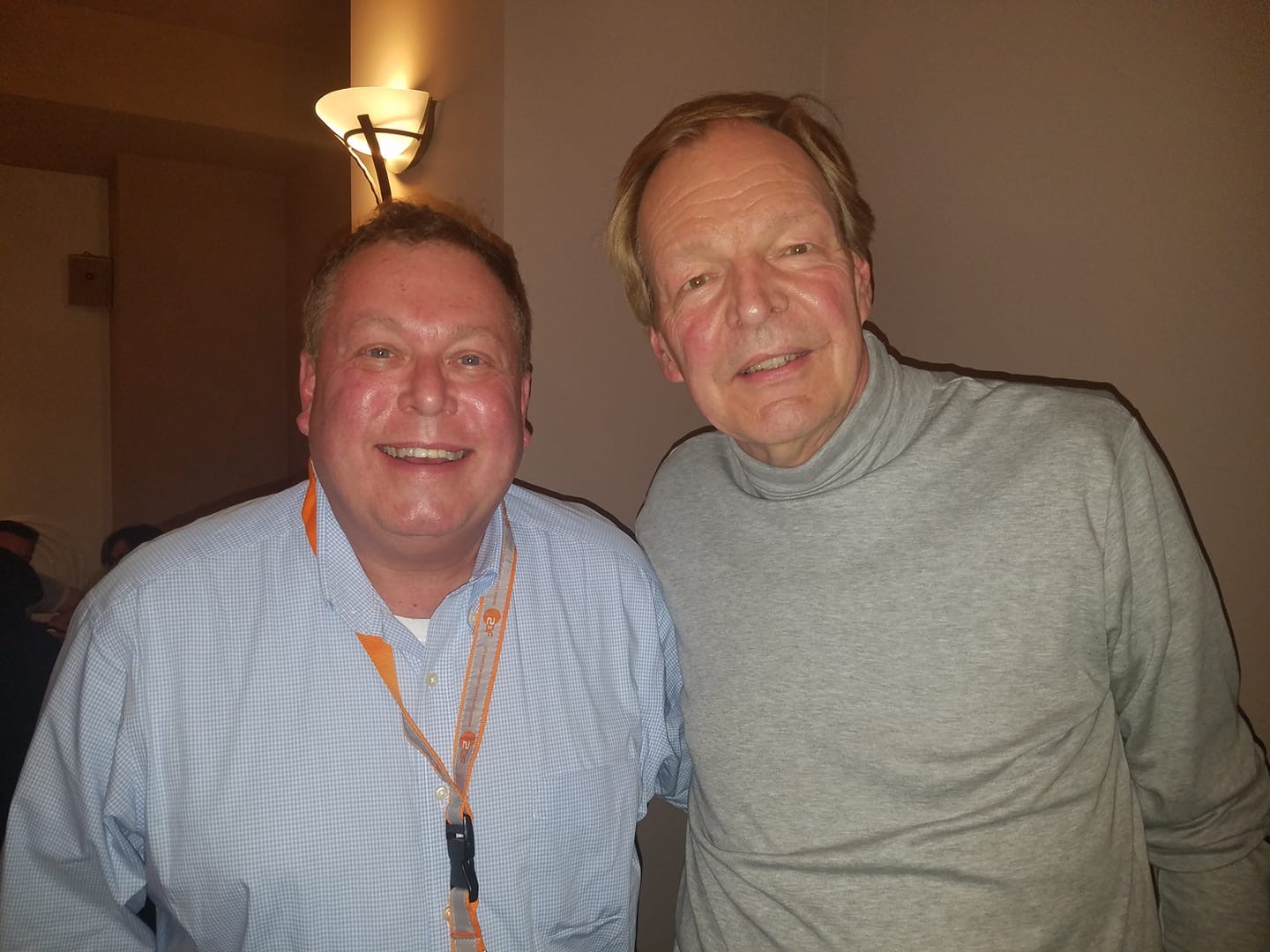 RIAS-Alumni-Teilnehmer sind willkommen und können gerne von New York aus für ihre Sender in Deutschland zu berichten oder nach New York zu kommen, um sich mit
Kollegen zu vernetzen. Es wird etwa zwei Termine pro Tag geben, so dass ausreichend Zeit für Networking mit amerikanischen und deutschen Journalisten bleibt, die in den letzten drei Jahrzehnten an den Programmen teilgenommen haben.
Auch amerikanische Alumni, die in New York leben, sind herzlich eingeladen, teilzunehmen.
Wenn Sie an einer Teilnahme interessiert sind, schreiben Sie bitte an Ihre lokalen Chapterleiter in Köln, Hamburg oder Berlin oder info@riasberlin.org oder kirschbaum@riasberlin.org für weitere Informationen. Wie in der Vergangenheit übernimmt der RIAS die Kosten für Hotel und Frühstück, eine Wochenkarte für das New Yorker U-Bahn-Netz und viele gemeinsame Abendessen während der Woche, während die Teilnehmer selbst für ihre Flugkosten aufkommen müssen.
---
29. Juni 2021
St. Louis Alumni-Chapter der RIAS Berlin Commission mit 3 mutige Alumni gegründet
Drei Alumni der RIAS Berlin Commission in St. Louis haben sich kürzlich zusammengetan, um ein lokales Chapter zu gründen. Damit folgen sie den Spuren der Chapter in New York, Washington DC, Texas/Oklahoma und Los Angeles. Außerdem gibt es Chapter in Berlin, Köln und Hamburg.
Rachel D. Lippmann vom St. Louis Public Radio, die 2017 am RIAS-Programm teilnahm, hat sich mit ihrem ehemaligen Kollegen Ryan Delaney, der 2019 in Brüssel und Deutschland dabei war, und Stephanie Carr, die 2018 dabei war, zusammengetan, um den Anlass kürzlich mit einem Abendessen in einem Sandwich-Pub namens The Gramophone in St. Louis' The Grove-Viertel zu feiern.
Rachel und Ryan hatten lange beim St. Louis Public Radio zusammengearbeitet, während Stephanie vor kurzem von Nashville nach St. Louis gezogen ist, um beim Sender KSDK, einem NBC-Ableger für St. Louis, zu arbeiten. Sie hatte bereits bei einem Lokalsender in Kansas City gearbeitet, als sie am RIAS-Programm teilnahm.
"Wir wissen, dass RIAS viel Wert auf den Aufbau eines Alumni-Netzwerks legt, aber da es vorher nur Rachel und mich aus der Gegend von St. Louis gab, scherzten wir immer, dass wir jeden Tag auf der Arbeit ein Alumni-Treffen hatten, weil wir nebeneinander saßen", sagte Delaney. "Stephanie dachte, es wäre hilfreich, aufzufallen, um sich gegenseitig zu finden… also tauchte sie in einem Deutschland-T-Shirt auf! Ich hatte Rachel seit über einem Jahr nicht mehr persönlich gesehen, also war das auch schön. Wir unterhielten uns über die Unterschiede unserer Reisen in den drei Jahren, in denen wir dabei waren (Stephanie war während einer Wahl dort; Rachel durfte nach Prag fahren!) Und wir unterhielten uns über den typischen Journalismus-Talk… Klatsch und Tratsch über unsere jeweiligen Outlets, wie es war, in Nashville während eines arbeitsreichen Jahres mit der Pandemie, einem Tornado und dem Weihnachtsbombenanschlag zu arbeiten."
Das St. Louis Chapter ist offen für alle RIAS Berlin Alumni oder Kandidaten für zukünftige Programme. Schreiben Sie an info@riasberlin.org für weitere Informationen. Es gibt noch keine konkreten Pläne für ein weiteres Treffen, aber die Alumni-Gruppe erwägt, ein Baseballspiel der St. Louis Cardinals zu besuchen.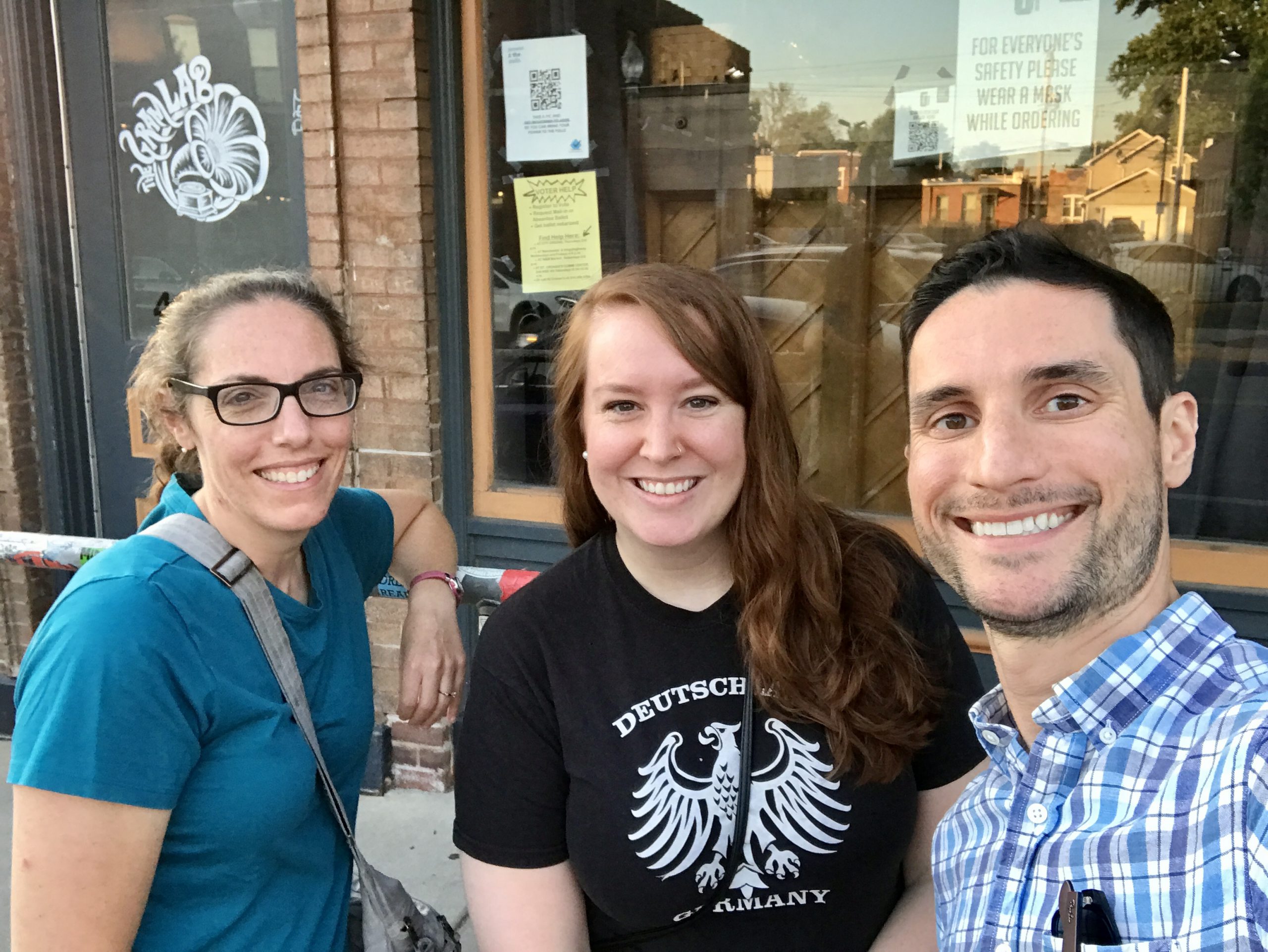 ---
10. Juni 2021
RIAS Programme werden im September wieder aufgenommen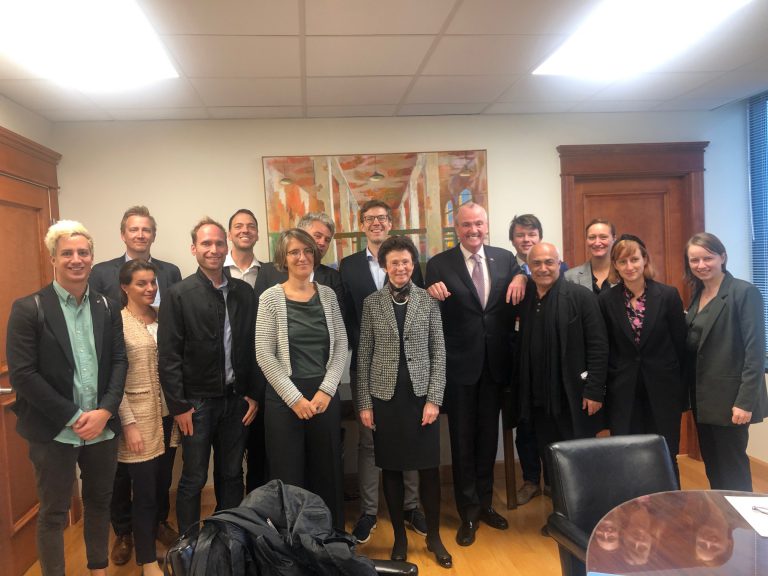 Der Vorstand der RIAS Berlin Kommission hat am Donnerstag, den 10. Juni, haben grünes Licht für Pläne zur Wiederaufnahme der Austauschprogramme im Herbst 2021 gegeben, nachdem die Beschränkungen in den Vereinigten Staaten und Deutschland durch die Covid-19-Pandemie, die die Programme für die letzten 15 Monate lahmgelegt hatte, zunehmend gelockert wurden.
Das erste persönliche Austauschprogramm für bis zu 30 amerikanische Alumni ist vorläufig für den 20. bis 27. September in Berlin geplant – zeitlich abgestimmt auf die Bundestagswahl am 26. September. Das zweite Programm für 10 bis 12 deutsche Rundfunkjournalisten würde am oder um den 4. oder 11. Oktober beginnen und drei Wochen lang laufen.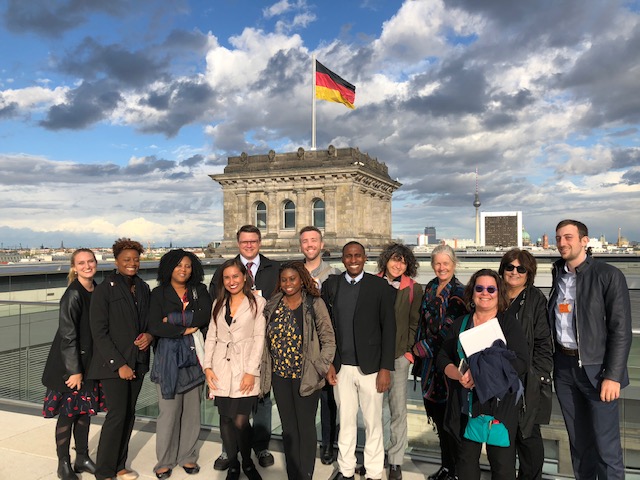 Die meisten der Journalisten dieses Programms im Oktober 2021 sollten bereits im März 2020 an einem Programm teilnehmen, das in letzter Minute abgesagt wurde. Ein drittes Programm, das für eine Woche Ende Oktober geplant ist, würde für bis zu 30 deutsche Alumni-Mitglieder entweder in New York oder Washington DC stattfinden. Diese und andere Details müssen noch entschieden werden.
Alle Alumni in den USA und Deutschland, die sich für das einwöchige Programm im September in Berlin oder das einwöchige Programm im Oktober in den USA interessieren, sollten sich an ihre lokalen Alumni-Chapter-Leaders wenden oder an info@riasberlin.org schreiben.
---
7. Mai 2021
Wann werden die RIAS Berlin Kommission Programme wieder stattfinden?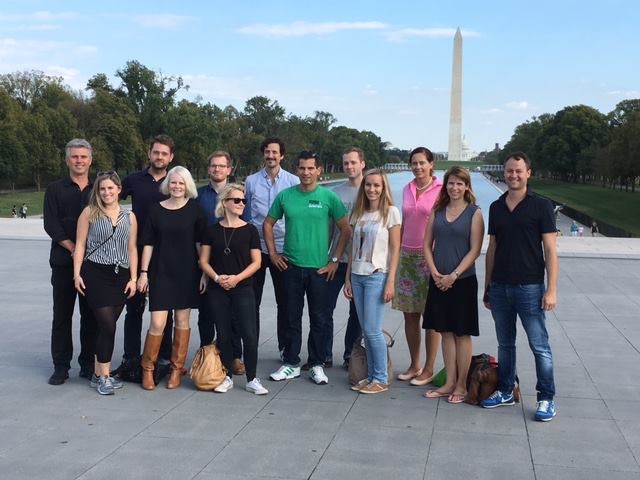 Die RIAS Berlin-Kommission hofft, ihre transatlantischen Austauschprogramme für deutsche und amerikanische Journalisten so bald wie möglich wieder aufzunehmen. Leider gibt es immer noch Reisebeschränkungen, die es Deutschen schwer machen, in die Vereinigten Staaten zu reisen, und es gibt auch Beschränkungen für US-Bürger, die in die Europäische Union reisen. Diese Reisebeschränkungen und eventuelle Quarantäneauflagen machen es unmöglich, Austauschprogramme durchzuführen. In der Zwischenzeit hat RIAS wöchentliche Zoom-Talks mit vielen unserer Gastredner veranstaltet, zu denen zukünftige Teilnehmer und Alumni eingeladen sind.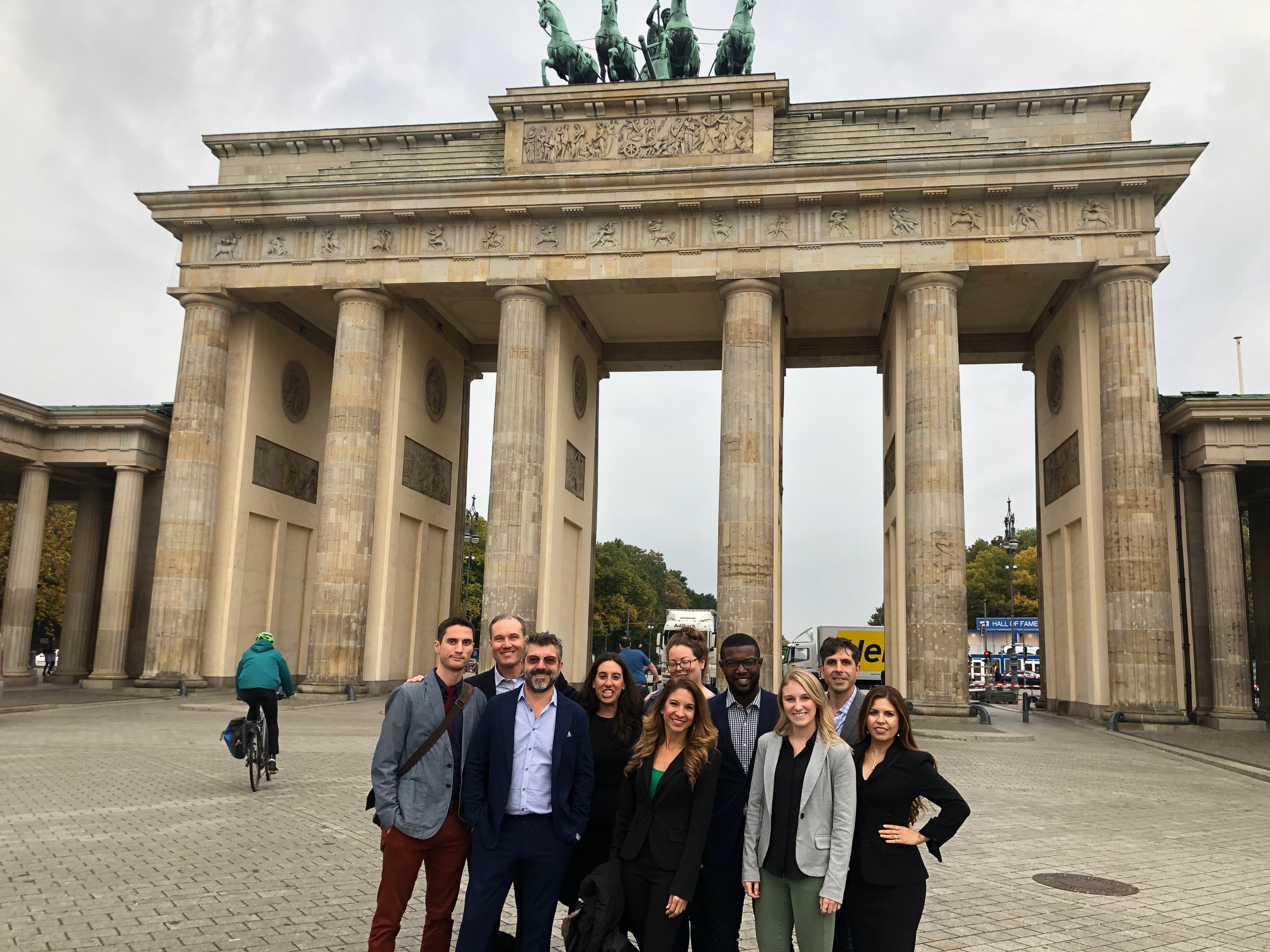 Die Reisebeschränkungen nach Deutschland und in die USA könnten in naher Zukunft aufgehoben werden, was den Weg frei machen würde, damit der RIAS seine Programme eventuell im Herbst 2021 wieder aufnehmen könnte. Ein weiterer Schlüsselfaktor für die Wiederaufnahme der Programme wäre die Wiedereröffnung der Redaktionen für Besucher sowohl in Deutschland als auch in den Vereinigten Staaten, da der Besuch von Journalisten in den jeweiligen Ländern einer der wichtigen Aspekte der Austauschprogramme ist.
Wenn die Impfbemühungen in den Vereinigten Staaten und Deutschland zu einer Lockerung der Reisebeschränkungen und zu einer weiteren Öffnung der Redaktionen in beiden Ländern führen, hofft die RIAS-Berlin-Kommission, vom 20. bis 27. September ein Alumni-Programm in Berlin für etwa 30 amerikanische Journalisten zu organisieren, um auch über der Bundestagswahl am 26. September zu berichten oder beobachten. Wenn möglich, soll auch das im März 2020 geplante Programm für etwa 15 deutsche Journalisten, das in letzter Minute abgesagt wurde, auf den 4. bis 22. Oktober verschoben werden, sowie ein einwöchiges Programm für etwa 30 deutsche Alumni vom 25. bis 31. Oktober, das ursprünglich für Ende Oktober 2020 geplant war. RIAS hofft, bis Mitte Juni 2021 eine Entscheidung über diese Programme treffen zu können.
Bitte schreiben Sie uns an info@riasberlin.org, wenn Sie weitere Fragen zu diesen oder anderen Programmen haben.
---
13. April 2021
RIAS Medienpreisträger nehmen an Zoom Talks teil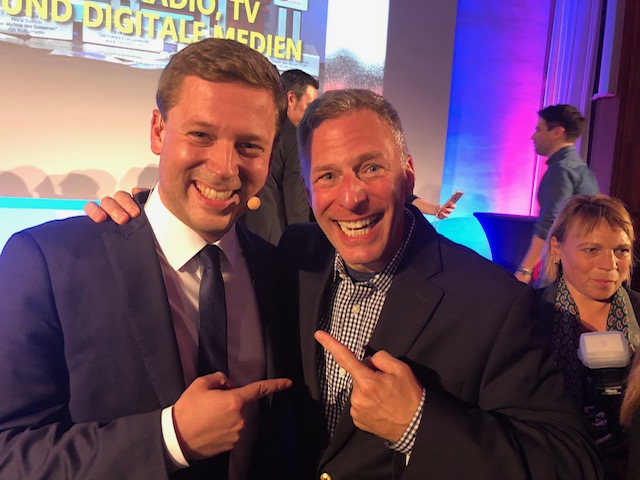 Die RIAS Berlin Kommission setzt ihr Programm der Zoom Talks am 14. April mit dem WNBC TV Morgen-Co-Moderator und RIAS Berlin Kommission's Medienpreis Co-Vorsitzender Michael Gargiulo fort. Gargiulo, ein Veteran der RIAS-Jury, wird über den Preis 2021, einige der Trends im diesjährigen Wettbewerb und über die Möglichkeit einer Preisverleihung in Berlin im November sprechen. Sie können links für die Geschichten der Preisträger auf der Website der RIAS Berlin Kommission unten anschauen oder anhören.
Danach wird es wöchentliche Gespräche mit den Gewinnern der RIAS Medienpreisen aus den USA und Deutschland geben. Ingo Zamperoni (ARD), Janek Speight (Deutsche Welle), Aylin Dogan und Gregor Schmalzried (Bayerischer Rundfunk), Michael Groth (Deutschlandradio Kultur), Ryan Delaney (St. Louis Public Radio) und Anna Ellmann/Max Osenstätter (Bayerischer Rundfunk). Alle RIAS-Alumni und Freunde der RIAS sind herzlich eingeladen teilzunehmen. Bitte schreiben Sie an info@riasberlin.org, um sich anzumelden.
– Am Mittwoch, den 14. April um 1500 Berliner Zeit/0900 EST, wird Michael Gargiulo von WNBC über den RIAS Medienpreis 2021 aus Sicht der Jury sowie über die Trends der Einreichungen sprechen.
– Am Mittwoch, den 21. April um 1500 Berliner Zeit/0900 EST, spricht Ingo Zamperoni von der ARD über seinen Film "Trump, meine Familie und ich", der den RIAS Hauptpreis 2021 gewonnen hat.
– Am Mittwoch, den 28. April um 1500 Berliner Zeit/0900 EST, spricht Janek Speight von der Deutschen Welle über seinen für YouTube gedrehten Film "Why US sports are more socialist than European football", der auch den RIAS Best Digital Preis gewonnen hat.
– Am Donnerstag, den 6. Mai um 1500 Berliner Zeit/0900 EST, spricht Aylin Dogan/Gregor Schmalzried vom Bayerischen Rundfunk über "Die andere Cancel Culture", die als beste Radiostory ausgezeichnet wurde.
– Am Dienstag, den 11. Mai um 1500 Berliner Zeit/0900 EST, spricht Michael Groth vom Deutschlandradio Kultur des Bayerischen Rundfunks über seine Geschichte über politische Protestsongs und Musik in den USA, über die er seit mehr als einem Jahrzehnt berichtet. Er wurde mit dem Sonderpreis der Jury ausgezeichnet.
– Am Dienstag, den 18. Mai um 1500 Berliner Zeit/0900 EST, wird Ryan Delaney vom St. Louis Public Radio über seine Geschichten über das deutsche Bildungssystem im Vergleich zum US-System während der Pandemie im Herbst 2020 sprechen.
– Am Mittwoch, den 26. Mai um 1500 Berliner Zeit/0900 EST, sprechen Anna Ellmann und Max Osenstätter vom Bayerischen Rundfunk über ihre Serie von Instagram-Stories zu politischen Themen. Sie haben den RIAS Next Generation Award gewonnen.
---
31. März 2021
Ausblick auf das Austauschprogramm der RIAS Berlin Kommission für 2021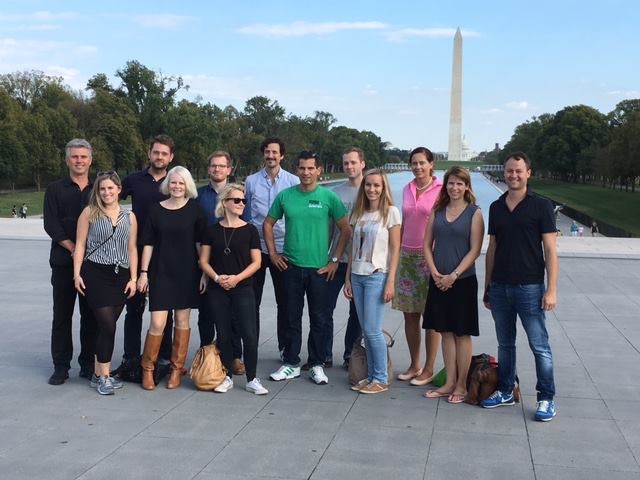 Die Journalistenaustauschprogramme der RIAS Berlin Kommission sind seit März 2020 aufgrund der Covid-19-Pandemie ausgesetzt. Die RIAS Berlin Kommission verfolgt die Situation sowohl in den USA als auch in Deutschland und hofft, die Programme wieder aufnehmen zu können, sobald wie möglich.
Es besteht die Möglichkeit, dass die Austauschprogramme Ende September oder im Oktober wieder aufgenommen werden, aber das würde von den Bedingungen in beiden Ländern abhängen – insbesondere von einer Wiedereröffnung der Redaktionen für Besucher und der Wegfall von reisebedingten Quarantänen – die einen sinnvollen Austausch ermöglichen würden.
Eine Entscheidung darüber, ob die RIAS-Programme im Herbst oder später wieder aufgenommen werden können, wird in Juni getroffen. In der Zwischenzeit nutzen Sie bitte unsere regelmäßigen Zoom-Talks mit prominenten Gastrednern und Alumni aus den USA und Deutschland, die wir in den letzten 10 Monaten durchgeführt haben. Bitte schreiben Sie info@riasberlin.org für weitere Informationen.
---
26. März 2021
Jury-Begründungen für RIAS Medienpreis-Gewinner 2021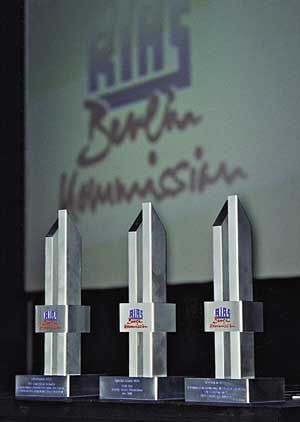 Eine unabhängige Jury aus amerikanischen und deutschen Journalisten zeichnet sechs Preisträger der RIAS Berlin Commission Medienpreis 2021 für Radio, Fernsehen und Digitales aus.
Die Jury für den 29. jährlichen Preis bestand aus drei Amerikanern und drei Deutschen. Die Preisgelder in Höhe von insgesamt 10.000 EUR werden den Gewinnern im Rahmen einer Gala, die voraussichtlich im November stattfinden wird, überreicht.
Der RIAS Medienpreis soll dazu beitragen, die Vielfalt des transatlantischen Dialogs zu stärken und das Interesse an den deutsch-amerikanischen Beziehungen zu vertiefen. Insgesamt werden 10.000 Euro Preisgeld an die sechs Gewinner vergeben, darunter ein neuer Hauptpreis in Höhe von 5.000 Euro für den herausragendsten Beitrag, der im Jahr 2020 ausgestrahlt wurde.
Hier sind die Begründungen der Jury:
---
RIAS Grand Prize:
Ingo Zamperoni, Birgit Wärnke – NDR: "Trump, meine amerikansiche Familie und ich"
"Trump, meine amerikanische Familie und ich" von Ingo Zamperoni und Birgit Wärnke ist in herausragender Weise ein Film über eine amerikanische Familie und gleichzeitig ein Film über die amerikanische Gesellschaft. Er zeigt auf einer Meta-Ebene die politische Spaltung des Landes durch einen privaten Blick, voller Empathie. Das war nicht zuletzt auch ein sehr persönliches Risiko für Zamperoni. Herausgekommen ist ein Film, der den Zuschauenden Einblicke in amerikanisches Leben und Denken gibt, die in dieser Form in Deutschland äußerst selten sind. Der Film wertet an keiner Stelle – er dokumentiert. Und zeigt uns damit, warum auch 'normale' Amerikanerinnen und Amerikaner Donald Trump zum Präsidenten gewählt haben. Die Erzählung zeigt die ganze Ambivalenz zwischen der großen Liebe zu einem großen Land und der wahrnehmbaren Fremdheit zu einigen gesellschaftlichen und politischen Entwicklungen in den USA.
---
RIAS Radio Award:
Aylin Dogan, Gregor Schmalzried – Bayern 2 (BR): "Die Andere Cancel Culture – von den unbekannten Opfer der Sozialen Medien"
"Cancel Culture" ist ein ätzendes Phänomen auf beiden Seiten des Atlantiks. In Ihrer nachdenklich stimmenden Reportage für Bayern 2 gehen Aylin Dogan und Gregor Schmalzried diesem emotionalen Thema nuanciert auf den Grund und erkunden die Spannungen und Missverständnisse, die es erzeugt. Sie berichten über die enorme Macht der "Cancel Culture" in den sozialen Medien und wie sie manchmal das falsche Ziel trifft – von einfachen Menschen bis hin zu Prominenten, die sich oft nicht wehren können.
-den-unbekannten-opfern-der-sozialen-medien/1804209
RIAS Digital Video Award:
Janek Speight – Deutsche Welle: "Why US sports are more socialist than European football"
Janek Speight ist ein ungewöhnlicher, spannender Blick auf die Routine im Profi Sport beiderseits des Atlantiks gelungen. Eine freche Umkehrung von Klischees, ein netzgemäßer und unterhaltsamer Vergleich des Unvergleichbaren. Er entdeckt geradezu "sozialistische" Aspekte im amerikanischen Sport – mit seinem Revenue-Sharing, den Gehaltsobergrenzen und dem Draft-System – und er beschreibt einen ziemlich brutalen Egoismus des großen Geldes in Europa. Sein YouTube-Beitrag für die Deutsche Welle vereint augenzwinkernde Leichtigkeit mit ernstgemeinter Analyse. Ein gelungenes Stückchen transatlantischer Journalismus.
RIAS Fellow Award Radio:
Ryan Delaney – St. Louis Public Radio, NPR: "How Germany Reopened Schools During a Pandemic"
2020 war das Jahr in dem für Millionen von Schulkindern plötzlich alles änderte. Die meisten Schulen in den USA waren geschlossen, die Schüler und Schülerin blieben zu Hause für "Remote Learning". Aber Deutschland hat seine Schulen während der Krise wieder geöffnet. Wie? Ryan Delaney von St. Louis Public Radio hat die Antworten zu dieser Frage in einer Reihe von Berichten gefunden. Er sprach mit einer Kindergärtnerin in Köln, einem Vater in Berlin, einer Schülerin in Bonn und viele anderen. Er hat den Zuhörern Zugang zu den Klassenzimmern geschaffen um die Auswirkungen der Entscheidungen auf die Bildung und Gesundheit einer ganzen Generation zu verstehen.
https://pulitzercenter.org/projects/how-germany-reopened-its-schools-during-pandemic
RIAS Next Generation Award Award:
Anna Ellmann, Maximilian Osenstätter – BR (Bayerischer Rundfunk): "News WG – Series of Instagram Stories on Political Issues"
Nachrichten – "nicht aus der Zeitung oder auf dem Fernsehbildschirm, sondern auf Instagram"? Das ist das Ziel der "News WG", die von jungen Journalisten der Bayerischen Rundfunk (BR) entwickelt wurde. Das News WG Team berichtet über Nachrichten auf eine Plattform, welche junge Leute verstehen und mit der die sich identifizieren können…und sie liefern die Nachrichten dorthin wo die jungen Leute aktiv sind…auf Instagram. Sie gehen fragen nach wie 'Dinge, die Politiker/-innen niemals sagen würden" oder "Welches Schwein liegt auf deinem Brot?"
https://www.instagram.com/news_wg/channel/?hl=de
Special Jury Prize Radio:
Michael Groth – Deutschlandradio Kultur: "Songs of Love and Protest – Wiederkehr des politischen Liedes in den USA"
Michael Groth hat in den letzten 15 Jahren für Deutschlandfunk Kultur eine Reihe herausragender Reportagen über die reiche Geschichte der Musik in den USA und ihren Einfluss sowohl auf die Politik in den USA als auch auf die Musik in Deutschland produziert. Von Features über Johnny Cash, Muddy Waters, Corky Siegel, Hank Williams, verschiedene Country-Musik und Mississippi-Delta Künstler bis hin zu den Chicago Blues und zur Musik aus Austin, und Nashville – Groth ist ein Meister seines Fachs. Für seine Zielstrebigkeit erhält Groth eine besondere Anerkennung der Jury für seine Beiträge.
https://www.deutschlandfunkkultur.de/die-wiederkehr-des-politischen-liedes-in-den-usa-songs-of.3780.de.html?dram:article_id=486565
---
19. März 2021
Sechs deutsche, USA Geschichten als RIAS-Medienpreisträger 2021 ausgewählt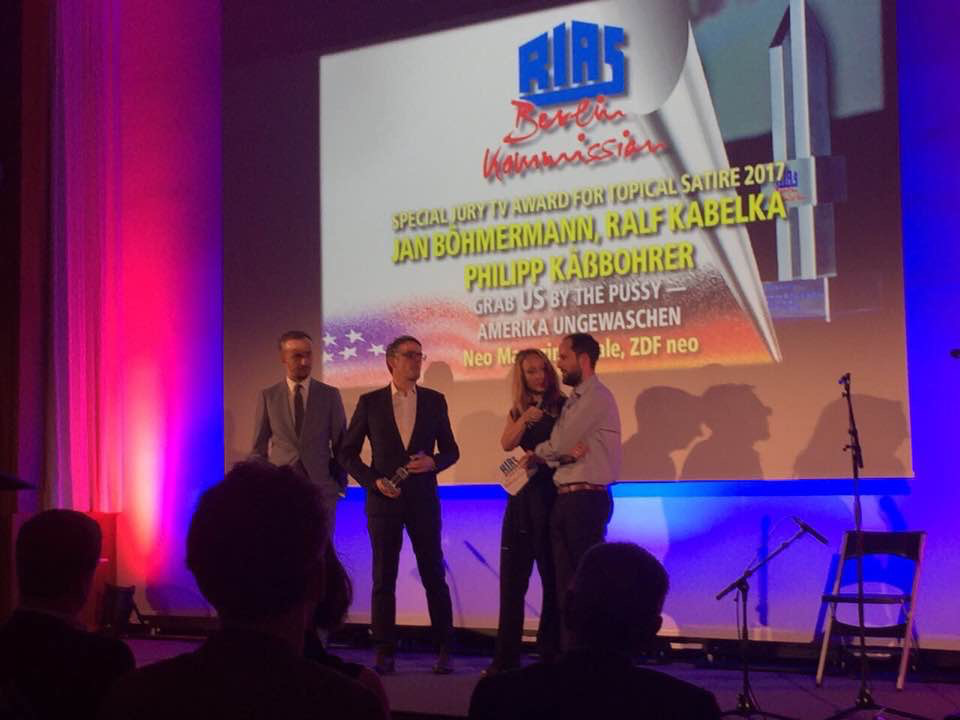 Die RIAS Berlin Kommission freut sich über die Bekanntgabe der Gewinner der diesjährigen RIAS Medienpreisverleihung. Der 29. jährliche Preis wird von dem deutsch-amerikanischen Austauschprogramm verliehen und ehrt das Beste des transatlantischen Rundfunkjournalismus mit ein Preisgelder in Höhe von 10.000 EUR.
Die Jury, bestehend aus sechs renommierten Journalisten aus den USA und Deutschland, wählte am 17. März 2021 in Berlin sechs Gewinner in den Kategorien TV, Radio und Digitale Medien aus. Zur Jury gehören: Co-Vorsitzender Michael Gargiulo (WNBC TV, New York), Co-Vorsitzende Anja Heyde (ZDF-MDR, Berlin) sowie Helge Fuhst (ARD, Hamburg), Yami Virgin (Fox 29, San Antonio, Texas), Matt Karnitschnig (Politico, Berlin) und Richard Meng (ehemals Frankfurter Rundschau). Wenn die Bedingungen es zulassen, wird die RIAS Berlin Kommission im November eine Gala veranstalten, um die Gewinner des Wettbewerbs von 2021 sowie den Abschluss von 2020, der aufgrund der Covid-19-Pandemie verschoben wurde, zu ehren.
Die diesjährigen Preisträger sind:
Rias Berlin Commision Grand Prize
Ingo Zamperoni, Birgit Wärnke "Trump, meine amerikanische Familie und ich", ARD, 2. November 2020
RIAS Radiopreis
Aylin Dogan, Gregor Schmalzried "Die andere Cancel Culture – Von den unbekannten Opfern der Sozialen Medien", Bayern 2 (BR), 13. September 2020 https://www.br.de/mediathek/podcast/zuendfunk-generator/die-andere-cancel-culture-von-den-unbekannten-opfern-der-sozialen-medien/1804209
RIAS Digital Media Award
Janek Speight "Why US sports are more socialist than European football", Deutsche Welle YouTube film, September 18, 2020 https://www.youtube.com/watch?v=x0yZQgDwn1A
RIAS Fellow Award
Ryan Delaney "How Germany Reopened Its Schools During a Pandemic", St. Louis Public Radio, NPR-Serie im Oktober/November 2020 durch das Pulitzer Center und die Education Writers Association https://pulitzercenter.org/projects/how-germany-reopened-its-schools-during-pandemic
Sonderpreis der Jury
Michael Groth "Songs of Love and Protest – Wiederkehr des politischen Liedes in den USA" am 30. Oktober 2020 und Anerkennung für mehr als 15 Jahre herausragende ausführliche Reportagen über US-Musik für Deutschlandfunk/Deutschlandfunk Kulturhttps://www.deutschlandfunkkultur.de/die-wiederkehr-des-politischen-liedes-in-den-usa-songs-of.3780.de.html?dram:article_id=486565
RIAS-Nachwuchspreis
Anna Ellmann, Maximilian Osenstätter "News WG" – Serie von Instagram-Stories zu politischen Themen für den BR (Bayerischer Rundfunk) https://www.instagram.co/news_wg/channel/?hl=de
---
27. Januar 2021
Einsendeschluss für RIAS Medienpreis rückt näher
Der Einsendeschluss für den RIAS Medienpreis 2021 am 31. Januar rückt näher. Journalisten aus den USA und Deutschland sind aufgerufen, ihre besten Geschichten für den jährlichen Wettbewerb einzureichen, der außergewöhnliche Radio-, Fernseh- und Digitalbeiträge auszeichnet, die im Jahr 2020 gesendet oder veröffentlicht wurden. Hier ist der link für die Anmeldeinformation.
Der Preis zeichnet sich durch einen neuen Hauptpreis in Höhe von 5.000 Euro aus für den herausragendsten Beitrag, der im Jahr 2020 in den USA oder in Deutschland ausgestrahlt wurde, sowie bis zu fünf Auszeichnungen in Höhe von 1.000 Euro für außergewöhnliche Radio-, TV- und digitale Geschichten. Die Gewinner werden außerdem zu einer Gala-Preisverleihung eingeladen, die voraussichtlich am 10. Juni 2021 in Berlin stattfinden wird – abhängig von den Reisebedingungen zu diesem Zeitpunkt. Die Gewinner werden von einer unabhängigen Jury ausgewählt, die sich aus drei amerikanischen und drei deutschen Top-Journalisten zusammensetzt.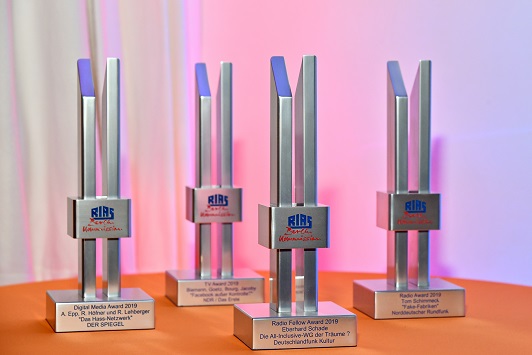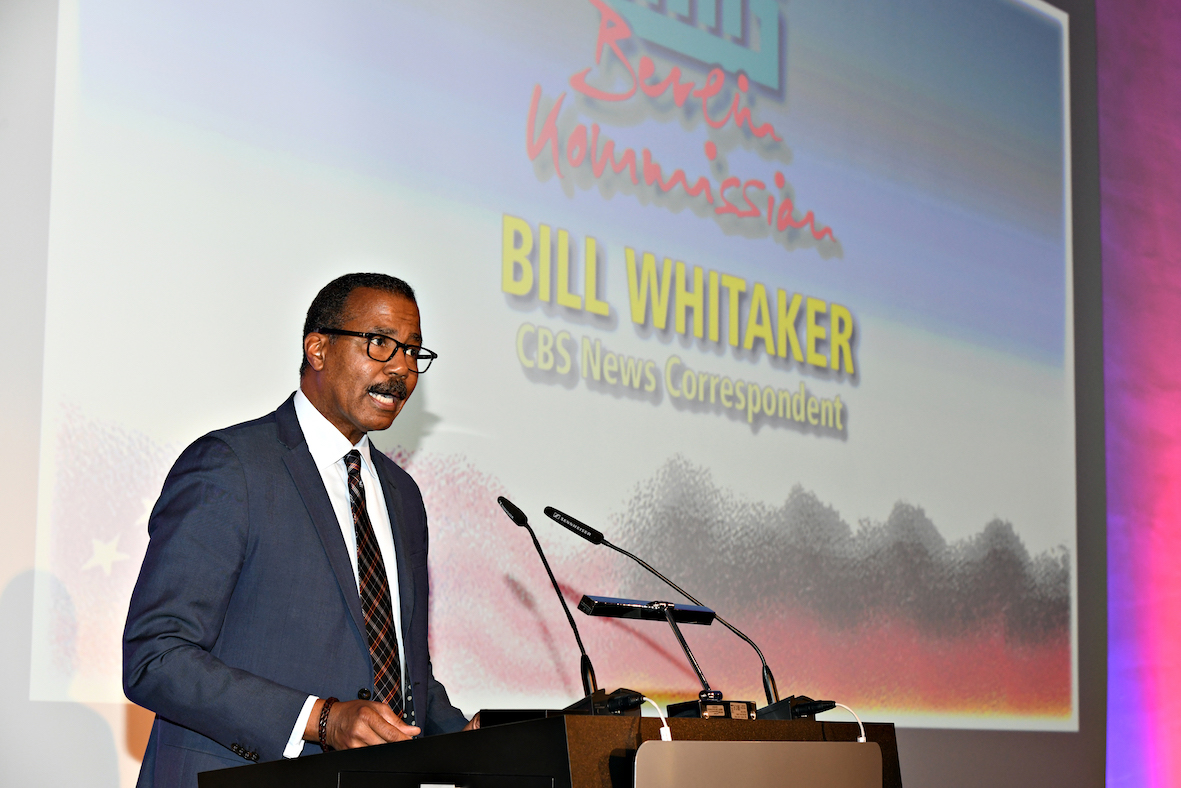 Der Rias-Medienpreis soll helfen, die Vielfalt im transatlantischen Dialog zu stärken und im deutsch-amerikanischen Verhältnis das Interesse aneinander zu vertiefen. Engagierter, unabhängiger Journalismus kann dabei viel zum wechselseitigen Verstehen und zum offenen gesellschaftlichen Diskurs über Werte und Ziele beitragen. Mit dem Rias-Medienpreis werden Journalistinnen und Journalisten ausgezeichnet, die außergewöhnliche Ideen zu transatlantischen bzw. beiderseits des Atlantiks interessierenden Themen qualitativ hochwertig umgesetzt haben. Die eingereichten Beiträge sollen über Tages- und Routineberichterstattung hinausgehen, in besonderer Weise Informationen aufarbeiten und gesellschaftliche Wirklichkeit beschreiben sowie den Dialog über Gemeinsamkeiten und Unterschiede im transatlantischen Verhältnis fördern.
Idealerweise sollen Beiträge: thematisch und/oder in ihrer Ausführung hervorstechen; sich kreativ mit neuen Fragen auseinandersetzen; die Vielfalt der gesellschaftlichen Realität kritisch beleuchten und deutlich machen; interessante Anregungen für die transatlantische Debatte enthalten; zum Nachdenken über Probleme und Lösungen anregen; Klischees über Deutsche und/oder Amerikaner hinterfragen; Trends im Alltag beschreiben, die von allgemeinem Interesse sind; in besonderer Weise zur gegenseitigen Neugier und zum Verständnis beitragen; geeignet sein, demokratische und gesellschaftliche Werte zu stärken.
Das Einreichungssystem wurde außerdem in diesem Jahr vereinfacht, indem es ist nicht mehr nötig ist, Tonbänder oder Tonaufnahmen einzusenden. Stattdessen müssen alle Beiträge elektronisch per E-Mail mit einer gültigen UR eingereicht werden, die bis mindestens März 2021 aktiv ist und von der RIAS-Jury ohne geschützte Informationen (Passwort) eingesehen werden können.
---
24. Januar 2021
WICHTIG! Aufruf zur Einreichung von Beiträgen
EINSENDESCHLUSS: 31. JANUAR 2021
Download PDF
---
13. Januar 2021
RIAS Zoom Talks eröffnen 2021 mit großer Alumni-Gruppe mit Michael Cohen
Mehr als 100 Alumni der RIAS Berlin Kommission und Freunde der RIAS nahmen an einem spannenden einstündigen Gespräch mit Michael Cohen, dem ehemaligen persönlichen Anwalt von Präsident Trump und selbsternannten "Fixer", teil.
In einem Gespräch, welches von Adam Reiss von NBC organisiert und moderiert wurde, beschrieb Cohen sehr detailliert seine lange und enge Beziehung zu Trump, bevor er sich im Jahr 2018 wegen Verstößen gegen die Wahlkampffinanzierung und anderer Verbrechen schuldig bekannte. Er steht derzeit unter Hausarrest, nachdem er zu einer dreijährigen Haftstrafe verurteilt wurde.
Hier sowie auf youtube gibt es das Interview in voller Länge:
Cohen erwähnte auch seine Vorhersage, dass es Turbulenzen rund um jeden Übergang von Trump zu einem anderen Präsidenten geben würde. Er sprach auch über das Leben im Hausarrest (und dass er in seiner Wohnung in New York für 22 Stunden pro Tag zu bleiben hat).
"Es gibt eine Menge Leute, die Sticheleien auf mich nehmen und sagen: 'Ah, Sie arbeitete mit ihm für ein Jahrzehnt und eine Hälfte, die Sie tat seine schmutzigen Taten für ihn Sie half, ihn zu fördern'," Cohen sagte. "Ja, das habe ich. Ja, ich habe in einer Weise gehandelt, die ich, wenn ich die Zeit zurückdrehen könnte, anders gemacht hätte. Haben wir hart mit Auftragnehmern gespielt? Sicher haben wir das getan, sicher haben wir Auftragnehmer betrogen und sicher haben wir Leute gezwungen, das zu bekommen, was wir wollten… Donald Trump ist die schlimmste Version von sich selbst geworden, die man sich vorstellen kann. Er lebt in einem alternativen Universum. Das Erschreckendste an der ganzen Sache ist, dass 70 Millionen Menschen für ihn gestimmt haben."
Cohen sagte, Trump glaube, dass er die Wahl am 3. November 2020 gewonnen hatte und könne nicht ergründen, wie es möglich war, die Wahl verloren zu haben obwohl er doch sieben Millionen mehr Stimmen im Jahr 2020 gewann, als er im Jahr 2016 gewonnen hatte. "Er glaubt wirklich, dass er die Wahl gewonnen hat," sagte Cohen. "Er hat ein zerbrechliches Ego und er glaubt wirklich, dass er diese Wahl gewonnen hat und sie ihm gestohlen wurde.""
RIAS alumna Allison Walker schrieb diesen Bericht über den RIAS-Zoom-Talk für ihren lokalen Sender in Dayton, Ohio. Cohen sagte, dass Trump den Aufruhr genieße und weiterhin eine "Hundepfeife" zu seinen 'Make America Great Again (MAGA) Anhängern blasen würde. "Donald Trump spricht in einem Code", sagte er. "Er wird sagen, dass diese Einweihung eine 'Schande für unsere Demokratie' ist, 'sie nehmen dir dein Recht weg' und 'deine Stimme und hören nicht auf den Willen des amerikanischen Volkes'."
Cohen sagte, dank verschärfter Sicherheitsvorkehrungen werde sich das Chaos, das am 6. Januar in Washington DC passierte, am 20. Januar bei der Amtseinführung von Präsident Joe Biden nicht wiederholen.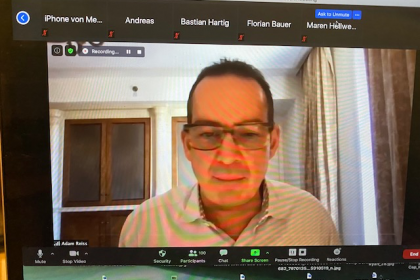 Cohen erzählte, dass Trump dazu neige, nicht mehr als fünf Minuten im Voraus zu denken und eine goldene Gelegenheit zum Wiederaufbau der Infrastruktur in den Vereinigten Staaten zu Beginn seiner Amtszeit verschwendet habe.
Cohen sprach auch über sein Buch "Disloyal: The True Story of the Former Personal Attorney to President Donald J. Trump" über seine Zeit, in der er für Trump arbeitete, sowie über seinen neuen Podcast namens Mea Culpa.
Als Teil der fortlaufenden Bemühungen, Alumni in den USA und Deutschland miteinander zu verbinden, werden die RIAS-Zoom-Gespräche auch im Jahr 2021 fast wöchentlich stattfinden. Wir hoffen, dass Sie an diesen aufschlussreichen Diskussionen teilnehmen können, um den Horizont zu erweitern und den Geist des RIAS durch die Covid-19-Krise hindurch lebendig zu halten.
---