DUKE UNIVERSITY MEDIA FELLOWSHIPS PROGRAMM 2010
Vierwöchiges Besuchsprogramm an der Duke Universität in Durham, North Carolina, für Journalisten aus den USA und aller Welt (2 Termine mit 2 bzw. 5 Teilnehmern).
22. März – 16. April | 18. Oktober – 12. November
Im Mittelpunkt des März/April-Programms stand wie stets im Frühjahr das renommierte "Fullframe Festival" mit Dokumentarfilmen aus aller Welt. Weitere Themen waren der Umbruch in der amerikanischen Medienlandschaft und der beginnende Wahlkampf für die Kongresswahlen. Die U.S.-Midterm-Wahlen am 2. November 2010 und deren Auswirkungen auf das politische Geschehen in den Vereinigten Staaten waren das Hauptthema des Oktober/November-Programms. Beide Programme beinhalteten einen mehrtägigen Besuch in Washington DC.
---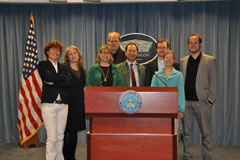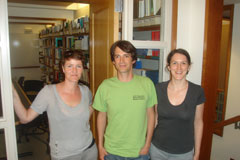 Links: Teilnehmer im Herbstprogramm. Rechts: Teilnehmer des Frühjahrsprogramms: Heike Keuthen, Markus Sambale, Veronika Schreiegg.
---
TEILNEHMERBERICHTE

Heike Keuthen
Go Duke! Go! Das Timing für einen Besuch an der Duke University hätte nicht besser sein können. Zum ersten Mal seit 2001 stehen die "Blue Devils" wieder im Finale der Basketball National Championship und das sonst eher etwas verschlafene Durham ist außer Rand und Band. Aussichtslos noch einen Platz in der Cameron Sportsarena zu bekommen, wo das Spiel gegen die Butlers aus Indiana auf dem Campus live übertragen wird. Also, ab nach Downtown in die Sportsbar — auch die natürlich zum Bersten gefüllt. Den Sieg im wichtigsten College-Basketball-Event des Jahres zu holen. Für die Studenten der Duke gibt es an diesem Abend nichts Wichtigeres…
Input statt Output — das hatte ich mir für die vier Wochen im RIAS-Media Fellowship Programm an der Duke University vorgenommen. Raus aus dem Redaktionsalltag.
Und Input gab´s reichlich: Bei den zahlreichen Veranstaltungen, Mittagessen und Treffen mit hochkarätigen Gesprächspartnern, die Laurie Bley, die Leiterin des Programms, für uns zusammengestellt hat. Und natürlich beim Erfahrungsaustausch mit den anderen Teilnehmern: Neun Kolleginnen und Kollegen aus Südafrika, den USA und Deutschland. Alle Branchen waren vertreten: Print, TV, Online, Film und sogar PR.
Eine ziemlich bunt gemischte Truppe. Doch bei den Diskussionsrunden an der Sanford School of Public Policy, dem Institut, an dem das Media Fellow Programm angesiedelt ist, wurde ziemlich schnell klar: Wir alle stehen vor den gleichen Herausforderungen.
Der Journalismus steckt weltweit in der Krise. Folgende Fragen sollten die Diskussionen in den vier Wochen immer wieder thematisch bestimmen: Wie kann ein qualitativ hochwertiger Journalismus weiter bestehen? Und: Liegt die Zukunft im Internet und wie bzw. kann man überhaupt mit journalistischen Inhalten im Web Geld verdienen? Um es gleich vorweg zu nehmen, die Lösung dieser Probleme haben wir nicht gefunden. Aber dafür jede Menge neue Ideen und Anregungen.
Brown-Bag Lunch mit Jay Hamilton, dem Leiter des "DeWitt Center for Media und Democracy" an der Duke. Hamilton ist Harvard-Ökonom. Er stellt uns sein letztes Buch vor: "News that´s fit to sell". Sein Blick auf den Journalismus ist rein wirtschaftlich. Und er kommt zu Schluss: Auch Nachrichten müssen sich verkaufen. Die Nachfrage bestimmt die redaktionellen Inhalte. Für mich als Nachrichtenjournalistin bei einem öffentlich-rechtlichen Sender ist das gewöhnungsbedürftig, die Diskussion darüber jedoch umso spannender.
In den USA stehen Journalisten immer mehr unter dem Druck zu einer eigenen Marke zu werden, die sich verkauft. Das wird spätestens beim Gespräch mit Bob Sullivan klar, einem New Technology-Reporter von MSNBC in New York, der für eine Woche an unserem Programm teilnimmt. Bob ist überall präsent. Im Internet hat er einen eigenen Blog, bei Facebook ist er natürlich auch, er twittert, er schreibt Bücher, gibt Interviews im Fernsehen, im Radio. "Fame is the currency of our times," sagt er. Um seine Position als Festangestellter in seiner Redaktion zu halten, muss er sich verkaufen. Jeder Journalist ist gleichzeitig PR-Agent in eigener Sache.
Wie sehr sich die Branche in den USA gerade verändert, wird auch bei unserem viertägigen Besuch in Washington klar — ein Highlight unseres Fellow-Programms. Laurie und die U.S.-Kollegen haben all ihre Kontakte aktiviert und ein beeindruckendes Programm auf die Beine gestellt: Besuche bei National Geographic, der Washington Post, der Newspaper Association of America, der PR-Agentur Edelman und National Public Radio (deren Nachrichten ich seitdem mindestens einmal am Tag online anhöre).
Bei der berühmten Washington Post ist grad alles im Umbruch: Mitten im Newsroom steht ein kleines Fernsehstudio — für Interviews und Chats im Netz. Print- und Internetredaktion wurden zusammengelegt. Alles ist neu. Auch für Amy Argetsinger, langjährige Celebrity-Kolumnistin und ehemalige Duke Media Fellow. Selbstverständlich bringt sie ihre Kolumne auch im Web permanent auf den neuesten Stand. Das Arbeitspensum sei schon enorm gewachsen, gibt sie zu. Doch mit dem gewohnten amerikanischen Elan werden die Probleme hier in Angriff genommen.
Zurück in Durham. Mit einer deutschen Uni ist Duke nicht zu vergleichen — der Campus erinnert eher an altehrwürdige britische Universitäten. Die Ausstattung ist auf dem allerneuesten technischen Stand. Allein in der Bibliothek kann man mühelos Tage verbringen. 50.000 Dollar kostet ein Studienjahr, dementsprechend hoch sind die Leistungen. Die Seminare sind klein, die Studenten enorm engagiert und gut vorbereitet. Auf sog. "Blackboards" im Uni-Web sind vorab die Pflichtlektüren für die Kurse veröffentlicht — mit den Professoren wird dann darüber diskutiert. Als Duke Media Fellow hat man die Chance an sämtlichen Vorlesungen und Seminaren teilzunehmen, ganz nach eigenem Interesse und beruflichem Hintergrund. Mein persönliches Highlight waren die Journalistik-Seminare bei Pulitzer-Preisträgerin Sarah Cohen und der Besuch einiger Kurse am Center for Documentary Studies. Es tut gut zu studieren, sich wieder wissenschaftlich Themen zu nähern, neue Ansätze zu erfahren — ganz ohne Zeitdruck.
Und nicht zu vergessen das Full Frame Dokumentarfilm-Festival, für das uns Laurie mit großem Einsatz Karten besorgt hat. Ein kleines, äußerst spannendes Festival mit vielen neuen und international ausgezeichneten Produktionen. Vier bis fünf Filme am Stück, vier Tage lang, ein Marathon, aber auch ein Muss für jeden Dokumentarfilm-Fan.
Go Duke! Go! Bei jedem Korb springt, Amy, Media Fellow aus L.A. und Duke Alumni auf. "Give me five!" Amy macht die Runde und ihre Begeisterung steckt selbst Basketball-Greenhorns wie mich an. Schneller kann ein Sport wohl kaum sein. Ein Korb jagt den nächsten. In der letzten Minute steht es 59 zu 59. Dann der erlösende Korb. Duke gewinnt mit 2 Punkten Vorsprung! In der Nacht brennen die Holzbänke auf dem Campus. Ein riesengroßes Freudenfeuer und jubelnde Studenten drum herum.
Die vier gemeinsamen Wochen an der Duke haben unsere Media Fellow Gruppe zusammengeschweißt. Wir sind Freunde geworden. Neben all dem spannenden beruflichen Input, der schönste Aspekt des Aufenthalts.
Und nun zu den Dankeschöns:
Ein riesiges THANK YOU SO MUCH geht an Laurie Bley, die mit ihrem außergewöhnlichen Einsatz und Elan dieses spannende Programm auf die Beine gestellt hat. Ganz persönlich möchte ich mich bei ihr und ihrem Mann Ty auch für ihre wunderbare Gastfreundschaft bedanken, mit der sie mich sogar nach Ende des Programms (der Vulkan mit dem unaussprechlichen Namen war Schuld) auf der "Poo Kitty Farm" versorgt haben. Ein dickes Dankeschön geht natürlich auch an Rainer Hasters und die RIAS Berlin Kommission, dafür, dass sie diesen unvergesslichen Austausch möglich gemacht haben.
——————
Markus Sambale
Zehn Gründe, warum Duke 2010 für mich ein voller Erfolg war:
Das Programm
Dreimal Fernsehen, dreimal Print, einmal Radio, einmal PR — dazu ich als Online- und Radiomann: so hat sich unsere Gruppe der Media Fellows zusammengesetzt. Fester Bestandteil des Programms an der Sanford School waren die "Media Challenges", in denen wir über unsere Arbeit und die Lage des Journalismus in unseren Heimatländern diskutiert haben — mit der Erkenntnis, dass Wirtschafts- undMedienkrise Journalisten in aller Welt ähnlich treffen, wir Deutsche mit einem starken öffentlich-rechtlichen System aber in mancher Hinsicht eine Exotenrolle spielen. Die Fragezeichen bei den klassischen Medien angesichts der Online-Revolution sind weltweit gleich groß, der Mangel an verlässlichen Antworten auch. Wie sich Online-Journalismus auf Dauer finanzieren kann, weiß niemand. In den USA scheinen Motivation (und Druck), sich auf die neue Lage einzustellen und Neues zu wagen, immerhin größer zu sein als in Deutschland. Aufschlussreich fand ich Einblicke in die Welt der Spin Doctors und Public Relations: Dank eines PR-Manns unter den Fellows — offenbar eine Premiere — gab es viele spannende Diskussionen über das Verhältnis von Unternehmen, Politik und Medien.
Der Campus
Die Duke University fasziniert: von der Architektur der Gebäude, die einen hinter der nächsten Tür Harry Potter vermuten lässt, bis zur außergewöhnlichen Lernatmosphäre auf dem Campus, die ich vier Wochen lang miterleben durfte. Viele Studenten fühlen sich geradezu familiär mit ihrer Uni verbunden und bekommen für mehrere Zehntausend Dollar Studiengebühren pro Jahr eine Menge geboten: hochkarätige Dozenten, die ihren Stoff so informativ wie unterhaltsam vermitteln und ein meist lockeres Verhältnis zu ihren Studenten haben; eine ausgefeilte technische Infrastruktur mit WLAN — sogar im Park; großzügige Sportanlagen vom Football-Stadion bis zur Laufstrecke; und natürlich die idyllischen Sarah P. Duke Gardens, in die man sich zum Lernen oder zur entspannten Lektüre der — auf dem Campus kostenlosen — New York Times zurückziehen kann.
Das Journalistische
Das Programm ließ wie versprochen genügend Raum für eigene Schwerpunkte: So habe ich in der riesigen Duke-Bibliothek zu Internet-Themen gestöbert, für ein Radiofeature zur Todesstrafe in den USA recherchiert und dazu an der Nachbar-Uni in Chapel Hill einen Politik-Professor als Experten interviewt. Und der Verkaufsstart des iPad passte perfekt in mein Themengebiet als Onliner, so dass ich spontan einen ersten Praxistest für meinen Heimatsender 1LIVE machen konnte.
Ami sein auf Zeit
Großes Plus des Duke-Programms ist das Eintauchen in den amerikanischen Alltag: Vier Wochen lang habe ich mich in den USA weniger als Tourist gefühlt, sondern mehr als Teilzeit-Amerikaner. Wir hatten unsere eigenen komplett ausgestatteten Wohnungen in der Appartment-Anlage "The Forest" — inklusive Riesenkühlschrank und Internetanschluss, dazu Fitnessraum und Pool auf dem Gelände. Vom Mietwagen über Leihhandys bis zu einem umfangreichen Info-Paket zur Begrüßung war alles organisiert, damit wir uns vom ersten Tag an zu Hause fühlen konnten.
Die Hauptstadt
Der mehrtägige Aufenthalt in Washington war ein abwechslungsreicher Streifzug durch das Hauptstadt-Amerika. Beim Treffen mit Journalisten verschiedener Medien ging es auch hier vor allem um die Frage "Wie stellen wir uns in der digitalen Welt auf"? Der Gang durch die Redaktionsetagen der Washington Post hat mir gezeigt, dass die Zeitung mit der eindrucksvollen Geschichte vor großen Problemen steht: Zwar gibt es einen schicken zentralen Newsdesk, der Zeitung, Online, mobile Ausspielungen und soziale Netzwerke versorgen soll. Doch es herrscht Unsicherheit: Wie soll man da jetzt zusammenarbeiten? Wie genau soll die Umstellung vom Printmedium zum Multimedia-Anbieter laufen? Und wie verdient man damit in Zukunft Geld? Auch beim Verband der Zeitungsverleger, beim National Public Radio und beim National Geographic Channel drehte sich viel um die Frage, wie man die Inhalte in Zukunft ans Publikum bringt. Highlights waren aber für mich am Ende nicht die offiziellen Termine, sondern die Einladung zu einer Party, auf der wir mit interessanten Leuten aus der liberalen Washingtoner Medien-, Kultur- und Politikszene gefeiert haben — auch wenn wir anfangs kaum rekonstruieren konnten, welche Um-mehrere-Ecken-Freunde uns da mit so viel Gastfreundschaft eingeladen hatten.
Das Festival
Fünfzehn Dokumentarfilme in vier Tagen — das schlaucht zwar etwas, hat sich aber definitiv gelohnt. Beim alljährlichen Full Frame Festival konnten wir Media Fellows uns brillante Filme ansehen, Produzenten treffen und auch hier eine der Ideen des Media-Fellow-Programms umsetzen — nämlich, sich auf Themen einlassen, die einem sonst nicht begegnet wären: vom berüchtigten "Angola State Prison" in Louisiana über Kinderarbeit in einer chinesischen Jeans-Fabrik bis zur skurrilen Geschichte um einen großen Spiegel, der einem verschlafenen Alpen-Dorf auch im Winter Sonne bringt.
Die Blue Devils
Go Duke! Der Schlachtruf des Basketball-Teams ist mir tagelang nicht aus dem Kopf gegangen: Schon zu normalen Zeiten dreht sich auf dem Campus viel um Sport und alles um die Blue Devils. Doch während unseres Programms gewann das Team um Coach K. auch noch den Meistertitel. Jubel und Begeisterung kannten keine Grenzen. Höhepunkt nach dem Public Viewing in der Kneipe war das Bonfire in der Nacht des Sieges: Angefeuert von Tausenden Menschen auf dem Campus kippen Studenten traditionell eine Holzbank nach der anderen ins Feuer. Szenen wie aus einem Filmskript — die Sahnehaube für die einzigartige Chance, das Campusleben an einer amerikanischen Elite-Uni kennenzulernen.
Die Fellows
Viermal USA, dreimal Deutschland, zweimal Südafrika: Die Herkunft der Fellows in meiner Gruppe mag nicht so vielfältig gewesen sein wie in manchen anderen Jahren, aber die Mischung stimmte. Privat wie professionell hatten wir uns nicht nur eine Menge zu erzählen, sondern sind schnell zu einer eingeschworenen Truppe und echten Freunden geworden. Dass man morgens engagiert über Politik und Medien diskutiert, abends entspannt bei Burritos zusammensitzt, geht nur, wenn die Chemie stimmt wie bei uns. Das lange Wochenende an der Atlantik-Küste in einem Haus direkt am Meer war traumhaft und der beste Start in die gemeinsame Zeit.
Laurie
Ohne Laurie wäre das Duke-Programm wohl nicht das Duke-Programm. Mit viel Energie und Herzblut hat Laurie ein Programm auf die Beine gestellt, in dem wir aus den vier Wochen das beste herausholen konnten. Dazu gehörten neben den Veranstaltungen an der Uni ein Empfang zu Ehren der Media Fellows, zahlreiche Lesungen,Treffen mit Journalisten, Autoren und Politikern, Tipps für Gesprächspartner, der Trip nach Washington, die Pressetickets für das Full Frame Festival — und natürlich die Einladung zu ihr nach Hause, zu einem unvergesslichen Nachmittag mit Barbeque auf ihrer Farm. Thank you, Laurie!
Die RIAS Berlin Kommission
Für mich hat das Duke-Programm seine Versprechen voll eingelöst. Es ermöglicht eine inspirierende Auszeit mitten im Berufsleben und bietet eine einzigartige Chance: durchatmen können und das eigene journalistische Arbeiten überdenken, Kontakte knüpfen und Freunde gewinnen, Englisch auffrischen und Horizonte erweitern, viel Input und Austausch — und jede Menge Spaß. Vielen Dank an Rainer Hasters und die RIAS Berlin Kommission!
——————
Veronika Schreiegg
Die Universität
Wer an die Duke-University kommt und Bilder deutscher Unis vor Augen hat, der wird positiv überrascht sein. Es liegen Welten zwischen akademischen Vorträgen in den USA und den Vorträgen hierzulande. Zumindest die Professoren an der Duke, die ich erleben darf, lehren vor kleinen Klassen in einem smarten, gewitzten Stil. Viele der journalistischen, medienpolitischen oder auch medienrechtlichen Vorträge und Kurse kreisen um das Thema Internet. Wie kann Qualitätsjournalismus in der "Copy-Paste"-Kultur des Internets überleben? Wie kann man sein geistiges Eigentum schützen? Sollte man es überhaupt noch schützen? Wie verdiene ich als Verleger oder Journalist im Netz? Es sind dieselben Fragen, die momentan auch in Deutschland diskutiert werden. Man muss schon ein sehr positiv denkender Mensch sein, um die Zukunft der Medien rein als großes, spannendes Experimentierfeld wahrzunehmen. Aber eine andere Chance hat man nicht. Das wird in Vorträgen wie "The Public Domain" von James Boyle deutlich.
Doch eigentlich macht man dieses Programm an der Duke mit, um nicht immer im eigenen Saft zu schmoren. Also kann man sich unter wahrscheinlich mehr als 1000 Kursen entscheiden, welche man besucht. Sehr launig fand ich zum Beispiel einen Hip-Hop-Kurs am Musikinstitut, in dem die Studenten die verschiedenen "Signature Sounds" unterschiedlicher Hip-Hop-DJs zu differenzieren lernten.
Challenges
Wir treffen uns einmal pro Woche, um uns gegenseitig von den Herausforderungen zu erzählen, die der Job an uns stellt. Die Südafrikanerinnen beeindrucken mich am meisten. Da sitzt eine Reporterin, die für eine Wochenzeitung schreibt und tagtäglich mit Korruption zu tun hat, neben der Geschäftsführerin eines privaten Newschannels. Sie fühlt sich sichtlich nicht ganz wohl dabei, die hofberichterstatterischen, ellenlangen NIFs ihres Senders zu präsentieren. Beide Journalistinnen arbeiten in einem privaten Mediensystem. Während die eine das korrupte System anprangert, lamentiert die andere über die schlechte Ausbildung ihrer Moderatoren und Redakteure. Beide eint die Furcht vor den multimedialen Dimensionen des Journalismus: Wie können sich Fernsehen und Verlag in Zeiten des Internets qualitativen Journalismus noch leisten? Die Frage kommt uns allen mittlerweile bekannt vor. Egal ob in den Diskussionen unter den Fellows oder in den Diskussionen mit Dozenten, es ist so, als ob wir alle nach dem Heiligen Gral suchen würden. Als uns der erfolgreiche Blogger Bob Sullivan über seine Strategie der persönlichen Selbstvermarktung erzählt — seiner Meinung nach der einzige Weg, um als Journalist überleben zu können –, da stellen sich vor allem bei uns deutschen öffentlich-rechtlichen Gewächsen die Haare auf: Ein Szenario des gläsernen Journalisten, der auch noch sein Privatleben in aller Öffentlichkeit prostituiert, tut sich vor unserem inneren Auge auf. Andererseits: Glücklich der, der sich solche Bedenken leisten kann!
Washington
Wir besuchen in Washington unter anderem die Washington Post, die PR-Agentur Edelman, den National Geographic und NPR (National Public Radio). Als Radiomacherin ist letztere Station am spannendsten für mich, zumal NPR einen bewundernswerten Internetauftritt hat. Der ist unter anderem der Musikchefin Anja zu verdanken. Während eines Barbecues am Abend bekomme ich die Gelegenheit, mich ausführlich mit ihr zu unterhalten: Nur eines der vielen bereichernden Gespräche, die sich während des Programms ergeben.
Full Frame Festival
Das Dokumentarfestival ist eines meiner persönlichen Highlights. An vier Tagen sehe ich sechzehn Filme, die in Deutschland wahrscheinlich nie laufen werden. Mit viel Glück auf Arte…
Der Forest, Kulinarisches & Sports
Eine Siedlung im Wald. Das Appartement ist sehr gut ausgestattet. Mit unseren überdimensionierten Herden und Kühlschränken hätten wir Gelegenheit, uns selbst und uns gegenseitig zu bekochen. Es stellt sich aber heraus, dass es in Durham ausgesprochen gute und auch preisgünstige Restaurants gibt. Mein persönlicher Tipp: die Oysterbar in der Main Street. Dort gibt es freitags immer Austern zum halben Preis und — abgesehen davon — eine solide Fischkarte.
So gerne unsere Gruppe essen geht, so begeisterungsfähig ist sie auch für Sport. Das fällt einem aber auch nicht schwer, denn auf dem Campus trägt jeder Sportklamotten (selbstverständlich mit Duke-Schriftzug oder wahlweise mit dem Schriftzug des campuseigenen Basketball-Teams bedruckt) nicht nur aus modischen Gründen; hier scheint man es mit dem gesunden Geist im gesunden Körper generell ernst zu nehmen. Wohin das Auge reicht, überall sehe ich joggende Studenten, und in einem riesigen Fitnesscenter kann man sich sogar seinen eigenen "Personal Trainer" mieten. Die meisten von uns gehen aber entweder in den etwas bescheideneren Trainingsraum im Forest oder erkundschaften die Laufwege rund um die Wohnanlage. Sie enden leider nach relativ kurzer Zeit an dicht befahrenen Straßen. Deshalb lohnt es sich, zum nahe gelegenen "Al Buehla-Trail" zu fahren und dort seine Runden zu drehen.
Aber die Sportbegeisterung am Campus verdient noch ein paar Worte mehr: Wir haben das Glück ein Finalspiel der campuseigenen Basketballmannschaft zu erleben. Nachdem die "Blue Devils" gewinnen, herrscht dort ein Zustand, der sich am besten mit der Atmosphäre nach einem gewonnenen Fußball-WM-Länderspiel vergleichen lässt. Nur habe ich selbst bei einem gewonnenen WM-Spiel noch nicht erlebt, dass danach Parkbänke brannten! -Bonfire nennt man das hier.
Die Gruppe
… funktioniert: Es gibt keine Prügeleien um die Autoschlüssel, wir fahren gemeinsam ans Meer, wir gehen gemeinsam essen, wir bilden sogar eine kleine Laufgruppe. Und doch klinkt sich jeder nach Lust und Laune ein und aus. Der berühmte Lagerkoller stellt sich erst gegen Ende der vier Wochen ein. Dennoch, ich persönlich habe eine moralische Bewährungsprobe zu meistern: Der fehlende Facebook-Account drängt mich mittlerweile immer mehr an den Rand der Gesellschaft. Das wird auch im Zusammenleben mit den Fellows deutlich. Über die frisch geposteten Fotos unseres Trips ans Meer wird nicht mehr viel gesprochen — sie werden stattdessen kommentiert. Und wer nicht ein Facebook-Freund wird, der verliert sich schnell aus den Augen. Ich finde es sehr freundlich, dass mich mittlerweile doch noch der ein oder andere Fellow kontaktiert, um mir Lösungsvorschläge anzubieten, wie ich meine Privacy wahre und dennoch am Voyeurismusgeschäft teilhaben kann. Charlotte, danke für die Facebook-Einladung deiner Katze an meinen Hund, aber der soll erst mal lesen und schreiben lernen, bevor er seine Abende am Macbook verbringt.
---
TEILNEHMERBERICHTE

Axel Dorloff, Rundfunk Berlin Brandenburg Inforadio, Berlin
Gleich beim ersten Spaziergang durch das angenehm mild klimatisierte Durham fällt auf, dass Halloween vor der Tür steht. Es sind die Kürbisse, die die Nordamerikaner um diese Jahreszeit vor ihr Haus schmeißen, um Autofahrern und Flaneuren zu signalisieren, dass Oktober ist. Zu Halloween holt man sie dann ins Haus, prämiert das schönste Exemplar und lässt dann alle Kürbisse unter Anteilnahme der Familie feierlich verfaulen. Happy Halloween!
Die Duke University in Durham, North Carolina. Was für ein schöner Campus! Beim Orientierungsspaziergang über das Gelände der Universität staune ich nicht schlecht. Fast alle Gebäude im neugotischen Baustil, hohe Bäume, großzügige Rasenflächen, auf denen bunt angezogene Studentinnen und Studenten in kurzen Hosen und Flip Flops auf und ab spazieren. Und die Duke Gardens, ein beeindruckender Park mit exotischen Pflanzen und einladenden Bänken. So stellt man sich eine Campus Universität in den USA vor. Ich ahne, dass es sich hier sehr angenehm studieren lässt.
Angedockt sind wir am DeWitt Center for Media & Democracy am Sanford Institute for Public Policy der Duke Universität. Hier haben wir unser eigenes Büro, die Media Fellows aus Japan, Südkorea, Nicaragua, USA und Deutschland. Hier treffen wir uns regelmäßig zum Colloquium, bei dem jeder von seinen Erfahrungen, seiner Arbeitswelt und seinem Mediensystem zuhause berichtet. Und auch die Wissenschaftler heißen uns willkommen: Direktor James T. Hamilton erzählt uns gleich zu Anfang von seiner ökonomischen Theorie des Journalismus, All the News that fit to sell. Oder Sarah Cohen, ihr Thema: digitale Recherchewege im investigativen Journalismus.
Die vielen Journalisten, die wir in den vier Wochen treffen dürfen: Bob Woodward stellt sein neues Buch "Obama's Wars" vor, und man kann sich danach vorstellen, wie gerne Woodward an seinem eigenen Mythos bastelt. David Brooks von der New York Times erläutert, wie er das politische Klima in den USA einschätzt, was sich unter Obama verändert hat und warum er aktuell Chancen für eine dritte Partei der Mitte sieht. Imtiaz Gul erklärt die verwirrenden politischen Konstellationen in Pakistan und Jane Mayer vom New Yorker führt aus, welche Auswirkungen der "Krieg gegen den Terror" auf den Journalismus hat. Und das ist nur eine Auswahl. Dazu kommen Walter H. Pincus von der Washington Post, Mark Mazzetti von der New York Times, David Crabtree von WRAL und einige andere. Viele inspirierend, manche weniger, aber immer die Chance zuzuhören und reflektieren, weit weg vom Redaktionsalltag in Deutschland.
Midterm Election: von Anfang an ein großes Thema, wir kommen drei Wochen vor Wahltermin an. Verlieren die Demokraten eine Kammer des Kongresses an die Republikaner, oder sogar beide? Wie hart wird Obama abgestraft, was hat die monatelange Mobilisierung der Tea-Party-Bewegung gebracht? Bei der ersten Tasse Kaffee morgens ist die bevorstehende Wahl regelmäßig Gesprächsthema im Radiosender NPR. Eingestimmt werden wir von Karen Price und ihrem Film HouseQuake, eine Dokumentation über die Midterm Election von 2006. Damals haben die Demokraten zuletzt gelacht und beide Kammern gewonnen. Dieses Mal gewinnen die Republikaner die Mehrheit im House of Representatives zurück. Den Wahlabend gucken wir im Sanford Institute for Public Policy, wo in diversen Hörsälen die Wahlsendungen auf Leinwände übertragen werden. Aber diese Wahlen mit Zeitverschiebung, bei denen um 18 Uhr keine verlässliche Hochrechnung kommt — das sind wir ja irgendwie nicht gewöhnt. Dafür gibt es am nächsten Tag "Election Digestion", eine Analyse der Wahl mit Politikwissenschaftlern und Politikberatern.
Der Trip nach Washington D.C. — was für ein Glück, dass just an diesem Wochenende der "March to Restore Sanity" von Jon Stewart stattfindet. Washington ist voll mit Menschen, die mit bunten Plakaten und lustigen T-Shirts zur Mall pilgern und zeigen wollen, dass Amerika mehr ist als Tea-Party und Sarah Palin. Wir haben das Glück, am Abend vorher auf einer Pre-Rally Party mit Menschen zu sprechen die gerade Plakate malen und über ihre Gründe erzählen, an dieser Veranstaltung teilzunehmen. Und: wir fahren mit dem Floß auf eine geheimnisvolle Insel und gucken uns den Radiosender NPR und das Pentagon von innen an. Alles mittendrin statt nur dabei.
Ashville, in den Bergen. "Where altitude affects attitude." Unser erster Wochenend-Trip. Auch dafür bleibt Zeit. Erst für ein paar Dollar tanken und dann gen Westen. Dorthin, wo das Laub leuchtend rot und gelb an den Bäumen hängt, wo gerne vegetarisch gespeist wird, wo sich die Straßenmusiker die Gitarre in die Hand geben und wo es Spezialitäten-Geschäfte mit exquisiter Schokolade gibt. Und wir wandern den Mount Mitchell rauf. Den höchsten Berg der Appalachen, einige hundert Meter auf den Gipfel hoch und wieder runter.
Basketball und Coach K. Das eine ist vom andern an der Duke University nicht zu trennen. Coach K ist Coach Mike Krzyzewski. Ein Heiliger in Durham, im dreißigsten Jahr Trainer, National Champion 2010 und bestimmt auch 2011 (ich lege mich hier fest). Wir bekommen die seltene Gelegenheit, das Duke Basketball Team beim Training zu beobachten. Coach K moderiert und wir sitzen auf der Tribüne des legendären Cameron Crazy. Noch schöner wäre es mit diesem Lunch Bag, den all die anderen haben. Aber gut, alles geht nicht.
North Carolina State Fair. Dieser Jahrmarkt der alten Schule ist gelebte Kultur der Südstaaten, seit über 150 Jahren. So wertvoll wie Feldforschung in einem Soziologie-Hauptseminar. Hier trifft man den Trucker mit dem "Vote Republican" Anstecker. Es gibt Mais vom Grill und Buden, wo es alles "deep fried" gibt. Ein frittiertes Snickers, ein frittierter Cheeseburger und frittierte Macaroni & Cheese. Und danach Cheesecake dipped in Chocolate. Und Turkey Legs so groß wie menschliche Schienbeine. Wenn ich wieder mal in der Gegend bin, gucke ich wieder vorbei, versprochen.
Fazit. Was Programm-Direktorin Laurie Bley für uns Media Fellows auf die Beine gestellt hat, war fantastisch. Dafür einen riesigen Dank! Die Duke University und das RIAS Programm bieten so viel, dass man sich wünscht, deutlich länger zu bleiben, als die vier Wochen. Egal, welches Spezialinteresse man pflegt, welches Fach man immer schon belegen wollte, welchen Diskussionsbedarf man in Bezug auf den Journalismus hat. Hier ist alles möglich. Und wenn man dann so wie ich das Glück hat, mit sehr netten, entspannten und neugierigen Journalisten-Kollegen die Zeit in Durham zu verbringen, dann ist das eine tolle Zeit, unvergesslich!
——————
Susanne Grüter, Phoenix, Bonn
"Dass es in Deutschland Imame gibt, die freitags in der Moschee nur Türkisch sprechen, ich verstehe es nicht, wie soll denn da Integration funktionieren? Inakzeptabel!" — Abdullah Antepli lehrt an der Duke Divinity School Islamwissenschaften und interreligiöse Verständigung. Er ist außerdem der Geistliche der Duke Muslim Association, der moslemischen Studentengemeinde der Duke Universität in Durham. Seine Predigten hält er selbstverständlich auf Englisch. Abdullah Antepli findet es befremdlich, dass in Kölner Moscheen "Importprediger" aus der Türkei das Freitagsgebet halten und sich viele Einwanderer in Deutschland nicht in der Landessprache verständigen können. Die Bereitschaft, sich anzupassen, scheint Neueinwanderern in den USA leichter zu fallen. Es werde ihnen allerdings auch leichter gemacht als in Deutschland, sagt Abdullah. Er kann Vergleiche ziehen, weil er Verwandte in Deutschland hat. Er ist in der Türkei aufgewachsen, hat danach einige Jahre in Ostasien gelebt, bis er mit Frau und Kindern in die USA immigrierte. Die amerikanische Gesellschaft sei im Allgemeinen offen für Neuankömmlinge: "This country is based on inviting skillful people from all around the world." Seit sieben Jahren lebt er hier, er besitzt einen amerikanischen Pass, er fühlt sich als Amerikaner. "Es ist keine Frage der ethnischen Herkunft, sondern, wer sich zum Land bekennt und hier seine Steuern zahlt, der wird akzeptiert."
Viele seiner Cousins leben in Köln und Berlin. Abdullah Antepli besucht sie oft und kennt daher die politische Diskussion über Integration in Deutschland sehr gut. "Sie fühlen sich nicht als Deutsche, obwohl sie die deutsche Staatsbürgerschaft haben. It is hard not to get really disappointed" — Abdullah Antepli kann sich über diesen Zustand wirklich aufregen. "Meine Familienangehörigen leben in der 3. und 4. Generation in Deutschland, beherrschen kaum noch Türkisch, dafür aber akzentfreies Deutsch, sind mehr oder weniger religiös, haben deutsche Schulen und Universitäten besucht, sind erfolgreiche Geschäftsleute, aber sie werden von vielen Deutschen nach wie vor als Türken wahrgenommen. I can't believe it." Deutschland ist eben kein traditionelles Einwanderungsland. Abdullah zuckt mit den Schultern. Beim Wort "Integrationsbeauftragter" schüttelt er den Kopf — "überflüssig in den Staaten". Der Mann scheint angekommen zu sein. Und seine Studenten?
Israh Almeraj beschäftigt sich für einige Semester mit Genetik an der Duke. Bleiben will sie nicht. Die Frau aus Kuweit lebt sonst mit Mann und zwei kleinen Kindern in England. "Die Amerikaner sind schon sehr freundlich, aber ich glaube, sie verstehen mich nicht wirklich, und ich denke, es interessiert sie auch nicht wirklich, was ich denke, was ich glaube. Jeder lebt sein eigenes Leben, zum wahren Austausch kommt es nicht." Sie sei sozial sehr aktiv, aber es dauere sehr lang, um die richtigen Kontakte zu knüpfen. Im alltäglichen Umgang gebe es aber keine Probleme. Niemand habe sie jemals auf ihr Kopftuch angesprochen. Das scheint in den USA kein Thema zu sein. Auch Frauen in Burkas erregen keine besondere Aufmerksamkeit, entsprechend wird auch kein Verbot wie in manchen europäischen Staaten diskutiert. Das kann Nabila Hague, die biomedizinische Technik studiert, nur bestätigen. Sie trägt einen langen Jeansrock mit Sweatshirt und verhüllt Haar und Schultern. "Wenn ich in North Carolina unterwegs bin — gerade auch in den kleinen Städten — ich bin immer wieder überrascht von dieser Südstaaten-Herzlichkeit." Nabila imitiert quietschend ein älteres Ehepaar: "Oh, sweetie, you are looking so cute with this. — Wahrscheinlich finden die Leute 'keusche Kleidung' hier sehr schick." Nabila Hague, in Bangladesh geboren, ist in Saudi-Arabien zur Schule gegangen, war danach in Kanada und hat jetzt einen Mann aus North Carolina geheiratet. Die Neuamerikanerin ist mit ihrem Pass made in USA durchaus zufrieden.
Trotzdem werden Moslems in den USA seit 9/11 zunehmend mit Vorbehalten konfrontiert. In jüngster Zeit hat es auch Übergriffe gegeben. Die Debatte um den Bau des moslemischen Kulturzentrums in der Nähe von Ground Zero in New York, wachsender Widerstand gegen islamische Gotteshäuser in amerikanischen Städten und der Pastor in Florida, der den Koran verbrennen wollte — all das ist Ausdruck einer gewissen "Islamophobia". In manch kruden Köpfen breitet sich Furcht vor einer vermeintlich barbarischen Religion aus, die die Welt mit Terror überzieht. Bisher ist diese diffuse Angst eher selten von offizieller, staatlicher Seite geschürt worden — außer hier und da einmal im Wahlkampf: Vor den Kongresswahlen 2010 hat Newt Gingrich, ehemaliger Sprecher des US-Repräsentantenhauses, ein nationales Anti-Scharia-Gesetz gefordert, obgleich kein amerikanischer Moslem danach gerufen hatte. Auch Aktivisten der "Tea-Party"-Bewegung tun sich gelegentlich mit anti-islamischen Sprüchen hervor.
Die amerikanischen Moslems haben sich in der Vergangenheit mehrheitlich immer klar von extremistischen Positionen und Gewalttaten distanziert. Solche schrillen Töne aus der Politik beunruhigen viele islamische Gemeinden. Zum Beispiel in Raleigh, der Hauptstadt von North Carolina, die ein Dreieck mit den Nachbarstädten Durham und Chapel Hill bildet. Imrun Aukhil, Pressesprecher der Islamic Association of Raleigh, meint, "in dieser Form ist das schon neu für uns." Imrun würde Abdullah Antepli zustimmen, dass es bislang keine gravierenden Integrationsprobleme in der Region gegeben hat. Um Raleigh herum, schätzt Imrun, dürften wohl rund 20.000 Moslems leben, eine recht große Gemeinde. Der Mann aus Indien ist stolz auf "the global community" — die Vielfalt, die hier herrscht. Die Mitglieder sind zum Beispiel aus Pakistan, Bangladesch, dem Libanon oder Syrien eingewandert und meist sehr gut ausgebildet, wenn sie in die USA kommen. Ein wesentlicher Unterschied zu den deutschen Moslems, deren erste Einwanderungsgeneration als "Gastarbeiter" vor allem aus der Türkei geholt wurde, manchmal ohne Lesen und Schreiben zu können. Da muss Integration etwas ganz anderes leisten als in den USA, gerade wenn es um Aufstiegschancen geht.
Wie sich die Lebenssituation von Moslems in den USA von der in Deutschland unterscheidet und welche verschiedenen Integrationsansätze sich daraus ergeben, was man aus amerikanischen Erfahrungen in Deutschland lernen kann — das war die Fragestellung dieser Recherche im Rahmen des vierwöchigen Duke-Aufenthaltes. Die Freiheit zu haben, ein Thema zu suchen, ein eigenes Projekt zu verfolgen, das macht dieses Programm besonders attraktiv. Die Möglichkeiten der Recherche sind einfach großartig, die man als Media Fellow mit der ehrwürdigen Uni als Institution im Rücken hat. Und die Logistik und Technik: Leihwagen, Telefone, W-Lan überall, um Gespräche mit amerikanischen Kollegen, mit Einwanderern, mit Imamen zu organisieren.
Ein weiterer großer Pluspunkt ist die Vielfältigkeit des Programms. Alle Veranstaltungen und Vorlesungen der Duke Universität stehen den Media Fellows offen, ganz gleich, welcher Fachrichtung. Eine kurze Mail beim zuständigen Prof. genügt.
Der zentrale Anlaufpunkt für alle Stipendiaten ist die Sanford School of Public Policy. Hier trifft sich die Gruppe aus deutschen RIAS-Leuten und Journalisten aus aller Welt, um über die aktuellen und speziellen Herausforderungen im Journalismus zu diskutieren und Erfahrungen auszutauschen. Eduardo aus Nicaragua muss mit ganz elementaren Problemen kämpfen, weil es einfach keine freie Presse in seinem Land gibt. "Unbequemen Journalisten wirft die Regierung gern vor, von der CIA gesteuert zu sein," sagt er. Unter solchen Bedingungen alltäglich an Informationen heranzukommen und diese dann auch noch senden zu können, für den Fernsehmann ein hartes Brot. Kay C. aus Los Angeles erzählt, mit welcher Wucht die Wirtschaftskrise die amerikanischen Kollegen erwischt hat und wie radikal das Internet mit allem Geblogge und Getwittere Sende- und Redaktionsabläufe verändert — das alles beherrschende Thema, auch für die fellows aus Japan und Korea. Im Vergleich dazu wirkt die Situation in Deutschland nach wie vor "öffentlich-rechtlich behütet".
Neben diesem "Pflichtprogramm" hat Laurie Bley, Direktorin des Media Fellows Programms, viele spannende Vorträge, Diskussionsrunden und Veranstaltungen zusammengestellt. Ein Basketball-Training mit der Legende "Coach K" zum Beispiel. Der Erfolgstrainer Mike Krzyzewski führt seit vielen Jahren sämtliche Duke-Teams zur Meisterschaft und wird wie ein Held verehrt. Der lokale Fernsehsender wral-tv hat seine Studios in Downtown Raleigh. Es ist überraschend zu sehen, wie kurz die technischen Wege vom Schnitt bis zum Newsroom sind, wie schlank der Produktionsapparat ist und wie lässig und professionell die amerikanischen Kollegen arbeiten. "House Quake" — diese streckenweise amüsante, politische Dokumentation schildert, wie die Demokraten 2006 das Abgeordnetenhaus erobert haben, mit welcher Intensität die Kampagne geführt worden ist und was hinter den Kulissen so abläuft während eines Wahlkampfs. Zusätzliches Schmankerl für das Duke-Publikum: Regisseurin Karen Price plaudert aus dem Nähkästchen, wie der Film zustande gekommen ist.
Viele interessante und hochkarätige Vorträge hat es gegeben, das Highlight: Bob himself nimmt Platz in der Sanford School, um über sein neues Buch zu sprechen. Bob Woodward, berühmt geworden als Reporter der Washington Post, als er gemeinsam mit einem Kollegen die Hintergründe der Watergate-Affäre aufdeckte, hat sich zuletzt mit "Obama's Wars" beschäftigt. Er beschreibt u. a. den Konflikt zwischen dem Präsidenten und seinen Militärberatern über die rasche Beendigung des Afghanistan-Krieges. Die Berater wollen oder können Obama keinen schnellen Rückzugsplan liefern. Woodward redet, man hört ihm zu, vielleicht nicht gebannt, aber mit großem Respekt: "I quite frankly think that it's important for the public to know that the commander in chief wants out." Und man realisiert noch einmal, Duke ist nicht irgendeine Durchschnitts-Uni, sonst wäre Bob wohl nicht hier.
Das Programm für Washington ist in den ersten Tagen voll gespickt mit Terminen: Besuch beim National Public Radio, Besichtigung des Pentagon, eine exzellent besetzte Diskussionsrunde im Newseum mit dem Titel: "The News Media and National Security". Vor dem Hintergrund der ersten Wikileaks-Veröffentlichungen reden Vertreter u.a. von Washington Post, New York Times und der CIA über die Frage, wie Medien verantwortungsvoll mit sicherheitsrelevanten Daten umgehen sollen. Was darf man noch veröffentlichen, ohne beispielsweise das Leben von Soldaten aufs Spiel zu setzen? Auf welche Quellen verlässt man sich dabei? Wie überprüft man Informationen auf ihre Stichhaltigkeit? Spannend und sehr aktuell.
Die letzten Tage vor den midterm elections. Umfragen sagen der Opposition einen Erdrutschsieg voraus. Die Demokraten werden das Repräsentantenhaus, wie es aussieht, verlieren. Dem Präsidenten bleibt dann noch weniger Handlungsspielraum für seine Reformen. Aber die Amerikaner sind unzufrieden mit seiner Wirtschaftspolitik. Davon profitieren die Republikaner. Die Ergebnisse bei den Kongresswahlen werden auch zeigen, wer deren Kandidat bei den Präsidentschaftswahlen 2012 werden könnte. Sollten die Tea-Party-Sympathisanten jetzt nach vorn kommen, dürfte das die Partei weiter nach rechts verschieben — eine Kandidatur von Sarah Palin würde wahrscheinlicher. Das bibeltreue, konservative Amerika hatte in letzter Zeit immer wieder auf sich aufmerksam gemacht.
Am Wochenende vor den Wahlen sammelt sich das liberale Amerika zu einer Großdemo in Washington. Die Stadt ist voller Demonstranten und — da am gleichen Tag auch Halloween beginnt — voller Freaks von der Geisterfront. Ein ziemlich bunter Haufen. Aufgerufen zur Demo hat der Comedy-Star Jon Stewart, um ein Zeichen gegen die Hysterie der Tea-Party-Bewegung zu setzen. Unterstützt wird er von seinem Satirekollegen Stephen Colbert. Im August hatten an dieser Stelle rund 80.000 Konservative gegen die "sozialistische" Politik Obamas protestiert. An diesem Samstag sollen sich immerhin über 100.000 Menschen auf der Washington Mall vom Kapitol bis zum National Monument zusammengedrängt haben. Das letzte Versuch, das Ruder herumzureißen. Tage später ist klar, es hat nicht gereicht. Die Republikaner erobern — wie erwartet — das Repräsentantenhaus. Schwierige Zeiten für Obama, aber vermutlich folgt gerade er der amerikanischen Devise, die einem vier Wochen lang immer wieder begegnet ist: Es gibt kein Problem. It's always a challenge.
——————
Henning Lipski, Norddeutscher Rundfunk 1 Radio MV, Schwerin
Als ich am ersten Tag nach meiner Ankunft den Super arget in Durham betrete, wird mir sofort klar, was es bedeutet, im Land der unbegrenzten Möglichkeiten zu sein. Es ist meine erste Reise in die USA. Der Supermarkt hat sonntags geöffnet. Die Auswahl an Lebensmitteln scheint unendlich, Regale mit Chips sind kilometerlang. Es fällt mir schwer, mich zu entscheiden. Einer der RIAS-Fellows aus Köln sagt später einmal, im "Grocery" fühle er sich wie ein Ostdeutscher kurz nach Mauerfall und Grenzöffnung. Treffender kann man es nicht beschreiben.
Übermüdet und vom Jetlag gezeichnet geht's nach diesem ersten kleinen Ausflug wieder zurück in die Appartementanlage "The Forest". Wie der Name schon sagt, liegen die Appartements im Wald, abseits des Campus. Unsere Wohnungen sind gut ausgestattet: Schlaf- und Wohnzimmer, offene Küche mit Spülmaschine und für Hemdenträger besonders wichtig: ein Bügeleisen ist vorhanden. Außerdem gibt es einen Raum mit Wachmaschinen und Trocknern, einen Fitnessraum, einen Swimmingpool und einen Tennisplatz. Das Sportangebot ist so reichhaltig, dass ich gar nicht alles nutzen kann.
Im Appartement liegt ein dickes, äußerst umfangreiches Informationspaket bereit. Darin finden wir auch eine Wegbeschreibung, wie wir zur Duke University gelangen. Wir sind fünf deutsche Journalisten und eine Amerikanerin. Die Universität liegt ca. 10 Auto-Minuten von der Appartementanlage entfernt. Uns stehen zwei Mietwagen zur Verfügung. Absprachen, wer wann ein Auto haben kann, laufen in den vier Wochen problemlos.
An der Duke University treffen wir auf Laurie Bley, mit der wir bereits häufig über E-Mails kommuniziert haben. Sie ist unsere Ansprechpartnerin, stets für uns da, versorgt uns bestens mit Informationen und führt uns in einer ersten Tour über den Campus. Ich fühle mich zurückversetzt in meine Studentenzeit. Laurie hat ein umfangreiches Programm aus verpflichtenden und freiwilligen Veranstaltungen zusammengestellt. In den vier Wochen öffnet sie uns Türen und Tore, die ansonsten verschlossen geblieben wären. Sie organisiert Karten für ein Basketball-Training der bekannten Blue Devils mit Trainerlegende Mike Krzyzewski. Laurie besorgt uns auch Handys, damit wir jederzeit miteinander telefonieren können. Zu ihrer Verwunderung machen wir davon jedoch keinen regen Gebrauch. Wir sind froh, einmal vier Wochen nicht jederzeit auf Abruf sein zu müssen. Vielleicht ist das typisch deutsch?
Die Media Fellows sind an der Sanford School of Public Policy untergebracht. Zum harten deutsch-amerikanischen Kern der Gruppe stoßen zwei Japaner, zwei Koreaner und ein Journalist aus Nicaragua. Das belebt ungemein. In so genannten "Media Challenge Sessions" kommen wir einmal pro Woche zusammen, stellen die Mediensysteme unserer Länder vor und berichten über die Herausforderungen unserer Arbeit. Der Nicaraguaner erzählt, wie die Politik Einfluss auf den Rundfunk nimmt und Druck ausübt, ein Japaner berichtet von seinen Recherchen über die Atomzwischenfälle des Inselstaates.
In einem der Seminare treffen wir auf Jay Hamilton. Der Leiter des DeWitt Wallace Centers for Media and Democracy ist kein Journalist, sondern ein Ökonom. Hamilton hat in Harvard studiert und vertritt eine Theorie, die wohl bei vielen Journalisten umstritten ist. Wie vermutlich zahlreichen früheren Generationen von Media Fellows erklärt er auch uns, wie sich seiner Meinung nach Zeitungen heute verhalten sollten. In der Wirtschaftskrise müssten sie mehr auf ihre Kosten achten denn je. Daher sollten Zeitungen ihre Nachrichten stärker verkaufen. "Local News" seien wichtiger als Nachrichten "that don´t sell", wie politische Meldungen.
Mit der Professorin und Pulitzer-Preisträgerin Sarah Cohen diskutieren wir über investigativen Journalismus und sprechen über die Veröffentlichung der Afghanistan-Protokolle von Wikileaks. Cohen arbeitete früher als Reporterin der Washington Post. Außerdem stellt der Journalist Bob Woodward, der die Watergate-Affäre aufgedeckt hat, an der Sanford School sein neues Buch "Obama´s Wars" vor. Wir sehen Filme über den amerikanischen Wahlkampf und treffen eine Journalistin des New Yorker. In allen Seminaren und bei allen Vorträgen begeistert mich immer wieder, dass amerikanische Dozenten es verstehen, frei zu sprechen, spannend vorzutragen und dadurch ihre Zuhörer zu fesseln.
In einem weiteren Vortrag wurde uns die neue Internet-Strategie des TV-Senders WRAL vorgestellt. WRAL ist der private Marktführer der Region. Besorgniserregend finde ich, dass es dort offenbar nur darauf ankommt, wie schnell eine Nachricht online gestellt wird. Sorgfältige Recherchen spielen eine untergeordnete Rolle. Zwei Wochen später besuchen wir den Sitz des Fernsehsenders WRAL in Raleigh und werden von News-Anchor David Crabtree durch die durchgestylten Studios geführt. Auch dort habe ich das seltsame Gefühl, dass Hülle und Marketing wichtiger sind als Inhalte.
Wesentlich wohler fühle ich mich bei WUNC, dem lokalen Radiosender in Durham. Laurie hat mir einen Kontakt zu North Carolina Public Radio verschafft. Einen Nachmittag lang darf ich in der Redaktion hospitieren und den Redakteuren und Reportern über die Schulter schauen. Auch wenn das öffentliche Radio in den USA anders organisiert ist als die ARD, finde ich sehr beruhigend zu sehen, dass die NPR-Journalisten nach ähnlichen journalistischen Grundsätzen arbeiten wie die Journalisten des öffentlich-rechtlichen Rundfunks in Deutschland. Sie sind stolz auf ihre Unabhängigkeit und begreifen sich als wichtigen Teil der Demokratie.
Auf unserer 5-tägigen Washington-Reise besuchen wir den NPR-Hauptsitz. Redakteur Alan Stone macht mit uns eine Besichtigungstour. Wir schauen uns das Studio für den Wahlabend der Kongresswahlen an und sind bei einer Produktion der Informationssendung "All Things Considered" dabei. Mit Staunen nehme ich zur Kenntnis, dass selbst aktuelle politische Magazinsendungen vorproduziert werden. NPR sendet nicht selbst, sondern stellt das Programm den 797 nicht-kommerziellen lokalen und regionalen Partnersendern in den einzelnen Staaten zur Verfügung. Die Produktion mit den Moderatoren, Redakteur, Producer und Assistent im Studio läuft überraschend altmodisch ab. So wurde bei der ARD vor über 15 Jahren produziert. Die Anmutung der Sendung ist ebenfalls "old-fashioned", aber bei den Hörern hoch angesehen. Abends lädt uns Alan zu einer Party bei Freunden in Bethesda ein. Feiern mit Amerikanern, am Lagerfeuer über die Kongresswahlen diskutieren, wann sonst haben wir diese Gelegenheit?
Außerdem hat Laurie für uns einen Besuch im Pentagon arrangiert. Wir treffen Press Officer Marc Ballesteros. Er führt uns durch fensterlose Büros und den Raum der Pressekonferenz. Marc zeigt uns, dass Journalisten von FOX oder CNN im Pentagon ihre eigenen Studios haben, um dort Beiträge zu produzieren. Er besucht mit uns außerdem die Kapelle, die den Opfern des 11. Septembers gewidmet ist. An den weitern Tagen verbringen wir viel Zeit im neuen Newseum, dem Museum der US-Nachrichtengeschichte. Am meisten hat mich ein Film über die letzte Ausgabe der Zeitung "Rocky Mountain News" beeindruckt. Einige Redakteure hatten Tränen in den Augen als ihr Chef ihnen die Nachricht vom Ende des Blattes überbringt.
Schade an unserem Washington-Trip ist, dass Besuche der CNN Büros und der "Washington Post" nicht geklappt haben. Auch wenn Fernsehen und Zeitung überall gleich sind, so hätte ich mich dort gern einmal umgesehen und mit den Kollegen über die Krise in den Medien gesprochen.
An freien Wochenenden fahren wir in die Berge nach Asheville und an die Küste nach Topsail Beach. Wir haben viel gemeinsam unternommen, an der Duke University, an den Abenden und Wochenenden. Wir haben uns bestens verstanden. Deshalb ist wohl kaum jemand von uns in den "echten" Uni-Alltag eingetaucht. Mein persönliches Vorhaben, mich mit der Geschichte deutscher Auswanderer aus Mecklenburg-Vorpommern näher zu beschäftigen, war leider nicht von Erfolg gekrönt. In der Bibliothek gab es keine Literatur, ich hätte mich auf eigene Recherche-Tour nach Charlotte und Mecklenburg County begeben müssen. Das hätte jedoch bedeutet, dass ich mich aus der Gruppe hätte ausklinken müssen. Doch das wollte ich nicht. Immerhin ist es mir gelungen, einen gebürtigen Mecklenburger in den USA aufzutreiben und zu treffen. Der Physiker und Unternehmer Bernd Soltmann lebt seit 36 Jahren in den Staaten und engagiert sich im Verein "Sistercities Raleigh — Rostock". Ich habe ihn interviewt und in einem Radiobeitrag für NDR 1 Radio MV porträtiert.
Welche Eindrücke bleiben? Es war eine perfekt organisierte Reise. Danke an die RIAS Kommission, dass ich mitfahren durfte. Während der vier Wochen habe ich tiefe Einblicke in die amerikanische Innenpolitik erhalten. Die Kongresswahlen und die "Rallye to Restore Sanity" der Demokraten in Washington D.C. waren zwei wichtige Ereignisse. Berichte und Artikel über die amerikanische Politik werde ich künftig mit anderen Augen wahrnehmen. Über die Amerikaner kann ich nur Gutes sagen: Ich habe die US-Bürger als interessiert, offen gegenüber Ausländern, freundlich und hilfsbereit erlebt. Gängige Vorurteile kann ich keineswegs bestätigen. Die vier Wochen in North Carolina und Washington sind schneller vergangen als mir lieb war. Es war eine fantastische erste Reise in die Staaten, und es wird nicht die letzte sein. Bevor ich wieder nach Hause geflogen bin, musste ich noch einmal hin — in den Super Target in Durham.
——————
Klaus Pilger, Deutschlandfunk, Köln
Tornadowarnung für North Carolina. Es ist Ende Oktober und am Tag — und sogar in der Nacht — ist es in Durham fast tropisch warm — eine Schwüle, vor deren Entladung man sich fürchten könnte. Zum Glück kommt es hier nur zu heftigen Regengüssen, der Tornado richtet in einem anderen Teil des US-Bundesstaates schwere Schäden an. Nicht nur das Wetter ist anders als im deutschen Herbst — dieser nördlichste der amerikanischen "Südstaaten" liegt auf demselben Breitengrad wie Tanger in Marokko. An den meisten Tagen unseres Aufenthalts erfreut uns ein strahlend blauer Himmel mit Tagestemperaturen von über 20 Grad Celsius. Auch an den ganz wenigen kühlen und regnerischen Tagen trotzen die Studenten der Wetterunbill und tragen trotzdem T-Shirts mit Duke-Logo, Flipflops und — worauf ich durch die Lektüre von Tom Wolfes Uni-Roman "Ich bin Charlotte Simmons" vorbereitet war — viele der Studentinnen zwängen sich in knappe Shorts, bevor sie ins Seminar gehen — ob es ihnen nun steht oder nicht.
Der riesige West-Campus der Duke University wirkt mit seinen vielen neogotischen Gebäuden aus den 1930er Jahren auf den Europäer wie ein Disneyland-Cambridge, die Studenten nennen ihre Uni auch "Gothic Wonderland". Es ist faszinierend, über diesen Campus zu laufen, den gepflegten Rasen zu bewundern oder durch den angrenzenden Park "Duke Gardens", einem botanischen Garten, zu wandern. Vor der majestätischen "Duke Chapel" mit ihrem 64 Meter hohen Turm steht das Denkmal des Uni-Stifters James B. Duke. Stolz schaut der steinerne Mann über seinen Campus. Er ließ sich mit einer Zigarre in der Hand abbilden, was nur logisch ist, denn der Stifter hat sein Vermögen mit Tabak gemacht. Grundlage für das finanzielle Fundament der Duke University sind also jene Rauchwaren, die heute gerade in den USA besonders verteufelt werden. Damals in den 1930er Jahren war es noch politisch-korrekt, einen Raucher aufs Denkmal zu hieven — die Gefahr des Tabakgenusses erahnten damals nur wenige. Heute nennt sich die Stadt Durham mit ihren vielen großen Forschungskliniken "City of Medicine", einige Labors sollen auch führend in der Krebstherapie — gegen die Folgen des Rauchens — sein.
In einem Seitenflügel der Chapel liegen die Mitglieder der Stifterfamilie begraben — wie in europäischen Kirchen die Heiligen oder die verstorbenen Bischöfe. Schnell noch ein Blick in die benachbarte Mensa — der hohe neogotische Raum erinnert an die "Große Halle" der Hogwarts-Schule in den Harry-Potter-Verfilmungen. Das Essen ist im Vergleich zu den meisten deutschen Mensen geradezu exquisit. Zwar kann man sich auch Fastfood oder ein schnelles Sandwich besorgen, aber es gibt auch verschiedene Spezial-Theken — zum Beispiel eine für die indische Küche, eine für chinesisch und japanisch, eine andere für italienische Gerichte — die Köche bereiten dem Studenten dann sein Essen vor dessen Augen frisch zu.
Wer wie ich den deutschen Unibetrieb der 1980er Jahre erlebt hat, kann hier nur vor Neid erblassen, wenn er die Studienbedingungen der Duke-Studenten kennenlernt. In einem Germanistik-Seminar erfahre ich, wie intensiv und persönlich der Lehrbetrieb läuft — die junge Professorin kennt jeden ihrer Studenten. Kein unverbindlicher Massenbetrieb, wie ich ihn erlebt habe, hier möchte man eigentlich gleich wieder mit einem Studium beginnen! Was aber nur die können, die neben guten Noten reiche Eltern oder ein Stipendium haben. Von der Germanistikdozentin erfahre ich, dass es die deutsche Sprache als Fach in Schulen und Universitäten zunehmend schwerer hat, die Angebote schrumpfen. Große Freude macht es mir, mit ihr über ihre Dissertation zum Thema Lärm und Geräusch in der deutschen Literatur zu sprechen und die Kafka-Kurzgeschichte "Der Bau" kennenzulernen, deren Essenz dann später in Francis Ford Coppolas filmischen Werk "The Conversation" aus dem Jahre 1974 wieder auftauchte.
Wunderbar ist es, in die große Bibliothek der Universität abzutauchen, sich in einen der großen Lehnsessel zu kauern, im reichlichen Bestand zu stöbern oder sich in eine "New York Times" zu vertiefen, die zu allem Überfluss auch noch kostenlos an die studierende Elite — also vier Wochen lang auch an die Media Fellows — abgegeben wird.
Die Duke-Media Fellows im Herbst 2010 hatten Riesenglück. Nicht nur mit dem Wetter, sondern auch mit allen Gruppenmitgliedern. Die Gruppe bestand im Kern aus zwei Japanern, einer Amerikanerin, fünf Deutschen — und wurde bei manchen Treffen durch zwei Südkoreaner und einen Nicaraguaner ergänzt. So unterschiedlich die Teilnehmer auch waren, sie bildeten ein homogenes Ganzes, stets kooperativ und initiativ, unterstützend und hilfsbereit. Man erfuhr viel aus dem medialen Leben der anderen: von der amerikanischen Fernsehjournalistin aus Los Angeles, einer Emmy-Gewinnerin, die von ihrem Sender Fox entlassen worden war — eine Frau, die ein Opfer der amerikanischen Medienkrise wurde und die nun im "kritischen" Alter über 50 — trotz allem Frust — mit viel Mut und Energie nach einem neuen Job suchte; vom japanischen Wissenschaftsjournalisten, der für eine Zeitung in Tokio arbeitet, und Spezialist für Kernkraft-Unfälle ist; vom japanischen Zeitungsfotografen, der seit Jahren bei einer US-Regionalzeitung im benachbarten Durham arbeitet und so großartige qualitativ hochwertige Fotos macht, wie man sie in deutschen Lokalblättern leider nur sehr selten sieht. Dass gleich fünf freundliche Deutsche das Schwergewicht der Gruppe bildeten, hatte vielleicht den Nachteil, dass man des Öfteren deutsch redete, aber für diejenigen, die nicht durch lange Amerika-Aufenthalte geschult nahezu perfekt englisch sprachen, konnte da manche Brücke gebaut werden. Mit dieser Gruppe machte es Spaß, die Duke University und die USA zu erleben.
Die unermüdliche und stets freundliche und hilfsbereite Laurie Bley, unsere Gastgeberin von der Sanford School of Public Policy, hatte ein sehr vielseitiges Uni-Programm für uns zusammengestellt. Und Termine darüber hinaus… Wir besuchten Vorträge, Diskussionen, Lesungen und Seminare an den verschiedensten Uni-Orten und -Instituten. Die meisten Themen lagen im Bereich der Politik und der Medien, aber auch Veranstaltungen über "Local Food in Durham" gehörten dazu oder der Vortrag eines Autors über den Sex-Skandal um den Golfer Tiger Woods. Die kluge Sarah Cohen, jetzt Professorin an der Sanford School, früher Journalistin bei der "Washington Post", informierte uns über den investigativen Zeitungsjournalismus in den USA, was bisweilen ernüchternd klang. Ein besonderes Erlebnis war eine Begegnung mit Bob Woodward, dem legendären Watergate-Enthüller, der nach wie vor als einer der Starjournalisten des Landes gilt und von dem gerade wieder ein neuer Bestseller auf den Markt gekommen war: "Obama's Wars". Woodward, mittlerweile 67, mit grauem Haar, schlank, schlagfertig und humorvoll, beeindruckte sein Publikum bei der Diskussion in der überfüllten Sanford School nachhaltig. Überhaupt erschienen uns fast alle amerikanischen Gesprächspartner und auch die Vortragenden nicht nur eloquent, sondern auch locker und umgänglich, ohne dabei banal zu wirken — eine Attitüde, die man sich unter Deutschlands Professoren, Journalisten und Autoren auch viel häufiger wünschen würde.
Amüsant war ein Besuch im Basketballstadion bei Coach K. Dieser Mann, der wegen seines für die Amerikaner unaussprechlichen Nachnamens Krzyzewski nur K genannt wird, trainiert die Basketballmannschaft von Duke. An einer deutschen Uni würde das niemanden interessieren. Aber hier ist Sport — auch im gesamtgesellschaftlichen Kontext — viel wichtiger als in Deutschland. Die Spiele der guten Uni-Teams werden im Fernsehen übertragen, um die Eintrittskarten für die Heimspiele der "Duke Blue Devils" reißen sich die Menschen — es gibt kaum eine Chance auf ein Ticket. Coach K ist seit 1981 der Trainer des Duke-Teams und hat vier Meisterschaften geholt. Dieser unauffällige Mann mit dem kurzen diszipliniert gescheitelten dunklen Haar ist ein Star in den USA, so eine Art Mischung aus Franz Beckenbauer und Otto Rehhagel. Während seine Jungs in der Arena beim Training die Bälle laut titschen lassen, erklärt der Coach seinem beeindrucktem Publikum, wie Leadership im Sport funktioniert und inwieweit dies auch auf die Wirtschaft übertragbar ist — die Zuhörer tragen überwiegend Nadelstreifen, sind Geschäftsleute und Manager und Teilnehmer an einem Seminar zum Thema "Business Leadership". Während K spricht und seine Jungs ihr Stretching beenden und ein Trainingsspiel vier gegen vier beginnen, beißen die Anzugträger herzhaft in das Tuna-Sandwich aus dem Lunchpaket und knabbern Kartoffelchips.
Sehr beeindruckend auch das Gespräch mit dem sympathischen Jock Lauterer, Dozent am Journalistischen Institut an der Universität in Chapel Hill, der ein soziales Zeitungsprojekt mit überwiegend schwarzen Jugendlichen leitet. Oder auch unsere Exkursion zur Regionalzeitung "Raleigh News and Observer" und zum Regionalfernsehsender "WRAL" — der freundliche Mister Crabtree, der uns durch Studio und Redaktionen führte, entpuppte sich als ein Anchorman des Programms. Er unterbrach kurz unser Gespräch, schlenderte ins offene Studio, sprach seine Meldungen in die Kamera und kehrte lächelnd zu uns zurück — so cool, behaupte ich, geht es in deutschen Fernsehstudios kaum zu.
Auch ein Besuch auf dem größten Jahrmarkt von North Carolina — samt landwirtschaftlicher Leistungsschau –, der "State Fair", gehörte zum Programm. Dort sahen wir nicht nur stolze Farmer und ihre großen Kürbisse oder bildhübschen Rinder, sondern erlebten durch unsere Begleiterinnen auch, dass es seriösen Amerikanern vielleicht doch etwas leichter als den meisten Deutschen gelingt, auf einer Kirmes wieder ganz schnell zum begeisterten Kind zu werden.
Reisen: Mit so einer angenehmen Gruppe wie der unseren fährt man gerne am Wochenende weg, zum Beispiel vier Stunden mit dem Auto Richtung Westen bis in die Blue Ridge Mountains, die zu den Appalachen gehören — mit einem Abstecher in die witzige Jugendstil- und Alt-Hippie-Stadt Asheville. Oder man fährt nach Osten, etwa drei Stunden bis zur Küste in die Nähe von Wilmington und dem "Cape Fear", dass mir durch den Roman von John B. Macdonald und die Thriller-Verfilmungen von J. Lee Thompson und Martin Scorsese ein Begriff war. Unser Ziel Topsail-Insel ist ungefähr so lang wie Sylt, nur viel, viel schmaler — kleine Metropolen wie Westerland fehlen hier, dafür reihen sich auf der Küstenseite fast ohne Unterbrechung hölzerne Ferienhäuser aneinander, von denen aus man den Flug der fischenden Pelikane über dem Atlantik prächtig beobachten kann.
Ein Höhepunkt war unsere Reise nach Washington, kurz vor den Kongresswahlen. Washington war schöner als ich es erwartet hatte — mit seinen breiten Straßen und den — nicht zu hohen — repräsentativen Häusern, seinem charmanten historischen Stadtteil Georgetown, seinem breiten Fluss Potomac und dem schönen Umland mit Maryland und Georgia. Faszinierend war unsere Führung durch das Pentagon — ein Presseoffizier zeigte uns auch den Ort, an dem am 11. September 2001 das entführte Passagierflugzeug eingeschlagen war — während unseres Besuchs waren über dem riesigen fünfeckigen Bürokomplex die startenden Jets vom nahen Flughafen zu sehen.
Der freundliche Allen Stone führte uns durch die Zentrale von NPR — "National Public Radio". Wie verschieden zu öffentlich-rechtlichen Verhältnissen in Deutschland ist doch die Arbeitssituation der NPR-Mitarbeiter in einem Land, in dem das Radio nur von vergleichsweise wenigen als Informationsmedium genutzt wird. In den riesigen USA — so erfahren wir — existieren rund 800 regionale NPR-Stationen, die auf Spendengeld und Sponsoren angewiesen sind — die staatliche Unterstützung ist nur gering.
In einem anspruchsvollen Forum diskutierten in Washington Journalisten, Politikwissenschaftler und Politiker über die Medien und die nationale Sicherheit — die Veröffentlichung geheimer Militärdokumente durch Wikileaks zu Details des amerikanischen Irakkrieges hatte gerade Aufsehen erregt. Unter den Diskutanten war auch der greise Journalist Walter H. Pincus von der "Washington Post", der sofort in einem Historienfilm die Rolle des weißhaarigen römischen Senators übernehmen könnte. Sein junger Kollege Mark Mazzetti von der "New York Times" wirkte dagegen wie soeben einer amerikanischen Anwaltsserie entstiegen.
Am nächsten Tag versammelten sich rund 200.000 Menschen auf der "National Mall" vor dem Capitol. Die Polit-Komiker Jon Stewart und Stephen Colbert hatten eingeladen zu einer "Rally to Restore Sanity". Anlass waren die kurz bevorstehenden Kongresswahlen und der verschärfte Ton in der politischen Debatte. Die politischen Gegner aus dem demokratischen und republikanischen Lager schenkten sich in der Tat nichts. Besonders aggressiv waren die Attacken rechtsgerichteter Journalisten und der erzkonservativen "Tea-Party"-Bewegung. Mit Spott und Ironie warben Stewart/Colbert und ihre Gäste wie Ozzy Osbourne und Sheryl Crow für mehr politische Kultur und mehr Fairness im Umgang. Und die Media Fellows waren bei strahlendem Sonnenschein mittendrin als Beobachter der Szene und der Demonstranten, von denen einige kostümiert und mit witzigen Sprüchen unterwegs waren — kurz vor Halloween ein amüsantes politisches Narren-Happening. Danach brach das überforderte Washingtoner U-Bahn-System fast zusammen.
Amerika präsentiert sich uns kurz vor den" Mid-Term-Elections" — den Kongresswahlen zwischen zwei Präsidentschaftswahlen — als eigenartig zerrissenes, politisch angespanntes Land. Der vermeintliche Heilsbringer Obama hat viele enttäuscht — klar, denn die Erwartungen waren zu hoch. Der Streit unter den Parteien lässt so manchen politischen Analysten darüber nachdenken, ob es nicht an der Zeit wäre, dass in den USA eine starke dritte politische Kraft ins Spiel kommen sollte.
Am Tag der Kongresswahlen sind wir wieder in Durham und freuen uns auf die Wahlparty in der Sanford School. Auf vier Screens werden die Wahlsendungen der großen amerikanischen Fernsehsender übertragen — ein Imbiss steht bereit. Leider sind nur sehr wenige Studenten gekommen. Warum? Wir befinden uns auf liberalem Terrain — und die Niederlage der Demokraten bei den Wahlen war schon vorher absehbar. Außerdem ziehen sich die Wahlsendungen in diesem riesigen Land mit seinen unterschiedlichen Zeitzonen wie Kaugummi in die Länge, denn bis auch die Ergebnisse von der Westküste bekannt werden, ist es in Durham mitten in der Nacht.
Die Media Fellows ziehen weiter — in eine Kneipe. Auch hier läuft die Wahlsendung auf einem Bildschirm — aber keinen der fröhlichen Zecher scheint das zu interessieren. Die Wahlbeteiligung lag nur bei rund 40 Prozent, in Deutschland würde man von einer politischen Katastrophe und Politikverdrossenheit sprechen. Hier scheint politisches Wähler-Desinteresse der Normalfall zu sein.
Abends kehren die müden Media Fellows stets in ihre Waldappartements zurück. Die Appartementanlage "The Forest" liegt ein paar Meilen von der Uni und der Stadt entfernt. Zum Glück stehen uns zu sechst zwei Autos zur Verfügung, so dass es — dank zuverlässiger Absprachen — nie Transportprobleme gibt. Den eiskalten Pool kann man nur an dem einen tropischen Tag nutzen, dafür laden die umliegenden Waldwege zum Joggen ein. Darauf muss man werktags allerdings verzichten, es sei denn man trägt eine kugelsichere Weste. Es ist Jagdsaison und nur am Wochenende gehört der Wald den Bürgern und nicht den Männern mit den Gewehren. Wildwechsel-Schilder sehen wir keine, hier muss man ständig damit rechnen, dass ein Wildtier überraschend die Straße kreuzt. Eines Nachts trete ich vor mein Appartement, um den Sternenhimmel über Durham zu betrachten. Vor mir, nur fünf Meter entfernt, sehe ich drei Rehe. Sie stehen ganz still und betrachten mich.
Es war eine intensive Reise, reich an Eindrücken, mit spannenden Begegnungen, interessanten Bekanntschaften und neuen Erfahrungen und Gedanken. Zeit für Reflexion über das in Deutschland Zurückgelassene blieb kaum, dazu waren die neuen Erlebnisse zu beeindruckend.
Bisher hatte ich Amerika nur als Tourist erlebt, jetzt bot sich mir ein ganz anderer Ausschnitt. Wieder nur ein Ausschnitt, natürlich, aber ein besonderer. Ich habe ein Land erlebt, dass nach einer politischen Orientierung zu suchen scheint. Ein Land, dessen Selbstbewusstsein, Optimismus und Unkompliziertheit mich beeindrucken, das aber auch Risse in diesem Selbstbewusstsein zeigt. Und ein Land, das nach wie vor daran festhält, ein Ort zu sein, der immense Möglichkeiten zu bieten hat, wenn auch — so scheint es mir — keinesfalls für jeden.
Ich bedanke mich sehr bei der RIAS Berlin Kommission und bei Rainer Hasters, dass mir diese Reise ermöglicht wurde. Ich danke Laurie Bley für ihre Freundlichkeit und Unterstützung. Und ich danke den Duke Media Fellows des Herbstes 2010, dass genau sie diejenigen waren, die mit mir in North Carolina gewesen sind.
——————
Andrea Rönsberg, Westdeutscher Rundfunk, Bonn
Eigentlich wollte ich nicht am Duke University Programm teilnehmen. Ich hatte mich für das andere, dreiwöchige-Journalisten-Programm der RIAS-Berlin-Kommission beworben. Mir als "freier" Journalistin erschienen vier Wochen eine zu lange Abwesenheit, außerdem wußte ich nicht so recht, was ich zehn Jahre nach dem Abschluss meines Magisters noch mal vier Wochen an einer Uni sollte. Aber es war nun mal das Duke-Programm, an dem mir die Teilnahme zugesagt wurde. Nun gut, dann eben Duke.
Zum Glück. Selten habe ich in vier Wochen an so vielen interessanten, anregenden Veranstaltungen teilgenommen. Eine davon fand an einem Abend knapp eine Woche nach den Kongresswahlen statt. Der Fleishman Commons, sonst ein atrium-artiger offener Raum, in dem die Studenten sich tagsüber mit Kaffee und Laptops ausgerüstet an den Tischen verteilten, war nun Schauplatz für eine Rede des New-York-Times-Kommentators David Brooks. Vor etwa hundert Studenten, Professoren und Gästen sprach er als Gastredner über den völligen Stillstand im amerikanischen politischen System, hier bekannt als "gridlock".
Wer sich als Duke-Student jeden Tag die "New York Times" kostenlos aus dem Automaten holte, der hatte über diesen "gridlock" schon einiges erfahren. Täglich las man über einen Wahlkampf, der Demokraten und Republikaner völlig uneins darin zeigte, wie die Probleme des Landes zu lösen seien. Einigkeit, so las man in diesen Artikeln, bestand nur darüber, was die Probleme des Landes waren: hohe Arbeitslosigkeit, ein hohes Defizit und ein riesiger Schuldenberg. Keine Spur vom Optimismus und von der Aufbruchsstimmung des Januars 2009, als Barack Obama sein Amt angetreten hatte. Stattdessen im Oktober 2010: allerorten Frust. Bei den Demokraten darüber, dass Obama bei der Gesundheitsreform zu kompromissbereit vorgegangen war und dass das Konjunkturpaket mit seinen 787 Milliarden Dollar viel zu gering gewesen sei. Bei den Republikanern darüber, dass Obama eine gesetzliche Krankenversicherung durchgesetzt, aber die Arbeitslosigkeit nicht "in den Griff" bekommen hatte.
Obama habe seine Landsmänner nicht richtig verstanden, als er sich auf die Gesundheitsreform konzentriert habe anstatt auf die Schaffung von Arbeitsplätzen, meinte auch der Kommentator David Brooks. Und gerade jetzt, nach den Kongress-Wahlen, bei denen die Republikaner sich zwar nicht die Mehrheit im Senat, aber doch die im Repräsentantenhaus hatten sichern können, standen die Zeichen mehr denn je auf Stillstand. Ein Stillstand, der nur durch einen wie auch immer gearteten Aufstand behoben werden könne, meinte Brooks: Wir befänden uns in einer vor-revolutionären Zeit, und es werde in Amerika erst nach einer (nicht notwendigerweise gewaltsamen) Revolution wieder richtig vorwärts gehen.
Von einem Aufstand war am Samstag, 29. Oktober, in Washington nicht viel zu spüren. Die Sonne strahlte von einem wolkenlosen Himmel und es gab nur ein Zeichen, dass dies kein normaler Samstag werden sollte: Tausende waren auf den Straßen unterwegs auf dem Weg zur National Mall. Viele trugen Poster und Plakate. Einige waren im Hinblick auf den herannahenden Halloween-Abend verkleidet.
An der Mall, dem langgezogenen Grünstreifen, der sich vom Kongressgebäude zum Washington Monument erstreckt, hatten Jon Stewart und Steve Colbert zu einer Versammlung aufgerufen, der "Rally to restore sanity and/or fear". Die Herstellung von "Sanity" oder Vernunft — das war das Ziel Jon Stewarts, seines Zeichens Moderator einer Satiresendung im Fernsehen; so eine Art politischer Stefan Raab, der liberaldemokratische Werte vertritt. Ähnlich das Format, das Colbert moderiert — nur dass er eben den Part des konservativen Kritikers übernimmt und an diesem Samstag — in Anspielung auf die konservativen Stimmen in den USA — für die Wiederherstellung von "fear", also Angst (vor Muslimen, Immigranten und einer starken Zentralregierung) eintrat. "Leider die beste Nachrichtenquelle, die wir haben", las ich auf dem Plakat eines Demonstranten unter den Fotos von Stewart und Colbert.
"Good people vote and drink good beer," konnte man auf andern Plakaten lesen, und "I don't like tea." Anspielungen auf die Tea-Party, eine lose konservative Bewegung, die vor den Kongresswahlen auch internationale Beachtung gefunden hatte. Von der Tea-Party unterstützte Politiker hatten in einigen Vorwahlen erfolgreich den angestammten Republikanern die Kandidatur um einen Platz im Senat oder dem Abgeordnetenhaus streitig gemacht — nun traten sie in den Kongresswahlen am 2. November entweder für die Republikaner oder als unabhängige Kandidaten an. Die Vertreter der Tea-Party, das lernte ich während meines Aufenthalts in Durham nicht nur aus den Sendungen von Stewart und Colbert, einte — neben der ehemaligen Vizepräsidentschaftskandidatin Sarah Palin — vor allem ein tiefes Misstrauen gegenüber der Macht der Zentralregierung in Washington sowie eine Abneigung gegen gesetzliche Sozialsysteme. Das wiederum brachte die Menschen auf den Plan, die sich an diesem Samstag an der Mall eingefunden hatten.
Auch wir Media Fellows waren darunter, denn diese einzigartige Demonstration politischer Kultur wollten wir uns nicht entgehen lassen. Einen Eindruck bekam ich aber erst, als ich mich gemeinsam mit ein paar anderen aus dem Gedränge an der Mall entfernt hatte und im "Newseum" das Geschehen auf einer Großbildleinwand verfolgte. Da sah man, wie Stewart und Colbert auf einer riesigen Bühne eine Open-Air-Show aufzogen, unterbrochen von zahlreichen Live-Auftritten namhafter Musiker von Yussuf Islam (alias Cat Stevens) bis zu Kid Rock und Sheryl Crow. Und zwischendurch Sketch-Einlagen der beiden Kommentatoren, die wie dieser bei allem Witz einen ernsten Unterton hatten:
Colbert (trägt Fleece-Pullover mit "Stars-and-Stripes"-Muster, geht in bester John-Wayne-Manier über die Bühne)
Stewart (zieht ebenfalls "Stars-and-Stripes"-Pulli über)
Colbert: "Hey, das darfst Du nicht!"
Stewart: "Warum nicht, ich liebe Amerika!"
(Auseinandersetzung wird weiter geführt, dann aufgelöst mit einem Lied:
"This is the greatest, strongest country in the world… from New York City to L.A. and everything in between… there's no one more American than we. This is the greatest, strongest country in the world."
Patriotismus, so schien es mir, ist immer noch ein einendes Element der amerikanischen Gesellschaft. Das bemühte sich auch Präsident Obama herauszustellen, als er sich am Tag nach den Kongresswahlen an die Presse wandte. Bemüht, die Niederlage der Demokraten nicht als seine Niederlage darzustellen, betonte er, dass es am Ende doch nicht darauf ankomme, dass man Republikaner oder Demokrat sei, sondern darauf, dass "wir alle Amerikaner" seien.
Doch darüber wie dieser Patriotismus ausgestaltet wird, herrscht Uneinigkeit. Heißt Patriotismus, potentielle Terroristen unter Umgehung der eigenen Grundsätze zu verfolgen und solche Operationen so geheim wie möglich zu halten? Oder heißt Patriotismus, gerade im Kampf gegen den Terror die ur-amerikanischen (Verfassungs-)Grundsätze eines fairen Prozesses und der Pressefreiheit zu beachten? Letztere Auffassung vertraten die namhaften Journalisten, deren Vorträge an der Duke University auch wir Media Fellows verfolgten. Jane Mayer von der Zeitschrift "The New Yorker" ebenso wie Bob Woodward, Reporter der "Washington Post" und Doyen des investigativen Journalismus, waren sich einig: "Get it all out" — alle noch so unangenehmen Wahrheiten der Regierung gehörten auf den Tisch; es sei die Verantwortung von Journalisten, über unrechtes Vorgehen des amerikanischen Militärs im Irak zu berichten, über versteckte Angriffe unbemannter Drohnen in Afghanistan und über geheime Telefonabhöraktionen in den USA selbst. Auf einer Konferenz in Washington hörten wir auch einen anderen Standpunkt, vertreten von dem konservativen "National Security"-Experten Gabriel Schoenfeld und dem CIA-Direktor der Bush-Regierung, General Michael Hayden. Die Presse dürfe mitnichten über alles berichten — auch sie müsse im Sinne der nationalen Sicherheit manche Dinge verschweigen. Es sei durchaus denkbar, das Anti-Spionage-Gesetz von 1917 nicht nur auf Informanten anzuwenden, sondern auch auf Journalisten.
Wobei durchaus die Frage ist, wie viele Journalisten in Zukunft in den USA noch in der Lage sein werden, zeitaufwändige Recherchen zu betreiben und investigativ zu arbeiten. In den Diskussionen und Präsentationen unter uns lernte ich von den amerikanischen Media Fellows schnell, dass sämtliche Sender und Verlage im großen Stil entlassen hatten: Nicht nur die Lokalzeitung in Raleigh, der "News and Observer" hatte sich in wenigen Jahren von der Hälfte seiner Mitarbeiter getrennt. Wer noch dabei war, wie unser Mit-Fellow Takaaki Iwabu, der hatte neben den eigenen noch zahlreiche andere Aufgaben übernommen, vor allem im Dienste des Webauftritts. Völlig selbstverständlich, dass ein Fotograf nicht nur zwei, drei Bilder für die Printausgabe abliefert, sondern auch eine Fotogalerie mit sehr viel mehr Bildern untermalt von selbstaufgenommen Audio erstellt. Gerade auf lokaler Ebene fehle es mangels Reporter auch an selbst-recherchierten Berichten, meinte Fiona Morgan, eine Duke-Studentin, die eine Studie über die Medienlandschaft in der Region von Raleigh, Durham und Chapel Hill erstellt hatte und uns deren Ergebnisse vorstellte.
Doch auch diese trüben Einblicke in die amerikanische Medienszene konnten uns Media Fellows die Laune nicht verderben. Dafür war der Spätherbst in Durham einfach zu sonnig und warm, der Campus der Duke University zu schön, die Umgebung (Berge im Westen und Küste im Osten) zu vielfältig. Nicht nur, dass ich in den vier Wochen als Media Fellow an der Duke University viele Erkenntnisse über die amerikanische Gesellschaft und die Medienlandschaft gewonnen habe — ich habe auch eine ganz hervorragende Zeit mit sehr netten Menschen verbracht. Neben den Seminaren und Vorträgen waren auch die Unterhaltungen und Unternehmungen mit meinen anderen Fellows interessant und bereichernd.
Mein Dank gilt also allen Fellows, Professoren und Rednern, die diesen Aufenthalt unvergesslich gemacht haben. Er gilt besonders Laurie Bley, die liebevoll für uns gesorgt und ein vielfältiges Programm zusammengestellt hat. Und er gilt ganz besonders der RIAS-Kommission, die besser wusste als ich, dass das Duke-Programm für mich genau das richtige sein würde.