DUKE UNIVERSITY MEDIA FELLOWSHIPS PROGRAMM 2012
Vierwöchiger Studienaufenthalt am DeWitt Wallace Center for Communications and Journalism, Duke University, Durham, North Carolina und Besuch in Washington D.C.
19. März – 13. April / 21. Oktober – 16. November
Im Mittelpunkt des März/April-Programms stand wie stets im Frühjahr das renommierte "Fullframe Festival" mit Dokumentarfilmen aus aller Welt. Die Programme beinhalteten einen mehrtägigen Besuch in Washington DC.
Die Teilnehmer des September/October-Programms nahmen zusätzlich am RIAS-Fellowtreffen in New Orleans teil und auch an der zeitgleich stattfindenden RTDNA/SPJ-Tagung.
---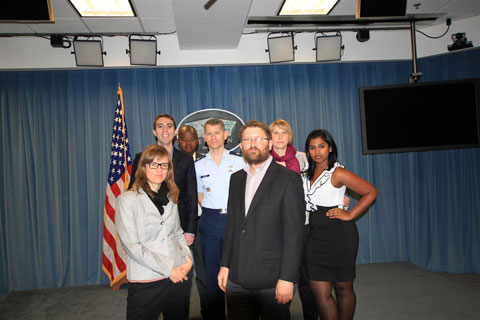 TEILNEHMERBERICHTE
Denise Dismer, Freelancer, Berlin
"Was willst du denn in North Carolina?" Die Reaktionen auf meinen geplanten USA-Aufenthalt waren überwiegend verständnislos. North Carolina, das sei der Standort des größten Schweineschlachtbetriebs der Welt, dort würden unbelehrbare Rassisten mit der Südstaatenflagge am Auto durch die Gegend brettern und zum Zeitvertreib mit ihren Gewehren rumballern. "Vielleicht kannst du ja wenigstens einen Wochenendtrip nach New York einschieben," versuchten mich meine Gesprächspartner aufzumuntern. Ich muss zugeben, dass mich diese Kommentare zunehmend verunsicherten — denn das vierwöchige Media-Fellowship sollte mein erster USA-Aufenthalt überhaupt sein. Doch zum Glück kam alles ganz anders als befürchtet.
Durham — unsere Homebase
Die 230.000 Einwohner-Stadt ist die Heimat der Duke University, eine der renommiertesten (und teuersten) Unis der USA. Ganz in der Nähe des riesigen Campusgeländes liegt die Apartment-Anlage "The Forest", in der ich gemeinsam mit anderen Media-Fellows wohne. Durham wurde 1869 gegründet und verdankt sein Wachstum der örtlichen Tabakindustrie. Schornsteine mit Lucky Strike-Schriftzug, alte Backsteinbauten und Industriehallen mit historischen Schriftzügen prägen das Stadtbild. Durham ist eine sehr liberale Stadt, in vielen Vorgärten steht ein Plakat mit der Aufschrift "Against the Amendment". Im Mai 2012 stimmen die Bürger North Carolinas über eine geplante Verfassungsänderung ab, die unter anderem die Rechte homosexueller und nicht-verheirateter Eltern einschränken würde.
Mich beeindruckt die für eine doch eher kleine Stadt recht aktive Musik- und Kulturszene. Mehrmals die Woche finden Konzerte in verschiedenen Locations statt — beispielsweise der "Reverend Peyton's Big Damn Band", Country-Musikern aus Indiana, die an 90 Jahre alten Gitarren und Waschbrettern brillieren. An der Duke-Uni gibt es regelmäßige Kinoabende — der Eintritt ist für alle Besucher frei, Getränke und Popcorn gibt es gratis. In Durham leben ungefähr genauso viele Weiße wie Afroamerikaner, hinzu kommt eine stetig wachsende Zahl lateinamerikanischer Einwanderer. Die "hispanics" treffen sich am Wochenende auf dem Durham Green Fleamarket — eine ganz eigene Welt mit schnauzbärtigen, tätowierten Mexikanern, Quesadilla-Ständen und Verkäufern religiöser Devotionalien. Die Zahl der Lateinamerikaner in North Carolina hat sich in den letzten zehn Jahren verdoppelt. Ihre Wählerstimmen trugen 2008 dazu bei, dass Barack Obama den lange Zeit von den Republikanern dominierten Staat für sich gewinnen konnte.
Fair Food und Healthcare
An der Supermarktkasse wiegt der Kassierer mein Gemüse. Er nimmt die Avocado und sieht mich fragend an: "Was ist das genau?" Wenige Tage später, in einem anderen Supermarkt: Dieses Mal gilt die Ratlosigkeit einer Knoblauchknolle. Dass vielen U.S.-Amerikanern offenbar jeder Bezug zu "echten" Lebensmitteln fehlt, sie unter Übergewicht und Krankheiten wie Diabetes leiden, bestätigt meine Vorurteile. Was ich nicht wusste, ist, dass viele Menschen hier mit großem Engagement versuchen, etwas an der Macht der Lebensmittelindustrie zu ändern: Unsere Programmdirektorin Laurie Bley beispielsweise baut auf ihrer kleinen Farm nicht nur Obst und Gemüse an, sondern folgt auch dem in der New York Times beschriebenen Trend und schafft sich Hühner an. Vor Kneipen und Veranstaltungsorten in Durham parken "Food Trucks", die asiatische Knödel, gefüllte vegetarische Tacos und Suppen anbieten. Alles homemade, local und fairtrade, versteht sich. Im Radio laufen Werbespots des Landwirtschaftsministeriums für ein Programm, das die Ernährungsgewohnheiten ändern soll. Denn die sind eine der Ursachen für die hohen Kosten im Gesundheitswesen.
Die Sanierung des Gesundheitswesens ist das wohl wichtigste politische Thema während meines Aufenthalts. Um die von Präsident Obama geplante Krankenversicherung geht es auch in der Sendung "All things Considered", als wir die öffentlich-rechtliche Radiostation NPR in Washington besuchen. Auf dem Full Frame Documentary Film Festival in Durham gewinnt die Doku "Escape Fire: The Fight to Rescue American Healthcare" den Menschenrechtspreis. Beim Besuch der Redaktion von Al Jazeera English in Washington, im Gespräch mit unseren amerikanischen Fellows: Immer geht es um die geplante Krankenversicherung und das derzeitige ineffektive, teure und unsoziale System — als solches empfinden es zumindest die Menschen, die ich treffe.
Das Fellowship
Die vielen Vorträge und Diskussionsrunden an der Duke Universität und die Washington-Reise inklusive der Besuche bei verschiedenen Redaktionen, im Pentagon, im United States Capitol und im Weißen Haus sind toll. Besonders wertvoll ist die Vielfalt der politischen Meinungen, mit denen wir konfrontiert werden. Auf der einen Seite Ex-Außenministerin Condoleezza Rice und CNN-Mann Sam Feist, die voller Inbrunst von den Vereinigten Staaten als freiestem, bestem Land der Welt sprechen. Auf der anderen Seite der ehemalige Militärsprecher und heutige Al Jazeera-Moderator Josh Rushing, der erzählt, wie er einer regelrechten Hetzjagd inklusive Morddrohungen ausgesetzt war, nachdem er den Militärdienst quittiert und beim arabischen "Feindsender" der Bush-Regierung angeheuert hatte. Auch viele Dokumentarfilme auf dem Full Frame Festival bearbeiten auf bemerkenswert kritische Weise politische Themen: das U.S.-Gesundheitssystem, die Verfolgung der europäischen Roma während des Nationalsozialismus und die Minderheiten diskriminierende U.S.-Drogenpolitik.
Doch einzigartig wird das Programm erst durch die Mit-Fellows und Programmdirektorin Laurie Bley. Der Austausch innerhalb unserer kleinen, aus Journalisten verschiedener Kontinente und Sparten bestehenden Gruppe ist überaus inspirierend. Dank der südafrikanischen Teilnehmer lerne ich über deren Heimat beinah genauso viel, wie über die USA. Unersetzbar ist Fellow David, ein Journalist der regionalen Kulturzeitung Independent Weekly. Ein menschlicher Touristen- und Kulturführer für Durham und Umgebung und unerschöpfliche Informationsquelle für amerikanische Kultur und Geschichte.
Und nein, ich habe keinen Wochenendtrip nach New York eingeschoben. Ich bin überzeugt davon, dass der Aufenthalt in einer Stadt wie Durham, an einer Uni wie Duke mit dem von Laurie Bley organisierten Journalistenprogramm die beste Möglichkeit war, einen so differenzierten Einblick in die Bereiche Politik, Medien und Kultur der Vereinigten Staaten zu bekommen. Liebe Laurie Bley, liebe Mit-Fellows, liebe Rias Berlin Kommission — thank you all!
——————
Anne Preger,WDR Hörfunk, Köln
Sommer im Frühling
Wie berichte ich so, dass ich damit Menschen erreiche? Wie schaffe ich es, dass Menschen in meiner journalistischen Arbeit einen Wert erkennen und bereit sind dafür etwas zu zahlen, damit es mein Medium auch in Zukunft noch gibt?
Die Duke Media Fellows im Frühling 2012 arbeiten in Südafrika, Südkorea, Deutschland und den USA, im öffentlich-rechtlichen oder privaten Fernsehen, in Wochen- oder investigativen Tageszeitungen oder im Radio. Und so unterschiedlich unsere Arbeitsalltage auch zuhause aussehen mögen, diese Fragen teilen wir. Sie tauchen immer wieder auf in Diskussionen mit amerikanischen Journalisten wie Sam Feist von CNN, der Gesundheitsexpertin Laurie Garrett, Bill Adair von Politifact, Andrew Golis von PBS Frontline oder mit Jay Hamilton, dem Leiter des DeWitt Wallace Centers. Er gibt uns gleich zu Anfang unseres Aufenthalts sehr gute Hinweise, wen wir an der Duke für die Themen ansprechen können, die wir in unserer Zeit hier weiter verfolgen wollen.
Die Frühlingszeit in Durham fühlt sich Mitte März eher wie ein deutscher Hochsommer an. Eine angenehme Überraschung bei meiner Ankunft: 30 Grad und Sonne! Allerdings frage ich mich, wieso ich weder Rock noch Shorts eingepackt habe. So zwingt mich dieser Umstand geradezu dazu, einen Teil der hiesigen Kulturlandschaft frühzeitig zu erkunden: Shopping Malls.
Abtauchen in die Daten
Schon in Deutschland hatte ich mich darauf gefreut, die Journalistin und Duke-Professorin Sarah Cohen kennen zu lernen. Ich habe die Möglichkeit, ihren Kurs "Investigative Reporting" zu besuchen, den Sarah zusammen mit einem Kollegen an der University of North Carolina gibt. Das führt mich schon in der ersten Woche nach Chapel Hill. Campus und Stadt sind beeindruckend — ebenso wie das Projekt, das sich die Studierenden für das Semester vorgenommen haben: Sie wollen herausfinden, ob die Golden LEAF Foundation Fördergelder so verteilt wie vorgesehen. Das bedeutet: Daten scrapen, bearbeiten, räumlich und zeitlich darstellen und analysieren. Sarah und Ryan Thornburg vermitteln den Studierenden dafür die notwendigen Methoden aus dem Bereich Computational Journalism.
Seit Februar 2012 bieten Sarah Cohen und Kollegen aber auch kostbare Tipps und Hilfen nicht nur für Studierende, sondern für Kollegen weltweit an — im Reporters' Lab. Dort werden Werkzeuge entwickelt, die investigatives Arbeiten erleichtern. Sarahs Kollege Tyler Dukes informiert auf der Webseite www.reporterslab.org/ außerdem regelmäßig über neue Entwicklungen im Bereich Computational Reporting und gibt Hinwiese auf Programme, die investigatives Arbeiten in Zeiten leerer Kassen unterstützen.
Kirschblüte in Washington
Ich treffe mich mit Duke-Professor Fritz Mayer. Er hat erfahren, dass ich zuhause als WDR-Wissenschaftsredakteurin regelmäßig über den Klimawandel berichte, und wir sprechen über die Berichterstattung und die öffentliche Wahrnehmung des Themas in den USA und Deutschland. Über den Einfluss des Menschen auf das Weltklima herrscht unter Wissenschaftlern vom Fach weitestgehende Einigkeit. Dass das vielen Deutschen klar zu sein scheint, vielen Amerikanern aber nicht, hängt sicher auch an der unterschiedlichen Berichterstattung.
Das Tidal Basin umrahmt von rosa Kirschblüten — darauf haben meine Kamera und ich schon sehnsüchtig gewartet. Aber der rekordwarme März im Osten der USA hat Folgen: Die Postkarten-Idylle ist schon vorbei, als wir in D.C. ankommen. Programmdirektorin Laurie Bley stellt Kontakte her, organisiert und wirkt für unseren Aufenthalt in Washington kleine Wunder: Drei Stunden tiefgehende Tour durch das Pentagon mit einem Press Officer. Solch eine Möglichkeit bekommt man als ausländischer Journalist, wenn überhaupt, wohl nur einmal im Leben. Auf der Führung wird mir in aller Deutlichkeit bewusst, was mir theoretisch eigentlich klar war: Wie tief ins Pentagon eingebettet U.S.-Journalisten vor Ort arbeiten und wie eng die Beziehung zwischen Militär, Politik und Medien dabei zum Teil ist. Alle drei Instanzen profitieren davon. Aber beim Rausgehen frage ich mich: Tut es auch in jedem Fall die Öffentlichkeit?
Am Gebäude der Washington Post auf der 15th Street steht der Name des Mediums in großen Lettern. Der Sender von Al Jazeera English liegt nur zwei Blöcke entfernt auf der K Street, zieht es aber vor, äußerlich inkognito zu bleiben. Wir diskutieren angeregt mit den Kollegen über den Politzirkus in Washington, Perspektiven und die Beziehung zwischen dem englischsprachigen Sender in Washington und dem Mutterhaus in Doha, Katar.
Auf bekannte Radio-Gefilde treffe ich in Washington beim National Public Radio. Mich beeindruckt, wie der Sender es schafft, sich mit mehr als 900 lokalen Radiosendern im Land zu koordinieren. Die Kollegen haben dafür das digitale Radio gezähmt: NPR arbeitet mit Newsflex, einem selbstentwickelten Programm, das jeden Beitrag begleitet, vom ersten Konzept bis zum sendefertigen Audio samt Manuskript. Zugegeben, meine Begeisterung dafür können wohl am ehesten Radioredakteure nachvollziehen.
Fast Madagaskar
Die Duke University hat wissenschaftlich sehr viel zu bieten und ich merke schon in den ersten Tagen, dass ich nicht genügend Zeit habe, alle meine Ideen zu verfolgen. Ich entscheide mich für ein Treffen mit Rupert — einem Teenager, der den ganzen Tag mit seiner Mutter und seinem Onkel im Wald abhängt und scharf auf Erdnüsse ist. Rupert ist ein Lemur, genauer gesagt ein Coquerel-Sifaka, und lebt im Duke Lemur Center. Die Tiere und die Forscher dort begeistern mich so sehr, dass ich gleich mehrmals vorbeigehe und mir vornehme, sobald wie möglich nach Madagaskar zu fahren, um Lemuren auch einmal in ihrem natürlichen Lebensraum zu erleben.
North Carolina und Nordrhein-Westfalen haben etwas gemeinsam: Im Untergrund lagert Erdgas, das allerdings so verteilt im Gestein vorkommt, dass man das Gestein aufbrechen muss, um das Gas zu fördern. Die entsprechende Fördermethode heißt kurz "Fracking" und bewegt spätestens seit 2011 sowohl in NC als auch in NRW die Gemüter. Noch wird weder im Bundesstaat noch im Bundesland gefrackt. Doch im März/April 2012 scheint es, als ob es in einiger Zeit diesseits wie jenseits des Atlantiks dazu kommen könnte.
Ich nutze den Duke-Aufenthalt für Begegnungen mit zwei Experten von der Duke Nicholas School of the Environment, Rob Jackson und Avner Vengosh, die in anderen U.S.-Bundesstaaten die Auswirkungen von Fracking auf Grundwasser und Luftqualität untersuchen. Ich besuche auch eine öffentliche Anhörung in der Nachbarstadt Chapel Hill. Beim Zuhören stelle ich fest, dass die Bürger in NC und NRW viele Bedenken teilen. Besonders interessant ist für mich aber auch, was in NC anders ist, zum Beispiel in Bezug auf die Rechtslage und die Eigentumsverhältnisse. Es gibt Bürger in NC, die Fracking wollen — sei es, weil sie durch Verkauf der Nutzungsrechte unter ihrem Grundstück Geld verdienen können, sei es, weil sie auf Jobs hoffen oder weil ihnen die Energieunabhängigkeit der USA wichtig ist. In der links-progressiv eingestellten Uni-Stadt Chapel Hill gehen die Stimmen der Befürworter am Abend der Anhörung allerdings im Chor der Fracking-Gegner unter.
Chasing News
Das Nationale Klimadaten-Zentrum vermeldet Anfang April: Durham und der Rest der USA haben in diesem Jahr den wärmsten März seit Beginn der Wetteraufzeichnungen erlebt. Im April beim Baseball Gucken im Stadion der Durham Bulls mit Mit-Fellow David Fellerath ist es dann aber wieder ziemlich frisch.
Auf dem Full Frame Dokumentarfilm-Festival sehe ich an meinem letzten Wochenende in der Bull-City viele beeindruckende Filme, die auf ihre Weise noch einmal einige der bestimmenden Themen meines Aufenthalts aufgreifen:
"Chasing Ice" — der gelungene Versuch, den Klimawandel für Zuschauer sichtbar zu machen; "The Tsunami and the Cherry Blossoms" — wie die Kirschblüte in Japan den Menschen nach der Katastrophe 2011 wieder Hoffnung gibt; und "Big Boys gone Bananas!*" — welchen Einfluss ein multinationaler Konzern auf die U.S.-amerikanischen Medien ausübt.
Mein Fazit nach vier Wochen Austausch unter Journalisten an der Duke University: Das eine Überlebensrezept schlechthin für eine Zeitung oder einen Sender habe ich nicht gefunden. Stattdessen habe ich mein Bewusstsein für viele Ansätze geschärft:
Politiker nicht mit Halbwahrheiten davonkommen lassen — wie Politifact
Versuchen, neutral zu bleiben, wo andere klar Stellung beziehen — wie CNN
Bewusst eine andere Perspektive einnehmen und dabei den Mut haben, auch noch einmal die Grundlagen zum Thema Krankenversicherung zu erklären, anstatt dem politischen Tagesgeschehen in der Hauptstadt hinterher zu hetzen — wie Al Jazeera English.
Ich nehme mit: Nicht nachmachen, was andere schon tun. Und: Wer wirklich weiß, wovon er berichtet, sticht aus dem Nachrichtenmeer heraus.
---
TEILNEHMERBERICHTE

Thomas Jaedicke, Deutschlandradio Kultur, Berlin
Vor 50 Jahren hat Martin Luther King seine berühmte Rede für Freiheit und Gleichberechtigung aller Amerikaner gehalten. Vor fünf Jahrzehnten nahm Duke, eine der renommiertesten Hochschulen der Welt, gelegen in North Carolina im erzkonservativen Süden der USA, den ersten schwarzen Studenten auf. Offiziell ist die Rassentrennung natürlich längst Geschichte. Aber die Realität sieht auch heute manchmal noch anders aus. Richtige Chancengleichheit gibt es in den USA nicht. Auch heute sind z.B. die meisten Studenten der Duke-Eliteuni noch weiß. Viele Schwarze findet man eigentlich nur beim Küchenpersonal, den Sicherheitsleuten und unter den Reinigungskräften. Duke tut sich ganz schön schwer mit der eigenen Vergangenheit.
Das Erste, was mir auffiel, als ich in Raleigh den Flughafen verließ, war der Himmel. Leuchtendes Blau. Endlos. Keine Wolke, nirgends. Dass der Himmel hier so aussehen kann, hatte ich fast vergessen. Aber jetzt kamen die Bilder langsam zurück, ganz tief aus meinem Gedächtnis. Es war dasselbe, wunderschöne Blau, das ich gesehen hatte, als ich vor ziemlich genau 25 Jahren zum ersten Mal nach North Carolina kam. 1987 war ich ein Austauschstudent. Vieles hat sich in dieser langen Zeit verändert, klar. Aber, als ich in diesem Herbst als Fellow der Sanford Media School for Public Policy der Duke Universität wieder für vier Wochen in North Carolina war, konnte ich feststellen, dass — gottseidank — auch vieles immer noch so wie früher ist.
Zum Beispiel: Solidarität. Als Sandy, ein fürchterlicher Hurrikane,an der Ostküste wütete und vor allem in New York und in New Jersey schwere Schäden verursachte, war das ganz offensichtlich. Die Amerikaner standen in größter Not ganz eng beisammen. Für ein paar Tage geriet sogar der Wahlkampf für die unmittelbar bevorstehende Präsidentschaftswahl in den Hintergrund, fast sogar in Vergessenheit. Da ist er wieder, der berühmte American Spirit, dachte ich mir. Die Bilder, die CNN fast pausenlos und mit viel Pathos live von den überschwemmten Orten lieferte, zeigten Feuerwehrleute, Soldaten, Freiwillige und Nachbarn im unermüdlichen Dauereinsatz. So viel Selbstlosigkeit — das hat mich berührt und zu Tränen gerührt. Jetzt immer noch, während ich längst wieder in Berlin sitze und diesen Text schreibe. Um diesen Gemeinschaftssinn beneide ich Euch Amerikaner. Davon könnten wir in Europa auch ein bisschen mehr gebrauchen, um mit den Anfechtungen der wirtschaftlichen und politischen Dauerkrisen besser fertig zu werden. Aber Europa steht nicht zusammen; die Gemeinschaft ist zersplittert. Viele denken zuerst an sich. Statt die Probleme gemeinsam anzugehen, vielleicht sogar mit einer starken europäischen Regierung zu lösen, gewinnt die Idee der Nationalstaaten wieder mehr Anhänger. Von einem Gemeinschaftsgefühl, den Vereinigten Staaten von Europa, ist jedenfalls nichts zu spüren. Kein European Spirit, nirgendwo.
Aber ist Eure Solidarität echt? Seid Ihr in Euren Herzen zutiefst davon überzeugt? Oder ist diese Haltung nur perfekt gespielt? Bedient Ihr damit nicht bloß ein Image, das Euch nützlich erscheint, damit wir von Euch denken, dass Ihr wahrhaftig für Werte wie Freiheit und Gleichheit eines jeden Bürgers in Eurer Gesellschaft eintretet? So wie Ihr es gerne und bei fast jeder Gelegenheit und mit viel Nachdruck und noch mehr Pathos beteuert? Ich weiß darauf keine eindeutige Antwort. Vielleicht gibt es sie auch nicht.
Neben dem Sanford-Programm, das mir einen großartigen Einblick in die Medienlandschaft der USA geboten hat, habe ich während meiner Duke-Zeit noch ein anderes Projekt verfolgt. Ich wollte mir genauer ansehen, welchen Einfluss der College Sport auf die Amerikanische Gesellschaft hat. Um dieser Frage näher auf den Grund gehen zu können, gibt es wohl kaum einen besseren Ort als den Duke Campus: Seit 33 Jahren ist Mike Krzyzewsky hier für das Basketballteam der Männer verantwortlich. Coach K. ist eine lebende Legende. So ganz nebenbei hat der 65jährige, der Absolvent der berühmten West Point Militärakademie ist, noch das U.S. Olympiateam zwei Mal zu Gold gecoacht: 2008 in Peking und in diesem Jahr in London. Keine andere Uni-Mannschaft als Duke hat mehr Spieler in der amerikanischen Profiliga, der NBA, untergebracht. Doch Mike Krzyzewsky selbst ist Duke immer treu geblieben, obwohl er mehrere Angebote hatte, einen Klub aus der NBA zu übernehmen. "Ich liebe diese Universität wie verrückt," hat mir Coach K. erzählt. "Ich möchte den jungen Studenten helfen, ihren Platz im Leben zu finden. Wenn sie hier zu mir kommen, übernehme ich sie an einem Punkt in ihrem Leben, wo ich ihnen Brücken bauen kann."
Es war gar nicht so einfach, mit "God himself" zu sprechen. Nach ihm ist nicht nur das Spielfeld der Basketballarena benannt. Der ganze Duke Sportkomplex, Kryzewskiville, ist ihm geweiht. Trotzdem habe ich einen direkten Draht zu ihm gefunden. Als Duke-Fellow standen mir viele Türen offen, hinter denen ich eine Reihe exzellenter Interviewpartner gefunden habe, die mir halfen, den Kern meiner Story zu finden.
Zahllose Pokale und Fotos schmücken die "Hall of Fame" in der Lobby im ersten Stock der Basketballarena. Die Aufnahmen sind Mannschaftsfotos oder zeigen Spieler in Aktion auf dem Spielfeld. Die ältesten Bilder sind schwarz-weiß Fotografien, aufgenommen in den 1930er Jahren. Bis in die frühen 60er Jahre sind alle abgebildeten Spieler weiß.
Im Land der Freiheit und unbegrenzten Möglichkeiten hat es bis zum Jahr 1963 gedauert, ehe sich der erste schwarze Amerikaner an der altehrwürdigen Duke Universität, gegründet im Jahre 1838, immatrikulieren durfte. Zwei weitere Jahre brauchte es, bis C.B. Claiborne 1965 als erster schwarzer Spieler für das Duke Basketballteam auflaufen konnte. Obwohl viele Colleges sich in den frühen 60er Jahren langsam öffneten, war der Unialltag und das Leben auf dem Campus — besonders hier im Süden — für schwarze Studenten alles andere als normal. C.B. Claiborne war ein Pionier, ein Wegbereiter für viele andere schwarze Spieler, die es nach ihm ins legendäre Duke Basketballteam schafften. Heutzutage stehen in der Duke-Starting-Five bestenfalls zwei weiße Spieler.
"Wir wissen nicht, wo C.B. steckt." Das ist die lapidare Auskunft im Basketballbüro. "Wir wissen auch nicht, wieso, aber wir haben den Kontakt zu C.B. verloren." Ich habe nach C.B. Claiborne gesucht und ihn in Houston, Texas, gefunden. Dort lebt er jetzt. "Als ich zum ersten Mal den Duke Campus betrat, war das für mich wie eine neue Welt", sagt C.B. Claiborne. Dann erzählt er mir von seinem ersten Kontakt mit einem Duke Professor. "Ganz egal, wie sehr Du dich anstrengst, Du wirst bei mir nie eine gute Note bekommen, weil Du schwarz bist. Das hat er zu mir gesagt." Für den jungen Studenten C.B. war diese rassistische Begrüßung Beleidigung und Ansporn zu gleich. "Das hat mich herausgefordert. Diesen Leuten wollte ich es unbedingt zeigen." C.B. Claiborne legte drei Examen ab. Heute ist der 65jährige Professor für Marketing an der Texas Southern University.
C.B. Claiborne wuchs in einer Kleinstadt in Virginia auf, 60 Meilen von Duke entfernt. Bevor er sich auf den Weg zur Schule machte, füllte er seine Hosentaschen jeden Morgen mit Steinen aus dem Gleisbett der nahen Eisenbahnlinie. Schwarze und Weiße lebten in den 50er Jahren noch streng voneinander getrennt. "Unsere Siedlung lag etwas außerhalb. Um zur Schule zu kommen, mussten wir durch ein nur von Weißen bewohntes Viertel. Wer von unseren Jungs zuerst am Bahndamm war, wartete auf die anderen. Niemand wollte den Weg allein gehen, denn jeden Morgen wurden wir von weißen Kids angegriffen." C.B. Claiborne brauchte die Steine nicht nur zur Verteidigung. Er brauchte sie, um überhaupt den Mut zu finden, diesen Weg jeden Morgen wieder aufs Neue gehen zu können. "Selbstvertrauen ist das Wichtigste im Leben. Ich habe später als Professor an der Uni immer versucht, das meinen Studenten zu vermitteln."
Sein großes sportliches Talent hat C.B. Claiborne enorm geholfen, sich einen guten Platz in der Hierarchie auf dem Campus zu erkämpfen. Der Sport war damals für ihn eine Art Lebensversicherung. Im Duke Basketballteam gewann er schnell den Respekt seiner weißen Mitspieler. Schließlich profitierte die ganze Mannschaft von seiner Spielstärke. Und Duke schmückte sich — wie jedes amerikanische College — schon immer gern mit den Erfolgen seiner Sportler. Es war eine klassische Win-Win-Situation. Aber obwohl er als Athlet voll akzeptiert war, fühlte sich C.B. an der Uni nicht wirklich wohl. Sogar zum Essen verließ er den Campus. Er fuhr ein paar Stationen mit dem Bus zur North Carolina Central University. Das war ein staatliches College nur für schwarze Studenten.
"I have a dream that one day this nation will rise up, and live out the true meaning of its creed: 'We hold these truths to be self-evident: that all men are created equal." Vor fünfzig Jahren hat Martin Luther King beim Marsch der Bürgerrechtsbewegungen auf Washington, D.C., seine berühmte Rede für Freiheit und Gleichberechtigung gehalten. "I have a dream that my four little children will one day live in a nation where they will not be judged by the color of their skin but by the content of their character. I have a dream today."
Erst vor 50 Jahren haben U.S.-Universitäten nach und nach afro-amerikanische Studenten aufgenommen. Schritt für Schritt haben die schwarzen Amerikaner in den folgenden Jahrzehnten ihre volle gesellschaftliche Teilhabe erkämpft. "Diese Universität hat eine fürchterliche Vergangenheit", sagt Charles T. Clotfelter, "genau wie der ganze Süden der USA". Clotfelter, Autor von "Big Time Sports in American Universities", ist Professor für Soziologie an Duke´s Sanford Media School. Er wuchs in Atlanta, Georgia, auf. Bis Charles Clotfelter anfing zu studieren, hatte er nie groß mit schwarzen Amerikanern zu tun. Der Mittsechziger bedauert zutiefst, dass es so lange gedauert hat, die Rassentrennung zu überwinden. Und der Prozess sei noch immer nicht abgeschlossen. "Die Amerikaner behaupten zwar gern, dafür zu stehen, dass jedermann hier gleiche Rechte hat", sagt Clotfelter: "Das Dilemma ist, dass wir diese Prinzipien der Gleichheit haben, doch wir wenden sie nicht an."
"When you try hard, you can die hard…That´s true…" Im Kraftraum der Duke-Trainingshalle läuft Gangsta Rap. Rasheed Sulaimon liegt auf einer Bank und stemmt Gewichte mit den Füßen. Er will seine Sprungkraft verbessern. Der 18jährige Freshman spielt im ersten Jahr im Basketballteam von Duke. Im ersten Saisonspiel um die U.S.-Collegemeisterschaft hat er neun Punkte zum 74:55-Sieg gegen Georgia State beigesteuert. Geborgen wurde Rasheed in Houston, Texas, als Sohn eines nigerianischen Vaters und einer jamaikanischen Mutter. "Wer ist C.B. Claiborne?" fragt er. "Rassismus? Davon habe ich hier noch nichts gemerkt. Mich interessiert im Moment nur Basketball. Ich bin wie ein Schwamm, sauge alles auf, was Coach K. mir rät. Ich will einen Stammplatz im Duke-Team und dann so schnell wie möglich in die NBA!"
The Black Fox Lounge, ein kleiner Jazz Club am Dupont Circle in Washington, D.C. Es spielt ein gemischtes Trio. Der Pianist und der Bassist sind schwarz, der Schlagzeuger ist weiß. Der Sound ist cool; die Atmosphäre nett und entspannt. Washington hat einen ganz anderen Rhythmus als Durham, North Carolina. Wir haben die U.S.-Hauptstadt kurz vor den Präsidentschaftswahlen für ein paar Tage besucht. Die Stadt wirkt eher europäisch als amerikanisch, sie hat einen liberalen Touch. Washington ist teuer. Die Menschen auf den Straßen sind elegant, manche sogar exzentrisch gekleidet. Es gibt eine Menge Regierungsbehörden, internationale Organisationen, Botschaften NGO´s und Medien. Georgetown an Halloween ist klasse — überall gemütliche Kneipen, schicke Restaurants und Party.
Wir waren in einem zentral gelegenen Hotel untergebracht. Laurie Bley, unermüdlich vom ersten bis zum letzten Tag, hat uns nicht nur in Washington ein abwechslungsreiches Programm zusammengestellt, das uns deutlich gemacht hat, wie Medien und Politik in den USA zusammenarbeiten. Ich arbeite seit einigen Jahren hauptsächlich fürs Radio. Deswegen war der Besuch bei npr in Washington für mich besonders interessant. Nachdem ich in meinem beruflichen Umfeld in letzter Zeit immer öfter die Erfahrung gemacht habe, dass fast überall nur noch auf ganz junge Kräfte und technologischen Fortschritt gesetzt wird, war es für mich irgendwie beruhigend, zu sehen, dass bei npr die Uhren noch ein bisschen anders gehen. Um ein gutes Programm zu machen, setzen die npr-Leute auf eine ziemlich ausgewogene Mischung aus Altbewährtem und Neuem. Das schafft im ganzen Haus ein angenehm unaufgeregtes, sachlich-kompetentes Klima. Gut zu wissen, dass man selbst in den USA, die in vielen Bereichen immer noch der Motor des Fortschritts sind, nicht über jedes Stöckchen springen muss, das einem hingehalten wird.
Die Fellows aus Südkorea haben z.B. erzählt, dass die Mitarbeiter bei Samsung schon mit 40 entlassen werden, weil sie angeblich nicht mehr mit der technologischen Entwicklung mithalten können. Ich bin 45 und habe vor kurzem auch einen Job verloren, von dem ich mehr oder weniger gelebt habe. Der Chef, noch zwanzig Jahre älter als ich, rief mich ins Büro und sagte mir offen ins Gesicht, ich sei draußen, weil ich zu alt sei. Für mich war das ein Schock. Wir werden immer älter, sollen immer länger arbeiten, damit die sozialen Sicherungssysteme nicht zusammenbrechen, werden aber mit Mitte 40 schon nach Hause geschickt. Was für ein komischer Deal soll das sein?
Mein persönliches Highlight in Washington war der Besuch beim "Pulitzer Center on Crisis Reporting". In extrem schwierigen Zeiten, in denen selbst angesehene Zeitungen sterben, weil die Leser ins Netz abwandern, wo es viele Informationen gratis gibt, machte Pulitzer Chefredakteur Tom Hundley, langjähriger Korrespondent der ebenfalls ums Überlegen kämpfenden Chicago Tribune, Mut. Seine Organisation verfügt über Geld, das von den Familien Pulitzer und Gates kommt. Mit diesen Mitteln werden hauptsächlich Journalisten gefördert, die über Themen aus Entwicklungsländern berichten wollen, aber wegen der Zeitungskrise für ihre Geschichten keine Abnehmer mehr finden. Das Pulitzer Center veröffentlicht die Geschichten auf der eigenen Webseite, hilft den Reportern aber auch, andere Abnehmer zu finden. Vielleicht könnte das eine vielversprechende Strategie sein, Qualitätsjournalismus trotz der ständigen Discount-Anfechtungen aus dem Netz am Leben zu erhalten.
Aber auch an der Sanford Media School in Durham haben uns eine Menge Experten Einblicke in ihre Arbeit und Projekte gewährt. Diese neuen Kontakte und Erfahrungen sind für mich und meine Arbeit bestimmt sehr nützlich. Ich glaube, ich habe eine ganze Menge dazugelernt. Sehr beeindruckt hat mich das Gespräch mit Sanyin Siang, Director of the Fuqua School Ledership and Ethics Program. Genauso inspirierend fand ich allerdings auch Tyler Dukes, der in seinem "Reporter´s Lab" neue, digitale Werkzeuge für Journalisten entwickelt.
Außerdem habe ich das Leben auf dem Campus sehr genossen. Die Atmosphäre ist fantastisch. Es war etwas Besonderes, in der Wahlnacht die Wiederwahl von Präsident Obama mit den anderen Studenten zu feiern. Ein paar Mal habe ich mit meinem 13jährigen Sohn Ole, der in Berlin lebt, eine Skype-Tour über den von königlich-mittelenglisch-gotischen Gebäuden bestimmten Campus gemacht. "Sieht fast so aus wie bei Harry Potter," war sein spontaner Kommentar. Das trifft es ziemlich genau. Wäre ich 20 Jahre jünger, würde ich vielleicht versuchen, an einer Uni wie Duke zu studieren.
Das Beste am Duke-Programm war natürlich, die anderen Fellows kennenzulernen. Menschen aus Südafrika, Japan, Haiti und aus Südkorea. Die Vereinten Nationen in klein. In den Challenges an der Sanford School haben wir mehr voneinander erfahren. Es war beruhigend, aufs Neue festzustellen, dass die Menschen überall auf der Welt gleich sind. Jeder von uns teilt dieselben Freuden und hat dieselben Ängste. Unsere kleine sechsköpfige Gruppe, die in den Forest Apartments wohnte, das Forest Team, war für mich der Kern der Reise. Wir waren nicht nur enge Nachbarn, die gemeinsam kochten und viel zusammen unternahmen. Ich glaube, wir sind Freunde geworden. Hoffentlich hält dieses Netzwerk lange. Das wünsche ich mir.
Vier Wochen sind wie im Flug vergangen. Ich hätte gerne noch eine Weile so weiter gemacht. Bevor ich auf diese Reise ging, hatte ich das Gefühl, in einer engen, dunklen Sackgasse zu stecken. Jetzt bewege ich mich wieder! Ich habe neue Ideen und Pläne im Kopf. Es waren zwar nur vier Wochen, aber an diesem Punkt in meinem Leben sind vier Wochen eine ganze Menge. Ich kann mich kaum erinnern, wann ich zum letzten Mal so lange aus der alltäglichen Tretmühle ausgebrochen bin. Ich bin froh, dass ich diesen Schnitt gewagt habe. Gerade jetzt, während ich das hier aufschreibe, habe ich das Gefühl, dass diese vier Wochen mein Leben mehr bereichert haben als so manches vergangene Jahr. Vielen Dank!
——————
Leo Spors, Zweites Deutsches Fernsehen, Mainz
Amerika! Während der Präsidentenwahl 2012! Als ich die Bestätigung von Rainer Hasters in den Händen halte, habe ich das Gefühl: Das ist der Volltreffer! Vier Wochen — neue Eindrücke, Reise in ein Land, in dem die politischen Lager aufeinander schlagen. Spannung in der Wahlnacht und am Ende — ein gewählter Präsident. Vier Wochen draußen in der Welt und mal nicht zwischen Schreibe- und Schneide- und Konferenztisch in Mainz. Und auch das: vier Wochen im Mutterland der freien Rede, im Medienlabor der Welt — der Heimat von CNN, von Woodward und Bernstein, von Citizen Kane und Steve Jobs.
Als ich nach 14 Stunden Flug und Transfer in meinem kleinen Appartement in Durham, North Carolina ankomme, schäme ich mich fast ein wenig — natürlich öffne ich mein gewohntes deutsches Nachrichtenportal just als ich den Rechner ans Internet angeschlossen habe. Aber wollte ich nicht eintauchen in der Welt der amerikanischen Medien? Neues sehen, Neues lernen? Mich mal ganz einlassen auf einen anderen Diskurs, auf andere Präsentationsformen, auf einen ganz anderen Mainstream? Ganz so einfach ist es nicht, das merke ich auch später immer wieder. In Zeiten, in denen es im Netz einfach alles überall gibt. Zugeschnitten auf jedes noch so spezielle Bedürfnis. Zersplitterung der Gesellschaft, der Medien. Die Zeiten der großen Meinungsführer neigt sich nicht nur hier in den USA dem Ende zu.
Beim Fernsehen erlebe ich es ähnlich. Mein Gerät im Wohnzimmer hat Kabelanschluss und hier habe ich tatsächlich nur amerikanische Ware im Kabelprogramm. Gefühlte 1000 Spezial-Kanäle hat mein Fernseher: Ich sehe Sportkanäle, Predigtkanäle, Militärkanäle, Wetterkanäle, Dokukanäle und spanischsprachige Telenovelas, Shoppingfernsehen, daneben natürlich auch noch FOX, CNN, NBC und einige regionale Nachrichtensender. Wer was wann warum macht — ich komme nicht ganz dahinter. Zu schnell kommen die Werbepausen und lassen mich wieder weiter zappen. So anders als in Deutschland ist es möglicherweise gar nicht, nur schneller, dichter und: hier in Amerika kann ich mich nicht auf meine Seh-Erfahrungen zurückziehen, ich fühle mich dem Bildersturm willenlos ausgeliefert.
Am nächsten Tag lerne ich meine Kollegen kennen, im Wohnpark "The Forest" wohnen außer mir Mapi und Dianne aus Südafrika, Frantz aus Haiti und Thomas und Sven aus Deutschland. Einige andere Programmteilnehmer aus Asien wohnen anderswo, haben teilweise sogar ihre Familien mitgebracht. Wir sechs Forest-Bewohner teilen uns zwei Autos, bald viele schöne Erinnerungen und auch ein paar interessante Erfahrungen mit der universitären Verwaltung. Der Campus liegt einige Kilometer entfernt und so fahren wir jeden Morgen gemeinsam zu unserer Uni.
Laurie Bley, unsere Programmdirektorin am Sanford Institute hält uns mit regem Mailverkehr auf dem Laufenden und organisiert den Kern des Programms: die Challenge Sessions — eine Seminarreihe, in der wir Teilnehmer uns gegenseitig die Situation der Medien in unserer Heimat darstellen.
Unglaublich finde ich die Ausschnitte, die uns die koreanischen TV-Kollegen zeigen: ein bonbonbuntes Animationsinferno selbst bei politischer Berichterstattung, laut und grell, wohl, weil es die Menschen im Heimatland von Samsung und LG so erwarten.
Ganz anders dagegen die Medienwelt in Haiti, dort bringt Kollege Frantz seinen "Nouveliste" mit 15.000er Auflage heraus und ist damit Chefredakteur der größten Zeitung des Landes. Er will, dass sich seine Zeitung in Zukunft kritischer positioniert, keine Selbstverständlichkeit in einem Land, in dem Journalistenmorde auch nach dem Ende der Aristide-Ära nicht aufgehört haben.
Mapi aus Südafrika schließlich wundert sich über die aufwändige amerikanische Berichterstattung bei Gewaltverbrechen. In ihrem Fernseher habe sie heute morgen etwas gesehen, da sei nur ein einziger Mensch zu Tode gekommen! Bei ihr in Johannesburg, so sagt sie, müssten schon deutlich mehr "bodies on the street" sein, damit sich ein Übertragungswagen und überhaupt der ganze Aufwand lohne. Sie zeigt uns ihr TV-Material vom Massaker an Minenarbeitern in Marikana einige Wochen zuvor, berichtet von den juristischen Schwierigkeiten, in denen ihr Sender jetzt steckt — weil dort zu blutige Detail-Aufnahmen nachmittags veröffentlicht wurden.
Ich selbst kann bei meiner Präsentation weder mit Bodies noch mit Animationen punkten, allein, mein ZDF-Länderspiegel wird von den Kollegen höflich als "im positiven Sinne klassisch" bewertet.
Doch nicht nur unsere Seminare hat Laurie Bley für uns organisiert. Auch den Field-Trip nach Washington hat sie zusammen gestellt. Eine Woche sind wir in der Hauptstadt. Kurz vor der Präsidentenwahl merkt man hier wie überall außerhalb der Battleground-States erstaunlich wenig vom Wahlkampf. Hurrican Sandy beherrscht die Schlagzeilen, der ist gerade an New York vorbeigezogen und hat in weiten Teilen Manhattens einen Stromausfall ausgelöst. Kein Wunder, dass die Bilder des zerstörten Krans und der Aufräumarbeiten den Präsidentschaftswahlkampf im Fernsehen verdrängt haben.
Aber auch im Straßenbild sieht man wenig Wahlkampf. Kleine Schildchen vor den Häusern hatte man im ländlichen North Carolina noch hier und da gesehen, in Washington — nichts. Das sei so, weil dieser Staat sowieso sicher für Obama sei, erklärt man uns, die Parteien aber investierten nur dort, wo es noch etwas zu gewinnen gebe.
Der Wahlschlacht bleibt für uns so seltsam virtuell. Vor allen Dingen keine Fehler machen, darauf scheinen sich Romney und Obama offenkundig auch im letzten Fernsehduell geeinigt zu haben.
Das führt dazu, dass letztlich nur launige Sprüche über "Horses and Bayonets" und kaum Inhalte hängen bleiben. Spannender sind da die TV-Wahlkampfspots. Mein Favorit ist der von Thomas Peterffy, einem hemdsärmeligen Millionär, der sich für Romney einsetzt und Demokraten beschimpft. Er sei doch schließlich nicht aus Ungarn eingewandert, damit er hier in Amerika seinen Reichtum wie im Sozialismus teilen müsse! Endlich mal jemand der Klartext redet, denke ich amüsiert.
Washington ist ganz klar eines der Highlights. Touristisch sowieso, wer wie ich noch nie dort war, kann nur staunen über die sensationelle (und in weiten Teile kostenlose) Museumslandschaft. Neben den Smithonian-Klassikern ist das "Newseum" für uns Journalisten besonders spannend, ein Museum über die Welt der Nachrichten. Hier zeigen sie auch Wahlkampfspots der letzten Jahrzehnte — Klassiker, wie den "Morning in America again"-Spot, der vielen Experten zufolge Reagens Wiederwahl überhaupt erst möglich gemacht hat.
Im offiziellen Besuchsprogramm besuchen wir NPR — das amerikanische öffentlich-rechtliche Radio, das Pentagon, das Foreign Press-Office, den Parlamentskanal C-Span sowie die Pulitzer-Stiftung.
Termine bei den großen nationalen Medien hatten sich verständlicherweise und dennoch leider nicht ergeben, da die amerikanischen Kollegen so kurz vor der Wahl keine Zeit für uns hatten.
Trotzdem bekommen wir einiges davon mit, in welchem schwierigen Umfeld Journalismus in den USA derzeit stattfindet. Immer mehr Zeitungen sterben, immer mehr Jobs fallen weg und auch die verbleibenden Medien haben immer weniger Zeit für Recherche.
Bewundernswert und gleichwohl traurig das Projekt der Pulitzer Stiftung, hier wird Recherche wortwörtlich gesponsort. Wir erfahren, dass selbst Hochglanzzeitschriften wie Esquire mittlerweile gerne die Unterstützung selbstloser Spender annehmen.
Halloween im szenigen Stadtteil Georgetown und einige lustige Begegnungen im Nachtleben dort zeigen, was hierzulande beim "Amerika-Bashing" gern vergessen wird: es gibt dort sehr viele, sehr nette und entspannte Menschen.
Mein eigenes Projekt treibe ich an einem Wochenende und in der Wahlnacht voran. Für das ZDF.auslandsjournal mache ich ein Stück über die Wahl in der "Obamastadt" Chicago. Die Drehtage dort im Norden bringen mir weitere neue Einblicke in die amerikanische Gesellschaft. Chicago — die toughe Arbeiterstadt, im wahrsten Sinne des Wortes niedergebrannt und wieder auferstanden, wie der Phönix. Ein Sinnbild für ein Amerika, das sich immer wieder neu erfindet. Ich erlebe die Wahlnacht im McCormick Place, einem Messegebäude, das den Demokraten für ihre Wahlparty dient. Es wird zum Ort der Siegesfeier Obamas, und ich kann zusehen, wie vielen dort ein großer Stein vom Herzen fällt. Tage zuvor hatte mir noch ein Tourist aus Florida gesagt, er sei froh, dass der Obama-Spuk im Weißen Haus ja wohl endlich bald vorbei sei — nun, es ist anders gekommen.
Für mich war es nicht nur eine Reise in ein fremdes Land, die USA sind für uns Europäer ja oft auch eine Reise in unsere eigene Zukunft. Und die ist nicht nur schön, wenn es um Medien geht. Kaum zuhause in Deutschland, wird die FTD eingestellt, die Frankfurter Rundschau geht in die Insolvenz. Tage vorher waren wir noch in Raleigh bei der dortigen Lokalzeitung zu Besuch gewesen. Der Chefredakteur berichtet uns, dass er im letzten Jahr fast 100 Entlassungsgespräche mit Redakteuren führen musste, sein Newsroom sei halbiert, bei gleicher Arbeitsbelastung. Vor fast zehn Jahren, sagt er, da seien sie stolz gewesen, als eine der ersten amerikanischen Lokalzeitungen alle Inhalte auch im Internet zu haben. Heute verfluchen sie den Tag.
Amerika, das Medienlabor der Welt, immer spannend, immer mutig, immer in Bewegung, aber nicht immer gewinnen die Guten. Und trotzdem: es gibt dort ziemlich viele Gute, die sollte man auch nicht unterschätzen.
——————
Sven Weingärtner, Radio Bremen, Bremen
Ein Tagebuch
Samstag: Ankunft in Durham; während des Flugs die ersten drei Kapitel aus "I am Charlotte Simmons" von Tom Wolfe gelesen; aus der Luft beobachtet, dass die Blätter an den Bäumen in Detroit schon braun sind, in Raleigh-Durham noch grün — sehr schön; ersten Media Fellow am Flughafen kennengelernt; SIM-Karte von AT&T mit SMS- und Internet-Flat sowie Telefonguthaben über 250 Minuten gekauft; das Nötigste im Supermarkt besorgt; erschöpft ins Bett
Sonntag: verschlafen; vier weitere Fellows kennengelernt; gemeinsam zum Brunch bei Foster's Market (kann man sich merken!) gefahren; dann Mall; dann Walmart; dann gemeinsames Spaghetti-Essen; dann Lesen des umfangreichen Info-Pakets unserer Kontaktperson Laurie Bley
Montag: Rundgang mit (fast) allen Fellows auf dem Campus — tolles Gelände, beeindruckende Gebäude, super Wetter; beim Lunch erste kurze Vorstellung aller 17 Fellows aus China, Deutschland, Japan, Haiti, Südafrika und Südkorea; Computereinführung; Debatte zur Präsidentschaftswahl; abends festgestellt, dass die Küche in meinem Apartment neu gestrichen und der Herd ausgebaut wurde, stinkt jetzt alles nach beißender Farbe
Dienstag: bei der Managerin unser Unterkunft "Forest Apartments" beschwert, Managerin "so sorry", verspricht sofortige Abhilfe; Fön gekauft (gehört wie so manches Küchenutensil nicht zur Ausstattung im Apartment); Visa-Formalitäten erledigt; Passwort für Duke-Intranet geresettet; beim Basketballtraining mit legendärem "Coach K" zugeschaut; abends südafrikanisches Essen bei Fellow; festgestellt, dass es in meinem Apartment immer noch stinkt; Fenster über Nacht geöffnet — kalt
Mittwoch: wieder beim Management beschwert, anderes Apartment verlangt; Hausaufgaben gemacht, in Buch gelesen zur Vorbereitung auf Diskussionsrunde über "reasonable ignorance"; ausführliche Vorstellung der Mediensituation in Südafrika und Haiti; abends in anderes Apartment umgezogen, einen Cent gefunden, behalte ich zur Kompensation; nervige VISA-Formalitäten jetzt endgültig erledigt (hoffe ich)
Donnerstag: Termin mit Friseur gemacht, lange geduscht, Pfannkuchen gefrühstückt, angekommen — jetzt kann es hier richtig losgehen; Vorbereitung auf meine Präsentation über mich, meine Arbeitssituation sowie die Herausforderungen des öffentlich-rechtlichen Rundfunks und die eines Freiberuflers; mit Friseurin über Gesundheitssysteme diskutiert — war bestimmt eine Republikanerin
Freitag: Fellow zum Flughafen gebracht; Essen mit amerikanischer Produzentin und ehemaliger NBC-Reporterin; Besuche diverser Shopping Malls; kurzfristig Motel in Asheville gebucht
Samstag: vier Stunden in die Great Smoky Mountains gefahren; in Asheville viele junge, verrückte und verkleidete Leute getroffen — war kurz vor Halloween und zufällig grad ein Musikfestival in der Stadt; im schäbigsten Motel westlich Tunesiens übernachtet
Sonntag: über den Blue Ridge Parkway zum Mount Mitchell gefahren — der höchsten Erhebung östlich des Mississippi; durch diesen Ausflug den Ausläufern von Supersturm Sandy entgangen, dafür fast erfroren auf diesem Berg; gut, dass die Auto-Heizung im Gegensatz zu den Scheibenwischern funktioniert
Montag: jetzt aber den VISA-Kram — es handelt sich ausschließlich um ein völlig überflüssiges VISA-Büro der Duke University — erledigt; erneut gelernt, wie wichtig es ist, Informationen noch mal zu überprüfen, bevor man sie veröffentlicht (Beispiel Telefonnummer…); Mittagessen in einem mexikanischen Supermarkt mit einer Migrationsforscherin; abends Wäsche gewaschen — Maschine ist so gut, dass sie die Farbe gleich mit rausgewaschen hat; beim Bügeln irgendwann zu Futurama "geflüchtet", Dauerschleife bei CNN zu Sandy nicht mehr zu ertragen; urplötzlich Licht und TV ausgefallen — mein erster Stromausfall hier — aufregend!
Dienstag: einen der beiden Leihwagen, die wir uns zu sechst teilen, zwecks Öl- und Scheibenwischerwechsels ausgetauscht; nach der Uni eine deutsche Bäckerin besucht, die nach Durham ausgewandert ist
Mittwoch: auf nach Washington, DC; keine gravierenden Spuren mehr vom Wirbelsturm zu sehen; erstes Briefing im Foreign Press Center — interessante Quelle für ausländische Journalisten; abends all die verkleideten Menschen im schicken Georgetown angeschaut und Halloween in einer Bar gefeiert
Donnerstag: TV-Sender C-SPAN und Radiosender NPR besichtigt — sehr interessant; abends zu einem Drag Queen Race (nein, als Zuschauer!)
Freitag: 1,5 Meilen durchs Pentagon gelatscht; dann Kennedys Grab auf dem Arlington National Cemetery gesucht; viel über die Fördermöglichkeiten des Pulitzer Center on Crisis Reporting gehört; abends Treffen mit deutscher Hörfunk-Korrespondentin der ARD; dann Jazz-Bar und Disko
Samstag: achtstündiger Fußmarsch über die National Mall, vorbei an allen Memorials, Besuch im Holocaust Museum und im Newseum; durch Downtown zurück zum Hotel; platte Füße hochgelegt im geräumigen Hotelzimmer, das ich mir mit einem der Südkoreaner teile; doch noch aufgerafft zur Spätvorstellung einer lauen Teenie-Komödie
Sonntag: Fortsetzung des Museum-Marathons; Donut zum Mittagessen; weiteren Hörfunk-Korrespondenten der ARD getroffen; Rückfahrt in überhitztem Chevy mit hustenden und schniefenden Südafrikanerinnen und Haitianer — war sehr kalt in DC; jetzt besorgt um eigene Gesundheit; Stopp bei Fastfood-Restaurant — hmh, jetzt riecht die Karre nach lecker Frittenfett
Montag: Deutschunterricht für amerikanische Studenten besucht — beeindruckt, dass Amerikaner überhaupt Deutsch lernen und nach drei Semestern schon recht gut sind; mit Politikwissenschaftler über die Wahlen diskutiert; dem haitianischen Chefredakteur auf Parkplatz Fahrunterricht gegeben — Angst ums Auto gehabt; TV bekloppt — "it's gonna be razor-thin close"; auf unerklärlichem Weg an Basketballtickets gekommen — wer spielt? gegen wen? und wann? keine Ahnung! egal! Sensation!
Dienstag: Election Day! aber erst Frühstück mit wichtigen Leuten von der Uni — weiß nicht mehr mit wem, war aber sicher eine Ehre; in Raleigh Reporter einer lokalen Website zu Wahllokalen begleitet, selbst Interviews geführt, die gleich online gestellt wurden — war kalt und wenig aufregend; Polizeifunk auch unspektakulär; bei NBC-17 reingemogelt und Live-Interview angeguckt; Nickerchen; abends in einer Bar Plausch mit wartenden Journalisten; Republikaner holen Gouverneursposten in North Carolina, also zu Wahlparty der GOP gefahren; kein Tanzen, kein Freibier, dafür viele Schlipsträger; von irgendeiner ich-weiß-nicht-wer-sie-war-und-wollte-es-auch-nicht-wissen Betrunkenen billig angebaggert; als Fox News (!) titelt "Obama re-elected", wird der Videoscreen einfach ausgeschaltet; also auf zu den Demokraten; die müssen aber draußen feiern — irgendjemand hatte den Feueralarm im gebuchten Saal ausgelöst — wahrscheinlich ein Republikaner, heißt es; egal, Obama bleibt Präsident; ein fremder Mann umarmt mich, freue mich mit
Mittwoch: ausschlafen; in den "Challenges"-Diskussionen erfahren, unter welchen Bedingungen "Journalisten" eines chinesischen Verlautbarungsblattes arbeiten; gestern erst die Wahlnacht erlebt, heute schon diskutiert, wer 2016 Präsident werden könnte; zur Vorbereitung auf Freitag — die Blue Devils beginnen die Saison im eigenen Stadion — ein NBA-Basketballspiel im Fernsehen angeschaut, dabei endlich das nächste Kapitel von "I am Charlotte Simmons" gelesen
Donnerstag: zu spät zu einer Buchvorstellung über südafrikanische Minenarbeiter gekommen — war für mich persönlich recht uninteressant, dafür gab es Free Lunch; nächstes Seminar zum Thema Leadership — die einfache Wahrheit: jeder will ein Held sein, also lass ihn/sie ein Held sein; Duke-T-Shirt gekauft fürs Basketballspiel; abends Drei-Gänge-Menü mit Fellows in französischem Restaurant (sehr leckere Mousse)
Freitag: früh aufgestanden, um in die Backstube der deutschen Bäckerin zu fahren — gutes Interview; endlich die ersten Postkarten abgeschickt — war schwierig genug, einigermaßen ansehnliche zu finden; festgestellt, dass der Versand eines kleinen Paketes mit Süßigkeiten und Souvenirs etwa das Acht- bis Neunfache des Warenwertes (20 Dollar) kostet — da mein Koffer schon so voll ist, muss ich die meisten Mitbringsel jetzt selbst essen; zweiter Laundry Day — diesmal nicht so heiß gewaschen und getrocknet, Farbe ist noch da, Flecken aber auch; beim Bügeln alle 1821 Fernsehkanäle durchgezappt; abends endlich das Basketballspiel; yeah! Blue Devils — Georgia State Panthers 74 — 55; mir hat der Stil der Panthers trotzdem besser gefallen, war eleganter, aber leider nicht so effektiv; nach dem Spiel spontan mit drei Studenten ein paar Körbe geworfen
Samstag: für mich Tag der Arbeit — 308 dienstliche E-Mails gelöscht, rund ein Dutzend E-Mails geschrieben, einen Haufen liegengebliebener Zeitungen gelesen, an einem Manuskript gearbeitet; abends in die mit einem mechanical bull ausgestattete Dorfdisko "Shooters" — eher was für Undergraduates, leider nicht rauchfrei
Sonntag: der Tag macht seinem Namen alle Ehre, passendes Wetter für einen Ausflug an den nahe gelegenen Falls Lake; dann noch mal Brunch beim Foster's Market; Chapel Hill besichtigt — ist abgesehen von der Uni viel netter als Durham; haben aber auch keine Postkarten; Pläne für New York City geschmiedet
Montag: ein letztes Mal von Media Fellows gehört, welchen Herausforderungen sie gegenüberstehen; weiter vergeblich nach Postkarten gesucht; Essen für die anderen fünf Fellows in den Forest Apartments gekocht — dabei versucht, restliche Lebensmittel zu verwerten; musste für das Rezept aber neue Zutaten kaufen, von denen nun wieder Reste übrig geblieben sind
Dienstag: beim Lunch Talk was über Haiti gehört; das meiste kannte ich schon, weil ich den Fellow aus Haiti regelmäßig durch Durham kutschiert habe und wir viel Zeit zum Reden hatten; im nächsten Seminar ein paar interessante Tools kennengelernt, die künftig ganz nützlich für meine Recherchen im Internet sein könnten — muss ich mal ausprobieren; abends wieder gemeinsames Essen mit Fellows — die anderen müssen ihre Reste auch aufbrauchen
Mittwoch: überlegt, ob ich zu AT&T fahren soll, kann weder telefonieren noch angerufen werden; Fernsehsender WRAL-TV und TageszeitungThe News & Observer in Raleigh besucht; während die Kollegen vom Fernsehen Feuer unterm Hintern hatten, wirkten die Redakteure der Zeitung irgendwie lust-, kraft- und mutlos (Tageszeitungen sterben in den USA ja angeblich 2017 aus, in Deutschland erst 2030); abends wieder Reste-Essen mit Fellows
Donnerstag: am letzten Tag in Durham noch mal den mexikanischen Supermarkt gesucht, aber nicht gefunden; doch noch bei AT&T beschwert — Telefonguthaben reduziert sich auch bei eingehenden Anrufen, steht bloß nicht im Vertrag — ach so — SMS und Internet müssen bis Sonntag reichen; eine Stunde ins Café der Uni-Bibliothek gesetzt und dieses verflixte Buch von Tom Wolfe weitergelesen, das ich immer noch nicht mag, aber nicht einfach wegschmeißen kann; zum Abschiedsessen mit allen 17 Fellows und der die ganze Zeit überaus emsigen Laurie Bley in ein typisches Südstaaten-Restaurant nach Chapel Hill gefahren; noch mal mit meinem Zimmergenossen aus Washington um die Häuser gezogen, bevor es zum Packen zurück ins Apartment ging
Freitag: Flug nach New York City, wo ich noch bis Sonntag bleibe; in der Schlange vor den Discount Booths am Times Square lese ich das letzte Kapitel von "I am Charlotte Simmons" — bin mit der Paperback-Ausgabe eine bestaunte Seltenheit, die anderen haben einen Kindle in der Hand; Fazit zum Buch: mit dem Ende kann ich leben, die Mühe des Lesens hat sich für mich nicht gelohnt
Fazit zum Stipendium: gelohnt hat sich die vierwöchige Reise gleich in mehrfacher Hinsicht — es war eine tolle und lehrreiche Zeit mit vielen wirklich netten Menschen, schönen Geschichten und spannenden Erlebnissen — ganz vielen Dank dafür allen Beteiligten (außer diesem VISA-Office, das mir eineinhalb Wochen nach meiner Abreise noch ein Begrüßungsschreiben gemailt hat…)