DUKE UNIVERSITY MEDIA FELLOWSHIPS PROGRAMM 2016
Vierwöchiger Studienaufenthalt am DeWitt Wallace Center for Communications and Journalism, Duke University, Durham, North Carolina und ein Besuch in Washington D.C. und in New York City.
Im Mittelpunkt des März/April-Programms stand wie stets im Frühjahr das renommierte "Fullframe Festival" mit Dokumentarfilmen aus aller Welt.
---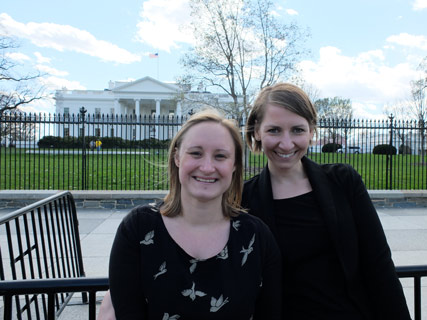 TEILNEHMERBERICHTE
Angela Kea, WeltN24, Berlin
26 Grad sind es in Durham, die Sonne scheint, heute ist der 10. März 2016. Seit 10 Tagen bin ich mit Verena, der zweiten RIAS-Stipendiatin aus Deutschland, an der Duke Universität in North Carolina. Heute allerdings sitzen wir nicht im Hörsaal sondern stehen vor der Hillside High School. Mit uns warten Hunderte andere vor der Schule. Wir alle sind hier, um Hillary Clinton bei ihrem "Campaign Stop" sprechen zu hören. Drei Stunden warten wir in der Hitze. Zeit für mich, um Interviews mit Hillary-Anhängern zu führen und Videos für eine Mojo-Story zu drehen. Einige Studenten, die mit uns warten, erzählen mir, dass sie eigentlich Bernie Sanders unterstützen. Sie glauben aber, dass er keine Chance hätte im Duell gegen Donald Trump. Deswegen würden sie sich jetzt Hillary Clinton anschließen. Um in die Sporthalle zu kommen, müssen wir durch einen Security-Check. Drinnen warten wir weiter. Um uns bei Laune zu halten spielt die High School Band und eine Gruppe Mädchen tanzt zu Popmusik. Dann stimmt die Schulband ein weiteres Mal an, diesmal die amerikanische Nationalhymne. "The next President of the United States — Hillary Clinton, " tönt es anschließend aus den Lautsprechern und unter lautem Beifall betritt die demokratische Präsidentschaftsbewerberin Hillary Clinton die Bühne. Sie lacht und winkt und beginnt, als der Jubel leiser wird, mit ihrer Rede. Sie spricht viel über Bildung, was bei den Zuhörern hier in Durham gut ankommt. Nach 20 Minuten beendet sie ihre Rede und verlässt die Sporthalle der Hillside High School. Auch wir gehen. Ich habe ausreichend Filmmaterial für meine Mojo-Story.
Mobile Journalism
In Durham habe ich mehr Zeit für Mobile Journalism, was ich sonst nur in meiner Freizeit mache. Themen gibt es hier genug: zum Beispiel die Zeltstadt Krzyzewskiville. Um Tickets für das Basketballspiel gegen den Erzrivalen, den North Carolina Tar Heels von der UNC zu bekommen, zelten die Duke Blue Devil Fans wochenlang auf dem Campus der Uni. Denn es gilt: "First-come — first-serve." In 2er-Gruppen schieben die Studenten Zelt-Schichten. Es gibt Musik und Barbecue, es herrscht Partystimmung rundum die Uhr, zwischendrin wird studiert.
Das Uni-Leben
Die Duke Universität zählt zu den Besten und Schönsten der USA. Es gibt einen East und einen West-Campus zwischen denen Busse hin und her pendeln. Das ist für uns Media Fellows sehr komfortabel, denn wir besitzen kein Auto. Wir wohnen nahe des East-Campus im Zentrum Durhams in einem neugebauten Marriot Hotel. In Laufnähe befinden sich zahlreiche Restaurants, Bars, Cafés und Geschäfte. Jeder von uns hat ein eigenes Zimmer und ein Bad, Küche und Wohnzimmer teilen wir uns zu zweit. Verena und ich haben unser Fellowship in diesem Jahr bereits zwei Wochen vor den anderen Duke Media Fellows begonnen. Die erste Zeit sind wir also nur zu zweit in Durham. Am ersten Tag holen uns Laurie, die Programmkoordinatorin, und ihre Assistentin Sophie vom Hotel ab. Wir bekommen eine Campus-Führung, unsere E-Mail-Accounts und unsere Studentenausweise. Am zweiten Tag lädt uns das German Department für einen Vortrag ein. Verena und ich sprechen vor einer Deutschklasse über "The German way of life". Weitere drei Mal werden wir vom Deutsch-Institut als Speakerinnen eingeladen. Mal sprechen wir über die Flüchtlingskrise in Deutschland, ein anderes mal geben wir einen Workshop, wie man eine Nachricht schreibt. Auch der Professor aus dem Bereich TV Journalism lädt uns ein. Mit seinem Kurs diskutieren wir über Gemeinsamkeiten und Unterschiede im deutschen und amerikanischen Mediensystem. Wenn wir keine Vorträge halten, besuchen wir selbst Vorlesungen. Ich vor allem die am "DeWitt Wallace Centers for Media & Democracy". Obwohl das Duke Media Fellow-Programm seit diesem Jahr nicht mehr offiziell zu diesem Institut gehört, wurde ich von allen Professorinnen und Professoren als Gast-Hörerin herzlich willkommen geheißen.
Der Fieldtrip
Nach zwei Wochen an der Duke fliegen Verena, Laurie, Sophie und ich nach New York. Dort treffen wir Amy, Bongiwe, Cornelis, Lyng-Ho und Yusuf — die anderen Fellows unserer diesjährigen Gruppe. Unser Zeitplan ist straff. Wir besuchen zahlreiche Medienunternehmen u.a. die New York Times und ihr Innovationslab, das Wall Street Journal sowie das junge Nachrichtenunternehmen Quartz. Wir diskutieren mit den amerikanischen Kollegen über Snapchat und wie sie versuchen die jungen Zielgruppen zu erreichen. Natürlich sprechen wir auch über den digitalen Wandel in der Medienbranche und die Schwierigkeit dabei Geld zu verdienen. Nach drei Tagen fahren wir mit dem Zug weiter nach Washington D.C. Dort besuchen wir u.a. AFP, CCTV und NPR. Mein persönliches Highlight ist die Führung durch das Weiße Haus und das Hintergrundgespräch mit zwei Beratern von U.S.-Präsident Barack Obama. Auch das U.S.-Verteidigungsministerium besuchen wir, wo Pentagon-Sprecher Peter Cook höchstpersönlich unsere Fragen beantwortet.
Die Gruppe
Zurück in Durham geht das straffe Programm weiter. Unsere Gruppe organisiert eigene Sessions, so genannte Media-Challenges. Wir diskutieren über neue Wege des Storytellings, über journalistische Start-Ups, über Mobile Journalism sowie über das Personal Branding von Journalisten. Diese Gruppendiskussionen mag ich besonders gern, da wir uns austauschen und gegenseitig inspirieren. Trotz der vielen Kurse genießen wir auch die Frühlingssonne in Durham und das Campus-Leben. Wir gehen zu verschiedenen Vorträgen und Foto-Ausstellungen und schauen uns Tanz-Performances an.
Mein Fazit
Ich habe sehr viel erlebt in den vier Wochen an der Duke Universität in Durham. Ich konnte eigenen Projekten und Interessen nachgehen. Im Jahr der U.S.-Präsidentschaftswahlen am RIAS Duke Media Fellowship teilzunehmen, war eine ganz besondere Erfahrung. Wir haben zahlreiche TV-Debatten geschaut und darüber diskutiert. Besonders interessant für mich war Hillary Clinton live zu sehen und bei ihrer Wahlkampfveranstaltung in Durham mit ihren Anhängern zu sprechen. Das beste am RIAS Duke Media Stipendium für mich aber waren die vielen Gespräche und der Erfahrungsaustausch mit den anderen internationalen Fellows. Ich habe aus erster Hand erfahren, unter welch schweren Bedingungen Journalisten in anderen Ländern recherchieren und arbeiten. In Durham hatte ich wieder Gelegenheit meine eigene Arbeit zu reflektieren. Ich danke Amy, Bongiwe, Cornelis, Lyng-Hou, Verena und Yusuf für die intensive und inspirierende Zeit. Ich bin froh, dass mir die Duke Universität und die RIAS-Organisation die Möglichkeit gegeben haben, diese tollen Menschen kennenzulernen.
——————
Verena Lammert, Westdeutscher Rundfunk, Köln
March Madness & Mobile reporting
Wo zelten Studenten drei Monate lang auf dem Campus, egal ob Schnee oder Sonne, um ein Ticket für ein Basketball-Spiel der eigenen Mannschaft zu bekommen? Richtig! An der Duke University in Durham, North Carolina.
Der März ist der Basketball-Monat schlechthin in den USA und so waren wir als Stipendiatinnen und "neue Studentinnen" an der Uni gleich in der ersten Woche mit im "Blue Devils"-Fieber. Denn das Spiel gegen den Erzrivalen stand an und da das Stadion nicht so viele Plätze hat, sind die Tickets heiß begehrt. Deshalb gibt es an der Duke die Tradition des Kryzewskiville, einer Zeltstadt benannt nach dem berühmten Coach K, in der die Studenten praktisch monatelang Schlange stehen für die Tickets. Wir, das "gute-Story-Gen" im Blut, haben das gleich in der ersten Woche zum Anlass genommen, uns mit dem Handy unter die zeltenden Studenten zu mischen und verschiedene Storytelling-Formen auszuprobieren. Denn unser Ziel: endlich mal das auszutesten, was im Redaktionsalltag viel zu kurz kommt.
Wahlkampf hautnah
Die zweite Gelegenheit für Mobile-Reporting bot sich dann auch prompt in Woche Zwei, denn kurzfristig hatte sich Präsidentschaftskandidatin Hillary Clinton zu einem Campaign Stop in Durham angesagt. Wir waren eigentlich auf dem Weg zu einer Journalism-Class an der Uni als Professor Mark Stencel uns wissen ließ: "Hillary is in town and my students are going there." Wir wollten natürlich auch hin, aber ohne Auto ist das in Durham so eine Sache. Netterweise hat uns der Professor auch gleich die Mitfahrgelegenheit organisiert und so machten wir uns auf den Weg zur Hillside High School, wo Hillary für den Nachmittag angesagt war. Wir haben fast drei Stunden in der Hitze angestanden und sind so gerade noch rein gekommen, aber das war es wert. Wahlkampf hautnah und eine gute Mobile-Story obendrein.
Neue Karriere als Uni-Dozentin?
Neben Basketball und Polit-Prominenz gab es natürlich auch ganz normale Uni-Tage für uns. Schnell stellte sich allerdings heraus, dass es nicht ganz so einfach ist an normalen Uni-Kursen teilzunehmen, da man doch ohne Vorbereitung einfach in die Diskussionen reingeworfen wird oder die Professoren leider gar nichts mit dem Media Fellows Programm anfangen konnten. Das war in meinem Fall teilweise sehr frustrierend und endete damit, dass ich im Women's Studies Department erst gar nicht zu den Kursen zugelassen wurde. Viel bessere Erfahrungen habe ich hingegen mit den Departments gemacht, die uns als Guest Lecturer in ihre Klassen eingeladen hatten. Im German Department haben wir gleich zwei Vorträge über unsere Arbeit und einen "How to write news"-Workshop gehalten. Außerdem haben wir in einer Documentary-Class deutsche und amerikanische Medien verglichen. Die Studenten waren sehr an uns und unserer Arbeit interessiert. Deshalb haben wir auch One-on-one Meetings angeboten, um sie bei ihren Final-Projekten zu unterstützen. Für mich war es eine große Bereicherung und eine ganz neue Erfahrung auf der Lehrenden-Seite zu stehen.
Field Trip New York und Washington D.C.
Das Highlight war natürlich der einwöchige Trip nach New York und Washington DC. Wir haben uns wirklich sehr darauf gefreut, weil wir in New York endlich auf die anderen internationalen Stipendiaten getroffen sind, denn die ersten Wochen waren wir RIAS-Stipendiaten in diesem Jahr allein in Durham, da es seitens der Uni Terminprobleme mit dem Programm gab. Außer uns haben in diesem Jahr Stipendiaten aus Südafrika, den USA, Venezuela und den Niederlanden am Duke Media Fellowship teilgenommen. Mit den anderen zusammen ging es dann als erstes zum New York Times Frontpage-Meeting. Weitere Stationen auf unserer Reise: das Wall Street Journal, die Huffington Post, Google und Quartz. Ein guter Mix aus renommierten Medien und interessanten Startups. In Washington ging es dann eher politisch zu: Pentagon, Weißes Haus und der National Press Club waren dort die Highlights. Für uns als Journalisten natürlich ideal, dass wir häufig Pressesprecher oder andere Journalisten als Ansprechpartner bei unseren Terminen hatten. Das gab uns viel exklusivere Einblicke als nur eine Standard-Führung durch die Gebäude.
Media Fellows Media Challenges
Nach unserer Rückkehr waren die nächsten Wochen an der Duke University von unserer Media Fellows Gruppe bestimmt. Wir haben uns gemeinsam zu Media Challenges getroffen und unsere ganz persönlichen Erfahrungen zu bestimmten journalistischen Themen ausgetauscht. Mich hat es besonders gefreut, dass die Gruppe bunt gemischt war, auch altersmäßig und ich konnte sehr von den Erfahrungen der älteren Stipendiaten profitieren. Außerdem hat jeder von uns einen Vortrag zu seinem Spezial-Thema gehalten. Ich habe eine Präsentation zum Thema "Hashtag feminism" vorbereitet und mit den anderen Fellows über die Wirkung und Grenzen von sozialen Medien diskutiert.
RIAS-Netzwerk
Während unseres Aufenthalts in Durham kamen wir bereits in den Genuss des großen RIAS-Netzwerks auf der ganzen Welt. Ein ehemaliger Stipendiat hat uns für einen Tag eingeladen und uns alle Sehenswürdigkeiten in und um Durham gezeigt. Wir haben Bennet Place besucht, wo das Ende des Civil War besiegelt wurde. Und wir waren auf der Stagville Plantage, der ehemals größten Sklaven-Plantage in North Carolina. Nach dem amerikanischen Geschichtskurs durfte dann allerdings eine Einladung zum American BBQ nicht fehlen. Eine andere ehemalige RIAS-Stipendiatin arbeitet beim North Carolina Public Radio und hat uns dorthin für einen Tag eingeladen. So konnten wir auch die Arbeit der lokalen Journalisten vor Ort in Durham kennen lernen.
All good things come to an end….
Die gut 5 Wochen in den USA sind so schnell vergangen, dass ich sofort wieder los möchte. Denn es gäbe noch so viel zu sehen, lernen und zu erfahren. Ich bin dankbar für diese Zeit: Sie hat mich inspiriert, herausgefordert, bestärkt in dem was ich tue und mir viele neue Erfahrungen, aber vor allem neue Freunde beschert. Ich hoffe, dass ich den "Duke-Vibe" weiter mit in meine Redaktion und in meinen Sender tragen kann, denn dank moderner Kommunikation hört der Austausch mit den anderen Journalisten und die Inspiration durch meine Media Fellows Gruppe nicht mit dem Tag meiner Abreise aus Durham auf.