USA-Redakteursprogramm 2010
MIDTERM-ELECTION-PROGRAMM 2010
24. – 31. Oktober 2010
Spezielles Programm zu den U.S. Midterm-Wahlen mit Besuchen in Washington D.C. und Texas.
Von links nach rechts: Treffen mit Barbara und John Cochran; im Al Jazeera Washington D.C. Büro; Treffen mit Michael Barone, AEI; Besuch der George-Bush-Library und der Bush School of Government and Public Service, Texas A&M, College Station, Texas; Gespräch mit Gouverneur Perrys Team im State Capitol von Texas, Austin, Texas; Treffen mit Vincente Fox, Präsident von Mexiko 2000–2006; und mit Phil Gramm, ehem. Senator und McCain Wahlkampfberater.
---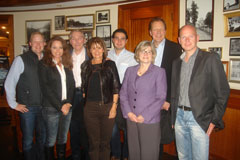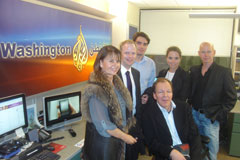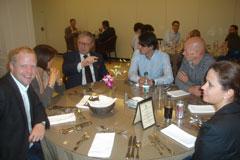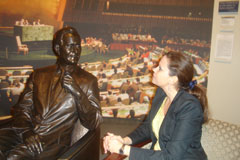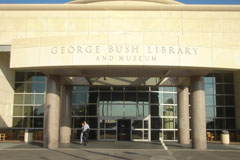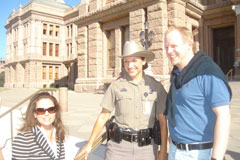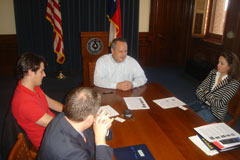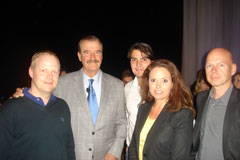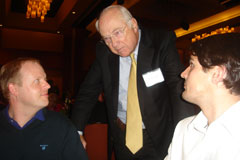 ---
REPORTAGE
Leg Dich nicht mit Texas an! von Jan Philipp Burgard
Read more…
---
TEILNEHMERBERICHTE
Jan Philipp Burgard, ARD Tagesthemen
"Don't mess with Texas!" lautet der Wahlspruch des für seinen Hang zur Unabhängigkeit bekannten U.S.-Bundesstaates. Doch genau das hat Obama aus der Sicht vieler Texaner getan, vielerorts schlägt dem amerikanischen Präsidenten blanker Hass entgegen. Vor allem die Anhänger der Tea-Party-Bewegung fallen durch extreme Positionen auf.
In Texas einen Unterstützer der Tea-Party-Bewegung zu treffen ist ungefähr so schwierig, wie in Bayern einen Fan des FC Bayern München. Schon an der Rezeption eines Hotels in College Station, einer Universitätsstadt zwei Autostunden nördlich von Houston, fragt mich ein Gast, ob in Deutschland die gleiche sozialistische Diktatur herrsche wie in den USA. Was genau er damit meint, erklärt mir Mark Smith, der für einen Ölkonzern Ingenieursnachwuchs rekrutiert, im Garten des Hotels. "Obama richtet die USA zu Grunde. Er wirft 800 Milliarden Dollar Steuergelder für ein Konjunkturpaket zum Fenster raus. Er zwingt uns eine nutzlose und teure Gesundheitsreform auf. Er nimmt uns, was dieses Land ausmacht: die Freiheit", sagt Mark.
Hass auf die Demokraten
Mit einem klobigen Ring am Finger, der ihn als Absolventen der renommierten Texas A&M Universität ausweist, öffnet er eine Flasche Bier. Auch seine ureigenste Freiheit auf Waffenbesitz sieht Smith in Gefahr. Deshalb hat er seine Sammlung von Revolvern und Gewehren auf insgesamt 23 Schießeisen aufgerüstet. Ob er seine Waffe auch gegen den Präsidenten richten würde? "Wer würde das hier in Texas nicht?" fragt Smith mit einem Grinsen zurück, das eine gewisse Ernsthaftigkeit seiner Aussage befürchten lässt. Jetzt schaltet sich auch sein Kollege ein, der bisher immer nur zustimmend genickt hat. "Das Problem ist nur, dass man nicht drei Schüsse gleichzeitig abgeben kann, um unser Land auch noch von Vizepräsident Joe Biden und Repräsentantenhaus-Sprecherin Nancy Pelosi zu befreien."
Bewegung der Unzufriedenen und Ängstlichen
Am nächsten Morgen möchte ich von Chuck Hermann, Professor für Politikwissenschaft an der Texas A&M Universität, wissen, ob meine erste Begegnung mit der Tea-Party inhaltlich eher der Ausnahme entspricht oder der Regel. "Solche Töne sind nichts Außergewöhnliches. Wir erleben gerade eine extreme Polarisierung der amerikanischen Gesellschaft. Eine Triebfeder dafür sind die Ängste der Menschen vor sozialem Abstieg," erklärt Hermann. Erstaunlich sei allerdings, dass im ohnehin sehr konservativen Texas ein Rechtsruck spürbar sei — und das, obwohl die Wirtschaftskrise hier weniger durchgeschlagen hat als in anderen Staaten. Doch vor allem die illegale Einwanderung über die mexikanische Grenze und der Drogenschmuggel — bis zu 20.000 Kilogramm Marihuana pro Woche — sind vielen Texanern ein Dorn im Auge. Die Tea-Party-Bewegung profitiert von der Unzufriedenheit der Leute.
Applaus vom Gouverneur
Das hat auch die Republikanische Partei von Texas begriffen. Während die Parteigrößen in Washington noch nicht so recht wissen, wie sie mit der neuen, heterogenen Bewegung umgehen sollen, sucht der Gouverneur von Texas schon seit dem vergangenen Jahr die Nähe zu den Hardlinern. Rick Perry tritt regelmäßig bei Events der Tea-Party auf. Integration statt Konfrontation lautet seine Strategie. Bei meinem Besuch in der Landeshauptstadt Austin lobt Perrys Sprecher Andrew Barlow die "hervorragende Organisation und absolute Leidenschaft" der Tea-Party. "Der Gouverneur teilt die meisten ihrer Ansichten." Dass das Kapitol von Austin das Parlamentsgebäude in Washington D.C. um zwei Meter überragt, passt zum Selbstbewusstsein der Texaner, das vor allem auch aus der wirtschaftlichen Leistungskraft des Landes gespeist wird. Das renommierte Forbes Magazin und der Fernsehsender CNN kürten Texas zu dem U.S.-Bundesstaat mit dem wirtschaftsfreundlichsten Klima.
Für das Klima als Umweltthema hat man jedoch keinen ausgeprägten Sinn. Nicht nur auf dem Land, sondern auch in den Städten donnern überwiegend Pickups über die Straßen, Geländewagen, auf deren offener Ladefläche man problemlos eine ausgewachsene Kuh transportieren könnte. Und obwohl ich nur selten einen Landwirt zu Gesicht bekomme — Kleinwagen oder gar Hybridautos passen einfach nicht zur Cowboymentalität. Genau so wenig wie die Umweltpolitik Obamas. "Seine Vorhaben schaden unserer Wirtschaft," poltert Andrew Barlow. "Er soll von Washington aus unsere Grenzen schützen und die Kriege gewinnen. Den Rest machen wir besser alleine."
Dafür, dass in Austin die konservative Landesregierung sitzt, geht es abends erstaunlich liberal und alternativ zu. Aus vielen Bars schallen Country und Bluesklänge durch die Stadt, aber auch Techno und Rockmusik. Mitten auf den Straßen tanzen so viele leicht bekleidete Menschen, dass ich jetzt begreife, warum Moralapostel Mark Smith mich davon abhalten wollte, dieses "Sündenbabel" zu besuchen.
"John McCain war zu liberal"
Im von spanischen und mexikanischen Einflüssen geprägten San Antonio treffe ich Diana Denham, eine Grande Dame der Konservativen, die als Vertraute Ronald Reagans galt und seit jeher mit viel Geld die Wahlkämpfe der Republikaner unterstützt. Als sie bei einer Bootsfahrt über den künstlich angelegten San Antonio River von den guten alten Zeiten und dem bevorstehenden wirtschaftlichen und kulturellen Untergang Amerikas unter Obama philosophiert, scheint sie den Tränen nahe. "Schon John McCain war als Präsidentschaftskandidat viel zu liberal. Die Republikanische Partei muss sich von Grund auf erneuern," sagt sie eindringlich. Die Tea-Party-Bewegung könne dabei Aufbauhilfe leisten. Deshalb lädt sie prominente Vertreter gelegentlich zum Gedankenaustausch in ihre Villa am Stadtrand ein. "Ich schätze den Widerstand gegen die Bevormundung aus Washington."
Um zu demonstrieren, zu wie viel Widerstand die Texaner in der Lage sind, organisiert sie eine Führung durch den Alamo. Im Jahre 1836 kämpften von diesem Kloster 187 Siedler zwölf Tage lang tapfer gegen 6.000 mexikanische Soldaten. Zwar gingen die Schlacht und das Leben aller Kämpfer bis auf einen einzigen verloren. Doch in der Zwischenzeit konnten die Texaner ihre Truppen sammeln und gewannen unter der Führung von Sam Houston am San Jancinto River den Krieg und mit ihm die texanische Unabhängigkeit. Noch heute hallt überall der Schlachtruf nach, mit dem Sam Houston den finalen Angriff auf die Mexikaner einläutete: "Erinnert Euch an den Alamo" ("Remember the Alamo!"). Auch Obama sollte sich laut Diana Denman und vielen anderen Texanern gelegentlich an den Alamo erinnern.
———
Jörg Panse, MDR news
Vom Winde verweht…
Schwer ist er. Ziemlich schwer. Der legendäre Revolver, ein echter "peacemaker", diese Magnum. Und jetzt halte ich ihn in der Hand. Aber die Patronen sind raus, und mein Finger liegt nicht am Abzug.
Wir stehen mitten in einer gepflegten Villensiedlung in San Antonio/Texas. Die Grundstücke sind weiträumig, die Villen alt — aber mondän und gepflegt. Ein Hauch vom Südstaaten-Epos "Vom Winde verweht" liegt in der Luf…
Die Stimme hinter Zaun und gepflegten Büschen klingt beunruhigt; und sie ist weiblich, und sie gehört der Besitzerin der Villa.
"He, das kannst du doch nicht machen! Das Ding ist gefährlich!," ruft sie John zu. Der sieht ein wenig aus wie der Zwillingsbruder von Ronald Reagan, markante männliche Gesichtszüge, ein echter Texaner. Naja, zumindest, wie ich mir einen vorstelle: Ein Gesicht wie aus einem Western, mindestens eine Nebenrolle wäre für ihn sicher abgefallen — geht mir durch den Kopf.
Und cool ist er, der Typ: Er lässt die aufgeregte Stimme verklingen, verzieht ein wenig das Falten gegerbte Gesicht. Dann deutet er auf den Colt: "Du kennst dich damit aus?" Na klar, beruhige ich ihn, ich habe doch in der Army gedient. Dass ich in einer Armee jenseits des Eisernen Vorhangs gedient habe, also bei den "Commies", erkläre ich ihm nicht. Warum auch, schließlich geht es hier ja um ganz andere Dinge.
"Kommunist!" — das hatte ich doch grad ein paar Minuten früher noch gehört. In der Villa der besorgten Stimme. Die Hausherrin hatte zur Tea-Party geladen; keine Teestunde nach britischem Vorbild. TEA PARTY, so heißt die erzkonservative Sammlungsbewegung, die kurz vor den Kongresswahlen Druck macht. Druck auf alle — auf Demokraten und Republikaner. Eine dritte Kraft, die zurück will — so sagt sie — zu den Grundsätzen der Verfassung der USA, niedergeschrieben von den Gründungsvätern 1787.
Ein messianisches Sendungsbewusstsein verbindet sie: "Die USA sind schließlich das einzige Land, das seine Verfassung von Gott bekommen hat" — hat Milton, einer der Tea-Party-Aktivisten aus Texas in unsere Runde geschmettert. "Und beide Parteien entfernen sich von dieser Verfassung!" bekräftigt John — ein Akademiker, der sich mit Krebsforschung beschäftigt. Intellektuelle, tief religiös, und zutiefst unzufrieden mit vielem, was "die da" in Washington machen. Ich verdaue erst mal kurz, was ich da gehört habe: Die Verfassung ist von Gott gegeben — die beiden großen Parteien in den USA würden sich von dieser Verfassung entfernen — also sind die Parteien … und ihre Führer … Gotteslästerer? Weit ist der Weg zum Heiligen Krieg nicht mehr, denke ich.
Und manchmal staune ich einfach nur: "Kommunist!" — das Wort steht im Raum, Dagne hat es mit Inbrunst in die Runde geworfen. Dagne ist Biologin, Spezialgebiet Zellforschung. "Ein Kommunist" — sei… Obama, der Präsident. Er regiere im fernen Washington, er mische sich überall ein, nicht nur beim Thema Krankenversicherung. An seine Regierung müsse man zu viele Steuern zahlen, er werfe das Geld zum Fenster raus. Zum Beispiel für die "financial cartels" — die Großbanken, Versicherungen und Immobilienfinanzierer. Die hatten sich verspekuliert, ihre riskanten Geschäfte lösten die globale Finanzmarktkrise aus. Einige ganz große Player im großen Glücksspiel bekamen Milliarden vom Staat; also dem U.S.-Steuerzahler. Nur so überlebten sie. "Kommunismus" sei das, kein freier Markt — schäumt die Tea-Party-Runde .
Dagne, frage ich, "financial cartels" — das klinge doch sehr nach Karl Marx und seiner Kritik des Frühkapitalismus. Ob sie denn wüsste, dass sie mit ihrer Analyse ganz dicht am "Ur-Commie" Marx dran sei. "Obama ist der Kommunist," entgegnet sie eifrig. Und ich denke: Ein Kommunist gibt also Steuergeld für das Finanzkapital…
Gedankenchaos nach einer Woche in Texas, kurz vor den Kongresswahlen. Aber sicher nicht nur in meinem Kopf. Gott, Kommunismus, Obama. Klingt verwirrt. Vielleicht war auch der junge Amerikaner verwirrt, der ein paar Wochen später in Arizona seinen Colt zieht und die Kongressabgeordnete Gabrielle Giffords, eine Demokratin, niederstreckt. Und sechs Menschen tötet, darunter ein Kind. Ausgerechnet Giffords: Ein Politikerin, die offensiv für das private Waffenrecht stritt. Aber auch für Obamas Gesundheitsreform — und gegen die Diskriminierung von Immigranten. Eine Hassfigur der Tea-Party: Deren Ikone Sarah Palin hatte auf ihrer Internet-Seite schon mal ein Fadenkreuz über Giffords gelegt. Zum Abschuss freigegeben… könnte der Attentäter verstanden haben.
Eine Woche Texas… Viel habe ich gehört und gesehen — und nicht alles verstanden — die "deutsche Brille" und "German Angst" saßen eben manchmal mit am Tisch.
Und mit am Tisch saß oft die Elite der Politik:
Ryan Crocker etwa, der Ex-Botschafter im Irak: Das Gespräch mit ihm ist beeindruckend, er überzeugt trotz und mit leiser Stimme. Auch er kann sich vorstellen, mit Islamisten zu verhandeln. Dort, wo ein Krieg militärisch nicht zu gewinnen ist.
Oder Vicente Fox, Ex-Präsident Mexikos. Angefangen hatte er als LKW-Fahrer für Coca-Cola; der personifizierte "mexikanische Traum". In seinem Heimatland tobt ein Krieg gegen die Drogenkartelle, tausende Menschen starben bereits. Fox kennt die sozialen Ursachen der Migration. Er weiß, warum jedes Jahr 10-tausende Mexikaner vor Armut flüchten — zum reichen Nachbarn USA. Und der die "illegals" nicht haben will. Als billige Arbeitskräfte schon, aber warum denn gleich einbürgern oder sozialversichern?
Beeindruckend auch John Jones, der in Austin den Kampf gegen die Drogenkartelle koordiniert. Und der ganz offen erklärt: Natürlich gebe es Verbindungen der Kartelle nach Europa, auch nach Deutschland: Etwa über Rockergruppen wie die "Bandidos".
Ein bisschen Kino war aber manchmal auch dabei: In Texas, dem wirtschaftlich stärksten U.S.-Bundesstaat, in dem Unabhängigkeit ganz groß geschrieben wird: Einige wollen sogar die Sezession von den USA. Ein bisschen wie im Western-Klassiker "Alamo" — allerdings ging's damals um die Abspaltung von Mexiko. Als eine Handvoll echte Kerle gegen mexikanische Soldaten kämpfte, für die Unabhängigkeit von Mexiko. Das echte Alamo, auch das haben wir gesehen. Und die Botschaft verstanden: Texaner kämpfen. Für sich und ihre Ideale. Manchmal bis in den Tod.
———
Andreas Postel, ZDF heute-journal
Der Klang von Arlington
Sie kennen diese Melodie ganz bestimmt, diesen unverwechselbaren Klang der einsamen Trompete, der sich an diesem Ort, in diesem Moment wie selbstverständlich in meinem Kopf breit macht, als Grundmelodie meiner Gedanken an diesem spätsommerlich, warmen Herbsttag Ende Oktober 2010. Es ist der erste Tag unserer RIAS-Reise durch die USA und der Weg führt mich am späten Nachmittag hier hoch auf den Arlington National Cemetery. Es ist einer dieser magischen Orte, von denen es in der Welt nur wenige gibt. In der Stille von Arlington können Gedanken reifen und Erkenntnis wachsen. Mein Blick schweift über die sanften Hügel weißer Kreuze, am Horizont die Silhouette von Washington D.C., Capitol Hill. Auf dem Potomac River glitzert die herbstliche Abendsonne. Was ist bloß los mit diesem Amerika? Sie erinnern sich ganz bestimmt an diese Melodie, den Klang der Solotrompete aus amerikanischen Heldenfilmen, wenn dem Soldat nach tragischem Kampf die letzte Ehre erwiesen wird. "Taps" heißt dieses kurze Lied und ist fester Bestandteil eines jeden U.S.-amerikanischen Trauerzeremoniells. Die Trompete erklang auch damals, als die Nation Abschied nahm von John F. Kennedy. "All free men, wherever they may live, are citizens of Berlin, and, therefore, as a free man, I take pride in the words Ich bin ein Berliner!" Das hörte sich damals fantastisch an, verlieh den Gedanken hinter dem eisernen Vorhang Flügel. Jetzt, 21 Jahre nach dem Mauerfall stehe ich tatsächlich an Kennedys Grab und die Trompete klingt wie ein Echo des großen amerikanischen Zeitalters. Im Oktober 2010 scheint diese Epoche verblichen, die Weltmacht geschwächt durch die Finanzkrise; die Gesellschaft zerrissen; die Menschen tief verunsichert. Zwei Jahre, nachdem Hoffnungsträger Barack Obama zum 41. Präsident der Vereinigten Staaten von Amerika gewählt wurde, ist nun Halbzeit. Die "Midterm Elections" stehen an. Deshalb sind wir hier. Vier Redakteure von MDR, RTL aktuell, ARD-Tagesthemen und ZDF-Heute-Journal. Wir bekommen mit dem RIAS-Programm die Möglichkeit, Tuchfühlung aufzunehmen mit dem Amerika am Vorabend dieser Wahl. Die kommenden Tage sind voll gepackt mit exklusiven Treffen und interessanten Gesprächspartnern in Washington und im Bundesstaat Texas.
"How to Restore the American Dream" überschreibt Fareed Zakaria seinen Leitartikel in der Oktoberausgabe des Time Magazins. Zakaria ist einer der profiliertesten Kolumnisten des intellektuellen Amerikas und hat als einer der Ersten vom postamerikanischen Zeitalter geschrieben. Jetzt analysiert er den Zustand eines hoch verschuldeten Landes und beschreibt eine zutiefst verunsicherte Mittelschicht, die zum ersten Mal in der Geschichte dieses Landes den Glauben an sich selbst zu verlieren scheint. Ich lese den Artikel auf dem Flug von Washington nach Texas. Neben den vielen interessanten Programmpunkten in Texas gehört das Treffen mit Anhängern der sogenannten Tea-Party-Bewegung in einem gediegenen Vorort von San Antonio zu den eindringlichsten Begegnungen dieser Reise. Amerikas neue Rechte gibt sich gern als die Bewegung des einfachen, des "Durchschnittsamerikaners". Die Aussagen sind schlicht. Der U.S.-Präsident ist für sie ein Sozialist, der Staat zu groß. Am Ende des Treffens fuchtelt ein Anhänger der Tea-Party Bewegung auf Nachfrage mit seinem Revolver herum. Demonstration der Stärke eines schwachen Mannes. Im Nachhinein scheint diese Szene wie ein Vorbote des Attentats von Tucson. Auf Druck der Tea-Party Bewegung hat sich die U.S.-Politik zusehends radikalisiert. Abends im Hotelzimmer sehe ich mir die Wahlwerbespots im Fernsehen an. Sie sind zu aggressiv, zu gemein, zu persönlich. Die Streitkultur im Amerika des Jahres 2010 ist vergiftet. Vor allem Sarah Palin, die Ikone der Tea-Party, wurde für ihre aggressive Rhetorik kritisiert. Auf ihrer Facebook-Seite hatte sie eine Karte der USA mit Fadenkreuzen auf demokratischen Bezirken veröffentlicht. Die Grenzen zwischen politischer Leidenschaft und radikaler Gewalt verschwimmen. Das Attentat auf die Kongressabgeordnete Giffords erscheint nun als dramatischer Höhepunkt dieser Entwicklung. Das Attentat schockiert die USA. Auf dem Arlington National Cemetery fiel mein Blick zu Beginn unserer Reise auf die Inschrift eines Grabsteins. "Hope" stand dort. Hope! Es war zwar ein Name und nicht Barack Obamas Hoffnung gemeint. Aber für mich sah es so aus, als wäre die Hoffnung schon nach 2 Jahren seiner Amtszeit beerdigt, durch die übergroßen Schwierigkeiten, vor denen das Amerika Obamas steht. Er hat so große Erwartungen geweckt, dass die Enttäuschungen um so größer sind. Der Amerikanische Traum ist für viele mehr und mehr zu Albtraum geworden. Die Trompete von Arlington liefert dabei den Grundton für den Zustand dieses Landes. Sie klingt getragen, melancholisch und zu gleich unnachgiebig, ja fast trotzig und nach wie vor immer noch zuversichtlich.
Am Ende unserer Reise waren wir etwas geschafft, aber zugleich umso reicher an neuen Erkenntnissen und wichtigen Kontakten. Das RIAS-Programm im Herbst 2010 war ausgesprochen gut organisiert und ich möchte es gerne weiter empfehlen.
———
Wiesje Vornberger, RTL aktuell
"Yes we can — aber Washington soll sich raushalten"
So klingt der weltberühmte Wahlslogan Barack Obamas, wenn er von waschechten Texanern interpretiert wurde. In ihren Augen hat der demokratische Präsident dem Land nur Kummer gebracht und deswegen ist es auch kein Wunder, dass die erzkonservative Tea-Party-Bewegung auch in Texas immer mehr Anhänger und verstärkt Einfluss bei den Republikanern findet. Wir treffen ein Dutzend Tea-Party-Anhänger in einer Privatvilla in San Antonio, der zweitgrößten Stadt in Texas. Diana Denman, eine überzeugte Republikanerin hat dieses Treffen für uns Journalisten organisiert. Schnell wird klar, die Aktivisten sind wütend, rebellisch und überzeugt von ihrer Mission. Immer wieder beschwören sie die individuelle Freiheit, misstrauen dem Staat und wettern gegen Obamas Gesundheitsreform.
Es sind nur noch ein paar Tage bis zu den Midterm Elections und in Texas spürt man, wie groß das Verlangen ist, Obama einen Denkzettel zu verpassen. "Bulletproof Roof" steht an einem Haus geschrieben, wir sind gerade auf dem Weg nach College Station, einer Universitätsstadt in the middle of nowhere und müssen lachen. Aber Waffen sind in Texas allgegenwärtig. Zwei männliche Hotelgäste, die für einen Ölkonzern arbeiten und zu später Stunde noch ein Bier im Hotelgarten trinken, prahlen gerne, dass sie weit über zwanzig Pistolen und Gewehre besitzen und die auch bereitwillig gegen jeden richten würde, der ihr Grundstück betritt oder ihren Wagen stiehlt. In Texas sind Waffen keine Frage der Moral, sondern ein hoch geschätztes Bürgerrecht.
Eine willkommene Abwechslung bietet dagegen unser Besuch an der Texas A&M Universität am nächsten Morgen. Vorträge im 30-Minuten-Takt von Persönlichkeiten wie Chuck Hermann, Professor für Politikwissenschaften, und Botschafter Ryan Crocker verdeutlichen, dass die Amerikaner mit der aktuellen politischen und insbesondere wirtschaftlichen Situation des Landes höchst unzufrieden sind. In Texas sind die Bürger zwar von der großen Arbeitslosenwelle weitestgehend verschont geblieben, doch die wachsende Kriminalität — oftmals bedingt durch illegale Einwanderer aus Mexiko, der steigende Drogenhandel und die Angst vor dem sozialen Abstieg sorgen im überwiegend konservativen Texas für einen spürbaren Rechtsruck. Und hier schließt sich der Kreis, sehr zur Freude der Tea-Party Anhänger, die den amerikanischen Präsident hassen, wie sie gerne betonen. Vor allem die Umweltpolitik Obamas stößt in Texas auf taube Ohren. Neben den Straßen gibt es keine Gehwege, geschweige denn Fahrradwege. Warum auch, Pickups beherrschen das Straßenbild, Hybridautos oder Kleinwagen sind unerwünscht.
Ein ganz anderes Bild bekommt man, wenn man abends durch das umweltbewusste, ungewöhnlich liberale und alternative Austin am Colorado River schlendert und in fast jedem Shop ein T-Shirt mit dem überall präsenten Slogan "Keep Austin Weird" kaufen kann. In zwei Tagen ist Halloween, die Ausgehmeile in Austin ist gefüllt mit kostümierten, verrückten, jungen Menschen, die sich von einer Bar in die nächste drängeln. Dabei ist in Austin der Sitz der konservativen Regierung und ein Besuch bei Gouverneur Rick Perry zeigt, dass die Partei der Republikaner ganz gezielt die Nähe zur Tea-Party-Bewegung sucht. Berührungsängste würden nur Wähler vertreiben und in einem Punkt ist man sich zu hundert Prozent einig: Washington soll Kriege führen und alles andere regeln die Texaner lieber selbst und vor allem innerhalb der texanischen Grenzen.
Robert Bodisch und John Jones, auch "JJ" genannt, sind die richtigen Männer für diesen Auftrag. Sie tragen Cowboystiefel zum Dienstanzug und jagen im Auftrag des Department für Public Safety illegale Einwanderer aus Mexiko, Drogenschmuggler und Kinderschänder. Letztere werden bevorzugt mit Hilfe des "Amber-Alert-Systems" gefangen, welches sie uns eindrucksvoll in der hochtechnisierten Zentrale demonstrieren. Innerhalb weniger Minuten, nachdem eine Vermisstenmeldung eingegangen ist, erhalten Millionen Bürger in Texas eine SMS, die wichtige Informationen zum mutmaßlichen Verbrecher und dem vermissten Kind enthält. Auch elektronische Anzeigetafeln an den Autobahnen weisen in solchen Fällen auf ein mögliches Verbrechen hin. Jeder Hinweis aus der Bevölkerung geht dann bei Robert Bodisch und John Jones ein, die — und das glaubt man Ihnen aufs Wort — schon lange nichts mehr schocken kann. Mit einem echten Texaner legt man sich nicht an, das ist die Botschaft, die auch mit dem Kampf um das weltberühmte Alamo in San Antonio verbunden ist. Wer Texas besucht, sollte das Alamo gesehen haben — das Symbol für den mutigen Kampf im Namen der Unabhängigkeit und Freiheit.