Programs for U.S. broadcast journalists 

The RIAS Berlin Commission Journalist Fellowship Program is an intensive one- or two-week long trip to Germany and Brussels for active, mid-career journalists to take some time out from their day jobs to explore journalism in depth and the outside world. Travel and accommodation costs are covered by the fellowship.
More than 1,800 American and German broadcast journalists have participated in this unique transatlantic exchange since it was inaugurated in 1994 to keep the spirit of the legendary Cold War-era radio and TV station Radio in American Sector (RIAS) alive after it went off the air at the end of 1993. The fellows from the United States and Germany have been building bridges of understanding — professionally and personally — through the RIAS Berlin Commission alumni network ever since. The alumni have created a vibrant network by hosting visiting German journalists at their stations in the U.S., attending alumni meetings, and staying connected through the online Fellow directory and our website.
---
One-Week or Two-Week Germany Program
each year in June and September
2-Week Germany Programs for American Electronic Journalists
Germany Alumni Program 2021
September 20-27, 2021
Application Deadline: July 31, 2021
Germany Spring Program 2022
June 2022

Application Deadline: November 30, 2021

Germany Fall Program 2022
September 2022

Application Deadline: January 31, 2022

The RIAS journalist exchange offers a one-week or two-week program in Germany to U.S. journalists, who work in radio, television or online.
The one- and two-week programs start in Berlin, where participants stay for one week for meetings and talks about the political, economic, cultural, and media landscape in Germany.  The one-week (eight day) program includes excursions to Potsdam and Leipzig in formerly Communist East Germany as well as to Hamburg.  The two-week program (12 days) also includes stops in Erfurt, Cologne, and Brussels — home to both NATO and the European Union, with meetings and appointments to discuss the latest developments of each organization. The participants fly home from Brussels.
The one-week alumni program differ from the standard programs in that there are only about 2 appointments/talks/meetings per day so that participants have more time to work on their own stories, meet German journalists on their own or network amongst each other. The alumni programs are held in Germany in uneven years such as 2019, 2021, 2023 and 2025 and in the United States in even years such as 2020, 2022, 2024 and 2026, and are open to all former RIAS Berlin Commission participants. Another key difference from the standard programs: Alumni have to cover their own travel costs to and from Berlin.
Through personal research in advance of the program, discussions with guest speakers and networking events with alumni and other journalists in Germany, you will further your understanding of journalism and the news industry in another country — and your place in it. While you are in Germany, you are also free to work on stories or project that will be of direct impact to you, your career and your newsroom — bringing in what you learn during your time in the fellowship. This is a program for working journalists who will return to journalism with new insights after spending a week or two with us.
Program applicants must be full-time radio, TV, or online journalists, either staff or freelance hires. While knowledge and familiarity of German is an added advantage, it is not a requirement. We ask that applicants have a minimum of three years of continued professional journalism experience prior to applying for the program. The RIAS Berlin Commission encourages journalism school graduates as well as journalism academics to consider the program.
The RIAS Berlin Commission exchange is a comprehensive fellowship, providing participants with round-trip air travel from their home market to Germany, ground and air travel in and across Germany, and hotel accommodations during the program.
Application Package
The following material should be included in your application package.
completed application forms 
résumé / CV
nominating/recommendation letter from your supervisor
two essays (see application form > page 2)
Please send your completed application forms and the required documents in one PDF or Word file.
Send application materials via email to info@riasberlin.org
---
Berlin Program for Students (ERP)

U.S. university students are invited to apply for a three-week intensive study program on
journalism in Germany and the role of broadcast journalism during the Cold War era. Funded largely by a grant from the German government (ERP) and organized by the RIAS Berlin Commission, up to 15 outstanding journalism or international studies.  Students will be invited to take part in the three-week program in Germany to learn more about journalism in Germany, the role that broadcasters like the Berlin-based RIAS played during the Cold War and the current political landscape of Germany.
The project is supported by the Transatlantic Program of the Federal Republic of Germany,
funded by the European Recovery Program (ERP) of the Federal Ministry of Economics and Energy (BMWi).
Call for Applications as PDF
---
One-Week Berlin Alumni Program
September 2021 – during the final week of the next German federal election
Special Berlin Short Programs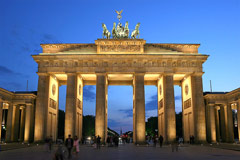 A one-week program for RIAS Berlin Commission alumni is offered in Berlin every other year (odd-numbered years) — and in Washington DC every other year (even-numbered years) for German alumni. The first alumni program in 2019 was held during the 30th anniversary celebrations of the fall of the Berlin Wall and the next will be held in 2021 to coincide with the next German federal election expected in late September 2021. Many alumni have used these programs to report on the news from Germany for their networks back home. Accommodations, local transport costs and numerous alumni dinner get-togethers are covered by RIAS Berlin Commission.
Photo: Thomas Wolf, foto-tw.de
---
Individual Journalist Program (Discontinued)
The RIAS Berlin Commission would like to encourage former American and German Exchange Program participants to promote and deepen their transatlantic ties through an individual exchange program.
American RIAS Fellows visit a Fellow in Germany, German Fellows in turn a U.S. colleague in the United States. The respective RIAS Fellow visits the host's Radio or TV station, accompanies reporters on their assignment, takes part in editorial conferences and thus gains in-depth knowledge of the daily journalism routine at the hosting Radio or TV station. The participating visiting journalists should also research and produce stories, which can be aired after their return to their home station.
This one-week individual follow-up program can be sponsored by the RIAS Berlin Commission with up to 1000 Euros for travel and hotel expenses. Preference is given to applications for mutual individual exchange programs with a U.S. RIAS Fellow visiting a German Fellow for one week, who in turn plans to later visit the U.S. Fellow for one week.
Eligibility and application details
U.S. RIAS Fellows submit their application with name and station of the German RIAS Fellow they would like to visit, including a detailed description of the planned activities during their one-week stay at a German station. Please indicate, if and when there will be a return visit by the German host. The annual number of participants is limited. First come, first serve. Please inquire about availability at the Berlin office of the RIAS Berlin Commission.
---
Repeat Program for Active RIAS Fellows (Discontinued)
The fourteenth meeting of the RIAS Berlin Commission on Sept. 29, 1999 in Charlotte, N.C. has decided to offer the chance of a repeat program to a limited number of active RIAS Fellows. Former program participants, who have been actively involved in hosting journalists and supporting the work of the RIAS Berlin Commission are eligible to reapply seven years after their original program participation.
---
Top 10 Frequently Asked Questions about the Germany Study Program
How do I get an application form? How do I apply?
The following material should be included in your application package.
completed application forms (3 Pages > Download (109 KB))
résumé / CV
nominating/recommendation letter from your supervisor
three essays (see application forms 'Page 2')
Applications are photocopied for review by the jury. To insure the best print quality, original applications must be mailed to RTNDF, even if you have already faxed them.
Do I have to speak German?
No. There is no language requirement for the program. As with any foreign travel, some knowledge of the local language will help you, especially when you are out by yourself. However, most Germans speak English. Also, all official program appointments will be held in English.
What are you looking for in my recommendation letter?
First, we would like to know why a week or two in Germany would benefit you and your career in journalism. We are also looking for journalists interested in becoming long-term and enthusiastic members of the RIAS alumni network. While the program is aimed mainly at mid-career journalists with five to 20 years experience, exceptional younger or more senior candidates are also included in our programs and encouraged to apply.
We are also looking for your news director's support of your participation in the program and for your news director's assessment of your professional qualities as a journalist and your commitment to the profession.  If you are a news director applying for the program, your letter of recommendation should come from your general manager.
When can I expect to hear something?
Leading candidates are invited for video conference interviews in January/February (for June program) and final decisions are rendered in writing as soon as possible after those interviews.
Can I shoot or work on stories on the trip?
The programs are often tightly scheduled. But fellows are encouraged and welcome to try to work on stories in between the meetings or in the evenings, which are usually free. Other alternatives include hiring your own crew, using a network crew which you have arranged yourself, or bringing your own equipment.
How many people go on the trip?
Groups range from 10 to 15 diverse participants, and represent a range of experience levels, market sizes and geographic locations.
What expenses are paid?
The following expenses are paid by the program: round trip airfare from your home city to Germany; ground travel during the program; hotel; some networking event meals/drinks. Participants are responsible for passport and visa fees as needed, telephone, laundry, airport parking and transfers from home to airport in the U.S., meal expenses and any other personal expenses.
What if I want to stay in Europe after this program?
Many participants stay longer in Germany or travel to other countries in Europe at their own expense after the program. Although spouses and families are not permitted on the program, they can join participants after the program is over for personal travel. If you are chosen for the program, further logistical details on this option will be provided to you.
I work in local news and have never done an international story — am I eligible to apply?
Yes. Most participants work in local news. This program exists to introduce journalists to Germany first-hand, particularly if they do not have the opportunity in their own work to cover Germany and Europe. Many past participants have subsequently discovered connections from their communities to Germany that they never knew existed.
---
Hosting German Journalism Fellows
Twice annually the RIAS Berlin Commission sends German radio, television and multi-media journalists to the U.S. for a three week study program. The program includes one week of briefings on the U.S. media, government, and politics in Washington D.C.; a one week fellowship at a radio or television station hosted by an American RIAS Fellow; and one week in New York City with visits to institutions like the United Nations, among other educational, non-profit, and economic organizations.
You and your staff can deepen your knowledge of Germany first-hand by hosting visiting German journalists during either the spring or fall program. Fellowships last approximately no longer than four or five days and typically involve one German journalist. There is no financial outlay required on the part of the station, nor on the individual host.
These fellowships are dynamic, interactive opportunities for both the host station and the visiting journalist. Fellowship hosts should plan on integrating the journalist into the life of the newsroom by including the German fellow in the entire news process, including planning meetings, street reporting, live reports and studio programs. In many cases, visiting RIAS Fellows have contributed to story production either behind the scenes or on the air; some are even interviewed on topics ranging from their impressions of America, to German/U.S. relations.
Hosts and visitors should view the fellowship experience as an opportunity to build personal and professional bridges that will strengthen their understanding of both countries. (Read: "Comments about the German-American Exchange Program" (next topic))
And, yes, one need not have already participated in the RIAS Fellowship Program in order to host a visiting RIAS Fellow from Germany.
For further information, a draft schedule for station visits, or to discuss being a fellowship host, please contact: info@riasberlin.org
---
Comments about the German-American Exchange Program
Germany Programs
Our briefings with so many of the nation's top political, social, military and financial leaders, coupled with our ability to sample life in so much of present-day Germany — eastern and western — provided the best possible guide to understanding one of the most important countries on the world scene. A terrific program!
Peter Landis, News Director, New York 1 News, New York
It's not just a media tour in terms of hearing the official line–you get ample opportunity to ask country. It was a very good reminder that the world is awfully small and even if we're focused on a local market, there are numerous links ties between our two countries and many reasons to be interested in Germany.
Johanna Cleary, News Director, Alabama Public Television, Montgomery, AL
The most fascinating part of the trip was what I didn't expect — that reunification was not a done deal — it is an ongoing process. This truly opened my eyes — he issues for Germany, such as thinking about losing the deutschmark as losing their identity – all these things that would have never occurred to me.
Doris Bergman, Producer, New York 1 News, New York
I was struck by how many of the problems we face in the U.S. are very similar to the problems in Germany — balancing the budget, should we cut taxes, immigration problems. It surprised me that Germany faces so many of the same dilemmas as we do, and seeing how they are working to solve them.
Mark Curtis, Correspondent, Cox Broadcasting, Washington
Hosting German Journalists at your station
Hosting German journalists gives you a good opportunity to reexamine how you do what you do from an outsiders point of view. It's a great learning experience. The chance to exchange ideas with your peers from outside the market is an invaluable tool for your staff. I think every newsroom — no matter what market size — should take advantage of this.
Rod Jackson, Managing Editor, KTVX-TV, Salt Lake City, 1997 Fellowship Host
Program Support
I was pleasantly surprised when I started working on my series at how many ties Germany already has with my small state of West Virginia — and those ties are growing. I am glad that I was able to help my audience understand some of those transatlantic relationships.
Jim Wallace, News Director, West Virginia Public Radio
Germans and Americans have common roots, but more important, striking differences. By exposing ourselves to other cultures, we can learn from their successes, avoid their shortcomings and see our own country more objectively. This program offers an outstanding incentive for journalists to build a cultural bridge between audiences.
Dick Custin, Reporter and Weekend Anchor for WZZM-TV, Grand Rapids, MI
---
With RIAS in Germany 2011